How to Go To Disney World For Cheap: A Budget-Friendly Guide to The Happiest Place on Earth
A trip to Walt Disney World can cost a pretty penny. And while it sometimes feels like the Happiest Place on Earth is really the Most Expensive Place on Earth, Disney still tries its best to help guests save during its off-season and beyond. That said, there are many more ways to cut cost.
Want to know how to go to Disney World for cheap? From where to stay to how to save money on admission, We've got you covered with a budget-friendly guide to The Happiest Place on Earth, below.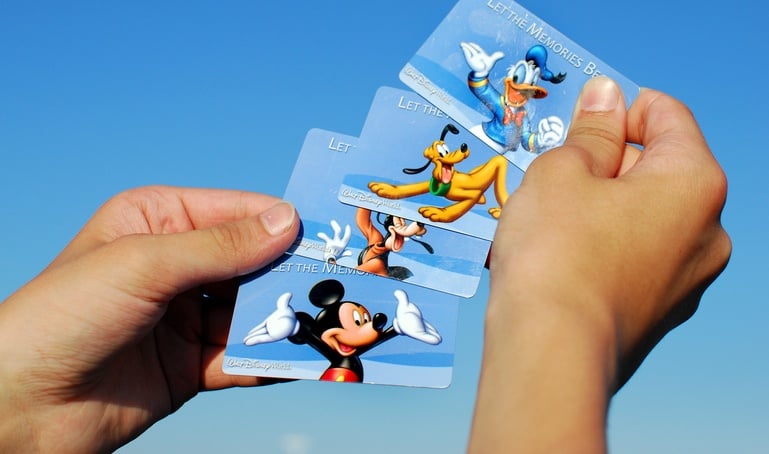 Visit during shoulder season
Disney World shoulder season is an excellent time to visit the parks. Admission prices usually at an all-time low and you'll get more for your money, as the crowds tend to die down during the shoulder season. At Walt Disney World, the off-seasons typically fall between mid-August to end of September, mid-November to mid-December, the second week of January to mid-February, and the first three weeks of May. That said, you should avoid visiting the parks on holiday weekends, as attendance (and prices) tend to spike during that time.
Value tickets are the best tickets
Speaking of shoulder season, during this time you can score what Disney calls "value" tickets. These ticket options are usually available mid-week — and sometimes outside of shoulder season — and can trim off up to $20 a ticket. If you're on a tight budget, take a look at how the single value days stack up to the admission packages, as its sometimes more affordable to book single tickets.
Consider admission packages
If you plan on visiting Disney World for multiple days — especially five to ten days — you'll want to book a multiple day ticket package. Doing so can cut the cost of a ticket by over half. A single day value ticket costs $102, but if you are visiting for ten days, the cost goes down to around $44 per day.
Stay outside of the resort
Disneyland Resort Hotels might be appealing, but their price tags say otherwise. Unless you're going during a shoulder season — when Disney hotels are typically at an all-time low — you can save money by staying outside the resort. Some Orlando hotels even offer free shuttle buses to the parks.
Double check the discounts
Disney knows its guests love savings, so it lures them in with major discounts. Before booking a hotel or park ticket, be sure to double check the current discounts offered.
The same can be said for airfare. If your plans fall during the off-season, many airlines also offer discounts on tickets. Sign up for airfare alerts to stay on top of the potential savings.
Bring your own snacks
Buying snacks at Disney parks can get expensive, so you might want to bring your own. If you have a car, visit a nearby grocery store ahead of time to stock up on snacks for both your hotel room and your backpack or purse.
Split your meals
Disney is home of big servings, which can be great for those looking to save. Instead of letting leftovers go to waste, split meals with your family and friends. You'll cut the price in half and still get to experience some of the best restaurants at Disney World.
Score a free dining plan
Speaking of meals, Disney sometimes offers free dining plans as an incentive to get you in the park. When booking your trip, be sure to check for those types of offers.
Pass holder discounts
While a season pass at Disneyland costs quite a bit, it can save you money in the end. At Disney parks, pass holders receive special perks, including 20% off at restaurants.
Reusable water bottles are a must
At around $4 a pop, purchasing the water bottles can get expensive. And while you can refill them at drinking fountains, it's much more worth it to bring a reusable bottle from home. Ice water is free at restaurants and cafeterias, all you have to do is ask.
Pack the essentials
Disneyland requires some essentials such as sunscreen and pain reliever. Pack these items in your suitcase to avoid paying for overpriced items in the hotel lobby or inside Disney parks.
Check out The Cheat Sheet on Facebook!