In-N-Out Boycott: 7 Things You Don't Know About the Cult Favorite Burger Chain Some Democrats Won't Eat at Anymore
Cult favorite burger chain In-N-Out has some fans swearing off delicious Double-Double burgers after learning the California-based company donated $25,000 to the state's Republican party. Journalist Gabe Schneider noticed the donation in a public filing and shared news of it on Twitter on August 29.
Privately held In-N-Out has a history of donating to Republicans. In 2016 and 2017, the chain gave $30,000 to the California GOP, noted Los Angeles Magazine. Eric Bauman, chair of the California Democratic Party quickly called for burger-lovers to #BoycottInNOut, and outraged fast food fans soon got on board.
Et tu In-N-Out? Tens of thousands of dollars donated to the California Republican Party… it's time to #BoycottInNOut – let Trump and his cronies support these creeps… perhaps animal style!https://t.co/9zkdFaG5CJ

— EricBauman (@EricBauman) August 30, 2018
I've been eating @innoutburger since I was a kid. It's part of the Southern California lifestyle. That all changed when they made a $25,000 donation to the GOP. I will #BoycottInNOut and no longer spend a dime in their establishments. https://t.co/3JRXqDUCY0

— The T (@socaltrav) August 30, 2018
The company said that it made "equal contributions" to Democrats and Republicans, in a statement shared with the Sacramento Bee. Los Angeles Magazine noted a $50,000 donation to a pro-business political action committee called Californians for Jobs and a Strong Economy that was founded by a centrist Democrat.
If you're not from the West Coast, you might be a bit baffled by this burger brouhaha. But in liberal-minded California, the chain is something of an icon, with people willing to wait in notoriously long lines to order off the super-simple menu. Tourists even make pilgrimages to try the chain's signature animal fries and burgers (said by some to be the best in the country).
But even if you know the secret menu by heart, there might be some things you don't know about In-N-Out.
1. It's been around since 1948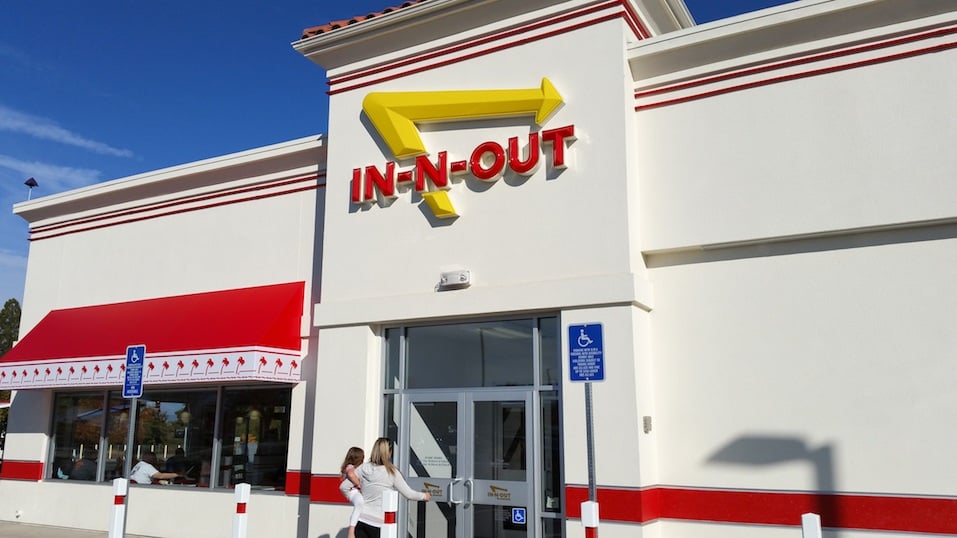 In-N-Out was founded in 1948 in the Los Angeles suburb of Baldwin Park by married couple Esther and Harry Snyder. The burgers were an instant hit, but the chain grew slowly. It wasn't until 1992 that the chain expanded beyond California. By 2015, it had only 300 locations. Compare that to the nearly 15,000 McDonald's around the U.S.
2. In-N-Out is only in six states
The vast majority of In-N-Out restaurants are in its home state of California. But you'll also find them in Arizona, Nevada, Oregon, Texas, and Utah.
3. There are Bible verse references on the burger wrappers
Eagle-eyed diners have spotted some mysterious text on the bottom of In-N-Out cups and on the burger wrappers. On the soda cup, you'll see "John 3:16" and on the Double-Double wrapper "Nahum 1:7." Similar text is on the milkshake cups and hamburger and cheeseburger wrappers. They're all references to Bible verses. Richard Snyder, son of the chain's founders, was a born-again Christian and decided to add the verses to the packaging.
4. The chain is still family-owned
In-N-Out is still owned by the descendants of the Esther and Harry Snyder. Lynsi Snyder, the couple's granddaughter assumed full control of the company in 2017, on her 35th birthday, Money reported. She's the only heir to the burger fortune and is one of the youngest billionaires in the U.S. as a result. While she doesn't give many interviews, we do know she's a born-again Christian who has been married four times and loves drag racing.
5. The menu hardly ever changes
You won't find stunt menu items designed to generated social media buzz at In-N-Out. Instead, the chain focuses on fast-food basics: burgers, fries, and milkshakes. The menu looks pretty much like it did back in the 1950s.
In-N-Out did make a minor menu tweak in 2018, when it added hot chocolate. Before that, the last time the menu changed was 15 years earlier, when it added lemonade.
6. But there is a secret menu
In-N-Out regulars already know about the chain's secret menu, but if you're a newbie you might not know that there are special items that aren't listed on the official menu. That includes "animal style" burgers (a mustard-grilled patty with pickle, extra spread, and grilled onions), grilled cheese for vegetarians, and a protein-style burger that's wrapped in lettuce instead of a bun.
7. It's one of the best places to work in America
Slinging burgers is a pretty good gig, provided you're working at In-N-Out. It was No. 4 on Glassdoor's list of the best companies to work for in the U.S. Assistant managers make nearly $60,000 a year. Full-time employees get free meals, paid vacation, and company contributions to a 401(k) retirement plan.