In These States, Missing Persons Cases Are Piling Up
Our society has been captivated time and again by famous disappearances, including that of Elizabeth Smart, Laci Peterson, and Polly Klaas. It's been reported that on average, 90,000 people are missing in the United States at any given time. While many of them end up being found, alive or dead, many others remain missing to this day.
Have you ever wondered which states have the most missing people? Huffington Post provided data on that topic as the result of a study. Here we'll highlight the 15 states with the dubious distinction of having most open missing persons cases per 100,000 people.
1. Alaska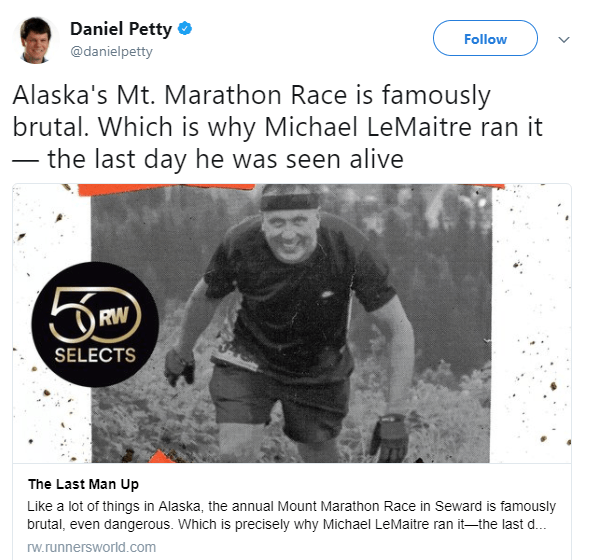 More than 10 missing persons per 100,000 people
A runner vanished into thin air during the Mount Marathon race in 2012.
 Maybe it's because the state of Alaska holds such a vast amount of wilderness, but it has a rate of missing persons almost twice the national average. The state also holds the record of the highest percentage of missing people who are never found. There is even a section of the state compared to the Bermuda Triangle because people go missing at an eerily high rate.
One baffling missing person's case in Alaska involves Michael LeMaitre, a 66-year-old grandfather, who took part in Alaska's annual Mount Marathon race on July 4, 2012. The popular race was 3.5 miles long, and the runners' route went partially up Mount Marathon and back. The winner finished in under 45 minutes, and it was noted LeMaitre was still laboring toward the top three hours after the race began. The weather was cold and wet, but race officials determined he was doing fine, so they decided to wait for LeMaitre toward the finish line. He was never seen again.
After six hours, when LeMaitre still hadn't approached the finish line, a search ensued. When no results turned up, the Alaska National Guard came with a helicopter, but it turned up nothing. During more weeks' worth of searching, many theories were pursued, but to this day LeMaitre's whereabouts remain a complete mystery. His daughter MaryAnne came from Utah to join in the search. She engraved on a rock, the designated turnaround point for runners in the race, "I love you Dad."
Next: A state that has a day devoted to its missing persons
2. Arizona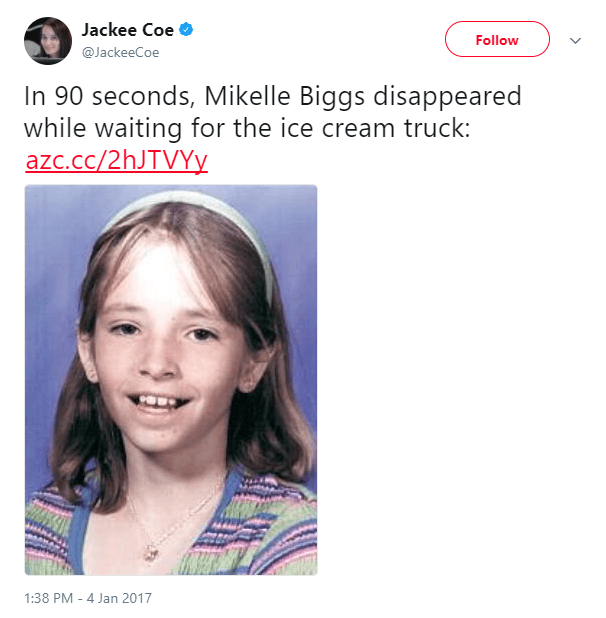 Number of reported missing persons: 2,000
An 11-year-girl vanished while waiting for the ice cream truck and is still missing 18 years later.
Arizona joins Alaska as having more than 10 open missing persons cases per 100,000 people. The state even has an annual Missing in Arizona Day to try and help families desperately looking to find their loved ones.
One particularly troubling, longstanding Arizona case is that of Mikelle Biggs, who disappeared at the age of 11 on Jan. 2, 1999 while waiting for the ice cream truck. The hazel-eyed, blond-haired girl could hear the truck's music and eagerly awaited its arrival so she could buy her favorite gumball popsicle. She waited while riding her 9-year-old sister Kimber's bicycle in circles at her street's T-intersection. It was getting dark, so Mikelle's mother Tracy told Kimber to tell Mikelle to come in.
When Kimber went outside to get Mikelle, all she found was the white bike with purple ribbons on the ground – its wheels still spinning – and the two quarters Kimber was holding for the popsicle lying in the street. A massive search ensued. While more than 800 pieces of evidence were collected and 10,000 tips were received, no solid evidence of what happened to the girl has ever been uncovered, and no suspect has ever been identified. Mikelle still remains missing today.
Next: A state with a "ridiculous" number of missing kids
3. Oregon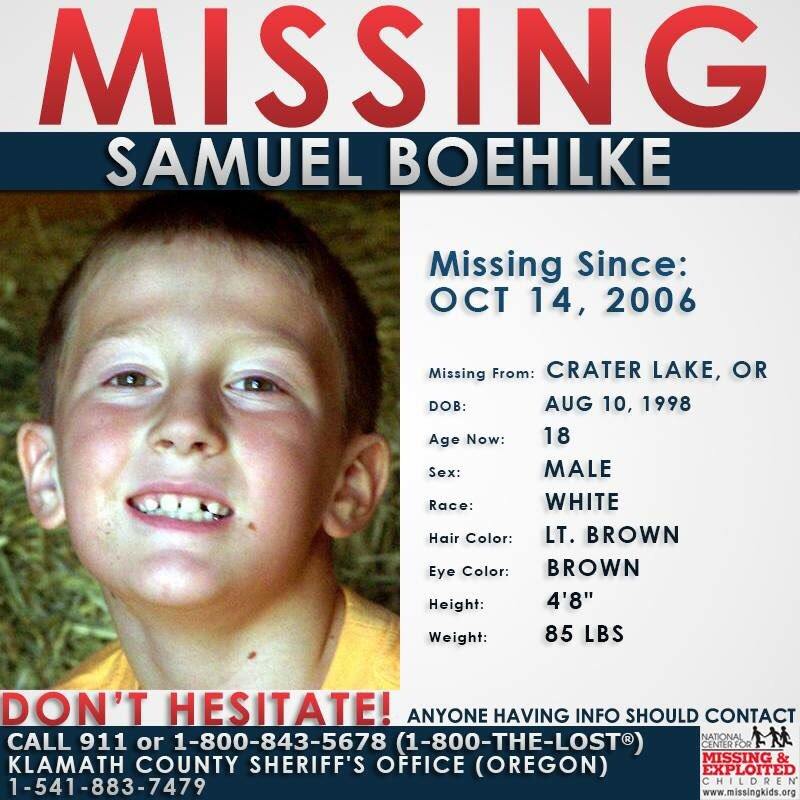 Has a 'ridiculous' number of missing kids
An 8-year-old boy disappeared into the wilderness of Crater Lake in 2006 and was never found.
Like Alaska, Oregon is renowned for miles of sprawling forests and high mountains. It has another thing in common with Alaska: its high number of missing persons. This includes a "ridiculous" number of missing kids, according to David Paulides, who has mapped out clusters of vanishings in forests and national parks.
One particular eerie spot in Oregon is Crater Lake, located in the Cascade Range of Southwest Oregon. Made up of pure rainwater lying in the crater of a dormant volcano, the lake and surrounding area are known to be a hotbed for bizarre disappearances. One such case was that of 8-year-old Samuel Boehlke on Oct. 14, 2006. The boy, who had mild autism, walked away from his father at a scenic overlook and headed into the forest. He was never seen again.
"The circumstances behind his disappearance and the subsequent inability of the park service to find him is unusual," Paulides said. "They brought in canines, canines couldn't pick up the scent. They brought in air support, they couldn't find him. A multi, multi day search couldn't locate the boy." Eight years prior, another 8-year-old boy, Derrick Engebretson, vanished from a nearby spot without a trace. He has never been found either.
Next: A state with 5-7 missing persons for every 100,000
4. Washington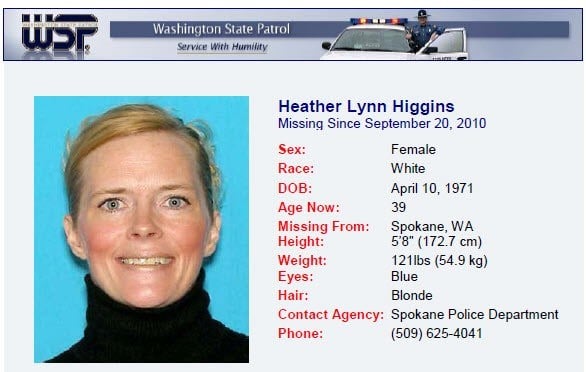 Washington has 5 to 7 missing persons for every 100,000.
In 2010, a 39-year-old woman left her apartment and her cats to run errands. She was never seen again.
Another state in the northwest – Washington – was noted for having a high number of missing persons. It was categorized by Huffington Post as having between five and seven missing persons for every 100,000.
A baffling case is that of South Spokane resident Heather Higgins, who was 39 when she was last seen on Sept. 20, 2010 leaving her apartment with a friend. Later, when Higgins couldn't be reached, her mother Jackie Forney went to her home and found nothing amiss. When asked, the friend said he had dropped Higgins back off at home after they ran errands. As far as the possibility of Higgins intentionally disappearing, she would never have intentionally left her beloved cats behind, Forney said. For months after her daughter's disappearance, Forney would fall asleep with a cordless phone in her hand, hoping to hear from her telling her how she vanished without a trace. Although detectives have had leads, the case remains unsolved, and Higgins remains missing to this day.
Next: In 1 city, 60-80 people go missing each weekend.
5. Nevada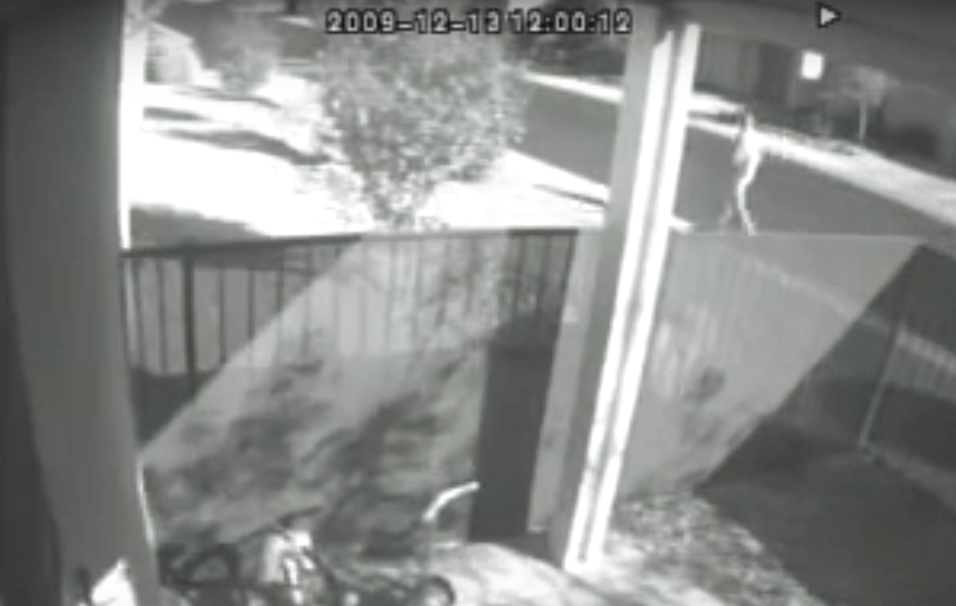 In Las Vegas alone, 60-80 people go missing every weekend.
One man disappeared in 2009 after walking away from his car filled with wrapped Christmas presents.
In Nevada, people go missing in the big cities and remote areas alike – often for different reasons. The state is known for the Nevada Triangle, a desert area where up to 2,000 planes have vanished over the past 50 years, some never to be found.
One man disappeared in the city of Henderson, Nevada in 2009 under mysterious circumstances. Steven Koecher, then 30, had recently relocated from Utah. His car was found abandoned, parked on a suburban dead-end street. The last known images of Koecher were captured on a neighbor's security camera. He is seen in the black-and-white video walking down the sidewalk and crossing the street.
Koecher had bought Christmas presents for his family at a K-Mart the day before he was seen on camera walking away. The presents were found wrapped in his abandoned car, along with a pile of resumes, a shaving kit, blankets, and pillows.
Next: Many get lost in 4.8 million acres of wilderness.
6. Idaho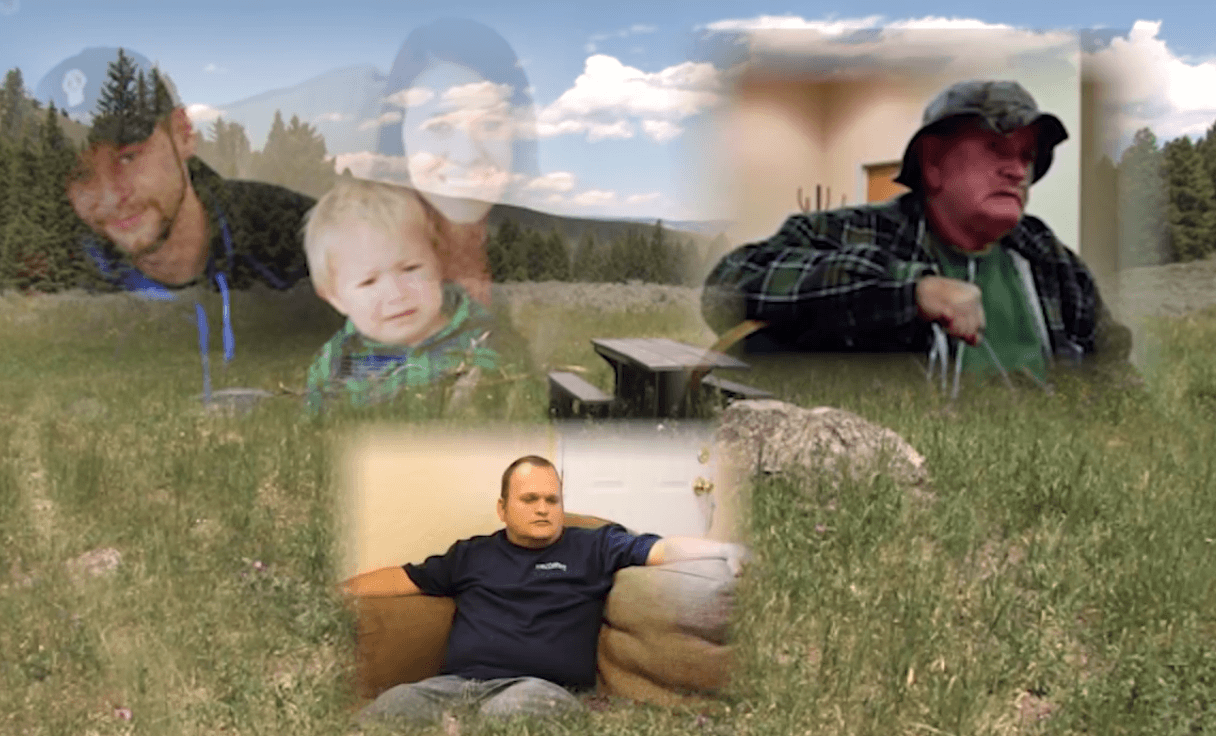 Many become lost over the years in Idaho's 4.8 million acres of wilderness.
One toddler disappeared in broad daylight while camping in 2015.
Idaho comes in as third for the state with the most acres of wilderness, with a total of 4.8 million acres of trees and wildlife. That surely has something to do with Idaho having such a high number of missing persons. Every few days another person is added to a Facebook page devoted to Idaho missing persons. Fortunately, some of the people are found safe, and the page is updated to reflect that.
One of many who have disappeared into the Idaho wilderness over the years was a toddler named DeOrr Kunz Jr., who was on a family camping trip that turned tragic. At first, there was confusion when DeOrr Kunz Jr. couldn't be found by his parents at Idaho's Timbercreek Campground. They had initially thought he was nearby with his grandfather. Authorities were called, and a search ensued, bringing up no results. No evidence of an abduction or animal attack was ever found. Fingers have been pointed at the child's parents, who have denied any wrongdoing and who continue to search for their son. The toddler's whereabouts remain unknown to this day.
Next: A state with 142 on the missing person's list
7. Montana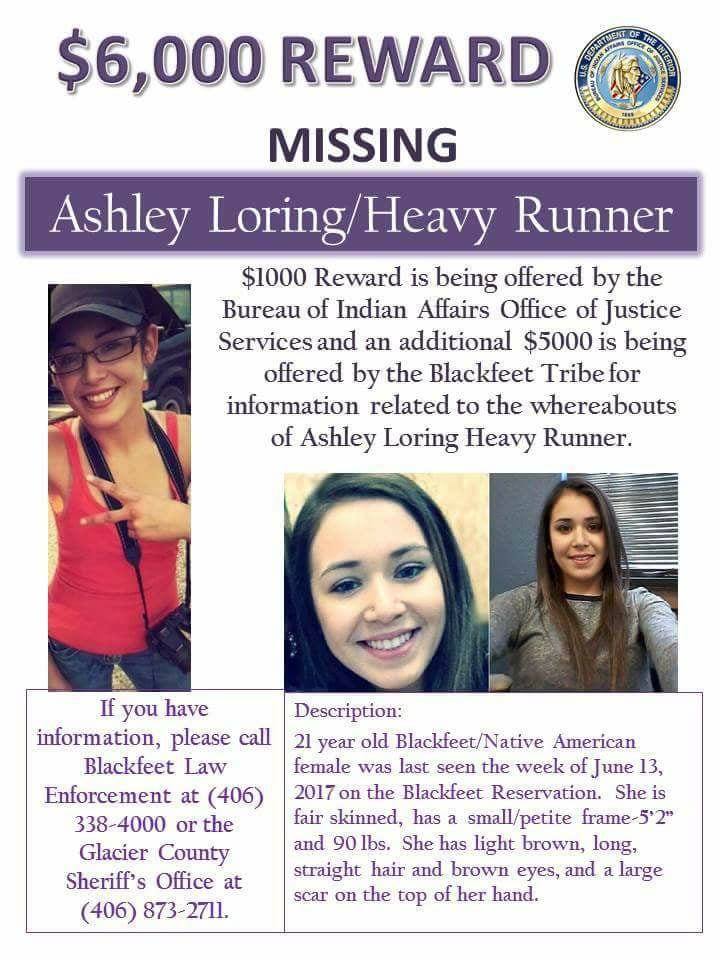 142 people are on the Montana Department of Justice's Missing Person's List.
A 20-year-old Native American woman's family continues to search for her every day since she disappeared in June 2017.
The list of people missing from Montana includes everyone from potential murder victims to runaways. Like with some of the other more rural states, there are many places to disappear among the mountains and valleys in the wilderness.
Ashley Loring Heavyrunner, 20, vanished from the Blackfeet Reservation in Montana in June 2017. Her last known whereabouts were Native American Bank. Since then, her family has been looking for her. For months, her older sister Kimberly Loring has been putting up flyers, searching on social media, and taking calls from tipsters. Nearly every day, search parties set out in the Rocky Mountains situated to the west of the reservation. More than 40 searches have been conducted to date in the area, which is home to mountain lions and grizzly bears.
"I don't want to be an 80-year-old woman searching these mountains with my grandchildren," Kimberly said. "But there's no choice, because if I give up, who's going to look for her?" To date, Ashley has not been located.
Next: The least populous state is on the list.
8. Wyoming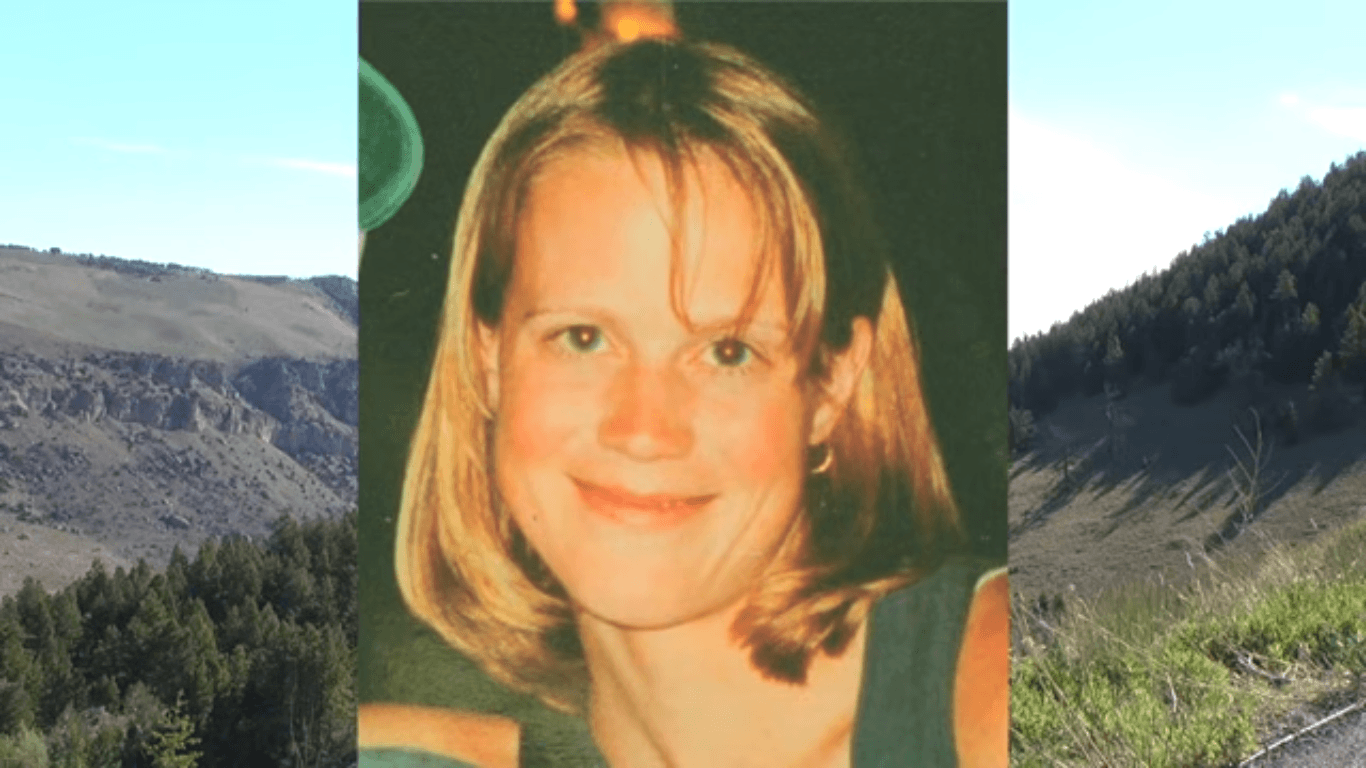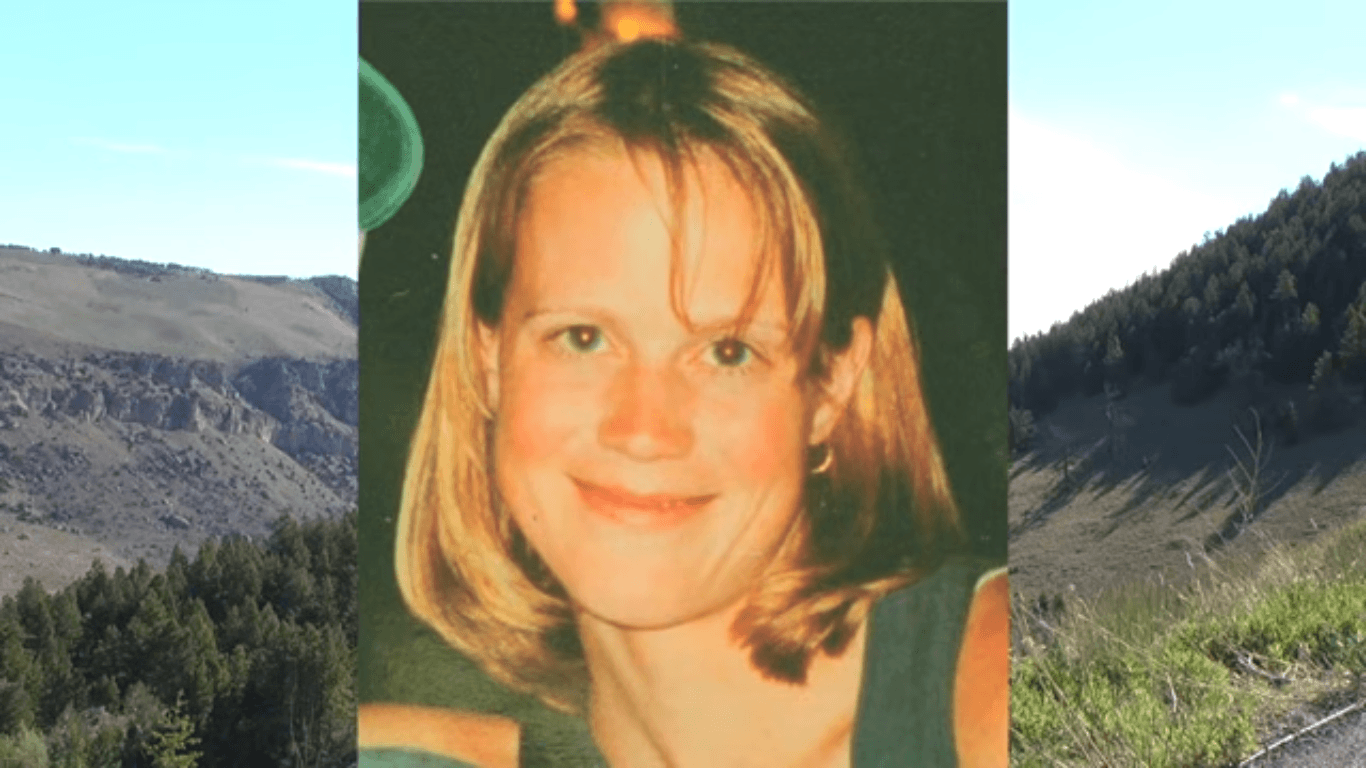 Wyoming has 5 to 7 missing persons for every 100,000.
In a well-publicized case, a jogger who vanished 20 years ago remains missing.
Wyoming is known for some beautiful wilderness as well as being home of Yellowstone National Park. It happens to be the least populous state in the country, even though it's the 10th largest by area. However, the state has a moderately high number of missing persons.
On July 24, 1997, Wyoming resident Amy Wroe Bechtel taught a weight-lifting class. She then ran some errands, marking the last time she was ever seen. Authorities reported the 24-year-old then went to the Shoshone National Forest to practice the course of an upcoming 10K run. That night, she was reported missing by her husband, and the following day, her white Toyota Tercel was found unlocked, with the keys still in it. Investigators suspect foul play, but cited lack of evidence to support that theory. It was said there were persons of interest but no active suspects. Despite extensive investigative work and media coverage, the case remains unsolved. Her husband had her declared dead in 2004.
Next: Even an island paradise can have many missing people.
9. Hawaii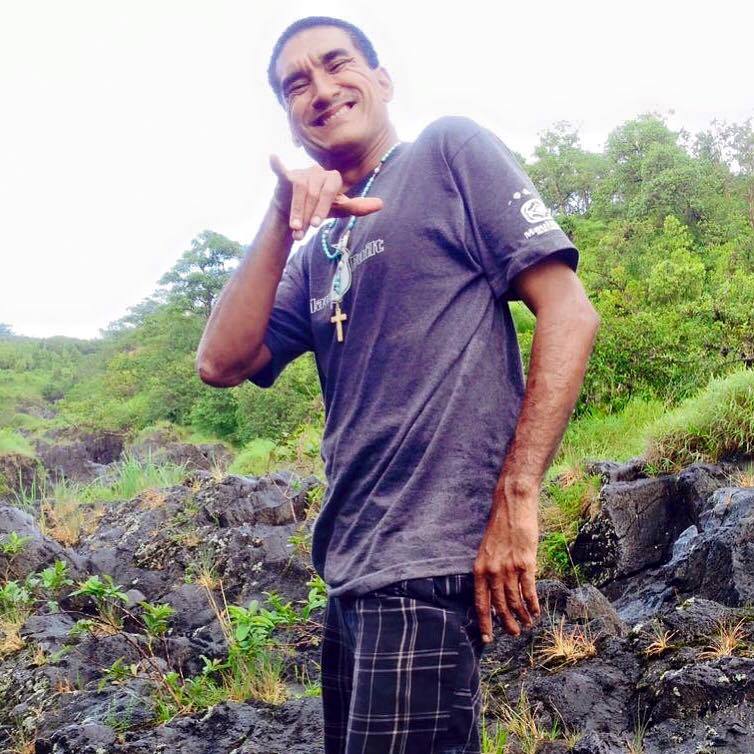 More than 3,000 children go missing every year in Hawaii.
One 39-year-old man in a remote area disappeared one night in 2015. He was never seen again.
It may be seen as an island paradise, but Hawaii is also a place with a high number of missing persons. In fact, more than 3,000 children go missing every year in the state. Officials say one out of every six of these is recovered by people looking at photos on the Internet.
Thirty-nine-year-old Billy Oliveira disappeared from his home in Nahiku, Hawaii the evening of July 13, 2015. He lived with his grandmother and was last seen when going outside to check out a vehicle they heard pull up to the house. He never came back inside and has never been seen again. No one was ever able to discover a reason why Oliveira would have walked away and not returned. He was described as a homebody who was close with his grandmother and always told her where he was going. His home was in a remote area of Hawaii, which made searching for him difficult. His whereabouts are still a mystery.
Next: The FBI listed 400 missing in this state.
10. Arkansas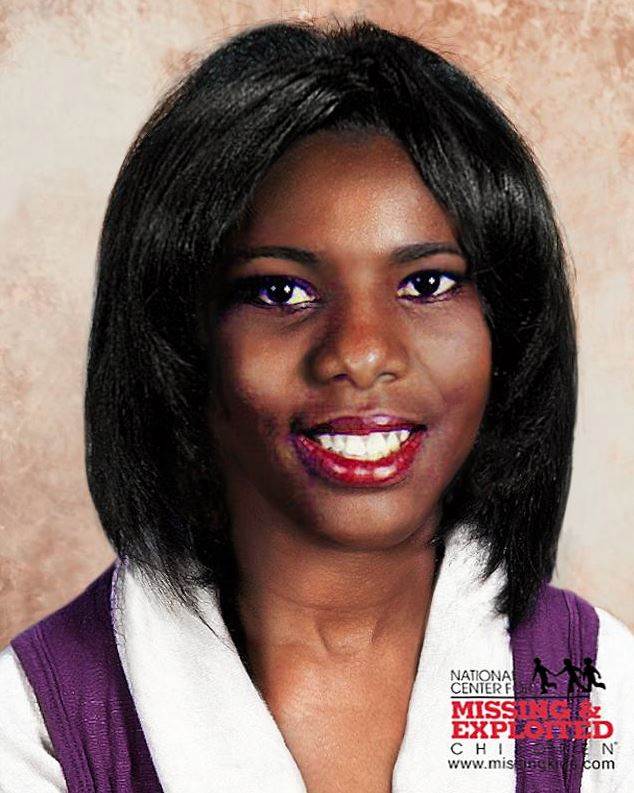 In 2014, the FBI's database had 400 missing people listed in Arkansas.
In a decades-old unsolved case, a college-bound honor student never made it home from work.
Arkansas is known for abundant parks and wilderness. The state is dotted with mountains, caves, rivers, and hot springs. It also had 400 missing people, according to the FBI.
In a decades-old case that still remains unsolved, an 18-year-old woman from Pine Bluff, Arkansas went missing on May 9, 1994. Cleashindra Hall was ranked at the top of her high school class and was set to start an internship in Boston. Her mother dropped her off at work near their home that morning. After Hall left work later, she was never seen again. The doctor who she worked for reported she got into a car with someone after work. One theory is Hall tried to walk home and was abducted, and another theory is she may have run away. The doctor was reportedly considered a person of interest. Every year, Hall's family releases pink balloons to mark their ongoing quest to find her.
Next: A state saw five disappearances in one area.
11. Vermont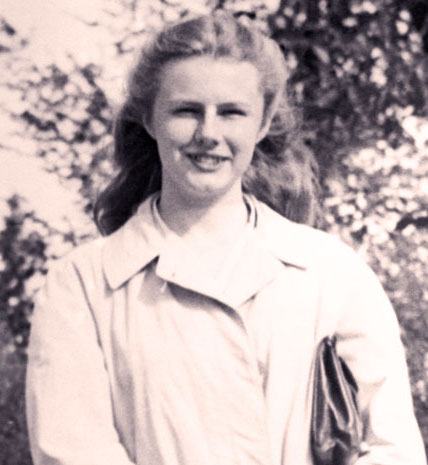 Five mysterious disappearances occurred in one area of Vermont between 1945 and 1950.
A college woman's disappearance took on elements of legend.
For almost 100 years, an area of Vermont called the Bennington Triangle has been legendary for eerie missing persons cases. It's a densely wooded patch of land in the southwest part of the state. It's triangular in shape and encompasses a mountain and several former logging towns. The first disappearance of note took place in 1945.
Paul Jeen Welden would be 89 years old today. No one knows for sure if the Vermont resident is alive or dead. She disappeared in the Bennington Triangle in 1946 at the age of 18, and at the time the case took on elements of legend. The Bennington College student, who enjoyed painting and the outdoors, went out for a walk wearing a red parka and jeans, during Thanksgiving break when she stayed on campus. No one knows what happened to her from there on. When she missed classes on Monday, an investigation began. There were reports of her being seen walking and hitchhiking, but nothing was confirmed. A massive investigation ensued, psychics were called in. But nothing was ever solved.
Next: A state with 119 missing persons cases
12. Rhode Island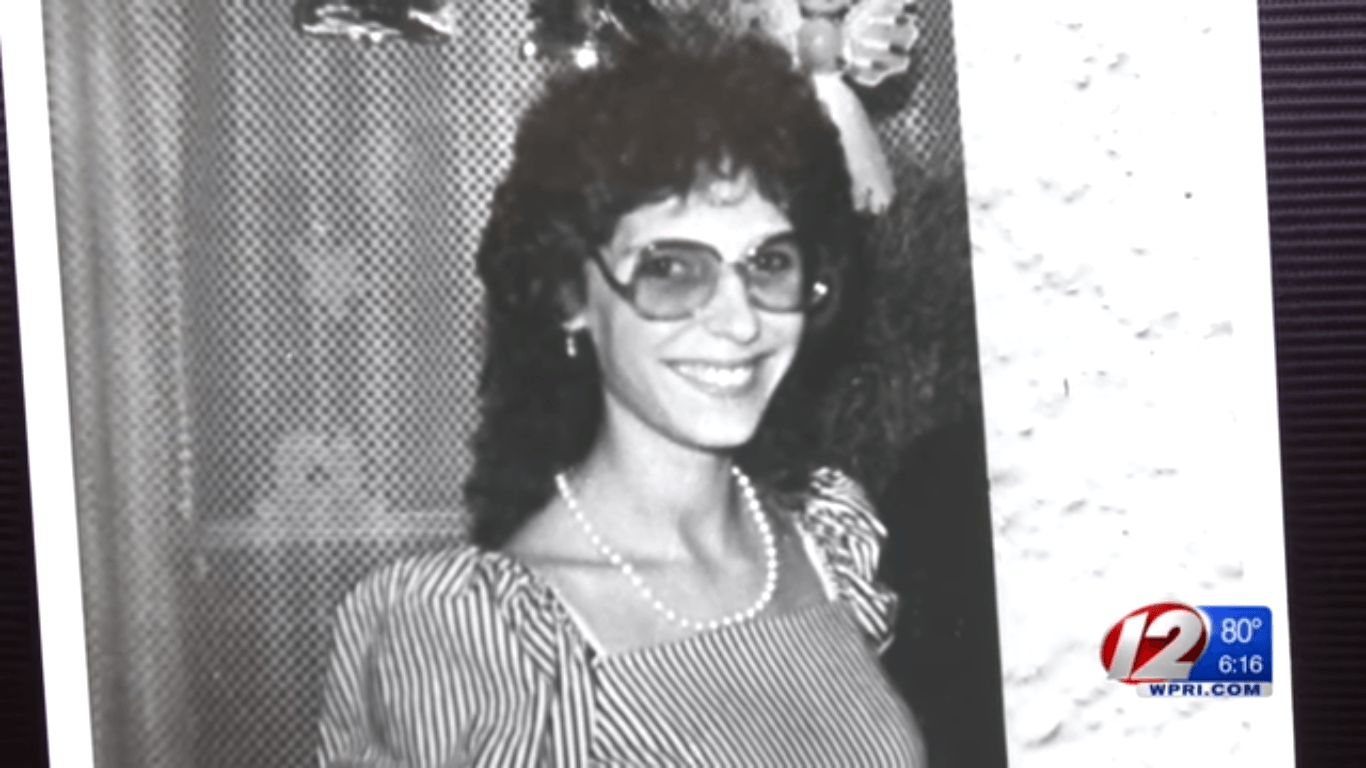 119 people are currently listed missing
One mother received a chilling call.
There are 119 people listed as missing in Rhode Island, with some of the cases dating back to the 1970s. Sixty-five of those were people younger than 18 at the time of their disappearance.
One Rhode Island cold case is now 25 years old, and people are still wondering just what happened. In June of 1992, Katrina McVeigh, then 27, was last seen getting into a car. No one ever heard from the mother of three again. McVeigh's brother searched a riverbank area and found what he thought was some clothing she had been wearing the night she vanished. Family members believe she was killed by someone close to her and said she had been at the end of a longstanding abusive relationship. McVeigh's mother also received a mysterious call in which she was told, "You will never find her."
Next: A state where a 2-year-old disappeared from his bed
13. New Jersey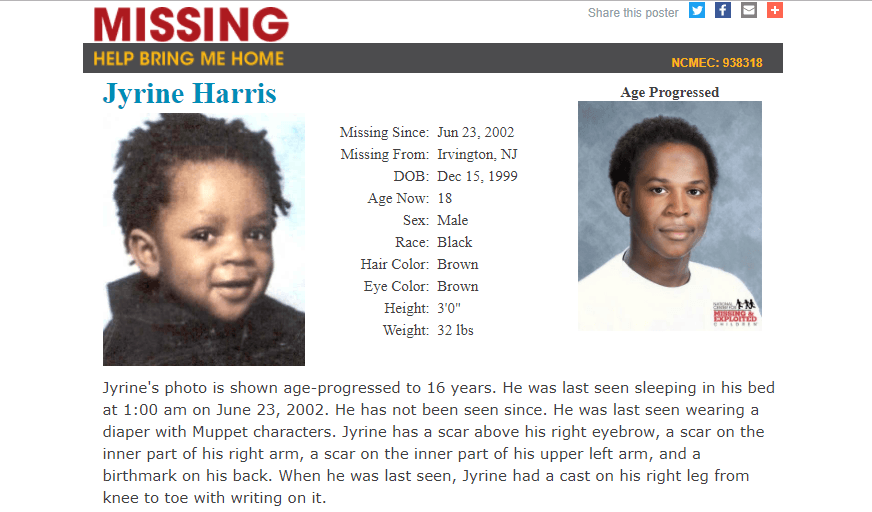 96 people are currently on the New Jersey State Police Missing Persons List
One toddler disappeared from his own bed in 2002.
On June 23, 2002, a two-year-old New Jersey boy named Jyrine Harris was said to have disappeared from an unlikely place: his own bed. He was last seen there at 1 a.m. and disappeared while his teenage sister LaElisa Harris was watching TV downstairs with her boyfriend. The family searched the house before calling the police at 5 a.m. Jyrine lived with his grandmother and eight other people. Authorities do not believe Jyrene was taken by either of his parents. It is also unlikely he wandered away from the home due to the fact he had a broken leg. He was last seen wearing a diaper featuring Muppet characters.
Next: A state where 79% of cases go unsolved
14. Delaware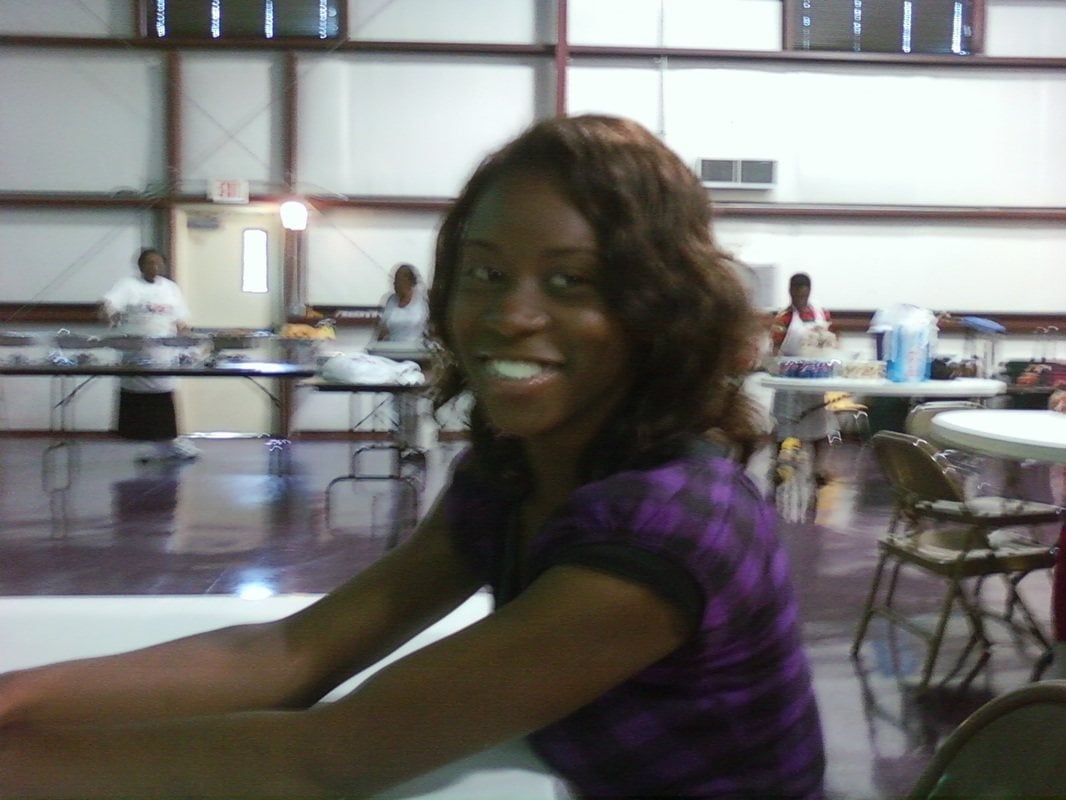 79% of missing persons cases remain unsolved
One pregnant high school student vanished in 2010 and was never found.
A local NBC news outlet reported that 79% of missing persons cases in Delaware remain unsolved.
One missing Delaware resident is Janteyl "Puff" Johnson, a high school student who disappeared at the age of 15 in 2010. She was five months pregnant when she vanished. The last day she was seen by family, Johnson left school early, saying she was sick. She was thought to have made it home, but later that afternoon she was nowhere to be found when her mother came to pick her up for a church event.
As time went on and she couldn't be located, an investigation began. Her last phone call was placed to an older man assumed to be the father of her baby. Some speculate she left with the man out of her own free will. By one Reddit account, the man was later found and denied knowledge of what happened to Johnson. So the question remains: Did she run away, or is there more to her disappearance? It's still a mystery. More information on this case can be found on the Where is Janteyl? website.
Next: A state where 13 children are reported missing
15. Maryland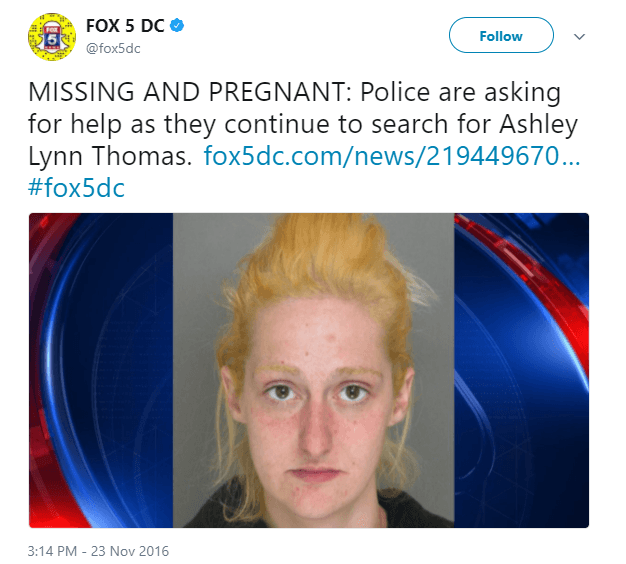 13 Maryland children are currently reported as missing by the Maryland Coordination and Analysis Center.
A pregnant Maryland woman went missing and was considered critically endangered.
Population-wise, Maryland ranks 19th in the United States, with 6 million residents. The state was identified by Huffington Post as having five to eight missing persons per 100,000 people.
A relatively recent case in Maryland involves Ashley Lynn Thomas, who disappeared on November 11, 2016. She was pregnant at the time of her disappearance. After her husband reported her missing, investigators soon received several tips that she might have been in the Brooklyn, New York area, but no confirmed sightings occurred. Thomas was last seen wearing a pink hooded sweatshirt, black t-shirt, black maternity pants with blue jeans underneath, multicolored socks, and a pink and white hat. Because she was pregnant, she was considered critically missing and endangered. She has not been found to date.
Check out The Cheat Sheet on Facebook!