Insanely Creative Grilled Cheese Recipes
Great grilled cheese is all about exercising a little bit of patience by cooking the sandwich over medium heat until you end up with a golden crust and perfectly molten interior. If you're still finding yourself with half-melted cheese and burnt bread, start practicing. Sub-par sandwiches simply won't do.
After you've mastered the basics, you can graduate to advanced placement grilled cheese, which brings us to the here and now. Your basic cheese and bread combo becomes something otherworldly when you add toppings like eggs and bacon or even chocolate and fruit. Up for the challenge? Try these six gourmet twists to take your grilled cheese to new heights.
1. Bacon, Egg, and Maple Grilled Cheese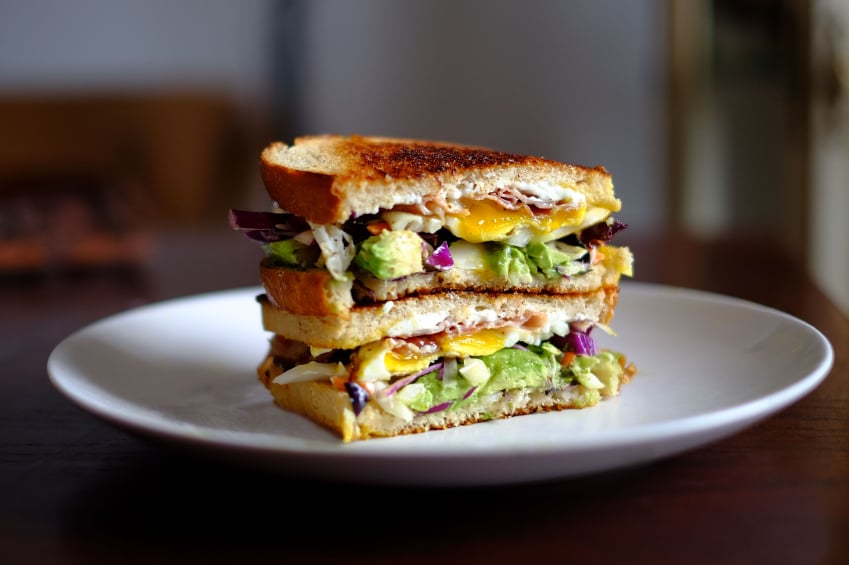 This recipes from Food Network is like the more indulgent version of a standard breakfast sandwich. It's not as speedy as your typical grilled cheese since the bacon takes about 25 minutes, but it's a perfect weekend treat. If you typically go for sausage instead of bacon, remove the casings, and brown the meat on the stove. Add the syrup and reduce until it coats the sausage. From this point, you can follow the recipe as written.
Ingredients:
6 slices thick-cut bacon
2 tablespoons maple syrup
7 tablespoons unsalted butter, softened
4 large eggs
9 slices cheddar cheese, one quartered
8 (⅓- to ½-inc-thick) slices brioche bread
Directions: Preheat oven to 375 degrees Fahrenheit. Arrange bacon slices on a baking sheet and bake until fat begins to render, about 10 minutes. Brush both sides of each bacon slice with syrup and continue to bake until caramelized and edges brown, 10 to 15 minutes longer. Let cool on rack for 5 minutes, then cut in half.
Melt 1 tablespoon butter in a large nonstick skillet over medium heat. Add eggs and fry until they're set, 3 to 4 minutes. Transfer to a plate.
Arrange four slices of bread on a work surface and top each with one whole slice of cheese, three pieces of bacon,  one of the small cheese slices, one egg, then another whole slice of cheese. Close sandwiches with remaining bread. Evenly spread remaining butter on both sides of each sandwich.
Cook two sandwiches in same skillet set over medium heat. Cover and cook until bread is golden, about 2 minutes. Flip and cook, uncovered, until browned and cheese is melted, about 2 minutes longer. Repeat with remaining sandwiches and serve.
 2. Grilled Cheese Sandwiches with Sautéed Mushrooms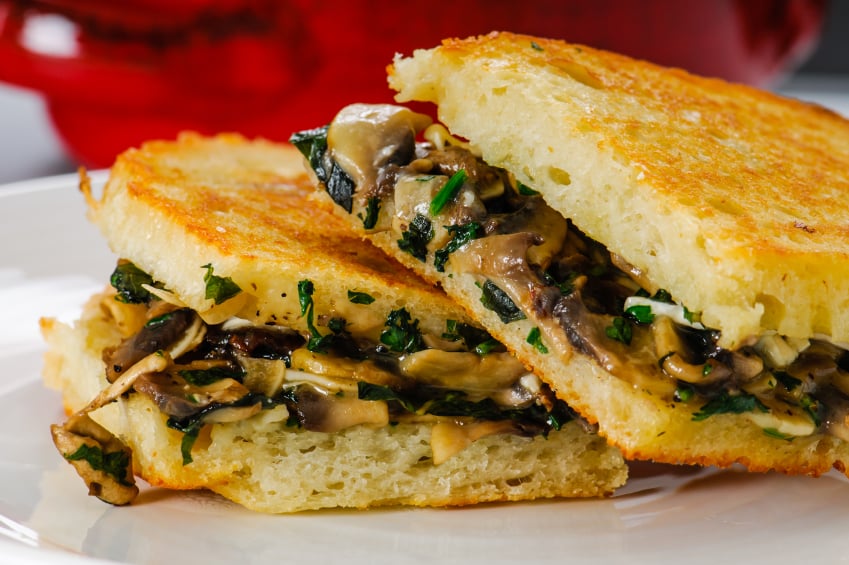 Earthy mushrooms star in Serious Eats's decidedly upscale spin on grilled cheese. All you have to do is cook the shallots and sugar, brown the mushrooms, add some flavor-enhancers, then pile them onto some hearty bread with gooey taleggio cheese. You'll use the same skillet to make the sandwiches, so cleanup is a complete breeze.
Ingredients:
6 tablespoons unsalted butter
1 tablespoon olive oil
4 medium shallots, thinly sliced
2 teaspoons light brown sugar
8 ounces mixed mushrooms of your choice
1 tablespoon fresh thyme leaves
2 tablespoon sherry vinegar
Kosher salt and freshly ground pepper
12 ounces taleggio cheese, sliced
8 slices hearty white bread
Directions: Melt 2 tablespoons butter with the olive oil in a large skillet set over medium-high heat. Add shallots and sugar. Cook, stirring, until softened and beginning to brown, about 5 minutes. Add mushrooms and thyme. Cook, stirring, until the mushrooms are browned, about 7 minutes. Stir in vinegar and cook until nearly evaporated, about 1 minute. Season with salt and pepper, transfer to a plate, and wipe out skillet.
Spread one side of each slice of bread with remaining butter and flip over so buttered side is facing down. Evenly divide cheese among each slice and then top four of the slices with the mushroom mixture. Close each mushroom-topped slice with a cheese-topped slice and press gently to adhere.
Working in batches, cook sandwiches over medium heat until crisp and golden on both sides, about 4 minutes per side. Transfer to a cutting board and let sit for 3 minutes. Cut diagonally and serve.
3. Barbecue Pulled Pork Grilled Cheese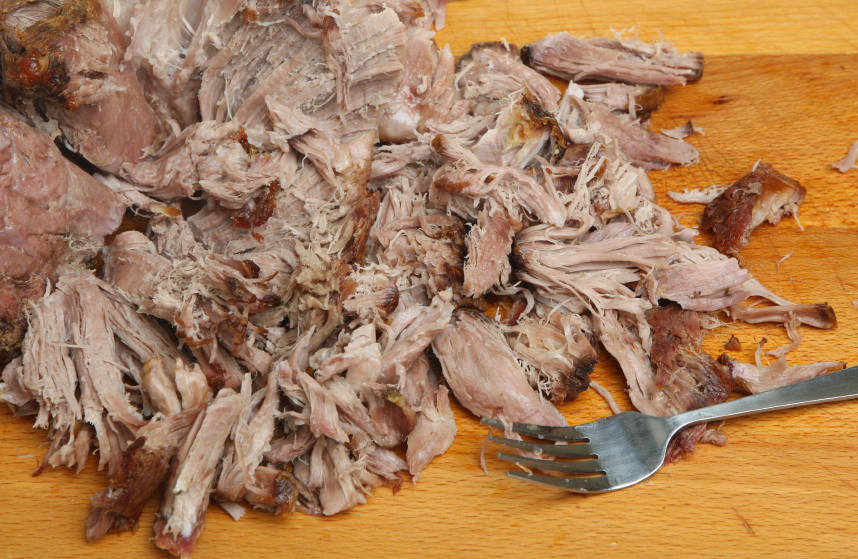 Most of us are happy to chow down on leftover pulled pork simply piled on a bun with a bit of extra sauce. As great as this simple sandwich tastes, turning your barbecue into a grilled cheese tastes out of this world. Try it yourself with Closet Cooking's simple method. If you don't have any leftovers sitting around, the recipe will work just as well with pulled pork from your favorite barbecue restaurant.
Ingredients:
Directions: Heat a pan over medium heat. Butter one side of both bread slices. Place one slice of bread, buttered-side down, in skillet. Add one slice of cheese, all of the pork, the sauce, and the coleslaw, if using. Top with remaining cheese and close with remaining bread, buttered-side up.
Cook until nicely browned on both sides and cheese is fully melted, about 2 to 4 minutes per side. Serve at once.
4. Spinach and Artichoke Grilled Cheese Sandwich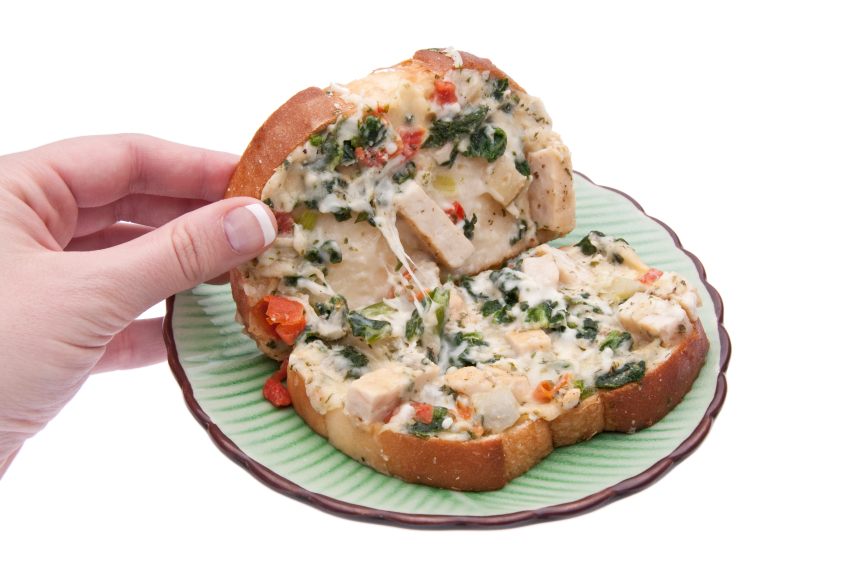 Consuming a vat of spinach and artichoke dip for dinner isn't generally recognized as acceptable. But piling the same ingredients onto a toasty sandwich instantly turns the dip into a meal, which is why we love this appetizer-inspired grilled cheese from Joy the Baker. We think it might even be impressive enough for date night.
Ingredients:
Drizzle of olive oil
1 small garlic clove
3 cups baby spinach
4 bread slices
2 tablespoons cream cheese
⅓ to ½ cup grated Jack cheese
2 tablespoons grated Parmesan cheese
½ cup coarsely chopped canned, drained artichoke hearts
1 heaping tablespoon sour cream
½ to 1 teaspoon Sriracha
Pinch of salt
1 tablespoon unsalted butter
Directions: Heat a drizzle of oil in a small pan set over medium-low heat. Add garlic and cook, stirring, for 30 seconds. Add spinach and cook, tossing, until wilted. Remove to a bowl and let cool. Wring excess moisture from spinach using paper towels or a clean kitchen towel. Toss spinach with Jack, Parmesan, artichokes, sour cream, Sriracha, and salt to combine.
Spread each bread slice with cream cheese on one side. Pile spinach and artichoke filling onto two of the slices and close each with another slice of bread so the cream cheese faces in.
Melt butter over medium-low heat in a skillet large enough to fit both sandwiches. Add sandwiches and cook until golden on both sides and filling is melted and gooey. Serve.
5. Grilled Cheese and Chorizo Sandwiches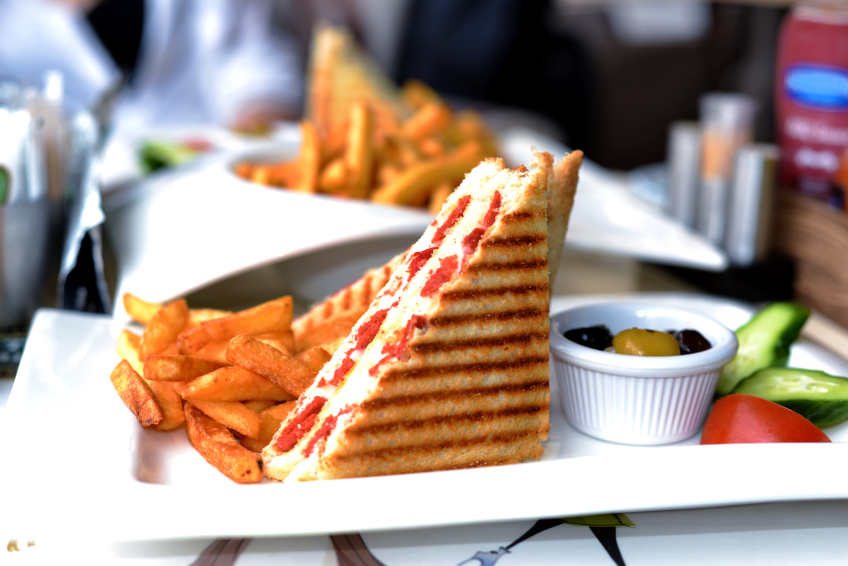 If you're craving something out of the ordinary, try Food & Wine's chorizo grilled cheese recipe. These sandwiches boast loads of flavor thanks to the savory sausage and pickled jalapeños. The recipe calls for Havarti along with pepper Jack, but we think smoked cheddar is also a fantastic choice.
Ingredients:
3 (6-ounce) cured Spanish chorizo sausages, thinly sliced on a diagonal
2 tablespoons unsalted butter, softened
8 slices sourdough bread
6 ounces pepper Jack cheese, thinly sliced
2 tablespoons drained and sliced pickled jalapeños
6 ounces Havarti cheese, thinly sliced
Directions: In a large skillet, cook chorizo over medium-high heat, stirring occasionally, until lightly browned, about 3 minutes. Transfer to a paper towel-lined plate. Wipe out skillet.
Butter each slice of bread on one side and turn four slices so buttered sides face down. Top each of these four slices evenly with pepper Jack, chorizo, pickled jalapeños, and Havarti. Close sandwiches with remaining bread, buttered-side up.
Preheat two large skillets over medium heat and cook sandwiches, turning once, until bread is golden and cheese is melted, about 8 minutes total. Cut sandwiches in half and serve.
6. Roasted Strawberry, Brie, and Chocolate Grilled Cheese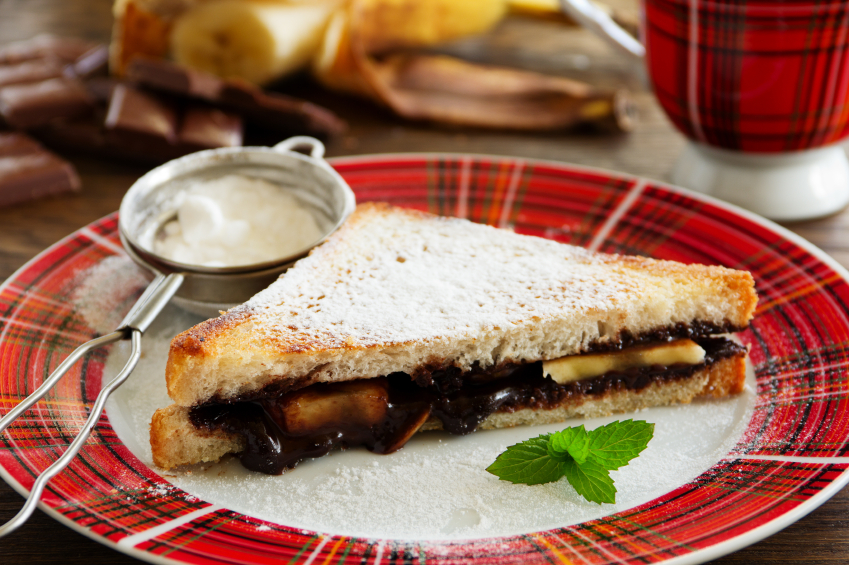 Grilled cheese becomes a rich dessert when you use creamy brie, dark chocolate, and some sweet berries. See how it's done with this easy recipe from How Sweet It Is. You'll start by giving the strawberries a quick trip to the oven, a great trick for boosting the flavor and sweetness of mediocre berries. Once your fruit is ready, just assemble, then let the sandwiches sizzle. They're the perfect combination of sweet, savory, and deliciously messy.
Ingredients:
6 strawberries, quartered
½ teaspoon canola oil
Pinch of salt
2 tablespoons unsalted butter, softened
4 thick slices multigrain bread
2 to 3 ounces brie, sliced
1 to 2 ounces dark chocolate
Directions: Preheat oven to 375 degrees Fahrenheit. Toss berries with oil and salt. Transfer to a cookie sheet and bake for 20 minutes.
Butter one side of each slice of bread. Flip over two of the slices and add cheese, chocolate, and roasted berries. Add a bit more cheese, then close with remaining slices of bread, buttered-side up.
Heat a large skillet over medium low, add sandwiches and cook until cheese is melted and both sides are golden, about 2 to 3 minutes per side. Serve.
Follow Christine on Twitter @christineskopec