Joanna Gaines Has This Brilliant Tip for Handling Sentimental Clutter
One of the hardest things about getting rid of clutter is parting with items that have sentimental value. Itty bitty baby clothes, preschool artwork, that crystal punch bowl from your beloved grandmother's dining room — people tend to attach emotional value to inanimate objects. Getting rid of old stuff that has meaning feels like you're disrespecting the person it's associated with.
And while Joanna Gaines may be the reigning queen of sleek, chaos-free design, it turns out she has a few clutter skeletons in her closet just like the rest of us. She recently went on a purging spree in her attic, and like many mothers, she had a hard time letting go of her kids' old stuff. But that doesn't mean she kept everything.
Let's take a look at how Joanna deals with clutter, as well as a few other common design mistakes that make your house look cluttered.
Joanna got a jump start on 2018 with a huge decluttering session
Lots of people joke that the week between Christmas and New Year's feels strange with the kids off school and the holiday excitement winding down. But rather than sitting around stacks of new presents, Joanna used the time to start tackling the mess she was hiding in her attic. She shared her cleaning mission with her millions of followers on Instagram.
Next: She hid a hodgepodge of treasures here.

Her attic was hiding a hodgepodge of treasures
Cake stands, teacups, old clothes, bedding, furniture … it's amazing how much stuff was in Joanna's attic. If you have a similar situation in your storage space, consider following the rule that if you haven't used it or looked at it in a year, it's time to get rid of it.
Next: This is a great tip for getting rid of the hardest pieces to part with.

Joanna uses this tip for some of the hardest pieces to part with — baby clothes
Kids grow up so quickly. It seems like one minute you're gently snapping up their tiny onesies and the next they're leaving sweaty football cleats all over the house.
The KonMari method states that you should get rid of any items that don't "spark joy." But what happens when every single tiny sock fills you with equal parts pleasure and wistfulness?
Rather than saving everything, Joanna packed up her favorite baby clothes for each kid in a box and attached a personalized note, "in case they are sentimental like their mama," she wrote in her Insta Stories.
Next: Saving less gives more meaning to each item.

Saving less gives more meaning to each item
When you're decluttering, it's important to remember that parting with an item doesn't mean you're throwing away the person, or the memory associated with them. Sometimes the best way to honor your treasured memories is by holding onto one item or even a photograph of the item. That way it'll never get lost amongst the clutter and you can easily pass it along to your children or relatives.
Next: You need to create this and stick to it.

Create a designated space for memories and stick to it
One way to control how much you keep is by setting physical limits. Just like Joanna did, designate one box or bin for each child or event, like forcing yourself to contain all your high school memorabilia into one 18 gallon plastic bin. Organizers often employ this method to allow their clients to save meaningful treasures without filling an entire spare bedroom with high school wrestling trophies.
Next: It's OK to tackle small projects.

Stick to a timeline
Since their decision to end Fixer Upper after the fifth season, the Gaineses have had more time for family and for personal pursuits like decluttering an attic. Even if you don't have an entire week to devote to getting rid of unnecessary stuff, try setting aside a certain number of hours each week and tackling small projects. With each cupboard and closet you clean, you'll gain a sense of self-confidence that will help inspire you to keep going. Remember, it's not a race. Decluttering is a process that is never truly "done."
Next: You should save the things that matter most to you.

Remember, what you save is a very personal decision
While one person finds it important to save their first pay stub from their first job, another might gain more value from holding onto her great-grandmother's clip-on earrings. In the end, you should save the things that you love the most.
For example, Joanna found her childhood sheets and her high school cheerleading uniform during her cleanout. She ultimately decided the sheets were pretty, so she kept them.
Next: The most common design mistakes and how to fix them.
Hang your curtains the right way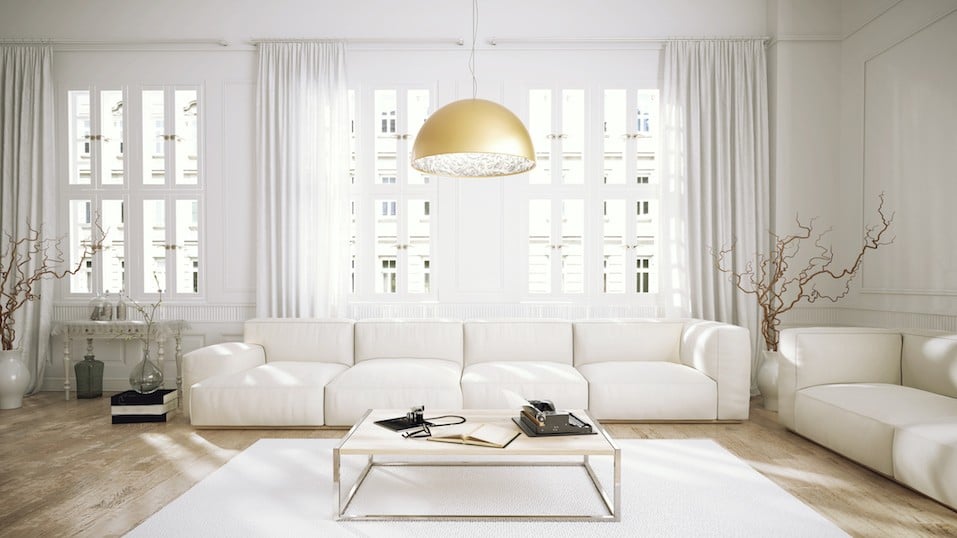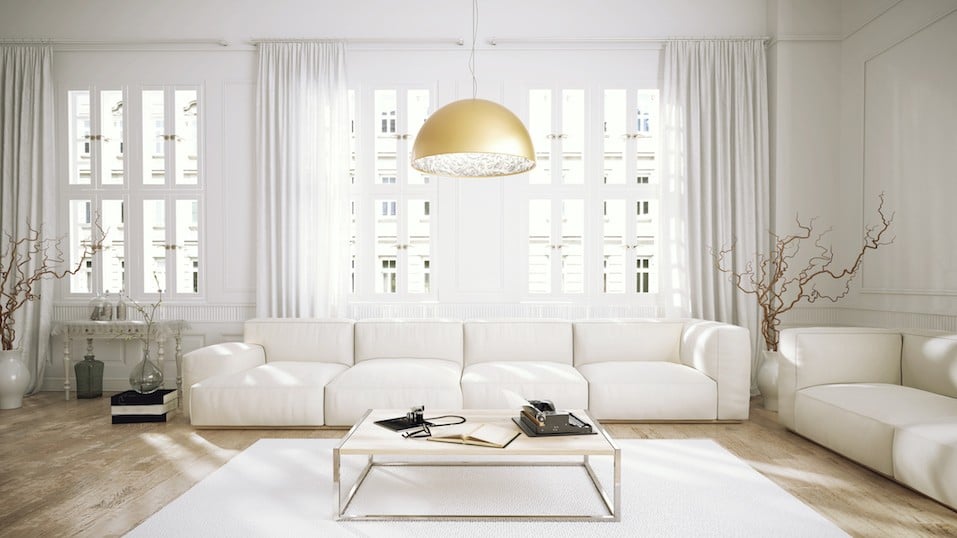 Follow any design blog, and you'll see that they recommend hanging your curtains "high and wide." But what does that mean exactly?
You might be tempted to mount your curtain hardware directly onto the trim around the window. But doing so could make your windows look smaller, which in turn makes the whole room look tiny and cluttered. Instead, install floor-length curtains, and put the hardware as close to the ceiling as possible. Also, put them a few inches wider than the windows themselves. This creates the illusion of larger windows, which makes the whole room look bigger.
Next: A big mistake many of us make in the kitchen.
Clear those countertops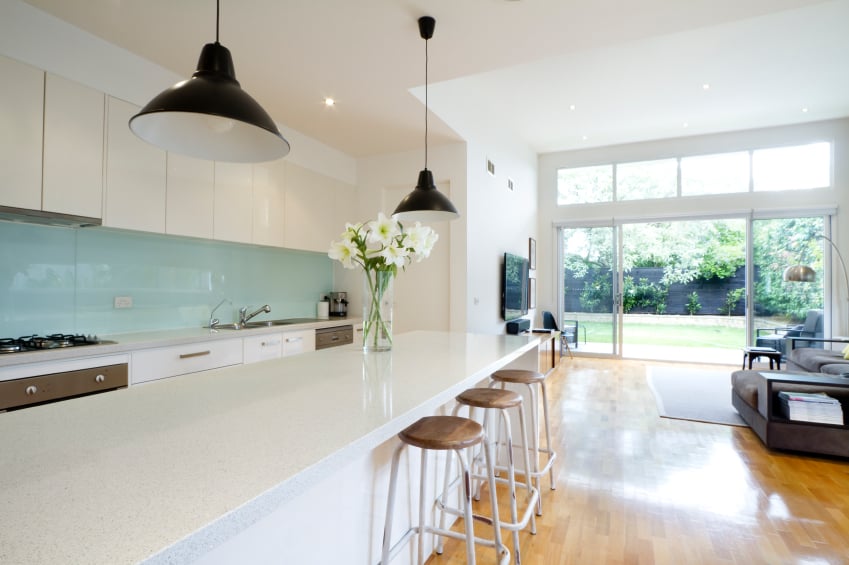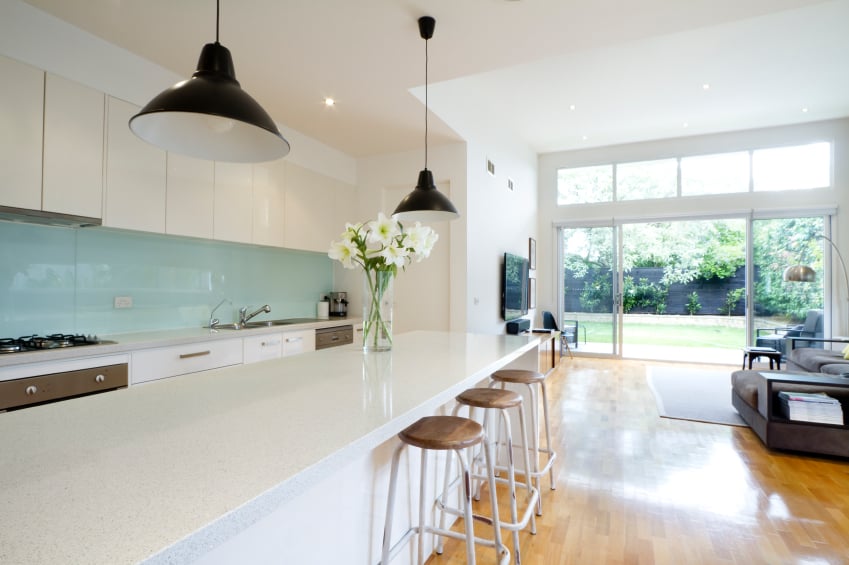 Just because it's a flat surface doesn't mean you need to fill it with stuff. Whether you're staging your house for sale or you're just looking to live a more minimalist lifestyle, try to keep as few appliances on the counter as possible to avoid looking messy. That blender you only use once every three months? Tuck it away in a cabinet, and only take it out when you need to use it. It's also easier to wipe down counters when they're totally cleared off.
Next: Dark rooms should be avoided with these tricks.
Let some light in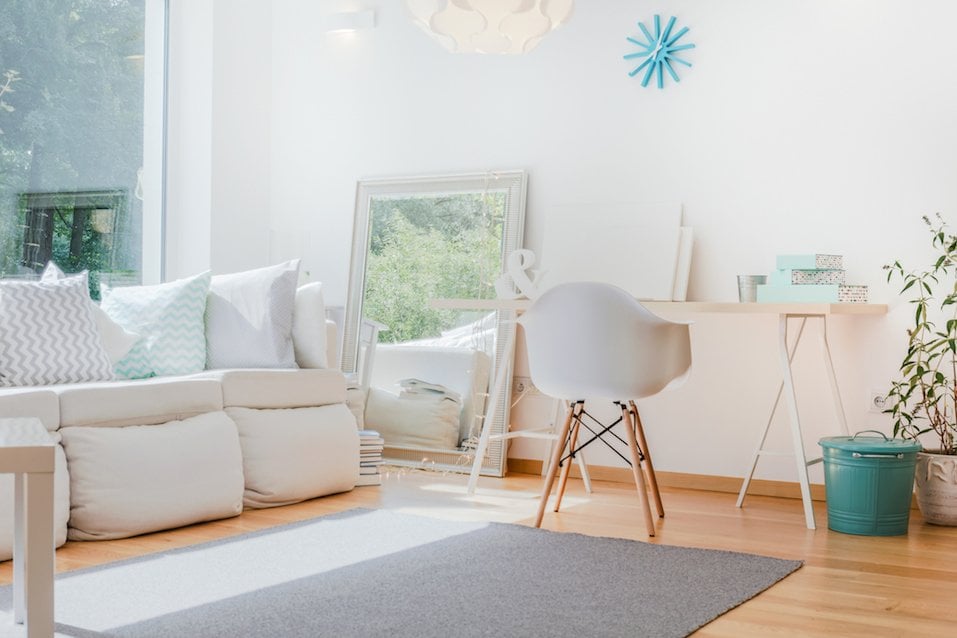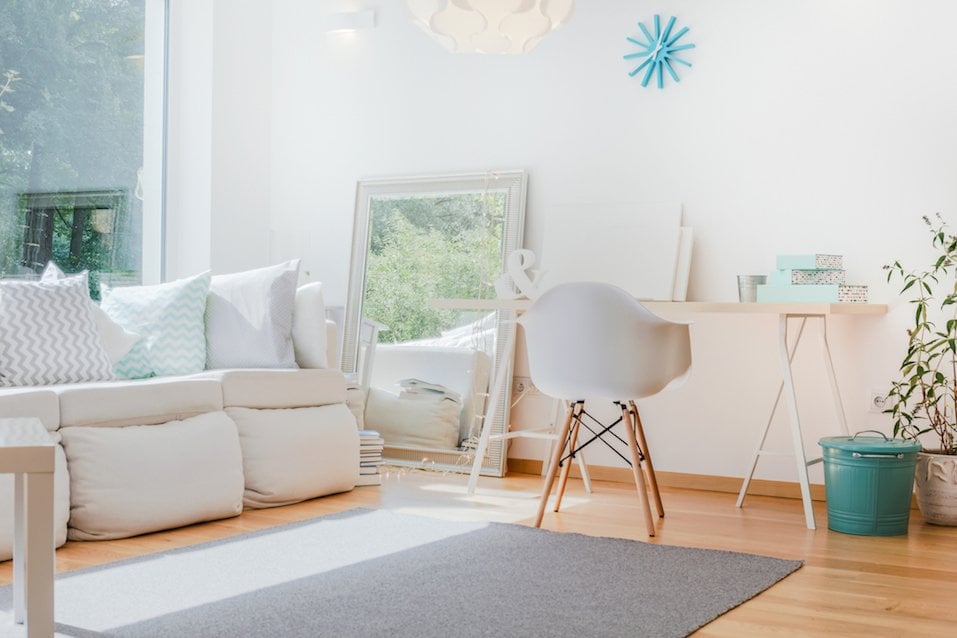 Dark rooms naturally look more cluttered, no matter how much stuff is in them. To brighten up your space, consider hanging a mirror directly across from a window to reflect the natural sunlight. Some other tricks include choosing pale paint colors, adding tables and floor lamps in corners, and picking light-colored, monochromatic furniture whenever possible.
Next: You know these are an eyesore.
Hide the cords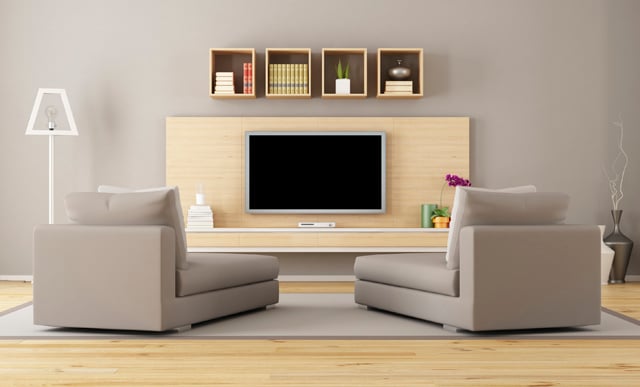 Nothing looks more cluttered than a tangle of cords. Televisions, game systems, lamps — all of these items require electricity. And when you add a limited number of outlets to the mix, it's easy to wind up with a big mess. Rather than shove your cord tumbleweed behind a piece of furniture, try a few of these tips for camouflaging ugly wires. Your room will feel more put together with almost no effort.
Next: Why does everyone push furniture up against the wall?
Rearrange the furniture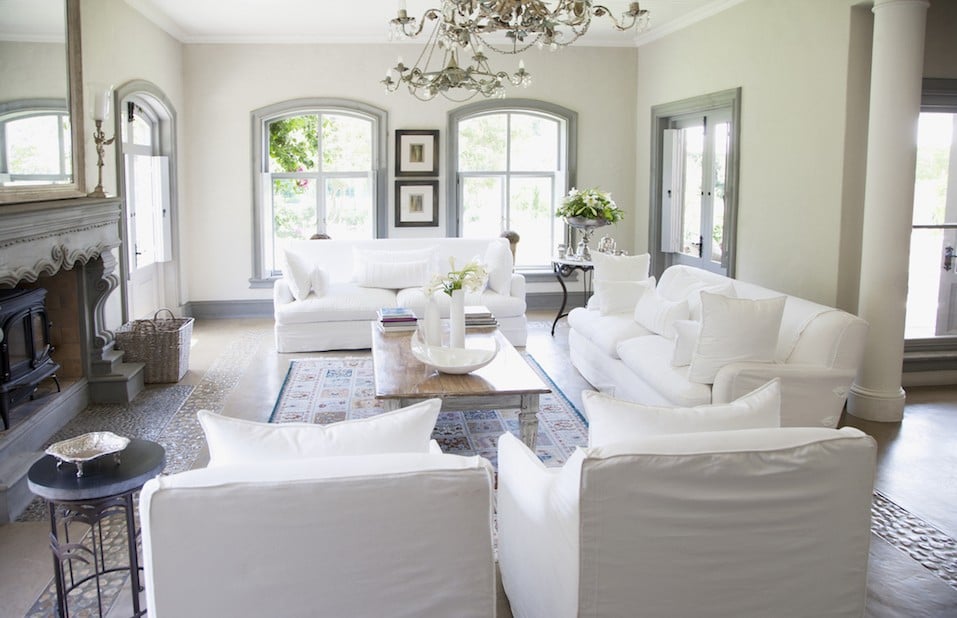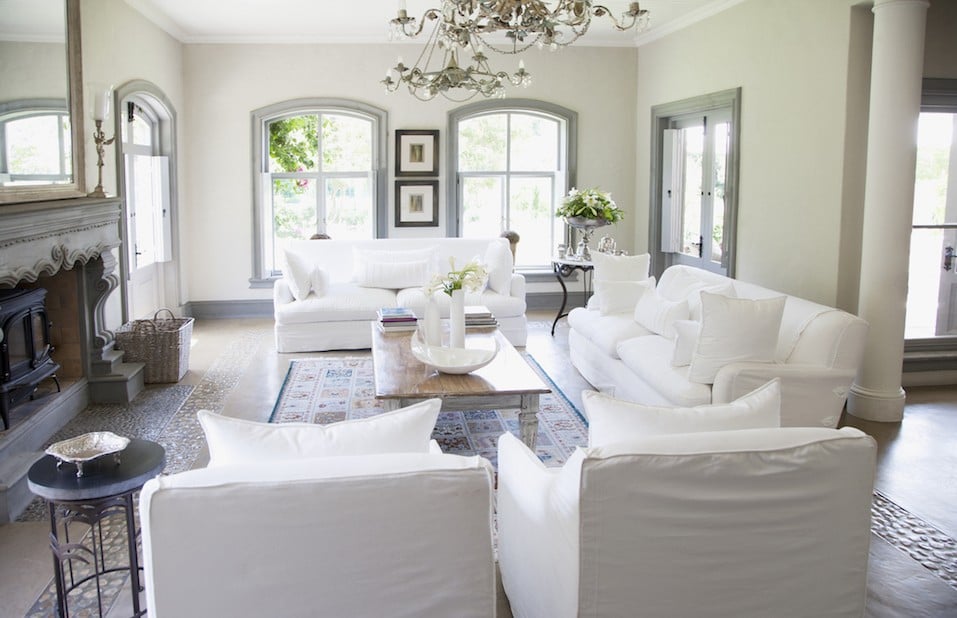 Resist the urge to push all the furniture up against the wall. This common mistake can lead to a cluttered look because it leaves fewer sight lines in the room and fewer uninterrupted paths for your eye to travel. It also leaves a dead zone in the middle of the room.
Short on space? Don't worry. Even pulling your couch away from the wall a few inches and adding an accent chair can make a huge difference to creating the illusion of a bigger room. Ideally, the furniture should be at least a foot from the wall, and you should have 3 feet of walking space.
Next: You need a place for your eyes to rest.
Leave a place for your eyes to rest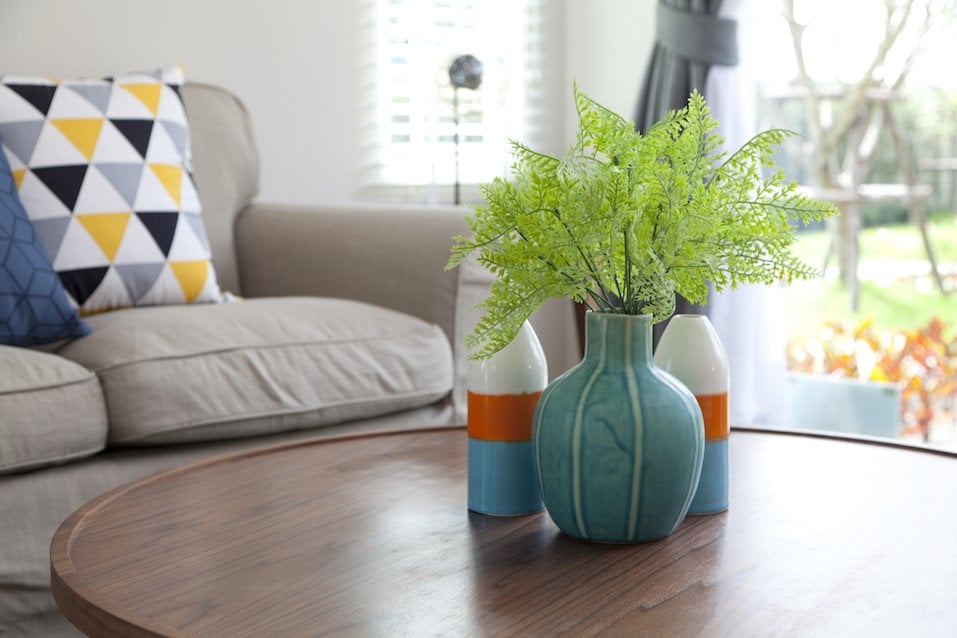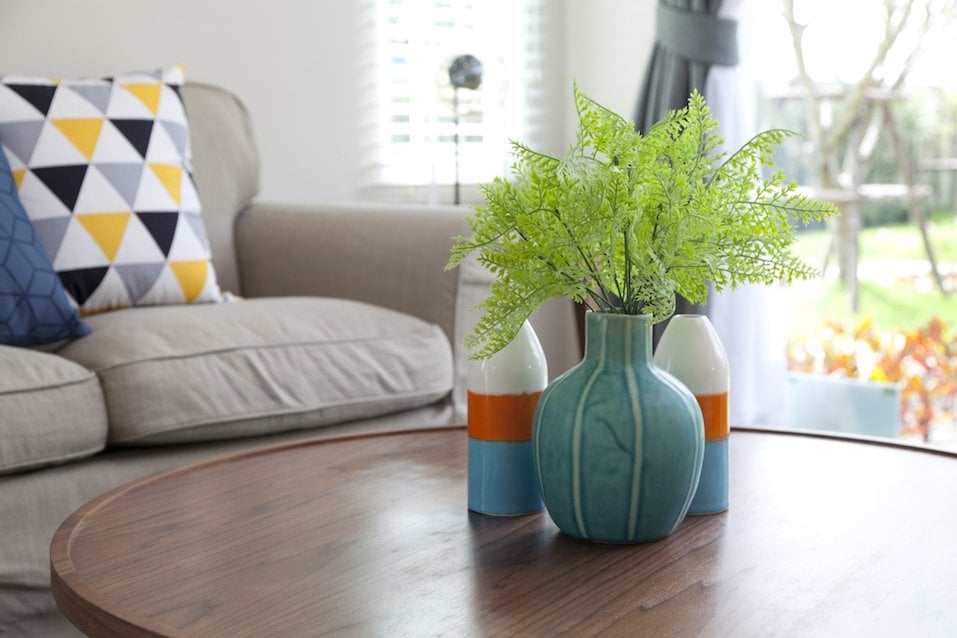 You may have spent years collecting ceramic turtle figurines, but putting them all on display at once leads to a visually cluttered space. Instead, try grouping your knickknacks in groups of three, and never fill a shelf or mantle with too many items. The fewer trinkets, the better.
Next: How to use a rug the correct way.
Get the right rug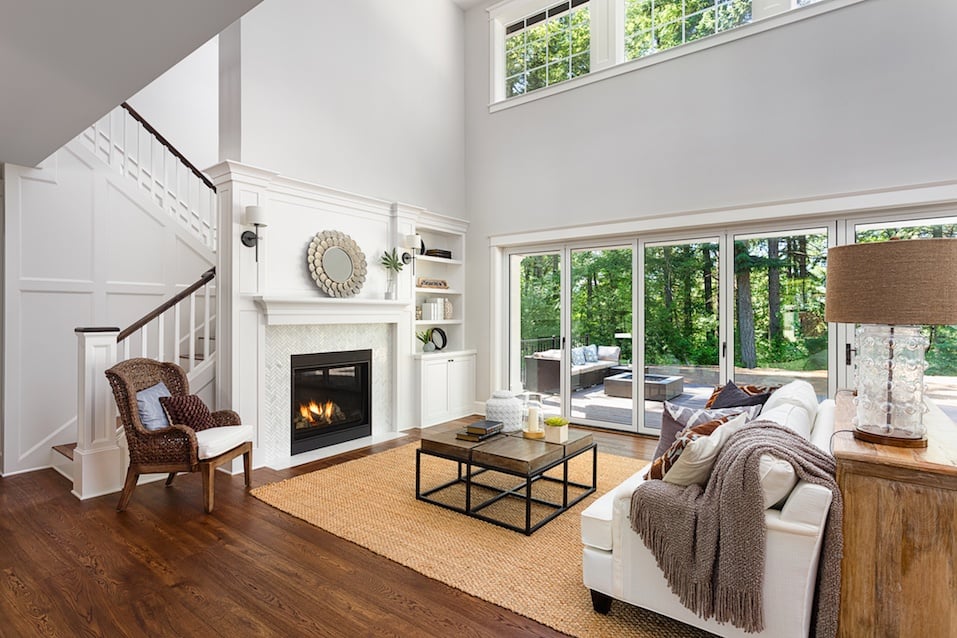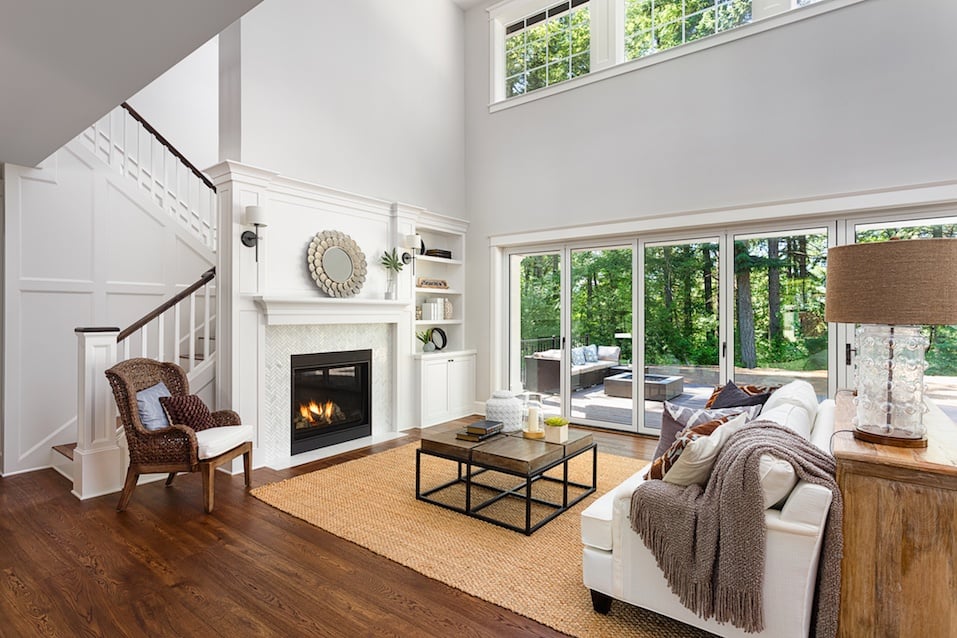 One of the most common mistakes amateur decorators make is choosing a rug that's too small for the room. This can make the room appear smaller, and smaller rooms automatically appear more cluttered. Here's a good rule of thumb: Be sure you have at least 2 feet of your furniture on the rug, so you never leave a rug "floating" in the middle of the room.
Next: Be mindful of this type of space.
Be mindful of negative space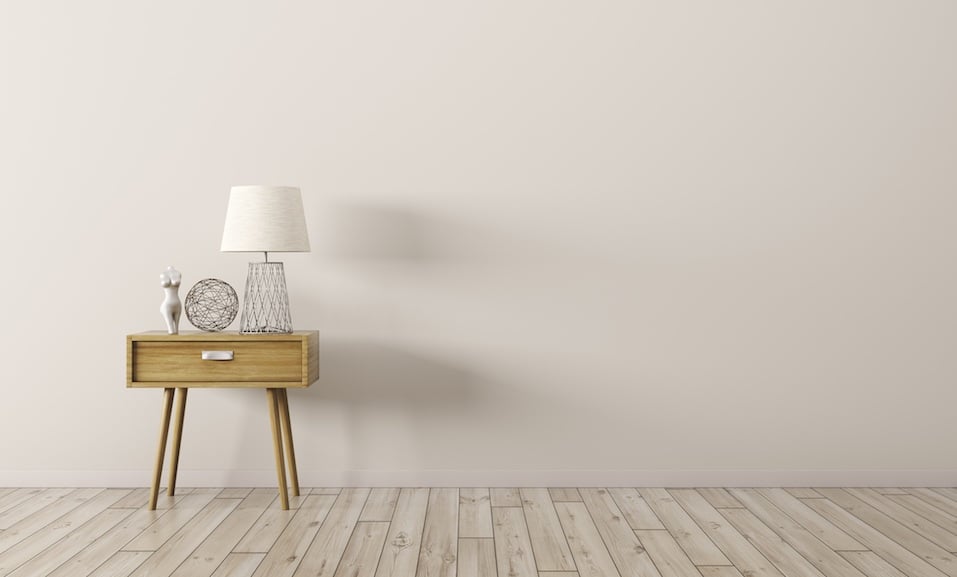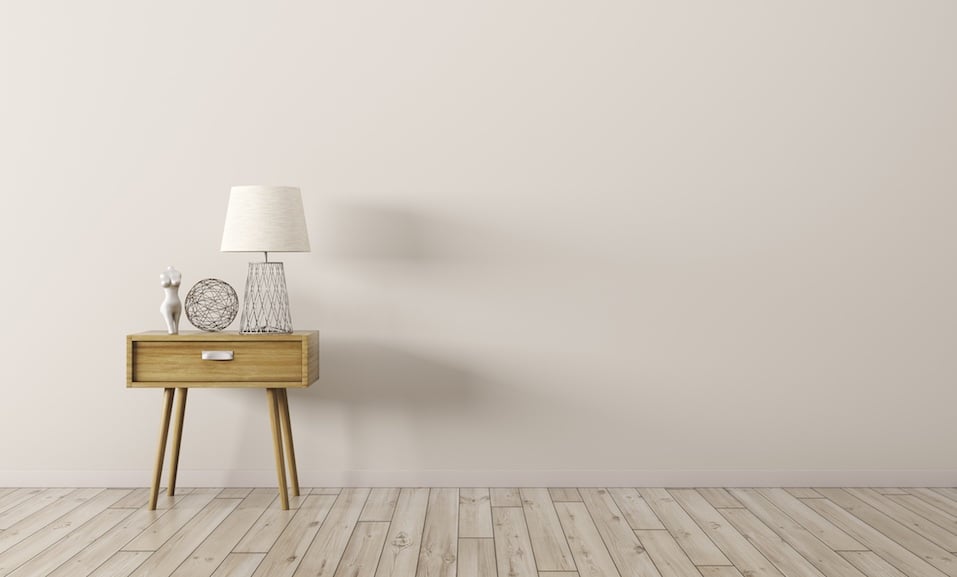 Just like with photography, what's there is just as important as what's not there. Leaving a certain amount of blank wall space and empty shelves can help to make your room look less cluttered in general.
Read more: Easy Ways to Declutter Your Entire House This Weekend
Check out The Cheat Sheet on Facebook!