KFC Follows 5 Spice Girls and 6 Herbs on Twitter and We Are Better for Knowing This
Just who KFC is following on Twitter may give us a clue to its secret chicken recipe!
While finger-lickin' good KFC has 1.2 million Twitter followers, its account only follows five Spice Girls and six guys named Herb. Is this a brilliant idiosyncrasy which ties in with the fast food chain's secret chicken recipe? The recipe is rumored to call for five spices and six herbs. (More on that later.)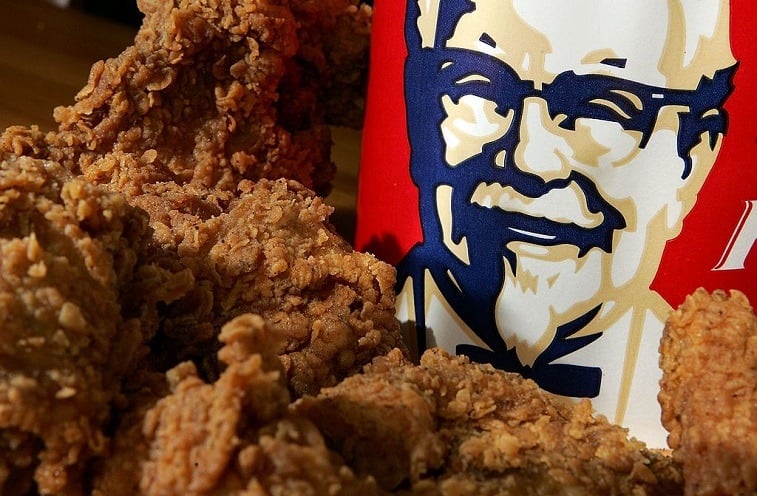 The KFC account is following accounts of Victoria Beckham, Mel B, Geri Halliwell, Emma Bunton, and Melanie C. In addition to these former Spice Girls, the account is following five random guys named Herb: A musician, a writer, a Green Bay Packers player, a university football coach, and the Los Angeles city council president.
The Twittersphere devoted much attention to this matter Friday, and people tweeted about the unique finding in droves. The person who can take credit for the discovery is Mike Edgette, who happens to be social media manager for a company called TallGrass PR located in South Dakota.
.@KFC follows 11 people.

Those 11 people? 5 Spice Girls and 6 guys named Herb.

11 Herbs & Spices. I need time to process this.

— ???? (@edgette22) October 19, 2017
Edgette's tweet has 261,000 retweets and 580, likes to date. Responses include:
the person that runs the KFC account needs a raise. I don't care how much they make now. GIVE THEM A RAISE.

— Samantha אריאלה דּוֹבָה (@sicklittlejag) October 19, 2017
I mean… I don't know what @edgette22 does for a living… but he needs a raise too. Smartest man of the day.

— Stephanie C. Bellew (@bellewsc) October 19, 2017
Yeah, what she said.

— ???? (@edgette22) October 20, 2017
Just realized they weren't following back.
Rude.
Good joke though.

— Wendy's (@Wendys) October 20, 2017
Chili's Grill & Bar got in on the fun with an offer of free food to Edgette:
Hey, we're a brand and we'll give you some free food if you want.

— Chili's Grill & Bar (@Chilis) October 20, 2017
Apparently, some communication between Edgette and Twitter then ensued:
You said you needed time. We're just giving you space. DM us when you're ready.

— KFC (@kfc) October 20, 2017
Business Insider wrote an article on Edgette's discovery, thanking the social media manager for "solving one of the biggest mysteries since Stephen Hawking tackled Black Hole Theory."
KFC's coveted chicken recipe has been attempted in homes throughout the country over the years. A 2016 attempt by the Tribune test kitchen produced promising-sounding results – and an actual recipe. Representatives from the news outlet claimed the recipe was given to them – handwritten on a piece of paper – from the nephew of none other than Colonel Harland Sanders himself. The note was claimed to have been found in a scrapbook belonging to Sanders' late second wife.
Friday's Twitter theory may be enforced by the fact that the recipe published by the Tribune contains 11 ingredients.