Laura Bush Speaks Out on Immigration Policy of Family Separation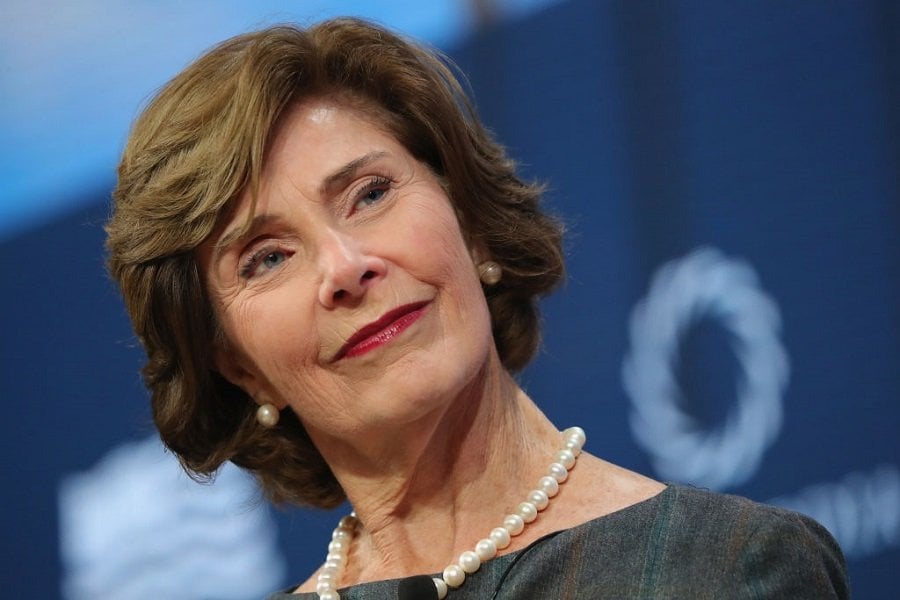 Former first lady Laura Bush made a rare political statement on June 17, as the nation celebrated Father's Day and watched thousands of immigrant children getting torn from their parents. Her statement came just hours after current first lady Melania Trump issued her own.
Border patrol forcibly separated nearly 2,000 children from their parents as of the end of May, NPR reports. A border patrol chief also warned that the number of families affected could soon double. NBC writes that "border agents and child welfare workers are running out of space to shelter children." Out of the 550 children currently in custody longer than 72 hours, 300 remain under the age of 12.
Both Trump and her husband have decried the policy, which he could reverse at any time. He previously tweeted, "Separating families at the Border is the fault of bad legislation passed by the Democrats. Border Security laws should [change] but the Dems can't get their act together! Started the Wall." That "bad legislation" and "border security laws" he vaguely referenced don't actually exist.
In fact, Trump criticized Homeland Security Secretary Kirstjen Nielsen for resisting his direction to separate families, The New York Times reports. Trump's strategy, as The Washington Post explains, involves using the children as pawns to extract concessions from Democrats. He wants to push through an immigration package that includes money for the border wall and cuts to legal immigration.
Bush, who lives in Texas, had harsh words for what amounts to using immigrant children as hostages. "[It's] cruel. It is immoral. And it breaks my heart," she said. "Our government should not be in the business of warehousing children in converted box stores or making plans to place them in tent cities in the desert outside of El Paso."
She called the camps "eerily reminiscent of Japanese American internment camps of World War II, now considered to … one of the most shameful episodes in U.S. history." Those camps, as Bush pointed out, inflicted serious emotional trauma on the interned. Many of them suffered cardiovascular disease and early deaths, as a result.
Bush called on the morality of Americans to stop the barbaric policy, in her Washington Post op-ed:
Americans pride ourselves on being a moral nation, on being the nation that sends humanitarian relief to places devastated by natural disasters or famine or war … We pride ourselves on acceptance. If we are truly that country, then it is our obligation to reunite these detained children with their parents – and to stop separating parents and children in the first place.
The policy has also fractured Trump's usually uniform conservative base, according to The Washington Post. The U.S. Conference of Catholic Bishops and the Southern Baptist Convention both issued critical statements. The Rev. Samuel Rodriguez, who delivered a prayer at Trump's inauguration slammed the practice as "horrible." In addition, Pastor Franklin Graham of Samaritan's Purse called it "terrible" and "disgraceful."
However, several Trump administration officials support the policy. Those include Chief of Staff John Kelly, Nielsen, and senior adviser Stephen Miller, who helped draft it. Trump's tweets to the contrary, as so many of them do, redirects blame away from himself.
The United Nations human-rights office called on the Trump administration to "immediately halt" it, CBS News reports. That office said that "children should never be detained for reasons related to their own or their parents' migration status. Detention … always constitutes a child rights violation."
At press time, Trump showed no signs of slowing or stopping the policy. Thousands of families remain separated indefinitely.
Check out The Cheat Sheet on Facebook!