Legal Marijuana in Oregon: So Far, So Good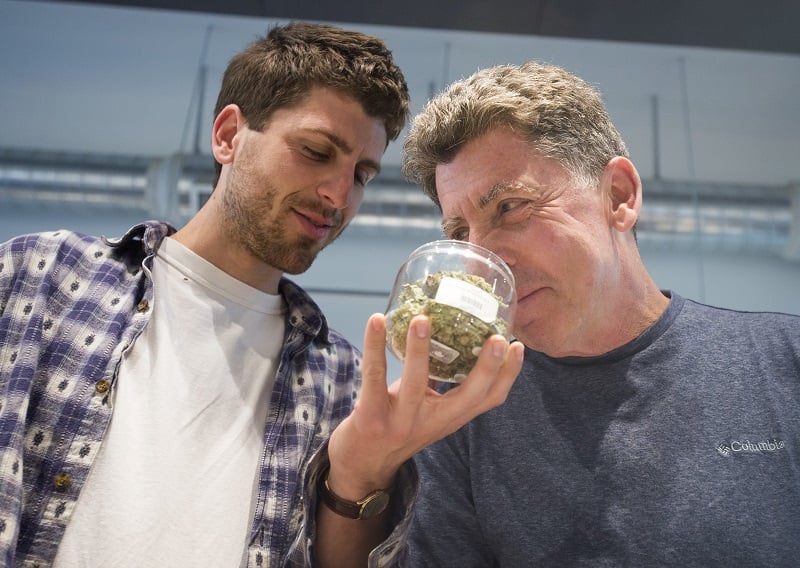 It's been nearly a year since Oregon voters passed Measure 91, its very own law legalizing marijuana for recreational consumption and possession by those over the age of 21. Taking cues and lessons from both Colorado and Washington, which passed their own bills in November 2012, Oregon became one of two states to vote in a legalization measure last year, along with Alaska.
Sales officially kicked off on October 1, to much fanfare and celebration in Portland, Eugene, and other cities. But now that we've had several months to let the smoke clear, can we get a better idea of how Oregon's legalization experiment is coming along?
The answer is yes, and by most measures it seems to be a resounding success.
On opening day, for example, the Oregonian reports that the state's 240 or so retail locations saw "brisk" sales, with lines wrapping around buildings, and some stores even having to shut down after running out of product. One store did $55,000 worth of sales just within that day. And October 1 was merely a preview of what was to come. Over the course of the first week of recreational marijuana sales, $11 million exchanged hands.
Portland-based NBC affiliate KGW says that Washington state took a month to bring in $2 million, so Oregon more than quintupled that amount in a fraction of the time. Estimates say Oregon sales topped $3.5 million on day one. And if this first week, or month, is any indication of how things are going to play out in the long term, Oregon may have hit the proverbial jackpot.
Of course, we'll need to keep in mind that Oregon's system isn't fully in place yet. The Oregon Liquor Control Commission — the regulatory board overseeing the industry's development and implementation — is still putting all the pieces of the puzzle into place. In fact, the OLCC just adopted temporary rules that will last between January 1 and June 28 of next year, giving it more time to figure out a permanent set of guidelines.
The other big caveat is that sales are tax-free until January 1. When 2016 hits, a 25% tax will be levied on sales of recreational marijuana, but until then, tax-free sales are giving consumers a big incentive to strike while the iron is hot. High tax rates are one thing that have stymied sales and industry expansion in both Colorado and Washington, with Oregon's northern neighbor having a high 37% tax to account for.
And it's with different tax rates and approaches to regulation where things are going to get really interesting in coming years, with states devising their own approaches to try and maximize tax revenue while also not creating too much inefficiency in the market.
Unless the federal government actually does step in (as they have yet to do under Obama's watch), the actual growth and evolution of legal marijuana will happen on a state-by-state basis, with policymakers learning from the mistakes and successes of each approach. For example, Washington's law was seen as over-regulated (and still is) in comparison to Colorado's. Oregon lawmakers were able to learn from that, and cherry pick.
Clearly, it seems as though Oregon's law strikes a good balance.
As things look to be going rather smoothly in Oregon, what's next on the 'ganjenda'?
First and foremost, it looks like Ohio voters are set to clear the path for legalization in their state — which would be a giant coup for the legalization movement, despite some serious concerns with the proposed law's inner workings. Legalization in Ohio would be a huge deal for a number of reasons, as it make Ohio the first eastern or Midwestern state to do so. There's also Ohio's monumental importance in the election process to consider.
After Ohio's vote, we're still waiting for Alaska to implement their legal system. Though marijuana has a long standing in the state, it's still up in the air as to how policymakers want to regulate it.
Aside from Ohio and Alaska? 2016's election is still looking like the biggest make-or-break point for the legalization movement overall. A number of states are looking to legalize next year, and it may be the turning point people have been wishing for.
Follow Sam on Twitter @SliceOfGinger
More from Money & Career Cheat Sheet:
Want more great content like this? Sign up here to receive the best of Cheat Sheet delivered daily. No spam; just tailored content straight to your inbox.