10 Light and Healthy Spring Desserts
The warmer months might be time for lighter meals, but that doesn't mean you have to abstain from after-dinner indulgences just because the sun stays out extra late. Healthy desserts, starring fresh, seasonal bounty, are some of the best parts about warmer weather. And you don't need to enjoy them with a side of guilt. We rounded up spring desserts that are on the skinny side and promise to make you feel good about your foray into a greener season. No matter what your favorite spring flavor is, you'll find a sweet for you on this list.
1. Citrus Olive Oil Cake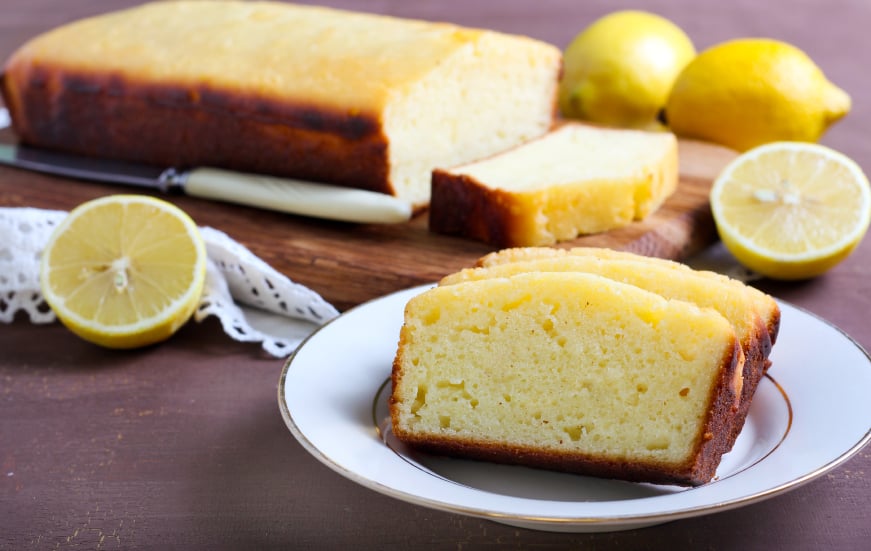 First on our list is this citrus olive oil cake from Cookie and Kate. Get the citrus while it's still good, and put it to use in this olive oil cake that boasts a fresh citrus flavor. Use any variety of citrus you like, and go with or without the citrus powdered sugar glaze. Olive oil cakes are known to be light and tender, and this one fits the bill. It's also made with white whole-wheat flour and whole-milk yogurt, making it a tasty dessert that isn't diet-devastating. The beautiful glazed citrus olive oil cake is what you need to welcome the warmer temperatures, and it will take you fewer than 60 minutes to make.
Serves: 1 cake
Ingredients:
Cake:
1½ cups white whole-wheat flour or regular whole-wheat flour

2 teaspoons baking powder

¼ teaspoon salt

2 teaspoons citrus zest

¼ cup fresh citrus juice

1 cup sugar

¾ cup plain whole-milk yogurt

3 eggs

½ teaspoon pure vanilla extract

½ cup extra-virgin olive oil
Glaze:
⅓ cup powdered sugar

2 to 3 teaspoons fresh citrus juice
 See recipe directions from Cookie and Kate. 
2. Roasted Rhubarb with Dates and Yogurt
Next up is not a cake, but rather a fresh spring treat with natural ingredients you can find from the ground or in trees. You'll be surprised by how delicious fresh fruits and spring produce can taste when paired with the right ingredients. Enter: roasted rhubarb with dates and yogurt from Bon Appetit. We dare you to take one taste of the treat before turning up your nose.
The seasonal spring darling, rhubarb, is roasted with cinnamon and a dates mixture. After 30 minutes, your rhubarb is ready to go, and you can serve it with honeyed yogurt and pistachios. Roasting your rhubarb alongside the naturally sweetened dates mixture will bring out the sweet and tart flavor of your rhubarb. And with the refreshing yogurt and crunchy pistachios, each spoonful of this treat is a blissful one.
Serves: 4
Ingredients:
¼ cup unsalted, shelled raw pistachios

½ cup Medjool dates, chopped

2 teaspoons finely grated orange zest

½ teaspoon vanilla extract

2 tablespoons honey, divided

3 large rhubarb stalks (about ¾ pound), cut into 2-inch pieces

¼ teaspoon ground cinnamon

1⅓ cups plain nonfat Greek yogurt
See recipe directions from Bon Appetit. 
3. Strawberry Muffins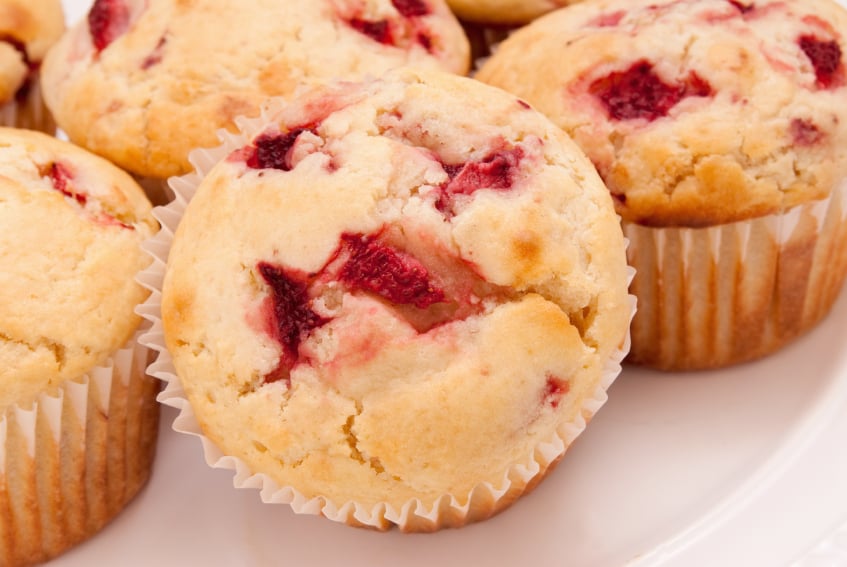 Strawberry muffins, anyone? Here's a more traditional sweet treat from Whole Living that never gets old. Muffins can serve as breakfast or dessert, and this variety can be enjoyed without the guilt as it's made with whole-wheat flour, a small amount of sugar, and low-fat buttermilk. The addition of sliced strawberries are what you need for success for these strawberry muffins, and after only 15 minutes of prep time and 15 minutes of baking time, you'll have a dozen muffins that will reintroduce the magic of strawberry season back into your life.
Serves: 12
Ingredients:
1½ cups sliced strawberries

⅓ cup plus 1 tablespoon sugar

1¼ cups all-purpose flour (spooned and leveled)

½ cup whole-wheat flour (spooned and leveled)

2 teaspoons baking powder

½ teaspoon baking soda

½ teaspoon salt

½ teaspoon ground cinnamon

1 cup low-fat buttermilk

¼ cup light olive oil or vegetable oil

1 large egg

1 teaspoon pure vanilla extract
See recipe directions from Whole Living. 
4. Honey-Caramelized Apricots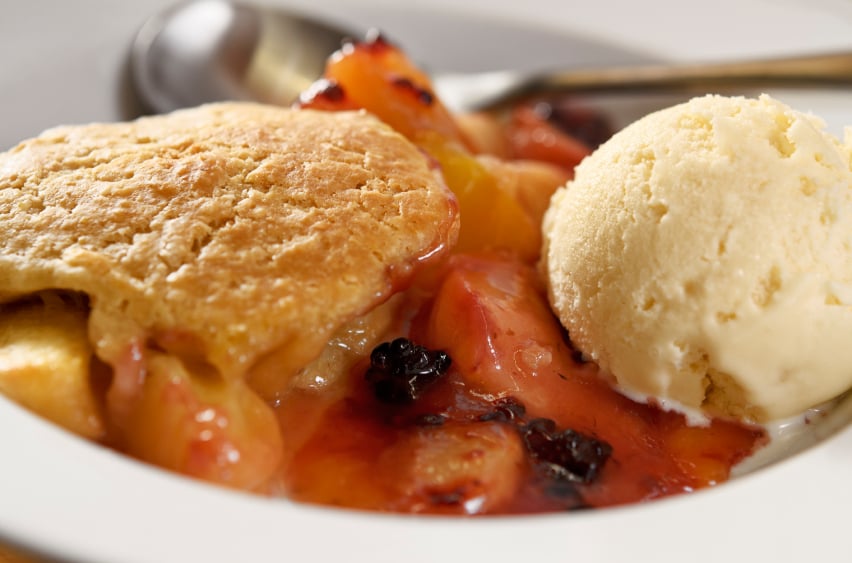 The best time to buy apricots is late spring through the summer, so it's high time you pick up the sweet stone fruit and get to work. Here's a simple recipe from Food & Wine that will teach you how to take advantage of apricots without masking their natural sweetness by enlisting them in a complicated dessert. This honey-caramelized apricots recipe requires only three ingredients, and it can be ready in 10 minutes. Simply broil your apricot halves with honey, and then serve them each with a scoop of vanilla ice cream. It doesn't get easier than that, and this dessert couldn't be tastier.
Serves: 4
Ingredients:
8 ripe apricots, halved and pitted

½ cup fragrant honey, such as lavender

Vanilla ice cream
See recipe directions from Food & Wine. 
5. Strawberry Crush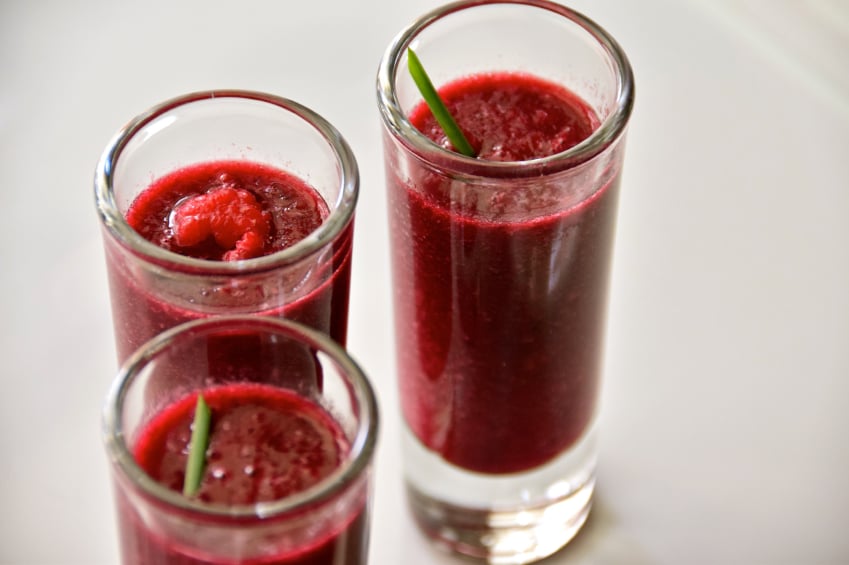 This next refreshing dessert from Martha Stewart can be made with any fruit of your choosing. Martha goes for strawberries in this strawberry crush. Along with the fruit, this dessert only requires ice, almonds, sugar, milk, and an almond-flavored liqueur. The cool, fruity dessert is made in a blender. And it has healthy fats from the almonds, as well as fiber and antioxidants from all of the fruit.
Serves: 4
Ingredients:
4 cups strawberries, hulled and cut in half (raspberry, blueberries, and peaches will also work)
1 cup ice cubes
¼ cup whole unblanched almonds
¼ cup sugar
3 tablespoons milk
2 tablespoons almond-flavored liqueur, such as Amaretto
2 teaspoons slivered unblanched almonds, for garnish
See recipe directions from Martha Stewart.
6. Angel Food Cupcakes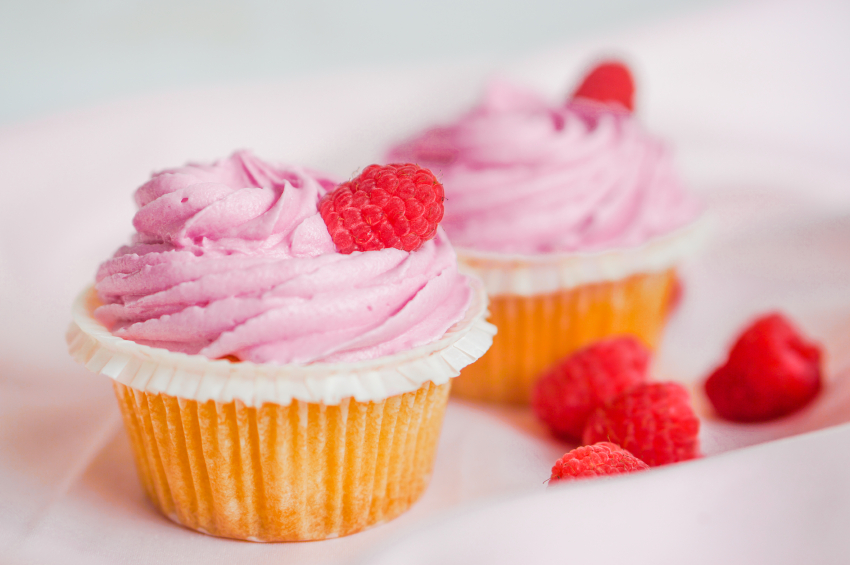 Everyone needs to make a batch of angel food cupcakes in the spring. This light and airy treat from Saveur goes easy on the calories and won't give you a stomach going into bathing-suit season. The angel food cupcakes are topped with a lemon-mascarpone frosting, studded with fresh berries. And they're as appealing to the eyes as they are to the stomach. Homemade angel food might seem like a dessert only professional bakers can master, but Saveur's easy-to-follow instructions make these angel food cupcakes a sweet treat anyone can perfect.
Serves: 12
Ingredients:
Cupcakes:
¾ cup cake flour
¾ cup confectioners' sugar
6 egg whites
¾ teaspoon cream of tartar
½ teaspoon kosher salt
½ cup sugar
1 teaspoon vanilla extract
Frosting:
2 ounces cream cheese, softened
8 tablespoons unsalted butter, softened
½ teaspoons vanilla extract
¼ teaspoon kosher salt
Zest of 1 lemon
1 cup confectioners' sugar
2 tablespoons fresh lemon juice
½ cup mascarpone cheese, softened
1 cup blackberries, raspberries, or quartered strawberries
1 tablespoons sugar
1 tablespoons orange liqueur
See recipe directions from Saveur.
7. Raspberry Almond Tray Tart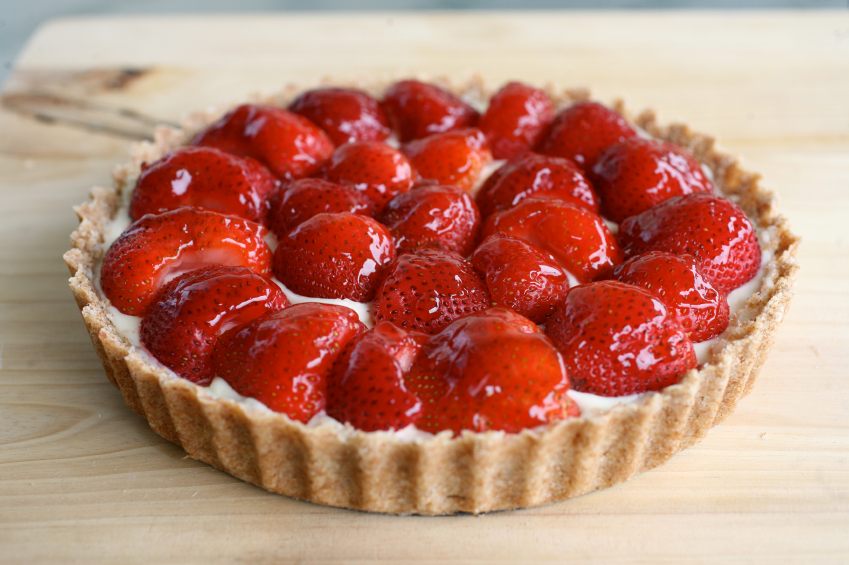 Fresh fruit tarts never get old, and now with this recipe from Betty Crocker, you can make your own. The raspberry almond tart is as simple as an almond cookie crust topped with cream cheese, honey, and raspberries. You can take a shortcut by using a sugar cookie mix for your crust. And then for the topping, all you need to do is beat together cream cheese and sugar, spread that on your crust, and layer on the honeyed raspberries. Any kind of fresh berries will work, and no matter what fruit you use, the end result will be a beautiful fruit dessert that can easily compete with chocolate.
Serves: 24
Ingredients:
Crust:
½ cup cold butter or margarine, cut into pieces
1 pouch sugar cookie mix
¾ cup chopped almonds or pecans
Topping and glaze:
1 package (8 ounces) cream cheese, softened
⅓ cup sugar
6  cups raspberries
⅓ cup red currant jelly
2 tablespoons honey
See recipe directions from Betty Crocker.
8. Blueberry Orange Parfaits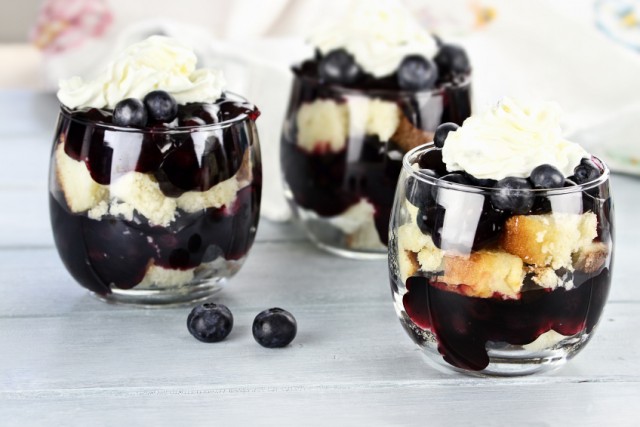 Next time you need to appease your sweet tooth, get your fix the healthy way with these blueberry orange parfaits from Cooking Light. The treat can double as breakfast or dessert, and it can be made in just minutes. To make blueberry orange parfaits, you'll simply layer blueberries, yogurt, and orange sections into tall glasses before topping with wheat gem. The parfaits can be also made ahead of time and kept chilled in the refrigerator. They're sweet enough to kick your sugar cravings at the end of the day but healthy enough to serve as the breakfast that gets you out to bed in the morning.
Serves: 4
Ingredients:
1½ tablespoons Demerara or turbinado sugar
½ teaspoon grated orange rind
2 (7-ounce) containers reduced-fat plain Greek yogurt
2 cups fresh blueberries
2 cups orange sections (about 2 large)
¼ cup wheat germ
See recipe directions from Cooking Light.
9. Peach Frozen Yogurt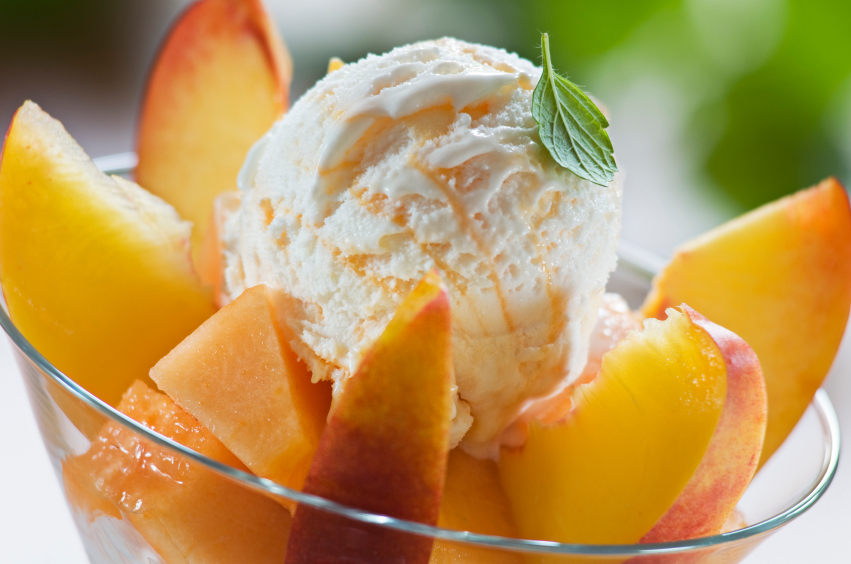 Homemade frozen yogurt can be made without an ice cream maker, and this recipe from Eating Well proves it. It yields peach frozen yogurt that requires only chopped frozen peaches, sugar, yogurt, and lemon juice. Throw your ingredients in a food processor, and blend until well-combined, smooth, and creamy. The peach frozen yogurt is the perfect light treat that will cool you down and speak to your sweet tooth, and it's made with healthy natural ingredients that won't mess with your clean eating.
Serves: 4
Ingredients:
3½ cups coarsely chopped frozen peaches (about 16 ounces)
½ cup sugar, preferably superfine
½ cup nonfat plain yogurt
1 tablespoon lemon juice
See recipe directions from Eating Well.
10. Strawberry Rhubarb and Lime Ice Pops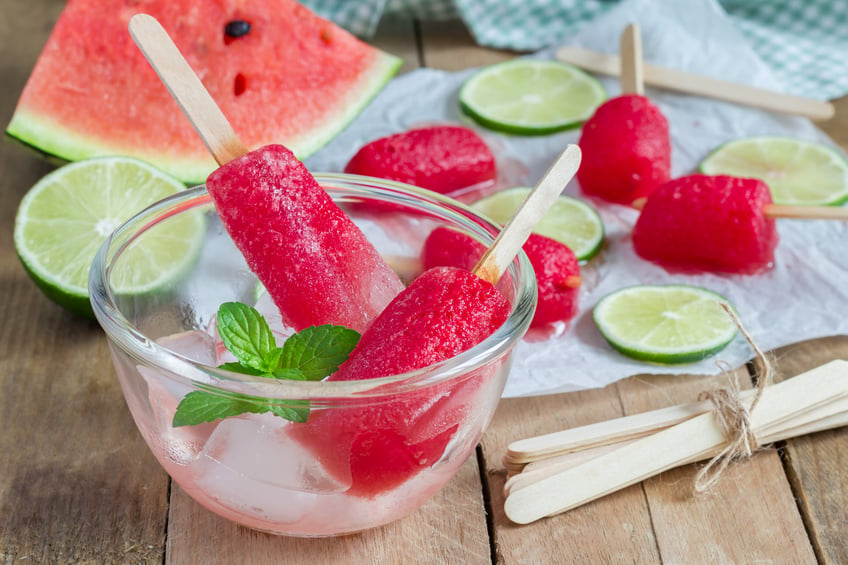 Here's one last refreshing sweet treat that will cool you down without filling you out. Instead of opting for store-bought ice pops, make your own with this recipe from She Likes Food. The food formula yields strawberry rhubarb and lime ice pops — a variety you're unlikely to find in the grocery store. If you can round up fresh strawberries, rhubarb, sugar, honey (or agave), and lime zest, you can make these pops. The recipe serves a family, and any leftovers can be saved in the freezer. The sweet treats are also gluten-free and vegan (if using agave), so anyone and everyone can enjoy them this spring.
Serves: 6
Ingredients:
2 ½ cups diced rhubarb, about 3 stalks
2½ cups diced strawberries
⅓ cup sugar
2 tablespoons honey or agave syrup if making vegan
1 to 2 teaspoons lime zest
1 tablespoon water
See recipe directions from She Likes Food.