Look Out, World, Because Canada is Legalizing Marijuana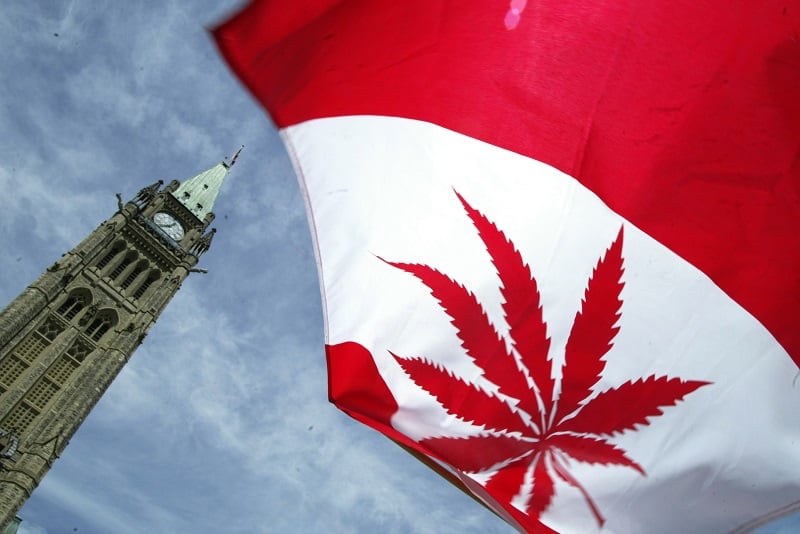 When new Canadian prime minister Justin Trudeau was elected to office a short time ago, it was a great day for Canada, and therefore, the world.
For Canadians, a return to power for the liberal party means some serious policy shifts are in order, including overhauling the country's criminal justice system, boosting spending on health programs, and devising and implementing a system to effectively legalize and regulate marijuana.
For the rest of the world, this election (and Canadian politics in general) might not hold all that much importance. But Trudeau's planned changes to marijuana policy are potentially a huge deal, and could put Canada in a leadership position on that front. And soon, as a result, Canadian industry will become associated with much more than just Labatt Blue, hockey jerseys, and Nickelback album sales.
Because of Trudeau's plan, Canada is going to lead the charge on a global scale for marijuana legalization.
Evidently, Canadian officials are relishing the role. "The world is going to be looking to Canada to make sure we do the job well," the country's health minister, Jane Philpott, told CBC News.
While yes, you could make the argument that Uruguay was the first out of the gate, the story has been a bit more complicated in South America. Canada holds a much more important role on the international stage, particularly as a member of G7, and having a shared border with the United States, which is going to make things very interesting. It's also what makes Canada's plans so incredibly important. In the same way that Colorado and Washington bucked prohibition in the U.S. and forged ahead with their own legalization experiments, Canada is about to do so on a much larger scale.
Those experiments in the U.S. have been, by and large, a success – and more states are following suit. It's hard to ignore that. And if Canada's gambit pays off, it'll be in a position to monopolize the economic gains until other countries can catch up. With millions of regular marijuana users in Canada, tax revenues could bolster government coffers (which will need funding as liberal policies are enacted), and thousands of jobs could be created.
The process is already underway. Shortly after election day, Trudeau knocked over the first domino. Among several other things, a letter from Trudeau to Justice Minister Jody Wilson-Raybould states one goal is to "create a federal-provincial-territorial process that will lead to the legalization and regulation of marijuana."
Clearly, Trudeau wasn't just parlaying empty promises; legalizing marijuana is one of the key items on the docket.
What's yet to be fleshed out is how the Canadian government will go about implementing such a big change. What's likely to happen is that policymakers will look to the states – Colorado, Washington, Oregon, and Alaska, specifically – to see what has been successful thus far, and what hasn't. It's more or less the same path other U.S. states are taking in putting their own legalization measures together.
There are stark contrasts in how each state has developed their own plans so far, with much being written and discussed outlining the differences between Colorado's more liberal and Washington's more authoritarian laws specifically. The consensus has pointed toward Colorado's take being more successful, though it's hard to argue that legalization in any form has really been a bad thing, judging by the job creation, tax revenue, and criminal justice reforms that have been ushered in as a result.
But Canada may take an entirely new route, one that is more tailored to the country's relatively small population and immense size. What that could look like, potentially, is still down the road. But what is sure is that the Canadian government is going to face similar issues in coordinating with local jurisdictions regarding provincial law around medical cannabis as we're seeing in the U.S.
Wilson-Raybould said, in an interview with the CBC, that they will make every effort to respect local laws, despite reports that medical marijuana dispensaries have been ordered to cease operations.
"We are proceeding in a concerted way in respect to marijuana in terms of legalization and regulation and working with other jurisdictions to approach this in a thoughtful way, so we will be moving forward with that and I'll have more to say in the coming weeks and months," she said.
Marijuana policy reform will be difficult to implement, Canadians are well aware. But by embracing Trudeau's plan and moving ahead, Canada is putting itself in a very good position moving forward.
Follow Sam on Twitter @SliceOfGinger
More from Culture Cheat Sheet:
Want more great content like this? Sign up here to receive the best of Cheat Sheet delivered daily. No spam; just tailored content straight to your inbox.