Love Lasagna? Other Baked Pasta Recipes to Try
Baked pasta is the one of the world's great comfort foods, but if your culinary efforts in this area have been limited to lasagna and mac and cheese, you're missing out. There's a big, delicious universe of pasta dishes you can pop in the oven.
Whether you've filled your casserole dish with orzo or ziti, you'll be more likely to turn out a delectable dish if you keep a few general guidelines in mind. One of the most important is to slightly under-cook your pasta before you put it in the pan, according to Bon Appétit. The noodles will continue to cook in the oven, so let them boil too long and you'll end up with a mushy mess. In addition, sticking the casserole under the broiler for a few minutes ensures you'll get a nicely browned top layer, while letting the pan rest for a few minutes after it comes out of the oven helps everything settle properly.
With those tips in mind, here are five recipes that will have you rethinking your assumptions about baked pasta dishes.
1. 5-Ingredient Italian Sausage Baked Ziti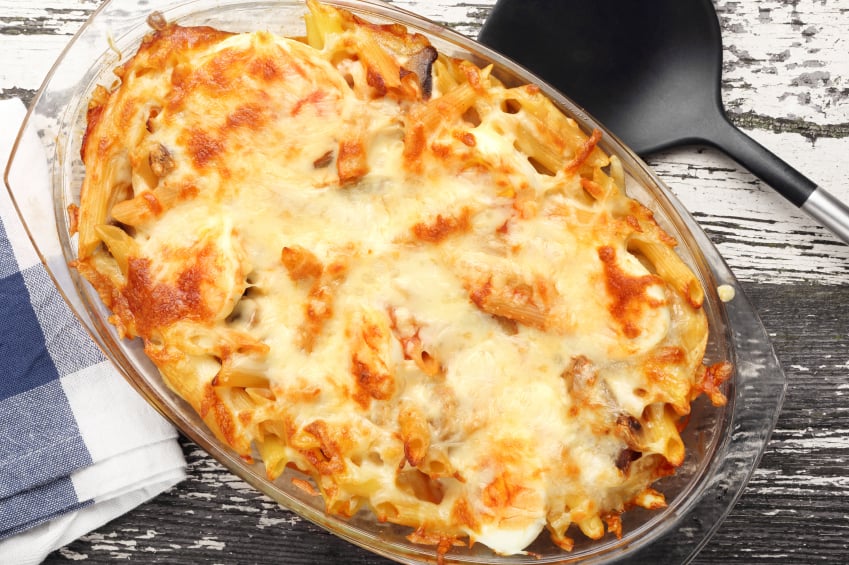 Baked ziti is like a less-fussy version of lasagna. This version from Gimme Some Oven only calls for 5 ingredients (including some healthy kale) and takes just 20 minutes to prep and another 20 minutes to bake. In other words, you can have a delicious, comforting dinner on the table in less than an hour.
Ingredients:
12 ounces ziti or other large shape of pasta
1 pound spicy ground Italian sausage
4 cloves garlic, minced
3 large handfuls roughly-chopped kale leaves, stems removed
2 cups shredded mozzarella cheese
Shredded Parmesan cheese and crushed red pepper flakes for topping (optional)
Directions: Preheat oven to 375 degrees Fahrenheit. Fill a large stockpot with salted water and bring to a boil.
While you wait for the water to boil, cook the Italian sausage in a large skillet over medium-high heat until browned, about 8 to 10 minutes. Break the sausage into bite-size pieces as it cooks. Once the sausage has browned, add the minced garlic and cook for 1 to 2 minutes more.  Remove pan from heat and set aside.
Once the water boils, add the pasta and cook until al dente. Drain.
Return pasta to the stockpot and add the sausage, garlic, and kale. Toss to combine, until the kale is dark green and slightly wilted.
Grease a 11-by-7-inch or 9-by-13-inch pan. Pour half of the pasta into the pan, then sprinkle with 1 cup of cheese. Top with the remaining pasta, then sprinkle evenly with the remaining cup of cheese.
Bake for 20 to 25 minutes until the cheese is melted and just barely starts to turn golden. If you like, finish under the broiler for a few minutes to brown the top. Remove from the oven, sprinkl with additional toppings if desired, and serve.
2. Broccoli and Cheddar Pasta Bake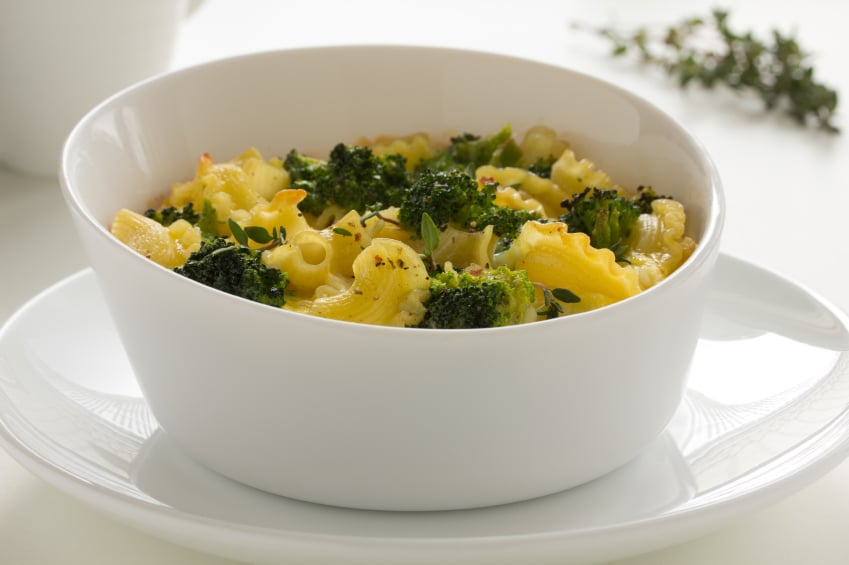 Cheesy baked pastas can sometimes be overly heavy, but that's not the case with this lighter take on a broccoli cheddar pasta bake from Fork Knife Swoon, which uses fat-free milk and low-fat cheese to cut the calorie count. Whole-wheat pasta and nutrient-rich broccoli also help to make this dish a better-for-you indulgence.
Ingredients:
1 pound dry whole-wheat pasta, such as rigatoni, penne, or other pasta with ridges
2 cups broccoli, cut into ½-inch to 1-inch pieces
2 tablespoons olive oil
½ tablespoon fresh garlic, minced
2 tablespoons all-purpose flour
2 cups fat-free milk
1 tablespoon spicy brown or Dijon mustard
1 teaspoon kosher salt
½ teaspoon fresh-ground black pepper
½ teaspoon smoked paprika
½ teaspoon ground nutmeg
1 cup low-fat sharp cheddar cheese, grated
¼ cup Parmesan cheese, grated
Directions: Preheat the oven to 350 degrees Fahrenheit. Cook the pasta according to the package directions, until just al dente. In the last 2 minutes of cooking, add the broccoli to the pasta pot. Drain and set aside.
Add the olive oil to a large skillet and heat over medium. When the oil starts to shimmer, add the garlic and cook for 1 to 2 minutes. Add the flour and whisk until a smooth roux forms. Slowly pour in the milk, along with the mustard and spices, and continue to whisk until the mixture thickens (this should take about 2 minutes). Once the sauce begins to bubble, add the cheese and stir to incorporate.
Combine the pasta and broccoli with the sauce and pour into a greased baking dish. Sprinkle with Parmesan cheese, then bake for 15 to 20 minutes, until the top is golden brown.
3. Baked Orzo with Eggplant and Mozzarella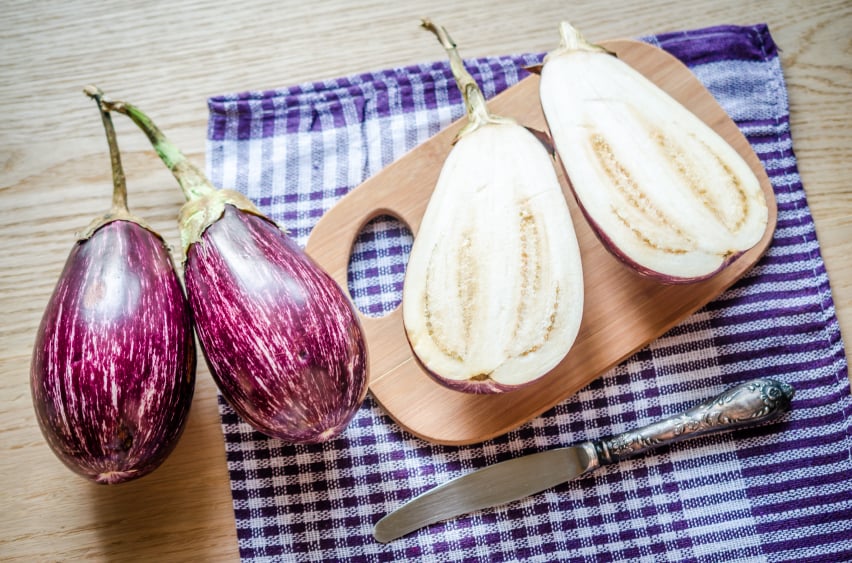 Unlike like many baked pastas, this combination of orzo (a rice-shaped noodle) and eggplant isn't weighed down by lots of cheese. Instead, there's enough mozzarella and Parmesan to add flavor, but not so much that it overwhelms the dish. Plus, you don't need to precook the pasta, which simplifies both prep and cleanup. Recipe from Smitten Kitchen.
Ingredients:
1 large eggplant, cut into ¾-inch dice
Salt
Black pepper
¼ cup olive oil
1 medium carrot, peeled and cut into ¼-inch dice
1 celery stalk, in a ¼-inch dice
1 medium onion, finely diced
3 garlic cloves, minced
8 ounces orzo, rinsed
1 teaspoon tomato paste
1½ cups vegetable stock
1 to 3 tablespoons fresh oregano, chopped
1 teaspoon grated lemon zest or more to taste
4 ounces firm mozzarella, cut into ⅓-inch dice
1½ ounces Parmesan, grated
3 medium tomatoes, diced
Directions: Sprinkle eggplant with salt, then transfer to a colander and let drain for 30 minutes. Rinse and pat dry with paper towels.
Preheat oven to 350 degrees Fahrenheit. Place a large skillet on the stovetop and turn heat to medium-high. Once the pan is hot, add the oil and let it heat until shimmering. Add the eggplant and cook for 8 minutes, stirring occasionally. Transfer cooked eggplant to paper towels using a slotted spoon or spatula to drain.
Add the carrots and celery to the pan and cook for 3 minutes. Add the onion and garlic and cook for another 5 minutes over medium heat. Add the orzo and tomato paste, stir and let cook for another 2 minutes. Remove the pan from heat and add the oregano, mozzarella, Parmesan, tomatoes, cooked eggplant, lemon zest, 1 teaspoon salt, a few grinds of black pepper, and the stock. Stir to combine.
Pour the pasta and eggplant mixture into a 2-quart baking dish. Cover with aluminum foil and bake for 20 minutes. Remove foil and bake for 20 minutes more. Remove from oven, let rest for 5 minutes, then serve.
4. Pastichio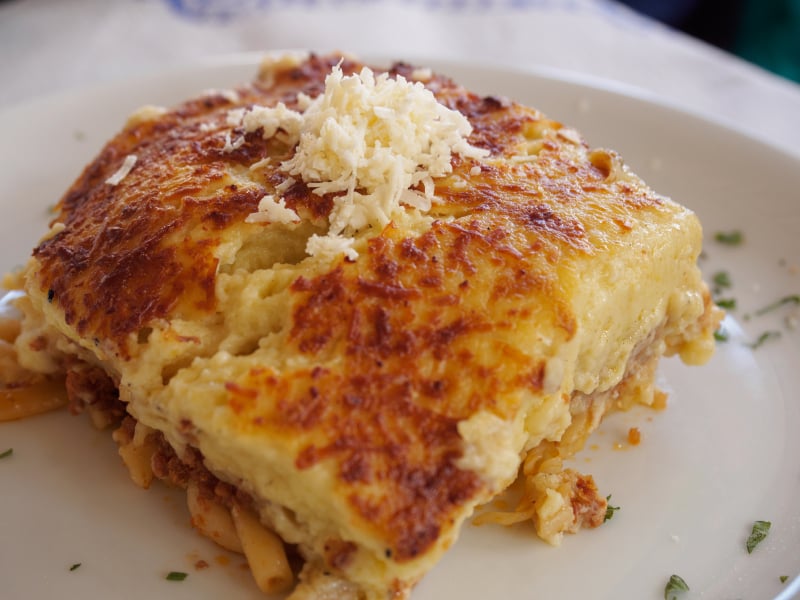 Pastichio is Greece's take on lasagna. To make it, long, tubular noodles are combined with ground meat (often lamb), tomatoes, and a béchamel sauce. The entire dish will take a bit of time to prepare, so it's best saved for weekends, but once you get to taste the results, you won't regret putting in the work. Recipe from The Birmingham News.
Ingredients:
For the cream sauce
1 stick butter
½ cup flour
5 cups of milk
4 eggs
For the pasta mixture
12 ounces like bucatini or other tubular pasta, like penne or macaroni
2 tablespoons salt
½ stick butter
½ cup grated cheese, like Parmesan
1 cup cream sauce
For the meat sauce
2 medium onions
½ stick butter
2 pounds ground meat of choice
8 ounces tomato sauce
Salt and pepper to taste
Cinnamon (optional)
For additional filling
3 cups of Romano or Parmesan grated cheese
Directions: Preheat oven to 350 degrees Fahrenheit.
To make the cream sauce, melt butter in a saucepan. Add flour, stirring constantly over a low flame for 3 to 5 minutes. Remove from fire and gradually add scalded milk, stirring to blend smooth. Season to taste with salt and pepper. Add beaten eggs; fold in well. Return to slow heat for one minute, stirring well. Set aside; cover with towel until ready to use.
To prepare pasta, boil noodles in a pot of salted water, stirring occasionally, for 7 to 9 minutes. Drain well. Melt ½ stick butter in a skillet. When it begins to sizzle, pour over drained macaroni and mix well with ½ cup grated cheese and 1 cup cream sauce. Set aside. 
To prepare meat sauce, melt ½ stick butter in a large skillet, then add the finely chopped onion and sauté until transparent. Add meat and simmer until lightly browned. Add tomato sauce. Season to taste with salt and pepper and, if desired, a dash of cinnamon. Cook until all liquid is absorbed, skimming off excess fat if necessary.
Spread ¾ of the macaroni mixture in a 13-by-9-by-2½-inch pan and sprinkle with 1 cup grated cheese, patting down with hand to firm. Pour 1 cup of cream sauce over.
Spread meat mixture evenly over noodles and cream sauce in pan. Sprinkle with grated cheese. Spread remaining macaroni mixture and pat down to firm. Pour remaining cream sauce over. Bake in oven for 15 minutes, then lower heat to 325 degrees and cook for another 30 minutes. Cut into squares and serve.
5. Enchilada Pasta Casserole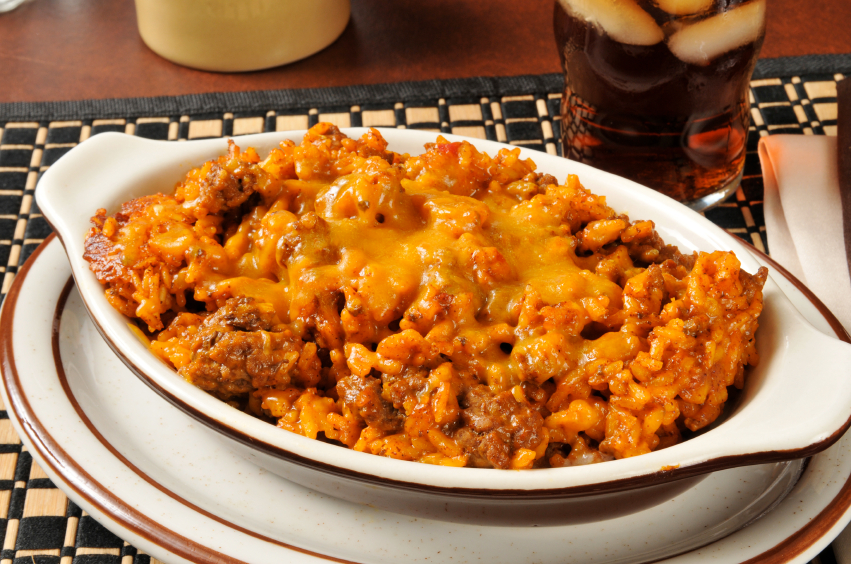 Baked pasta gets a spicy twist in this Mexican-inspired recipe. Ground beef is seasoned with cumin and chili powder, then mixed with egg noodles, red enchilada sauce, and gooey cheese for a delicious, filling meal. Recipe from Table for Two.
Ingredients:
1 pound ground beef
½ teaspoon chili powder
¼ teaspoon cumin
¼ teaspoon cayenne pepper
5 ounces cream cheese
¼ cup light sour cream
1 (10-ounce) can red enchilada sauce
1 cup sharp cheddar cheese, shredded and divided
1 cup Monterey jack cheese, shredded and divided
1 cup frozen corn kernels, thawed
1 (4-ounce) can diced green chilies
12 ounces egg noodles
Salt and pepper, to taste
Ingredients: Preheat oven to 350 degrees Fahrenheit. Cook egg noodles according to package directions, drain, and set aside.
In a large skillet, cook the ground beef over medium-high heat until browned. Drain the fat, then add the chili powder, cumin, and cayenne pepper. Stir to combine. Add the cream cheese and stir until melted and combined.
Combine the sour cream, enchilada sauce, half the cheddar cheese and Monterey jack cheese, corn, and green chilies in a large bowl. Stir to combine, then add to the skillet with the beef and let cook for 2 to 3 minutes. Add the cooked egg noodles and stir until everything is thoroughly combined.
Grease a large casserole dish. Pour in the beef and noodle mixture and sprinkle with the remaining cheese. Bake for 15 minutes, or until the cheese on top melts and starts to brown.
Follow Megan on Twitter @MeganE_CS