Love Spicy Food? 5 Recipes You Have to Try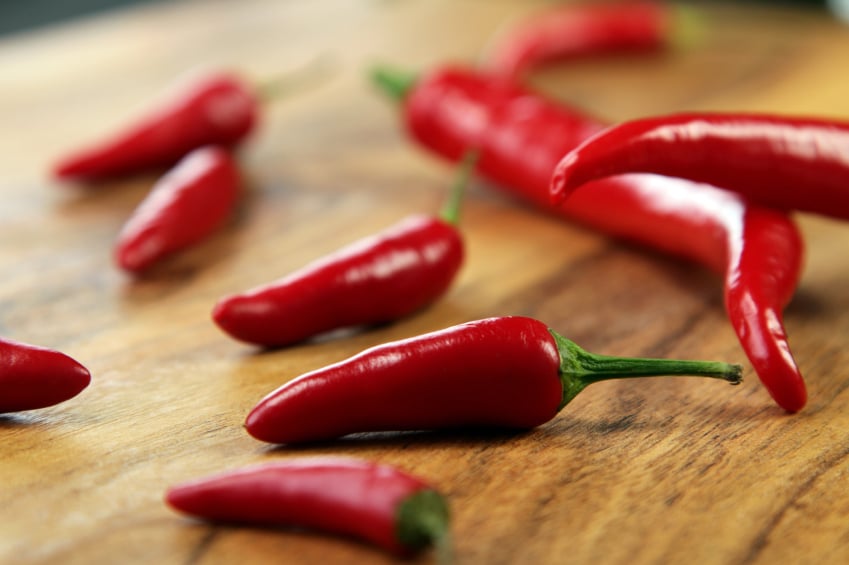 Chili heads, hot sauce aficionados, and the people who put Sriracha on every meal get a whole day to celebrate their favorite cuisine on January 16, which marks the International Hot and Spicy Food Day. If you've made it a habit to track down the pepper selection in your local grocery store and are working your way up the Scoville scale to be able to handle Ghost peppers and Carolina Reapers, this is one day of food celebration you might want to prepare for.
As it turns out, eating spicy foods is a long-held tradition, and its thought to be healthy for you. A Cornell study of more than 4,500 recipes from around the world found that people groups in warmer climates (think around the Equator, like India and in the Caribbean) have traditionally used more spices than people groups in cooler climates. Over time our tongues have become predisposed to enjoy the flavors of spices, which initially acted as antibacterial agents when preparing meats and other foods. Garlic, onion, allspice, and oregano kill practically all present bacteria, and capsicums (chilies and hot peppers) kill about 75% of bacteria.
In other words, you have your ancestors to thank for your undying devotion to Frank's or Tabasco, and before refrigerators it was an instinct that could keep you from contracting food-borne diseases. A recent study from researchers at Harvard Medical School found a correlation between people who ate spicy foods more frequently and a lower risk of death. "If you eat more spicy food, it's better for your health and lowers the risk for mortality, especially as it relates to cancer and heart disease," the study's lead author Dr. Lu Qi said.
There are caveats to the study, including the fact that precise levels of spice in each diet of Chinese respondents were not recorded or prescribed. However, researchers concluded through its study of more than 480,000 people that eating spicy foods three to seven days a week could lower mortality by 14%. Eating spicy foods just one or two days a week can lower your risk of death by 10%.
With that in mind, why not celebrate spice with a few new recipes? Here are a few to try that incorporate flavors from across the world. If you find some favorites, you can save them for National Hot and Spicy Food Day later this year on August 19, or work them into your weekly meal repertoire.
1. Spicy Pork with Pickled Kale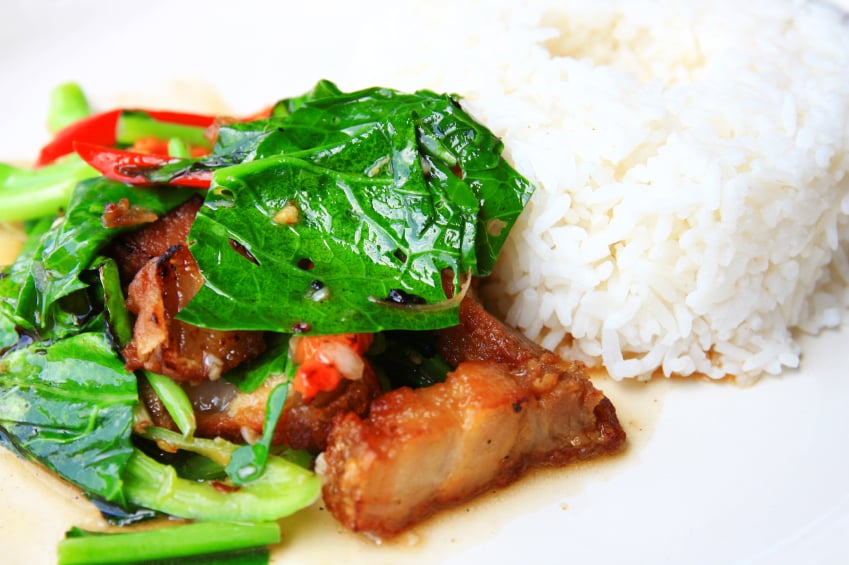 For a fresh, flavorful dish with a bit of a kick, look no further than this dish provided by Rachel Yang for Bon Appétit. Kale has survived the hype of being a nutrient-dense superfood, and this adds yet another way to prepare the green without throwing it into a pot of soup. Plus, if you've been hesitant to step into the great world of Asian spices and flavors in your own kitchen, now is the time to give it a shot! 
Ingredients:
½ 

cup

dry sake

½ 

cup

gochujang (Korean chili paste)

¼ 

cup

mirin (sweet Japanese rice wine)

11-

pound

piece trimmed boneless pork shoulder, cut into 1/2′-thick slices

2

tablespoons

vegetable oil, divided

1

bunch Tuscan or regular kale, stemmed, leaves torn

2

tablespoons

fish sauce (such as nam pla or nuoc nam)

¼ 

cup

unseasoned rice vinegar

4

cups

steamed rice

1

crisp apple, cored, cut into matchstick-size pieces
Directions: Whisk sake, gochujang, and mirin in a medium bowl; set ½ cup aside. Add pork to medium bowl; turn to coat. Let marinate 20 minutes.
Heat 1 tablespoon oil in a large skillet over medium-high heat. Add pork; sear until browned and cooked through, about 3 minutes per side. Transfer to a plate.
Heat 1 tablespoon oil in a large saucepan. Add kale; sauté until wilted, about 5 minutes. Stir in fish sauce, then rice vinegar. Divide rice among plates. Arrange pork and kale on top. Sprinkle apple and reserved chili sauce over the top.
2. Cajun Shrimp-Stuffed Poblano Peppers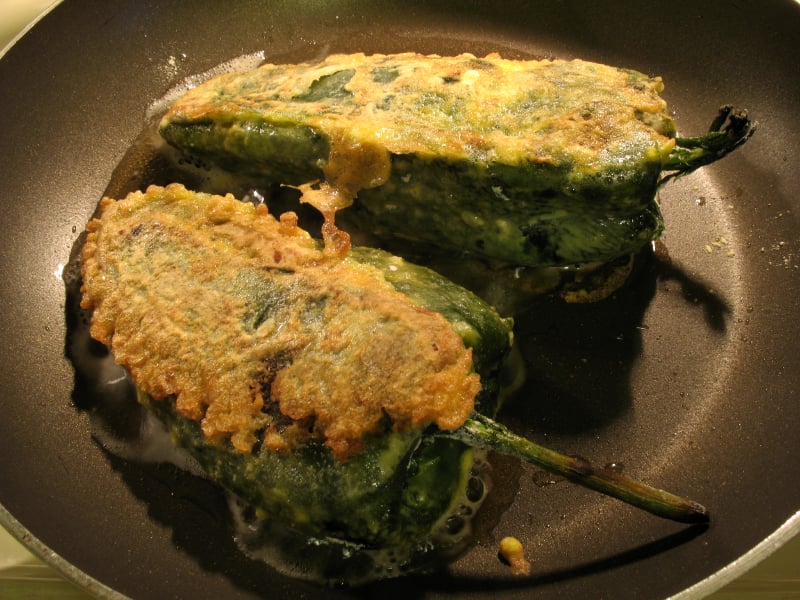 There's no denying you're celebrating spice when the vessel of your food is literally a pepper. Plus, stuffed peppers are incredibly versatile and can stand up to a variety of ingredients. This particular recipe from Chili Pepper Madness incorporates cheeses, shrimp, and Cajun seasoning along with your favorite hot sauce to create a fresh take on stuffed peppers, all in a few very simple steps.
Ingredients:
2 large poblano peppers
8 ounces shrimp, peeled and deveined
1 teaspoon olive oil
1 tablespoon Cajun seasonings
4 ounces goat cheese
4 ounces shredded Manchego cheese
10 or so large basil leaves, shredded
1 tablespoon (or more) of your favorite hot sauce
Fresh cilantro, chopped, for topping
Directions: Preheat the oven to 375 degrees Fahrenheit. Slice the poblano peppers in half lengthwise and scoop out the insides. Set on a large baking dish.
In a mixing bowl, coat shrimp with olive oil and toss with Cajun seasonings. Sauté shrimp over medium heat for a couple minutes per side, until cooked through. Remove from heat, cool, and chop.
In a mixing bowl add shrimp, cheeses, basil, and hot sauce, mixing until combined. Divide the mixture evenly among the four pepper halves.
Bake for 30-40 minutes, to your preference. Top with cilantro and serve with extra hot sauce, if desired.
3. Chili Lime Lentil Tacos with Spicy Grilled Pineapple Salsa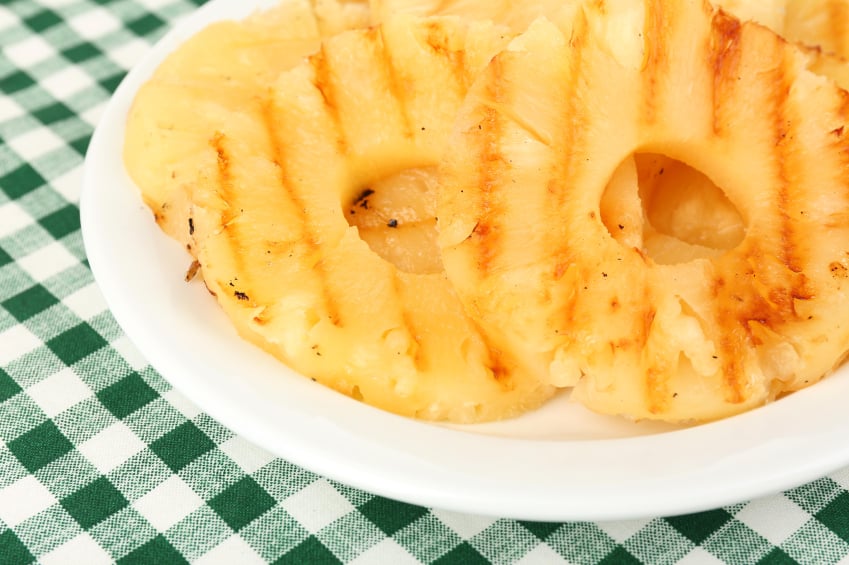 In the world of [chili] heat-seekers, no one is left out in the cold. These tacos from One Green Planet are vegan when prepared as directed, but could be relegated to vegetarian if you want to add your own sour cream or cheese. Even so, the recipe ensures everyone at your table can enjoy the spicy heat, regardless of dietary restrictions. Plus, who can go wrong with tacos?
The recipe's author, Chrysta Hiser, recommends making the pineapple salsa at least a few hours ahead of your meal and keeping it in the refrigerator so the flavors have time to blend together. You'll also need grilling skewers (soaked ahead of time if they're wooden), or a grilling pan to keep ingredients from falling to a charcoal demise.
Ingredients:
1 c. lentils
2 c. water
1 tsp. chili powder
1/2 tsp. chipotle powder
1/2 tsp. cumin
1/2 tsp. smoked paprika
1/2 tsp. onion powder
1/2 tsp. garlic powder
zest of 1 lime
1 lime, juiced
2 Tbsp. tomato paste
salt and pepper
For the salsa: 
½ pineapple, sliced
1 red pepper, cut into big pieces
1 jalapeño
½ red onion, quartered
1-2 tablespoons olive oil
½ lemon, juiced
salt and pepper
Directions: Add water to a medium saucepan and bring to a boil. Add dried lentils and cook about 20 minutes, or until soft. Remove from heat and drain any additional water left over from the cooking process.
In a small bowl, combine all of the spices. Then, add spice mixture, lime zest, lime juice, and tomato paste to lentils and stir to combine. Adjust seasoning as needed.
For the salsa: 
Get out skewers or grilling pan, if skewers aren't available. Heat up the grill, and place pineapple slices directly on grill once hot. Run the onion quarters through the skewers to keep them from falling apart while cooking. Brush onions and peppers with olive oil, then place on the grill.
Cover grill and cook about 3-5 minutes. Flip pineapples and vegetables once they develop a char on the first side. Once nicely charred on all sides, remove and place on a plate to cool.
Once cool, remove skin from peppers and dice all the vegetables and the pineapple. Place in a bowl and add the lemon juice, then stir to combine. Season with salt and pepper to taste. Place in the refrigerator and keep for several hours before serving, if time permits.
4. Latin Burgers with Caramelized Onion, Jalapeño Relish, and Red Pepper Mayonnaise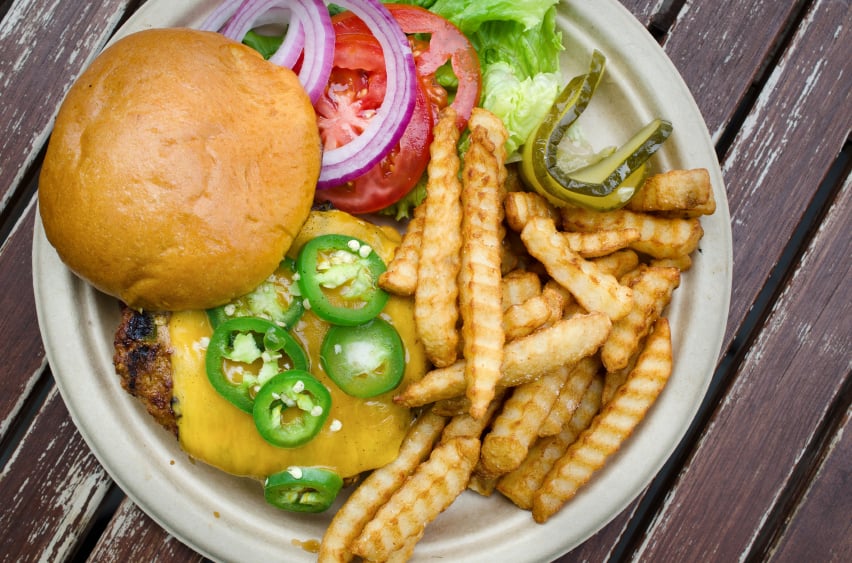 Burgers are delicious in all forms and varieties, but this recipe from The Food Network's Ingrid Hoffmann is all about celebrating spice with condiments. Between the adobo seasoning, sliced jalapeños, and roasted red peppers, it's a recipe brimming with uses for peppers, all of which blend together for a spice-laden take on a classic favorite.
Ingredients:
¾ pound ground sirloin
¾ pound ground chuck
½ pound raw chorizo, casings removed and crumbled
1 tablespoon adobo seasoning
1 large onion, grated
½ cup dry bread crumbs
2 tablespoons olive oil
2 large yellow onions, finely sliced
Kosher salt and freshly ground pepper
½ cup bottled and sliced jalapeño chiles, drained
½ cup dark brown sugar
2 medium jarred roasted red bell peppers, drained
¾ cup mayonnaise
6 slices Oaxaca cheese or mozzarella
6 hamburger rolls
Directions:
To make the Latin Burgers:
In a large bowl, mix thoroughly by hand the ground beef, chorizo, adobo seasoning, grated onion and bread crumbs. Form the burgers into 6 patties without pressing them too much or they can become tough. Line a baking pan with waxed paper and put the burgers side-by-side in a single layer. Cover and refrigerate for at least 30 minutes. This will help the burgers hold together. If you make more than you need just separate with waxed paper and insert into a storage freezer bag for future use.
To make the Caramelized Onion and Jalapeño Relish:
Heat the olive oil in a heavy skillet over medium-low heat. Add the onions and season with salt and pepper. Add the jalapeño chiles and the brown sugar. Sauté for 15 minutes or until the onion and the chiles are caramelized and soft. Set aside.
To make the Red Pepper Mayonnaise:
Drain the roasted red peppers and put them in a blender or food processor. Add the mayonnaise, and season with salt and pepper. Puree the mayonnaise and roasted red peppers until well combined and the mixture is smooth. NOTE: This may be done up to 2 days ahead of time, and in fact the flavor will be more complete with an overnight chilling.
To cook the Latin Burgers:
Preheat an outdoor grill or grill pan on the stove top over medium-high heat. Place the burgers on the hot grill or pan until cooked to desired doneness. Due to the raw chorizo in the recipe, at least medium-well is recommended, approximately 10 minutes on each side. In the last 5 minutes of cooking, top the burgers with the slices of cheese so it can melt. If your grill has a lid, putting it on briefly will help the cheese melt quickly and evenly.
To serve: Spread about 1 tablespoon of the red pepper mayonnaise on both sides of the rolls. Lay a burger on the bottom halves, and top with a couple of spoonfuls of the caramelized onion and jalapeño relish.
5. Kofte Kebabs with Spicy Harissa Yogurt Sauce and Grilled Flatbread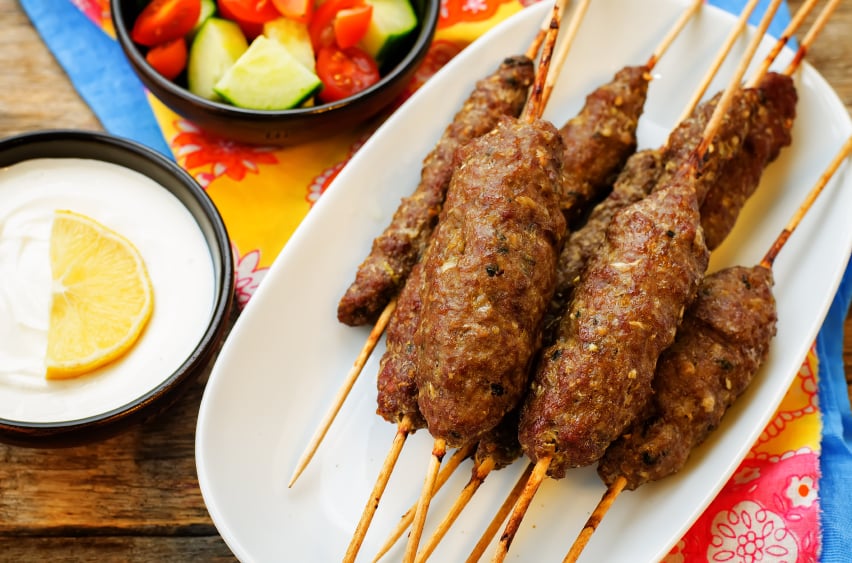 You might not be familiar with harissa, but it's the Tunisian spice paste in this dish that's made from piri-piri peppers. The peppers are in the top-third of the Scoville scale, meaning you won't miss their kick. When the harissa is incorporated into a dish like this, and adjusted for personal tastes, you'll end up with a flavor you won't want to miss.
This recipe is courtesy of Serious Eats, and is crafted by the site's managing culinary director, J. Kenji López-Alt. López-Alt said the kebabs are typically created with lamb, but you can also substitute ground beef or pork if you would prefer. Harissa should be available at large supermarkets or specialty grocers, but if you can't find it you can also use another fresh chili sauce like sambal oelek.
Ingredients:
¾ cup strained yogurt
4 tablespoons harissa (to taste)
4 medium cloves garlic, minced on a microplane grater (about 4 teaspoons)
1 cup fresh mint or parsley leaves (or a mix), minced
Kosher salt and freshly ground black pepper
2 pounds ground lamb or beef, at least 20% fat
1 tablespoon red chili flakes
2 teaspoons ground cumin
1 teaspoon ground coriander
¼ teaspoon ground cinnamon
1 (2-inch) knob of ginger, grated on the medium holes of a box grater
1 small onion, grated on the medium holes of a box grater (about 1/2 cup)
Thinly sliced red onions, soaked in cold water
1 lemon, cut into wedges for serving
A handful of greens, such as arugula (optional)
1 recipe grilled naan (recipe also from Serious Eats), or store-bought flatbread warmed on grill
Directions: Soak 12 large bamboo skewers in water (unless using metal skewers). Combine yogurt, half of harissa (more or less depending on spice tolerance), half of garlic, and half of herbs. Whisk to combine and season to taste with salt and pepper.
Combine lamb, chili flakes, cumin, coriander, cinnamon, ginger, onion, remaining garlic, remaining harissa, and remaining herbs in a large bowl. Season with salt. Work the meat together with your bare hands until combined, then pull off a small piece and place it on a microwave-safe plate. Microwave on high power until cooked through, about 15 seconds. Taste meat and add salt as necessary. Repeat the tasting process until seasoned to your liking.
Working with wet hands, divide meat into twelve balls. Roll each ball into a long sausage-like shape, then insert skewer through center of each kebab.
Light one chimney full of charcoal. (Serious Eats' Joshua Bousel details the process here.) When all the charcoal is lit and covered with gray ash, pour out and arrange the coals on one side of the charcoal grate. Set cooking grate in place, cover grill and allow to preheat for 5 minutes. Clean and oil the grilling grate.
Place kebabs directly over coals. Cover and cook until well-charred, about 2 minutes. Carefully flip kebabs, cover, and cook until second side is well-charred. Remove cover, transfer kebabs to cooler side of grill, cover, and continue cooking until desired doneness is reached, about 2 minutes more (you can tear off a piece of one to check). Transfer to a large plate and let rest for 3 minutes.
Serve kebabs with lemon wedges, sliced onions, greens, and yogurt sauce on boiled rice or with a grilled flatbread, such as the naan included above or a store-bought version.
More from Culture Cheat Sheet: