Make-Ahead Dinners You Can Bake When You Get Home
If you equate make-ahead dinners with ho-hum casseroles and boring pasta bakes, it's time to think again. There's no reason you have to sacrifice flavor for convenience. Creative cooks can make delicious meals ahead of time that just need to be baked in the oven when dinnertime rolls around. Some of these make-and-bake dinners are freezer meals, while others can be prepped the night or morning before and stored in the refrigerator until ready to cook. All cut down on the work you need to do in the evening and make it easier to get dinner on the table faster. Here are seven recipes for make-ahead dinners you can bake when you get home.
1. Chicken and Spinach Enchiladas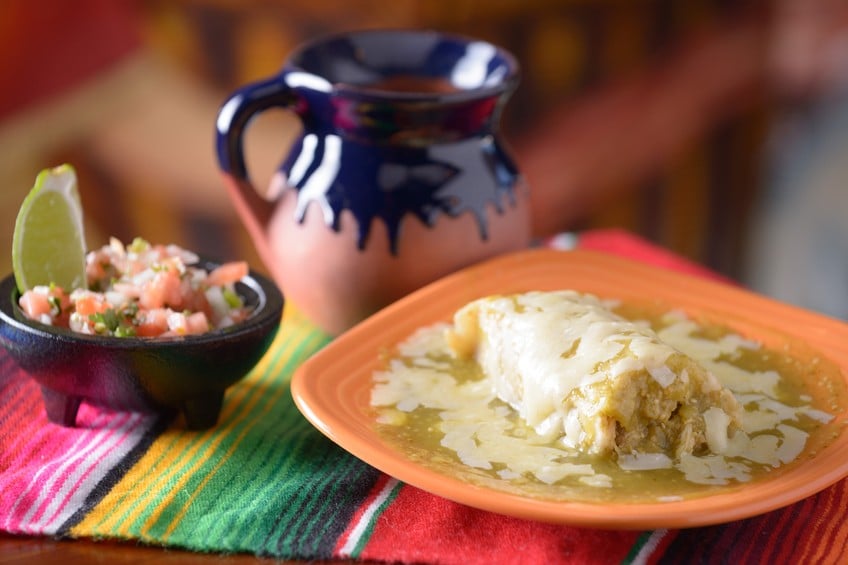 It's easy to make a double batch of these enchiladas, which are stuffed with healthy chicken and spinach. The recipe comes from Erin Chase, author of The $5 Dinner Mom Cookbook, via Good Morning America. Prepare one pan of enchiladas for dinner tonight, then freeze the other for a quick meal later. Each pan serves seven to eight.
Ingredients:
3 cups cooked, shredded chicken
16-ounce container sour cream
2 (10-ounce) boxes frozen spinach, cooked and well drained
4 cups shredded pepper jack cheese, divided
2 tablespoons minced onion
2 teaspoons minced garlic
2 teaspoons ground cumin
Salt and pepper
18 to 20 soft taco-size flour tortillas
2 (10-ounce) cans green chile enchilada sauce
Directions: Preheat oven to 350 degrees Fahrenheit. Lightly grease 2 glass baking pans (9-by-13 inches) with non-stick cooking spray.
In a large mixing bowl, mix together the shredded chicken, sour cream, spinach, 1 cup of the pepper jack cheese, minced onion and garlic, cumin, and some salt and pepper.
Spoon the mixture into each of the tortillas. Roll, and place the tortillas seam side down in the baking dish. (You should be able to fit 8 to 10 enchiladas in a pan.) Fill both pans.
Pour 1 can of the green enchilada sauce over the top of 1 pan, and repeat with the other can. Sprinkle the remaining 3 cups of pepper jack cheese over the 2 pans.
Bake in the preheated oven for 30 minutes, or until cheese is melted and begins to golden, and sauce is bubbling.
To freeze: Enchiladas can be frozen either baked or unbaked. When ready to cook or reheat, thaw the pan of enchiladas completely and then bake at 350 degrees Fahrenheit for 30 minutes.
2. Shrimp with Roasted Peppers and Feta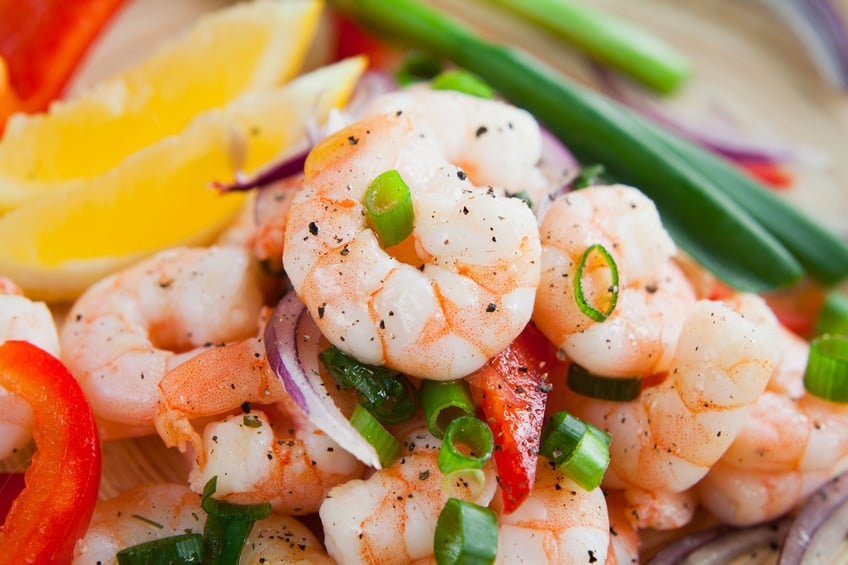 You only need 5 minutes in the morning to assemble the ingredients for this simple shrimp-peppers-and-cheese dish. Then, when you get home, pop the individual ramekins in the oven for a light and simple dinner. This recipe from Real Simple serves four but can easily be doubled to feed a larger family.
Ingredients:
1½ pounds large shrimp, peeled and deveined
1 (12-ounce) jar roasted red peppers, drained and cut into 1-inch pieces
1 bunch scallions, sliced
2 cloves garlic, sliced
2 tablespoons olive oil
Kosher salt and black pepper
8 ounces feta cheese
Directions: In a large bowl, combine the shrimp, red peppers, scallions, garlic, oil, and ½ teaspoon each salt and pepper.
Divide the mixture among 4 individual baking dishes, top with the feta. Cover and store in the refrigerator for up to 1 day. When ready to bake, preheat oven to 400 degrees Fahrenheit. Bake, uncovered, until the shrimp is opaque throughout, 15 to 18 minutes.
3. Frozen Pizza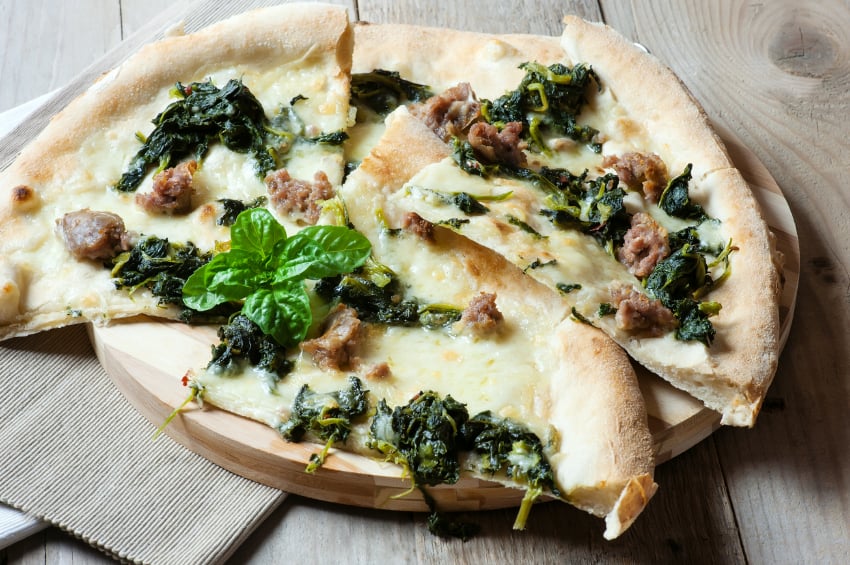 Who hasn't thrown up their hands at the end of a long day and said, "I guess we'll just have frozen pizza for dinner"? Popping a ready-made pie in the oven is the quintessential quick dinner fix, but you don't have to rely on store-bought pizza in the name of convenience. Making your own homemade frozen pizzas is easy and fun, and this recipe from The Kitchn proves it.
Ingredients:
1 pound pizza dough, store-bought or homemade
½ to 1 cup tomato sauce or other spread
2 to 3 cups pizza toppings, such as sautéed onions, sautéed mushrooms, pepperoni, cooked sausage, cooked bacon, diced peppers, or leftover veggies,
1 to 2 cups (8 to 16 ounces) cheese, shredded or sliced, such as mozzarella, monterey jack, provolone, or fontina
Directions: Place a pizza stone or baking sheet on a middle rack in the oven. Preheat the oven to 450 degrees Fahrenheit.
Divide the pizza dough in half to make two individual pizzas. Place the ball of dough in the middle of a piece of parchment paper. Roll it out to your preferred thinness. If the dough starts to shrink back and crinkle the paper, let it rest for a few minutes and then try rolling it out again.
Slide the pizza rounds on the parchment sheets onto the pizza stone or baking sheet in the oven. Bake for 3 to 5 minutes until the rounds are puffy and dry on the top, but still very pale.
Remove the parchment from beneath the pizza rounds and let them cool completely on a wire rack.
When cool, top the rounds as you would if you were going to bake them right away: spread some sauce on the pizzas, add toppings, and sprinkle cheese over the top. (Note: pizza rounds can also be frozen without toppings, if you prefer).
Place the pizzas on a baking sheet and freeze, uncovered, until solid, about 3 hours.
Once frozen, remove the pizzas from the freezer and wrap them first in plastic wrap. Write the pizza toppings on a piece of masking tape and stick the label to the plastic wrap. Then, wrap the pizzas in a layer of aluminum foil. The double layer protects the pizzas from drying out in the freezer. Freeze for pizzas for up to three months.
When ready to eat the pizzas, preheat the oven to 550 degrees Fahrenheit. If you have a baking stone, place it in the oven as it heats; frozen pizzas can also be baked on the foil used to wrap them. When the oven has heated, unwrap the pizzas, discard the plastic wrap, and slide into the oven. Bake for 8 to 10 minutes, until the crust is dark brown and the cheese in the center of the pizza is bubbly. Eat immediately.
4. Butternut Squash Chicken Pan Roast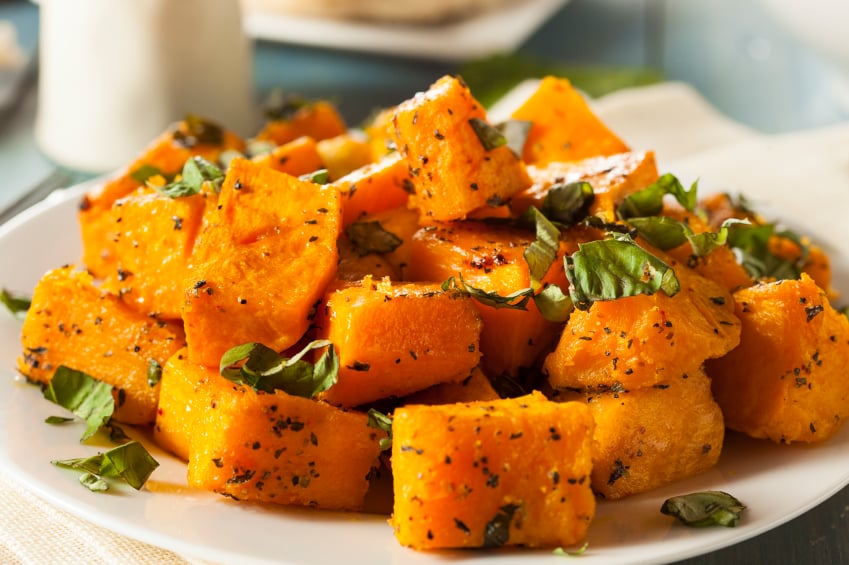 Squash, apples, and chicken are cooked together in the same pan for a simple fall dinner your family will love. To prepare this recipe from Food & Wine, chop the vegetables and assemble the ingredients in the roasting pan the night before, then store, covered, in the refrigerator, until ready to bake. Serves six.
Ingredients:
1 (1½)-pound butternut squash, peeled and cut into ¾-inch dice
3 Fuji apples, peeled and cut into ¾-inch dice
1 tablespoon chopped sage
¼ cup extra-virgin olive oil
Salt
Freshly ground pepper
6 whole chicken legs (3 pounds)
2 tablespoons unsalted butter, thinly sliced
Directions: In a large roasting pan, toss the squash, apples, and sage with the olive oil and season with salt and pepper. Season the chicken legs and set them on top. Dot with the butter. Cover with plastic wrap and store in the refrigerator until ready to cook.
Preheat the oven to 400 degrees Fahrenheit. Remove pan from refrigerator, uncover, and roast for about 1 hour and 15 minutes, until the squash and apples are tender and the chicken is browned and cooked through.
Transfer the chicken to a plate and keep warm. Place the roasting pan over a burner and boil, stirring, until the pan juices are reduced, about 5 minutes. Return the chicken to the pan and serve.
5. Freezer-Friendly Cottage Pie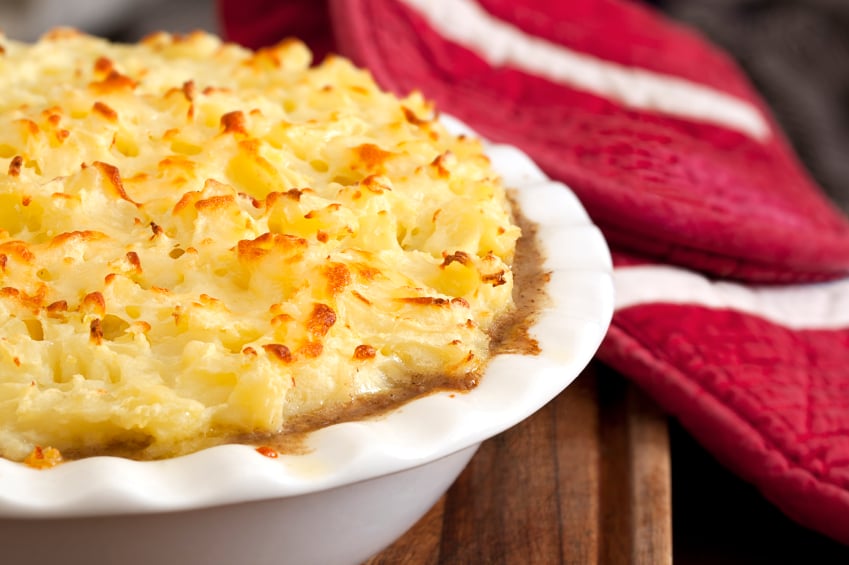 A pan of filling cottage pie is the perfect meal to serve on cold nights when you don't want to venture out to the store. This recipe from The Pioneer Woman is made with ground lamb or beef, peas and carrots, and topped with homemade mashed potatoes. (You can use leftover mashed potatoes to save prep time.) The result is pure, delicious comfort food. Serves four.
Ingredients:
For the meat and vegetable layer
1 pound ground beef or lamb
1½ cups chopped yellow onion
¾ cup chopped carrots
½ cup frozen peas
½ cup frozen corn kernels
2 tablespoons butter
2 tablespoons flour
1 tablespoon fresh thyme leaves
1 clove garlic, pressed or minced
1 cup beef stock
Salt and pepper
For the mashed potatoes
2 pounds Yukon gold potatoes, peeled and cut into large cubes
½ cup heavy cream
¼ cup milk
3 tablespoons butter, softened or melted
1 cup grated cheddar cheese
Salt and pepper
Directions: Heat a large nonstick skillet over medium-high heat, then add beef or lamb. Brown meat until fully cooked, about 5 minutes. Soak up excess fat with a paper towel, then add onion and carrot. Season with a pinch of salt and pepper, then cook for 10 minutes, until soft.
Add the peas and corn, and cook for 2 minutes. Add butter to the pan and toss around until fully melted, then stir in flour, thyme leaves, and garlic. Stir for 1 minute, until flour disappears. Add beef stock, then bring liquid to a boil over high heat. Cook for a minute or two until broth thickens into a light sauce. Remove pan from heat and transfer beef and veggie mixture to an 8-by-8-inch baking dish.
Preheat oven to 425 degrees Fahrenheit.
To make the mashed potatoes, place cubed potatoes in a pot filled with cold water. Place on the stove set over high heat and bring to a boil. Cook for about 5 minutes, until potato cubes are fork-tender. Drain potatoes, then spread them out on a sheet pan in a single layer and let sit for a couple minutes so the steam can escape. Use a fork or potato masher to mash the potatoes, then stir in cream, milk, butter, and cheese. Make any necessary seasoning adjustments with salt and pepper. Spread mashed potatoes on top of the beef and veggies in the baking dish.
Bake shepherd's pie for 20 to 25 minutes, until mashed potatoes are golden brown and crispy on top.
After baking, let pan cool to room temperature, then cover tightly with foil and place in the freezer for up to 2 months. When ready to eat, reheat the cottage pie (still covered with the foil) for 1 hour in a 350 degree Fahrenheit oven. If you thaw the pie in the fridge the night before, reduce the cooking time to 30 minutes.
6. Sausage and Swiss Chard Strata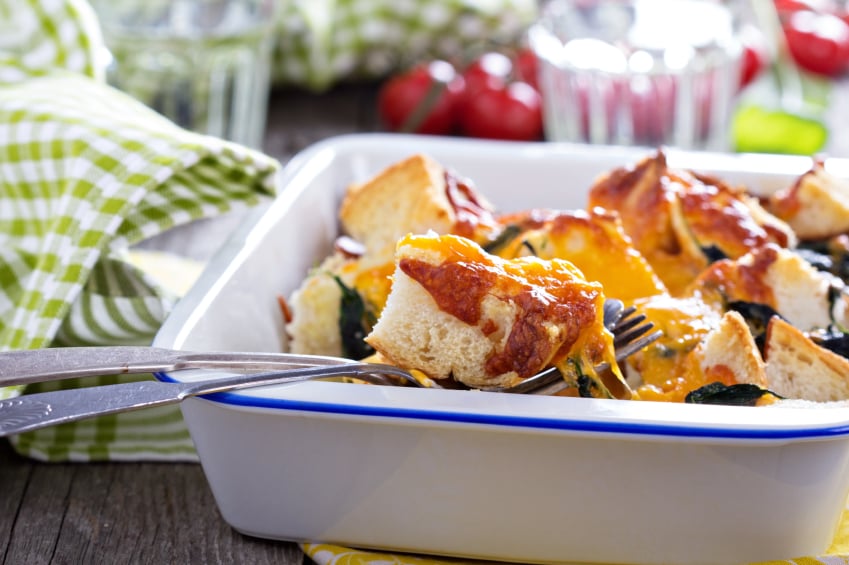 You'll usually see strata gracing the table at breakfast and brunch, but there's no reason you can't serve it at dinnertime too. Simply prepare this eggy casserole recipe from Martha Stewart in the morning, then let it sit in the refrigerator all day so the dry bread is able to absorb the custard. Then, bake for 45 minutes in the oven when you get home from work. Serves eight.
Ingredients:
1 pound bulk sweet or spicy Italian sausage
2 shallots, finely chopped
1 bunch Swiss chard (1 pound), stems diced medium, leaves torn into 2-inch pieces and rinsed
Coarse salt and ground pepper
1 day-old baguette, cut into ½-inch slices
2½ cups whole milk
7 large eggs, lightly beaten
1 cup shredded Gruyere cheese (3 ounces)
Directions: Heat a large skillet over medium-high. Add sausage and cook, breaking up meat with a wooden spoon, until browned, 5 minutes. Transfer sausage to a small bowl, leaving behind as much fat as possible. Add shallots and chard stems to skillet and cook over medium until shallots are translucent, 3 minutes. Add a little water to pan and cook, stirring and scraping up browned bits from skillet with spoon. Add chard leaves and cook, stirring occasionally, until wilted, 3 minutes. Season with salt and pepper.
Spread half the sausage in a 9-by-13-inch baking dish and top with half the chard mixture. Top with bread, overlapping slices slightly. Top with remaining sausage and chard mixture. In a large bowl, whisk together milk and eggs, season with salt and pepper, and pour evenly over top. Firmly press on strata to submerge bread in egg mixture. Cover dish tightly with foil and let sit 10 minutes (or refrigerate up to overnight).
When ready to bake, preheat oven to 375 degrees Fahrenheit. Bake strata 45 minutes. Remove foil, sprinkle with shredded cheese, and bake until cheese melts and egg mixture is mostly absorbed and set in center, 6 to 10 minutes. Let cool 10 minutes before serving.
7. Chicken, Spinach, and Mushroom Lasagna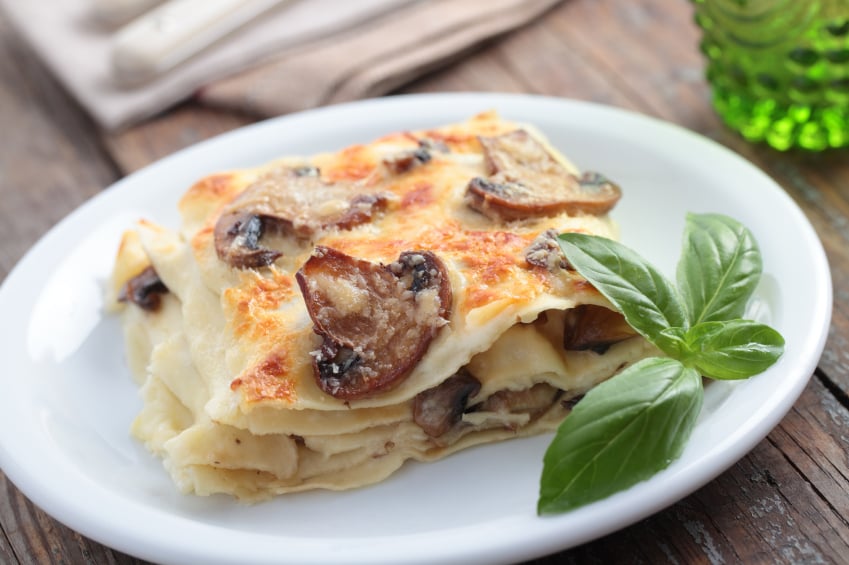 When it comes to freezer meals, you can't go wrong with lasagna. This version of a classic dish swaps heavy ingredients like ground beef or Italian sausage for healthier chicken, spinach, and mushrooms. The recipe from Cooking Light makes two pans of lasagna, so you can eat one for dinner tonight and freeze the second. The frozen lasagna will keep in the freezer for 2 months. Each pan serves six.
Ingredients:
3 cups unsalted chicken stock
1½ pounds skinless, boneless chicken thighs, trimmed
2½ tablespoons olive oil
1½ cups chopped onion
3 tablespoons minced garlic
1½ teaspoons kosher salt, divided
½ teaspoon chopped fresh thyme
½ teaspoon crushed red pepper
10 ounces sliced cremini mushrooms
3 (6-ounce) packages fresh spinach
Cooking spray
1½ cups 2 percent reduced-fat milk
½ cup all-purpose flour
¼ teaspoon ground nutmeg
2 ounces Parmigiano-Reggiano cheese, grated (about ½ cup)
12 no-boil lasagna noodles
5 ounces part-skim mozzarella cheese, shredded (about 1¼ cups)
Directions: Bring stock to a boil in a large saucepan over medium-high heat. Add chicken; reduce heat, and simmer 18 to 20 minutes or until ­chicken is done. Remove chicken from pan; reserve stock. When cool enough to handle, shred with two forks.
Heat a large skillet over medium-high heat. Add oil; swirl to coat. Add onion, garlic, ½ teaspoon salt, thyme, pepper, and mushrooms; sauté 8 minutes. Stir in spinach, 1 package at a time, cooking 2 minutes after each addition or until spinach wilts before adding more. Remove pan from heat; stir in chicken.
Preheat oven to 375 degrees Fahrenheit.
Coat 2 (8-inch) square baking dishes with cooking spray. Combine milk, flour, and nutmeg, stirring with a whisk until smooth. Bring reserved stock to a boil over medium-high heat. Gradually add milk mixture to stock mixture, stirring constantly with a whisk. Stir in remaining 1 teaspoon salt. Cook 5 minutes or until thickened, stirring occasionally. Remove pan from heat; stir in Parmigiano-Reggiano. Pour ½ cup sauce into bottom of each baking dish. Top each with 2 noodles, 1½ cups chicken mixture, ¾ cup sauce, and ¼ cup mozzarella, making sure noodles are covered with sauce. Repeat layers once with noodles, chicken mixture, and sauce. Top dishes evenly with remaining 4 noodles, remaining ½ cup sauce, and remaining ¾ cup mozzarella.
Cover dishes tightly with foil coated with cooking spray. Bake at 375 degrees Fahrenheit for 25 minutes. Uncover and bake at the same temperature for 10 to 15 minutes or until browned and bubbly, or follow freezing instructions. Let stand 5 minutes before serving.
To freeze: Cool pan completely. Cover with foil; freeze up to 2 months. If using a metal pan, thaw overnight in ­refrigerator. If using a glass or ceramic pan, uncover and microwave on high 15 minutes or until thawed. To reheat, cover lasagna and bake at 375 degrees Fahrenheit for 25 minutes. Uncover and bake 5 minutes more. Let stand 5 minutes before serving.