Man Food: 5 Healthy Snack Recipes Using Ancient Grains
Ready to give up on processed wheat? You're not alone. Sales of so-called "ancient grains" like spelt, quinoa, and amaranth have surged in recent years as people have started to seek out healthier foods. These grains – which remain nearly identical to those eaten by our ancestors hundreds of years ago – are more nutritious than highly refined wheat and can often be grown with fewer pesticides, according to the Whole Grains Council.
Today, people who may not have known how to pronounce quinoa five years ago are serving it up for dinner. But despite a sudden focus on these not-so-new super foods, ancient grains can be a bit intimidating if you've never cooked with them before. Fortunately, adding ancient grains to your diet isn't hard, and you can actually use them to make healthier versions of many of your favorite snack foods. To get you started, here are five snacks you can make with ancient grains.
1. Soft Pretzel Quinoa Bites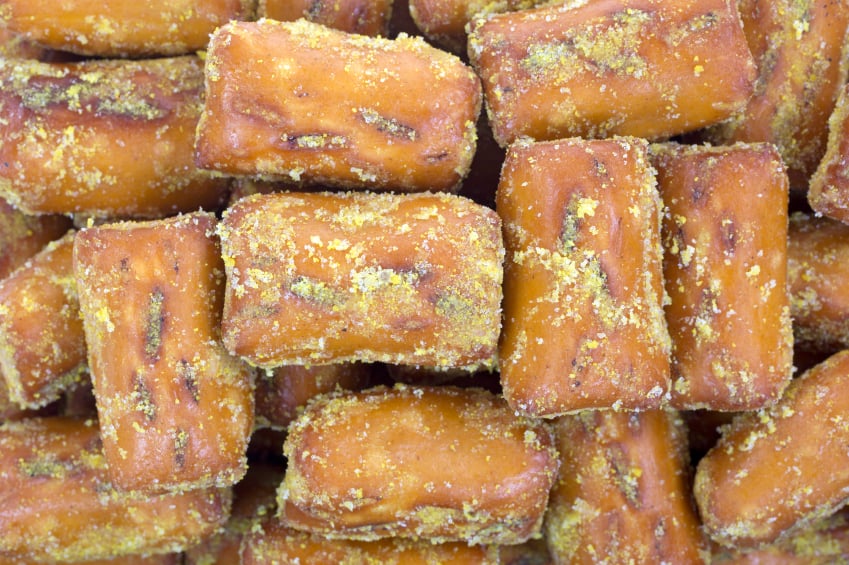 Quinoa may be the best-known of ancient grains, but technically it's not a grain at all. Rather, it's the seed of a plant related to beets and spinach. Still, it looks, tastes, and has a similar nutrient profile to whole grains, so most people place it in that category. Like other grains, quinoa can be refined into flour, which is the main ingredient in this recipe for bite-sized pretzels from Wendy Polisi.
Ingredients:
1¾ cups water, warmed to 110 to 115 degrees Fahrenheit
1 tablespoon coconut palm sugar or other sugar of your choice
2½ teaspoons instant yeast
2 teaspoons sea salt
3 cups all-purpose or gluten-free flour blend (if using the latter, make sure it includes xanthum gum)
1½ cup quinoa flour
2 ounces coconut oil, melted
10 cups water
⅔ cup baking soda
2 tablespoons butter, melted
Kosher salt
Directions: Start by toasting the quinoa flour, which will bring out the grain's nutty flavor. Preheat oven to 220 degrees Fahrenheit. Line a rimmed baking sheet with parchment paper and spread the flour on it at a depth of about ¼ inch. Bake for 2½ hours. Cool, then store in a sealed contained until ready to use. (This step is optional.)
Combine the warm water, yeast, and sugar in a small bowl. Stir gently to combine and then set aside for 5 minutes.
Combine the salt and both kinds of flour in the bowl of a stand mixer fitted with the paddle attachment. Mix until combined. If you're using all-purpose flour, switch to the dough hook, then add the yeast mixture and oil. Mix on low to combine, then increase speed to high and continue mixing for another 4 minutes. Remove dough from mixer bowl and transfer to a well-oiled bowl. Cover and place in warm area. Let sit for 50 to 55 minutes as the dough rises.
Preheat oven to 425 degrees Fahrenheit. Line 2 large baking sheets with parchment. Fill a large pot or roasting pan with 10 cups of water, add the baking soda, and bring to a boil.
Once the dough has risen, transfer it to an oiled work surface and divide into 8 pieces. Roll each into a 24-inch rope, then slice into 1-inch pieces. Place a slightly damp towel over the cut dough to keep it from drying out.
Use a slotted spoon to lower the pieces of dough into the boiling water. Cook for about 30 seconds, flipping several times. Remove and place on parchment-lined baking sheets. Brush each with a little melted butter, then sprinkle with salt.
Bake pretzel bites in the oven for 12 to 14 minutes, until golden brown in color. Brush with additional butter if you like and serve warm.
2. Buckwheat Peanut Butter Krispies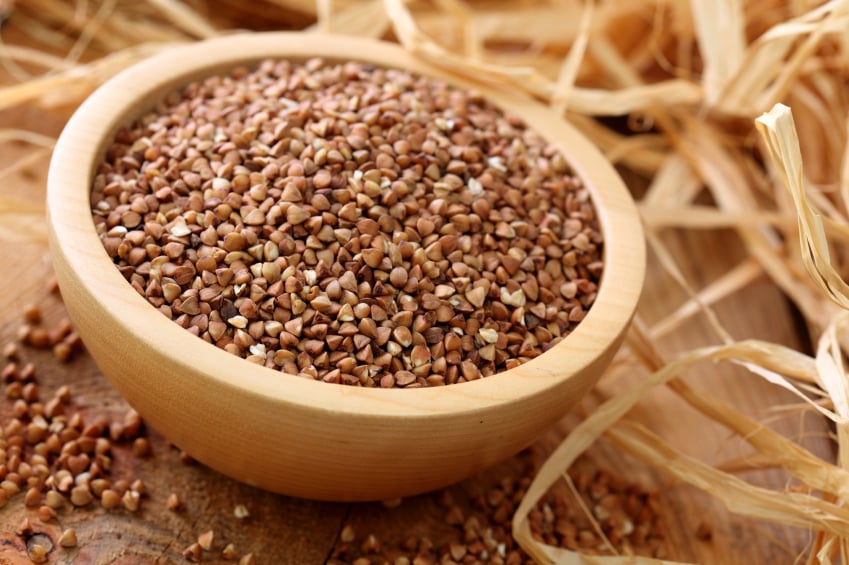 Buckwheat groats – the hulled seed of the buckwheat plant – replace the usual puffed cereal in this healthier spin on Rice Krispie treats. Toasting the buckwheat before you prepare the bars helps intensify the flavor, while a chocolate topping makes this an extra-special dessert. Recipe from Hold the Sugar.
Ingredients:
½ cup plus 2 tablespoons natural peanut butter
½ cup virgin coconut oil
1 heaping tablespoon honey or maple syrup
2 teaspoons vanilla
1 cup buckwheat groats
Coarse salt for sprinkling
For chocolate topping
1 to 3 ounces very dark chocolate (at least 85% cacao)
1 to 2 tablespoons coconut oil
Directions: Add buckwheat groats to a large skillet and turn heat to medium-high. Toast, stirring occasionally, for a couple of minutes.
Add the peanut butter, coconut oil, and honey to a saucepan and melt over medium heat. Taste mixture and add additional sweetener if you like. Remove from heat and stir in the vanilla. Add the toasted buckwheat and stir.
Line an 8-by-8-inch pan with aluminum foil, parchment, or wax paper, letting some of the lining overhang the pan's edges. Pour in the peanut butter and buckwheat mixture, spreading it to form an even layer. Sprinkle some salt on top. Transfer pan to the freezer for 20 minutes.
Once the bars are frozen, prepare the topping. Melt the chocolate and coconut oil and pour it over the pan of uncut bars. Put the pan in the refrigerator and let the chocolate set for about 5 minutes.
Pull on the aluminum foil or parchment to remove the bars from the pan. Slice into squares and serve immediately or store in an airtight container until ready to serve.
3. Popped Amaranth Granola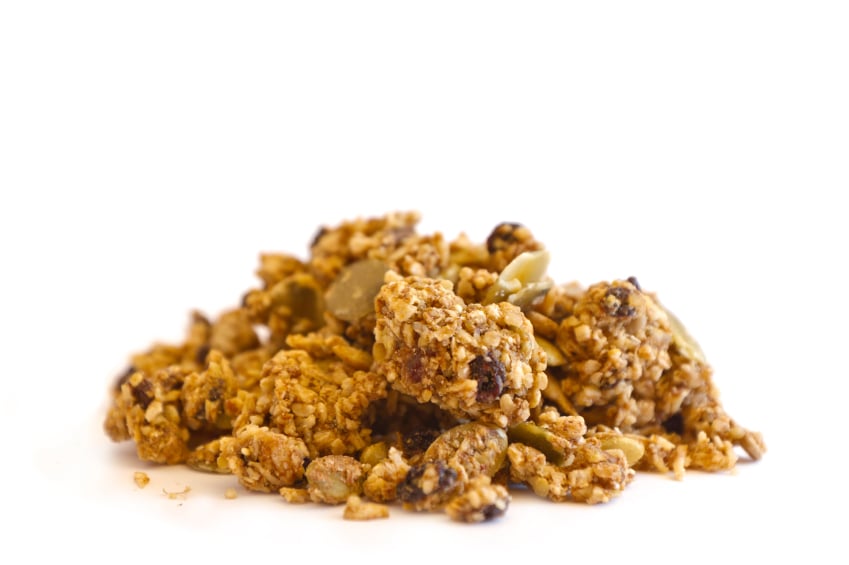 Amaranth has been cultivated for thousands of years and was a staple food in the Aztec diet. Like quinoa, to which it's related, it's actually a seed, and it's high in protein, potassium, magnesium, and fiber. Amaranth can be popped like popcorn, as it is in this recipe from Chowhound, which combines the tiny seeds with oats, nuts, and dried fruit for a hearty, healthy granola.
Ingredients:
½ cup amaranth seeds
4 tablespoons unsalted butter (½ stick)
¼ cup packed dark brown sugar
¼ cup honey
1 teaspoon vanilla extract
¼ teaspoon fine salt
¼ teaspoon cinnamon
1 cup whole raw cashews, coarsely chopped
1 cup flaked, unsweetened coconut
1 cup old-fashioned oats
1 cup dried cherries, coarsely chopped
Directions: Heat the oven to 350 degrees Fahrenheit and arrange a rack in the middle. Heat a medium frying pan over medium heat. When the pan is heated, add the amaranth and cover. Shake the pan continuously until about half of the seeds have popped, about 1 to 2 minutes. Transfer the seeds to a large bowl.
Combine butter, brown sugar, and honey in a small saucepan, place over medium heat, and stir until butter has melted and brown sugar has dissolved. Bring to a boil and cook until slightly thickened, about 5 minutes. Remove from heat; stir in vanilla, salt, and cinnamon; and set aside.
Add sugar mixture, cashews, coconut, and oats to reserved amaranth and stir until mixture is moist throughout.
Evenly spread mixture on a baking sheet. Bake until toasted and lightly browned, about 10 minutes. Stir and continue to bake until lightly browned all over, about 5 minutes more.
Remove from the oven and place on a wire rack to cool completely. Stir in cherries and serve.
4. Kibbeh with Yogurt-Garlic Sauce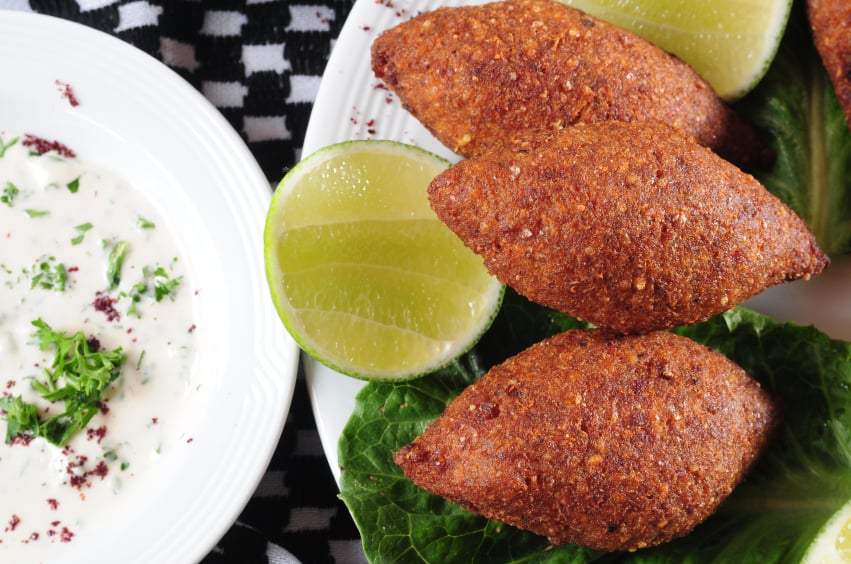 Kibbeh is a Middle Eastern snack of bulgur, a type of cracked wheat that's high in fiber, protein, and iron, mixed with a seasoned beef mixture. The football-shaped snacks are then fried and served with a tangy yogurt dipping sauce. Recipe from the Food Network.
Ingredients:
For the outer shell:
1½ cups fine bulgur wheat
1½ pounds ground beef
1½ cups roughly chopped yellow onions
3 teaspoons ground cumin
2¼ teaspoons salt
1½ teaspoons ground black pepper
For the stuffing:
½ pound ground beef
¾ cups finely chopped yellow onions
⅓ cup pine nuts, lightly toasted
¾ teaspoon salt
½ teaspoon allspice
½ teaspoon ground pepper
¼ teaspoon ground cinnamon
Vegetable oil, for frying
Chopped parsley, for garnish
For the yogurt-garlic sauce:
1 cup strained plain yogurt
1 tablespoon extra virgin olive oil
1 teaspoon minced garlic
1 teaspoon minced fresh mint leaves
¼ teaspoon salt
Directions: To make the yogurt-garlic sauce, add the yogurt to a medium bowl and whisk until smooth and creamy. Add the remaining ingredients and whisk to combine. Set aside or refrigerate until ready to serve.
To make the outer shells, place the bulgur wheat in a bowl and cover with water. Let sit for 20 minutes then drain in a strainer, pressing to extract the excess liquid.
In a large bowl, blend the beef, onions, cumin, salt, and pepper to a paste. Add the strained bulgur wheat and mix well. Process again, in batches, in a food processor until smooth and pliable enough to work like a dough, adding a little ice water if needed.
To make the stuffing, in a large skillet, cook the meat, stirring, over medium-high heat until browned, about 4 minutes. Add the onions, salt, allspice, pepper, and cinnamon, and cook, stirring, until tender, about 4 minutes. Remove from the heat and add the pine nuts. Let sit until cool enough to handle.
To make the final dish, with wet hands, shape the raw meat-bulgur mixture into egg-sized balls. Make a hole down the center of each ball with an index finger to make a deep cup with a pointed bottom. Stuff each ball with about 1 tablespoon of the stuffing. Press down on the sides and top to enclose the filling and reshape into a smooth egg with a pointed top. Repeat with the remaining ingredients, wetting your hands frequently.
Preheat the oil to 360 degrees Fahrenheit.
In batches, add the kibbeh balls to the hot oil and cook until golden brown and the meat is cooked through, about 4 to 5 minutes. Remove with a slotted spoon and drain on paper towels. Serve hot or at room temperature, with the yogurt-garlic sauce for dipping.

5. Chocolate Barley Snack Cakes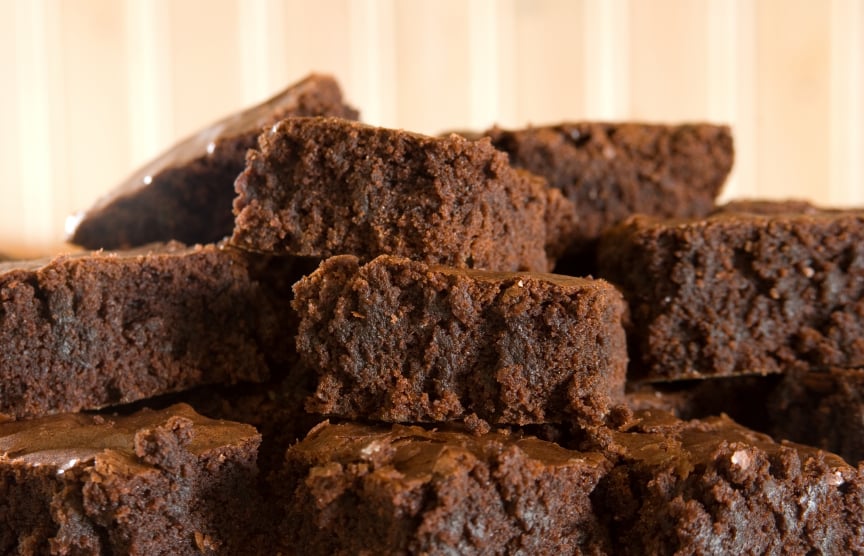 Barley's not just good for beer. This ancient grain, which is high in fiber and other nutrients, is often found in soups and stews, and can also be turned into flour. The latter is a key ingredient in these chocolate snack bars. In addition to being a healthier alternative to white flour, it also helps keep these mini-cakes moist. Recipe from Dinner with Julie.
Ingredients:
2 cups sugar
2 large eggs
½ cup canola oil
2 teaspoons vanilla
3 cups barley flour
¾ cup cocoa
2 teaspoons baking powder
2 teaspoons baking soda
½ teaspoon salt
2 cups buttermilk
Directions: Preheat oven to 350 degrees Fahrenheit. Grease a 9-by-13-inch baking pan.
Beat the sugar, eggs, oil, and vanilla in a large bowl for 3 to 4 minutes, until creamy and pale in color. In a second bowl, stir together the barley flour, cocoa, baking powder, baking soda, and salt.
Add one third of the flour mixture to the sugar and egg mixture and mix on low speed to combine. Add half of the buttermilk, mix, then add the another third of the flour, the rest of the buttermilk, and the remaining flour, mixing thoroughly between each addition.
Pour the batter into the prepared pan. Bake for 35 to 40 minutes. The cakes are done when the top bounces back when lightly touched. Remove from the oven, let cool in the pan, and then cut into squares and serve.
Follow Megan on Twitter @MeganE_CS
More from Culture Cheat Sheet:
Want more great content like this? Sign up here to receive the best of Cheat Sheet delivered daily. No spam; just tailored content straight to your inbox.