Man Food: 5 New Ways to Eat Cereal
While there's nothing wrong with the predictable hunger killers – peanuts, pretzels, a piece of fruit — these go-to mini-meals are distinctly uninspired. Our weekly Man Snacks series will help you fight the scourge of boring snacks.
Cereal isn't just for breakfast anymore. Americans are munching on Cinnamon Toast Crunch, Cocoa Krispies, and Cap'n Crunch at all times of day, according to a new survey by Kellogg's.
The food company found that cereal-loving consumers weren't just getting their fix in the morning with milk. They were also snacking on it during movies, using it to curb late-night hunger, and even putting it in sandwiches. (Eating it with a special cereal crane is apparently also an option.) While adults of all ages were eating cereal at non-breakfast times, it was especially popular with college students – not surprising, given that cereal may be the perfect dorm room snack.
Basically, if you've been restricting your cereal consumption to the a.m. hours, you're missing out. To give you an idea of all the other ways you can eat your cereal, we've put together this list of five snack recipes using ingredients like Chex and cornflakes.
Spicy Cereal and Nut Mix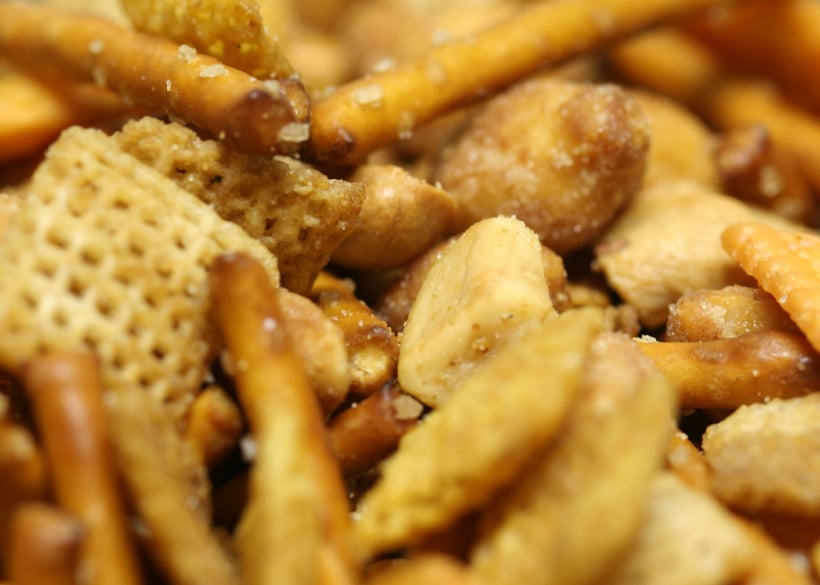 A full 25% of people surveyed by Kellogg's said they snacked on cereal rather than popcorn when watching TV or movie at home. If you want a film-night snack that's more interesting than a handful of Lucky Charms, try this savory snack mix, which includes hearty cashews and peanuts, as well as hot sauce to keep things spicy. Recipe from Chowhound.
Ingredients:
4 cups corn cereal, such as Corn Chex
4 cups rice cereal, such as Rice Chex
2 cups honey-wheat pretzel sticks broken into bite-size pieces
¾ cup roasted, salted cashews
¾ cup roasted, salted peanuts
8 tablespoons unsalted butter (1 stick), melted
2 tablespoons Worcestershire sauce
1 tablespoon hot sauce, such as Tabasco
2 teaspoons granulated garlic powder
2 teaspoons dry mustard
1 teaspoon kosher salt
Directions: Heat the oven to 350 degrees Fahrenheit and arrange a rack in the middle. Mix together cereal, pretzel sticks, cashews, and peanuts in a large bowl and set aside.
Mix remaining ingredients together in a medium bowl. Pour over cereal mixture, stirring until coated. Scatter snack mix evenly on a baking sheet and bake, stirring occasionally, until toasted and browned, about 20 minutes. Let cool to room temperature before storing in a resealable plastic bag or other airtight container. The snack mix will keep about two weeks.
2. Spiced Shredded Wheat with Soy Milk and Bananas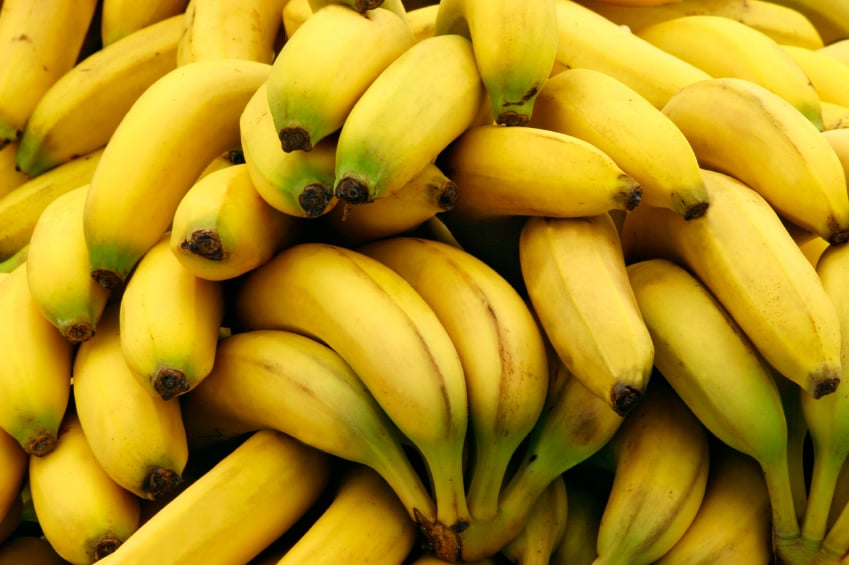 Most people drown their cereal in a bowl of milk, but 10% confessed to adding coffee to their Mini Wheats and one out of five college students admit to pouring orange juice over their Frosted Flakes. (That's one way to get vitamin C, we guess.)
You don't need to reach for the OJ if plain old milk sounds too boring for your cereal snack. Daniel Recipes suggests that you amp up your shredded wheat with soy milk, spices, and chopped bananas. While you could always eat this for breakfast, we think it would also make a good midnight snack, especially if you can't fall asleep. Both bananas and carb-rich cereals like shredded wheat can help you get some shut-eye, according to Health magazine, and the warm soy milk may also help.
Ingredients:
Shredded wheat
Warm soy milk with vanilla bean
Apple pie spice (or just use a cinnamon, nutmeg, and allspice)
Chopped bananas
Directions: Put shredded wheat in a bowl and pour soy milk over. Sprinkle on the apple pie spice, then top with chopped bananas.
3. Cornflake-Crusted Grilled Cheese Sandwich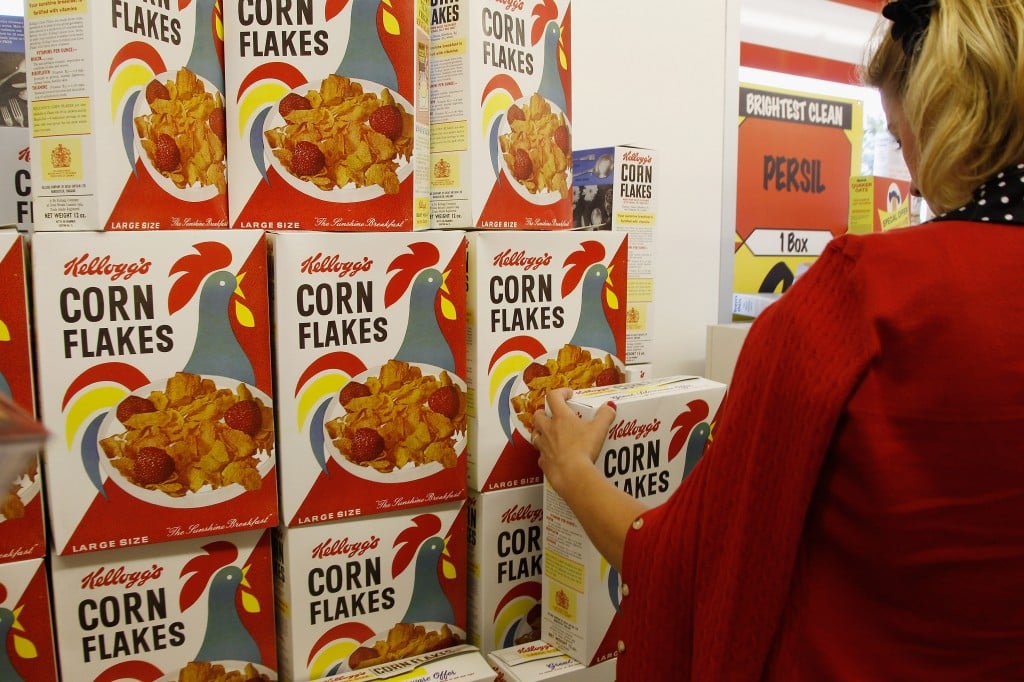 When you make a sandwich, you probably reach for ingredients like ham, cheese, lettuce, and tomatoes. But cereal? It's a little unorthodox, yet 40% of college students say they've used Froot Loops or Corn Pops as a sandwich ingredient. Rather than putting cereal inside the sandwich, try it on the outside. Cornflakes provide a crispy, crunchy coating for this grilled cheese recipe from Attune Foods.
Ingredients:
2 slices bread
Cheese of your choice, about 1 ounce
¾ cup corn flakes
1 egg
Butter for cooking
Directions: Place cornflakes in a small, shallow bowl and crush them. Assemble the sandwich. (Grating the cheese before putting it on the bread will help it melt more evenly.)
Melt a tablespoon or so of butter in a frying pan over medium heat. Whisk the egg in a small bowl, then dip the sandwich in the egg. Roll the sandwich in the crushed cornflakes until it's completely coated.
Place sandwich in the pan and cook until the cheese has melted and the outside is crisp and lightly browned.
4. Cheddar Meatballs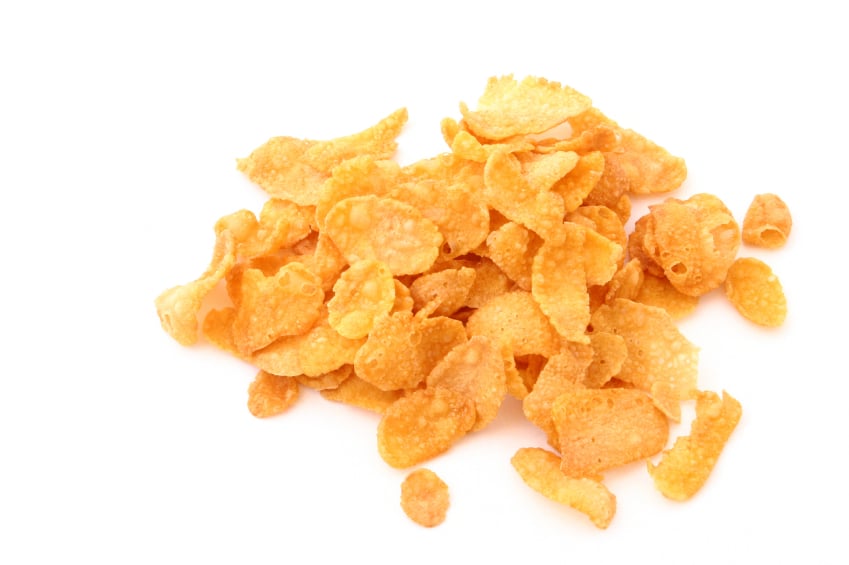 A quarter of people surveyed said they'd tried using cereal as a breading for meat or other protein. While recipes for cornflake-crusted chicken abound, that's hardly the only way to combine meat and cereal. This recipe from the Daily Meal creates crispy, bite-size meatballs that resemble delicious cheeseburgers. Cornflakes add both extra flavor to the meat and a crunchy outer crust that make this the perfect party snack.
Ingredients:
3½ cups cornflakes
2 eggs
⅓ cup milk
½ teaspoon salt
⅛ teaspoon black pepper
⅛ teaspoon nutmeg
½ pound ground beef
1 cup shredded cheddar cheese
Directions: Preheat oven to 400 degrees Fahrenheit. Crush 2 cups of corn flakes slightly in mixing bowl. Add eggs and milk. Mix well, then let stand 5 minutes or until cereal softens. Stir in salt, pepper, and nutmeg. Add beef and cheese, mixing until combined.
Crush the remaining 1½ cups cereal into fine crumbs. Shape beef into 1-inch meatballs. Roll in cereal crumbs. Place in single layer in shallow baking pan coated with cooking spray.
Bake in oven for about 12 minutes. Serve hot as appetizer with chili sauce dip.
5. Loaded Baked Potato Cereal Nachos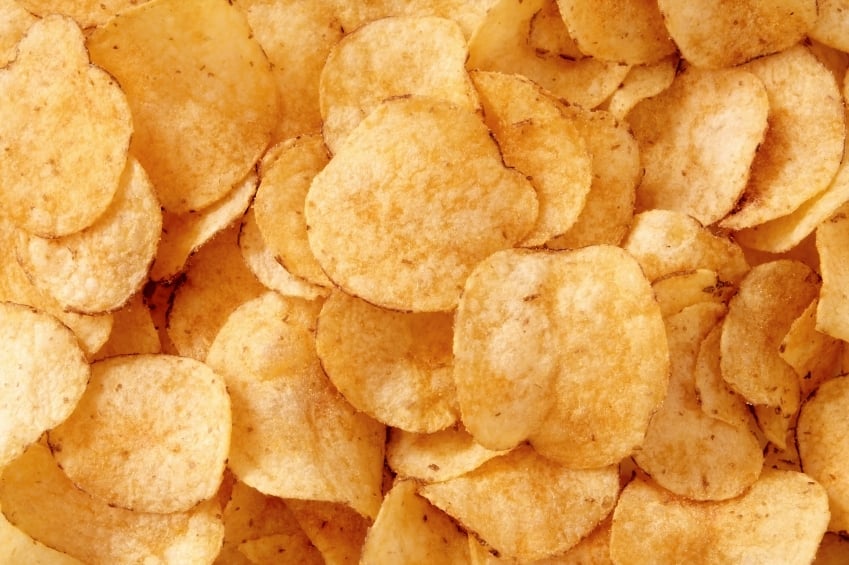 Ultra-sweet cereals line store shelves, but some people prefer their breakfast on the more savory side. Ten percent of people surveyed by Kellogg's said they'd added hot sauce, chili powder, mustard, hard-boiled eggs, and even mayo to their cereal.
Mayo and Rice Krispies sounds a little gross to us, but cereal can be a key ingredient in a savory snack, as it is in this recipe for loaded baked cereal nachos from Betty Crocker. This cheesy, salty snack definitely isn't good for you (in addition to the cereal, it contains potato chips, bacon, and a big dollop of ranch), but as a game-day indulgence, it scores.
Ingredients:
3 tablespoons butter, melted
1 tablespoon ranch dressing mix (from 1-ounce package)
4 cups Corn Chex cereal
4 cups potato chips
2 cups (8 ounces) shredded cheddar cheese
8 slices crisp cooked bacon, crumbled
1 tablespoon chopped fresh chives
¼ cup ranch dressing
Directions: Heat oven to 400 degrees Fahrenheit. Line 15-by-10-by-1-inch pan with parchment paper. In large bowl, mix melted butter and ranch dressing mix. Add cereal; toss to coat. Spread mixture in single layer in pan. Bake 3 minutes.
Stir in potato chips. Sprinkle evenly with cheese and bacon. Bake 3 to 4 minutes or until cheese is melted.
Sprinkle with chives. Drizzle with ranch dressing. Serve immediately.
Follow Megan on Twitter @MeganE_CS
More from Culture Cheat Sheet:
Want more great content like this? Sign up here to receive the best of Cheat Sheet delivered daily. No spam; just tailored content straight to your inbox.