Man Food: 7 Snacks to Help You Sleep
Looking at another sleepless night? If getting some shut-eye is sometimes difficult, a change to your diet might be in order. Snacking on certain foods before bedtime can make it easier to get a good night's rest. Research has shown that everything from milk to tart cherries might affect your ability to sleep.
Of course, choosing the right pre-bed snack isn't going to solve all your sleep problems. You also need to cut back on foods and drinks that can make it harder to sleep, like coffee, caffeinated sodas, and alcohol. Skipping day-time naps, getting adequate exercise, avoiding stressful conversation right before bed, and making your bedroom calm and relaxing can all make it easier to get 40 winks, according to the National Sleep Foundation. Chronic insomnia calls for a trip to the doctor.
Still, a calming, sleep-promoting snack just before bed can be one part of getting the rest you need to awake refreshed. Here are seven nighttime snack recipes that can make it easier to catch some z's.
1. Oatmeal and Dried Cherry Cookies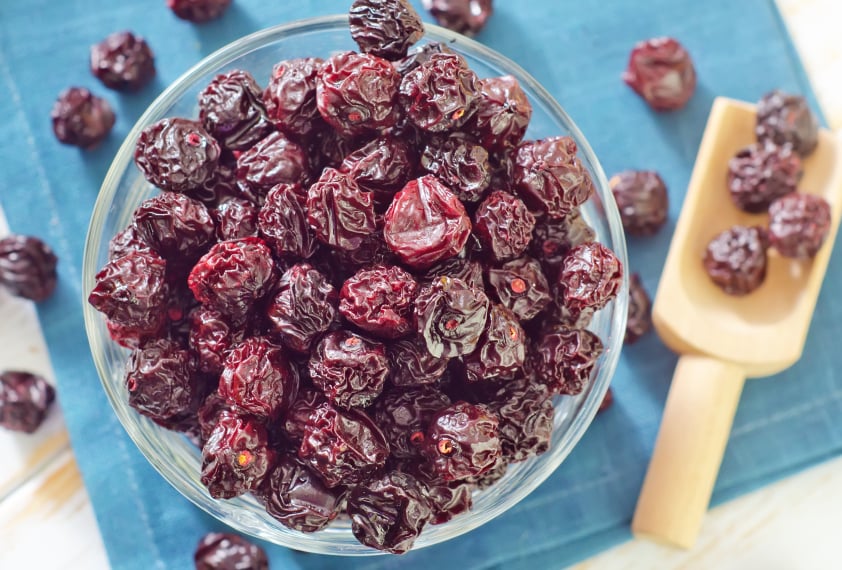 Tart or sour cherries are a natural source of melatonin, a hormone that makes it easier to sleep. A study conducted by researchers at Louisiana State University found that drinking tart cherry juice twice a day helped people sleep longer. If the idea of sipping a glass of cherry juice doesn't appeal to you, try dried cherries, which could have the same effect. The tiny fruits are a key ingredient in this cookie recipe from Martha Stewart.
Ingredients:
1½ cups all-purpose flour
1 teaspoon ground cinnamon
½ teaspoon salt
½ teaspoon baking soda
½ teaspoon baking powder
1 cup (2 sticks) unsalted butter, room temperature
1 cup dark-brown sugar
½ cup granulated sugar
2 large eggs
1 teaspoon pure vanilla extract
2 cups old-fashioned rolled oats
2 cups dried sour cherries
Directions: Preheat oven to 350 degrees Fahrenheit. Line baking sheets with parchment paper; set aside. In a medium bowl, whisk the flour, cinnamon, salt, baking soda, and baking powder; set aside.
In the bowl of an electric mixer fitted with a paddle attachment, or using a hand mixer, beat the butter and sugars until light and fluffy, 1 to 2 minutes. Add the eggs and vanilla, and beat to incorporate. Add flour mixture to butter mixture, beating on low speed to combine. Stir in the oats and dried cherries.
Using a 2-ounce scoop, drop the dough onto prepared baking sheets, leaving 6 inches between cookies. Bake until edges are just turning brown, about 20 minutes. Cool 2 minutes on baking sheet, then remove to wire racks to cool completely.
2. Banana Split with Yogurt and Jam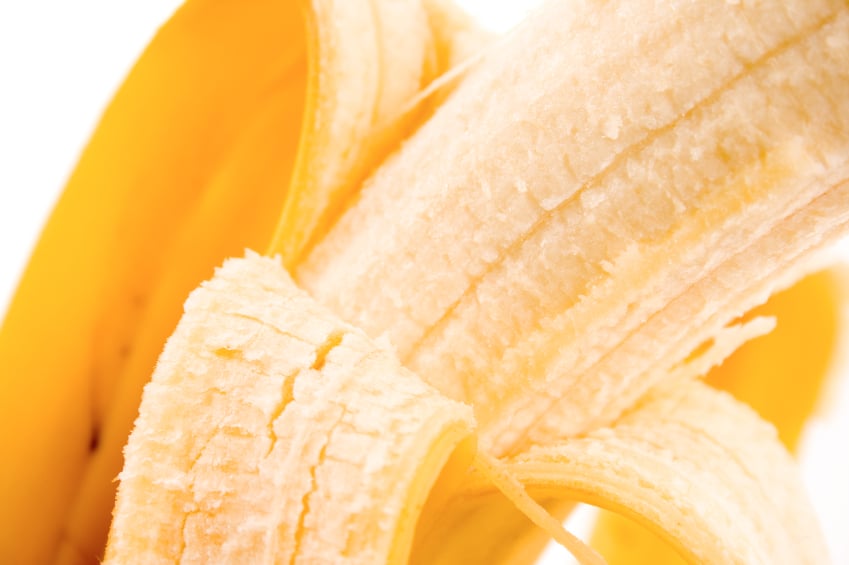 Bananas have long been touted as a sleep-inducing snack. The yellow fruits "are an excellent source of magnesium and potassium, which help to relax overstressed muscles," Saundra Dalton-Smith, MD, told Woman's Day. "They also contain tryptophan, which convert to serotonin and melatonin, the brain's key calming hormones."
You can get the sleep-promoting benefits of a banana by itself, but this snack gets even better when paired with yogurt, since dairy products can also promote sleep, says Dalton-Smith. Enter the yogurt banana split, a creative spin on the classic dessert from The Kitchn. It's even topped with almonds, a good source of sleep-promoting magnesium.
Ingredients:
1 ripe, yet firm banana, peeled
½ cup Greek yogurt
2 tablespoons fruit jam or preserves
2 tablespoons sliced almonds or other nuts
¼ cup fresh blueberries or other fresh fruit
Directions: Peel the banana and split it in half lengthwise. Scoop out ½ cup of yogurt using an ice cream scoop and top the banana with it. Transfer the jam to a microwave-safe dish, then warm for 15 to 30 seconds, or until runny.
Drizzle the warmed jam over the bananas and yogurt. Sprinkle with the sliced almonds and top with the blueberries. Serve.
3. Dill Cream Cheese and Smoked Salmon Crackers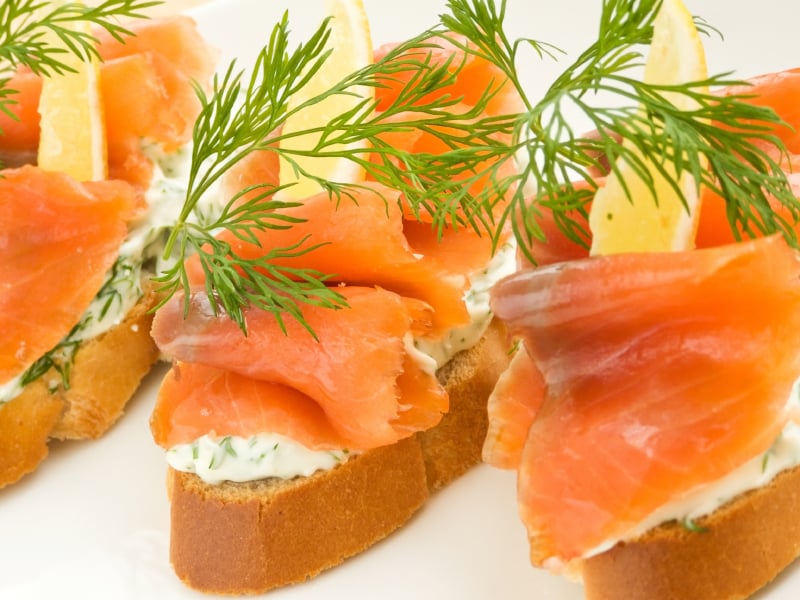 Cheese and crackers are the perfect pre-snooze snack, according to Dr. Oz. Dairy products like cheese contain tryptophan, while whole grain crackers help you produce more serotonin. Together, they promote a good night's sleep.
Adding a small amount of fish to this snack makes its sleep-boosting properties even more powerful. Salmon (along with other fish like tuna and halibut) are high in vitamin B6, which helps your body make melatonin and serotonin. You get the benefit of all three ingredients in this recipe for lox crackers from Cosmopolitan.
Ingredients:
2 ounces fresh dill, finely chopped
8 ounces cream cheese
Salt to taste
Juice from 1 lemon
Whole wheat crackers
Smoked salmon
Directions: Place the chopped dill in a bowl with the cream, lemon juice, and salt. Mix until combined. Spoon some of the cream cheese mixture onto a whole wheat cracker and top with a small piece of smoked salmon. Garnish with additional fresh dill if you like, then serve. Store any leftover cream cheese and dill mixture in a covered container in the refrigerator for future snacking.
 4. Creamy Rice Pudding with Cinnamon and Raisins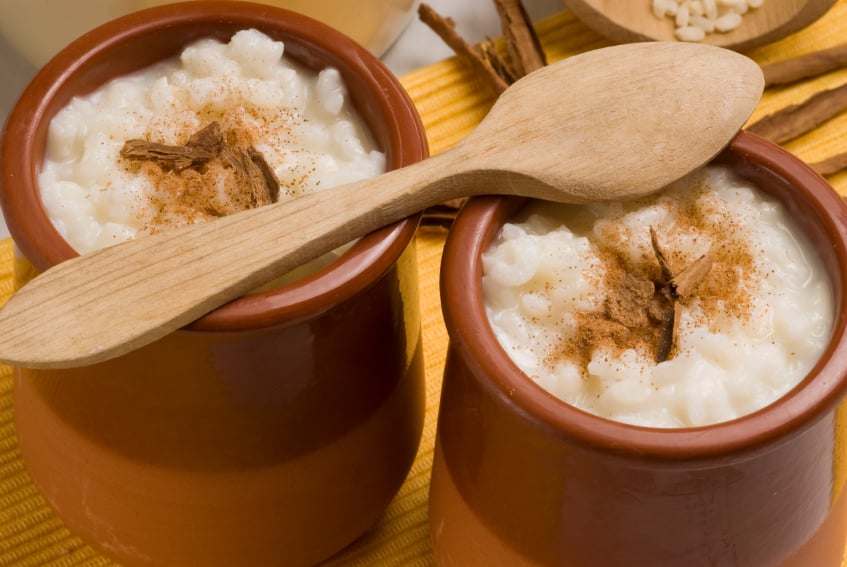 Eating a meal containing jasmine rice can help you fall asleep faster, according to the results of a study published in the American Journal of Clinical Nutrition. The effect is strongest when you eat the meal about four hours before going to bed, though, so plan to serve up this snack of creamy rice pudding earlier in the day if you hope to enjoy the sleep-inducing benefits. Recipe from The Lemon Bowl.
Ingredients:
4 cups whole milk
1 cup jasmine rice, uncooked
1 teaspoon cinnamon
½ teaspoon salt
3 tablespoons sugar
1 tablespoon cornstarch
¼ cup raisins
Directions: Pour milk into a large sauce pan. Whisk in cinnamon and salt until thoroughly combined. Turn heat to medium and bring mixture to a gentle boil, whisking occasionally. Be careful not to scorch the milk.
Meanwhile, place rice in a mesh strainer or colander. Rinse until water runs clear, about 2 minutes. Once milk reaches a boil, add the rice. Reduce heat to low and simmer for 20 to 25 minutes, or until most of the liquid is absorbed. Mix together the cornstarch and a few tablespoons of cold water. Add it to the saucepan with the rice and continue to cook until the mixture starts to thicken, about 1 to 2 minutes. Stir in the raisins and then remove the pan from the heat. Serve immediately or refrigerate for later.
5. Quick Miso Soup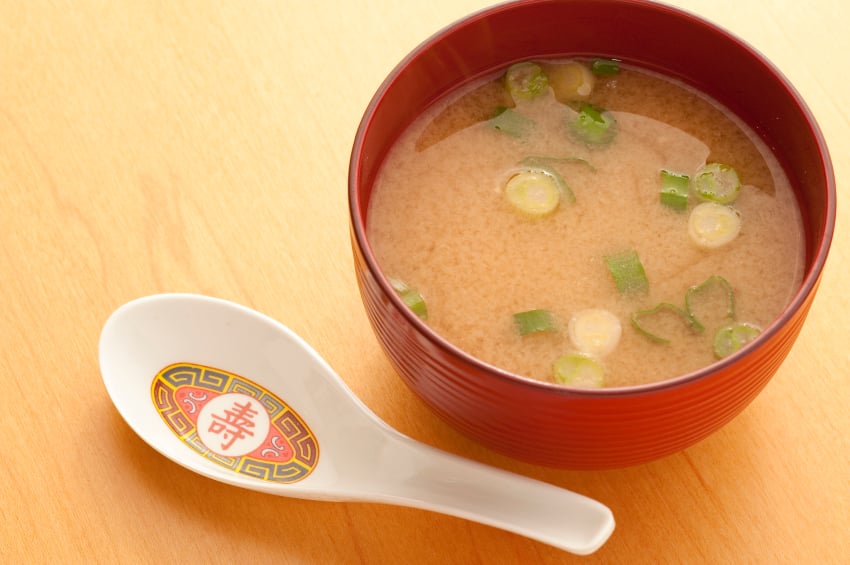 There's something soothing about a warm bowl of soup, but miso soup has an extra-special ingredient: Amino acids that might increase melatonin production, helping you fall asleep faster once your head hits the pillow. Best of all, making a soothing cup of soup is easy with this recipe from Bon Appétit, which takes just minutes to throw together. You can even prep most of the ingredients ahead of time to have on hand; just pour some boiling water over and you're ready to go.
Ingredients:
For the soup:
2 tablespoons grated carrot
1 scallion, thinly sliced
2 tablespoons finely diced silken tofu
1 tablespoon white miso
Smoked salt furikake for serving
For the smoked salt furikake:
2 tablespoons sesame seeds
2 tablespoons bonito flakes
1 sheet toasted nori, torn into small pieces
1 tablespoon smoked sea salt, divided
Directions: To make the smoked salt furikake, toast the sesame seeds in a dry skillet over medium heat. Stir frequently and remove when pale golden, about 1 and ½ minutes. Let cool.
In a small food processor, spice grinder, or a mortar and pestle, grind the nori, bonito, plus half the salt into a fine powder. Stir together with the cooled toasted seeds and remaining salt. Store in an airtight container.
To prepare the soup, combine all the ingredients in a bowl, travel mug, or other container. Pour 8 ounces of boiling water into the cup and stir until miso is well blended. Let sit 2 minutes before eating.
6. Honey Glazed Almonds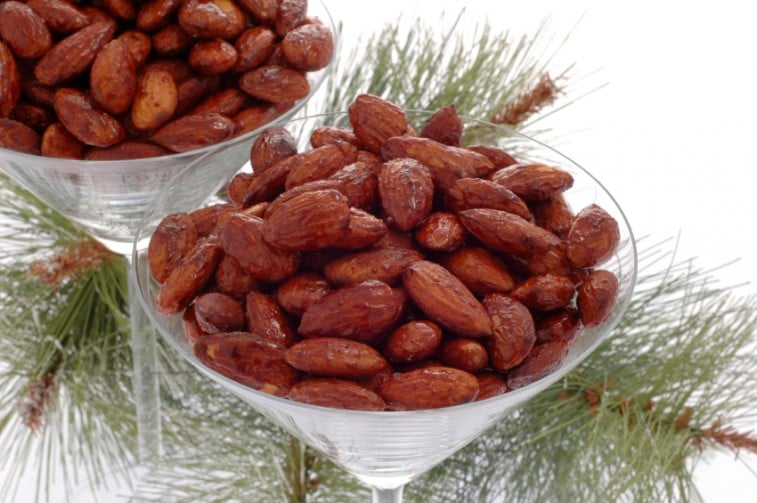 Foods rich with heart-healthy unsaturated fats, including nuts like almonds and walnuts, can improve your serotonin levels, potentially making it easier for you to fall asleep, according to the Cleveland Clinic. Plus, almonds contain a lot of magnesium — also good for sleep. A small amount of honey can also help turn off orexin, a chemical that promotes alertness, nutritionist Cynthia Pasquella told Good Housekeeping. You'll get both honey and almonds in one convenience package in this recipe from Cooking Light.
Ingredients:
1½ cups raw, unblanched almonds
1 tablespoon sugar
1½ tablespoons honey
½ teaspoon ground chipotle chili powder
¼ teaspoon ground cumin
¼ teaspoon salt
Directions: Line a large baking sheet with parchment paper. Place the almonds in a medium nonstick skillet; cook over medium heat for 6 minutes or until lightly toasted, shaking pan frequently.
Combine the remaining ingredients in a 2-cup glass measure. Microwave on high for 30 seconds. Add honey mixture to pan and cook 2 minutes, stirring constantly. Arrange almond mixture on prepared baking sheet in a single layer; let stand 10 minutes. Break apart any clusters.
7. Toasted Walnut Hummus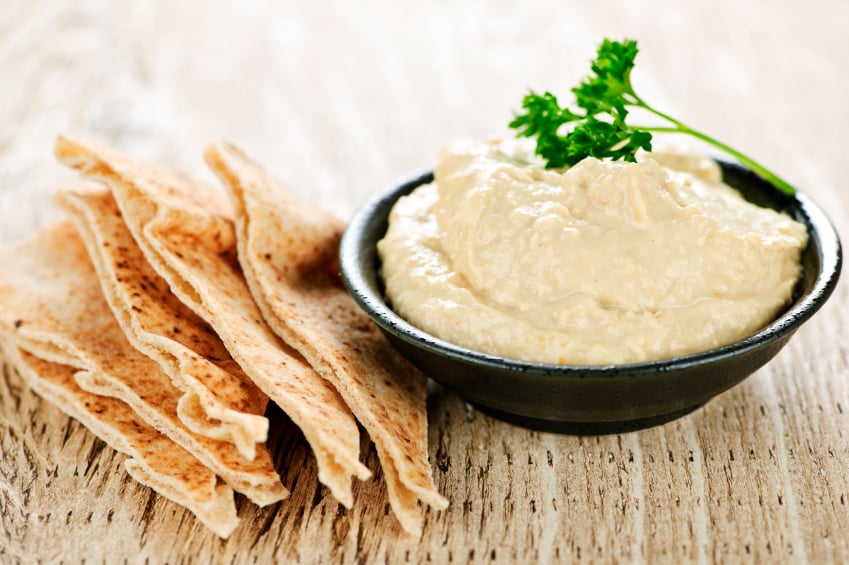 Hummus made with chickpeas is another good source of serotonin-producing tryptophan, Pasquella told Good Housekeeping. This hummus recipe (courtesy of California Walnuts) also includes walnuts, which can boost concentrations of melatonin in your blood. Serve it with pretzels or corn chips; both are high on the glycemic index and can shrink the amount of time it takes you to fall asleep, Reader's Digest reported.
Ingredients:
½ cup California walnuts
3 tablespoons walnut oil
1 garlic clove, quartered
1 (14-ounce) can chickpeas or garbanzo beans, drained and rinsed
½ teaspoon orange zest
¼ cup orange juice
1 teaspoon salt
¼ teaspoon black pepper
Directions: Preheat oven to 350 degrees Fahrenheit. Toast walnuts for 8 minutes or until golden brown. Cool to room temperature.
Combine toasted walnuts with oil and garlic and puree in food processor or blender until smooth. Add chickpeas, orange zest, orange juice, salt, and pepper and continue to blend to an even, smooth consistency. Adjust seasoning if necessary. Serve.
Follow Megan on Twitter @MeganE_CS
More from Culture Cheat Sheet: