Man Food: We Dare You to Try These 7 Extreme Snacks
While there's nothing wrong with the predictable hunger killers – peanuts, pretzels, a piece of fruit — these go-to mini-meals are distinctly uninspired. Our weekly Man Snacks series will help you fight the scourge of boring snacks.
Once upon a time, people went to state fairs to check out farm animals and enormous pumpkins. While livestock and agriculture still play a prominent role at these annual gatherings, now it seems it's the food that gets that most attention. Vendors at state fairs around the country seem to be in the business of one-upping each other as they compete to offer hungry fair-goers the most over-the-top snacks. At this point, is there any food that someone hasn't tried to deep-fry and put on a stick?
Every fair has its unique delicacies. In this week's edition of "Man Food," we've rounded up some of the most extreme snacks you can find at state fairs across the U.S. this year. And because many vendors make the rounds of different fairs across the country, there's a good chance you'll find one of these items at a fair near you. True, deep-fried junk food may not be good for you, but if you're in need of nourishment in between games of Skee-Ball and checking out the prize-winning dairy cows, these snacks deliver.
1. Deep-Fried Wood-Fired Pastrami Pizza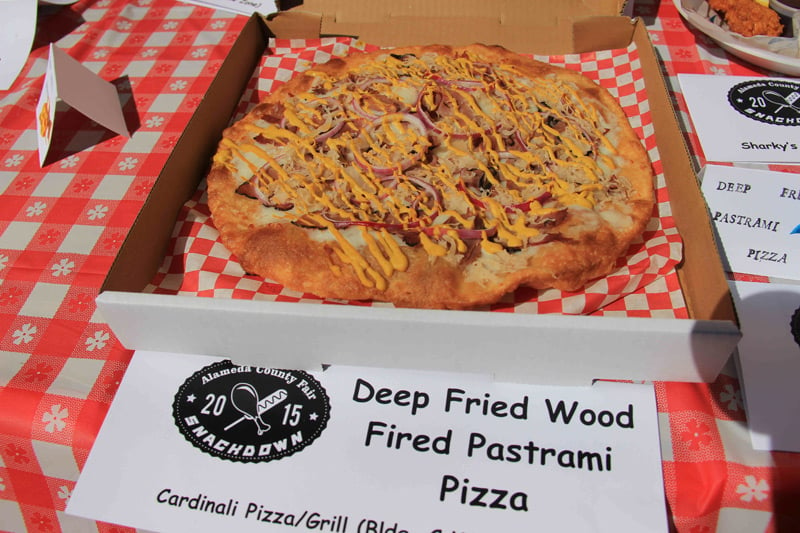 At the 2015 California State Fair, you could chow down on a deep-fried wood-fired pastrami pizza, a concoction that involves deep-fried pizza crust, mozzarella cheese, lean pastrami, red onions, sauerkraut, and mustard sauce. The item also made an appearance at the Alameda County Fair earlier this summer, where it earned creator Tony Cardinali of Cardinali Family Concessions the Snackdown Grand Champion title.
"It's as if a Reuben sandwich made sweet, sweet love to a steamroller," said competition judge and Passport magazine food writer Jim Gladstone in a press release.
2. Deep-Fried Nacho Balls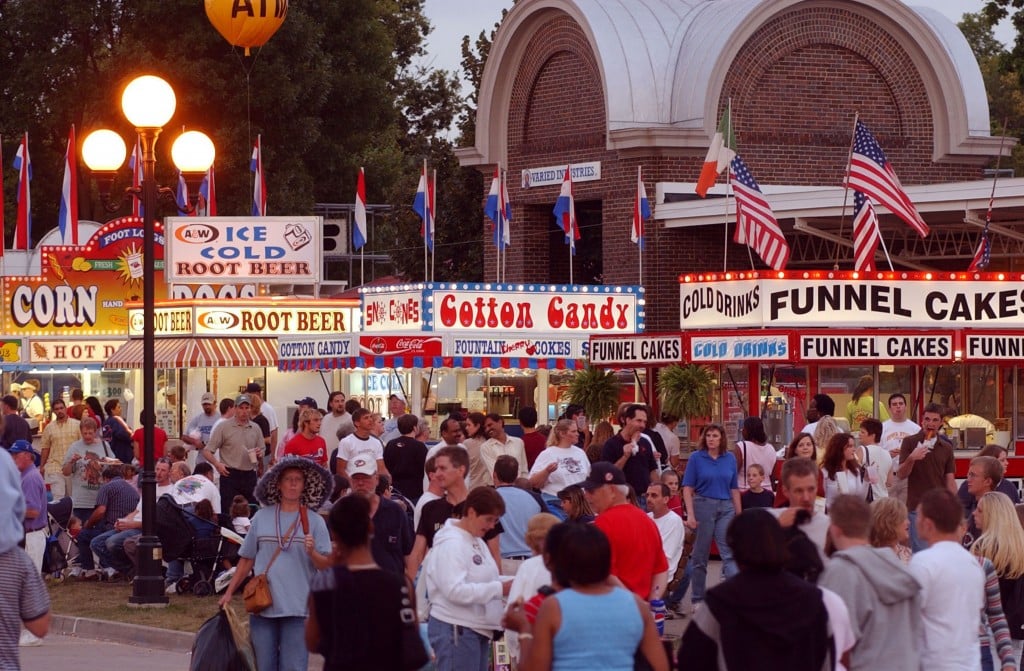 When 7-Eleven unveiled its Loaded Doritos last summer, reviews were tepid, to say the least ("they taste of salty cardboard with dollar-store cheese filling," declared the A.V. Club). Perhaps in an attempt to appease disappointed snack lovers still searching for the perfect, bite-size combination of melty cheese and Doritos flavor, Jalapeño Pete's is introducing deep-fried nacho balls at this year's Iowa State Fair (August 13-23, 2015), the Des Moines Register reported.
This state fair snack takes 7-Eleven's original concept to the next level by combining taco meat, diced jalapeños, taco sauce, and cheddar cheese, then rolling it into a ball, coating it with crushed Doritos, and dunking it in the deep fryer. They'll be served with sides of nacho cheese, salsa, and sour cream.
3. Kimchi 'n' Curry Poutine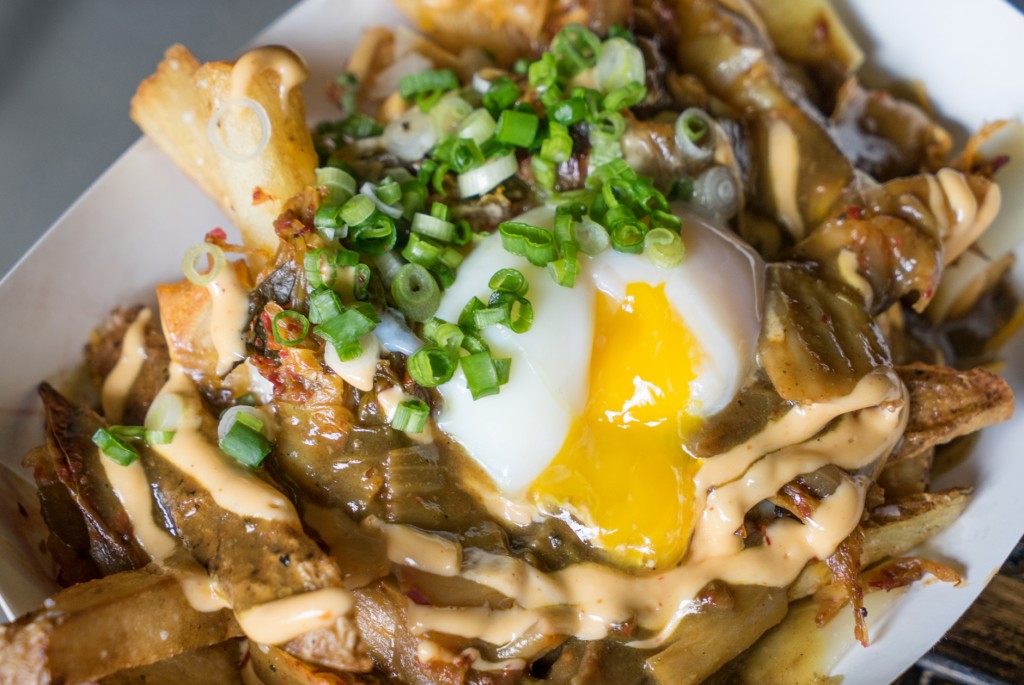 Sure, you can get meatloaf on a stick and deep-fried ribs at the 2015 Minnesota State Fair, which runs from August 27 through September 7. But more adventurous fair-goers might want to try the kimchi 'n' curry poutine, a spin on the class Quebecois dish of French fries and cheese curds smothered in gravy. This version involves braised pork and potatoes, which are then covered with curry gravy and cheddar cheese and topped with kimchi (spicy fermented vegetables) and a poached egg.
4. Bacon Bottom Porker Pizza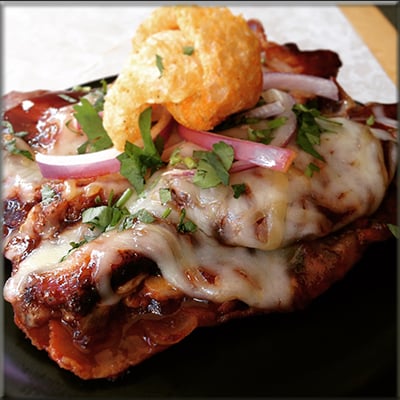 For another extreme take on pizza, look to the Wisconsin State Fair (August 6-16, 2015), where Brew City is cooking up a pie that ditches the traditional crust and replaces it with a bottom of woven bacon strips. The base is then covered in barbeque sauce and topped with barbequed pork shoulder, mozzarella and smoked gouda, red onion, cilantro, and pork rinds.
5. Deep-Fried Cream Cheese with Larvets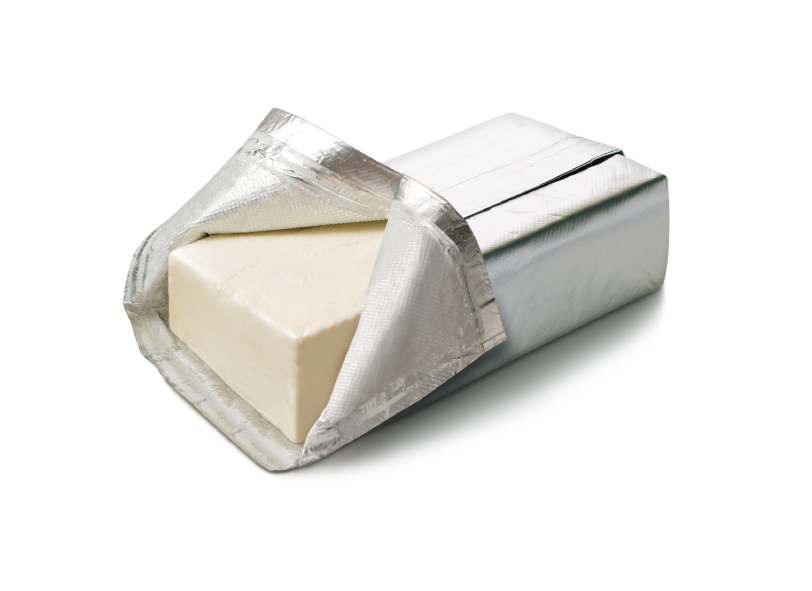 Gross? Maybe. But deep-fried cream cheese with larvets (yes, that means worms) was on the menu earlier this year at the State Fair Meadowlands in New Jersey. The unusual item also made an appearance at the Maryland State Fair in 2014. Squeamish snackers who come across this item while strolling through the midway can take comfort in knowing that eating creepy-crawlies isn't that unusual.
"By the time you're 30, you've already eaten 20 bugs in your sleep anyway," Brian Shenkman, who created the item, told Baltimore magazine, last year.
6. Bacon-Wrapped Turkey Leg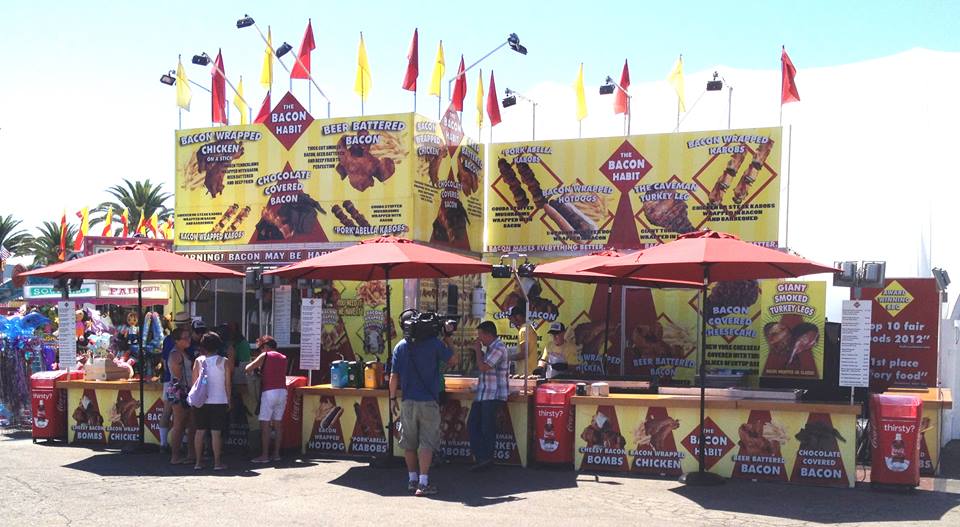 This Ron Swanson-approved snack may have started out as a joke, but bacon-wrapped turkey legs can now be found at state fairs around the country. At the Oklahoma State Fair, which runs from September 17 to 27, you'll find them at the Bacon Habit. Not in the mood for meat wrapped in meat? This vendor will also be serving bacon-wrapped Jack Daniel's churros, beer-battered deep-fried bacon, and cheesy bacon bombs to Sooner State fair-goers.
7. Deep-Fried Bacon-Wrapped Peanut Butter Cups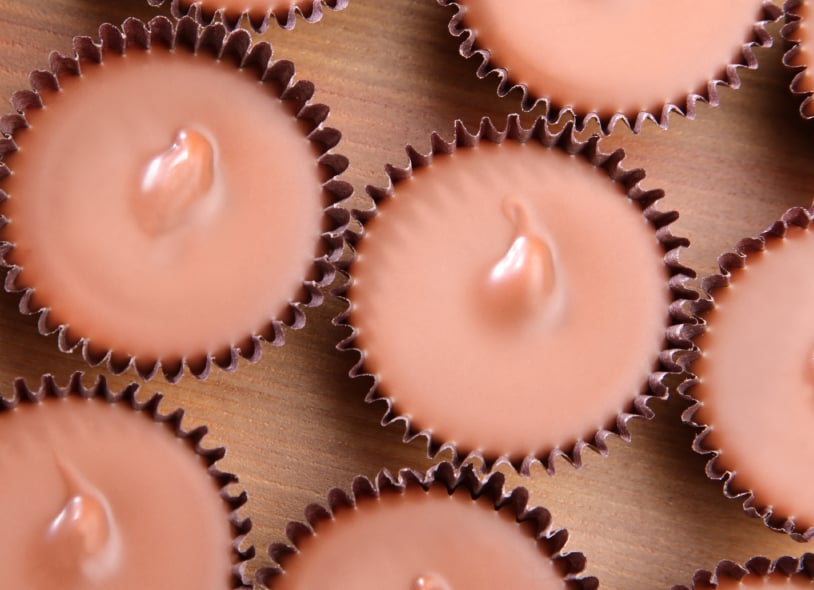 This sweet treat has been making the rounds over the past year, popping up at both the Arizona and California state fairs. While deep-frying candy is an old fair trick by this point, this snack ups the ante with the addition of the ever-popular bacon. Bacon-wrapped peanut butter cups may not be the most over-the-top of the sugary offerings available at this year's fairs, but the combination of sweet and savory will appeal to anyone who can't decide between breakfast and dessert.
Follow Megan on Twitter @MeganE_CS
More from Culture Cheat Sheet:
Want more great content like this? Sign up here to receive the best of Cheat Sheet delivered daily. No spam; just tailored content straight to your inbox.