Manly Libation of the Week: 3 Drinks That Will Please a Crowd
Sipping a well-made cocktail is the perfect way to unwind and relax, whether you've had a long day at the office or just want to kick back with some friends. Follow our Manly Libation series week-to-week, as we highlight manly cocktails — we guarantee these classic drinks will put some hair on your chest.
Whether you're missing poolside jack and cokes or beers and barbies (that's Aussie slang for a barbecue), there's no denying this time of winter can be snowpocalypse-cancelled-your-flight-to-Cabo rough, but solace for frigid feet: It's summer down under! (December, January, and February are, in fact, the hottest months of the year in Australia). Since Australia Day was on January 26, we thought we'd tip our hats to their vibrant cocktail culture with some truly dazzling libations that are unique and playful.
Our recommendations are straight from Sydney's most curious culinary destination, The Old Clare Hotel, which has just launched a new creative cocktail menu served at the hotel's newest restaurant helmed by Michelin-starred Chef Jason Atherton, Kensington Street Social.
Beverage director Matt Fairhurst has created a collection of playful libations with an Aussie twist. Seamlessly melding the hotel's historic past and vibrant local culture for inspiration, Fairhurst invented the Clare Bar's "serious drinks that don't take themselves too seriously," as well as the pool bar's relaxed program of down-under summer flavors. So cheers! (Because that's how they say it in Australian, too!)
1. Fruit Looped Cereal Killer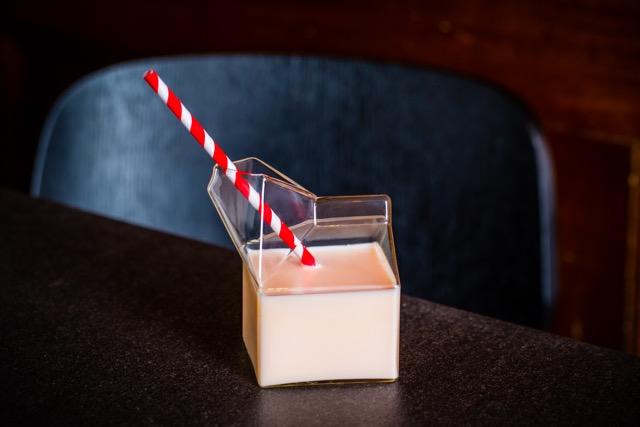 A fun riff on your childhood favorite, you'll love how this cocktail puts leftover Froot Loops milk to brilliant use!
Ingredients:
For the Froot Loops milk:
6.75 ounces milk
1 cup Froot Loops cereal
Mix and leave for 2 hours
For the cocktail:
2 ounces vodka
5 ounces fruit loop milk
.75 ounce Aperol
.50 ounce apricot brandy
Directions: Shake and fine strain into a glass milk carton.
2. Hipster's Breakfast
We can't promise we'll start rocking plaid and square glasses, but we might just start making this a regular in our drinks rotation.
Ingredients:
1.5 ounces of the banana bread rum
1.5 ounces cold drip coffee
.75 ounce salt butter syrup
.25 ounce fernet branca
Directions: For the banana bread rum: Combine 4 cups of rum infused with 2 slices of banana bread. Leave to sit for 2 hours then strain.
For the salt butter syrup: Combine 4 cups of buttermilk, 4 cups brown sugar, 2 teaspoons butter, and a generous pinch of rock salt. Whisk over a low heat then cool.
Combine all the ingredients and enjoy.
3. Vegimitini
This classy cocktail makes use of the popular Australian condiment made from brewer's yeast, vegetables, and spices.
Ingredients:

2 ounces Tanqueray gin

.50 ounce sweet vermouth

1 teaspoon bianco vermouth

1 teaspoon vegemite brine
Directions: For the vegemite brine: Heat 3.5 ounces angostura bitters, 1.75 ounces olive brine, and 2 teaspoons of vegemite until smooth.
For the shard: Dehydrate a thinly spread layer of vegemite for 3 hours until crisp. Stir over ice and serve in a small vegemite jar, with a frozen cocktail glass and vegemite shard.
More from Culture Cheat Sheet: