Manly Libation of the Week: The Hot Toddy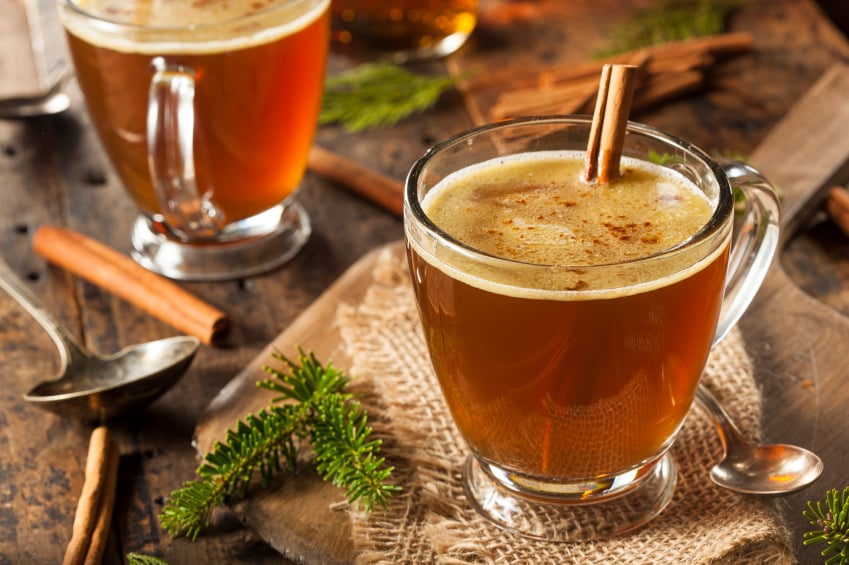 Sipping a well-made cocktail is the perfect way to unwind and relax, whether you've had a long day at the office or just want to kick back with some friends. Follow our Manly Libations series week-to-week, as we highlight manly cocktails, their histories, and a few bonus recipes — we guarantee these classic drinks will put some hair on your chest.
You say hot toddy, we say hot totty. She says hot tottie. Anyway you say it, we promise it's one of those fantastic cocktails that will roll off your tongue quite easily after the first round.
The history of the Hot Toddy
Simple? Yes. Cocktail culture has taken a turn for the complex and over-the-top as of late, but this basic cocktail is a straightforward mixture of  liquor and water with honey (or, in some recipes, sugar), and in some cases, lemon and herbs (such as tea) and spices. The libation's history dates back to the  1800s, with a Yale professor by the name of Benjamin Silliman who is said to have visited the British Isles and witnessed the strange act at the end of supper involving a mug of hot water being placed upon the table along with all the accouterments one needed to fix their own hot toddy (via WonderlandKitchen.com).
Though its true origins may never be confirmed, one thing's for sure, whether your potion of choice is bourbon, whiskey or brandy (A Wisconsin standard), one thing's for sure: This warm drink really hits the spot in cold, damp or snowy weather.
Cutty Sark Hot Toddy
Warm up with this classic hot toddy with Cutty Sark Prohibition Whisky, which has been around since the 1920's (i.e., they probably know what they're doing in Hot Toddy land).
Created by Kenneth McCoy, Ward III in New York City
Ingredients:
2 ounces Cutty Prohibition Scotch Whisky
½ ounce fresh lemon juice
½ ounce Honey water syrup
Splash of fresh pressed ginger juice (You can also muddle fresh ginger in the glass)

Hot

water from a kettle
Directions
: Combine everything into a mixing vessel and stir with a bar spoon. Heat your glass with
hot
water to be sure the glass isn't cold, when ready to pour contents into glass pour out the
hot
water and strain in your cocktail, on top add about 4 oz of
hot
water. Garnish with a cinnamon stick and a flamed orange peel. (OK, you can skip the flamed peel, but it sure is a cool party trick!)
Northern Star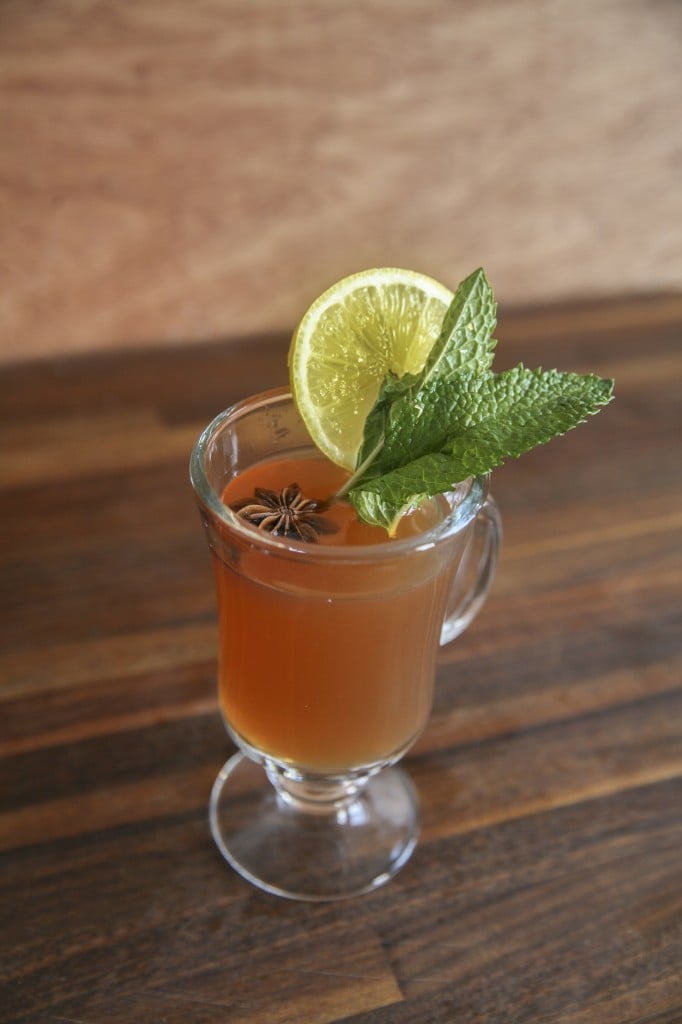 Created by Marco Zappia, Eat Street Social, Minneapolis, Minnesota
Ingredients:
1.5 ounces Famous Grouse
.5 ounces Ginger Syrup
.25 ounces Fresh Lemon
5 ounces Owl's Brew Famous Mint Tea
2 dashes Bittercube Jamaican #1 Bitters
Directions: Place whisky, ginger, lemon, and bitters in large tin, add simmering water to smaller tin, placing larger tin inside creating a poor man's "bain marie." Add simmering water to mug to preheat glass. Bring Owl's Brew Famous Mint Tea to 180 degrees, add to rest of cocktail "bain marie," toss preheated water in mug out, garnish with mint leaves, star anise and lemon peel, and serve in a glass mug
---
 Stone Fence
by Drink.Well in Austin, Texas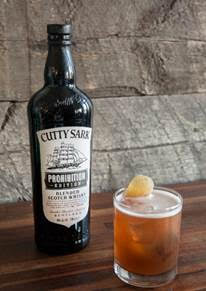 Ingredients:
1.5 ounces Cutty Sark Prohibition Scotch whisky
½ ounces Amaro di Angostura
½ ounces Fresh Lemon Juice
½ ounces Cinnamon Syrup
2 ounces Argus Cidery Ginger Perry Cider (if not available, try any very dry/sour cider as a substitution)
2 dashes Jerry Thomas Aromatic Decanter Bitters
Directions
: In a cocktail tin, combine the whiskey, amaro, lemon juice, cinnamon syrup and bitters. Shake with ice. Strain into a glass over cubed ice. Top with the ginger cider and use a bar spoon to incorporate gently. Garnish with a piece of candied ginger.
Rock Your Face Off (Toddy)
This cocktail uses devilish Mister Katz's Rock & Rye whiskey, which is made with youthful rye, tempered with rock candy sugar, dried cherries, cinnamon and orange peel.
by Allen Katz of the New York Distilling Company
Ingredients:
2 ounces

Mister Katz's Rock & Rye

1 teaspoon Fresh Lemon Juice

1 teaspoon Honey Syrup (Mix 2 parts honey with 1 part water)

1 Dash Fee Brothers Whiskey Barrel Bitters
Directions: Add ingredients to a toddy or 6 ounce-juice glass. Add 3 ounces of hot water and stir. Garnish with a half-lemon wheel in the glass.
Follow Perri on Twitter @66PerriStreet.
More from Culture Cheat Sheet:
Want more great content like this? Sign up here to receive the best of Cheat Sheet delivered daily. No spam; just tailored content straight to your inbox.