Hearty Breakfast Recipes Perfect for Meat Lovers
Craving meat for breakfast? You've come to the right place. We're highlighting seven of the best recipes that will kick your meat cravings in the morning and help you get your protein fix. Instead of having carbs or dairy for your morning meal, go the meaty route and feed your body what it's craving. As long as you don't go ham on the fatty meat options, there's no reason you can't cut up some protein before 9 a.m. Check out these food formulas that will get you started on the right foot.
1. Steak Omelet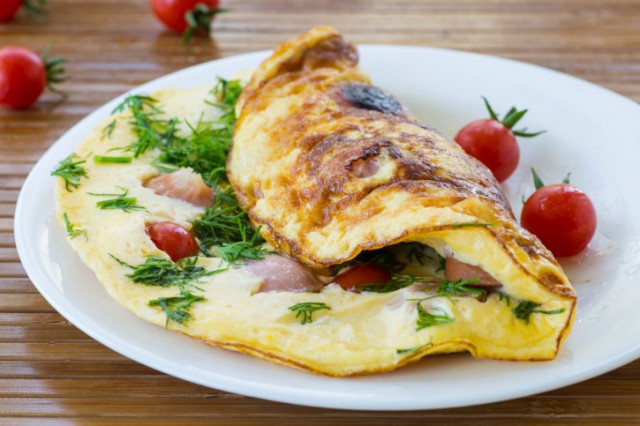 Our first recipe comes from The Cooking Jar, and it highlights how to throw some red meat in your omelette. Whip up this steak omelet, and enjoy a healthy and protein-packed morning meal. Not only is this omelette full of protein and iron thanks to its steak filling, it also is hearty thanks to the addition of cheese, vegetables, and hash browns. This recipe serves 2, so you can make your omelette for you and a lucky breakfast guest.
Ingredients:
4 eggs, beaten
Salt and pepper to taste
½ pound flank steak
½ tablespoon butter
1 cup hash browns, shredded
⅛ teaspoon cayenne
½ teaspoon paprika
¼ green pepper, diced
¼ sweet onion, diced
4 ounces portobello mushrooms, sliced
1 cup cheddar cheese, shredded
1 plum tomato, diced
Directions: Season the flank steak and grill until medium. Let it cool and cut into thick slices.
Over medium-high heat, melt butter and add shredded hash browns. Season hash browns with salt, pepper, cayenne, and paprika. Stir until the hash browns are cooked, about 5 minutes. Remove and set aside.
In the same pan, saute mushrooms until they cook down, about 2 minutes. Remove and set aside.
Season the egg with salt and pepper to taste and mix with diced green peppers and sweet onions. Over medium heat, grease a skillet and pour in the egg mixture. Cook until the bottom and edges are solid. Add ⅔ of the steak, hash browns, ⅔ of the mushrooms, ½ cup cheddar cheese, and ⅔ of the tomatoes to one side of the omelette. Fold the omelette and continue cooking until the cheese melts. Dish and top with leftover steak, mushrooms, and tomatoes.
2. Chorizo Breakfast Hash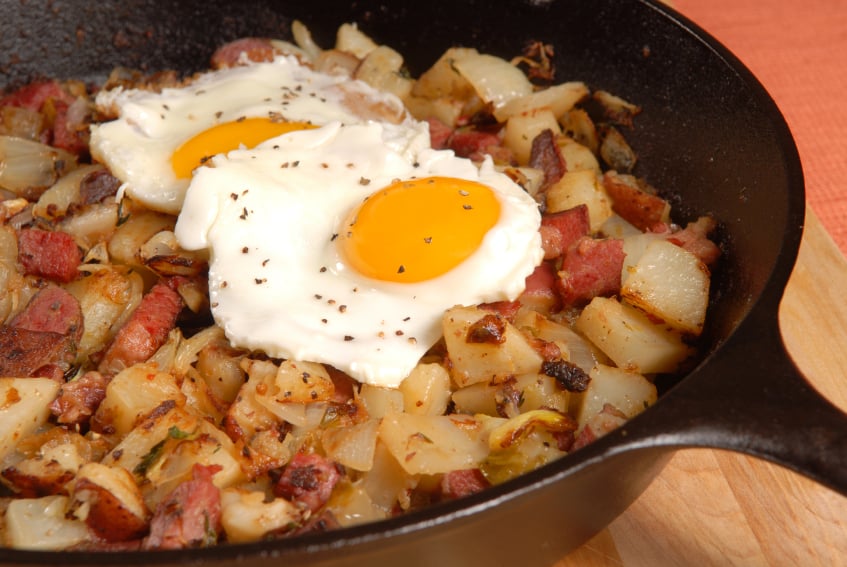 For an even fancier first meal, try this chorizo breakfast hash from Country Cleaver. Chorizo, the spicy Spanish pork sausage, is nothing to be afraid of. It pairs perfectly with eggs and carbs, which help cut its spice, and it adds a kick of flavor to any dish it stars in. Give this breakfast hash a try, and see what we mean. The recipe yields a meal that tastes like something you could only get at a restaurant, but this dish is one that can come right out of your kitchen.
Ingredients:
1½ pounds baby potatoes, quartered
2 to 3 tablespoons vegetable oil
Salt and pepper, to taste
⅔ pound chorizo breakfast sausage
⅓ cup red onion, finely diced
4 eggs
Cilantro, minced for garnish
¼ cup ranch dressing
Directions: Heat up nonstick skillet with vegetable oil over medium-high heat. Add in potatoes, season with salt and pepper, and turn with spatula occasionally to fry until golden brown on all sides and fork tender. Remove from skillet and set aside.
Add in chorizo sausage and onions, cooking until no longer pink and onions are softened. Place on same plate as potatoes. Keep warm.
Wipe skillet of excess grease. Reduce heat to medium. Crack eggs, one at a time, into skillet and let fry. Do not flip. Let sit until whites have become firm. Remove from skillet.
Divide potatoes and sausage onto four plates, top each plate with 1 egg. Sprinkle with minced cilantro and drizzle with ranch dressing or sour cream if desired. Serve.
3. Steak and Eggs Breakfast Burrito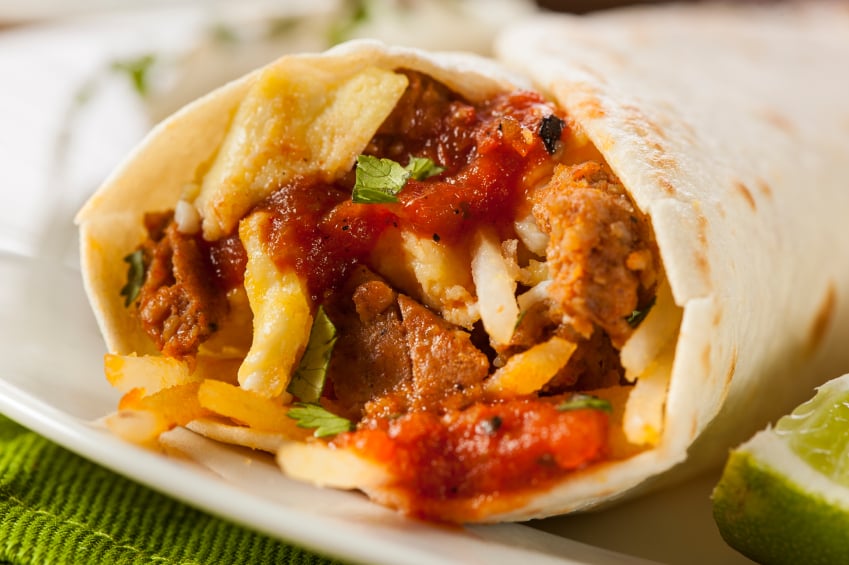 If you want more carbs with your protein at breakfast, follow this recipe from Simply Scratch for steak and eggs breakfast burritos. The hearty breakfast is full of steak, eggs, and mushrooms, and it will keep you full until lunch and beyond. Chain restaurants aren't the only places that can serve up flavorful burritos. With this food formula, you can too, and it'll only take you 30 minutes. The recipe serves 4, so invite over some breakfast guests or keep your leftovers for the next morning.
Ingredients:
2 tablespoons butter
½ yellow onion, diced
1 cup quartered baby bella mushrooms
6 whole eggs
Salt
Black pepper
Grilled steak, cubed
2 slices pepper jack cheese
4 flour tortillas, warmed
Steak sauce
Directions: In a large pan over medium heat, saute the onions and mushrooms in butter. Remove them to a plate once they are soft and the mushrooms have released most of their moisture. Reduce the temperature to medium.
Beat together the eggs, salt, and pepper. Give the pan some time to cool down before pouring in the beaten eggs. With a rubber spatula, turn the eggs, scraping the bottom of the pan. Cook until the eggs are just about set. Top with the mushrooms, onions, steak, and pepper jack cheese. Mix everything so the steak is heated through and the cheese is melted.
Divide the scrambled egg mixture among 4 flour tortillas and drizzle with steak sauce.
4. Buffalo Chicken Breakfast Scramble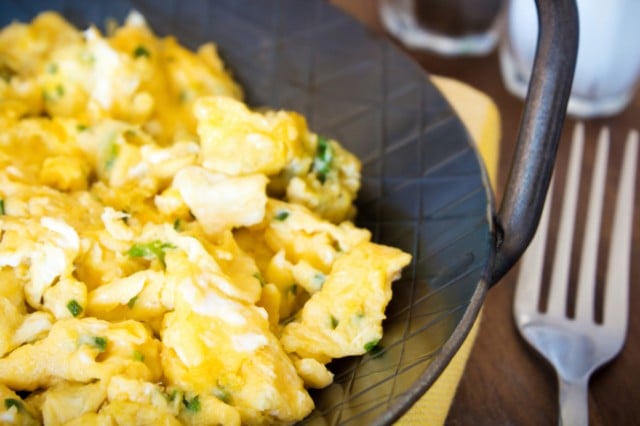 You don't have to limit yourself to red meat for breakfast. Chicken can star in your breakfast too, and this recipe for a Buffalo chicken breakfast scramble from Ari's Menu will especially make your mouth water before you even get out of bed. Spice up your morning with an egg scramble that is studded with spicy Buffalo chicken and vegetable add-ins of your choice. Whether you add cheese to your breakfast scramble is up to you because surprisingly, the star ingredient in this recipe is not cheese but rather, hot sauce.
Ingredients:
½ tablespoon olive oil
½ sweet onion, chopped
1 clove garlic, finely minced
2 whole eggs
8 egg whites
1 splash milk
6 ounces chicken breast, cooked and shredded
¼ cup Buffalo sauce
For topping
Chopped celery
Chopped baby carrots
Thinly sliced green onions
Freshly crumbled blue cheese
Directions: Heat olive oil in a large pan over medium heat. Add olive oil and garlic and cook until tender, about 15 minutes.
Meanwhile, whisk together eggs and milk in a large bowl until well combined. Reduce heat to medium-low and add eggs to pan. Cook until eggs are fully cooked, about 5 to 8 minutes, stirring constantly. Add cooked chicken and Buffalo sauce. Stir until all ingredients are warmed, about another 2 minutes.
Plate and top with veggies and blue cheese. Best eaten day of, but leftovers can be refrigerated in an airtight container for three to five days.
5. Chicken and Veggie Breakfast Skillet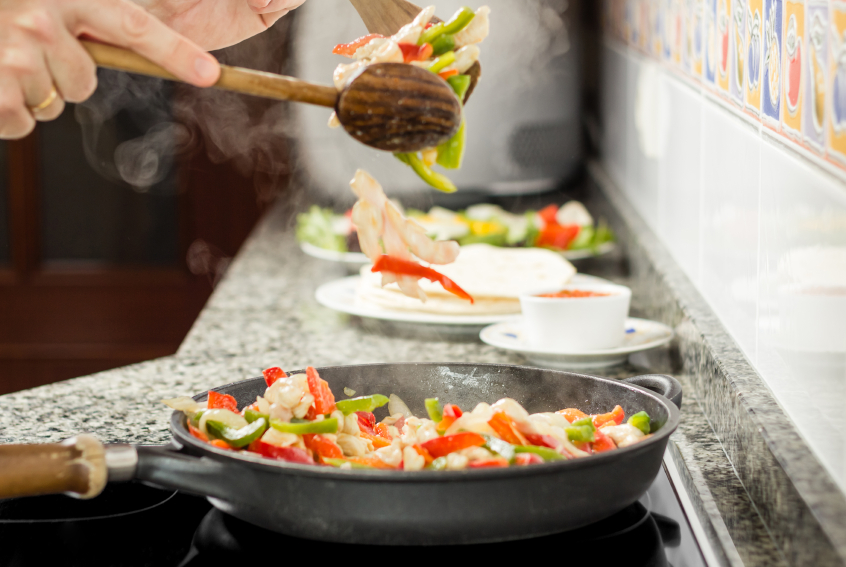 For an especially healthy breakfast pulling poultry off the bench, try this chicken and veggie breakfast skillet from Love and Zest. It's free of eggs but full of veggies that include mushrooms, potatoes, broccoli, and onion. The breakfast skillet also enlists chicken sausage, and the paleo-friendly meal serves 4 to 6. If you're craving protein over carbs, this recipe is the ticket.
Ingredients:
2 tablespoons butter
1 sweet potato, diced
1 russet potato, diced
5 mushrooms, sliced
1 red onion, diced
2 cups broccoli florrettes
12 ounces pre-cooked chicken sausage
Red pepper flakes, to taste
Salt and pepper, to taste
Directions: In large pot filled with water, boil potatoes until fork tender.
In an extra large cast iron skillet, heat 1 tablespoon butter. Sauté mushrooms and onions until tender. Add potatoes and remaining butter to skillet and cook until potatoes begin to brown on edges. Add broccoli and chicken sausage to skillet and cook until warmed through. Season with red pepper flakes, salt, and pepper to taste.
6. Cheeseburger Frittata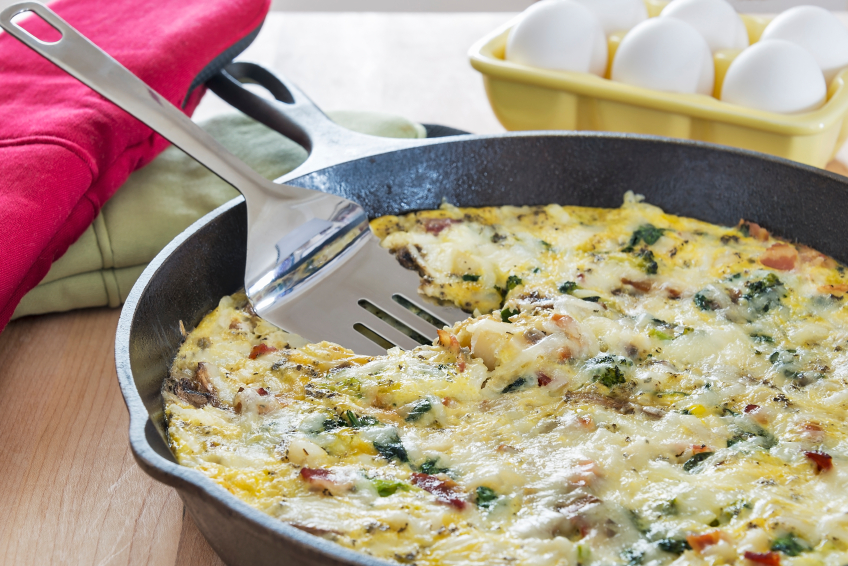 Cheeseburgers for breakfast? Dreams really do come true. The best way to have your beef for breakfast is in cheeseburger frittata form, and Tasty Kitchen has the formula for the good stuff. For this frittata, it's all about the ground beef, cheddar cheese, and eggs. It's up to you whether you want to include additions such as bacon, mushrooms, and more veggies. The beefy breakfast couldn't be easier to make, and it serves 8.
Ingredients:
1 pound ground beef
¼ teaspoon plus 2 dashes salt, divided
¼ teaspoon plus 2 dashes pepper, divided
¼ teaspoon plus 2 dashes garlic powder, divided
1 tablespoon olive oil
1 medium-large onion, chopped
10 large eggs
3 tablespoons milk
4 ounces cheddar cheese, shredded and divided
Optional additions: bacon, sautéed mushrooms, sliced/diced tomatoes
Directions: Preheat oven to 400 degrees Fahrenheit.
Grease a 10-inch pie pan with butter or spray it with cooking spray.
Brown the beef in a skillet over medium heat with a dash of salt, pepper, and garlic powder.
In another skillet, heat olive oil over medium heat and sauté onion with a dash of salt and pepper. Saute until onions are translucent.
Beat together eggs, milk, ½ of the shredded cheddar cheese, and ¼ teaspoon of salt, pepper, and garlic powder. Evenly distribute the browned hamburger on the bottom of the pie pan then top it with the sautéed onions. Pour the egg mixture over the top of the hamburger and onion. Top that with the remaining cheese. Bake at 400 degrees Fahrenheit for 15 to 20 minutes until set.
7. Pork Sausage and Egg Casserole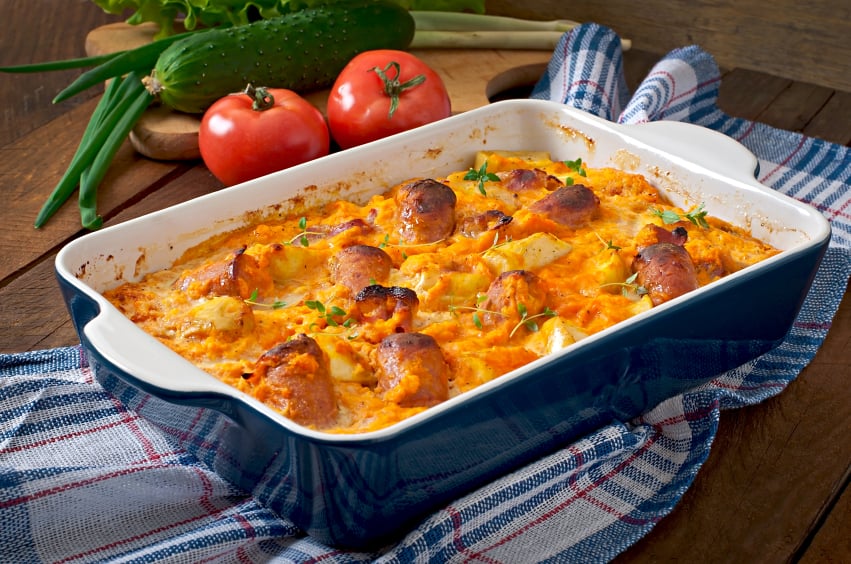 This last breakfast recipe stars the other red meat. Taste of Home's pork sausage and egg casserole feeds a crowd, and it only requires 15 minutes of prep time. The casserole combines pork sausage, cheese, eggs, milk, and bread, and it's as classic as they come. As long as you have carnivores at your breakfast table, there's no way you'll have leftovers of the easy-to-love casserole. Plan for it to bake in the oven for 40 minutes, and then it's breakfast time.
Ingredients:
1 pound bulk pork sausage

6 eggs

2 cups milk

1 teaspoon salt

1 teaspoon ground mustard

6 slices white bread, cut into ½-inch cubes

1 cup shredded cheddar cheese
Directions: In a skillet, brown and crumble sausage; drain and set aside. In a large bowl, beat eggs; add milk, salt, and mustard. Stir in bread cubes, cheese, and sausage.
Pour into a greased 11-by-7-inch baking dish. Cover and refrigerate for 8 hours or overnight. Remove from the refrigerator 30 minutes before baking. Bake, uncovered, at 350 degrees Fahrenheit for 40 minutes or until a knife inserted near the center comes out clean.
More from Culture Cheat Sheet: