Is Meghan Markle Vegan? Here's What We Know About Her Eating Habits
Being a royal has its perks — especially when it comes to food. From personal chefs to fresh garden ingredients, Meghan Markle's inner foodie must love being part of the British royal family. However, like her sister-in-law, Kate Middleton, Meghan loves to cook. In fact, she used to share her favorite recipes on her former lifestyle blog, The Tig.
With cooking habits like Meghan Markle's she probably doesn't take advantage of the royal family's personal chef. Although, now that she is pregnant, she has to work with a maternity team to ensure a safe and healthy pregnancy. Which means some of Meghan Markle's eating habits are no longer acceptable. That said, she will likely go back to eating some of her favorite foods once her royal baby arrives.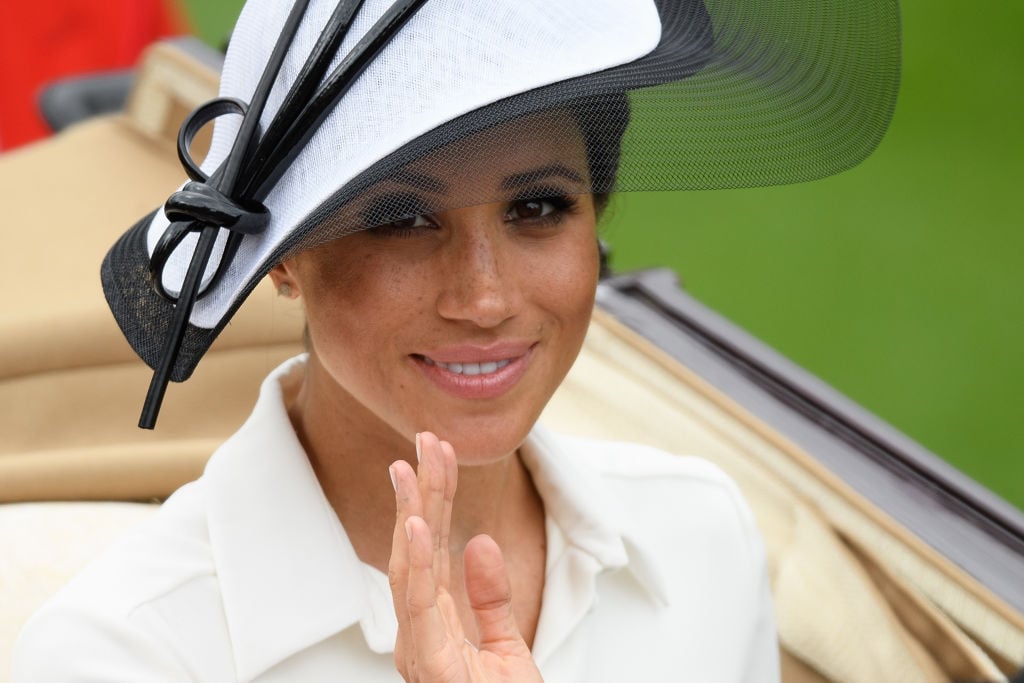 Is Meghan Markle vegan?
Although Meghan Markle likes her vegetables (and eating healthy), she's not a vegan. As it turns out, one of her favorite foods is sushi. And, she also reportedly loves steak, roasted chicken, cheese, and other non-vegan friendly foods.
That said, Meghan Markle's diet isn't strictly meat and dairy — she also makes sure to get in some greens. The duchess allegedly likes to drink green juices in lieu of coffee for a quick, natural, and healthy pick-me-up during the day. She also reportedly loves acai bowls, watermelon, almonds, and salads.
Meghan Markle's eating habits
Despite not eating a vegan diet, Meghan Markle still keeps veggies and other vegan-friendly foods at the top of her diet priority list. On top of that, she eats a fairly healthy diet (though she does indulge in french fries from time to time). According to Delish, the duchess likes to start her mornings off with a cup of hot lemon water to boost digestion. And, for breakfast, the duchess allegedly likes to fuel up on a hearty bowl of steel-cut oats or a refreshing acai bowl.
As an energizing snack — and a coffee replacement — Meghan Markle enjoys a blended green juice. And, sometimes she has up to two a day. "Green juice is a food-as-medicine philosophy for me," Meghan once told Delish.
When she was filming Suits, Meghan would often opt for a healthy lunch which typically consisted of a salad and protein. While it's unclear whether or not she still practices the healthy eating habit, chances are she opts for something similar (if not the same). In the late afternoons, she would often reach for a healthy snack of apples and almond butter.
Her dinner eating habits vary, but Meghan is reportedly a big fan of pasta with veggies, steak with a twist of lemon juice, and roasted chicken. Fun fact: She made roasted chicken on the night Prince Harry proposed to her.
Curious to know more about Meghan Markle's eating habits? Here are a few others:
She loves poutine
While filming Suits, Meghan Markle spent a lot of time in Canada (when she met Prince Harry she was living in Toronto). As a result, she found herself enjoying various Canadian foods, including poutine — aka, french fries covered in gravy and cheese curds.
Fries are one of her favorite foods
She might lead a healthy lifestyle, but that doesn't mean Meghan Markle doesn't ever indulge. Case in point: French fries are one of her favorite foods. According to Delish, the duchess considers them their own food group.
She tries to eat gluten-free
Like many celebrities, Meghan Markle tries to eat a gluten-free diet. And, according to her interview with Delish, she sees a big difference in her complexion when she does. That said, when she's traveling, she doesn't skip an opportunity to indulge in gluten.
She snacks on almonds
Wondering what Meghan Markle keeps in her purse? There's a chance she has a small bag of almonds. The duchess reportedly snacks on them as a way to curb her hunger but also promote healthier skin.
Check out The Cheat Sheet on Facebook!