Michelle Obama Revealed What She Really Thinks About Her First Lady Portrait
On Feb. 12, 2018, journalists, politicians, and celebrities gathered at the Smithsonian's National Portrait Gallery for the unveiling of Barack and Michelle Obama's portraits. And much to our surprise, they weren't the run-of-the-mill presidential photos people were excepting.
Read on to learn more about why these works of art garnered so much attention.
Each artist had a unique point of view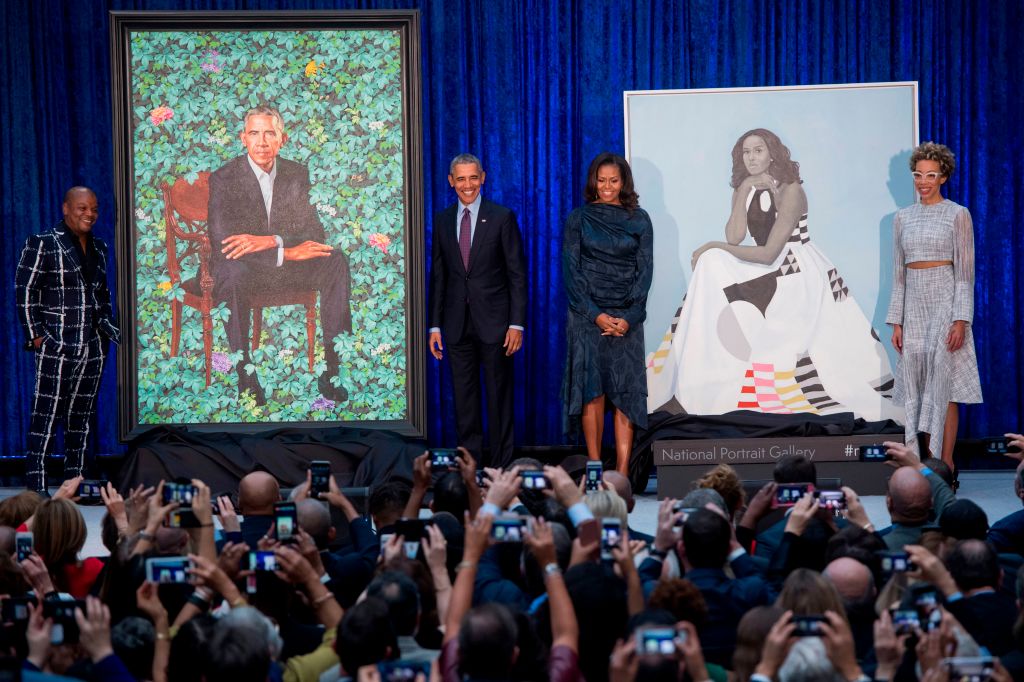 The unveiling of presidential portraits typically comes and goes without much buzz. But the unveiling of the Obamas' portraits — Barack's by artist Kehinde Wiley and Michelle's by artist Amy Sherald — was a different story.
As The New Yorker points out, "Sherald and Wiley, the first black recipients of commissions from the National Portrait Gallery, are artists with points of view." And a unique point of view is exactly what each artist delivered.
Next: Michelle Obama chose her artist for specific reasons. 
Why Michelle Obama chose Amy Sherald as her artist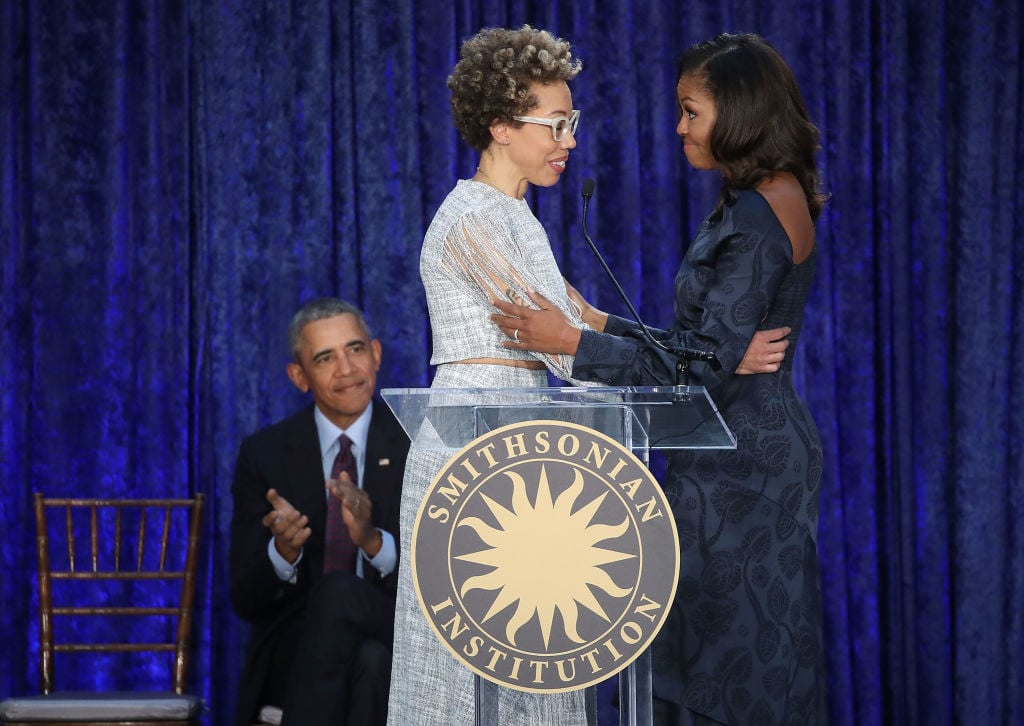 Michelle Obama's decision to choose artist Amy Sherald was an intentional one. Prior to the unveiling — and all the press that came along with it — Sherald was not a well-known artist. She doesn't have a handful of employees working under her, nor has her road been easy, a sentiment to which the former first lady could relate.
At age 39, Sherald had a heart transplant and had to put her career on hold. Just a few years ago, Sherald was waiting tables to pay the bills. But that didn't stop her. And just like the former first lady, Sherald had to climb mountains and overcome adversity to end up where she is today.
More specifically, Sherald had not had much experience in creating portraits, which again, appealed to the former first lady. "Obama herself emphasized that she did not come from the sort of family that had had members sit for portraits," The New Yorker writes. "As a variation of the classical American pioneer, she sought out Sherald to translate what being the first meant to her."
Next: Michelle Obama's dress was a bold choice. 
Michelle Obama wore a gown designed by one of her favorites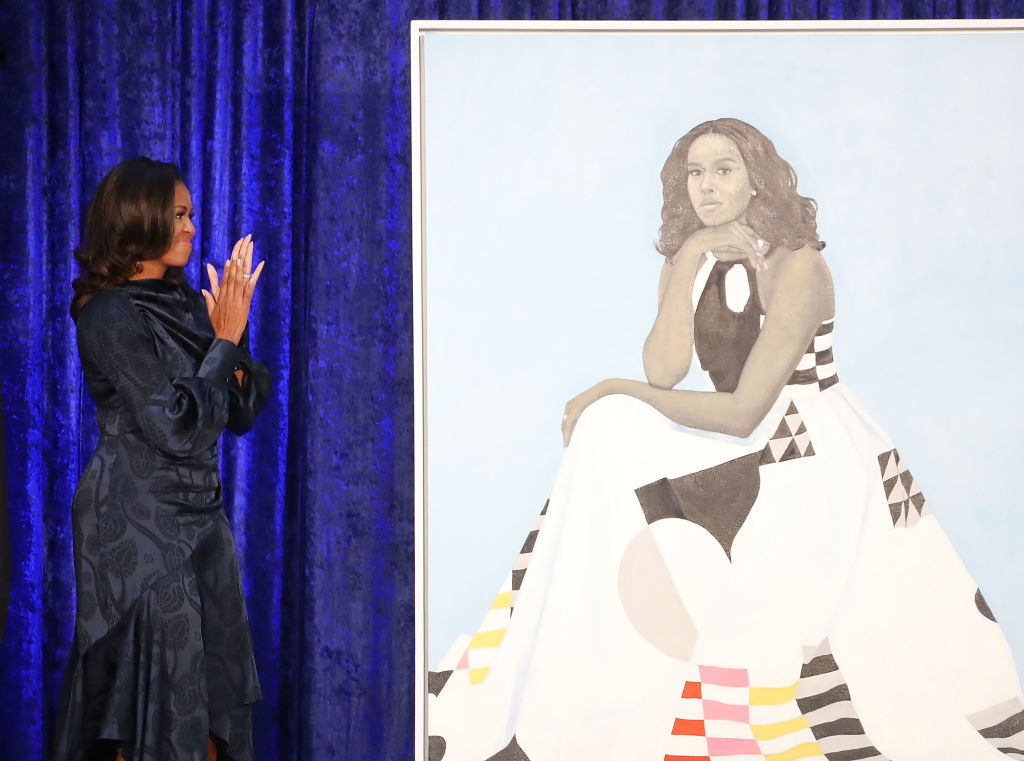 As first lady, Michelle Obama received high praise and harsh criticism alike for her wardrobe choices. From sophisticated pants to sleeveless dresses, her styles sparked plenty of conversation. And those arms, oh, those arms!
That said, it's no surprise that the outfit choice for her portrait was a topic of conversation, as well. The former first lady wore a Milly dress by American designer Michelle Smith. Featuring a minimal, geometric print, the stretch cotton dress reminded Sherald of "a quilt from Gee's Bend—a quiet, all-black community in Alabama that became widely known for its craft," Vogue reported.
But according to Smith, the dress was intended to be a style Obama could wear in her everyday life and in an iconic portrait. Furthermore, Smith said the dress conveys "a very forward-thinking sensibility—this is very Michelle Obama."
Next: Here's what the artist and Obama had to say about the color of her skin.
The explanation behind the skin color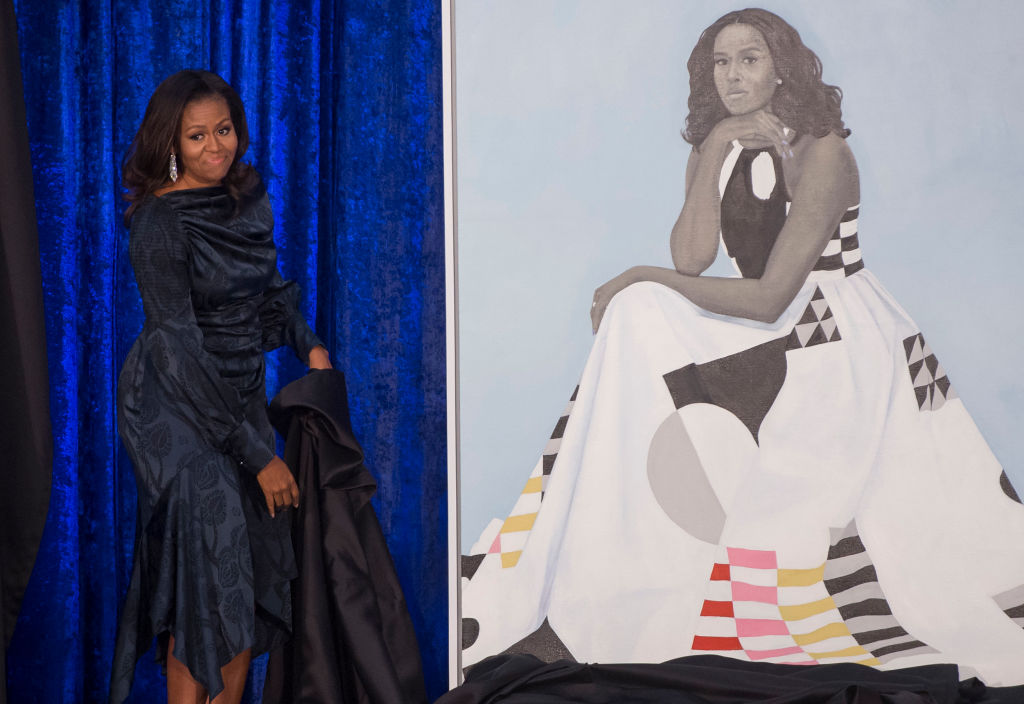 Why does the former first lady have gray skin?
It's a question many have wondered. Of course, it was an intentional move on Sherald's part. In Sherald's opinion, the lack of color in her subject's skin only enhances the overall meaning of the image.
"Applied to Michelle Obama, the lack of brown in the skin feels first like a loss, and then like a real gain," The New Yorker proclaimed. "This is a different Michelle, a woman evacuated of celebrity, who appears provisionally dreamlike, nearly a shadow."
Next: Obama delivered a speech directed toward young girls of color, in particular. 
Here's what Michelle Obama said about it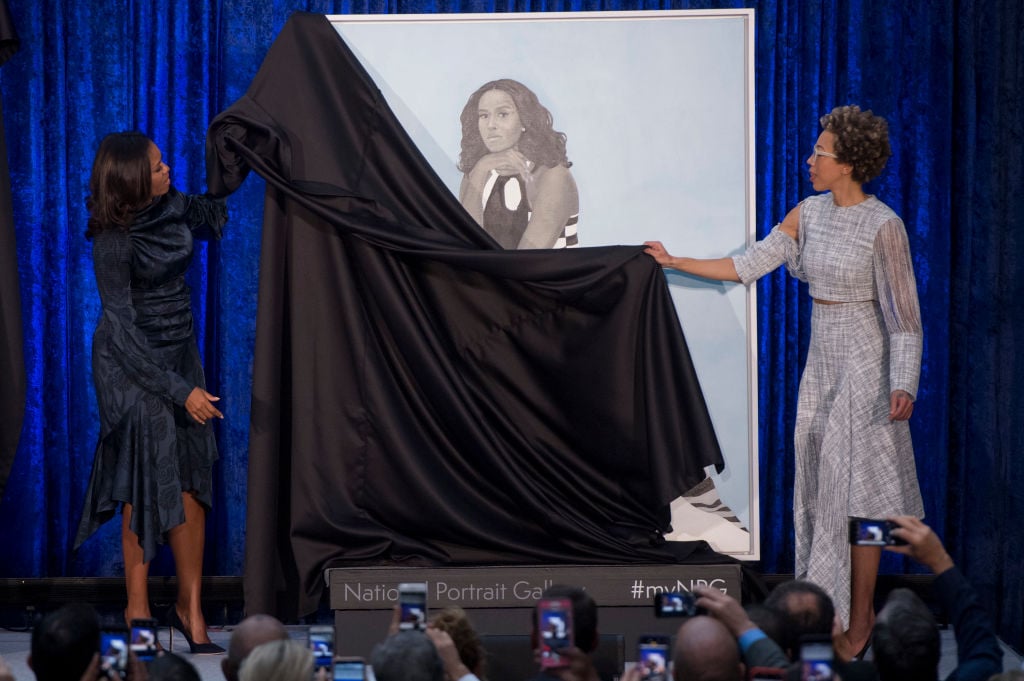 While some were confused by the depiction of Michelle Obama, her own reaction to it explains a lot. At the unveiling ceremony, she said, "I'm thinking about young people, particularly … girls of color who will come to this place and they will look up and they will see an image of someone who looks like them on the wall."
Furthermore, Barack Obama's admiration for his wife's portrait didn't go unnoticed, either. According to Architectural Digest, he thanked "the artist for capturing his wife's 'grace, beauty, charm, and hotness.'"
Next: Barack Obama chose his artist for specific reasons, too. 
Why Barack Obama chose Kehinde Wiley as his artist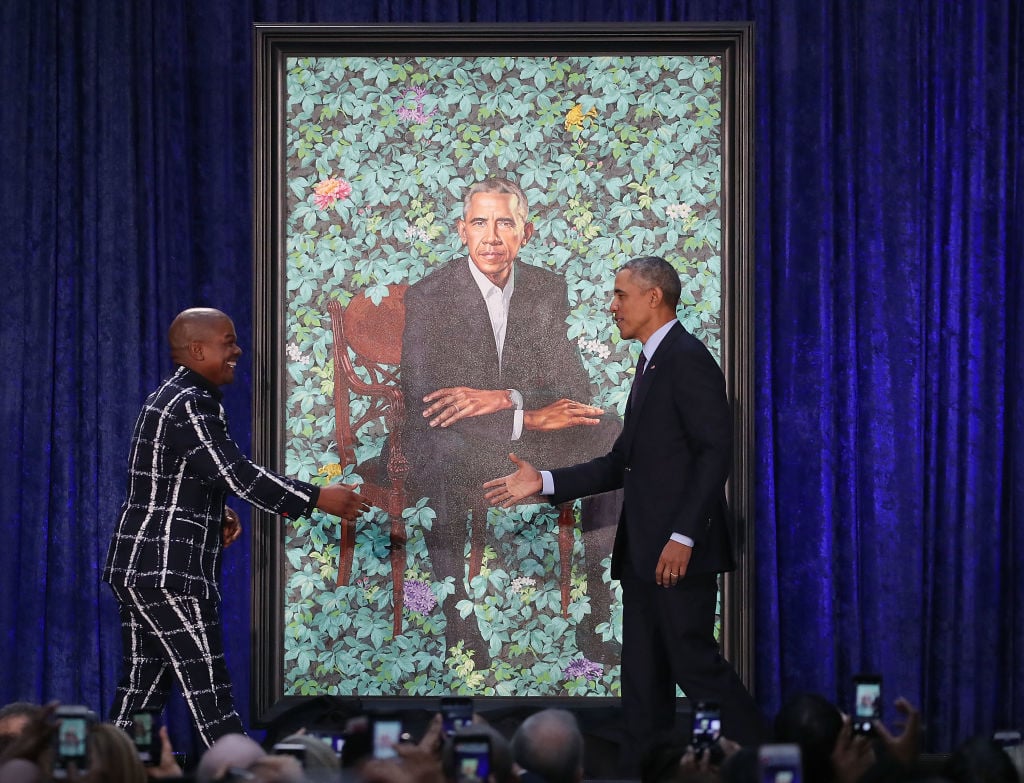 Kehinde Wiley is the artist behind Barack Obama's portrait, and he, too, produced a thought-provoking piece that was anything but expected.
Over the course of his career, Wiley has focused on racial and social issues, bringing important topics to the forefront through his work. And he was the perfect person for the job of Obama's presidential portrait.
According to The New York Times, "Mr. Wiley depicts Mr. Obama not as a self-assured, standard-issue bureaucrat, but as an alert and troubled thinker."
Next: The final products were anything but ordinary. 
The portraits strayed from the expected presidential portrait path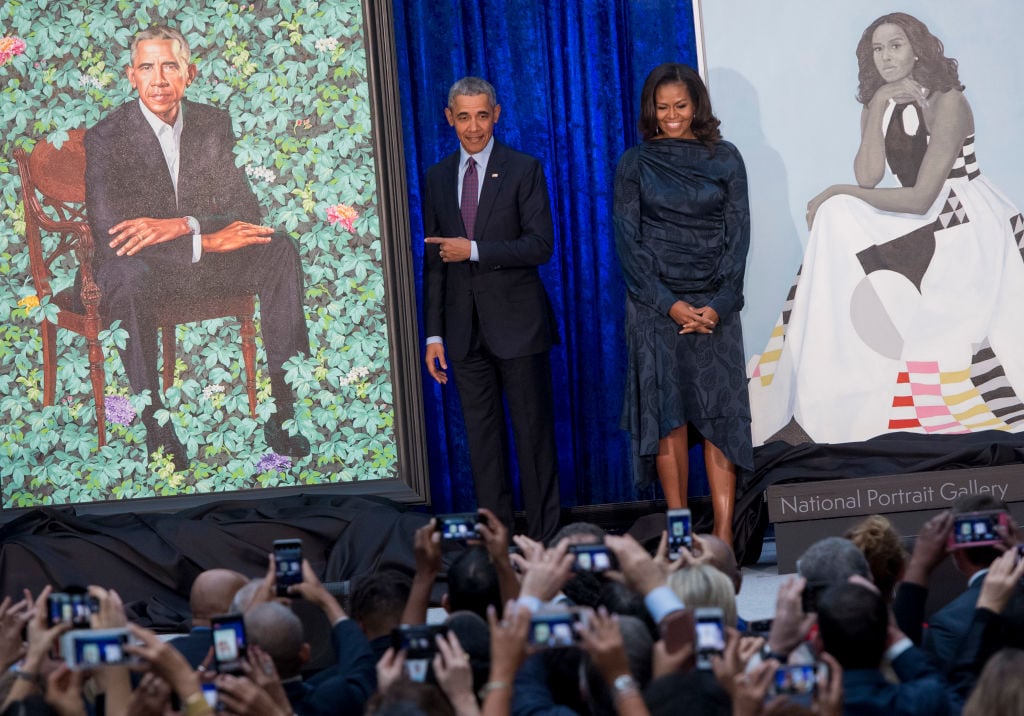 There are far too many stuffy, boring, totally unoriginal presidential portraits hanging in the National Portrait Gallery. But fear not, because the paintings of Barack and Michelle Obama are anything but ordinary. Of the unique works of art, The New York Times writes:
They are not in an office, sitting at a desk or standing in front of a row of books. The background for Mr. Obama's painting is not a dark, solid color, but rather a lush bed of bright green leaves, with his chair almost suspended in midair. Mrs. Obama is painted against a bright-blue background, and she is wearing a vibrant dress.
Clearly, both Sherald and Wiley delivered on what they had set out to achieve.
Next: Here's the meaning behind Barack Obama's colorful background. 
Barack Obama's background is more symbolic than you think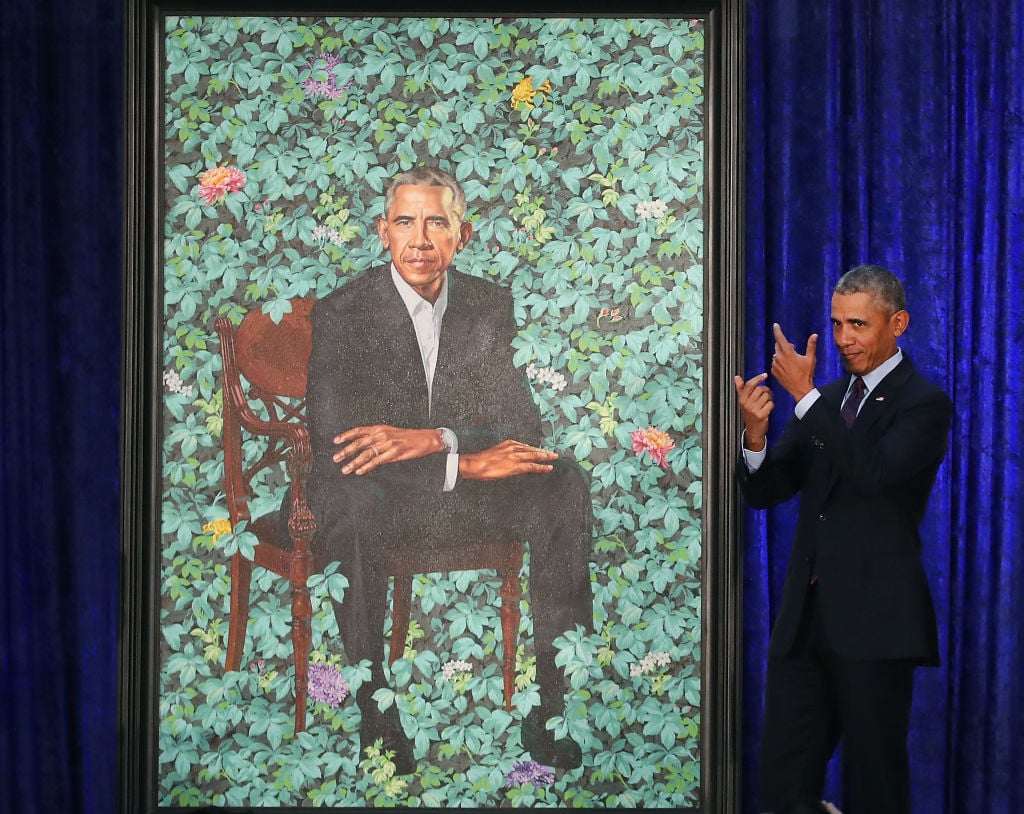 Speaking of Barack Obama's colorful background, Wiley pays homage to the former president's past, the road that would eventually lead him to his place as the first African-American president of the United States.
According to The New York Times, "African blue lilies represent Kenya, his father's birthplace; jasmine stands for Hawaii, where Mr. Obama himself was born; chrysanthemums, the official flower of Chicago, references the city where his political career began, and where he met his wife."
To see the portraits in person, head to the National Portrait Gallery in Washington, D.C. Barack Obama's portrait will permanently hang in the museum's "America's Presidents" exhibition, and Michelle Obama's will hang in the "Recent Acquisitions" corridor until early November 2018.
 Check out The Cheat Sheet on Facebook!