5 Microwaveable Recipes That Are Better Than Frozen Dinners
Your microwave is good for more than just popcorn and frozen dinners. This ubiquitous kitchen appliance may just seem like a tool for reheating leftovers and other less-glamorous kitchen jobs, but it's actually a versatile workhorse that can turn out delicious meals with minimum effort on your part. What could be better than that? When you're in need of a quick weeknight dinner fix, try one of these five microwave recipes that are better than any frozen entrée.
1. Microwave Mac and Cheese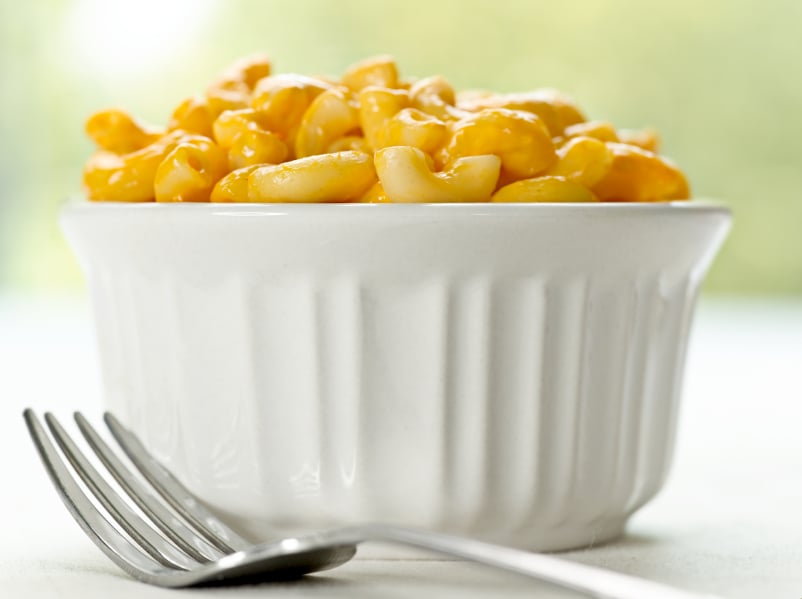 Delicious homemade mac and cheese in 10 minutes? You can make that dream come true with this recipe from Food Network. This one-pot dish makes for a simple, comforting meal when served with grilled chicken, vegetables like broccoli or collard greens, or a salad.
Ingredients:
1½ cups elbow macaroni
2 cups whole milk
Kosher salt
1 cup shredded deli yellow American cheese (about 4 ounces)
1 cup shredded pepper jack or Monterey Jack cheese (about 4 ounces)
¼ cup grated Parmesan
2 ounces cream cheese
1 teaspoon Dijon mustard
Directions: Stir the macaroni, 1 cup of the milk, and ¼ teaspoon salt in a microwave-safe 4-quart bowl. (Make sure you use a large bowl so the milk does not boil over.) Cover tightly with plastic wrap; cut a small slit in the center with the tip of a paring knife to vent excess steam.
Microwave on high (at 100% power) for 4 minutes in either an oven that's 1,100 or 700 watts. Uncover (be careful to avoid the hot steam) and stir. Cover and microwave on high (at 100% power) until the macaroni is about two-thirds cooked, a little harder than al dente, 1½ minutes in an 1,100-watt oven or 3½ minutes in a 700-watt oven.
Add the remaining cup of milk, American cheese, jack cheese, Parmesan, cream cheese, and mustard. Stir well, cover tightly, and microwave on high (at 100% power) until all the cheeses have melted, 4 minutes in an 1,100-watt oven or 4½ in a 700-watt oven. Stir until thoroughly combined. If there are still some pieces of unmelted cheese, microwave again, covered, in 30-second increments. (The sauce will continue to thicken as it sits.) Serve.
2. Shrimp Tacos
Shrimp tacos go from kitchen to table in a snap with this recipe from Delish. The result is so light and fresh that you'd never guess it came straight from the microwave.
Ingredients:
1 tablespoon olive oil
1 small onion
1 small jalapeño chili pepper
2 cups corn kernels
1 can black beans
1 pound shelled and deveined medium shrimp
2 limes
1 avocado
¼ cup fresh cilantro leaves
8 flour tortillas
Directions: In a large, microwave-safe bowl, combine the oil, onion, and jalapeño. Microwave on high, 4 minutes, stirring once.
Add the corn and beans; cover with vented plastic wrap and microwave on high 2 minutes. Add shrimp; cover and microwave 3 to 4 minutes longer or just until shrimp turn opaque throughout.
Meanwhile, make avocado salsa. From 1 lime, squeeze 2 tablespoons juice. Cut remaining lime into 8 wedges; set aside. In small bowl, combine lime juice, avocado, and cilantro.
Just before serving tacos, place stack of tortillas between damp paper towels on microwave-safe plate; microwave on high 15 to 20 seconds or until warm.
Divide shrimp mixture and avocado salsa among tortillas; fold over to eat out of hand. Serve with lime wedges.
3. Microwave Jambalaya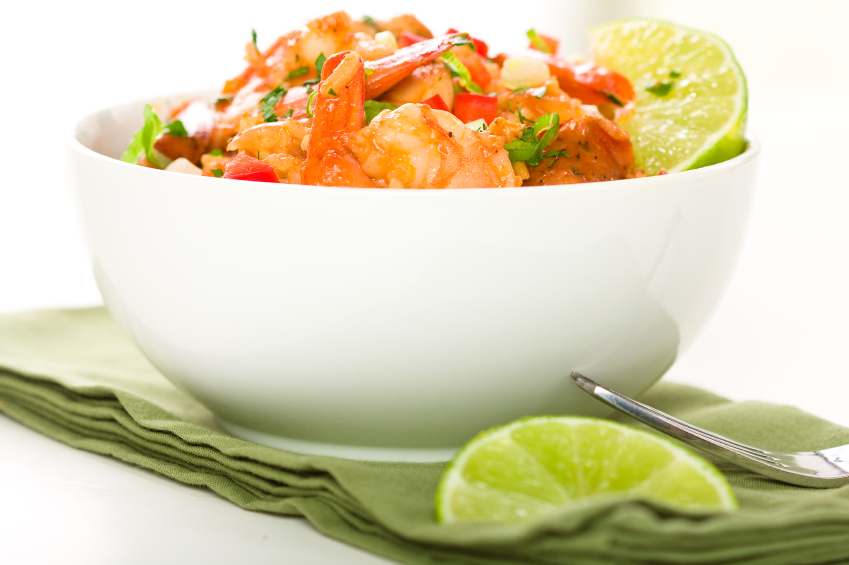 Bringing the flavor of New Orleans to your next meal is easy with this recipe for spicy microwave jambalaya from cookbook authors Marcia Cone and Thelma Snyder (published in the Los Angeles Times). This protein-packed dish includes shrimp, scallops, chicken, smoked sausage, and ham, so you're guaranteed not to go hungry. Serve with a salad of mixed greens.
Ingredients:
1 tablespoon olive or vegetable oil
2 cloves garlic, minced
2 medium onions, coarsely chopped
1 cup thinly sliced celery
1 bay leaf
1 teaspoon dried oregano
1 teaspoon dried thyme
1 teaspoon freshly ground pepper
½ teaspoon salt or to taste
½ teaspoon cayenne pepper or to taste
2 cups long-grain rice
1 pound boneless, skinless chicken breast meat, cut into 1-inch cubes
2 cups canned clam juice or chicken broth
1 (16-ounce) can whole tomatoes, chopped, liquid reserved
½ pound peeled and deveined shrimp
½ pound scallops
½ pound lean ham, cut into ½-inch cubes
½ pound smoked sausage, such as kielbasa or lower-fat turkey sausage, cut into ½-inch slices and then halved or quartered depending on diameter
½ cup chopped parsley
Directions: Combine oil and garlic in 4-quart microwave-proof casserole dish. Add onions and celery. Cover tightly with lid or plastic wrap turned back slightly on one side. Microwave on high (100% power) for 3 minutes.
Stir in bay leaf, oregano, thyme, pepper, salt, and cayenne. Stir in rice to coat well with seasonings. Stir in chicken. Add clam juice and tomatoes with liquid. Cover and microwave on high until liquid is boiling, 10 to 15 minutes.
Stir in shrimp, scallops, ham, and sausage. Cover and microwave on high until liquid is once again boiling, about 15 minutes. Remove bay leaf and stir well. Re-cover and microwave on medium (50% power) until most of liquid is absorbed and rice is al dente, 15 to 20 minutes, stirring once. Let dish stand 5 minutes. Sprinkle with parsley before serving. Makes 8 servings.
4. Artichoke Lemon Risotto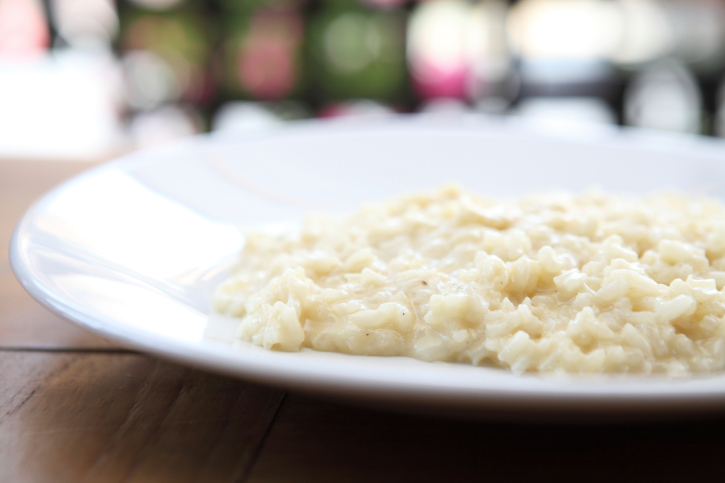 A creamy, well-made risotto is delicious Italian comfort food. But the downside of making it yourself on the stove top is that it requires a lot of attention. This microwave version from cookbook author Barbara Kafka eliminates the need for constant stirring so you can have an incredible meal in just minutes.
Ingredients:
6 tablespoons olive oil
1 cup minced onion, about 8 ounces by weight (two small)
2 cups arborio rice
6 cups of chicken or vegetable broth
1 can each of artichoke bottoms and hearts, well rinsed and cut into ¼-inch slices
Zest and juice of 2 ripe lemons
1 tablespoon kosher salt
Directions: In a 13- or 14-inch microwaveable dish, stir together the minced onions and olive oil. Microwave uncovered in a 1,200- to 1,400-watt oven for 3 minutes. Stir in the rice (don't remove the dish from the oven). Cook for another 3 minutes.
Pour the broth into the rice mixture, stir, then cook for 12 minutes. Add the sliced artichoke and stir to combine. Cook for 6 minutes. Stir in the lemon zest and juice. Cook the risotto for 2 more minutes.
Remove from oven. Add salt to taste. Serve immediately.
5. Microwave Chicken Curry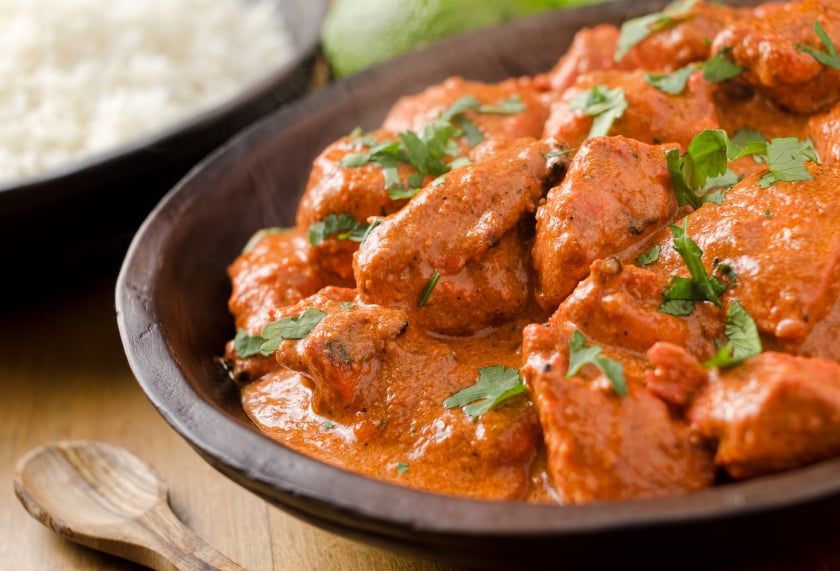 Enjoy curry in a hurry when you make this microwave-friendly dish flavored with Indian spices. This recipe from Food Network takes about 30 minutes to prepare and yields four servings. We think any leftovers would be perfect for lunch the next day.
Ingredients:
2 tablespoons Indian curry paste
3 tablespoons olive oil
4 boneless, skinless chicken breasts, cut into strips
½ bunch basil, leaves chopped
½ bunch cilantro, leaves chopped
2 (13½-ounce) cans coconut milk
2 tablespoons soy sauce
Kosher salt
Freshly ground black pepper
Steamed rice, to serve
Paprika, for garnish
1 scallion, thinly sliced, for garnish
Directions: In a large microwave-safe pot with a lid, mix together the curry paste and oil. Microwave on high for 3 minutes. Add the chicken to the pot and stir. Cover with the lid and microwave on medium for 8 minutes.
Add the basil, cilantro, coconut milk, and soy sauce, and season with salt and pepper. Stir, cover, and microwave on medium for 4 minutes. Stir again, cover, and let the dish rest for 3 or 4 minutes. Serve over steamed rice and garnish with the paprika and scallions.
Follow Megan on Twitter @MeganE_CS