The Most Luxurious Destinations You Can Choose for Your Honeymoon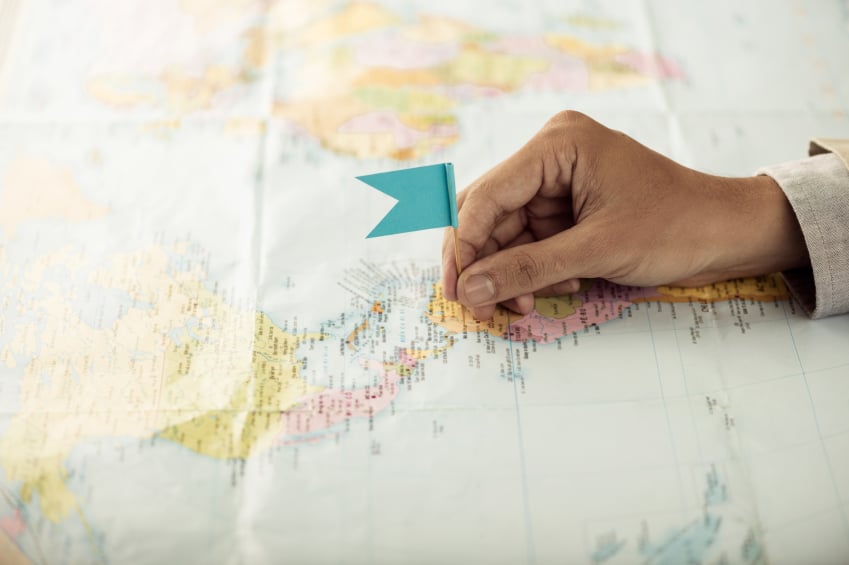 When you're getting married, you'll quickly realize there are many options for every kind of couple and every sort of budget. Do you want to head to city hall? Planning to elope with nobody but your photographer in tow? Is it more your style to have a tiny ceremony and reception? How about a moderate-sized party where you can celebrate with your friends and family? Or do you want to go all out with a big and beautiful wedding?
You'll see the same kind of variety when you start to plan your honeymoon. You can plan a modestly-priced trip somewhere close to home. Or you can pull out all the stops and book a getaway to the most luxurious destination on your bucket list. There are great options for every couple and every budget. But we've rounded up some destinations that are perfect if you're dreaming of an especially luxurious honeymoon.
Each place that made the list of the most lavish honeymoon destinations will help you indulge, whether you want luxurious accommodations, world-class food, historic sites to explore, or Instagram-worthy beach views. Read on to check out our favorites. Not only will you avoid the locales where a romantic getaway is likely to go wrong, but you might just find the perfect destination for starting your marriage to your new spouse.
1. Côte d'Azur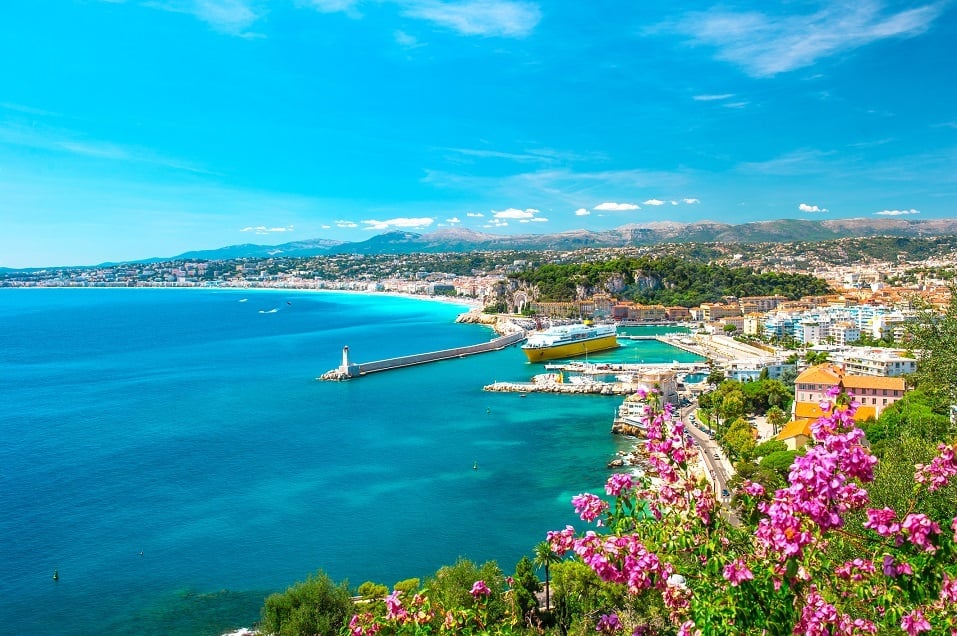 Samantha Sutton reports for Coveteur that one of the dreamiest honeymoon locations featured in Lonely Planet's new book, The Honeymoon Handbook, is Côte d'Azur. "Between the French Riviera views and Michelin-starred restaurants, it's possible you'll never want to leave," Sutton explains.
Erin Walters reports for The Knot that the French Riviera is a great destination if you'd like to see both coastline and mountains. And Côte d'Azur also gives you easy access to Cannes, St. Tropez, and Monaco. A flight takes about eight hours from New York City or 14 hours from Los Angeles. June through August are the warmest, driest, and most popular months to travel. So you can score a great deal on even a lavish honeymoon by booking in May, June, September, or October.
2. Seychelles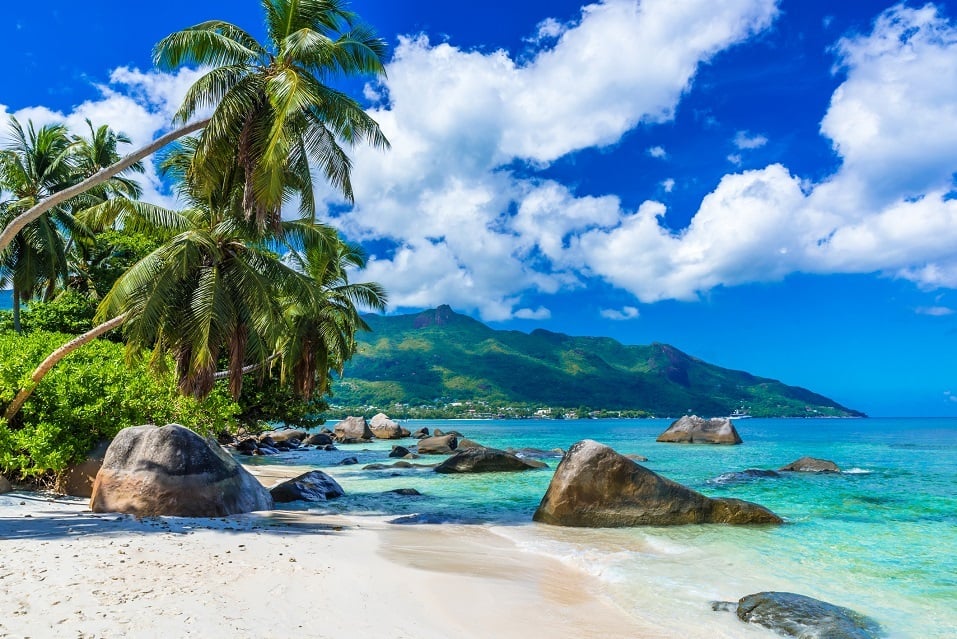 Another Lonely Planet-endorsed honeymoon location for those looking for a luxurious getaway? The Seychelles, an archipelago nation off the eastern coast of Africa that's comprised of a cluster of 115 islands. Some of the islands are made of granite, and others are of coral. There, you can explore coves, see coral reefs, visit nature reserves, and enjoy mountain rain forests. And once you're tired of exploring (and Instagramming), you can head back to your luxurious accommodations.
Celeste Perron reports for The Knot that you can use one of the main islands — Mahe, Praslin, or La Digue — as a base from which you can explore the more remote ones. You'll need to take three or four flights to get to the Seychelles, usually to a European city, then to a Middle Eastern hub, and then to Mahe. (From Europe, you can expect flight time of about 12 hours.) There isn't a true off season in the Seychelles. But June, July, and August are reliably cool and dry. Perron advises booking for June because you'll likely encounter fewer other tourists than in the later summer months. And you can find some great deals in May and October.
3. Sweden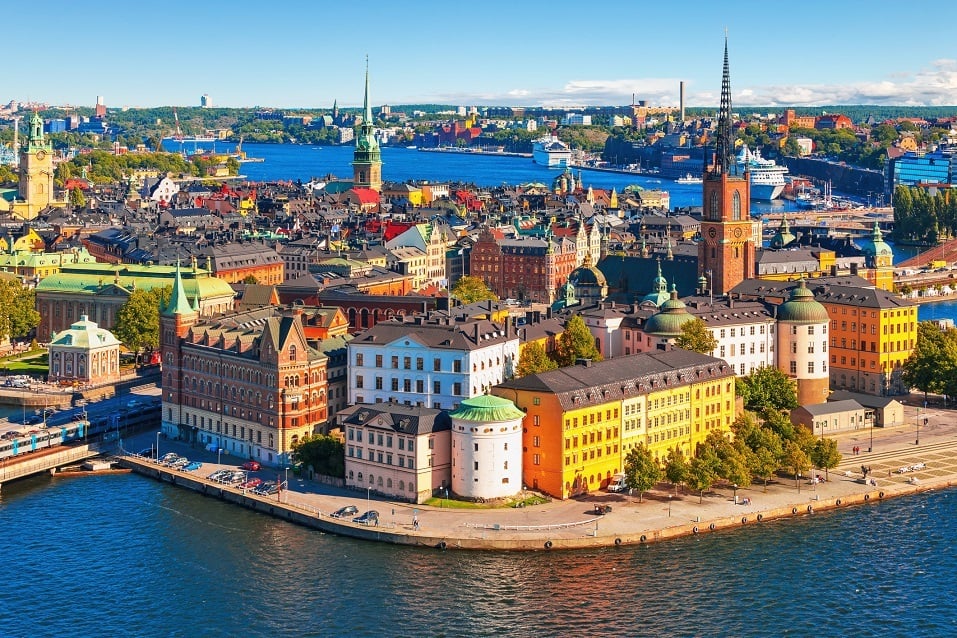 If you aren't big on tropical destinations, you're in luck. Sutton reports that Lonely Planet also recommends Sweden. If the country has been on your bucket list for a while, your honeymoon might be the perfect time to visit. "It's another place where you'll probably feel the need to snap your meals, but aside from that, you'll leave with tons of stylish, sustainable decor inspiration," Sutton notes.
Routes North explains that Sweden is a great honeymoon destination if you want something out of the ordinary. A honeymoon in the country offers "a good mix of outdoor adventure and gorgeous scenery, all topped off by long, romantic evenings snuggled by the fire."
Need some specific spots to consider? Consider Harads, the village that's the location of the world-famous Treehotel. Or visit Stockholm, especially if you'll be traveling in the summer, when the parks and gardens will be in full bloom. Alternately, choose the Swedish Lapland if you want to see snowy forests and fairy-tale scenery, or stay in the Icehotel (anytime from December to April). Choose the Baltic island of Gotland if you want historic villages, gorgeous beaches, and beautiful caves. Or choose Sweden's western coast if you want islands, sailing, and seafood.
4. India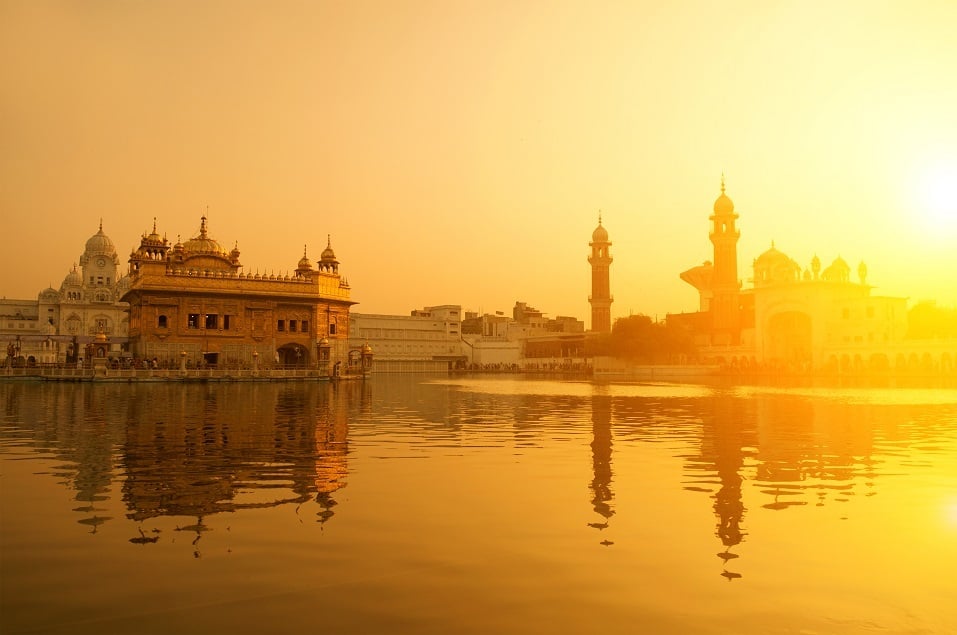 And if you want another Lonely Planet-recommended location that departs from the stereotypical beach getaway? Consider India. "Forget being a princess only on your wedding day," Sutton writes. "In Rajasthan, you can spend your honeymoon in a freakin' palace (one that has been converted into a hotel, of course)." India is the perfect place to experience a diversity of scenery and an array of different cultures.
Shabnam Ahamed reports for The Knot that "the key to a successful honeymoon in India is to focus on a region (we recommend either the north or the south) and explore it fully." If you opt for the north, fly in to New Delhi and plan your itinerary around the desert state of Rajasthan, and enjoy the fort palaces of Jaipur, Jodhpur, Jaisalmer, and Udaipur. Or go for a trip to the south and fly in to Chennai. From there, you can see colonial port cities and backwater lagoons, and also see ornate Hindu temples like the Madurai Meenakshi Amman temple and the Mahabalipuram caves and seashore temple. You'll see the best weather in October to March, or April to June in the Himalayas. And you'll get the best prices in February to March in the North or March to September in the south. A flight to New Delhi takes about 14 hours from New York or 20 hours from Los Angeles.
5. Shanghai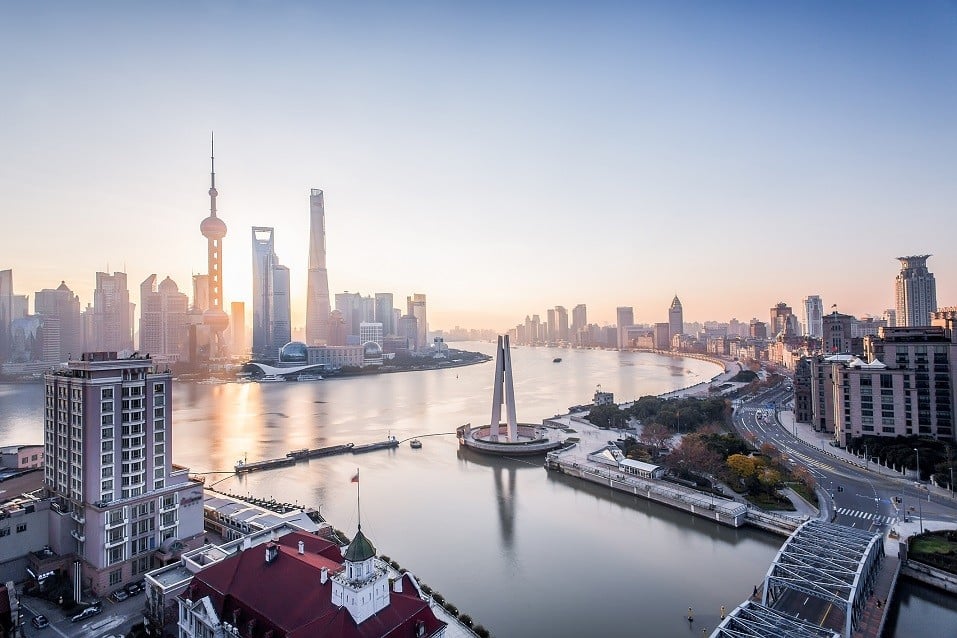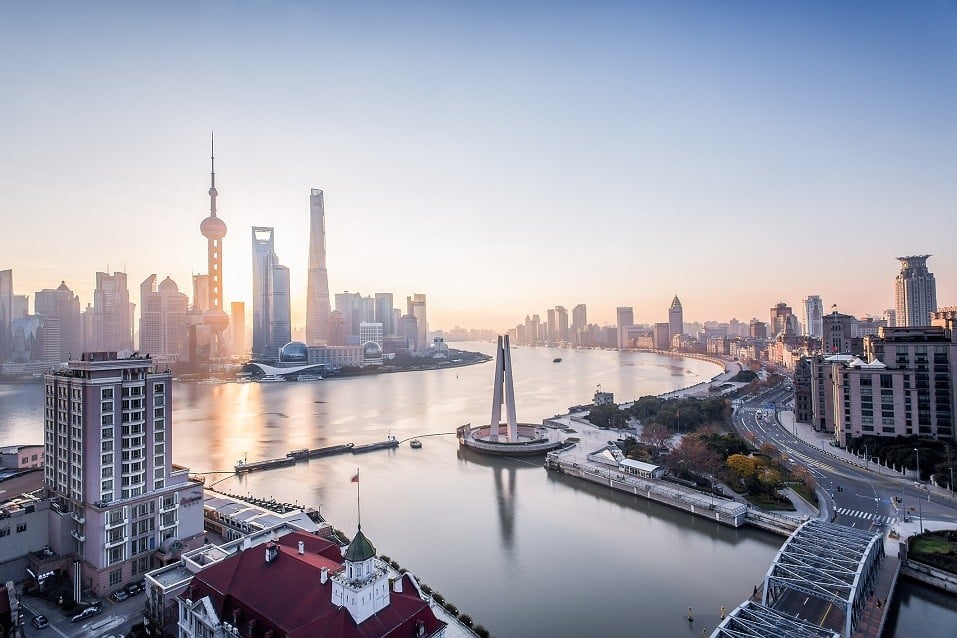 China might not be the first place you think of when you think "honeymoon." But Lonely Planet thinks Shanghai should make the short list if you're looking for something different than the typical beach resort. Sutton advises you can "get a good mix of past, present, and future by exploring ancient temples during the day, then grabbing a drink at 'the futuristic Cloud 9 bar' at night."
Sara Naumann reports for About Travel that Shanghai is divided by the Huang Pu River and has two main sections. Puxi, west of the river, is bigger and home to the older districts of Shanghai. Pudong, east of the river, stretches to the sea and is the site of new developments and skyscrapers.
Naumann advises autumn is the best time of the year to visit Shanghai because late September through early November brings the driest weather. And if you need a list of great Shanghai spots to spark your imagination, Our Honeymoon Destinations recommends the Bund promenade, Yu Garden, Jade Buddha Temple, Shanghai Museum, Longhua Temple and Pagoda, Oriental Pearl Tower, and shopping on Nanjing Road.
6. Maldives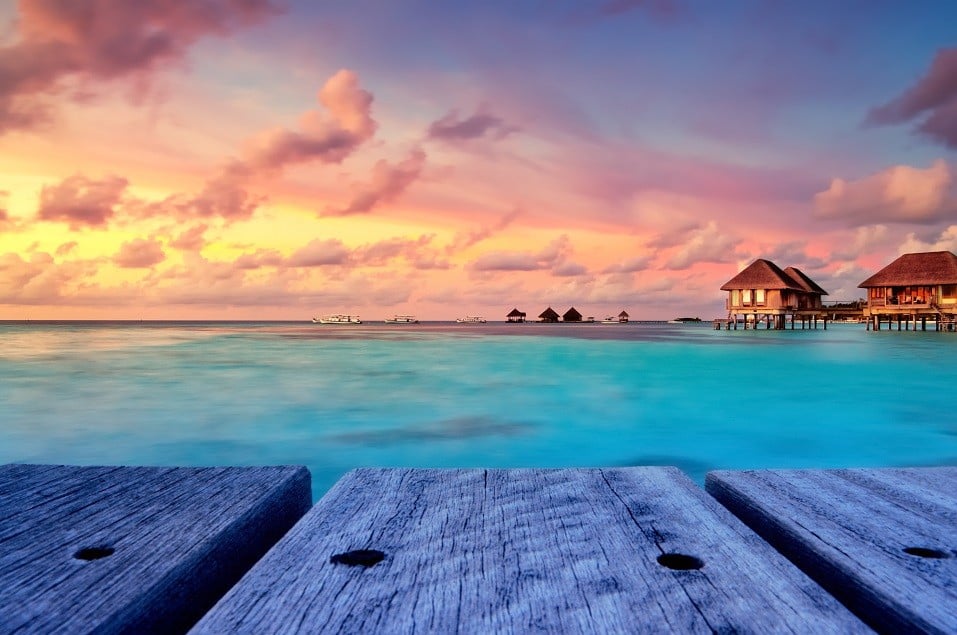 Another great source when you're trying to find ideas for honeymoon destinations? The U.S. News & World Report Best Vacations Rankings. The publication compiled its list of the most luxurious honeymoon destinations for couples to consider. And the Maldives topped that list.
There are more than 1,000 islands to choose among if you head to this destination in the Indian Ocean. And the islands are famous for enabling visitors to stay in a private villa built over the water or has its own stretch of beach. What's not to love about a place with turquoise lagoons, white sand beaches, and world-class scuba diving and snorkeling opportunities?
The Knot reports the Maldives are sunny, warm, and humid year-round. April is the hottest month, and December the coldest. Monsoon season runs May to September, so the high season is December through April. (You can get the best deals by booking between May and November.)
Also, 99% of the Maldives is covered in water, so it's the perfect place to scuba dive, go snorkeling, take a whale-watching cruise, or take a submarine tour of coral reefs and historic shipwrecks. And the Maldives are perfect if your idea of luxury is some alone time at a gorgeous resort.
7. Bora Bora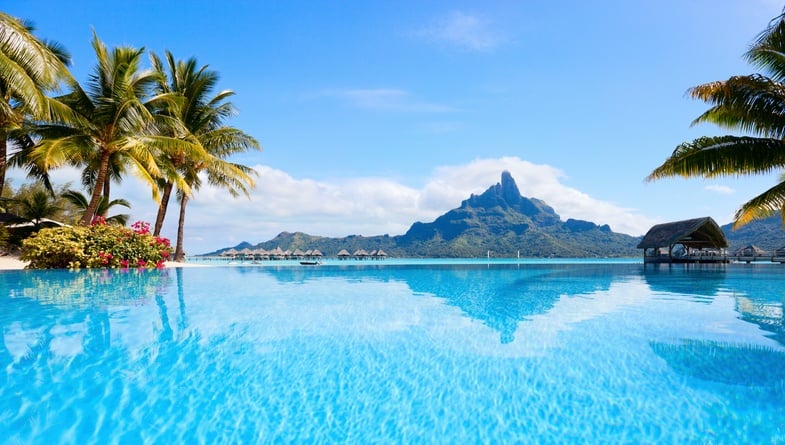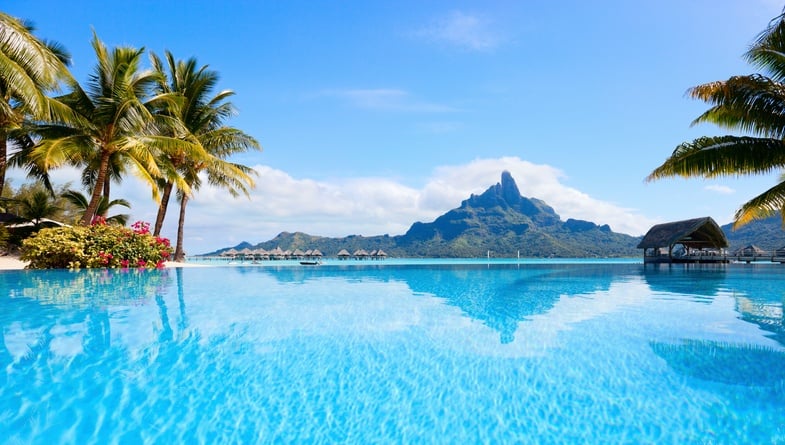 Second on the U.S. News list is Bora Bora, a tiny island that definitely deserves the love it gets from newlyweds. The island's beaches are famously gorgeous. And, as in the Maldives, you can stay in a villa built over the water. You can go scuba diving, or take a Jeep tour of the volcanic islands. It might just be the perfect destination if you anticipate wanting to relax on your honeymoon. As U.S. News explains, "Nothing cures post-wedding fatigue like a seafood dinner along the shores of the South Pacific."
The Knot describes Bora Bora as "a majestic island with three verdant volcanic peaks and offshore islets inside a protective necklace of coral." The dry season runs from May to October, but if you're looking for the best prices, consider booking between November and April. Over-water bungalows are "a honeymoon must" in Bora Bora, according to the Knot. It's also a great idea to explore the lagoons and to enjoy fresh seafood at Bloody Mary's, plus fresh sushi on your terrace. A flight will take about 19 hours from New York or 11 hours from Los Angeles.
8. Tahiti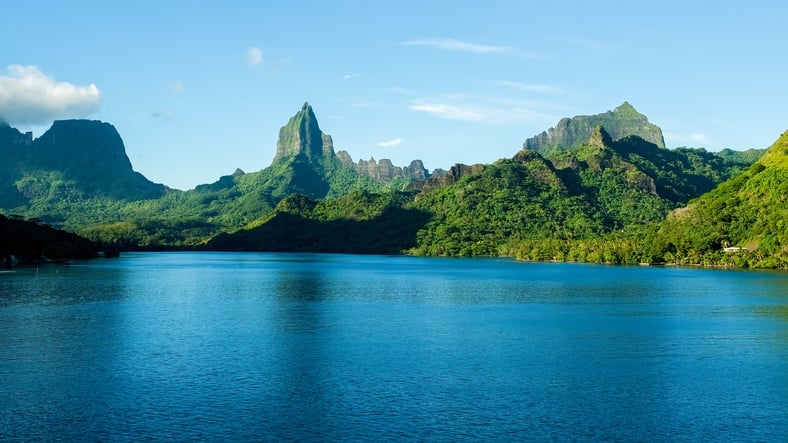 Tahiti is another perennial favorite among honeymooners looking for a luxurious getaway. And it comes in third in the U.S. News inventory of the most luxurious honeymoon spots. As the publication explains, "This famed post-nuptial getaway will leave you feeling pampered. Tahiti boasts deluxe all-inclusive resorts and expansive shorelines set against spectacular tropical scenery." As the largest island in French Polynesia, the South Pacific archipelago, it's divided into Tahiti Nui, the western section, and Tahiti Iti, the eastern peninsula. It's the perfect destination if you want to see black sand beaches, lagoons, waterfalls, and extinct volcanoes.
The Knot reports Tahiti boasts scenery "filled with palms, coconut plantations, fragrant vanilla farms, colorful blooms, citrus trees, and relatively few tourists." The island's dry season runs from May to October, and prices are pretty consistent year-round. The Knot advises touring the capital city of Papeete, where you can see Le Marche (the market) and catch a Polynesian show at night.
Popular surf spots include Papeno, Teahupoo, and Taharaa, and some less-crowded spots are Huahine and Moorea. Don't miss the opportunity to swim with dolphins in the lagoons. A flight will take about 16 hours from New York, 8.5 hours from Los Angeles, or 15 hours from Chicago.
9. Fiji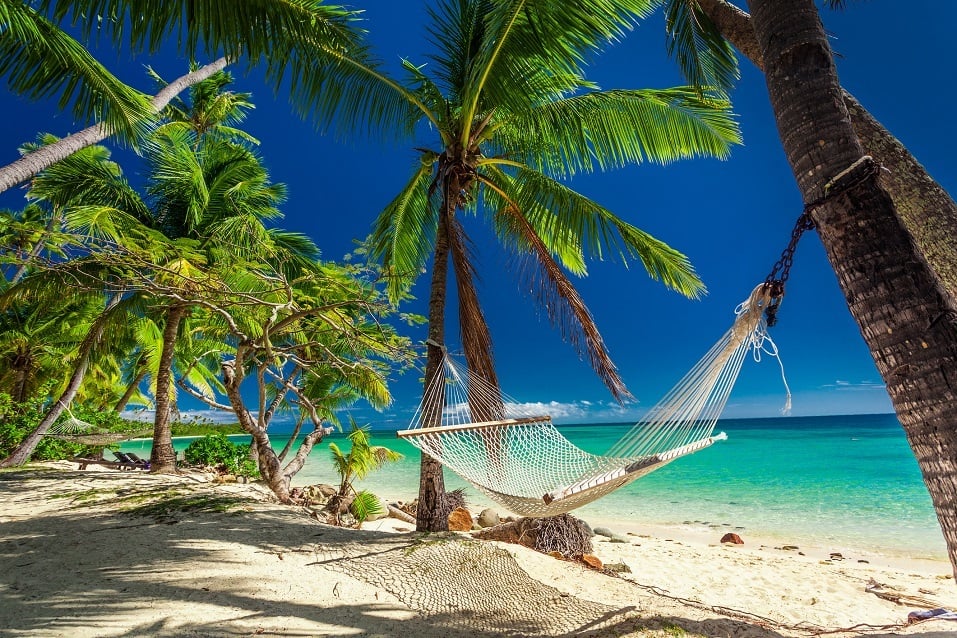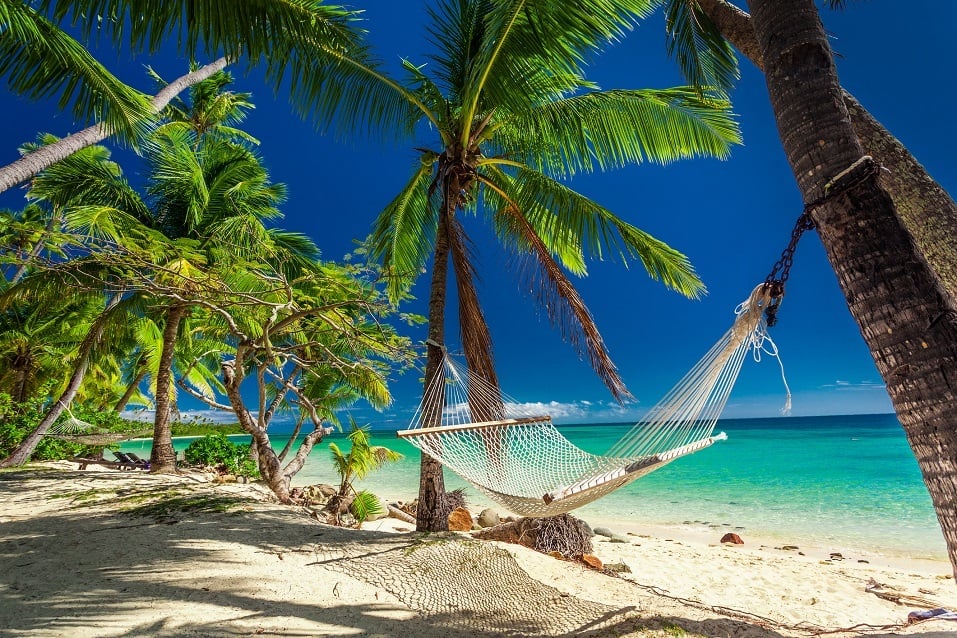 Fiji is a pretty famous honeymoon destination. And nothing attests more strongly to the luxury you can experience there than the numerous celebrity couples who have honeymooned somewhere in the string of 333 islands. Fiji, which made the U.S. News list of the most luxurious honeymoon destinations, is known for its rugged landscapes, coral reefs, clear lagoons, and gorgeous beaches. Its major islands are Viti Levu and Vanua Levu. U.S. News notes the Turtle Island Resort, thanks to its remote location and lavish offerings, is often named the most romantic destination on Earth.
The Knot reports Fiji's more than 300 islands are the perfect place to experience many distinct cultures. "Fiji is the ideal destination for couples seeking castaway tranquility, an exotic culture, unspoiled beaches and dreamy thatched-roof bures," The Knot states. The dry season runs from May to October, and you can get the best prices in May, June, and October.
Some must-see spots while you're there? Visit the garden island of Taveuni, the Bouma National Heritage Park, the Sigatoka sand dunes, and Mount Korobaba. A flight will take about 20 hours from New York or 11.5 hours from Los Angeles.
10. Bali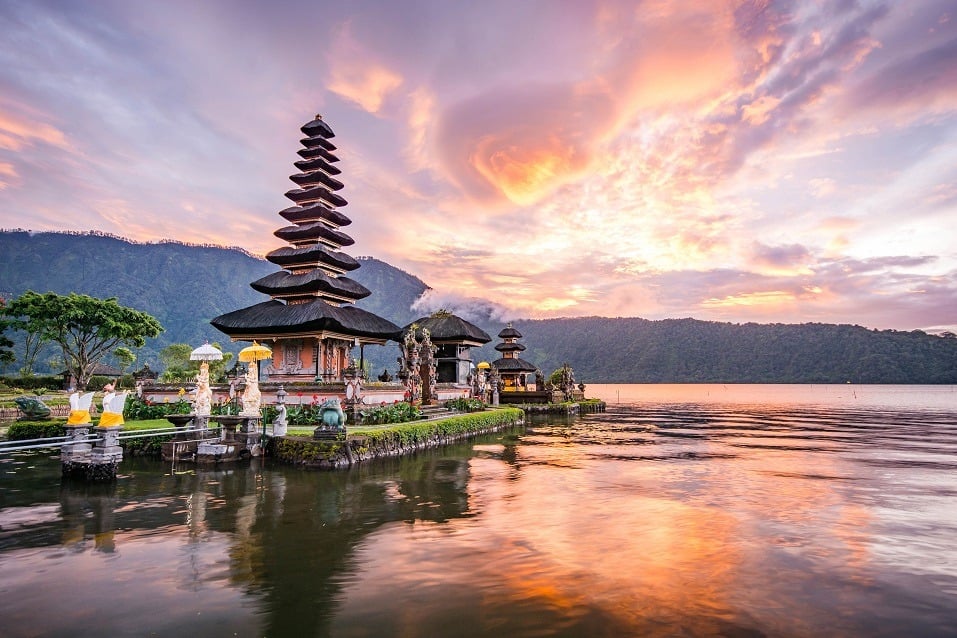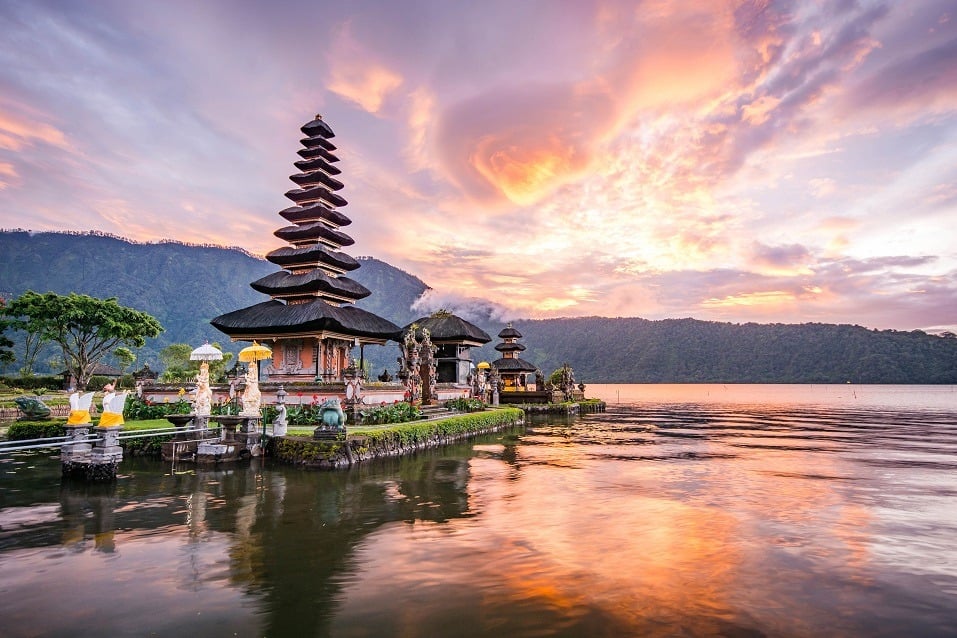 U.S. News notes if you book a honeymoon in Bali, this luxurious destination "will likely exceed your expectations." Gorgeous beaches, secluded jungle bungalows, and beautiful temples are just a few things you can look forward to on this Indonesian island. You also can see forested volcanic mountains and beautiful rice paddies. You can enjoy beaches and coral reefs. And you can visit religious sites, such as the cliffside Uluwatu Temple, enjoy lively nightlife in Kuta, or relax in resort towns, including Nusa Dua, Seminyak, and Sanur.
Lori Seto and Dan Klinglesmith report for The Knot that if you make the journey to Bali, "you'll arrive jetlagged, and depart transformed." The flight time is more than 24 hours from most U.S. cities. But the trek is well worth it (especially if you go in April, May, September, or October, when you'll enjoy the best weather).
Bali is called the "land of 10,000 temples." A couple you should check out? Pura Luhur Uluwatu and Pura Besakih. Head to Ubud to check out art galleries, craft villages, and the Puri Lukisan Museum. Enjoy a festival, and plan to experience the nightlife in the Kuta/Legian beach area.
11. Tuscany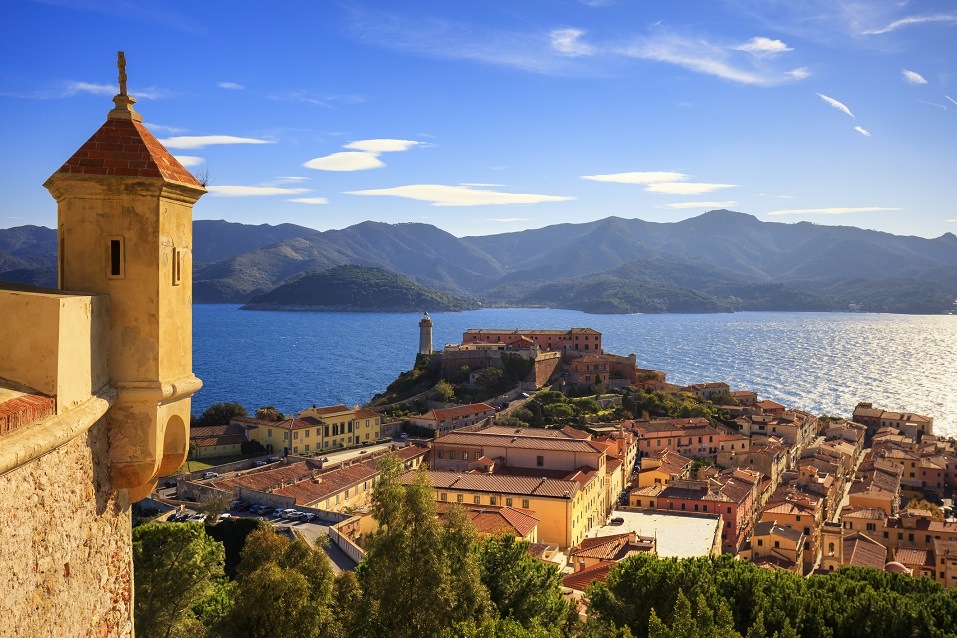 If vineyards are more your style than beaches and you'd rather fly to Europe than the tropics, U.S. News recommends you consider Tuscany as a honeymoon destination. Tuscany is located in central Italy. It's home to Florence, where you can see world-famous Renaissance art and architecture. And it's also where you can find the Apennine Mountains, beaches on the island of Elba in the Tyrrhenian Sea, and olive groves and vineyards in Chianti.
Lori Seto reports for The Knot that Tuscany is a luxurious place to unwind. The region "inspires contemplation, exploration, and lingering picnics featuring some of Europe's best food and wine." You can visit Siena, which is one of Italy's best-preserved medieval towns, as well as nearby San Gimignano. See the leaning tower and the Campo dei Miracoli in Pisa. And consider visiting other gorgeous cities, including Volterra, Lucca, Arezzo, and Cortona. A flight will take 11 hours from New York or 14 hours from Los Angeles.
12. British Virgin Islands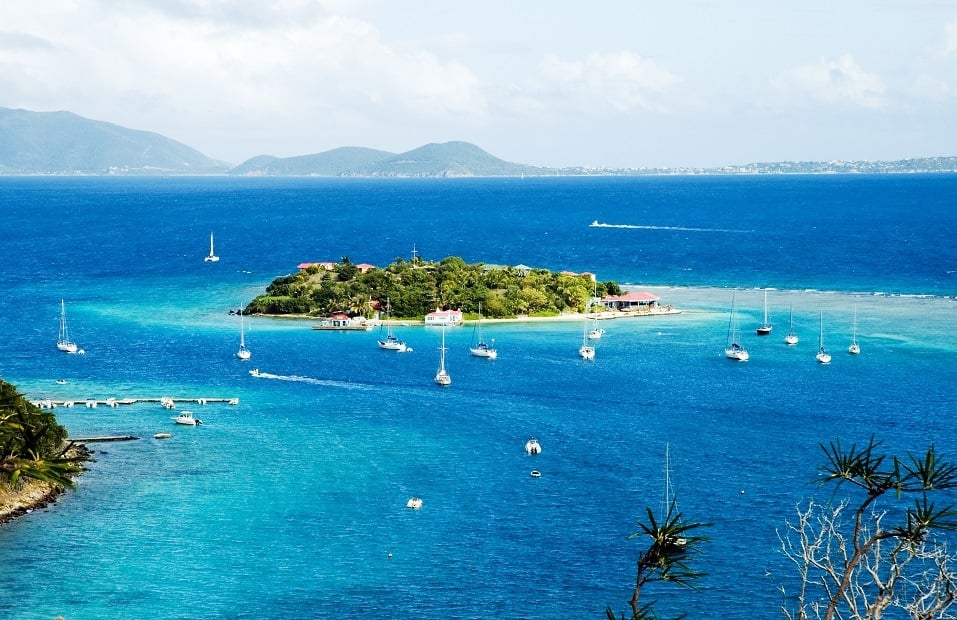 The British Virgin Islands might just be the perfect destination if you're looking for the quintessential Caribbean honeymoon. As the U.S. News list notes, "This particular spot boasts the sugary sands and turquoise waters of your dreams." The British Virgin Islands are part of a volcanic archipelago in the Caribbean. They're composed of four main islands and an array of smaller islands. And they're known for coral reef-lined beaches, as well as being a great yachting destination. That probably gives you an idea of why they make the list of the most luxurious honeymoon destinations.
Lori Seto reports for The Knot that two perfect honeymoon destinations in the British Virgin Islands are Tortola and Virgin Gorda. Or if you want a more secluded honeymoon spot, check out the small retreats and resort islands. Go to Tortola for the shipwrecks, the city strolls, the panoramic vistas, the island dining, and the live music. Pick Virgin Gorda for the beach, the national parks, and the sailing. The British Virgin Islands don't get much rain, though hurricane season is from June to November. You can expect the best prices from mid-April to mid-December.
13. Maui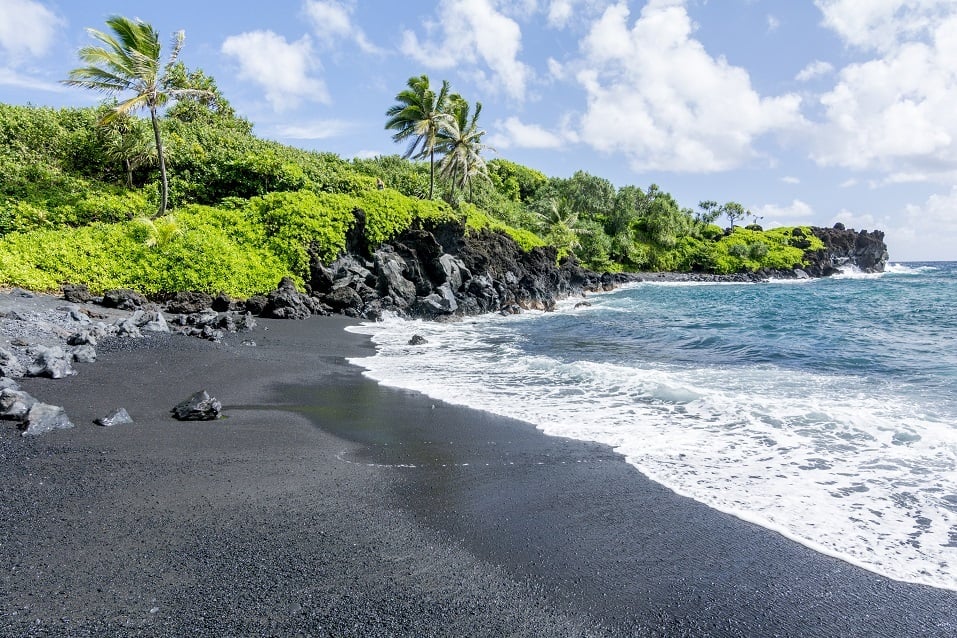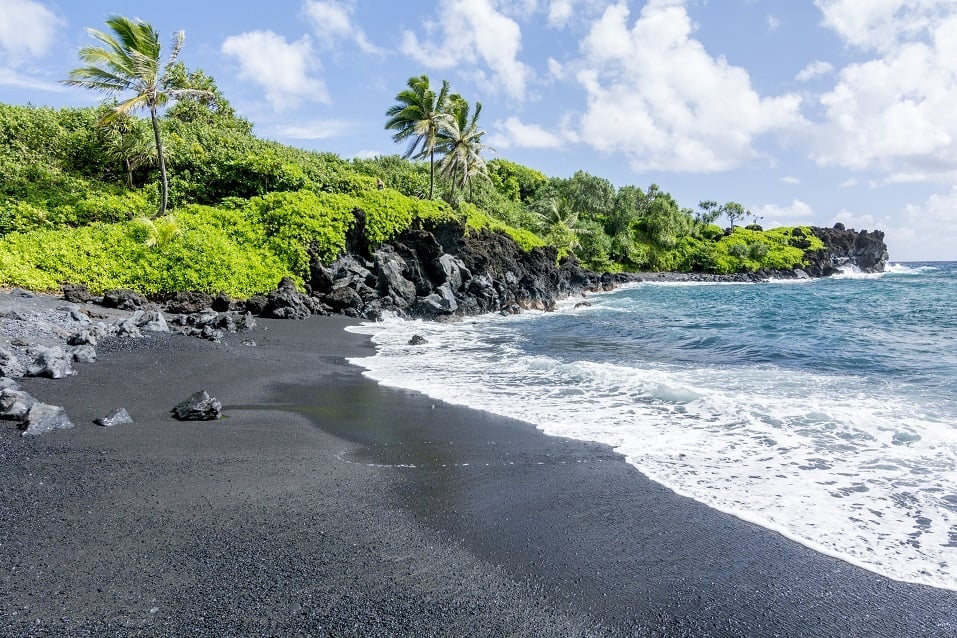 Want to book your honeymoon without worrying about your passport? Then, consider Maui. You'll get five-star resorts and gorgeous beaches. Plus, you can hike up volcanoes, and enjoy natural pools and waterfalls. That's all without even braving the international terminal of your local airport. Maui has 30 miles of beautiful beaches. And the Haleakala National Park, including the Haleakala volcanic peak and the Ohe'o Gulch, is a must-see.
The Knot reports some favorite activities on Maui are taking scenic drives on the Hana Highway, exploring the world's largest dormant volcano in the Haleakala National Park, and strolling through picturesque towns, such as Lahaina. The weather is mild year-round, and prices stay pretty consistent no matter what time of the year you travel. A flight to Honolulu will take six hours from Los Angeles or 11 hours from New York City. Then, the flight from Honolulu to Maui is about 30 minutes.
14. The Cyclades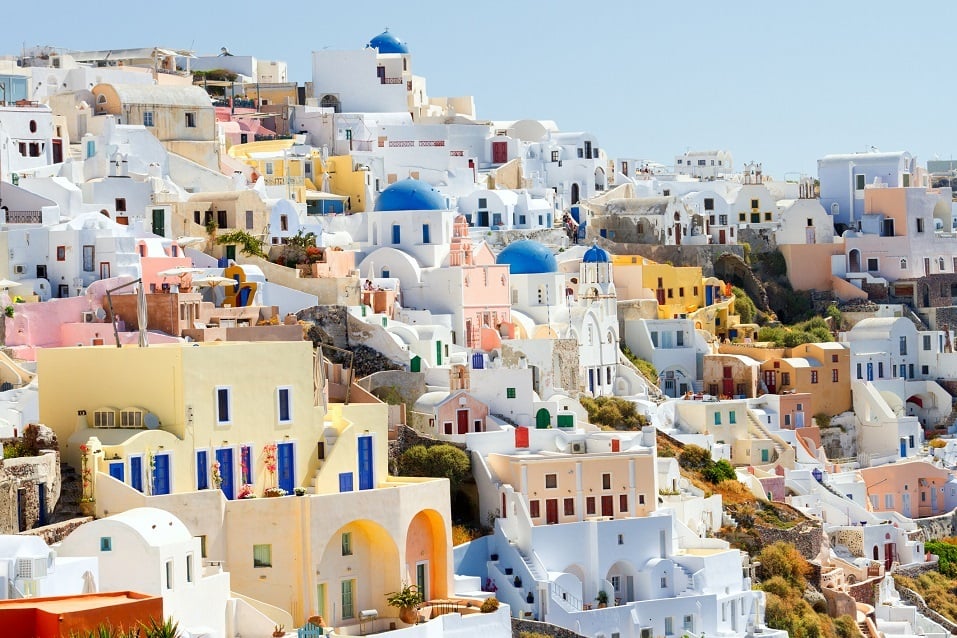 Jane Reynolds reports for Oyster.com that if you want to splurge on a luxurious honeymoon, you should know the Maldives are the most expensive honeymoon destination in the world. But a close second? The Greek Cyclades. The Cyclades are composed of more than 2,000 islands in the Aegean Sea. They're the site of classic white and blue villages, with gorgeous ocean views. Santorini is a particularly beloved destination in the Cyclades, and you can look forward to lively night life and great restaurants if you choose it as your honeymoon destination.
Trip Advisor has a great list of the best honeymoon resorts in the Cyclades, which is especially useful if you like checking out reviews by fellow travelers. Santorini isn't your only option when considering the Cyclades, but Anja Winikka reports for The Knot that it's a stunning destination on its own. Santorini is a small, circular group of volcanic islands, with a lagoon running through its middle. Steep cliffs surround it on three sides, and the Mediterranean sea is the fourth. Some can't-miss sites are the volcano on Nea Kameni, the Greek Orthodox church of Panayia Ypapantis, and the monastery of Profitis Ilias.