New Ways to Cook Dinner With Ground Beef
Ground beef is good for more than just burgers and meatloaf. Not only is it the cheapest way to get more red meat in your diet (a pound of ground beef averages $3.66 a pound, compared to $8.54 a pound for sirloin steak), but it's versatile, flavorful, and easy to cook. Here are seven recipes that will help you get the most out of that pound of ground beef in your freezer.
1. Kofta Kebabs with Tzatziki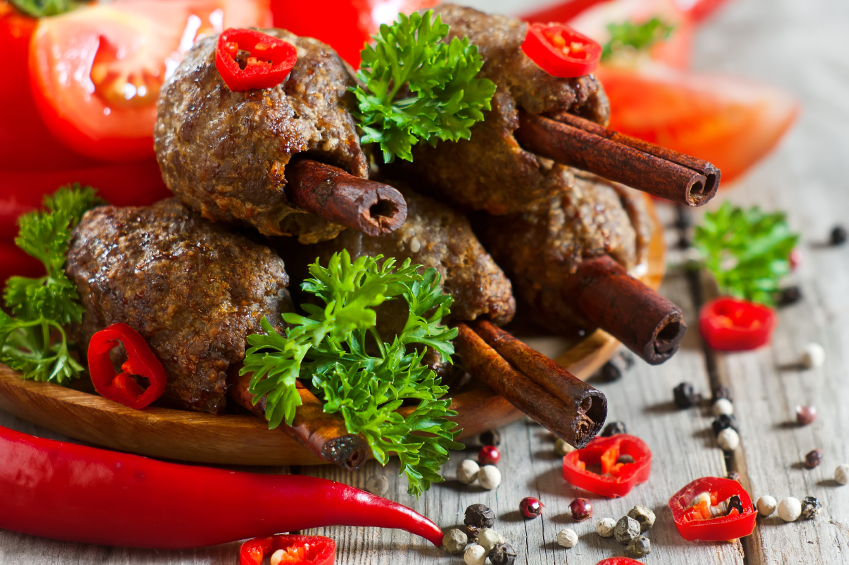 Kofta are a kind of spicy meatball found in a variety of cuisines around the world, from Morocco to Bangladesh. They may be made with veal, lamb, and even vegetarian ingredients. This version from the Food Network can be made with either ground beef or lamb.
Ingredients:
Kebabs
4 cloves garlic
1 tablespoon kosher salt, plus a pinch
1 pound ground beef chuck or lamb
3 tablespoons grated onion
3 tablespoons chopped fresh flat-leaf parsley
1 tablespoon ground coriander
1 teaspoon ground cumin
½ teaspoon ground cinnamon
½ teaspoon ground allspice
¼ teaspoon cayenne pepper
¼ teaspoon ground ginger
Freshly ground black pepper
Olive oil, for brushing the grill
Grilled flat bread
Tzatziki
2 cups plain whole-milk yogurt or 1 cup Middle Eastern-style plain yogurt
1 medium cucumber, peeled, halved, and seeded
2 teaspoons kosher salt, plus a pinch
½ clove garlic
1 tablespoon extra-virgin olive oil
1 teaspoon lemon juice
½ teaspoon dried mint, crumbled
Directions: To make the kebabs: Smash the garlic cloves, sprinkle with a generous pinch of salt, and, with the flat side of a large knife, mash and smear mixture to a coarse paste. Mix the paste and the remaining 1 tablespoon salt with the meat, onion, parsley, and spices.
Line a pan with aluminum foil. Divide the meat mixture into 28 rough balls. Mold each piece around the pointed end of a skewer (soak wooden skewers in water for 15 minutes before adding meat), making a 2-inch oval kebab that comes to a point just covering the tip of the skewer. Lay the skewers on the pan, cover, and refrigerate for at least 30 minutes and up to 12 hours.
Heat a grill pan over medium heat or prepare a grill. Brush the pan lightly with olive oil. Working in batches, grill the kebabs, turning occasionally, until brown all over and just cooked through, about 6 minutes. Transfer to a serving platter and serve with tzatziki and flat bread.
To make the tzatziki: If you're using plain whole milk yogurt, line a small sieve with a coffee filter. Put the yogurt in it, set it over a bowl, and refrigerate 12 hours. Discard the expressed liquid and put yogurt in the bowl.
Grate the cucumber on the large holes of a box grater into another bowl. Sprinkle with the 2 teaspoons salt and rub into the cucumber with your hands. Set aside 20 minutes, then squeeze the cucumbers to express as much liquid as possible.
Smash the garlic, sprinkle with a generous pinch of salt, and, with the flat side of a large knife, mash and smear the mixture to a coarse paste. Stir the cucumber, garlic, olive oil, lemon juice, and mint into the yogurt. Refrigerate for at least 1 hour before serving.
2. Picadillo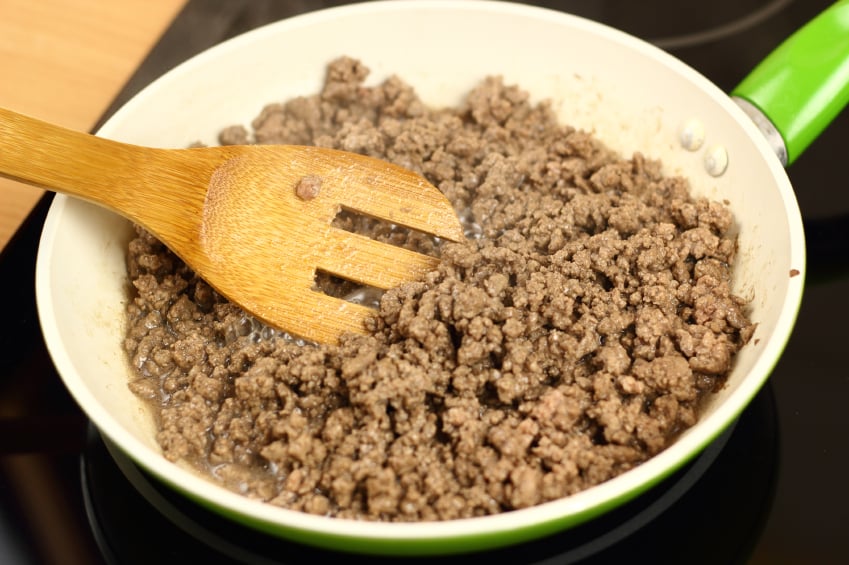 Picadillo is a kind of beef hash common in Spanish and Latin American cuisine. This Cuban-inspired version from The New York Times includes raisins, olives, and dried chorizo for extra punch. Serve with white rice, or use as a stuffing for empanadas.
Ingredients:
2 tablespoons extra-virgin olive oil
2 medium-size yellow onions, peeled and chopped
2 ounces dried chorizo, diced
4 cloves garlic, peeled and minced
1½ pounds ground beef
Kosher salt and freshly ground black pepper
4 ripe tomatoes, chopped, or 1 (28-ounce) can whole tomatoes, drained, and crushed
2 tablespoons red wine vinegar
1 tablespoon ground cinnamon
2 teaspoons ground cumin
2 bay leaves
Pinch of ground cloves
Pinch of nutmeg
⅔ cup raisins
⅔ cup pitted stuffed olives
Directions: Put the olive oil in a large, heavy pan set over a medium-high flame, and heat until it begins to shimmer. Add onions, chorizo, and garlic, stir to combine and cook until the onions have started to soften, approximately 10 minutes.
Add the ground beef, and allow it to brown, crumbling the meat with a fork as it does. Season to taste with salt and black pepper.
Add tomatoes, vinegar, cinnamon, cumin, bay leaves, cloves, and nutmeg and stir to combine. Lower the heat, and let the stew simmer, covered, for approximately 30 minutes.
Uncover the pan, and add the raisins and the olives. Allow the stew to cook for another 15 minutes or so, then serve, accompanied by white rice.
3. Broccoli Rabe and Beef Flatbread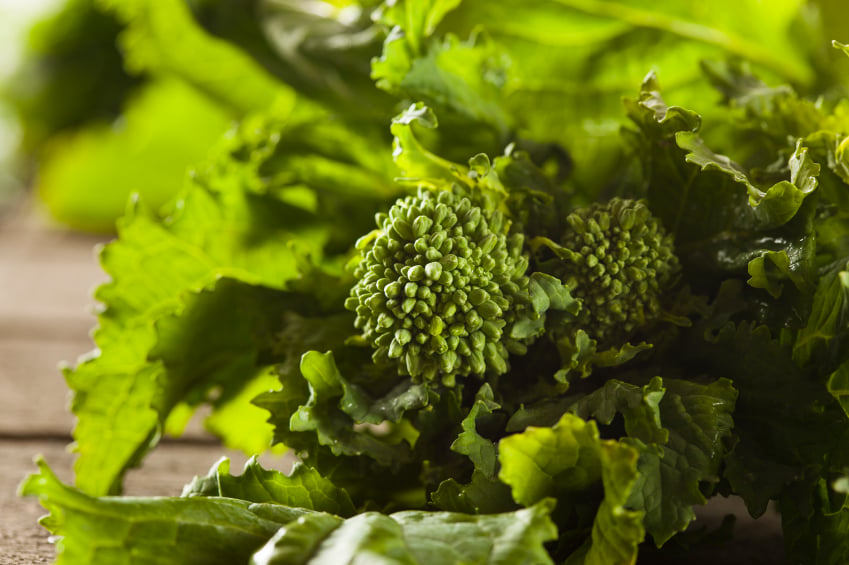 The addition of ground beef transforms a simple, quick-to-prepare flatbread into a hearty meal in this recipe from Real Simple. You can use pre-made pizza dough if you're short on time. Otherwise, try one of these recipes for pizza crust.
Ingredients:
Cornmeal for the pan
1 tablespoon olive oil
½ pound ground beef
1 pound pizza dough, thawed if frozen
2 cups chopped broccoli rabe
½ red onion, sliced
2 cups grated mozzarella (8 ounces)
Kosher salt and black pepper
Directions: Heat oven to 425 degrees Fahrenheit. Sprinkle a rimmed baking sheet with cornmeal.
Heat the oil in a large skillet over medium-high heat. Add the beef and cook, breaking it up with a spoon, until no longer pink, 3 to 4 minutes.
Meanwhile, shape the pizza dough into a large oval and place on the baking sheet.
Top the dough with the beef, broccoli rabe, onion, mozzarella, and ¼ teaspoon each salt and pepper. Bake until golden brown and crisp, 20 to 25 minutes.
4. Cottage Pie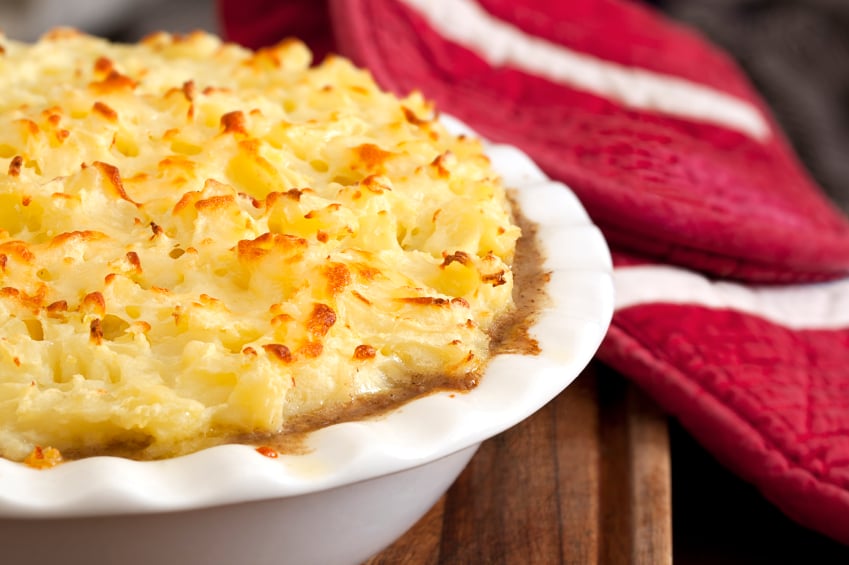 Cottage pie is a quintessential English comfort food, so we looked across the pond for this recipe from BBC Good Food. We've adjusted the measurements for American cooks. Substitute lamb for the beef in this recipe and you'll have shepherd's pie.
Ingredients:
For the filling
3 tablespoons olive oil
2¾ pounds ground beef
2 onions, finely chopped
3 carrots, chopped
3 celery sticks, chopped
2 garlic cloves, finely chopped
3 tablespoons plain flour
1 tablespoons tomato purée
Large glass red wine (optional)
28 ounces beef stock
4 tablespoons Worcestershire sauce
Few thyme sprigs
2 bay leaves
For the mashed potatoes
4 pounds potatoes, chopped
8 ounces milk
7 tablespoons butter
7 ounces strong cheddar, grated
Freshly grated nutmeg
Directions: Heat 1 tablespoon oil in a large saucepan and fry the ground beef until browned. Set aside. Put the rest of the oil into the pan, add the vegetables and cook on a gentle heat until soft, about 20 minutes. Add the garlic, flour, and tomato purée, increase the heat and cook for a few minutes, then return the beef to the pan. Pour in the wine, if using, and boil to reduce it slightly before adding the stock, Worcestershire sauce, and herbs. Bring to a simmer and cook, uncovered, for 45 minutes, until the gravy thickens and coats the meat. Check after about 30 minutes. If a lot of liquid remains, increase the heat slightly to reduce the gravy a little. Season well, then discard the bay leaves and thyme.
In a large saucepan, cover the potatoes in salted cold water, bring to the boil and simmer until tender. Drain well, then allow to steam-dry for a few minutes. Mash well with the milk, butter, and three-quarters of the cheese, then season with the nutmeg and some salt and pepper.
Spoon meat into 2 oven-proof dishes. Cover the meat with the mashed potatoes. Sprinkle on the remaining cheese. Heat oven to 390 degrees Fahrenheit and cook for 25 to 30 minutes, or until the topping is golden.
5. Stuffed Peppers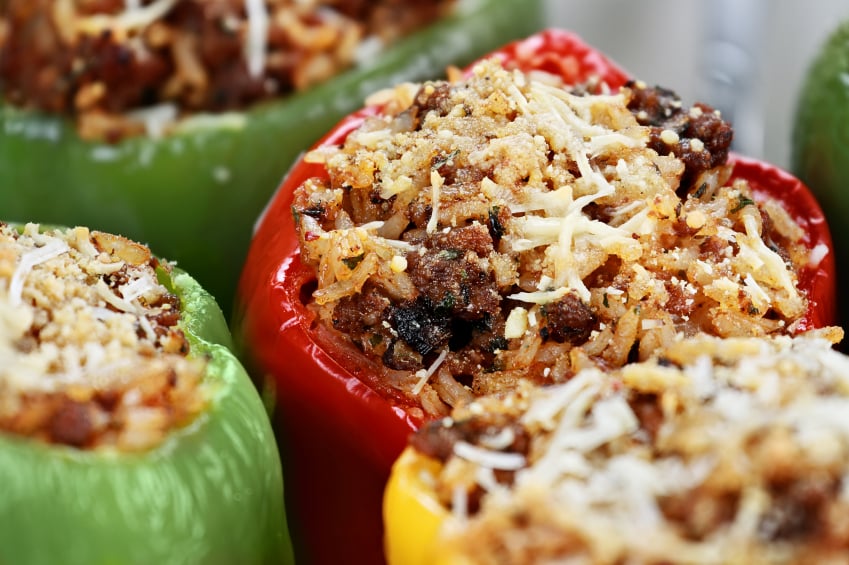 Fill fresh red peppers to the brim with a tasty mixture of ground beef, rice, and spices for a delicious crowd-pleasing meal. This recipe from Cooking Light calls for boil-in-a-bag rice and jarred tomato sauce, simplifying prep for busy cooks.
Ingredients:
1 (3½-ounce) bag boil-in-bag long-grain rice
4 medium red bell peppers
¾ pound ground sirloin
1 cup chopped onion
½ cup chopped fresh parsley
1 teaspoon paprika
½ teaspoon salt
⅛ teaspoon ground allspice
2 cups bottled tomato-and-basil pasta sauce, divided
½ cup (2 ounces) grated fresh Parmesan cheese
½ cup dry red wine
Cooking spray
Directions: Preheat oven to 450 degrees Fahrenheit. Cook rice according to package directions, omitting salt and fat. Set aside.
While rice cooks, cut tops off bell peppers; reserve tops. Discard seeds and membranes. Place peppers, cut sides down, in an 8-inch square baking dish; cover with plastic wrap. Microwave at high 2 minutes or until peppers are crisp-tender. Cool.
Heat a large nonstick skillet over medium-high heat. Add beef and the next 5 ingredients (beef through allspice); cook 4 minutes or until beef is lightly browned, stirring to crumble. Remove from heat. Add rice, ½ cup pasta sauce, and cheese to beef mixture, stirring to combine.
While beef cooks, combine 1½ cups pasta sauce and wine in a small saucepan; bring to a boil.
Spoon about ¾ cup beef mixture into each pepper. Place peppers in a 2-quart baking dish coated with cooking spray; add wine mixture to pan. Cover with foil.
Bake at 450 degrees Fahrenheit for 20 minutes. Uncover; bake an additional 5 minutes or until lightly browned. Serve peppers with sauce. Garnish with pepper tops.
6. Nigerian Meat Pie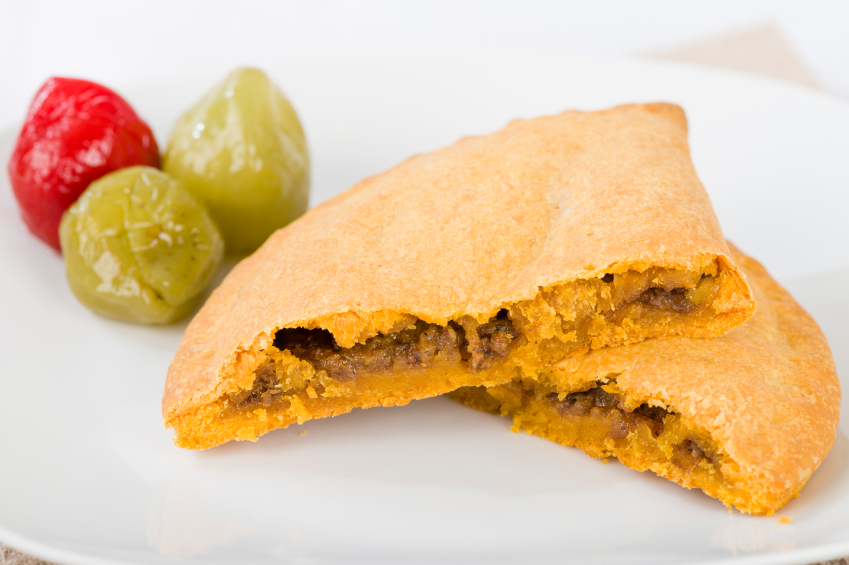 Meat pies stuffed with ground beef are a staple snack food all over the world. This African version, which is similar to Cornish pasties, also bears a resemblance to Jamaican beef patties. Recipe courtesy of Saveur.
Ingredients:
For the pastry
3 cups flour
1 teaspoon salt
1 teaspoon sugar
8 ounces butter, cut in 1-inch cubes and frozen for 1 hour
6 tablespoons very cold water
For the filling
1 small russet potato
1 tablespoon olive oil
2 teaspoons madras curry powder
1 cup red onion, diced
1 cup carrot, diced
4 cloves garlic, minced
8 ounces ground beef
1 tablespoon thyme, chopped
¼ teaspoon cayenne pepper
1 cup beef stock
1 teaspoon salt
1 egg, for eggwash
Directions: To make the pastry: In a food processor, pulse the flour, salt, sugar, and frozen butter until the butter is broken up into pea sized clumps. Dump the flour mixture into a medium sized bowl and add in 6 tablespoons of the cold water. Using your hands, gather the damp dough clumps together and gently knead until they just come together. Place the dough on a large piece of plastic wrap and wrap it into a flat 6-by-6-inch disc. Chill for at least 2 hours or overnight.
To make the filling: Cook the russet potato in boiling water for about 15 minutes until barely cooked through. Cool thoroughly by running under cold water. Peel (discarding peels) and chop into ¼ -inch cubes. Set aside.
In a medium sized pan, heat the olive oil over medium heat. Add the madras curry and heat until fragrant, about 15 seconds. Add the red onions, carrots, and garlic and sauté until onions are translucent, about 5 minutes. Add the thyme, ground beef, and red pepper flakes, stirring to break up the ground beef, and cook for another 3 minutes. Add the reserved potato cubes, beef stock, and salt, and bring mixture to a simmer for about 5 minutes. Remove filling from heat and spread on a ¼ sheet tray. Cover loosely with plastic wrap and chill completely.
On a well-floured surface, roll out pie dough into a rectangle ⅛-inch thick. Use a 5-inch round pastry cutter to stamp out dough circles. Collect scraps, re-roll, and stamp out more circles until you have 10 circles total. Lay each circle out flat on a floured surface and place 2 full tablespoons of cooled filling in the center of each. Brush the edges of the pastry circles with a pastry brush dipped in water, and fold one end of the circle over the filling, aligning with the other end of the circle to form a half moon shape. Use the tines of a fork to crimp the edges, completely sealing them. Place the pies on a baking sheet lined with parchment and chill for at least one hour.
Heat the oven to 350 degrees Fahrenheit. Whisk the whole egg with 1 tablespoon water and brush the top of each pie with the egg wash. Prick the tops of each pie with a fork. Bake pies for 20 to 25 minutes, until crust is golden brown and filling is just bubbling through the tops. Remove pies from the oven and let cool for at least 10 minutes before eating.
7. Pasta alla Bolognese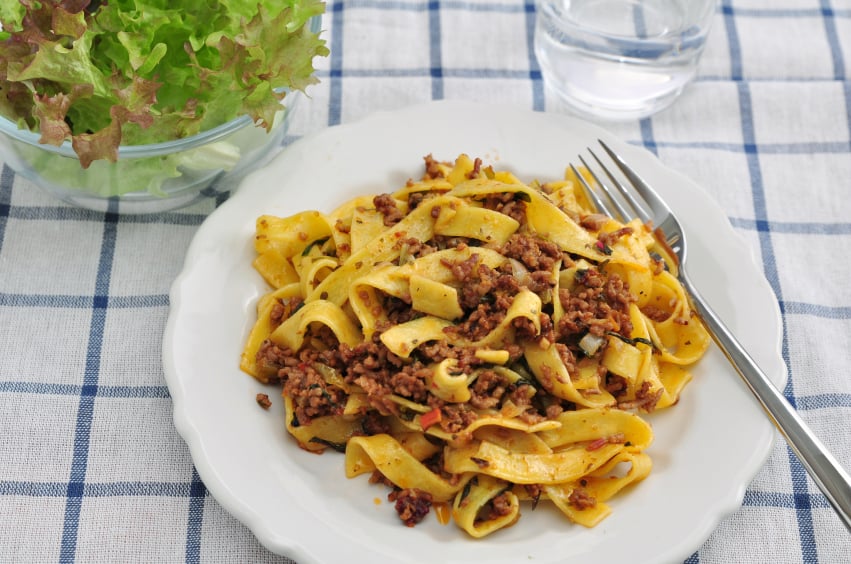 This rich, meat-based sauce takes some time to prepare, but once you master the art of this slow-simmering traditional Italian favorite, it's sure to turn into a dinnertime staple. Recipe via Williams-Sonoma.
Ingredients:
2 ounces dried porcini mushrooms (optional)
About 1½ cups hot water, if using dried mushrooms
2 tablespoons unsalted butter
2 tablespoons olive oil
1½ cups finely chopped yellow or red onion
⅔ cup peeled and finely chopped carrot
½ cup finely chopped celery
1 pound ground beef (or half beef and half pork)
1 cup white wine
3 tablespoons tomato paste
1 teaspoon salt
1 teaspoon ground pepper
½ teaspoon ground nutmeg
4 cups beef broth, heated
1 to 2 cups heavy cream or milk (optional)
1 pound fresh pappardelle
4 tablespoons unsalted butter (optional)
About ¼ cup shredded Parmesan cheese
Directions: If using dried porcini, place in a bowl, add the hot water to cover and let soak until softened, about 1 hour. Remove the porcini, squeezing out the excess water, and chop finely. Line a small sieve with cheesecloth, place over a bowl, and pour the soaking liquid through it. Set the mushrooms and liquid aside separately.
In a large sauté pan over medium heat, melt the butter with the oil. Add the onion, carrot, and celery and sauté until lightly colored, about 15 minutes. Add the meat and cook, stirring often, until browned, about 10 minutes. Add the wine and cook until evaporated, 8 to 10 minutes. Stir in the tomato paste, then add the salt, pepper, nutmeg, broth, and the porcini and strained soaking liquid, if using. Bring to a boil, cover partially, reduce the heat to low and simmer gently, stirring from time to time, until the flavors are fully blended, about 2 hours.
Taste and adjust the seasonings. If desired, add the cream or milk to round out the flavor, pouring it in slowly.
Just before serving, bring a large pot three-fourths full of salted water to a boil. Add the pappardelle, stir well and cook until al dente, 2 to 3 minutes. Drain and transfer to a warmed bowl.
Add the sauce to the pasta and toss well. Divide among warmed individual plates. If you have not added the cream or milk, you can top each portion with 1 tablespoon of the butter, if desired. Top with Parmesan cheese at table.
Follow Megan on Twitter @MeganE_CS
More from Culture Cheat Sheet: