New Egg Recipes You Should Make for Dinner
Eggs aren't just breakfast and baked goods. These tasty nutritional powerhouses can also play a starring role on the dinner table. Best of all, they're cheap, so you can fill your belly without spending a lot of money. From creamy pasta sauces to creative pizza toppings, here are six egg recipes that make dinner simply delicious.
1. Spinach Salad with Poached Eggs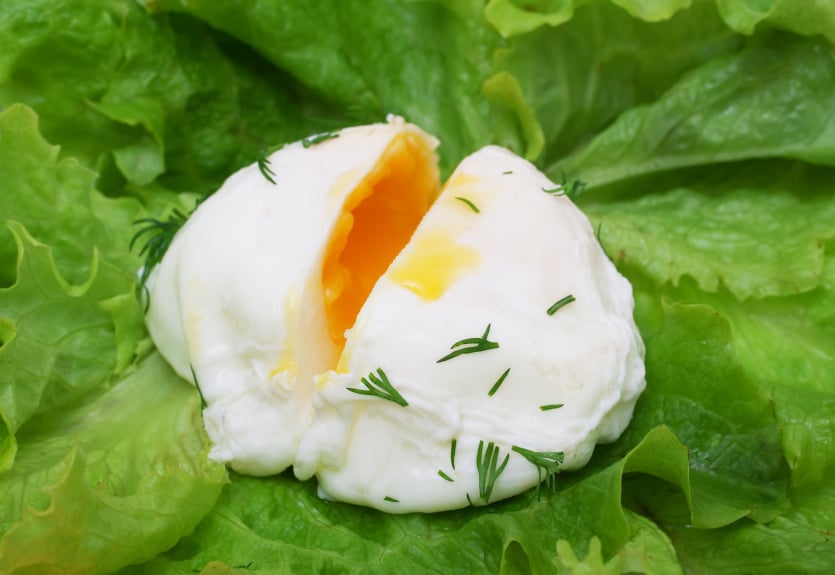 You'll absorb more nutrients from your salad if you pair it with eggs, according to a study published in the American Journal of Clinical Nutrition. The fats in the yolks make it easier for your body to take in certain nutrients, like the carotenoids in this spinach salad. Recipe from Martha Stewart.
Ingredients:
1 tablespoon plus ½ cup white wine vinegar
4 large eggs (use cold eggs straight from the refrigerator; they'll hold their shape better when cooked)
6 strips bacon (about 6 ounces), cut crosswise into ½-inch pieces
1 shallot, minced
Coarse salt and ground pepper
12 ounces baby spinach (about 12 cups)
Directions: Fill a large skillet with 1½ inches of water. Heat over medium heat just until bubbles appear on bottom; stir in 1 tablespoon vinegar.
Break one egg into a cup; dip cup in water 20 seconds, then release egg. Repeat with remaining eggs. Cook until whites are just firm, 4 to 6 minutes. Remove with a slotted spoon. Drain on paper towels; trim edges with a knife.
In a medium saucepan, cook bacon over medium-high heat, stirring occasionally, until browned, 4 to 6 minutes. Remove, and drain on paper towels. To the same pan, add shallot, and cook in bacon fat until soft, about 2 minutes. Add remaining ½ cup vinegar; boil over high heat until reduced to ⅓ cup, 2 to 3 minutes. Season with salt and pepper.
In a bowl, toss spinach with bacon and hot vinaigrette. Divide among plates; top each with a poached egg.
2. Pizza with Egg, Roasted Red Peppers, Olives, and Arugula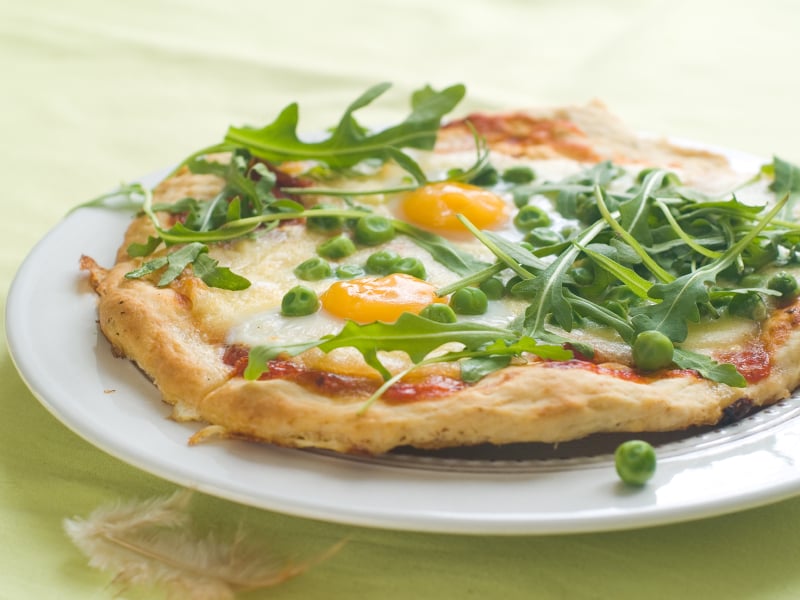 Egg on a pizza? It may sound weird if you've never tried it, but it's a topping that some people swear by. Just crack a few eggs on top of your pizza and you'll have a dinner that is sure to satisfy your hunger. Recipe from Epicurious. (Note: This recipe calls for make your own crust, but you can use store-bought pizza dough to save time.)
Ingredients:
For the dough
2 tablespoons warm water (at 115 degrees Fahrenheit)
½ teaspoon active dry yeast
1⅓ cups all purpose flour
⅓ cup whole wheat flour
½ cup cool water (at 65 degrees Fahrenheit to 70 degrees Fahrenheit)
1 teaspoon coarse kosher salt
Olive oil
For the toppings
Cornmeal (for sprinkling)
Olive oil
¾ cup drained roasted red peppers from jar, cut into ⅓-inch strips
⅓ cup Kalamata olives, pitted, quartered
1 cup Parmesan cheese shavings
1½ teaspoons chopped fresh rosemary
4 large red onion rings (each 3½ to 4 inches in diameter and ½ inch thick)
4 large eggs
2 cups (lightly packed) arugula
Directions: To make the dough, pour 2 tablespoons warm water into large bowl of stand mixer fitted with dough hook; sprinkle yeast over. Let stand until yeast dissolves, about 15 minutes (mixture will not be foamy). Add both flours, ½ cup cool water, and 1 teaspoon coarse salt; mix on medium-low speed 4 minutes. Let rest 5 minutes, then mix on medium speed until dough is smooth, elastic, and slightly sticky, about 3 minutes.
Lightly oil medium bowl. Gather dough into ball and transfer to prepared bowl; turn to coat with oil. Cover bowl with plastic wrap and let rest at room temperature 30 minutes. Chill dough overnight. Keep chilled. (Note: Dough can be made 2 days ahead of time.)
Transfer bowl to warm draft-free area and let dough rise, covered, until very slightly puffy, at least 2 hours. Preheat oven to 500 degrees Fahrenheit.
Place pizza stone or rimless baking sheet in oven. Sprinkle pizza paddle or another baking sheet generously with cornmeal. Roll out dough on lightly floured surface to 12-inch round; transfer to paddle. Brush dough with oil; scatter peppers, then olives over. Sprinkle with Parmesan and rosemary. Arrange onion rings atop pizza, spacing apart. Slide pizza onto stone or baking sheet in oven; bake until lightly browned but not crisp, about 7 minutes. Remove pizza from oven and gently crack 1 egg into each onion ring. Return pizza to oven and continue to bake until eggs are softly set and crust is golden, about 6 minutes. Sprinkle pizza with salt and pepper. Scatter arugula over. Slice and serve.
3. Ramen Noodle Soup with Spinach and Poached Eggs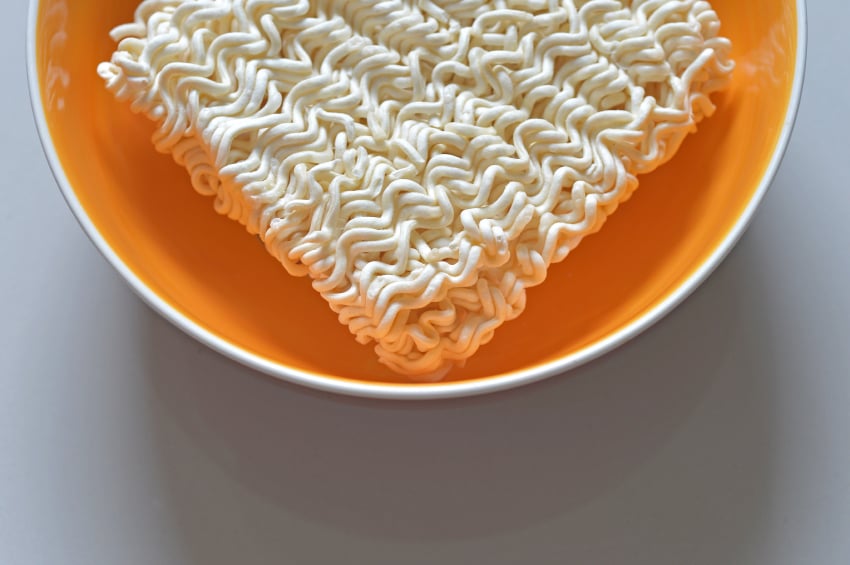 Drop an egg into a bowl of ramen and you'll take your bowl of soup from boring meal to dinnertime triumph. Fresh spinach provides some extra flavor and vital nutrients in this easy-to-make dinner that will fill you up on the cheap. This recipe from Fine Cooking serves two.
Ingredients:
1 tablespoon canola oil
½ small yellow onion, finely chopped
6 cups lower-salt chicken broth
1 smashed clove of garlic
2 thin slices of ginger
Kosher salt
1 (6-ounce) package instant ramen noodles
1 ounce (1 packed cup) baby spinach
2 large eggs
Sriracha or other hot sauce
Asian sesame oil
Directions: In a 4- to 5-quart pot, heat the oil over medium-low heat. Add the onion, and cook, stirring occasionally, until translucent, about 2 minutes. Add the chicken broth, garlic, ginger, and ½ teaspoon salt. Bring to a boil over high heat. Add the noodles (discard the seasoning packets) and spinach and cook, stirring to break apart the noodles, until they sink and the spinach is wilted, about 1 minute. Crack the eggs into the pot, cover, and turn off the heat. Let sit until the whites have set, about 3 minutes. Divide between 2 bowls, top with a dash of Sriracha and a drizzle of sesame oil, and serve.
4. Spaghetti Carbonara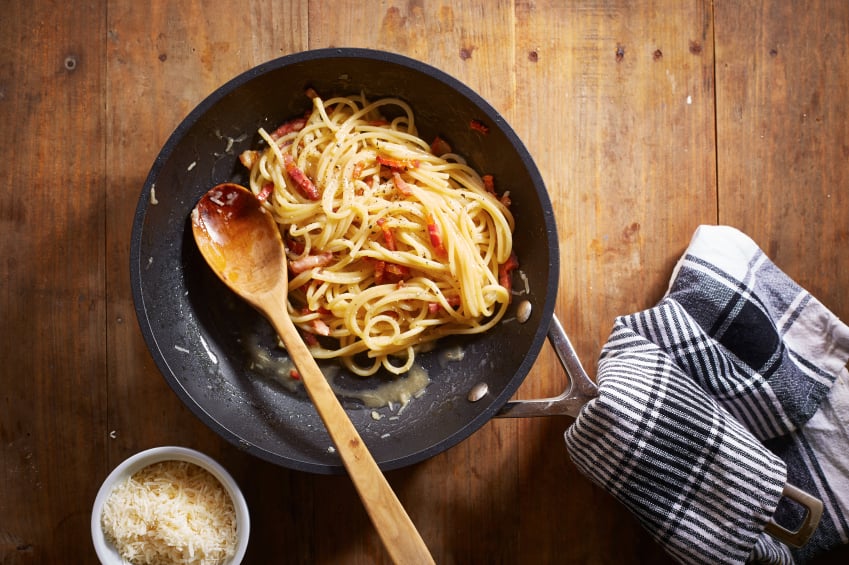 Eggs are the basis for the rich, flavorful sauce in this deceptively simple pasta dish. Though you'll only need a handful of ingredients to make this meal, you'll need to pay close attention when cooking; if the heat is too high for the last step, you may end up with a "sauce" made of scrambled eggs. Recipe from the Damn Delicious.
Ingredients:
8 ounces spaghetti
2 large eggs
¾ cup grated Parmesan
4 slices bacon, diced
4 cloves garlic, minced
Kosher salt and freshly ground black pepper, to taste
2 tablespoons chopped fresh parsley leaves
Directions: Cook pasta according to package instructions. Before draining, reserve ½ cup of pasta water.
Whisk together the eggs and Parmesan in a small bowl and set aside.
Heat a large skillet over medium-high heat. Cook bacon until it's crispy, about 6 to 8 minutes. Pour off excess fat in pan. Add garlic to pan and cook until fragrant, about one minute.
Turn heat to low. Working quickly, add both the pasta and the egg mixture to the pan, tossing gently to combine. Season with salt and pepper to taste. Add pasta water one tablespoon at a time and toss until desired consistency is reached. Garnish with parsley and serve immediately.
5. Steak and Eggs with Asparagus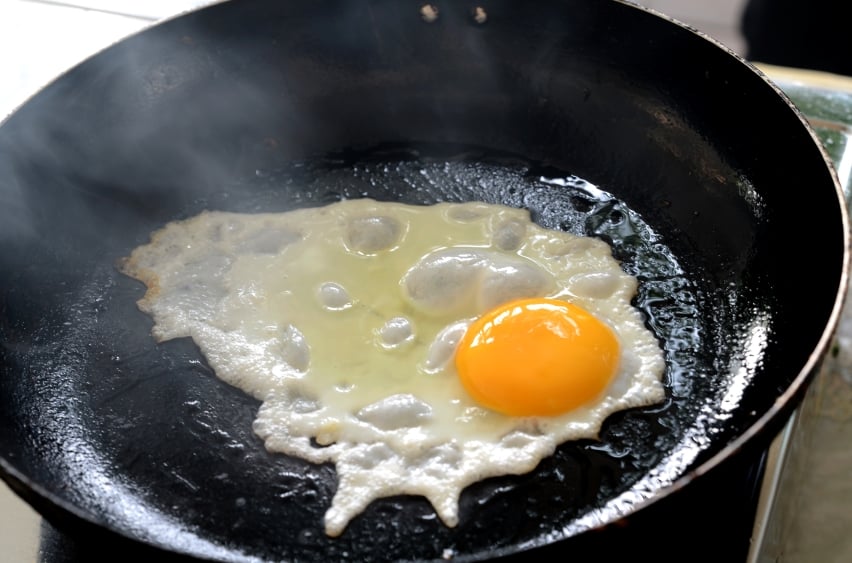 When you're really craving some protein, you can turn to an old-school diner classic: steak and eggs. This meal takes just 20 minutes to prepare, which is perfect when you're too hungry to spend a lot of time in the kitchen. Recipe from Inspired Taste.
Ingredients:
1 bunch asparagus, rinsed and ends cut off
2, 6-ounce ¾-inch top sirloin steaks
2 teaspoons dried thyme
2 eggs
Olive oil
Salt and pepper
Parmesan shavings
Directions: Preheat oven to 400 degrees Fahrenheit. Line a baking sheet with aluminum foil.
Toss asparagus with 1 tablespoon of olive oil, ½ teaspoon salt, and freshly ground black pepper to taste. Spread in a single layer on the foil-lined baking sheet and cook for 12 to 15 minutes, until the asparagus is tender and beginning to brown.
Heat a cast-iron or other heavy-bottomed, oven-safe pan over medium-high heat. Season steaks with salt, pepper, and dried thyme. Drizzle with about 1 teaspoon of olive oil. Using your fingers, rub the seasoning and oil into both sides of the meat.
Place the steaks in the heated pan and cook for 1 to 2 minutes per side. Transfer pan to oven and cook for another 2 to 3 minutes (for steaks that are medium to medium-well done). Remove from oven, let rest for 2 minutes, and then cut into thin strips.
As the steak rests, cook the eggs. Heat a frying pan over medium heat. Add ¼ teaspoon salt and 1 tablespoon of olive oil to the pan and wait 20 seconds. Then, crack the eggs into the pan. As the eggs cook, use a spoon to drizzle some of the hot oil from the pan over the egg whites. Cook until the whites are firm but the yolks are still runny.
Place the sliced steak on a plate next to the roasted asparagus and top with a fried egg and some shaved Parmesan. Serve immediately.
6. Poached Eggs in Tomato Sauce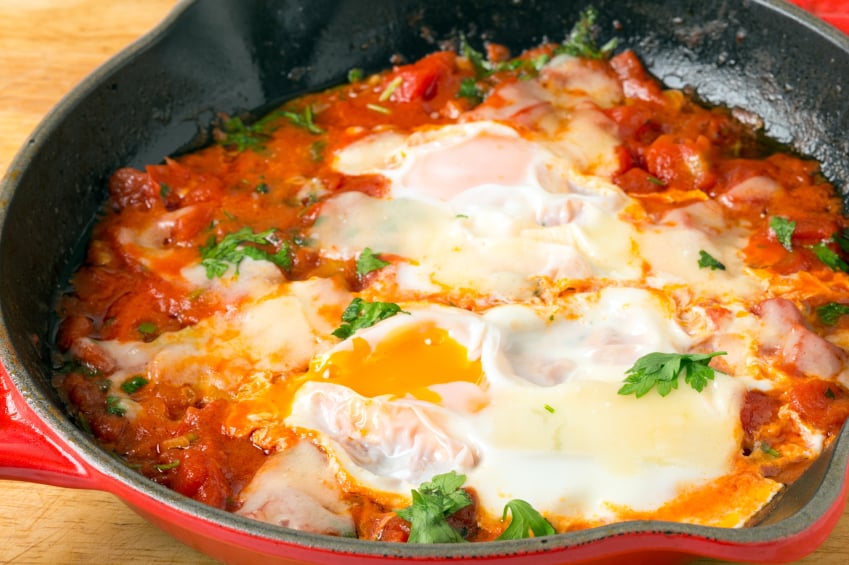 This recipe for poached eggs in tomato sauce from Smitten Kitchen is technically a breakfast dish, but there's no reason it can't do double-duty as a light dinner. You'll get the best results if you make your own tomato sauce as instructed below, but if you're in a rush your favorite jarred sauce will do just as well. Serve with a hearty bread.
Ingredients:
1 (14-ounce) can tomato puree
1 tablespoon olive oil
1 clove garlic, minced
Big pinch of sugar
Pinch of crushed red pepper flakes
Coarse salt and freshly ground pepper
Glug of red wine (optional)
4 large eggs
4 slices toasted country bread, for serving
Freshly grated Parmesan cheese, for serving
Directions: Heat olive oil over medium-high heat in a small skillet. Add the garlic and crushed red pepper to the pan and cook for about 1 minute, until lightly browned. Add the tomato puree and bring mixture to a boil. Season with sugar, salt, and fresh-ground pepper. Reduce heat and let tomato sauce simmer for 10 to 20 minutes. If you like, add a glug of red wine at the end of the simmering process and let it cook for another minute or so.
Gently crack the eggs into the tomato mixture. Cover the pan and let cook for 5 minutes. Remove pan from heat and let stand uncovered for 2 to 3 minutes.
While the tomato sauce sits, toast the bread. Transfer bread to a plate and top each piece with an egg, then spoon the tomato sauce over. Garnish with grated Parmesan cheese and serve.