No Grill? Try These Delicious Recipes You Can Barbecue Indoors
Apartment dwellers, rejoice. You can enjoy ribs, barbecue chicken, and other classic barbecue recipes this summer, just like any backyard-having, big-grill-owning American. And you won't have to fight for space at a public park or run the risk of burning down your building by firing up your Smokey Joe on the fire escape to do so.
We've pulled together this list of five recipes so you can enjoy a perfect cookout-style meal even if your outdoor space is lacking or it's raining buckets (extra bonus: no bugs in your food). From corn on the cob to tender, mouth-watering ribs, here are five cookout recipes you can barbecue indoors.
1. Oven Ribs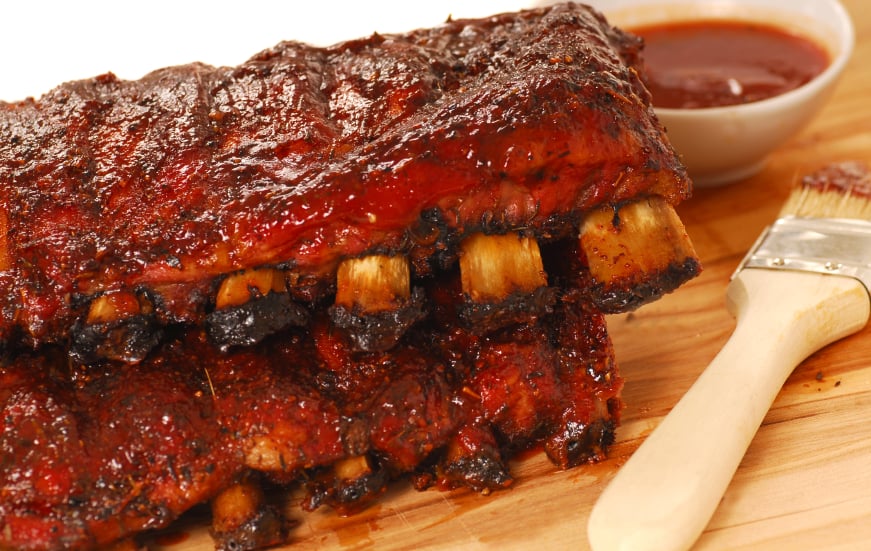 Sure, you can sear a steak or a hamburger on the stove (some might even argue it's the best way to cook those meats). But can you get really good ribs without firing up the grill? Emma Christensen at The Kitchn says you can. Here's her recipe for perfect BBQ ribs, baked in the oven.
Ingredients:
4 to 5 pounds spare ribs or baby back ribs
¼ cup Dijon mustard
2 teaspoons liquid smoke (optional)
1 cup spice rub (see recipe)
1 cup barbecue sauce, store-bought or homemade
Directions: Line a large baking sheet with tinfoil. Set a cooling rack on top. Place the ribs in a single layer on the rack.
Combine the mustard and liquid smoke (if using). Brush onto both sides of the ribs. Sprinkle meat with the dry rub and pat so that it adheres to the ribs. (If you prefer a deeper flavor to your ribs, do this step a day ahead of time, then wrap the ribs in plastic and store in the refrigerator until ready to cook.)
Turn on the broiler. Place an oven rack a few inches below the flame. Make sure the ribs are meaty side up, then place the baking sheet with ribs under the broiler. Cook for about 5 minutes, until the sugar in the dry rub starts to bubble and the ribs are browned.
Set your oven to 300 degrees Fahrenheit. Reposition the oven rack so the ribs are in the middle of the oven. Roast for 2½ to 3 hours (for spare ribs) or 1½ to 2 hours (for baby back ribs). Cover the ribs with tinfoil halfway through the cooking time to keep them from drying out.
About 30 minutes before the cooking time ends, remove the foil, brush the ribs with barbecue sauce, and recover with foil. Continue to cook for another 30 minutes.
Remove ribs from the oven. The ribs are done if you can easily insert a knife into the thickest part of the meat. Let the ribs rest, covered, for about 10 minutes. Cut between the bones to separate the individual ribs, then serve, with additional barbecue sauce on the side for dipping.
2. Bacon and Shallot Potato Salad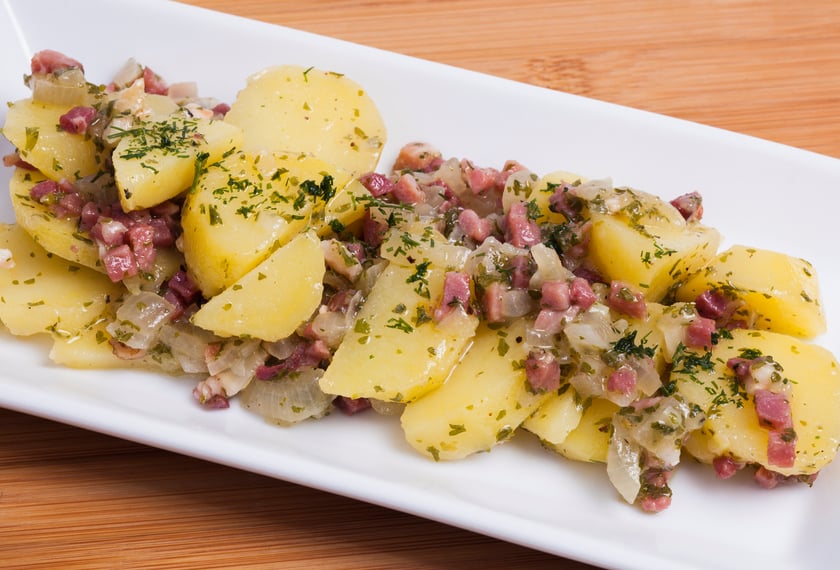 Pass on the goopy, mayo-drenched potato salad in favor of this German-style version made with bacon, fried shallots, and whole-grain mustard. It tastes best warm, so try to have it ready just before it's time to dig in. If you do prepare this dish in advance, heat it up in the microwave prior to serving. Recipe from the New York Times.
Ingredients:
2 pounds small waxy white or yellow potatoes, roughly about the same size
6 ounces thick-cut bacon, diced
½ cup thinly sliced shallot
3 tablespoons whole grain mustard
1 tablespoon red wine vinegar, more to taste
¼ teaspoon kosher salt, more as needed
Black pepper, as needed
Chopped parsley, for garnish
Directions: Place whole unpeeled potatoes in a large pot with enough salted water to cover by 1 inch. Bring to a boil over medium-high heat and cook until potatoes are just tender, 15 to 25 minutes depending upon size. Drain and cut potatoes into 1 ½-inch chunks as soon as you can handle them. Transfer to a large bowl.
Meanwhile, fry bacon in a large skillet over medium-high heat until crisp. Remove with a slotted spoon and transfer to a paper-towel-lined plate.
Stir shallots into the skillet with the bacon fat and fry for a minute, until just slightly crisped. Remove from heat.
In a medium bowl, whisk together mustard, vinegar, salt, and pepper. Whisk in shallots and bacon drippings. Crumble in bacon. Immediately toss potatoes with dressing. Adjust seasonings if necessary. Garnish with parsley and more vinegar if you like and serve warm or at room temperature.
3. Baked Beans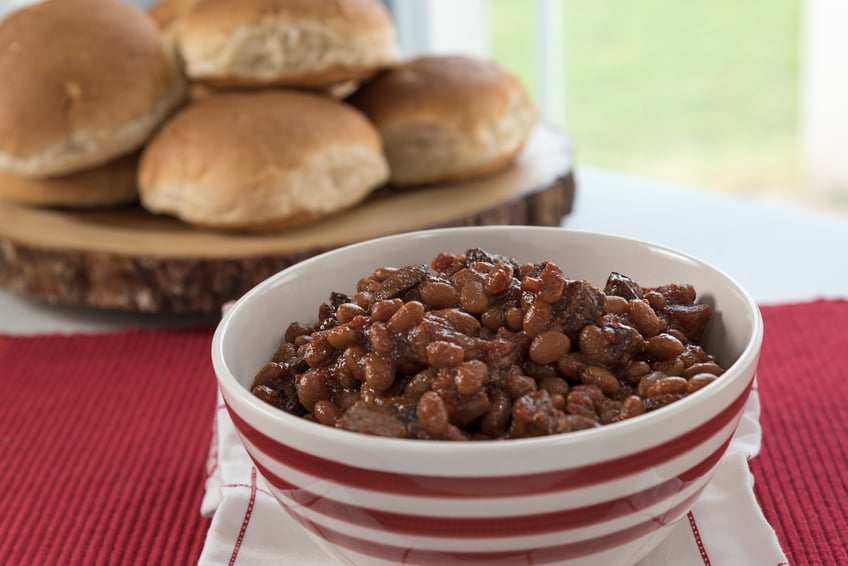 Some time-honored cookout recipes don't require a grill at all, such as baked beans. This variation on the summer dining staple is from The Pioneer Woman and involves slow-cooked beans topped with bacon. Once you try it, this is a dish you'll want to make year-round.
Ingredients:
8 slices bacon, halved, preferably thick-cut
1 medium onion, cut into small dice
½ medium green pepper, cut into small dice
3 (28-ounce) cans pork and beans
¾ cup barbecue sauce
½ cup brown sugar
¼ cup distilled or cider vinegar
2 teaspoons dry mustard or 2 tablespoons Dijon
Directions: Put oven rack in the lower-middle position. Preheat oven to 325 degrees Fahrenheit. Grease a 9-by-13-inch baking dish.
Combine the barbecue sauce, brown sugar, vinegar, and mustard in a medium bowl. Set aside.
Add bacon to large, deep sauté pan and fry over medium-low heat until bacon is partially cooked and about ¼ cup of drippings has been released. (The bacon should not be crisp.)
Remove the bacon from the pan and let drain on paper towels. Add the chopped onions and green pepper to the sauté pan and cook for about 5 minutes, until tender. Add the beans and the barbecue sauce mixture to the pan and bring to a simmer. (Depending on the size of your pan, you may need to cook in batches.)
Transfer the bean mixture to the prepared baking dish. Top with a single layer of partially cooked bacon strips. Bake in the oven for about 2 hours, until the mixture bubbles and the sauce has thickened. Remove from oven and let stand for a few minutes, then serve.
4. "Grilled" Corn on the Cob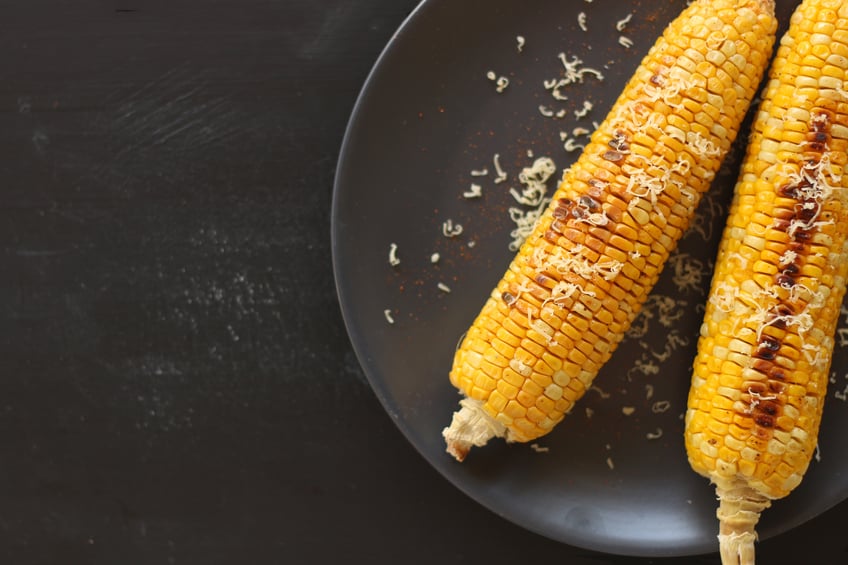 You can easily replicate the fresh taste of grilled corn on the cob, even when you're cooking indoors. Blogger Julie Blanner suggests cooking it in a cast iron pan with some olive oil for tasty, golden-brown corn. Mark Bittman of the New York Times has a similar method, but he uses butter instead of oil. You might want to experiment to see which taste you prefer. And if cooking the corn on the cob in the skillet sounds too time consuming or you just don't want to dirty another pan, you can always use the microwave.
Ingredients:
Olive oil
Corn on the cob, washed and husked
Directions: Warm some olive oil over medium heat in a cast-iron or other heavy-bottomed skillet. Add the corn to the pan, one cob at a time, rolling each in oil until coated. Cook for 3 minutes per side, until just browned, about 9 minutes in total. Season to taste and serve.
5. Marinated Veggie Kabobs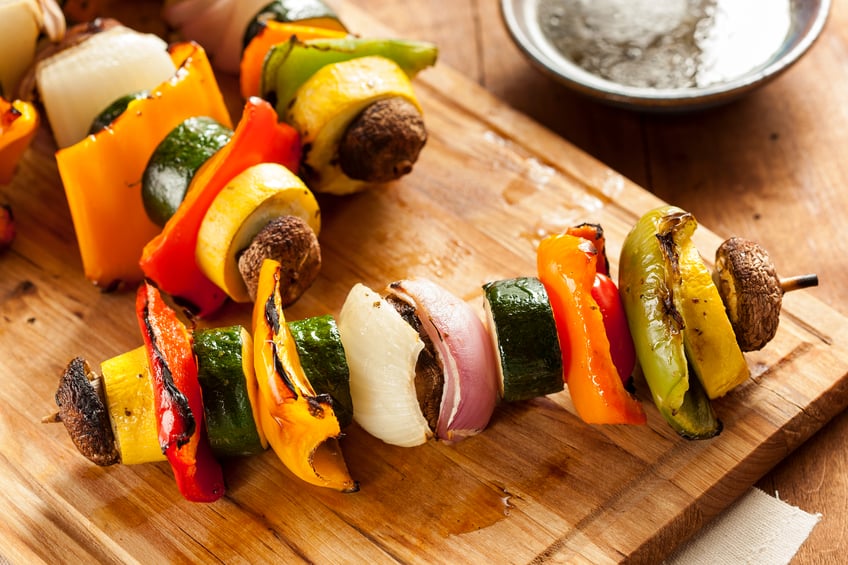 Even non-meat-eaters can get into the cookout spirit with these tasty marinated veggie kabobs. Rather than tossing them on the grill, the skewers of colorful vegetables, which are seasoned with a mix of lime juice, cilantro, cumin, and other spices, are cooked under the broiler, so you can still enjoy that fire-roasted taste without firing up the grill. Recipe from the Food Network.
Ingredients:
For the marinade:
3 tablespoons vegetable oil
1 teaspoon chili powder
½ teaspoon paprika
¼ teaspoon ground cumin
1/8 teaspoon ground red pepper
3 tablespoons fresh lime juice
2 tablespoons water
2 tablespoons chopped fresh cilantro
2 tablespoons tomato paste
1½ teaspoons honey
2 cloves garlic, minced
Salt, to taste
For the kabobs:
2 red peppers cut into 1½-inch pieces
2 green peppers cut into 1½-inch pieces
2 yellow peppers cut into 1½-inch pieces
4 yellow onions cut into 1½-inch pieces
2 large yellow squash cut into 1½-inch pieces
2 large zucchini cut into 1½-inch pieces
1 medium eggplant cut into 1½-inch pieces
Directions: To make the marinade, stir together all ingredients in a medium bowl until smooth.
Preheat grill or broiler.
Thread vegetables onto wooden or metal skewers. If you use wooden ones, soak them in water for 1 to 2 hours before using to keep them from burning. You can make single vegetable skewers or use an assortment on each skewer.
Lightly brush each skewer with marinade. Broil 4 to 6-inches from heat, 5 minutes per side or until browned or lightly charred and tender. If desired, serve with extra marinade for dipping.
6. Baked BBQ Chicken Legs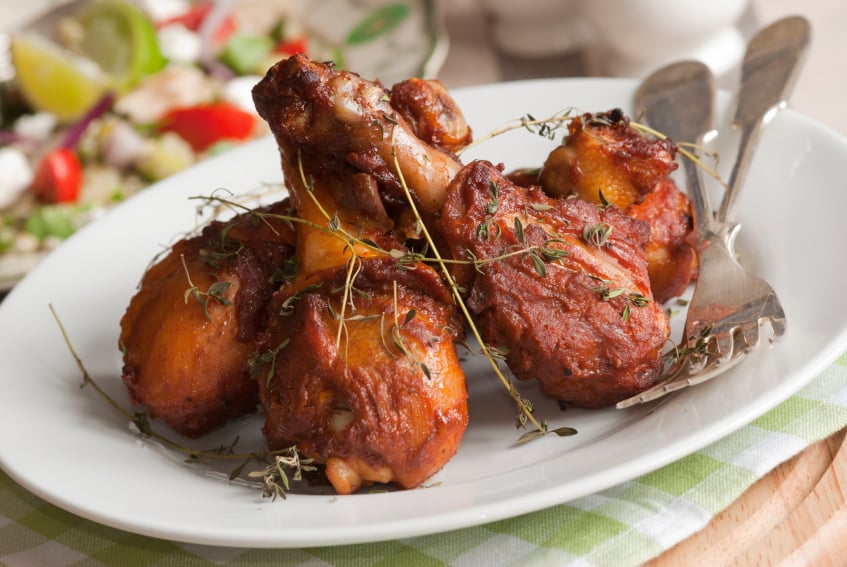 Baked barbecue chicken drumsticks are an easy-to-prepare, crowd-pleasing dish for indoor cookouts. This version is made with a homemade Coca-Cola barbecue sauce, but you can substitute your own preferred sauce. Recipe from Add a Pinch.
Ingredients:
For the chicken:
12 chicken legs
¼ cup olive oil
½ teaspoon sea salt
½ teaspoon ground black pepper
½ teaspoon paprika
½ teaspoon cumin
¼ teaspoon cayenne pepper
2 cloves garlic, chopped
3 tablespoons chopped onion
1 cup barbecue sauce (recipe follows)
For the barbecue sauce:
1 cup ketchup
¼ cup Worcestershire Sauce
1 teaspoon garlic salt
1 cup Coca-Cola
¼ cup brown sugar, loose
½ teaspoon hot sauce
Directions: To make the barbecue sauce, combine all the ingredients in a saucepan over medium-low heat. Bring to a boil and cook for 5 to 10 minutes until thickened and reduced. Remove from heat.
Add the chicken legs to a large, resealable plastic bag. Combine the olive oil, salt, pepper, paprika, cumin, cayenne pepper, garlic, and onion in a small bowl. Mix to combine, then add to the bag with the chicken. Reseal the bag, removing as much air as possible as you do so. Shake the bag to make sure the chicken is well-coated. Place bag in a dish and transfer to the refrigerator. Let marinate for at least 1 hour or overnight.
Preheat oven to 350 degrees Fahrenheit. Coat a rimmed baking sheet or oven-safe skillet with a little olive oil. Remove chicken from bag and transfer to baking sheet or pan. Bake in the oven until the chicken's internal temperature reaches 160 degrees Fahrenheit, about 30 to 35 minutes.
Remove chicken from the oven. Brush on the barbecue sauce. Return to the oven and cook until the chicken reaches an internal temperature of 165 degrees Fahrenheit.
Remove from oven. Let chicken rest for 3 minutes, then serve.
7. Slow Cooker Cornbread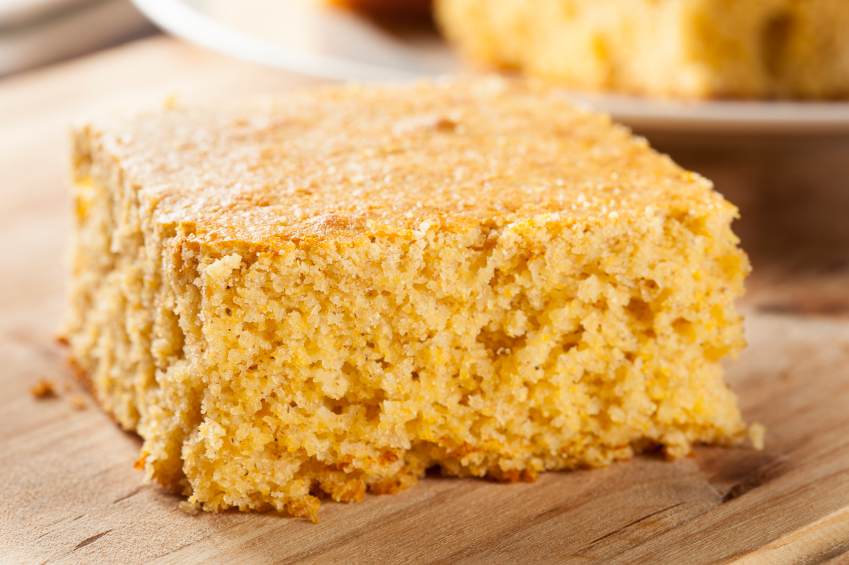 Homemade cornbread pairs perfectly with barbecued ribs or chicken, and you don't even have to turn on your oven to make it. Instead, use your slow cooker to bake this tasty side dish. This recipe from 365 Days of Slow Cooking makes a moist, crumbly cornbread that serves eight.
Ingredients:
1 cup yellow corn meal
1 cup flour
¼ cup white sugar
4 teaspoons baking powder
1 teaspoon salt
1 cup milk
1 egg
¼ cup vegetable or canola oil
Directions: Whisk together the corn meal, flour, sugar, baking powder, and salt in a bowl. Add the milk, egg, and oil. Stir until combined. (Don't overmix.)
Line the "hot spot" of your slow cooker with a double layer of aluminum foil. (The hot spot is the part of the crock that gets the hottest when cooking; it's usually on the back side, opposite the controls.)
Cut a piece of parchment paper to fit at the bottom of the crock. Place the paper inside, then coat the sides of the crock with non-stick cooking spray. Pour the cornbread batter into the slow cooker.
Cover and cook on high for 90 minutes to 2 hours. Check for doneness after 90 minutes using a toothpick. Turn the slow cooker off and let bread cool for 10 minutes, then place a large plate on top of the crockpot and flip the crock upside down to remove the bread. Slice and serve.