Oktoberfest Eats: 6 Recipes for Your Favorite German Foods
For beer lovers, the beginning of fall signals one thing: The arrival of Oktoberfest, the annual celebration of beer and Bavarian culture. The first Oktoberfest was held in Munich in the early 1800s, and that festival is still going strong today, with millions of people descending on the city starting in late September to drink, dress in lederhosen, and hopefully not become one of the bierleichen (those Oktoberfest revelers who drink until they pass out). During the two-week fest, attendees consume more then 6 million liters of beer as well as a ton of traditional German foods like pretzels, schnitzel, and more than 200,000 pairs of pork sausage.
Of course, not everyone can make it to Munich for Oktoberfest, but you can fill your stein and celebrate at home. When you do, try one of these classic German foods to pair with your beer.
1. Pretzels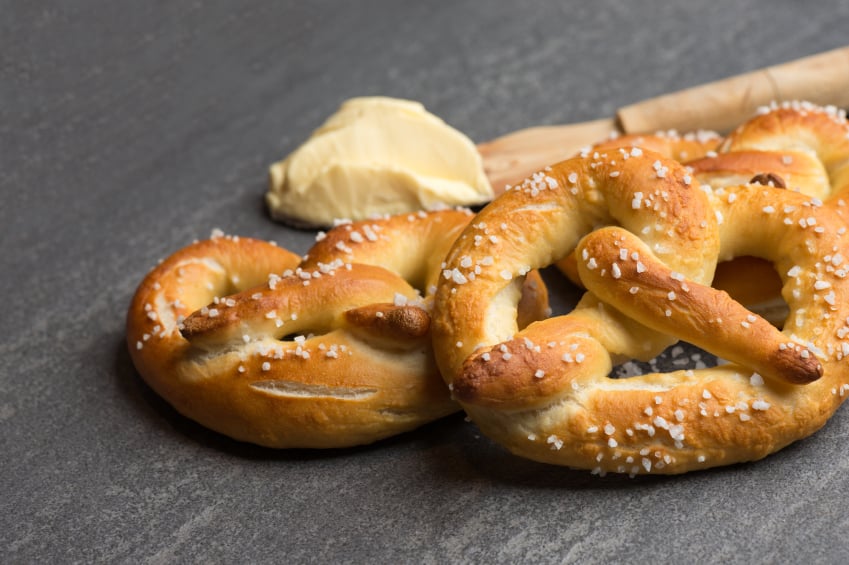 Of all German food, probably none is better known in the U.S. than pretzels. Dough is baked and knotted into a distinctive shape and topped with garnishes like salt, poppy seeds, or sesame seeds. The outer crust is dark and shiny while the inside is chewy. These popular snacks are actually fairly easy to make, as this recipe from Saveur, originally from the Hofbrauhaus beer hall in Munich, proves. Makes 2 large pretzels.
Ingredients:
1½ tablespoons barley malt syrup
1 (¼-ounce) package active dry yeast
3 tablespoons unsalted butter, softened, plus more for serving
4 cups flour, plus more for dusting
¼ teaspoon kosher salt
2 tablespoons baking soda
Coarse salt, for sprinkling
Directions: Heat a baking stone in an oven to 500 degrees Fahrenheit. Stir together syrup, yeast, and 1½ cups warm water in a large bowl, and let sit until foamy, about 10 minutes. Add butter, flour, and salt, and stir until dough forms. Transfer to a lightly floured work surface, and knead until smooth and elastic, about 8 minutes. Halve dough, and working with one piece at a time, roll dough into a 4-foot rope, about 1-inch thick. Transfer rope to the bottom edge of a sheet of parchment paper, and keeping the center of the rope on the paper, pick up both ends, cross one end over the other, about 2 inches from the ends, and twist; attach each end to the sides of the pretzel. Repeat with remaining dough, and set aside to rest for 20 minutes.
Bring baking soda and 1 cup water to a simmer in a 2-quart saucepan over medium-high heat, stirring constantly until baking soda dissolves. Brush each pretzel generously with the baking soda solution, sprinkle with coarse salt, and using a sharp paring knife, make a 6-inch slash, about ¼-inch deep across the bottom edge of the pretzel. Working one at a time, slide pretzel on parchment paper onto the stone; bake until dark brown, about 15 minutes. Repeat with remaining pretzel. Let cool for about 10 minutes; serve warm with butter.
2. Schweine Schnitzel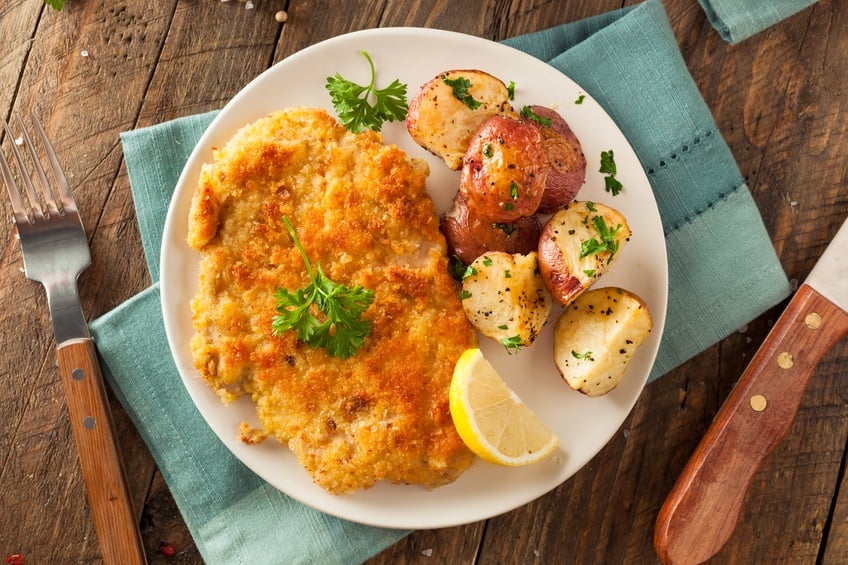 In Austrian and German cuisine, schnitzel is a very thin cutlet that's breaded and pan fried. Wiener schnitzel, the kind you've probably heard of, is actually an Austrian dish (the "wiener" part of the name means "from Vienna") and it's usually made with veal. But you can make schnitzel with other types of meat, including pork (schweine), which is what is used in this recipe from Curious Cuisiniere.
Ingredients:
4 pork chops, each about ½-inch thick
Salt and pepper
½ cup flour
2 eggs, lightly beaten
¾ cup plain, unseasoned breadcrumbs
4 tablespoons butter
Peanut or vegetable oil
Lemon slices and fresh parsley, for serving
Directions: Lightly sprinkle the pork with salt and pepper. Place the chops between two sheets of plastic wrap and pound them with a meat mallet until they are ⅛-inch thick.
Melt 4 tablespoons of butter in a large sauté pan. Add enough oil to fill the pan to a depth of 1/8 of an inch. Turn heat to high and let fats warm until they start to pop and crackle. As the oil heats up, pour the breadcrumbs into a shallow dish. Add the flour to a separate shallow dish. Pour the eggs into a third shallow dish or bowl.
Dip the pork chops in the flour, making sure the are completely coated. Dip each chop in the eggs, making sure it's fully coated and letting any excess drip off. Finally, dip the chop in the breadcrumbs until fully covered. (Don't press the crumbs into the meat.)
Transfer each breaded pork chop to the hot oil and let cook for 1 to 2 minutes. Using tongs, flip and cook for 1 to 2 minutes more. Transfer to a plate lined with paper towels and let drain.
Garnish with lemon slices and parsley and serve with German potato salad, spätzel, or fries.
3. Sauerbraten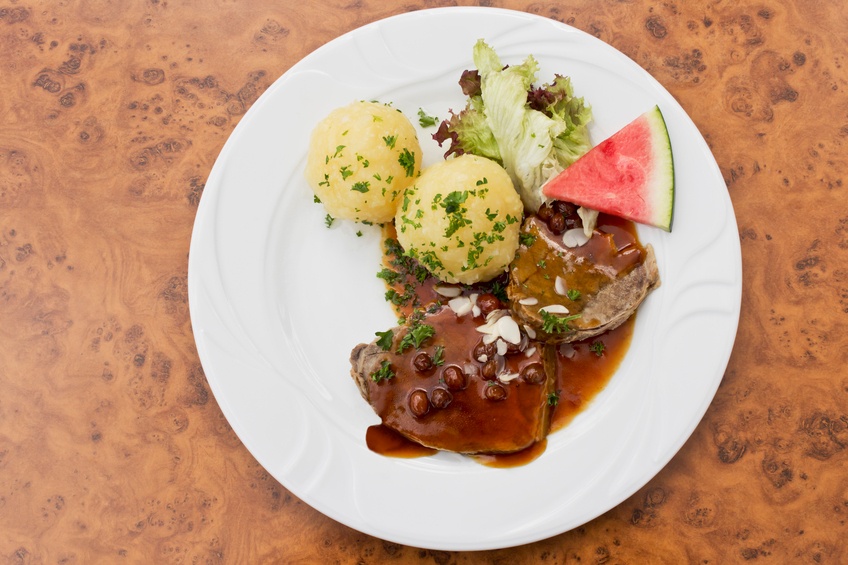 Sauerbraten is a slow-cooked German-style pot roast. And we mean slow. You need to start this dish three days before you plan to serve it to give the meat time to marinate in a mix of cider, red wine vinegar, and seasonings. It takes an additional 4 hours to cook in the oven. But the end result of tender, flavorful meat is worth it. This recipe is from the Food Network's Alton Brown.
Ingredients:
2 cups water
1 cup cider vinegar
1 cup red wine vinegar
1 medium onion, chopped
1 large carrot, chopped
1 tablespoon plus 1 teaspoon kosher salt, additional for seasoning meat
½ teaspoon freshly ground black pepper
2 bay leaves
6 whole cloves
12 juniper berries
1 teaspoon mustard seeds
1 (3½- to 4-pound) bottom round
1 tablespoon vegetable oil
⅓ cup sugar
18 dark old-fashioned gingersnaps (about 5 ounces), crushed
½ cup seedless raisins, optional
Directions: In a large saucepan over high heat combine the water, cider vinegar, red wine vinegar, onion, carrot, salt, pepper, bay leaves, cloves, juniper, and mustard seeds. Cover and bring to a boil, then lower the heat and simmer for 10 minutes. Set aside to cool.
Pat the bottom round dry and rub with vegetable oil and salt on all sides. Heat a large saute pan over high heat; add the meat and brown on all sides, approximately 2 to 3 minutes per side.
When the marinade has cooled to a point where you can stick your finger in it and not be burned, place the meat in a non-reactive vessel and pour over the marinade. Place into the refrigerator for 3 days. If the meat is not completely submerged in the liquid, turn it over once a day.
After 3 days of marinating, preheat the oven to 325 degrees Fahrenheit.
Add the sugar to the meat and marinade, cover and place on the middle rack of the oven and cook until tender, approximately 4 hours.
Remove the meat from the vessel and keep warm. Strain the liquid to remove the solids. Return the liquid to the pan and place over medium-high heat. Whisk in the gingersnaps and cook until thickened, stirring occasionally. Strain the sauce through a fine mesh sieve to remove any lumps. Add the raisins if desired. Slice the meat and serve with the sauce.

4. Pumpernickel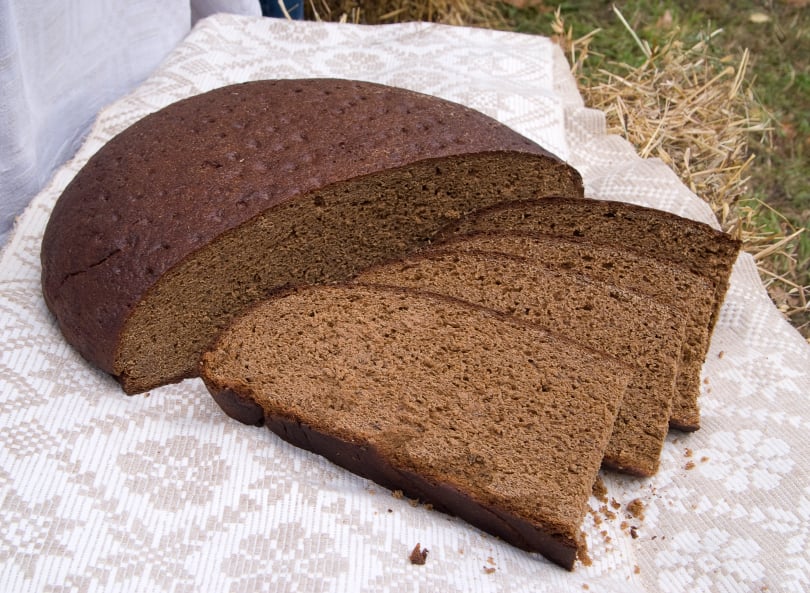 Distinctive, dark brown pumpernickel is a classic German food, though the traditional bread doesn't look quite like what most Americans call pumpernickel. This version is denser and made without yeast or other leavening agents. The dough needs to sit for a day before baking and is then cooked in covered tins, all of which gives the loaf its unique texture and flavor. This recipe is from A Bread a Day.
Ingredients:
1 pound rye flour (about 4 cups)
8 ounces whole-wheat flour (about 2 cups)
4 ounces bulgur wheat (about 2/3 cup)
2 teaspoons salt
2 tablespoons molasses
3½ cups warm water
1 tablespoon vegetable oil
Directions: Lightly grease two 7-by-3-inch loaf pans. Combine the rye flour, whole-wheat flour, bulgur wheat, and salt in a large bowl.
In a separate bowl, combine the molasses and the warm water. Add to the combined flours, along with the vegetable oil. Mix until everything is combined into a dense dough.
Divide dough in half and press into the greased loaf pans. Lightly oil some plastic wrap and then cover the loaf pans. Place in a warm place and let rest for 18 to 24 hours.
Preheat oven to 225 degrees Fahrenheit. Remove plastic wrap and wrap loaf pans tightly with aluminum foil. Fill a large roasting pan with boiling water and place a rack on top of the pan.  Place the wrapped loaf pans on the rack and carefully transfer to the oven. Alternatively, lower an oven rack so it's very close to the pan filled with water, then place the loaves on the rack. Bake for 4 hours.
After 4 hours, increase the oven temperature to 325 degrees Fahrenheit. If necessary, add more water to the roasting pan. Unwrap the loaf pans and bake for another 30 to 45 minutes, until the top of the loaves are crusty and the bread feels firm.
Remove from oven and let cool in the pans for 5 minutes. Remove loaves from pans onto a wire rack. Let cool completely, then serve thinly sliced with cold meat. The bread will taste better and be less sticky if wrapped tightly in aluminum foil and plastic wrap and allowed to sit for a day or two.
5. Bratwurst with Sauerkraut and Potatoes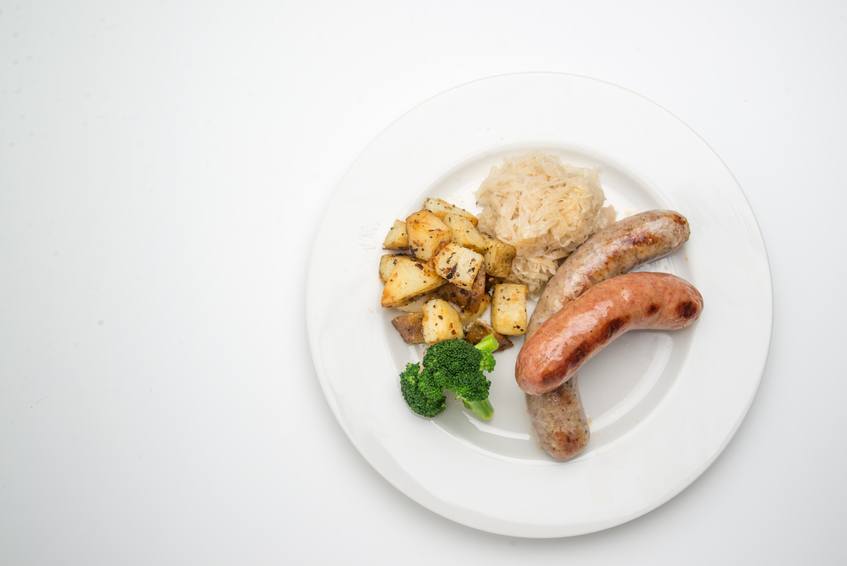 Even if you know nothing about German cuisine, you're probably familiar with bratwurst, a type of sausage made with pork and veal and seasoned with spices like nutmeg and ginger. They've become a backyard barbecue staple since Wisconsin's German immigrants helped popularize them in the U.S. But grilling isn't the only way to cook a bratwurst. In this recipe from Real Simple, the sausages are slow cooked in a crockpot with potatoes and sauerkraut, then served with pumpernickel for a meal that tastes like it's straight from the old country.
Ingredients:
½ pound red new potatoes (about 18), halved if large
2 cups sauerkraut, drained
1 small onion, thinly sliced
½ cup low-sodium chicken broth
¼ cup dry white wine
1 teaspoon caraway seeds
Kosher salt and black pepper
1½ pounds bratwurst links
¼ cup chopped fresh flat-leaf parsley
Toasted dark bread (such as pumpernickel), butter, and whole-grain mustard, for serving
Directions: In a 4- to 6-quart slow cooker, mix together the potatoes, sauerkraut, onion, broth, wine, caraway seeds, ½ teaspoon salt, and ¼ teaspoon pepper. Nestle the bratwurst in the vegetables.
Cover and cook until the potatoes are tender, on low for 7 to 8 hours or on high for 4 to 5 hours.
Sprinkle the bratwurst, potatoes, and sauerkraut with the parsley and serve with the toast, butter, and mustard.
6. Apple Kuchen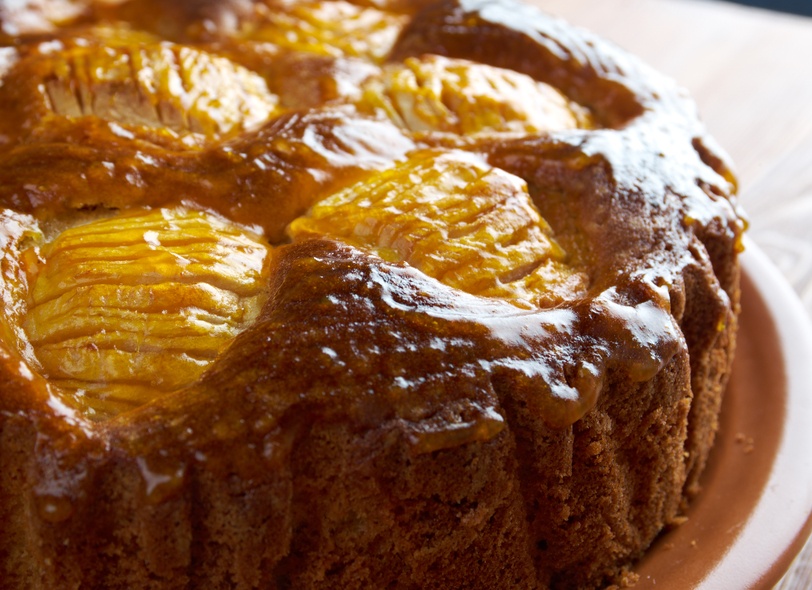 You can serve this apple cake with coffee for a traditional German kaffee und kuchen, a midafternoon coffee break, or prepare it for a casual dessert. The moist cake is made with candied ginger and is the perfect way to use up fall apples. Recipe from The New York Times.
Ingredients:
½ cup (127 grams) unsalted butter, plus butter for greasing pan
1½ cups (200 grams) all-purpose flour, plus flour for dusting pan
½ cup (100 grams) sugar, plus 1 tablespoon for sprinkling apples
¼ cup (85 grams) raw honey
3 eggs
1 tablespoon grated ginger
2 ounces (56 grams) candied ginger, diced
½ teaspoon grated lemon zest
½ teaspoon salt
2 teaspoons baking powder
3 medium apples, peeled and quartered
For the glaze
¼ cup (50 grams) sugar
¼ cup (85 grams) honey
3 tablespoons lemon juice
Directions: Prehat oven to 325 degrees Fahrenheit and position a rack in the middle of the oven. Butter and flour a 9-inch springform pan or other cake pan.
With an electric mixer, cream the butter and sugar, then add honey and whip for 1 minute, until fluffy. Beat in eggs one at a time, until well incorporated, then whip for 2 minutes. Stir in grated ginger, candied ginger, and lemon zest.
Whisk together flour, salt, and baking powder and add to bowl, mixing briefly to make a stiff batter. Pour batter into prepared pan.
With a paring knife, cut slits in each of the apple quarters on the rounded, outer part of the wedge, slicing partway through at ⅛-inch intervals. Arrange apple quarters slit-side-up over the batter. Sprinkle surface with 1 tablespoon sugar.
Place cake pan on a baking sheet and put on middle rack of oven. Bake for about 45 minutes, or until an inserted skewer emerges dry. If cake is browning too rapidly, tent with foil until done. Cool on a rack, then carefully unmold.
Make the glaze: Put sugar, honey and lemon juice in a small saucepan over medium heat, stirring until sugar is dissolved and mixture bubbles, about 2 minutes. Paint surface of cake and apples with warm glaze. Cake will keep for several days, tightly wrapped, at room temperature.
Follow Megan on Twitter @MeganE_CS
More from Culture Cheat Sheet: