Over-the-Top Pizza Recipes for Your Weekend Party
Pizza is a perfect pairing with any type of sport, and football is no exception. Since some delivery pies can seem boring after so many years, you'll have to do the cooking yourself if you want something more imaginative. And you'll be amazed at how creative you can get without using all that much effort. Try a pizza inspired by jambalaya or maybe you'd prefer a pie topped with the flavors of a loaded baked potato. If you're ready to take your pizza cookery to some place decidedly more exciting, these seven recipes have you covered.
1. Bacon Cheeseburger Pizza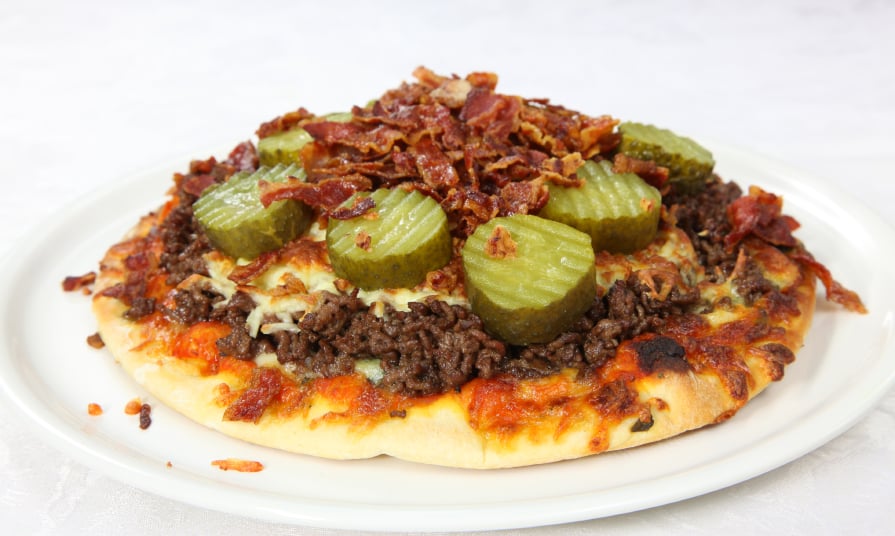 At first read, a pizza topped with the fixings for a bacon cheeseburger sound a little strange. But don't let it scare you away, because this hearty pizza from The Pioneer Woman, which was inspired by a recipe on Baked by Rachel, tastes like the best of both worlds. Feel free to add any of your other favorite burger toppings as well.
Ingredients:
1 whole pizza dough
3 ounces ground beef
⅛ onion, finely diced
Salt and pepper
3 bacon slices
2 tablespoons unsalted butter, softened
¼ cup ketchup, plus more
2 cups shredded cheddar cheese
½ cup sliced kosher dill pickles
Mustard
Directions: Preheat oven to 450 degrees Fahrenheit. Arrange a pizza stone or a flat, heavy baking sheet in the center of the oven to preheat. Brown beef with onion in a skillet over medium-low heat until onion is softened and no pink remains in the beef. Season with salt and pepper. In a separate skillet, cook the bacon to slightly less done than normal.
Roll dough out on a sheet of parchment until it's 10 inches in diameter. Spread butter evenly over the dough, then spread ¼ cup ketchup evenly over top. Sprinkle with cheese, cooked beef, bacon, and pickles. Drizzle with mustard and ketchup.
Transfer to prepared stone or baking sheet and bake for 8 to 10 minutes, or until crust is brown and crisp and cheese is bubbling and melted. Remove from oven, let cool for a few minutes, slice, and serve.
2. Loaded Baked Potato Pizza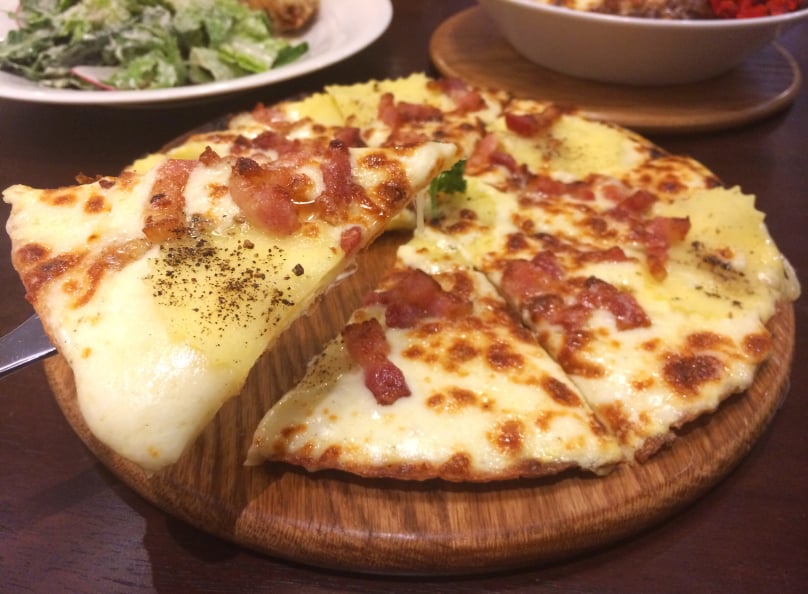 If you're the type of guy who thinks a baked potato isn't really worth it unless it's covered in toppings, we have a pizza for you. And They Cooked Happily Ever After tops some prepared dough with an herbed sour cream, cheese, par-cooked potatoes, bacon, and scallions. It has all the flavors of a steakhouse potato, but you won't need any utensils to enjoy this dish.
Ingredients:
1 ball pizza dough
3 to 4 small red or white potatoes, thinly sliced
Olive oil
Salt and pepper
6 to 8 pieces of cooked bacon, chopped
8 ounces sour cream
¼ cup chopped chives
8 ounces grated cheddar and mozzarella cheese blend
2 to 3 sliced green onions
Directions: Preheat oven to 400 degrees Fahrenheit. Toss potatoes with a drizzle of oil and season with salt and pepper. Transfer to a baking sheet and cook for 15 to 20 minutes, rotating sheet tray halfway through. Set aside.
Increase oven temperature to 500 degrees Fahrenheit. Mix sour cream with chives and season with salt and pepper. Roll out pizza dough, then spread sour cream over the top. Top with cheese, potatoes, bacon, and green onions. Bake for about 10 minutes, or until crust is golden and crisp and cheese is melted. Slice and serve.
3. Grilled Breakfast Pizza with Sausage Gravy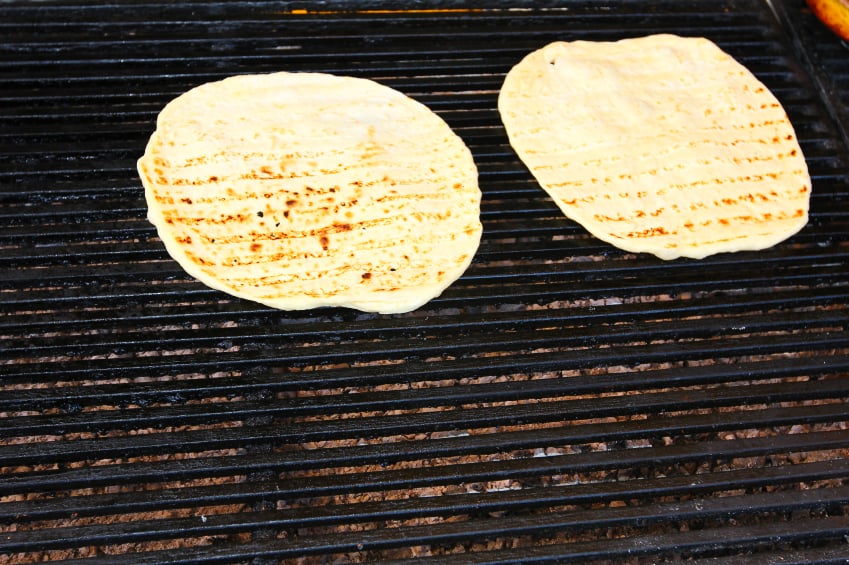 Most breakfast pizzas look pretty much the same as a standard pie with a few eggs cracked over the top. If you're in the mood for a true taste of breakfast, try Food Network's pizzas topped with eggs and sausage gravy. While this recipe is designed to cook on the grill, you can easily adapt it for the oven. Just bake the crusts for a few minutes in an oven preheated to 500 degrees Fahrenheit, then add the toppings and continue to cook until the cheese melts and the egg whites are cooked.
Ingredients:
1 tablespoon vegetable oil, plus more
1 pound bulk breakfast sausage
2 tablespoons all-purpose flour, plus more
2½ cups whole milk
Kosher salt and freshly ground pepper
1 pound frozen pizza dough, thawed
8 ounces sharp white cheddar cheese, shredded
4 large eggs
2 scallions, thinly sliced
Hot sauce
Directions: Prepare a grill for medium heat. Line a baking sheet with parchment paper.
Heat oil in a large nonstick skillet over medium-high heat. Add sausage and cook, stirring and breaking up with a spoon, until browned and fully cooked, about 8 to 10 minutes. Remove sausage to a plate with a slotted spoon. Pour off all but 2 tablespoons of the drippings.
Return pan to medium-high heat and whisk in the flour. Cook and whisk until mixture becomes a light tan color, about 1 to 2 minutes. Slowly whisk in the milk, ½ teaspoon pepper, and ¼ teaspoon salt. Simmer, whisking frequently, until sauce has thickened to a gravy, about 6 to 8 minutes. Stir in the sausage, remove from heat, cover, and set aside.
Divide pizza into four equal portions. Dust a clean work surface with flour and roll each ball into an 8-inch circle. Transfer dough circles to prepared baking sheet and brush both sides with oil. Grill crusts until they are marked and begin to puff, about 1 minute. Flip crusts then evenly top each with cheese, leaving a small well in the center. Crack eggs into wells. Cover grill and cook until whites are set and cheese is melted, about 8 to 10 minutes.
Remove pizzas from grill and drizzle gravy over top. Garnish with scallions. Serve with hot sauce and remaining gravy.
4. Kimchi Pork Belly Pizza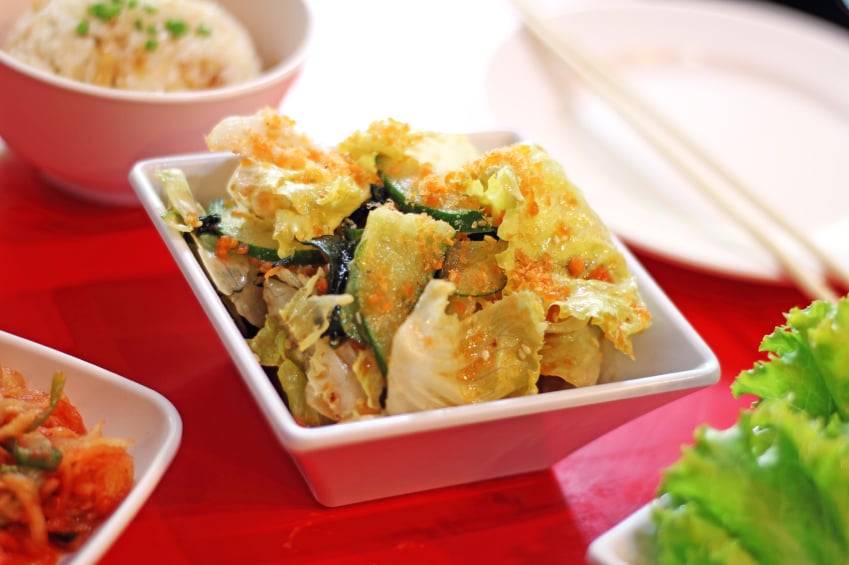 If you have yet to get in on the spicy flavor of kimchi, a Korean-inspired pizza might be the perfect introduction. For those unfamiliar with this popular ingredient, kimchi is a cabbage product that undergoes the same type of fermentation that gives sauerkraut its funk. Grocery stores have more varieties available than ever, but you can make your own if you're feeling adventurous.
Whether you go the homemade or store-bought route, put the tangy cabbage to use with No Recipes' pizza with pork belly and kimchi. If you can't get your hands on plain pork belly, bacon will also work. And no need for cheese with this one, it'll just mask the other flavors.
Ingredients:
1 tablespoon gochujang
Kimchi juice
½ teaspoon sesame oil
1 garlic clove, crushed
1 pound pizza dough
All-purpose flour
Cornmeal
½ cup kimchi, squeezed dry
4 thin pork belly slices
1 scallion, thinly sliced on the bias
Directions: Position oven rack in the upper-middle position of the oven and arrange a pizza stone or heavy baking sheet in the center. Preheat oven to 475 degrees Fahrenheit.
Meanwhile, stir gochujang, sesame oil, garlic, and enough kimchi juice to thin to a sauce consistency.
Roll dough out to a thickness of no more than ¼ inch. Transfer dough round to a cornmeal-dusted pizza peel. Spread gochujang sauce evenly over dough. Top with kimchi and pork belly. Transfer to preheated stone or baking sheet and cook until crust is golden and crisp. Remove pizza from oven, garnish with scallions, slice, and serve.
5. French Onion Dip Pizza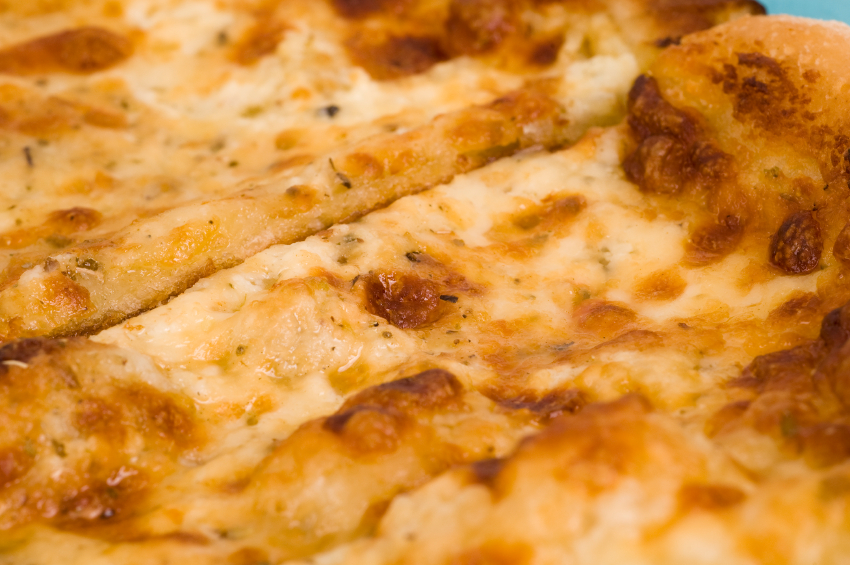 We all have friends who live for chips dunked in creamy condiments. Satisfy their craving without veering from your pizza theme by making Rachael Ray's french onion dip pizza. Just remember, the onions take quite a while to caramelize. Cook them a day ahead so you can quickly assemble and bake when Sunday rolls around.
Ingredients:
2 tablespoons extra-virgin olive oil
2 large onions, thinly sliced
2 garlic cloves, finely chopped
Salt and pepper
1 ball fresh pizza dough
1 cup crème fraîche or sour cream
¾ cup shredded sharp white cheddar cheese
¾ cup shredded Gruyere cheese
½ cup grated Parmesan cheese
1 tablespoon chopped fresh thyme
Directions: Preheat oven to 450 degrees Fahrenheit. Place a large skillet over medium heat and add olive oil. Add onion and and cook, stirring occasionally, until soft and deeply golden, about 25 minutes, adding garlic in the last 8 to 10 minutes of cooking.
Meanwhile, stretch pizza dough to the size of your pan. Transfer to the pan and bake until set and very lightly golden, about 15 minutes.
Season onions with salt and pepper and stir in crème fraîche. Spread onion mixture over par-baked crust. Top with cheeses and thyme. Return to oven and bake until golden and bubbly, about 10 minutes. Slice and serve.
6. 8-Layer Dip Pizza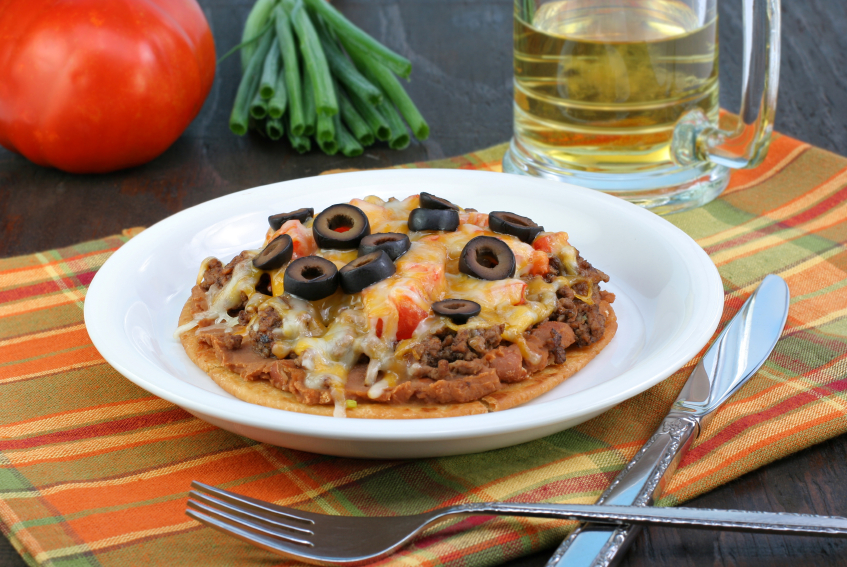 Another pizza inspired by a classic dip, this substantial pie from Chef in Training will go over extremely well with those who like Mexican food. Though it looks impressive, the method couldn't be easier because you can use premade guacamole and refried beans. Just brown the meat, assemble the pizza, bake, and add the remaining toppings. To make it extra spicy, stir a little bit of minced chile into the beans.
Ingredients:
1 pound ground beef
1 packet taco seasoning
¼ cup water
1 refrigerated pizza crust
1 (16-ounce) can refried beans
1¾ cups shredded Mexican cheese blend
2 cups shredded lettuce
1 large tomato, diced
Sour cream
Guacamole
Sliced olives
Directions: Preheat oven to 400 degrees Fahrenheit. Cook beef until fully cooked and brown. Add water and taco seasoning to skillet. Cook 1 to 2 minutes longer, then set aside.
Roll dough to fit a 12-inch pizza pan and bake for 5 minutes. Remove from oven and spread beans over crust. Top with taco meat and ¾ cup cheese. Return to oven for 6 to 8 minutes, or until cheese is melted and crust is golden.
Top pizza with lettuce, remaining cheese, tomatoes, sour cream, guacamole, and olives. Slice and serve.
7. Jambalaya Pizza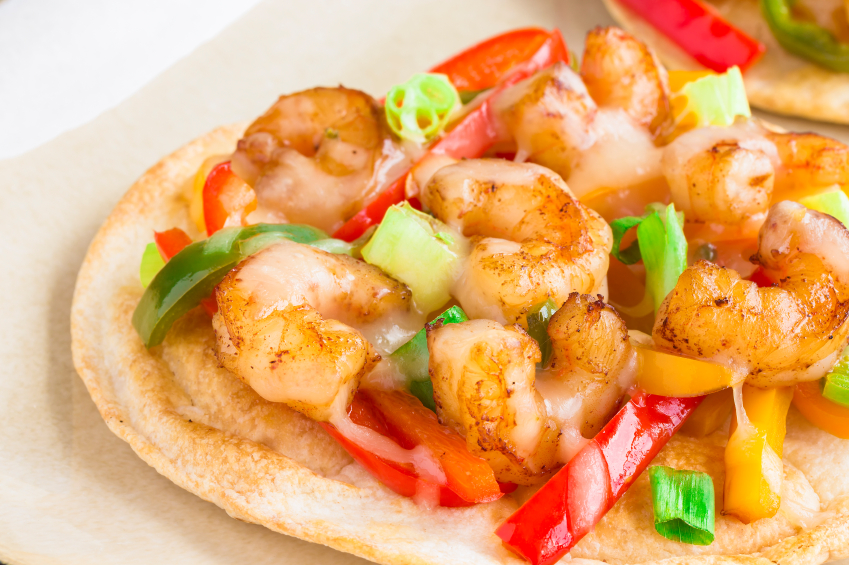 Bring the flavors of Cajun cuisine to your Sunday with The Candid Appetite's Jambalaya Pizza. Instead of a basic tomato sauce, this recipe whips up a quick stew out of celery, onions, bell pepper, and tomatoes. Spread the mixture on your dough, top with plenty of spicy sausage, shrimp, chicken, and cheese, then bake for about 20 minutes. We like this pie with a little bit of hot sauce drizzled over the top.
Ingredients:
2 tablespoons olive oil, divided
2 andouille sausage links, sliced
1 chicken breast, diced
12 large shrimp, peeled and deveined
1 tablespoon Cajun seasoning blend, divided
1 red bell pepper, ½ cut into large pieces and ½ diced
1 green bell pepper, ½ cup into large pieces, and ½ diced
1 yellow onion, minced
2 garlic cloves, minced
2 celery stalks, minced
2 fresh thyme sprigs
1 (14-ounce) can crushed or diced tomatoes
2 pizza doughs
3 cups shredded mozzarella cheese
3 scallions, sliced
Directions: Preheat oven to 475 degrees Fahrenheit. In a large pot or skillet, heat 1 tablespoon oil over medium-high heat. Add sausage and cook until fat renders and sausage crisps, about 2 to 4 minutes. Remove to a plate and add chicken to the same skillet. Season with a few pinches of Cajun seasoning. Cook until browned and cooked through, about 2 to 4 minutes. Remove chicken to the same plate as sausage. Add shrimp to same skillet, season with Cajun seasoning, and cook until pink and just cooked through. Remove shrimp to plate with chicken and sausage.
Add remaining oil to the skillet and add large bell pepper pieces. Cook for 1 to 2 minutes, or until softened. Remove from skillet and set aside.
Add onion, garlic, celery, and finely diced pepper to the skillet. Cook until vegetables soften, about 5 minutes. Season with Cajun seasoning and add the thyme sprigs. Stir in the tomatoes, reduce heat to low, and simmer for 10 to 15 minutes. Remove from heat and remove thyme sprigs.
Roll each dough ball into a large, thin circle. Transfer to baking sheets dusted with cornmeal. Spread sauce evenly over each, then top with cheese. Evenly divide chicken, sausage, shrimp, and peppers between pizzas. Transfer to oven and bake for 20 to 25 minutes, or until crust is golden and crisp and cheese is bubbling. Remove from oven, top with scallions, slice, and serve.
More from Culture Cheat Sheet: