Pasta Recipes That Are Actually Healthy
Many people consider pasta comfort food that should only be enjoyed in moderation, but when you combine veggies with spaghetti, you can feel less guilty about including pasta in your regular dinner rotation. Squash pairs especially well with pasta, as does a number of other greens. Check out these seven food formulas that will take your carbs up a nutritional notch.
1. Butternut Squash Pasta
Kicking things off, we're highlight a recipe from Two Peas and Their Pod for butternut squash pasta. Butternut squash tastes sweet but still has a touch of savory, and it can be prepared a number of different ways. For this recipe, butternut squash takes the place of tomato and serves as the star ingredient in the pasta sauce that dresses whole wheat linguine. The linguine is also topped with parmesan cheese and sage leaves, making this pasta dish a perfect balance of healthy and comforting.
Ingredients:
1 medium butternut squash, peeled and diced
4 tablespoons olive oil, divided
8 sage leaves
12 ounces whole wheat linguine
1½ cups water or vegetable broth
¼ cup diced yellow onion
2 cloves garlic, minced
⅛ teaspoon ground nutmeg
¼ cup freshly grated Parmesan cheese, plus more
Salt and freshly ground black pepper
Directions: In a large pot of boiling, salted water, cook squash until tender, about 12 to 15 minutes. Meanwhile, heat 3 tablespoons olive oil in a small skillet set over medium-high heat. Working a few at a time, fry leaves until crisp, about 30 seconds. Transfer to a paper towel-lined plate and season with salt.
Remove squash from water with a slotted spoon and transfer to a large bowl. Cook pasta in same pot of water, following package directions. Drain and set aside.
Purée butternut squash in a food processor until completely smooth. Add a bit of water or broth to thin to your desired consistency.
In a large skillet, heat 1 tablespoon oil over medium-high heat. Add onion and garlic. Cook, stirring, until soft, about 3 to 5 minutes. Add squash and Parmesan, then season with salt, pepper, and nutmeg. Add pasta and toss to coat. Chop two of the fried sage leaves and toss with pasta. Serve garnished with remaining sage leaves and additional Parmesan.
2. Ziti with Roasted Vegetables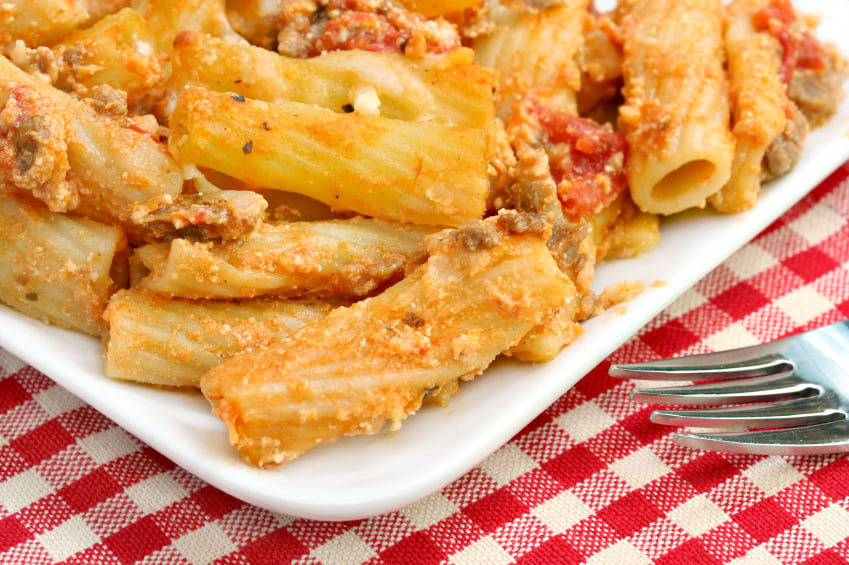 A pasta that enlists a handful of different vegetables is this ziti with roasted vegetables from Food & Wine. Why only put one vegetable in your spaghetti dish when you can throw in a handful? Caramelized vegetables make this ziti one you can feel good about eating, as with one forkful you can get eggplant, zucchini, tomatoes, and parsley. No meat can be found in this recipe, but that just leaves room for more fibrous veggies.
Ingredients:
1 eggplant, cut into ½-inch cubes
2 zucchini, quartered lengthwise and then cut crosswise into ½-inch pieces
1 large red onion, quartered and cut into ¼-inch slices
4 tablespoons olive oil
¾ pound plum tomatoes, quartered
1¼ teaspoons salt
¾ pound ziti
2 tablespoons chopped fresh basil or parsley
1 tablespoon balsamic vinegar
¼ teaspoon fresh-ground black pepper
Directions: Heat the oven to 450 degrees Fahrenheit. In a large bowl, toss the eggplant, zucchini, and red onion with 2 tablespoons of the oil. Spread in a single layer on one large or two smaller baking sheets, preferably nonstick. Roast, stirring occasionally, until well browned and tender, about 30 minutes.
Meanwhile, place the tomatoes cut-side up in a small baking dish and sprinkle with ¼ teaspoon of the salt. Roast until soft, about 20 minutes. Transfer to a food processor or blender and puree.
In a large pot of boiling, salted water, cook the ziti until just done, about 12 minutes. Drain the pasta and toss with the tomato puree, the roasted vegetables, the basil, the remaining 2 tablespoons olive oil, the vinegar, the remaining 1 teaspoon salt, and the pepper.
3. Pea and Asparagus Pasta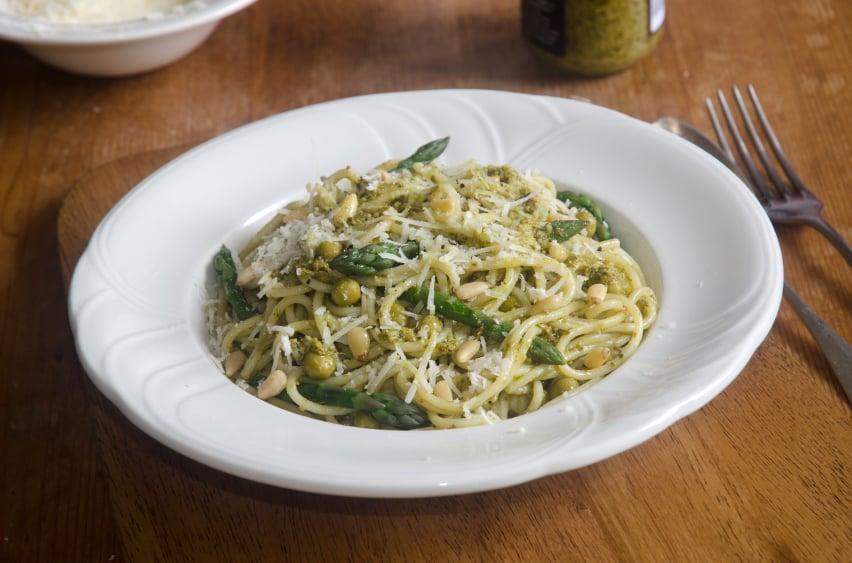 Here's a pasta dish from Cookie & Kate that's especially green. Enter: pea and asparagus pasta. Whether you get your peas fresh or simply out of a can, they'll pair perfectly with whole grain carbs and asparagus to yield a dish that even the biggest veggie-haters can dig into. Pasta, peas, asparagus, and herbs are a match made in healthy comfort food heaven, and this dish serves a crowd so you can feed all of your dinner guests the good stuff.
Ingredients:
1 pound whole-grain pasta
4 tablespoons olive oil, plus more for garnish
5 shallots, quartered lengthwise and sliced very thin crosswise
1 pound pencil-thin asparagus, woody ends snapped off, and cut in ½-inch slices on the bias
2 garlic cloves, minced
2 cups shelled fresh or thawed, frozen English peas
⅔ cup grated Parmesan cheese, plus more for garnish
2 tablespoons unsalted butter
2 teaspoons grated lemon zest
2 teaspoons freshly squeezed lemon juice
1 cup roughly chopped mixed herbs
¾ cup toasted pine nuts
Salt
Freshly ground black pepper, to taste
Pinch red pepper flakes
Directions: Bring a large pot of water to a boil and season well with salt. Cook the pasta for two minutes less than the package directions. Drain pasta, reserving 2 cups of the cooking liquid.
Meanwhile, heat olive oil in a large skillet set over medium-high heat. Add shallots and season with salt and pepper. Cook, stirring, until beginning to brown. Add asparagus and garlic. Season again with salt and cook until asparagus is bright green, which should take just a few minutes. Stir in peas and let warm briefly.
Add drained pasta to pan, then stir in about 1 cup of reserved cooking liquid. Toss everything to coat pasta. Remove pan from heat and transfer to a large serving bowl. Add cheese and butter, then toss well to coat. Thin with additional pasta water, if necessary, then add lemon zest, lemon juice, herbs, and pine nuts. Season to taste, and toss once more. Serve garnished with more Parmesan, black pepper, and a drizzle of olive oil.
4. Roasted Beet and Garlic Pasta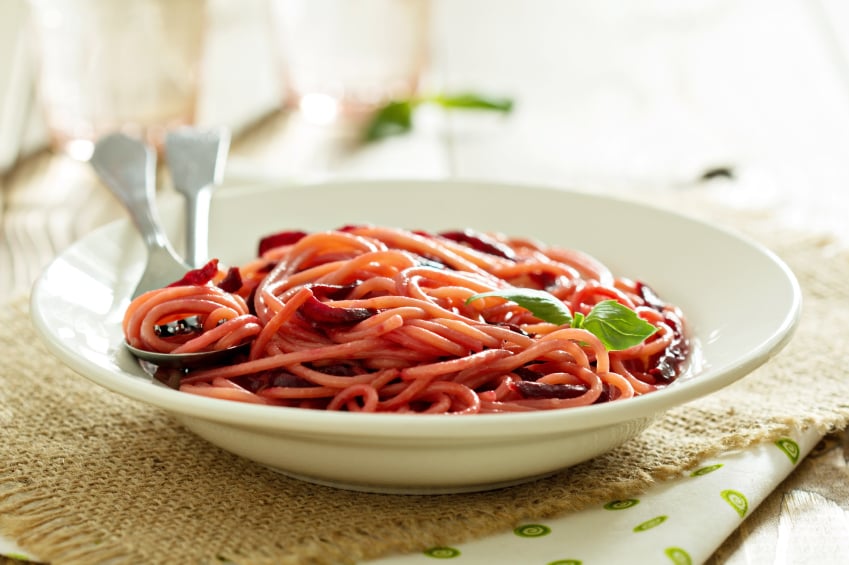 If you have some adventurous eaters coming over for dinner, serve them this roasted beet and garlic pasta from Simple Bites. You'll be dishing out your carbs pink, but the pasta is not only packed with nutrients, it tastes great, too. Especially after you top it with fresh ricotta. Grab your spaghetti, beets, garlic cloves, and get ready to go. This dish is a stunner that looks just as great it tastes.
Ingredients:
1 pound whole-grain spaghetti
1½ pounds red beets, trimmed and scrubbed
4 whole garlic cloves, peeled
¼ cup olive oil, divided
½ cup toasted walnuts
2 tablespoons sun dried tomatoes, chopped
freshly ground salt
red pepper flakes
⅔ cup ricotta
Directions: Preheat oven to 400 degrees Fahrenheit. Drizzle beets and garlic with oil, then wrap tightly in aluminum foil. Roast until garlic is soft and beets are easily pierced with a knife, about 1 hour. Remove from oven and let cool slightly. Peel beets using paper towels, then coarsely chop.
Cook pasta in a large pot of boiling, salted water according to package directions. Drain, reserving 1 cup of cooking water.
Meanwhile, combine beets, garlic, remaining oil, walnuts, and tomatoes in a food processor. Blend until smooth, thinning with pasta water to reach desired consistency. Season with salt.
In a large bowl, toss pasta with beef mixture until pasta is coated. Season with red pepper flakes and serve with a scoop of ricotta.
5. Sweet Potato and Red Pepper Pasta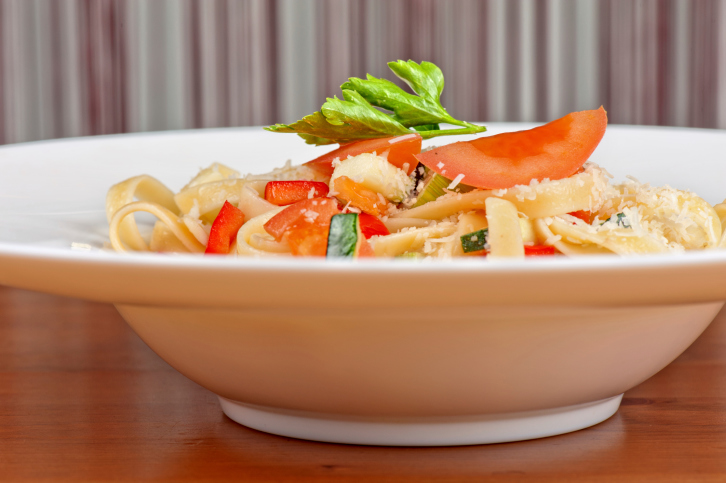 If you want to incorporate superfoods into your dinner, follow this recipe from Eating Well for sweet potato and red pepper pasta. The dish has an impressive host of healthy ingredients on its formula list, and the inclusion of fresh goat cheese and herbs keeps it delicious. The recipe for this pasta serves 4 and will take you only 30 minutes to make. Serve it with a fresh salad and enjoy your comfort food while eating healthy, too.
Ingredients:
8 ounces whole-wheat angel hair pasta
2 tablespoons extra-virgin olive oil, divided
4 cloves garlic, minced
3 cups shredded, peeled sweet potato
1 large red bell pepper, thinly sliced
1 cup diced plum tomatoes
½ cup water
2 tablespoons chopped fresh parsley
1 tablespoon chopped fresh tarragon
1 tablespoon white-wine vinegar, or lemon juice
¾ teaspoon salt
½ cup crumbled goat cheese
Directions: Bring a large pot of water to a boil. Cook pasta until just tender, 4 to 5 minutes or according to package directions.
Meanwhile, place 1 tablespoon oil and garlic in a large skillet. Cook over medium heat, stirring occasionally, until the garlic is sizzling and fragrant, 2 to 5 minutes. Add sweet potato, bell pepper, tomatoes, and water and cook, stirring occasionally, until the bell pepper is tender-crisp, 5 to 7 minutes. Remove from the heat; cover and keep warm.
Drain the pasta, reserving ½ cup of the cooking water. Return the pasta to the pot. Add the vegetable mixture, the remaining 1 tablespoon oil, parsley, tarragon, vinegar, salt, and cheese; toss to combine. Add the reserved pasta water, 2 tablespoons at a time, to achieve the desired consistency.
6. Mediterranean Vegetable Pasta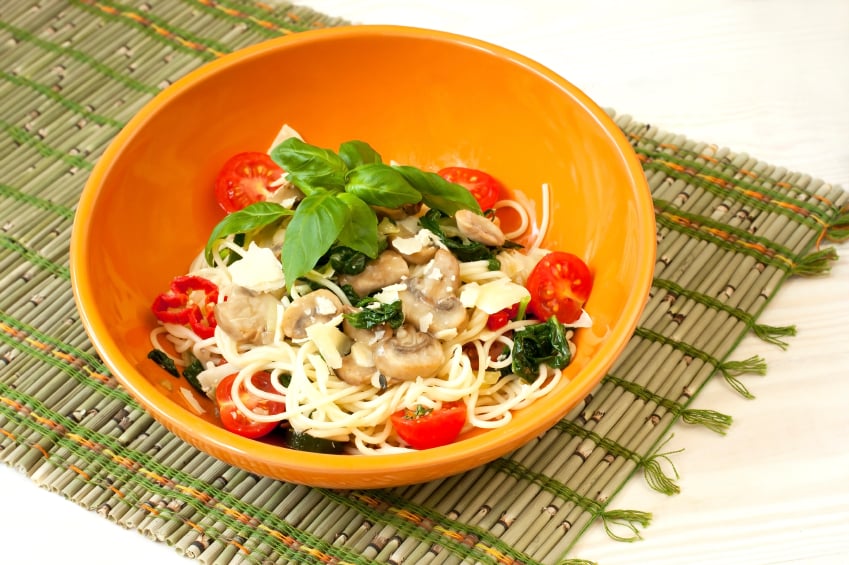 What do you get when you combine pasta, zucchini, mushrooms, peppers, olives, and feta cheese? That would be Mediterranean vegetable pasta. Taste of Home has a fool-proof recipe for the fiber-heavy dish, and it serves 2. Make this for yourself and one other lucky dinner guest and impress him or her with your ability to make a veggie-packed carb dish taste good. One serving only yields 320 calories which leaves you more than enough room for a side salad or garlic bread.
Ingredients:
3 ounces uncooked angel hair pasta

1 cup chopped zucchini

½ cup chopped fresh mushrooms

⅓ cup chopped green pepper

¼ cup chopped onion

2 teaspoons olive oil

1 garlic clove, minced

1 cup canned Italian diced tomatoes

6 pitted ripe olives, halved

⅛ teaspoon pepper

¼ cup crumbled reduced-fat feta cheese

1 tablespoon shredded Parmesan cheese
Directions: Cook pasta according to package directions. Meanwhile, in a large skillet, saute the zucchini, mushrooms, green pepper and onion in oil until vegetables are crisp-tender. Add garlic; cook 1 minute longer. Stir in the tomatoes, olives and pepper; heat through.
Drain pasta; divide between two plates. Top with vegetable mixture and cheeses.
7. Spaghetti with Corn and Cherry Tomatoes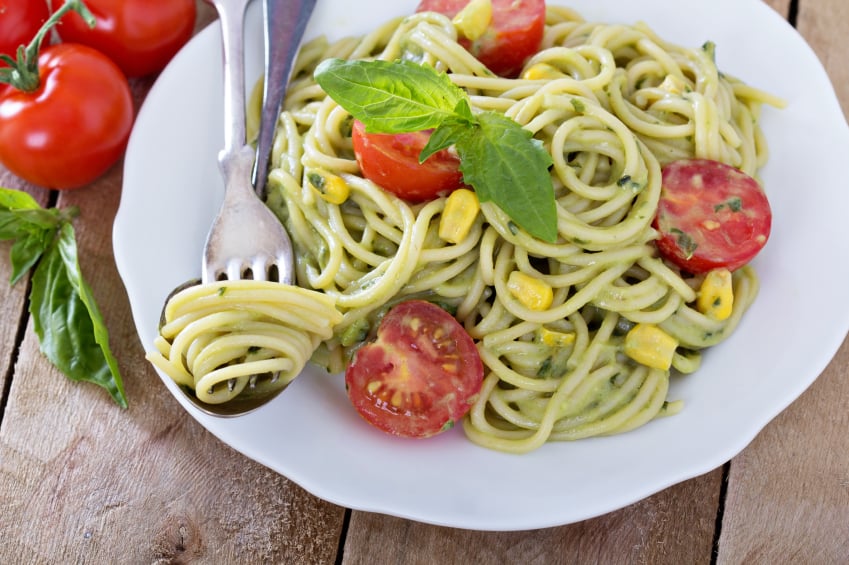 Lastly is a recipe that spans the seasons. In the summer, you can enlist fresh ears of corn in this dish, while in the winter, frozen or canned corn works great, too. Try this spaghetti from The Daring Gourmet and stud your whole-wheat noodles with corn and red cherry tomatoes. You'll end up with a wholesome dinner that looks good and will make you feel good, too. Parmesan is the cheese of choice in this recipe, and fresh Italian herbs also lend the dinner a fresh Italian flavor.
Ingredients:
8 ounces whole-wheat spaghetti, cooked according to package directions, rinsed
2 ears corn, husks removed
1 pint cherry tomatoes
⅓ cup extra virgin olive oil
¼ teaspoon salt, plus more
¼ teaspoon freshly ground black pepper, plus more
2 tablespoons grated Parmesan cheese
2 tablespoons chopped fresh Italian herbs, plus more
Directions: Preheat oven to 400 degrees Fahrenheit. Place tomatoes on a rimmed baking sheet lined with aluminum foil or parchment paper, drizzle with a bit of oil, season with salt and pepper, and toss to coat. Wrap each ear of corn in aluminum foil and set on another baking sheet. Transfer both baking sheets to oven. Roast tomatoes until bursting and just beginning to brown, about 10 to 15 minutes. Corn will take about 20 to 25 minutes.
Stir together salt, pepper, and olive oil. Place pasta in a large bowl and drizzle with oil. Add cheese ad herbs, then toss to coat. Carefully cut corn from cobs and add kernels to pasta along with tomatoes. Toss to combine and serve garnished with additional herbs.