Recipes for Perfect Summer Salads You Need to Try
Summer is salad season. Whether it's a picnic-perfect pasta salad, a Caprese made with garden-fresh tomatoes, or the creamiest, tangiest potato salad you can imagine, the weeks between Memorial Day and Labor Day are the time to get your salad fix. Not only are summer salads a way to take advantage of all the fresh produce you're lugging home from the farmer's market or harvesting from your garden, they're also the perfect easy-to-prepare solution for days when it's too hot to cook. Here are six amazing recipes for delicious summer salads.
1. Summer Peach and Tomato Salad
Wait until you have plenty of perfectly ripe summer tomatoes before you make this salad, which also stars just-picked peaches. It's perfect for a light lunch on a hot summer's day, or serve it as a starter the next time you grill out. This recipe from Cooking Light makes four, 1-cup servings.
Ingredients:
¼ cup thinly vertically sliced red onion
½ pound ripe peaches, pitted and cut into wedges
¼ pound heirloom beefsteak tomatoes, cut into thick wedges
¼ pound heirloom cherry or pear tomatoes, halved
1 tablespoon sherry vinegar
1½ teaspoons extra-virgin olive oil
1 teaspoon honey
⅛ teaspoon salt
⅛ teaspoon freshly ground black pepper
¼ cup (1 ounce) crumbled feta cheese
2 tablespoons small basil leaves or torn basil
Directions: Combine the red onion, peaches, beefsteak tomatoes, and cherry or pear tomatoes in a large bowl.
Combine vinegar, olive oil, honey, salt, and pepper in a small bowl, stirring with a whisk. Drizzle vinegar mixture over peach mixture; toss well to coat. Sprinkle with cheese and basil.
2. Potato Salad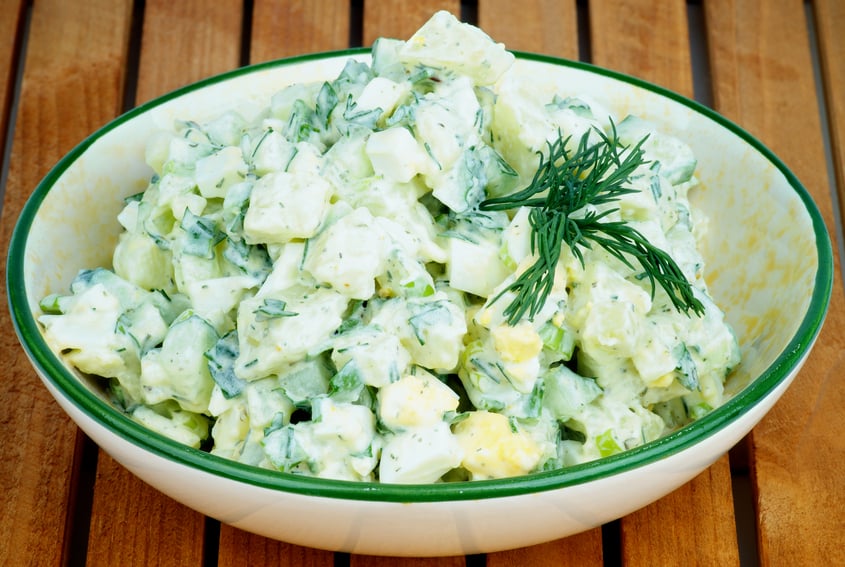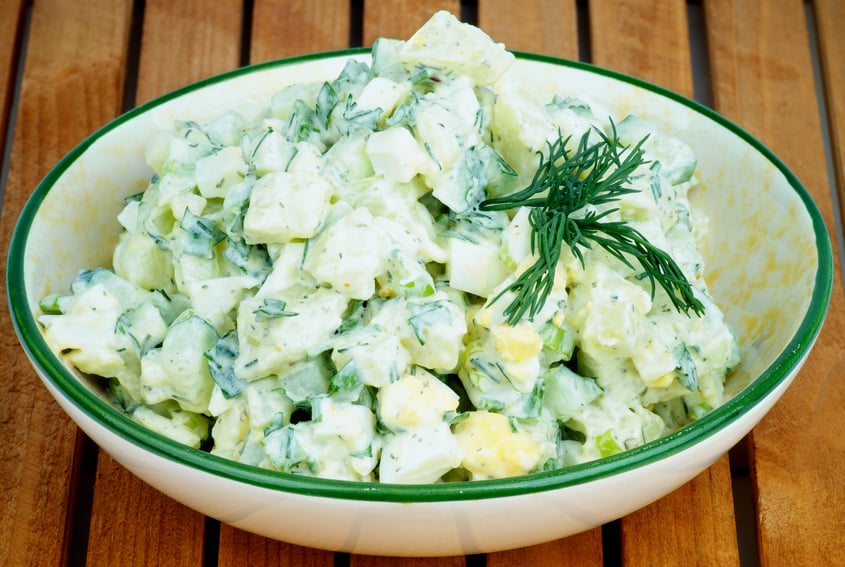 Potato salad: A dish with so much potential, and so much potential to go horribly wrong. If you've ever picked at a glob of bland mushy potatoes coated in what seems to be a gallon of mayo, you know what we mean. It doesn't have to be that way. Try this potato salad recipe from the Food Network's Ina Garten, which includes buttermilk and two kinds of mustard, and you'll have a potato salad people actually want to eat.
Ingredients:
3 pounds small white potatoes
Kosher salt
1 cup mayonnaise
¼ cup buttermilk
2 tablespoons Dijon mustard
2 tablespoons whole-grain mustard
½ cup chopped fresh dill
Freshly ground black pepper
½ cup chopped celery
½ cup chopped red onion
Directions: Place the potatoes and 2 tablespoons of salt in a large pot of water. Bring the water to a boil, then lower the heat and simmer for 10 to 15 minutes, until the potatoes are barely tender when pierced with a knife. Drain the potatoes in a colander, then place the colander with the potatoes over the empty pot and cover with a clean, dry kitchen towel. Allow the potatoes to steam for 15 to 20 minutes.
Meanwhile, in a small bowl, whisk together the mayonnaise, buttermilk, Dijon mustard, whole grain mustard, dill, 1 teaspoon of salt, and 1 teaspoon of pepper. Set aside.
When the potatoes are cool enough to handle, cut them in quarters or in half, depending on their size. Place the cut potatoes in a large bowl. While the potatoes are still warm, pour enough dressing over them to moisten. Add the celery and red onion, 2 teaspoons of salt and 1 teaspoon of pepper. Toss well, cover, and refrigerate for a few hours to allow the flavors to blend. Serve cold or at room temperature.
3. Afghan Tomato, Cucumber, and Onion Salad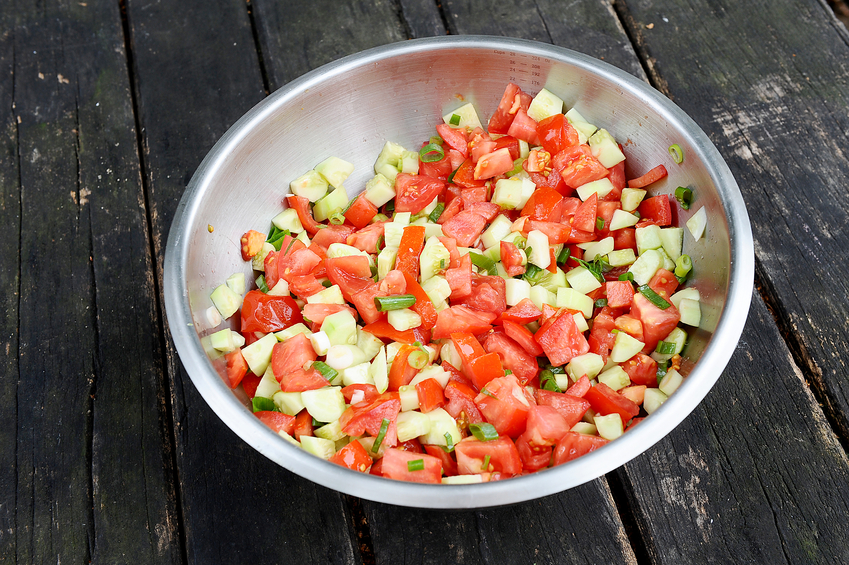 Summer is the ideal time to make a traditional Afghan salata, which calls for fresh tomatoes, cucumbers, onion, and cilantro. When making this dish, try to dice your veggies in a uniform size, since its makes for a prettier presentation. Recipe from Food.com.
Ingredients:
3 medium tomatoes, diced
3 baby cucumbers, peeled and diced (about 1 cup)
1 small sweet onion, diced
¾ cup roughly chopped cilantro (1 small bunch)
3 tablespoons fresh lemon juice (to taste)
1 teaspoon salt, to taste
Directions: Combine all ingredients in a bowl. Toss well to combine. Chill before serving.
4. Chorizo Taco Salad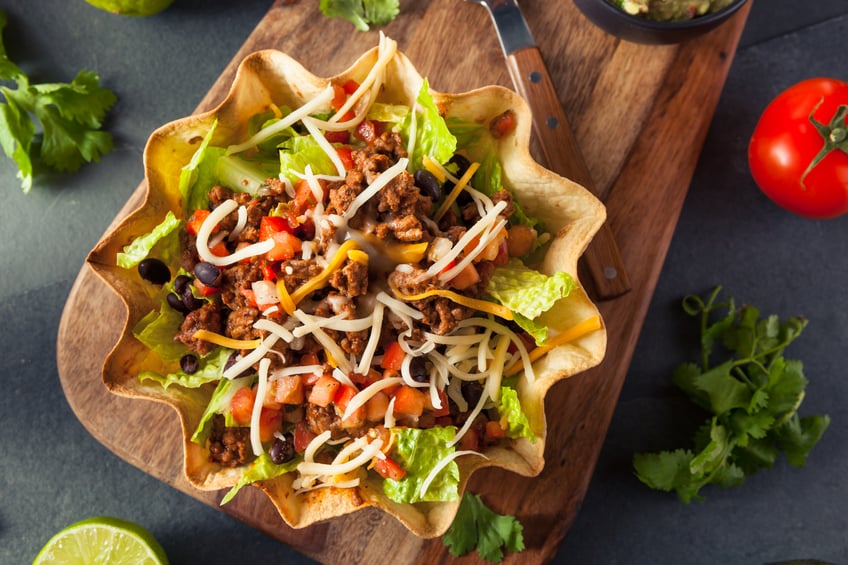 Skip the taco seasoning, Doritos, and iceberg lettuce that you'll find in many taco salads for this version from Damn Delicious, which is made with Mexican chorizo, romaine lettuce, tortilla strips, and a homemade lime vinaigrette. It's a lighter version of a picnic favorite, and sure to make it into your summer salads rotation.
Ingredients:
For the salad:
1 tablespoon olive oil
4 ounces Mexican chorizo, casing removed
5 cups chopped romaine lettuce
½ cup whole kernel canned sweet corn, drained
½ cup canned black beans, drained and rinsed
1 Roma tomato, diced
2 tablespoons chopped fresh cilantro leaves
1 avocado, halved, seeded, peeled, and diced
¼ cup shredded cheddar cheese, for garnish
¼ cup tortilla strips, for garnish
For the lime vinaigrette:
¼ cup olive oil
¼ cup apple cider vinegar
Zest of 1 lime
2 tablespoons freshly squeezed lime juice
2 teaspoons sugar, or more to taste
Directions: In a small bowl, whisk together the olive oil, apple cider vinegar, lime zest, lime juice, and sugar. Set aside.
Add 1 tablespoon of olive oil to a large skillet turn heat to medium-high. When the oil is hot, add the chorizo and cook until crisp, about 2 minutes. Crumble the chorizo as it cooks. Let cool.
Add the chopped romaine lettuce to a large bowl (or serve in tortilla bowls). Top the greens with the chorizo, corn, black beans, tomato, and cilantro. Pour the lime vinaigrette over, then toss gently to combine. Garnish with the cheese and tortilla strips. Serve immediately.
5. Strawberry Goat Cheese, and Arugula Salad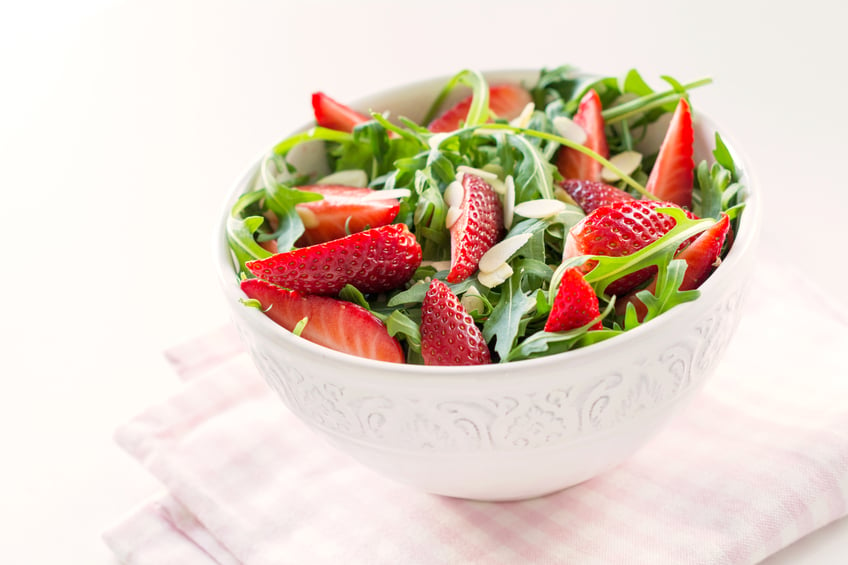 Skip the ho-hum strawberry-spinach salad for this upgraded version featuring slightly spicy arugula, fresh strawberries, hearty chicken, and creamy goat cheese. Toss with a creamy strawberry lemon vinaigrette and you have the makings of a perfect summer meal. This recipe from E.A. Stewart makes two perfect summer salads.
Ingredients:
For the salad:
6 cups baby arugula, or substitute other salad greens
2 cups whole fresh strawberries, hulled and sliced
8 ounces cooked chicken breast, sliced
2 ounces fresh goat cheese, crumbled
3 tablespoons slivered almonds
1 cup micro greens, for garnish (optional)
For the creamy strawberry lemon vinaigrette:
2 tablespoons extra virgin olive oil
1 tablespoon lemon juice
1 tablespoon golden balsamic vinegar
5 whole strawberries, hulled
⅛ teaspoon fine sea salt
Freshly ground black pepper to taste

Directions: Add the olive oil, vinegar, lemon juice, strawberries, salt, and pepper to a blender. Blend on high until smooth. Set aside. (You can make the dressing in advance and store in the refrigerator until ready to use.)
Place 3 cups of arugula on each of 2 plates. Top each with 1 cup of sliced strawberries, 4 ounces cooked chicken, 1 ounce crumbled goat cheese, and 1½ tablespoons slivered almonds. Drizzle each with some of the vinaigrette, then garnish with the microgreens. Serve immediately.
6. Spicy Watermelon and Avocado Salad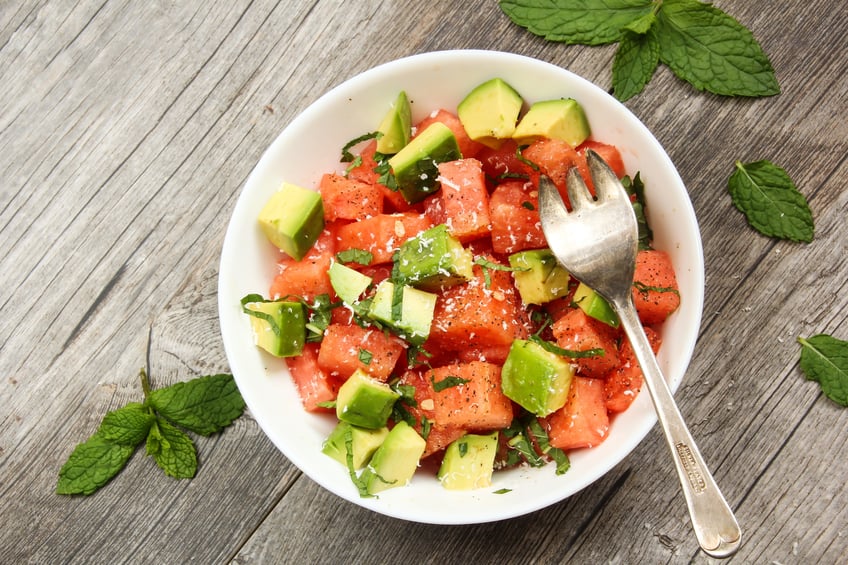 When you see it in a salad, you'll often find juicy watermelon paired with ingredients like goat cheese, mint, and red onion, then drizzled with a little balsamic. While we happen to love that preparation, that's not the only way to eat the quintessential summer fruit in a salad. In this recipe from Love and Lemons, watermelon is combined with some of its old friends, including mint and red onion, along with creamy avocado, lime, and sprouts. Top it with a spicy, garlicky jalapeño dressing and you have a sweet summer salad with a little extra kick.
Ingredients:
For the salad:
Watermelon
Lime
Red onion, thinly sliced
Cotija or feta cheese
Avocado cubes
Mint or basil
Sprouts or small salad greens
For the dressing:
⅓ cup olive oil
Juice of 1 lime
½ jalapeño, sliced
1 clove of garlic, smashed (optional)
Salt and pepper, to taste
Directions: Combine the olive oil, lime juice, jalapeño, smash garlic, and salt and pepper in a small bowl. Whisk to combine.
Cut the watermelon into cubes. Sprinkle a few pinches of salt and a squeeze of lime over the fruit. Transfer the watermelon to a plate or bowl. Add the rest of the salad ingredients. Remove the garlic from the dressing, then drizzle the dressing over the salad. (Leftover dressing can be kept at room temperature for a day or so.) Serve immediately.
Follow Megan on Twitter @MeganE_CS
More from Culture Cheat Sheet: