Philando Castile's Family Receives $3 Million Settlement, but No Jury Conviction of a Police Officer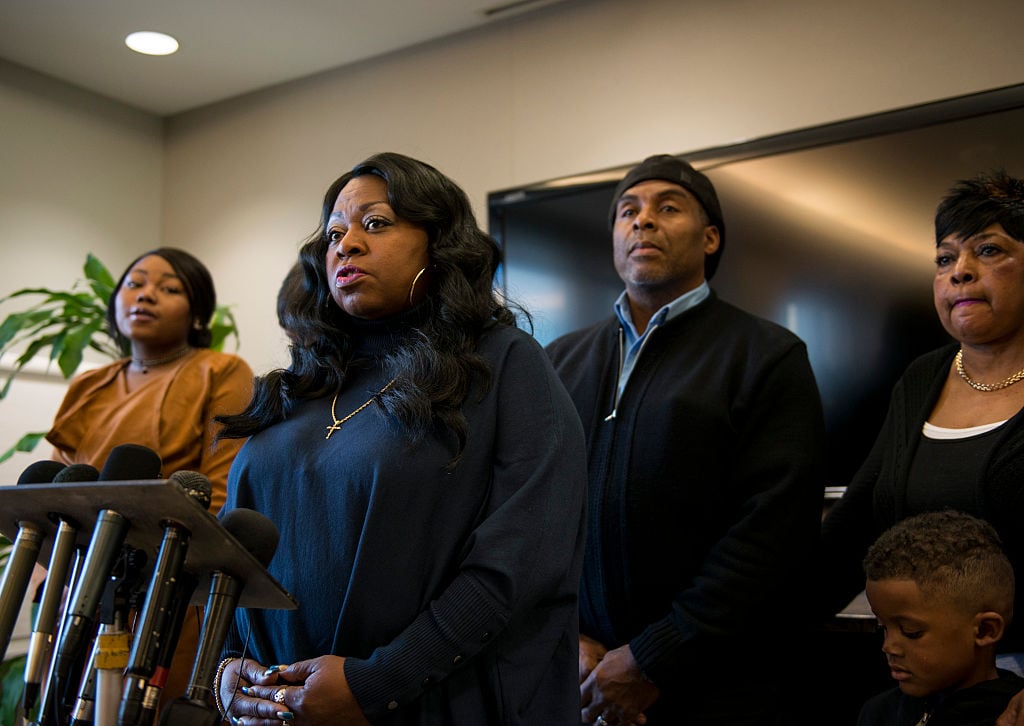 The mother of Philando Castile, a black man shot and killed by a Minnesota police officer in July 2016, reached a settlement deal with the city of St. Anthony worth nearly $3 million, according to The New York Times. "No amount of money could ever replace Philando," the Minneapolis suburb said in a statement. The settlement came 10 days after a jury acquitted the police officer, Jeronimo Yanez, of all charges. Yanez had been charged with second-degree manslaughter and endangering safety by discharging a firearm.
The Washington Post reports Castile was shot five times by Yanez during a traffic stop, after the 32-year-old school cafeteria worker informed the officer that he had a licensed firearm in the car. The shooting gained attention nationwide when Castile's girlfriend, Diamond Reynolds, broadcast its aftermath on Facebook Live. Reynolds was in the car with her then 4-year-old daughter. She said her boyfriend had been trying to cooperate with Yanez, who had pulled Castile over for a broken taillight.
Yanez testified that he believed Castile matched the description of a robbery suspect. He also believed Castile was reaching for a gun. Prosecutors said Castile informed Yanez he had a firearm to put the officer at ease, according to The New York Times. ThinkProgress reports according to a squad car video of the shooting, Yanez fired 7 seconds after Castile first informed the officer about the gun.
The Castile settlement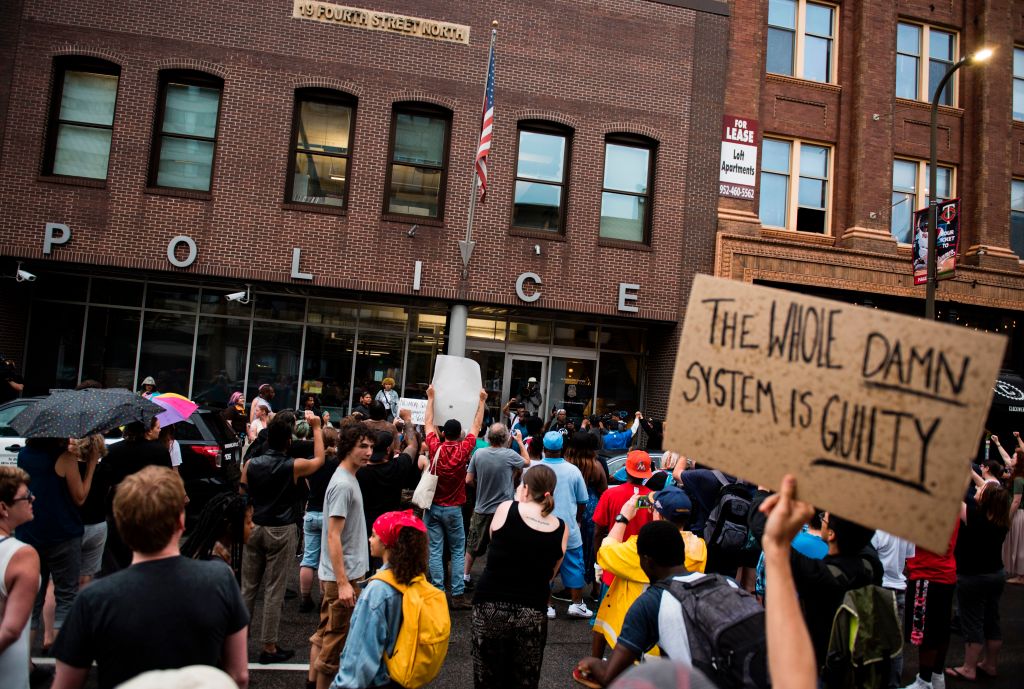 Castile's mother, Valerie, will receive a $2.995 million settlement, which an insurance trust will pay. The amount almost matches the Minnesota town's annual police budget, ThinkProgress notes. The settlement avoids a federal civil rights lawsuit attorneys expected to take years to resolve. After Yanez's acquittal, the city of St. Anthony offered him a "voluntary separation agreement" from the police department. In essence, this means Yanez will no longer work as a police officer for the city.
According to NPR, Valerie Castile told reporters after Yanez's acquittal, "The system continues to fail black people, and it will continue to fail you all." She added, "My son loved this city, and this city killed my son and the murderer gets away."
Castile's case was the latest to yield a settlement but no conviction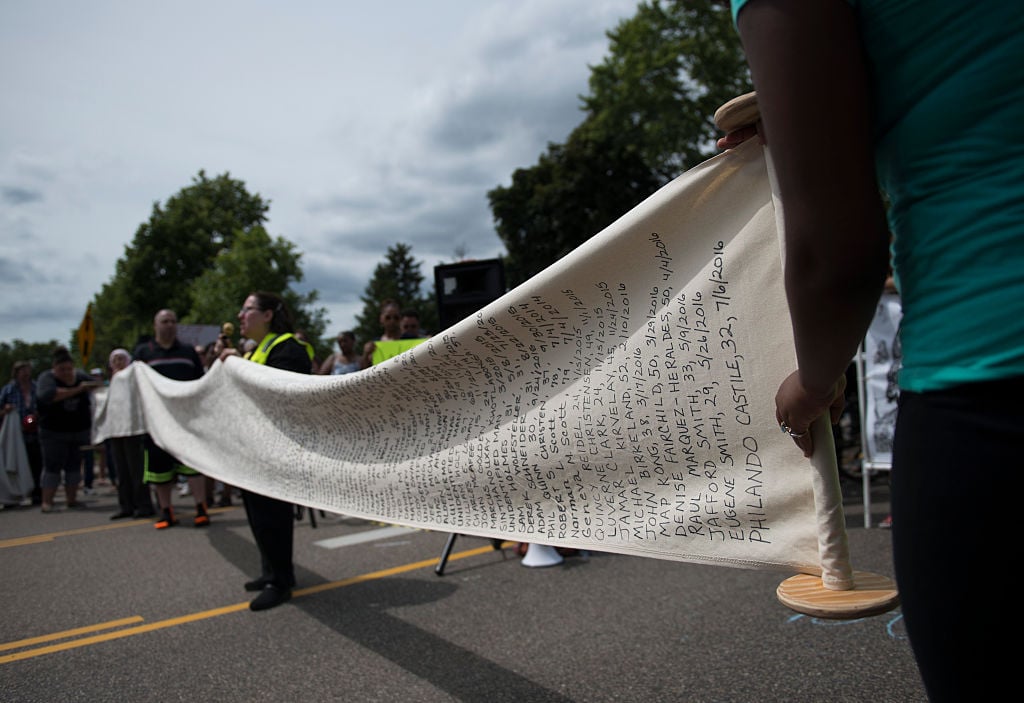 Castile's case is a recent example of an instance where a police officer shot a black person, resulting in a million-dollar-plus legal settlement but no criminal conviction of the officer involved. Castile's killing and other shootings have set off waves of protests and fueled a national debate over police conduct toward black people.
Though he was not convicted, Yanez was one of the few officers charged for using force on the job, according to Vox. An analysis by FiveThirtyEight found it's even more rare for police officers to be convicted and imprisoned than it is for them to face charges in such cases. Furthermore, USA Today reports despite viral videos and widespread concern over fatal shootings of black men across the United States, convictions remain rare, even in high-profile cases, such as Castile's.
Ferguson, Missouri, settles with the family of Michael Brown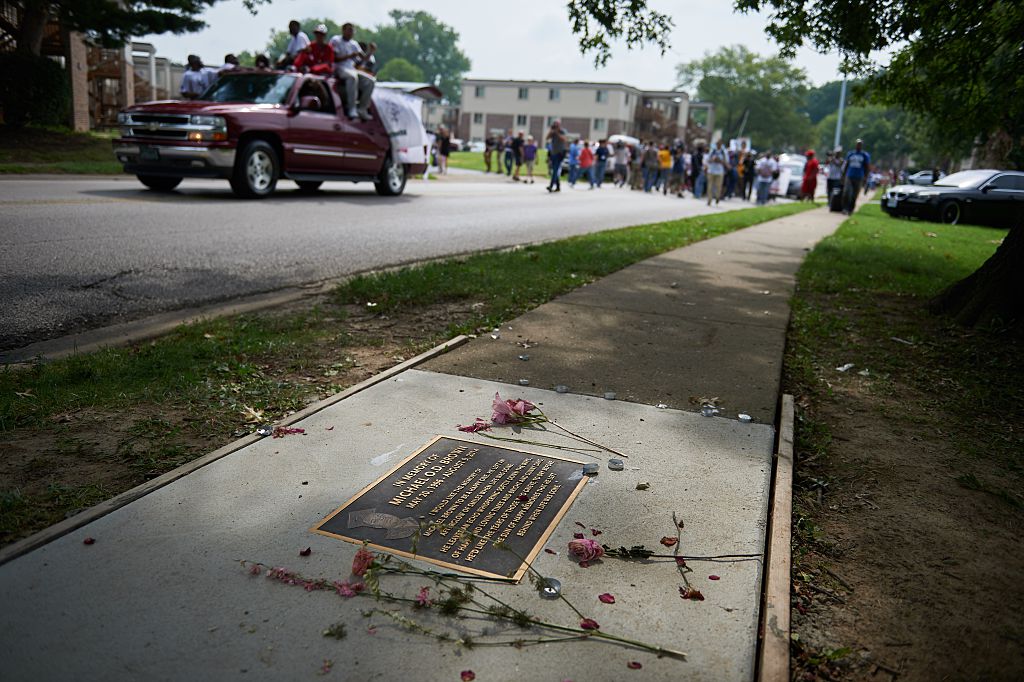 According to NPR, news of the Castile settlement came a week after the family of Michael Brown, an unarmed black teenager killed by a white police officer, agreed to a settlement with Ferguson, Missouri. Financial details of the settlement, which was finalized June 20, 2017, were not initially released. However, USA Today reports the city attorney said Ferguson's insurance company paid $1.5 million. The settlement came nearly three years after Darren Wilson fatally shot Brown on Aug. 9, 2014.
Wilson tried to stop the teenager for a possible theft of cigarillos from a convenience store. The officer said he fired his gun because Brown attacked him. The encounter lasted less than two minutes, according to a Justice Department report read by The New York Times.
The Times adds some witnesses said Brown had his hands up in surrender when he died. Both a state grand jury and the Justice Department rejected that story and cleared Wilson of wrongdoing. However, a second report from the Justice Department found a pattern of systemic discrimination against black residents by the Ferguson Police Department, according to The New York Times.
Baltimore settles with the family of Freddie Gray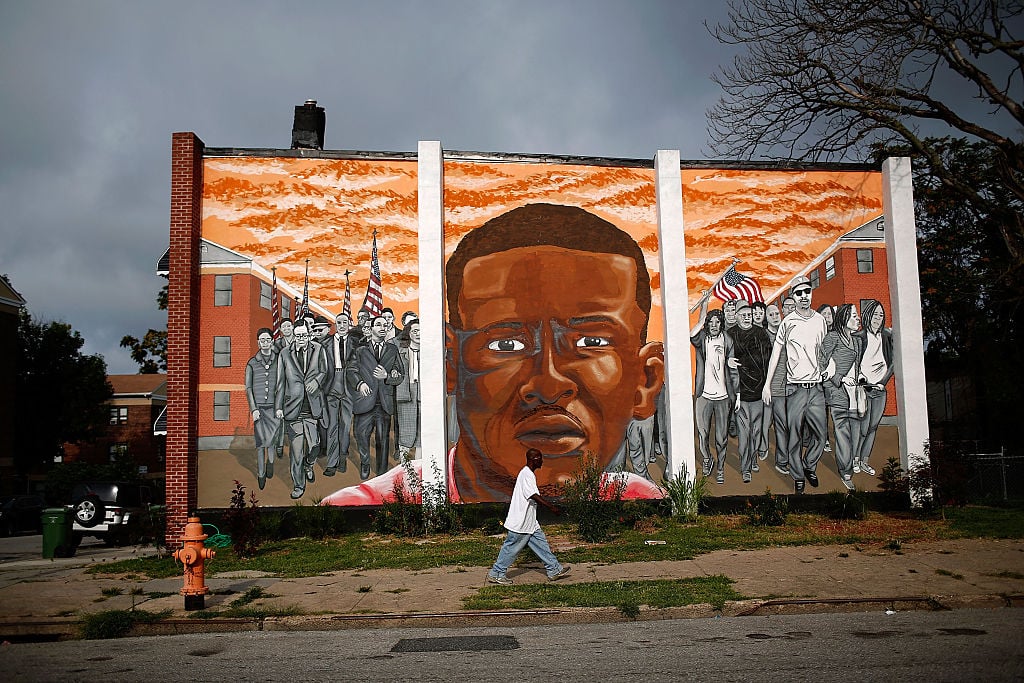 The Baltimore Sun reports in September 2015, the city of Baltimore agreed to a $6.4 million settlement with the family of Freddie Gray, a 25-year-old who suffered a spinal cord injury while in police custody. The settlement did not acknowledge any wrongdoing by police. The six officers involved in Gray's arrest and transport in a police van had been charged with crimes, from murder to assault. All pleaded not guilty. The New York Times reports by July 2016, the state's attorney had dropped all charges against the officers.
Police arrested Gray after he spotted officers while walking with friends and ran away. After riding unsecured in a police transport wagon, he was found unresponsive and not breathing. He died a week later. Vox notes the Department of Justice quickly launched an investigation into the practices of the Baltimore Police Department after riots over Gray's death. The resulting report found pervasive "racial disparities" in the department's practices, "along with evidence suggesting intentional discrimination."
New York City agrees to settle with the family of Eric Garner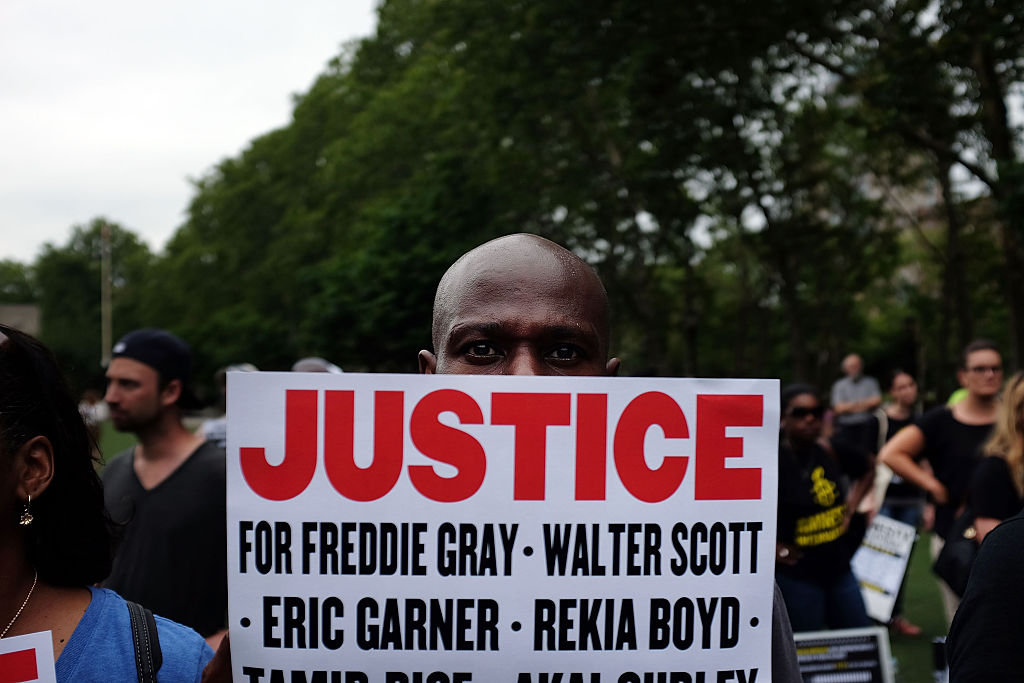 According to The New York Times in 2015, New York City reached a $5.9 million settlement with the family of Eric Garner to resolve a wrongful death claim over the killing of the unarmed black man by Staten Island police. The parties reached the agreement a few days before the first anniversary of Garner's death, which occurred when two officers approached Garner and accused him of selling untaxed cigarettes. Officer Daniel Pantaleo subdued Garner with a choke hold that the medical examiner cited as a cause of death.
The New York Times reports in December 2014 a grand jury declined to indict Pantaleo. According to the Times, in videos of the encounter shown to jurors, Pantaleo was seen with an arm around Garner's throat as Garner repeatedly said, "I can't breathe." FiveThirtyEight reports grand juries commonly decline to indict in cases that involve police officers. However, the publication adds that residents of Staten Island are particularly sympathetic to the New York Police Department as compared to residents of other boroughs of the city, making the verdict especially unsurprising.
Pleasantville, New York, settles with the family of Danroy Henry Jr.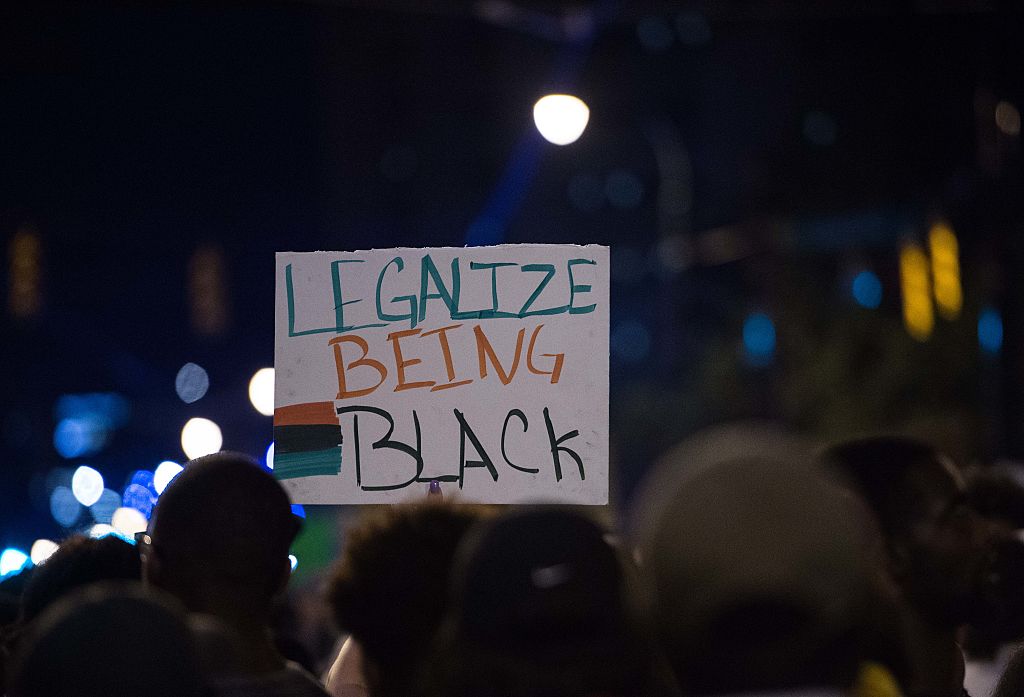 According to The New York Times, the village of Pleasantville in New York's Westchester County agreed to a $6 million settlement for the shooting of Danroy Henry Jr. The settlement came in March 2016. That was a year after the Justice Department declined to bring charges against Aaron Hess, the white officer who fatally shot the black college student. More than five years had passed since the shooting occurred in October 2010.
Hess shot Henry, a college student and football player at Pace University, as Henry was driving away from a bar. Henry's car hit Hess, and he landed on the hood. There, he fired several shots through the windshield. Reports conflicted as to why Hess stepped in front of Henry's car. But the Justice Department concluded Henry likely had his foot on the brake when the car struck Hess. According to the Evansville Courier & Press, Henry's family claimed in their civil lawsuit that Hess refused Henry medical aid after pulling him from the car and handcuffing him.
Cleveland agrees to settle with the family of Tamir Rice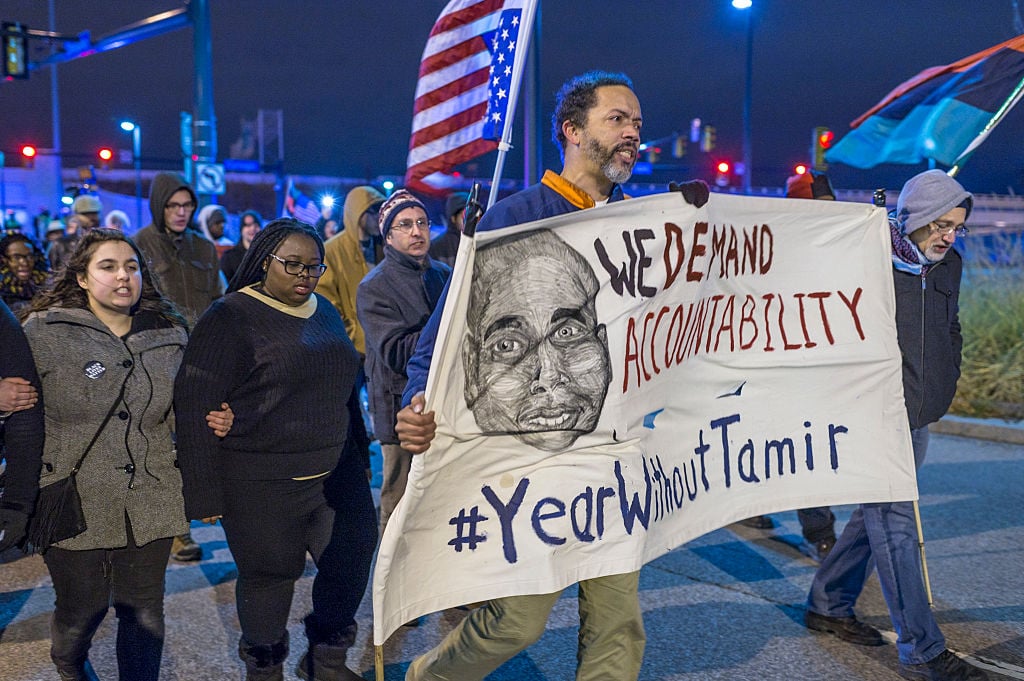 NPR reports Cleveland agreed to pay a $6 million settlement to the family of Tamir Rice, a 12-year-old fatally shot by police while playing with an airsoft gun, which shoots nonlethal plastic pellets. The settlement, announced on April 25, 2016, came about a year and a half after a white police officer, Timothy Loehmann, shot and killed Rice on Nov. 22, 2014. In a statement, the family's attorney said there was "no such thing as closure or justice" in the case.
The New York Times reports a grand jury declined to charge Loehmann in December 2015. The case began with a 911 call that said a male, "probably a juvenile," was waving a gun, "probably fake," in a Cleveland park. The Times reports Loehmann, nor his partner, Frank Garmback, heard those caveats. Loehmann opened fire within seconds of arriving at the park. Vox reports according to documents from the Cuyahoga County Sheriff's Department, it's unclear whether Loehmann shouted any warnings before he opened fire.