6 Pie Recipes You'll Want to Make All Winter
Pies get a lot of attention during the holiday season, but truthfully, these desserts that can be enjoyed all winter if you choose the right ingredients. Some of these options call for seasonal produce, though others rely on ingredients you can find any time of year. Here are a handful of pie recipes that you should keep in your dessert recipe arsenal during the cooler months.
1. French Silk Pie
You cannot go wrong with French silk pie, and this recipe from Taste of Home is a great rendition. You might even already have the ingredients you need. As long as you have pie dough, eggs, sugar, chocolate, butter, and heavy whipping cream, you're good to go. It might take a bit of patience, but this velvety pie is worth it.
Ingredients:
1 sheet refrigerated pie pastry

⅔

cup sugar

2 large eggs

2 ounces unsweetened chocolate, melted

1 teaspoon vanilla extract

⅓

cup butter, softened

⅔

cup heavy whipping cream

2 teaspoons confectioners' sugar

Whipped cream and chocolate curls, optional
Directions: Preheat the oven to 450 degrees Fahrenheit. Cut pastry sheet in half, and repackage and refrigerate one half for another use. On a lightly floured surface, roll out remaining half into an 8-inch circle. Transfer to a 7-inch pie plate, and crimp edges.
Line the shell with a double thickness of heavy-duty foil, and then bake it for 4 minutes. Remove foil, and bake 2 minutes longer, or until crust is golden brown. Cool on a wire rack.
In a small saucepan, combine sugar and eggs until everything is blended. Cook over low heat, stirring constantly, until mixture reaches 160 degrees Fahrenheit and coats the back of a metal spoon. Remove the mixture from the heat. Stir in chocolate and vanilla until everything is smooth. Cool to lukewarm (90 degrees Fahrenheit), stirring occasionally.
In a small bowl, cream butter until light and fluffy. Add cooled chocolate mixture, and beat on high speed for 5 minutes, or until the mixture is light and fluffy.
In another large bowl, beat cream until it begins to thicken. Add confectioners' sugar, and beat until stiff peaks form. Fold your cream into the chocolate mixture carefully. 
Pour into crust. Chill for at least 6 hours before serving. Garnish with whipped cream and chocolate curls if desired.
2. Banana Cream Pie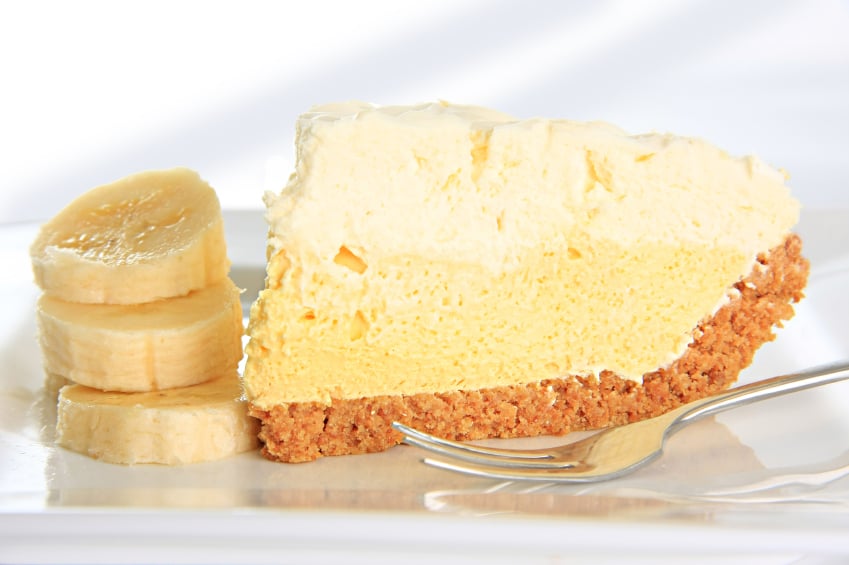 This recipe from Epicurious will provide you with a classic and delicious banana cream pie. You'll be making an easy graham cracker crust that gets filled with a mixture made of sugar, cornstarch, whipping cream, bananas, whole milk, butter, and egg whites. Once the pie has chilled and is set, you can feed 8 happy guests.
Ingredients:
2½ cups graham cracker crumbs

⅓

cup sugar
¼ cup mashed banana
¼ cup unsalted butter, melted
Filling 
½ cup sugar

⅓

cup cornstarch
¼ teaspoon salt
1½ cups whipping cream
1½ cups whole milk
3 large egg yolks
½ vanilla bean, split lengthwise
2 tablespoons unsalted butter
1 teaspoon vanilla extract
5 ripe bananas, peeled, cut crosswise into ¼-inch-thick slices
Directions: Preheat the oven to 350 degrees Fahrenheit. In a large bowl, stir graham cracker crumbs, sugar, and mashed banana to blend. Add unsalted butter and stir to moisten everything evenly. Press this crust into the bottom and up the sides of a 10-inch glass pie dish. Chill until firm, about 30 minutes.
Bake crust until set and pale golden, about 15 minutes. Cool completely.
For the filling, whisk sugar, cornstarch, and salt in heavy medium saucepan until well blended. Gradually whisk in whipping cream and whole milk, then add the egg yolks and whisk those in. Scrape in seeds from vanilla bean, and then add the whole vanilla bean. Whisk over medium-high heat until custard thickens and boils, about 6 minutes. Remove the custard from heat. Whisk in unsalted butter and vanilla extract, and discard the vanilla bean. Transfer custard to a large bowl and allow it to cool completely, whisking occasionally, for about 1 hour.
After the custard has cooled, stir it to loosen if necessary. Spread 1 cup of the custard over bottom of prepared crust. Top with half of sliced bananas followed by another cup of custard, covering bananas completely. Repeat layering with remaining bananas and remaining custard until your pie is complete. Chill banana cream pie until filling is set and crust softens slightly, which can take as little as 8 hours or up to 1 day. Cut pie into wedges and serve.
3. Streusel-Topped Pumpkin Pie
This next pie from Betty Crocker is one you can find on the holiday table, but it's also great during the dreary days of late winter. Why only enjoy it once a year when pumpkin pie is such a favorite? This streusel-topped pumpkin pie is an elevated take on the classic that everyone will love. The prep time for the pie caps at 20 minutes and it serves 8.
Ingredients:
1 refrigerated pie crust
2 eggs, beaten
½ cup granulated sugar
1 can pumpkin
1 can evaporated milk
1 teaspoon ground cinnamon
½ teaspoon salt
½ teaspoon ground ginger

⅛

teaspoon ground cloves
Topping
½ cup quick-cooking oats
½ cup packed brown sugar
¼ cup butter or margarine, softened
Directions: Heat oven to 425 degrees Fahrenheit. Place the pie crust in a 9-inch glass pie plate.
In large bowl, beat all filling ingredients with hand beater or wire whisk until blended. Pour this filling into a pie crust-lined pie plate.
Bake for 15 minutes. Remove pie from oven, and then reduce the oven temperature to 350 degrees Fahrenheit. If your pie crust begins to brown too quickly, cover the crust edge with 2- to 3-inch-wide strips of foil to prevent this while the pie continues to cook. Bake for 35 minutes.
In a separate small bowl, mix topping ingredients with a fork until crumbly. Set this aside.
When your pie has finished baking, sprinkle the topping over the pie. Bake about 10 minutes longer, or until a knife inserted in the center comes out clean. Cool on cooling rack for 30 minutes, and then refrigerate for about 4 hours, or until the pie has chilled before serving. Store the rest of the pie covered in the refrigerator.
4. Key Lime Pie
If you want a light, refreshing pie, this recipe is the ticket. Food Network makes their Key lime pie simply from egg yolks, lime zest, lime juice, and sweetened condensed milk, then adds the filling to a graham cracker crust. It can be prepped in just 25 minutes and serves a crowd.
Ingredients:
Graham cracker crust
⅓

of a 1-pound box graham crackers
5 tablespoons melted unsalted butter

⅓

cup sugar
Filling
3 egg yolks
2 teaspoons lime zest
1 (14-ounce) can sweetened condensed milk
⅔ cup freshly squeezed Key lime juice, or store bought
Topping
1 cup heavy cream or whipping cream, chilled
2 tablespoons confectioners' sugar
Directions: Preheat the oven to 350 degrees Fahrenheit. Break up the graham crackers and then place them in a food processor and process to crumbs. Add the melted butter and sugar and pulse or stir until combined. Press the mixture into the bottom and sides of a pie pan, forming a neat border around the edge. Bake the crust until set and golden, 8 minutes. Set aside on a wire rack, and leave the oven on.
To start your pie filling, take your electric mixer and attach the wire whisk. Beat the egg yolks and lime zest at high speed until very fluffy, about 5 minutes. Gradually add the condensed milk and continue to beat until thick, 3 or 4 minutes longer. Lower the mixer speed and slowly add the lime juice, mixing just until combined without mixing too much. Pour the mixture into the crust. Bake for 10 minutes, or until the filling has just set. Cool on a wire rack, then refrigerate. Freeze for 15 to 20 minutes before serving.
Whip the cream and the confectioners' sugar until stiff peaks form. Cut the pie into wedges and serve very cold, topping each wedge with a large dollop of whipped cream.
5. Mud Pie
Mud pie is the ultimate way to indulge, and with this recipe from Betty Crocker, you can do so from the comfort of your own home. Its base is similar to a chocolate cake, and it gets topped with layers of fudge sauce, whipped cream, and nuts. This mud pie might not be the most sophisticated dessert on the table, but it might be the most delicious.
Ingredients:
1 cup granulated sugar
½ cup butter or margarine, melted

⅓

cup all-purpose flour

⅓

cup baking cocoa
1 teaspoon vanilla
¼ teaspoon salt
2 eggs
1 cup chopped nuts, if desired
¼ cup hot fudge sauce or topping
1 cup heavy cream
2 tablespoons powdered sugar
2 to 3 tablespoons hot fudge sauce or topping, if desired
Additional nuts, if desired
Directions: Preheat oven to 325 degrees Fahrenheit. Grease the bottom and sides of a round pan that is 8 by 1½ inches, or a pie plate that is 9-by-1¼ inches. In a medium bowl, stir together granulated sugar, butter, flour, cocoa, vanilla, salt and eggs. Then, add the nuts, and pour everything into the pan.
Bake 25 to 30 minutes or until the edges appear dry and a toothpick inserted into the center of the pie comes out clean. Immediately prick holes in the pie with a toothpick. Spread ¼ cup fudge sauce over the top and allow to cool completely, about 1 hour.
In a chilled medium bowl, beat whipping cream and powdered sugar with an electric mixer on high speed until stiff peaks form. Spread this over fudge sauce. Drizzle 2 to 3 tablespoons fudge sauce on top. Garnish with additional nuts. Cover and refrigerate any remaining pie.
6. Buttermilk Pie
Last but not least is a classic buttermilk pie from Martha Stewart. The tangy custard pie requires few ingredients and is easy to make. As long as you take the pie crust shortcut, you can have it prepped in 15 minutes or fewer. All you need to do is whisk together your eggs, flour, sugar, buttermilk, butter, and vanilla, and then fill your crust. Bake for a little less an hour, then let it cool before digging in.
Ingredients:
3 large eggs, lightly beaten
3 tablespoons all-purpose flour
1 cup sugar
1½ cups low-fat buttermilk
½ cup unsalted butter, melted and cooled
1 teaspoon pure vanilla extract
1 pie crust, fitted into a 9-inch pie plate, well chilled
½ teaspoon ground nutmeg
Directions: Preheat the oven to 425 degrees Fahrenheit. In a bowl, whisk together eggs, flour, and sugar. Whisk in buttermilk and butter in 4 parts, alternating between them for an even mix. Then, whisk in vanilla. Pour filling into crust and sprinkle with nutmeg. Bake for 15 minutes.
Reduce heat to 325 degrees Fahrenheit. Then, cover the pie loosely with foil and bake until filling is set, 35 to 40 minutes. Transfer to a wire rack, and let cool. Serve at room temperature.