15 Places Where You Can Vacation Like John F. Kennedy and Jackie Kennedy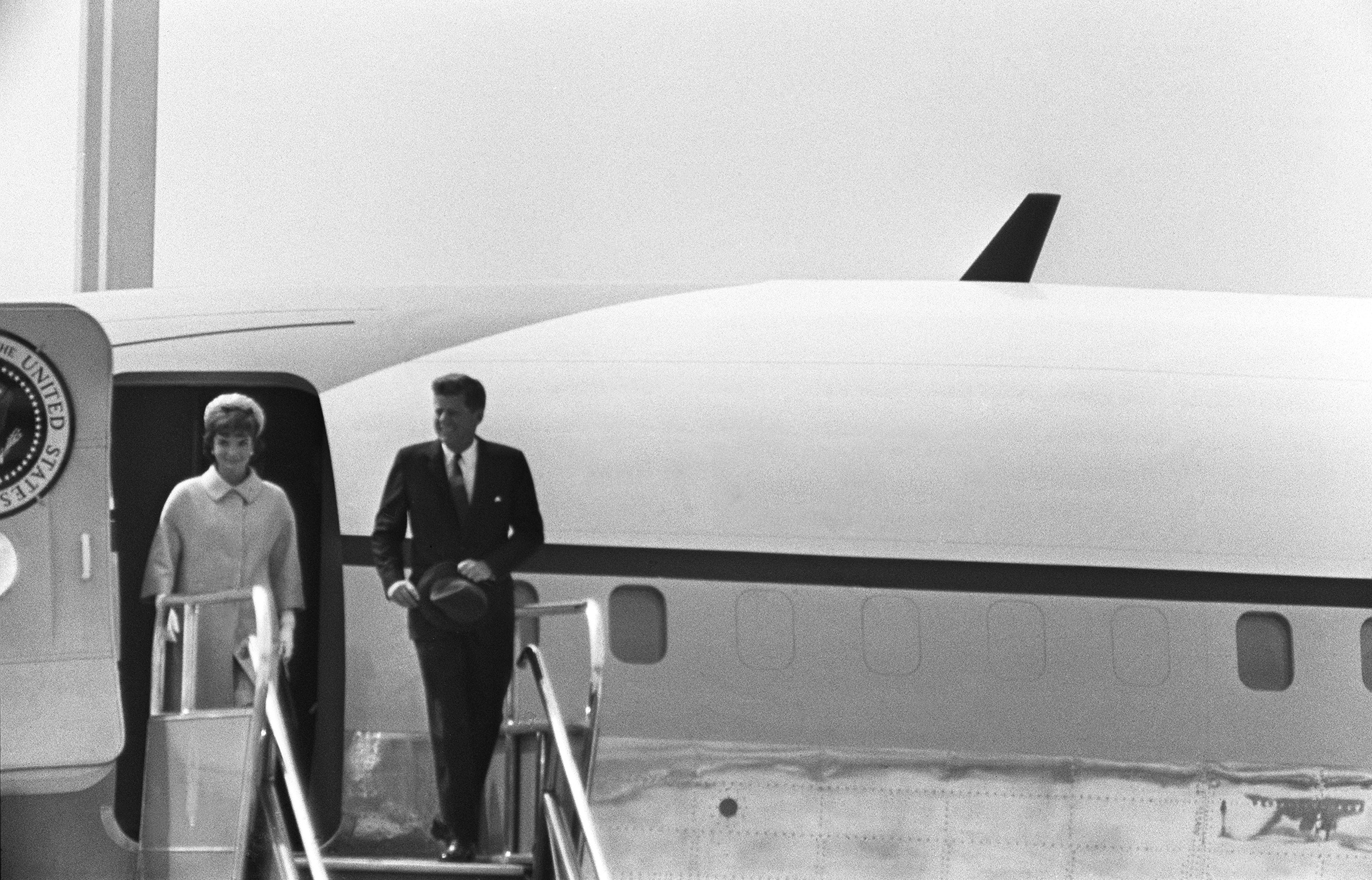 Even the president of the United States needs to take a vacation from time to time. And over the generations, presidents and their families have found many favorite vacation spots. Some loved traveling internationally, while others picked destinations a little closer to home, like Florida. John F. Kennedy and his wife, Jacqueline Kennedy, also did their fair share of traveling. And many of the destinations that they chose are just as worthy of a trip now as they were back in the 1950s and 1960s.
Below, check out the best destinations where you can vacation just like John F. Kennedy and Jackie Kennedy.
1. Acapulco, Mexico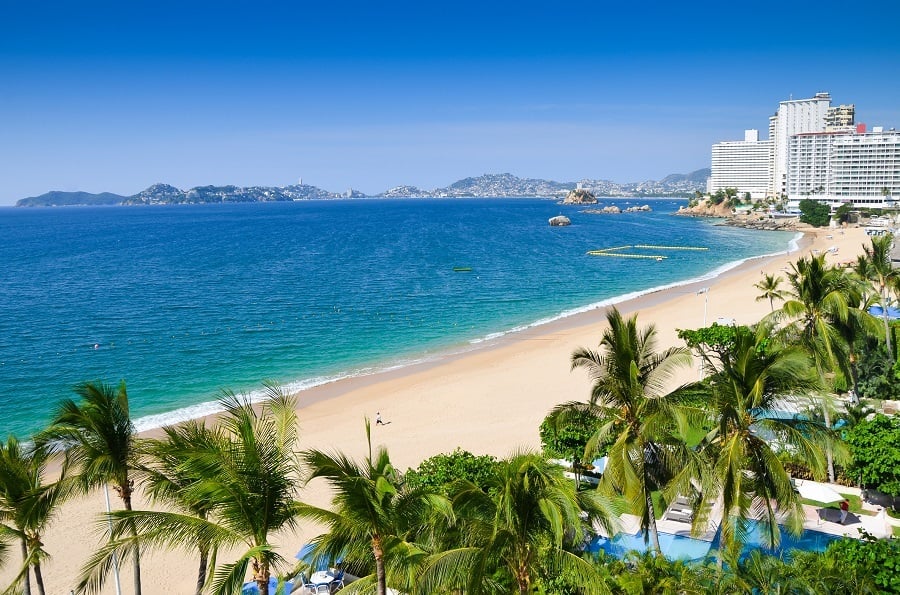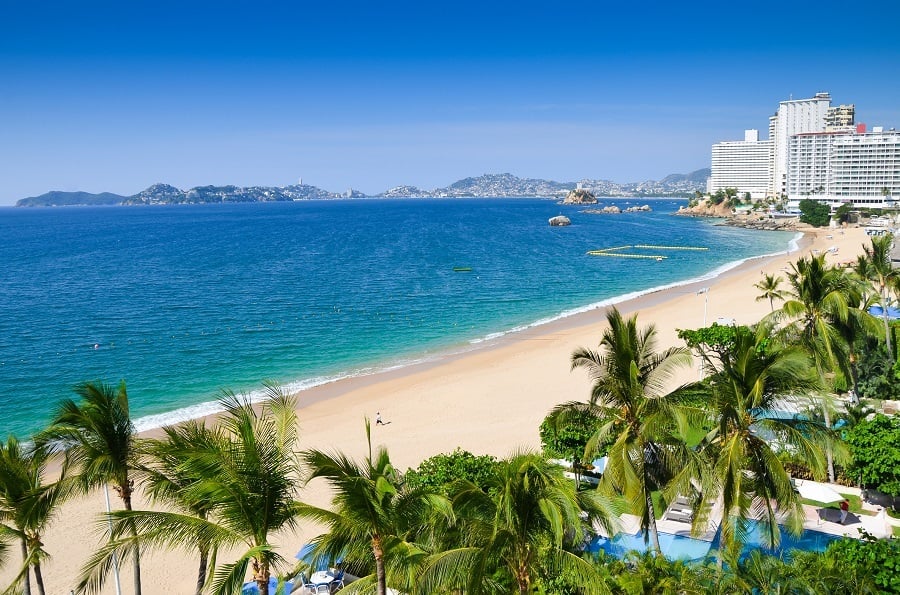 Town and Country reports that John and Jackie Kennedy honeymooned in Acapulco in September 1953. You can follow their lead by visiting the iconic resort town on Mexico's Pacific coast. Town and Country recommends the Fairmont Pierre Marques as "the quintessential Acapulco destination."
The resort has a retro, 1950s ambiance. And it also offers "beloved Kennedy activities" such as golf, tennis, and swimming. Condé Nast Traveler, on the other hand, recommends staying at the luxury hotel, Las Brisas, where the Kennedys celebrated the first days of their marriage. But wherever you stay, Town and Country also suggests checking out Carmenère, a classic wine bar and restaurant.
Next: You can see a lot of Kennedy history in this New England destination. 
2. Boston, Massachusetts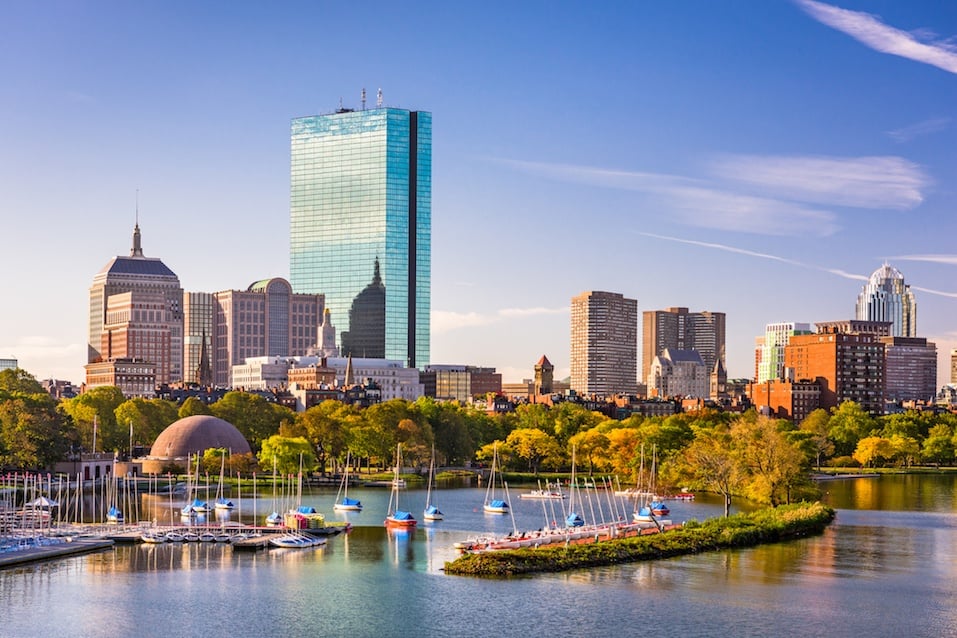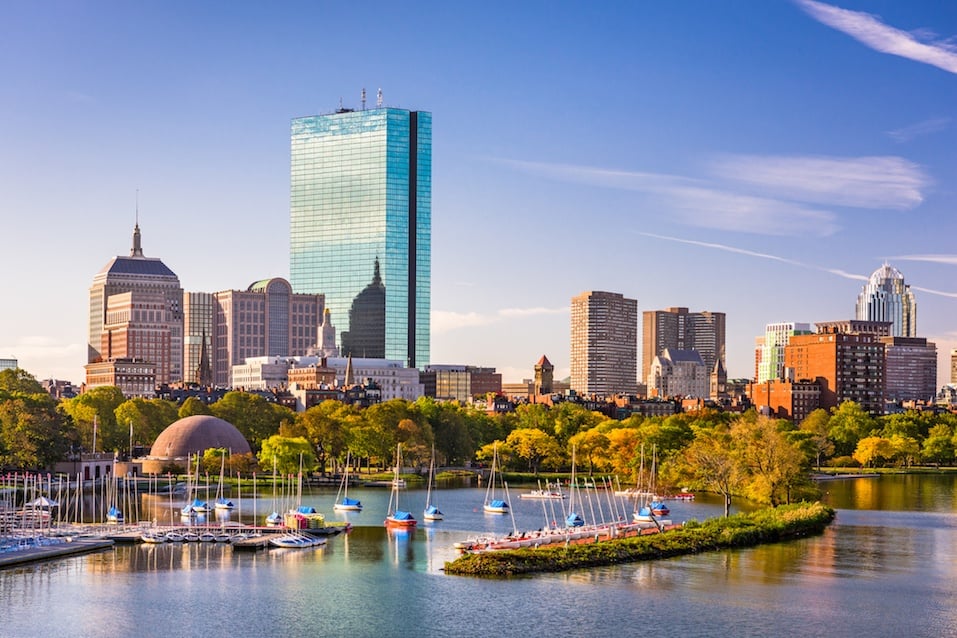 The Guardian reports that if you want to follow the Kennedys' footsteps around New England, then you may as well take a tour of Boston. A Kennedy-centric tour, to be exact. "Local historian David O'Donnel, who has an encyclopedic knowledge of Kennedy and his family, leads two-hour tours on foot around the city center," the publication explains. The tours explore JFK's local haunts. And they also highlight "locations that were instrumental in the rise of Irish political power in the city."
While in Boston, don't forget to stop by the Union Oyster House to eat a bowl of clam chowder in JFK's usual booth. Or, visit the Omni Parker House to see the spot where John proposed to Jackie. You can also visit John F. Kennedy's iconic birthplace and childhood home in the Boston suburb of Brookline. Or, make a stop at the John F. Kennedy Presidential Library and Museum.
Next: Jackie Kennedy liked this European destination. 
3. Capri, Italy
Jackie Kennedy looms just as large in the American imagination as JFK. And some of the destinations that we associate with "the Kennedys" are ones that Jackie Kennedy frequented without the 35th president by her side. After John F. Kennedy's assassination, Jackie Kennedy eventually remarried. In 1968, she tied the knot with Greek shipping magnate Aristotle Onassis, and she took an iconic vacation to Capri in 1969.
As Condé Nast Traveler reports, it was in Capri that Jackie "brought the world's attention to the locally made Canfora sandals, and stayed the night at Hotel Gatto Bianco with Sofia Loren." The publication adds of the luxurious hotel, "You can still stay there today — just without the Italian bombshell as your company."
Next: JFK returned to his roots in this capital city. 
4. Dublin, Ireland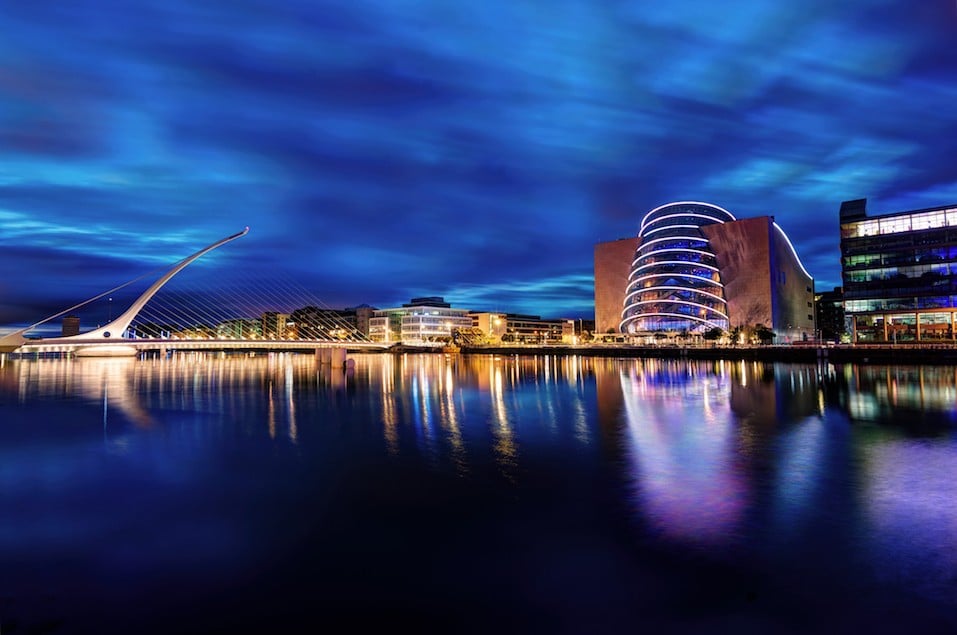 John F. Kennedy became America's first Irish-Catholic president. And Town and Country reports that in 1963, John F. Kennedy "got back to his Irish Catholic roots when he addressed Parliament and attended a family reunion" in Dublin, Ireland. And it wasn't the only time that the Kennedys visited Dublin. After JFK's death, Jackie continued to take her family to Dublin on vacations.
If you follow in JFK's steps and visit the Irish capital, Town and Country recommends staying in the heart of Georgian Dublin at the Merrion Hotel, which exudes the same sort of elegance to which Jackie aspired with her White House restoration. The publication also suggests dining at the Winding Stair for an "elevated" version of traditional Irish cuisine.
Next: During John F. Kennedy's childhood, the Kennedys summered closer to home. 
5. Hull, Massachusetts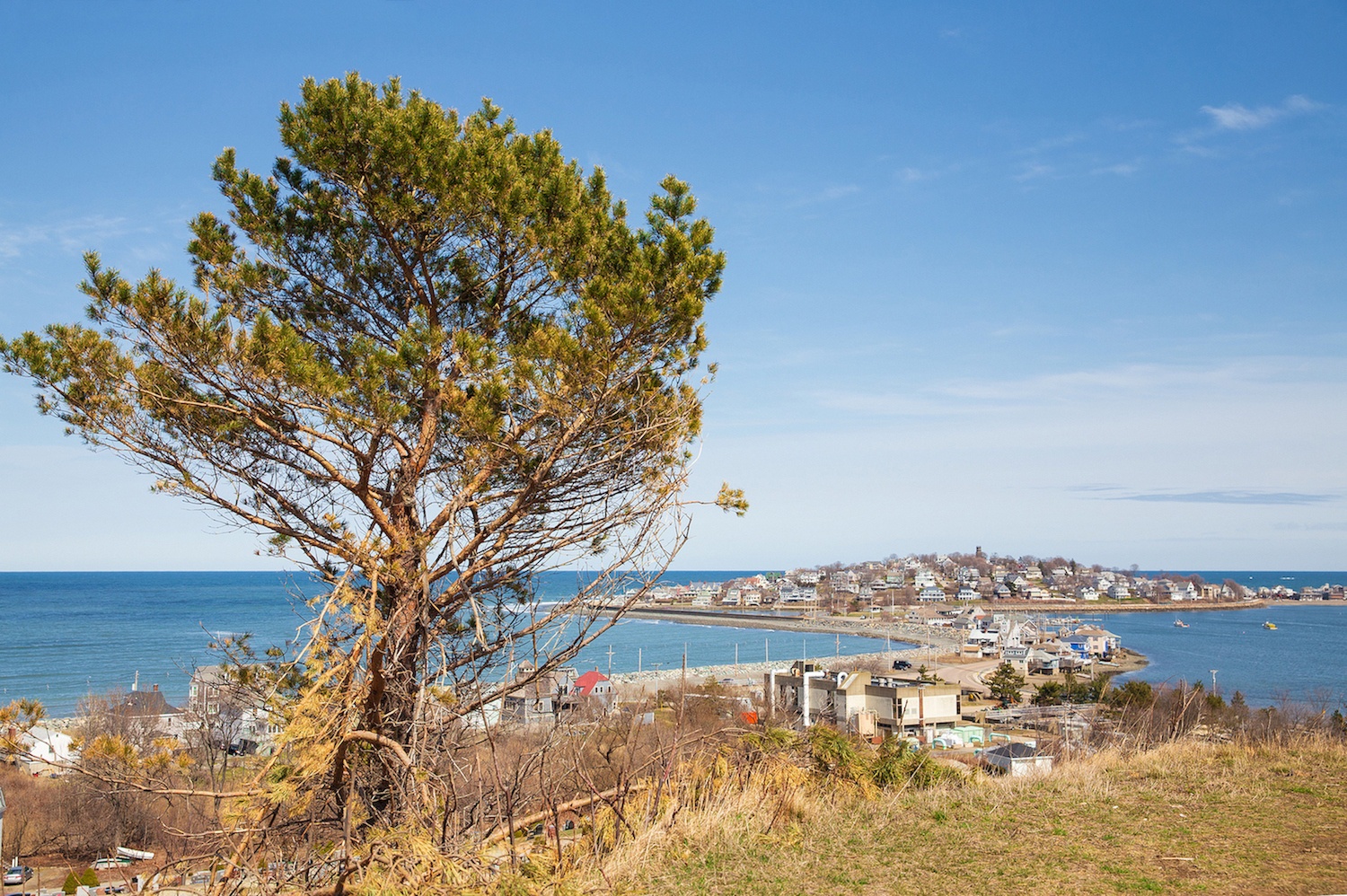 The Kennedys didn't always vacation abroad. Curbed reports that when JFK was still a baby, the Kennedy family summered in Hull, Massachusetts. You'll find the town on the peninsula at the southern edge of Boston Harbor. The Kennedys would spend the summers at their Tudor-style home at 940 Nantasket Avenue. It was also in Hull where Joseph P. Kennedy Jr., JFK's older brother, was born in a rental house on Beach Street.
JFK spent summer days at the Beach Street cottage and his grandfather's home. Hull is perfectly situated between Boston and Cape Cod, which makes it much more accessible than some of the Kennedys' other favorite vacation spots. And if you visit the New England town, you can kick back on Nantasket Beach, where you can stay at the waterfront Nantasket Beach Resort.
Next: This may be the most famous Kennedy vacation destination of all. 
6. Hyannis Port, Massachusetts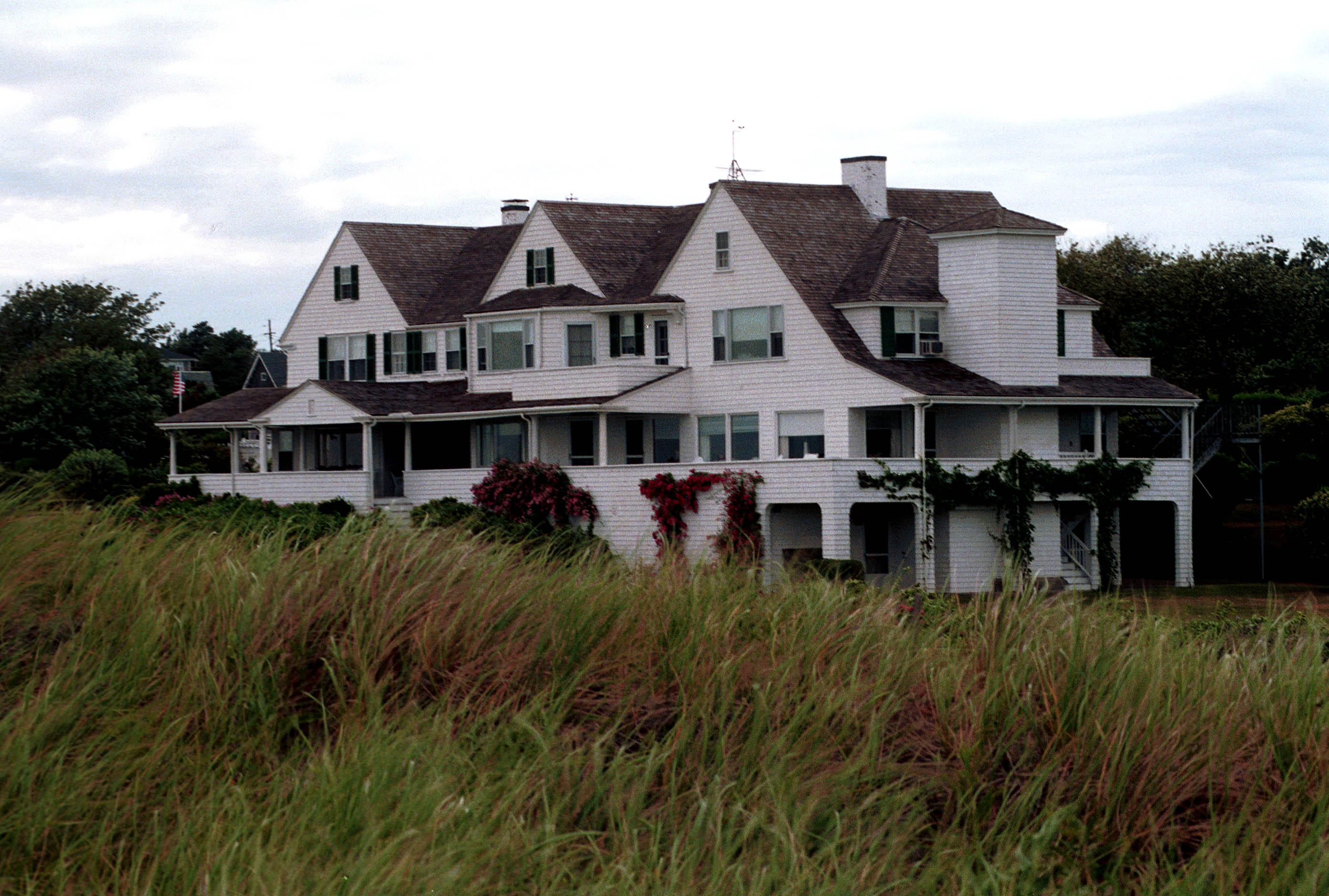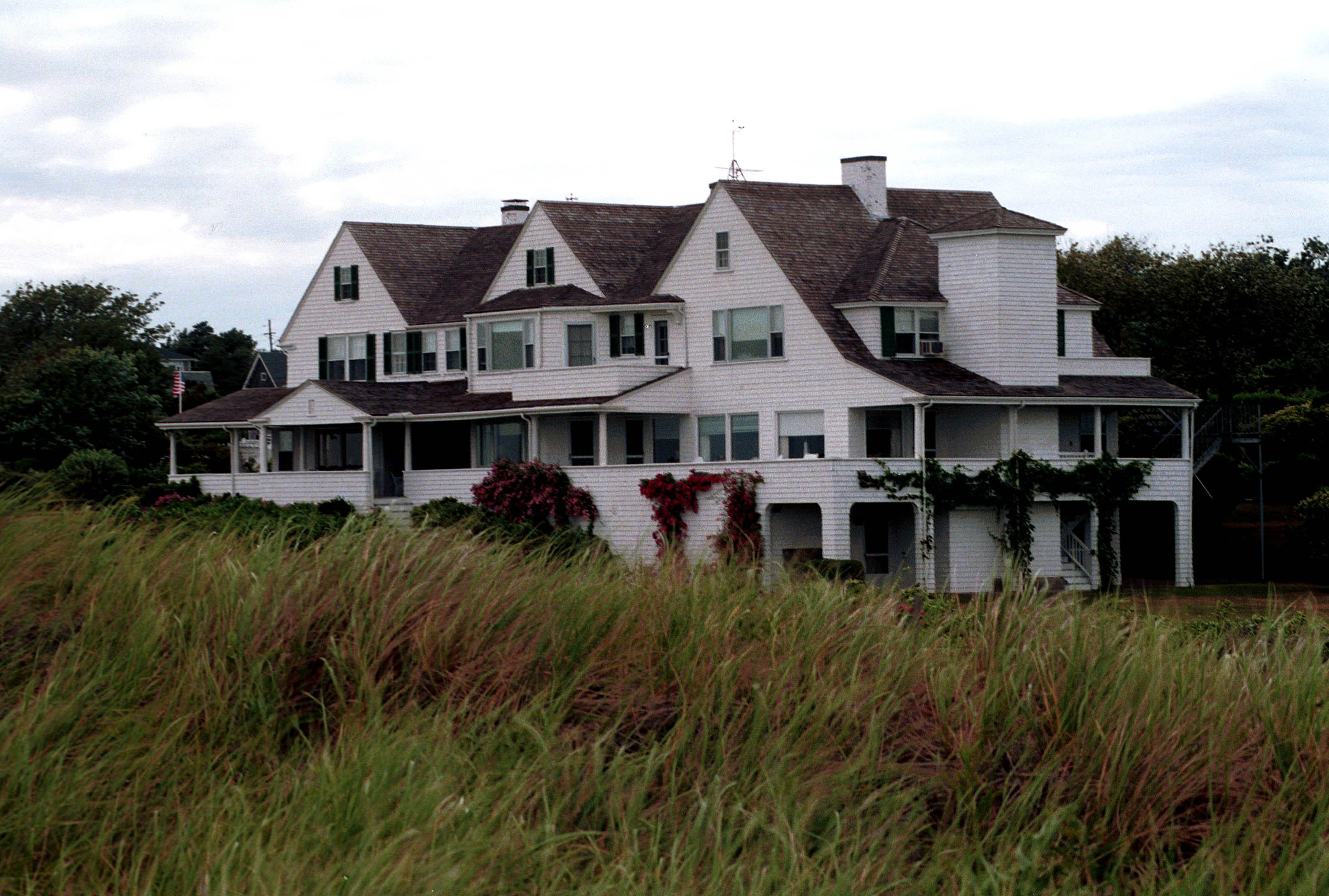 Everybody's heard of the Kennedy Compound in Hyannis Port, Massachusetts. Town and Country notes that JFK grew up at this idyllic Cape Cod property (which, Condé Nast Traveler reports, consists of three houses over six acres.) John and Jackie Kennedy often returned to Hyannis Port. And JFK once said of the destination, "I always go to Hyannis Port to be revived, to know again the power of the sea, and the Master who rules over it and all of us."
When you go to Cape Cod, you can't exactly stay at the Kennedy Compound. So Town and Country recommends booking a room at the Anchor-In. Alternately, Condé Nast Traveler suggests the Chatham Bars Inn. Either way, don't forget to order a bowl of clam chowder — one of John F. Kennedy's favorite foods —  at the Black Cat Tavern. Need more choices? The Guardian reports that the Kennedys also dined at the Hyannis Yacht Club and Baxter's.
Next: JFK visited this private island in New England. 
7. Johns Island, Maine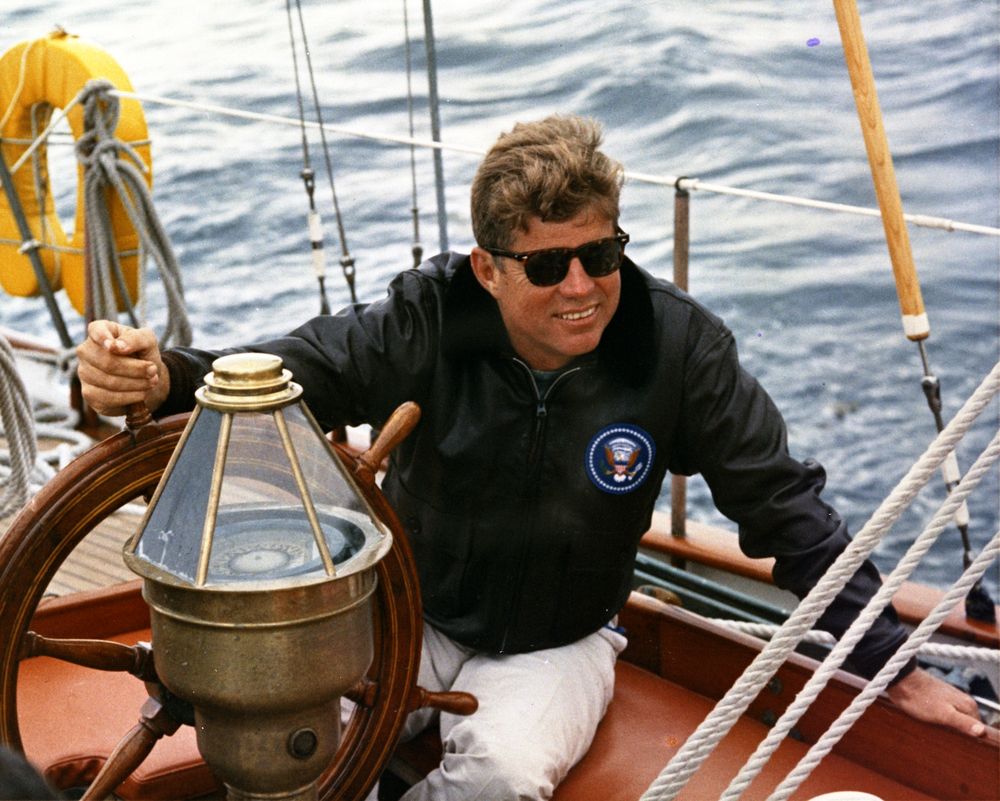 If you've seen many photos of John F. Kennedy sailing, then you've probably seen a snapshot of the president sailing near Johns Island, Maine. (The Atlantic reports that one of the most iconic shot was taken in 1962, when Kennedy was sailing the Coast Guard vessel "Manitou.") John F. Kennedy reportedly spent a weekend on Johns Island.
You can't vacation on the private island, which Curbed notes once belonged to boxing legend Gene Tunney. However, you can vacation in nearby Boothbay Harbor, Maine, which Maine Magazine recommends exploring by boat (just like the Kennedys would). "As the foremost boating port north of Boston, Boothbay Harbor has long been a haven for sailors of all persuasions and destinations, not to mention the summer folk who own many of the old Maine cottages," the publication notes.
Next: Jacqueline Kennedy made a trip to this city. 
8. Marrakech, Morocco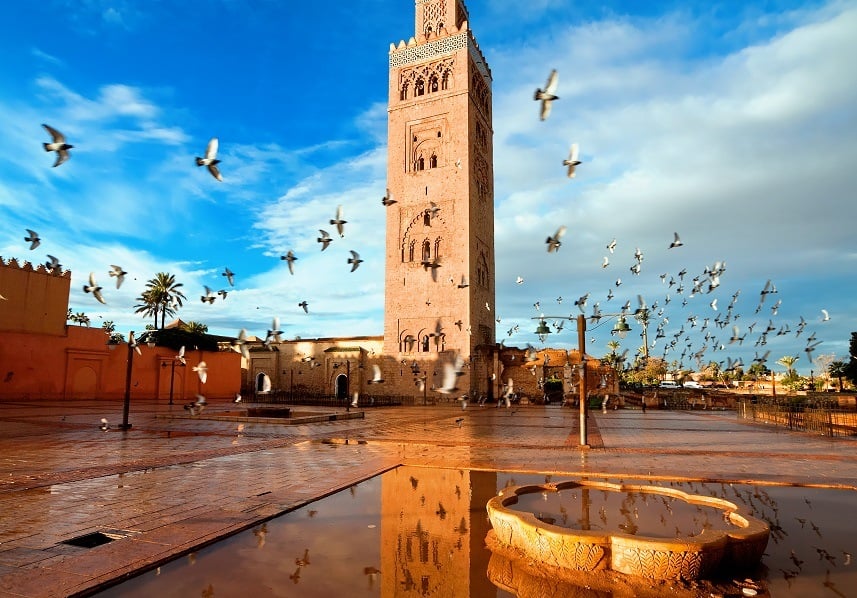 Jacqueline Kennedy vacationed in Marrakech, Morocco, just a month before her husband's assassination. Accompanied by her sister, Lee Radziwill, Kennedy arrived in October 1963 for a private visit. Yabiladi reports that "The first lady's visit was not a well-publicized trip." The two women reportedly spent three days in Morocco as part of a longer trip that took them to several other countries, too.
While in Marrakech, Jacqueline Kennedy reportedly dined at the Palais Gharnata, though it's hard to say where else she spent her time. If you visit Marrakech, The New York Times recommends staying at the 198-room Radisson Blu Hotel Marrakech Carré Eden, which will situate you only steps from the Gueliz district and its museums, galleries, and gardens.
Next: JFK chose this vacation spot for its tranquility and privacy. 
9. Montego Bay, Jamaica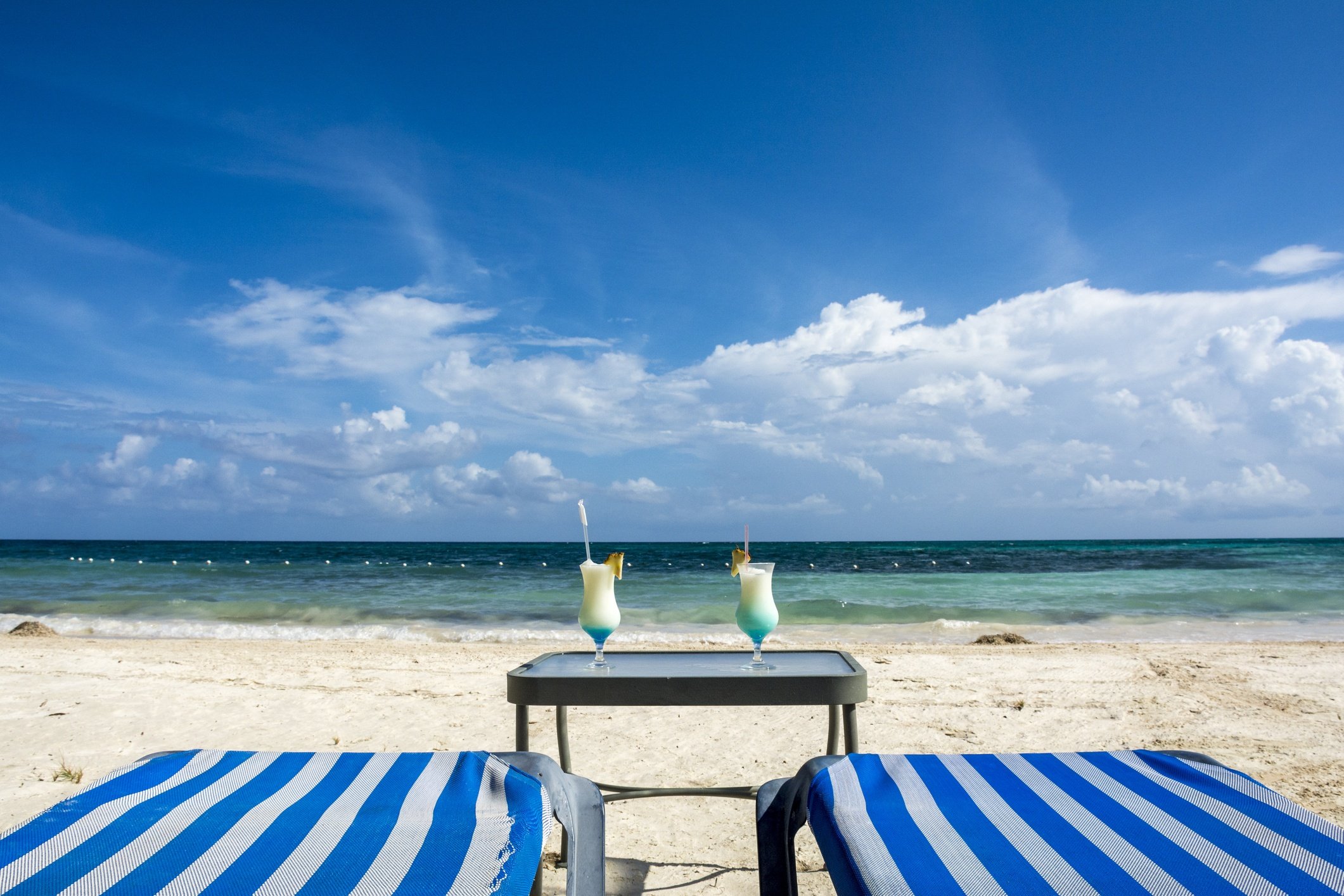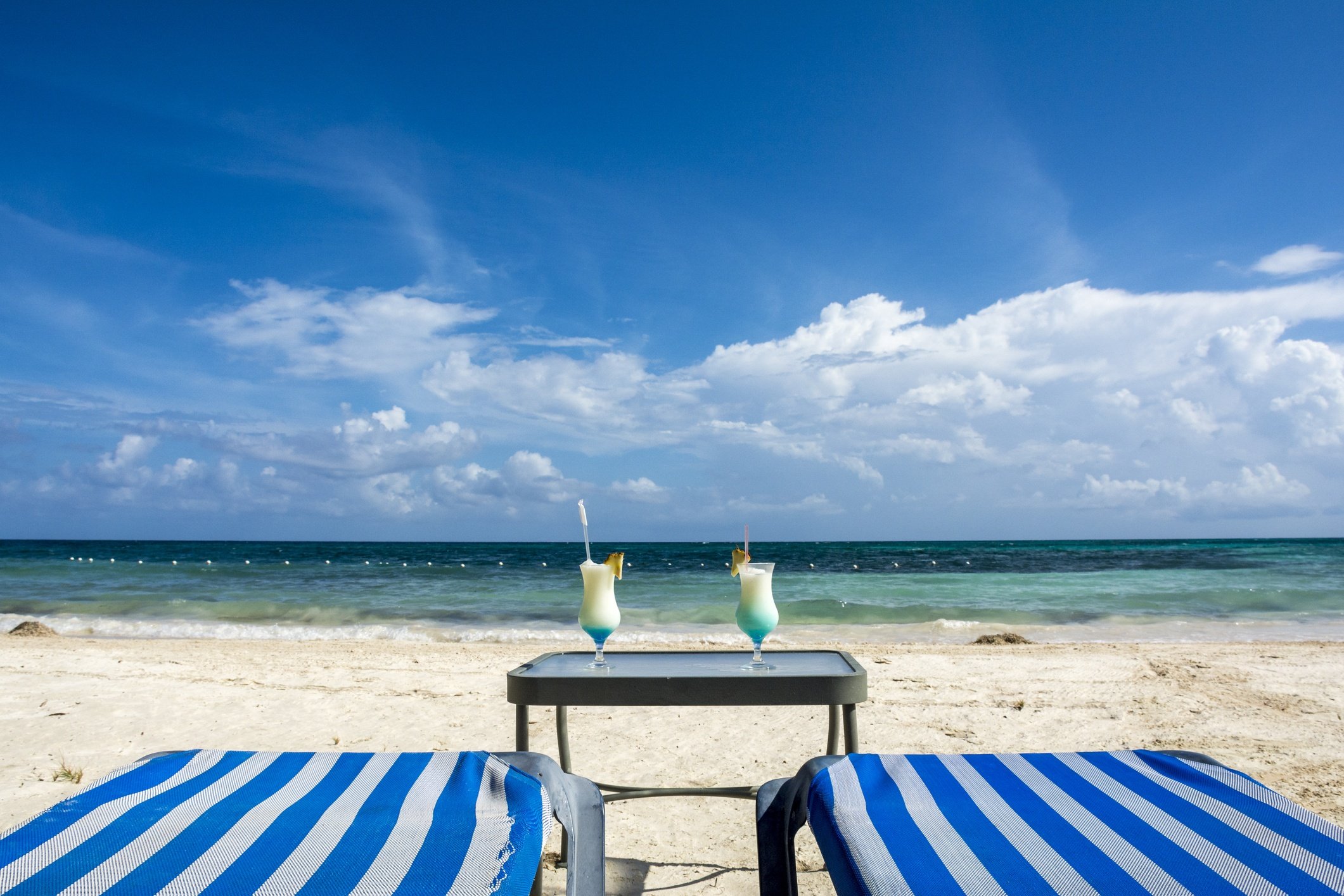 Caribbean Journal reports that in the winter of 1960, president-elect John F. Kennedy wanted to enjoy the calm before the storm. So he booked a vacation to Round Hill, which Forbes characterizes as a "legendary" 30-acre resort in Montego Bay. The resort has 27 villas and 36 oceanfront guestrooms, plus many lavish amenities. It quickly became a jet-set favorite after opening its doors in 1953 and attracted the Kennedys with its tranquility and privacy.
According to Caribbean Journal, "It was here that the newly-elected president set to practicing his now iconic speech: 'Ask not what your country can do for you — ask what you can do for your country.'" John and Jackie stayed at Cottage 25. The cottage boasts views of the Atlantic. And, like the other cottages at Round Hill, it has a dedicated staff to take care of you.
Next: John and Jackie Kennedy stayed together in this city, too. 
10. New York, New York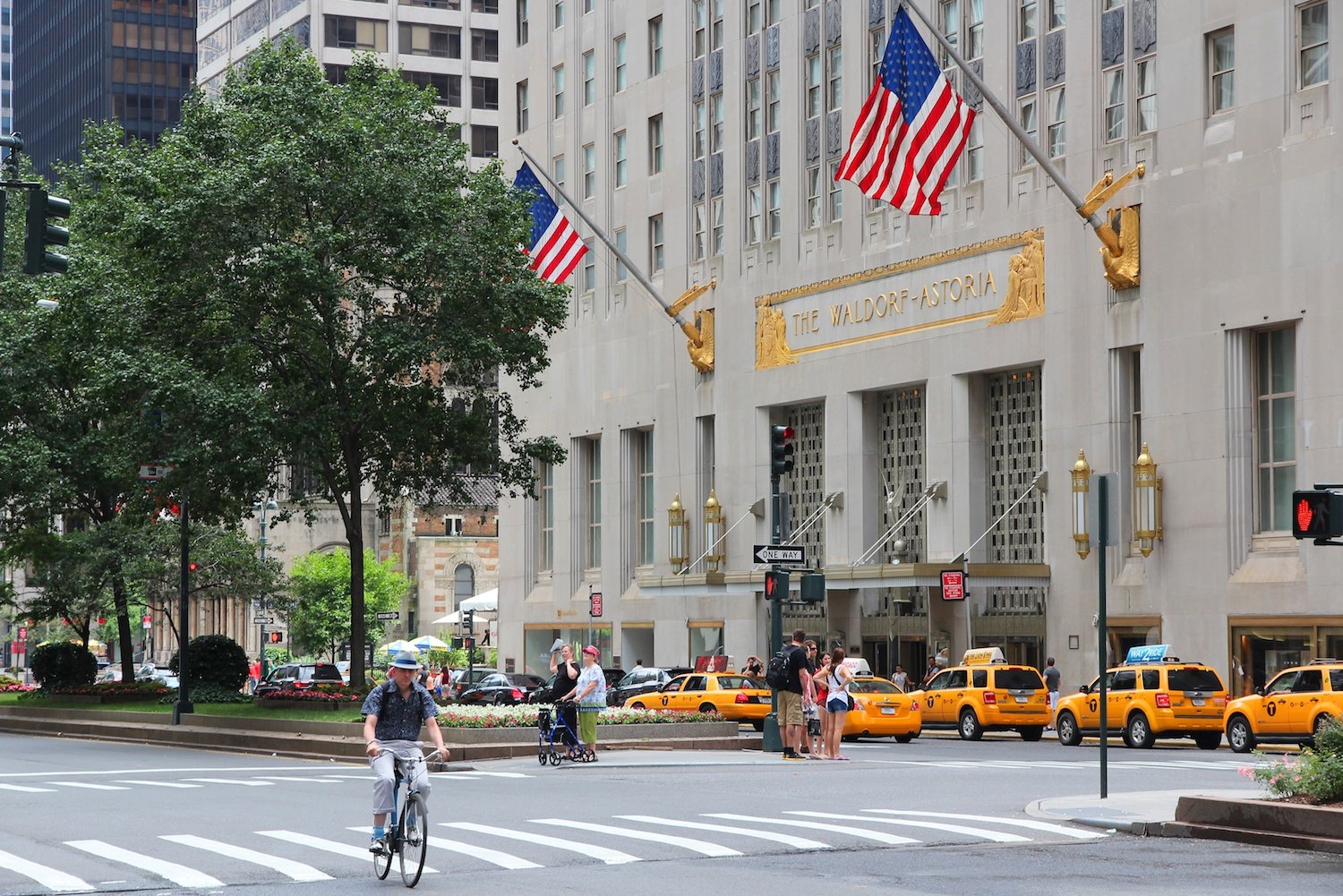 Right after their wedding in Newport and before their honeymoon to Acapulco, John and Jackie Kennedy booked a brief stay at the Waldorf-Astoria in New York. The iconic hotel is currently undergoing a major renovation and doesn't plan to reopen until 2021. But you can choose from many other historic properties as your home base for a stay in Manhattan.
Condé Nast Traveler recommends staying at the nearby Knickerbocker Hotel. The publication notes that this is the hotel "where Jackie's dad was allegedly kicked out for skipping through the hotel in 1919 — not quite what you'd expect from a man with the nickname 'Black Jack.'"
Next: Jacqueline Kennedy grew up in this city. 
11. Newport, Rhode Island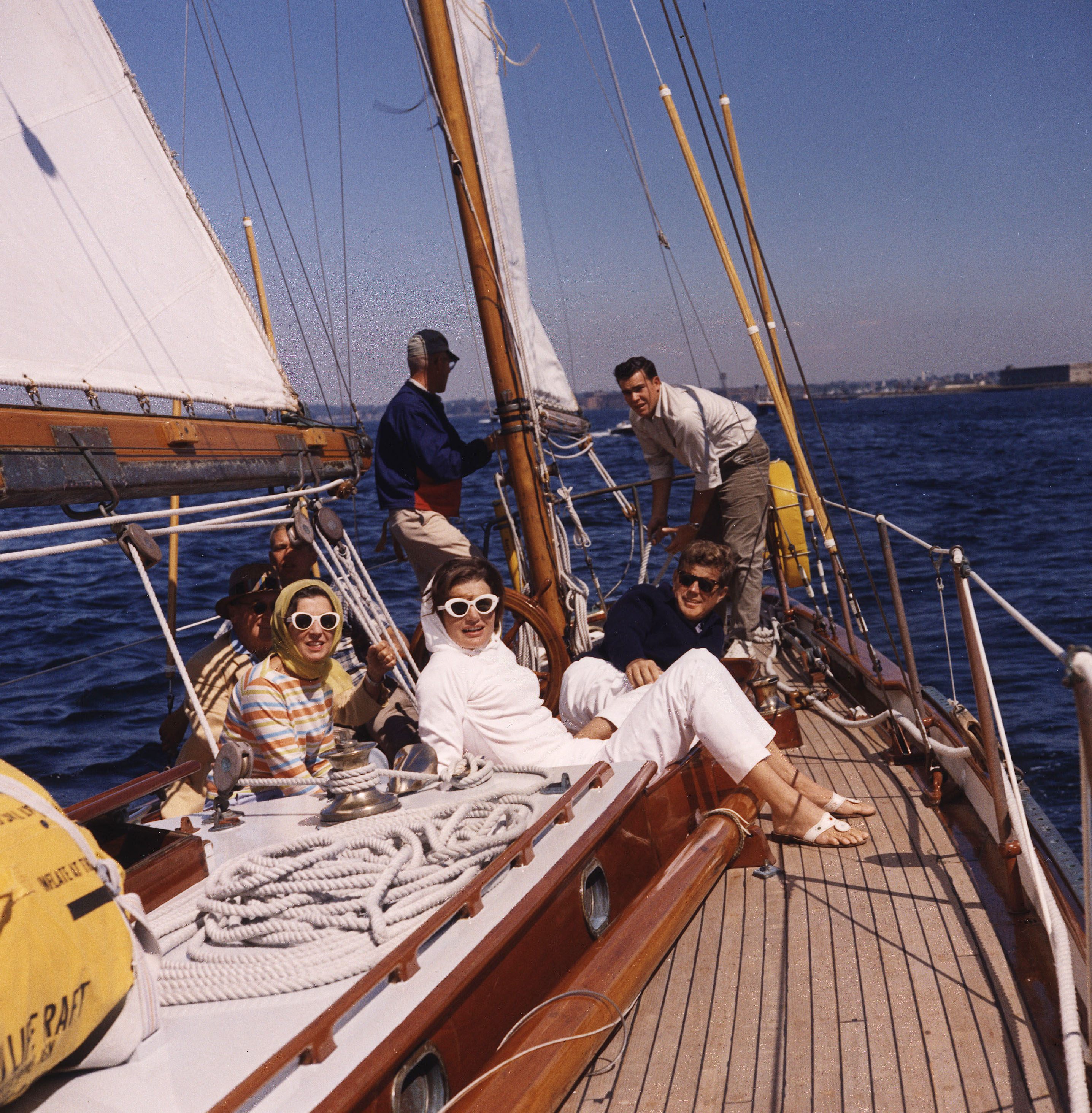 Another vacation spot that the Kennedys frequented was Newport, Rhode Island. Town and Country points out that Jacqueline Bouvier became Jacqueline Kennedy in this seaside city. She married JFK at her family's Victorian-style estate, Hammersmith Farm, in 1953. (It was at Hammersmith that Jackie grew up, and later where JFK "plotted a course through the final throes of the Cuban missile crisis in the autumn of 1962," according to The Guardian.)
Though you can't stay at Hammersmith Farm, Town and Country recommends the Castle Hill Inn as a worthy substitute thanks to its harbor views and 19th-century architecture. The publication also reports that even if you don't have a private chef like John F. Kennedy did, you can still enjoy delicious meals at the all-American restaurant The Black Pearl. Condé Nast Traveler notes that Jackie was known to lunch at the White Horse Tavern, where she liked to sit at an upstairs window facing the street.
Next: JFK's second White House was in this city. 
12. Palm Beach, Florida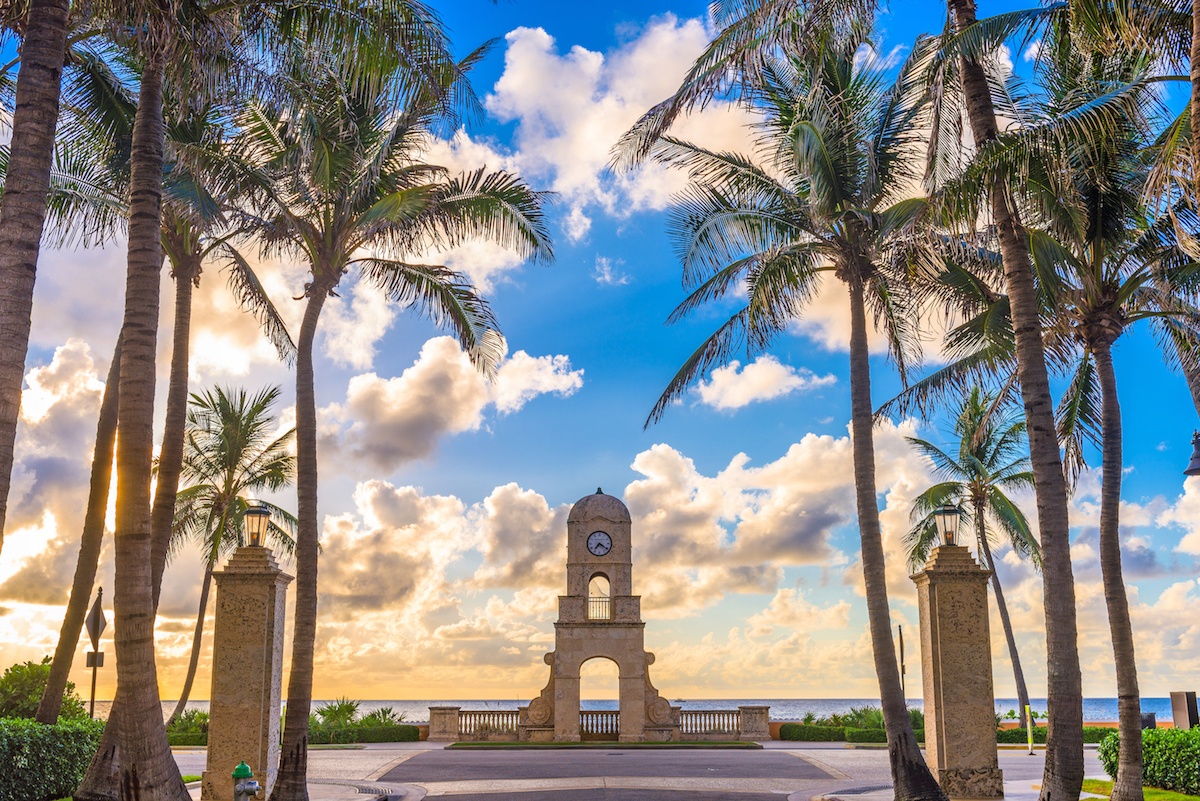 Donald Trump isn't the first U.S. president to spend a lot of time at a "second" White House in Palm Beach, Florida. JFK's father, Joseph P. Kennedy, purchased a West Palm Beach estate in 1933, according to Town and Country. Condé Nast Traveler reports that JFK reportedly drafted his inaugural address at the estate. And during Kennedy's presidency, people referred to the estate as the "Summer White House," since the first family often traveled there on getaways from Washington.
Though you can't stay at the Kennedys' Palm Beach estate, Town and Country recommends The Breakers, which has 140 oceanfront acres and luxurious accommodations. You can play golf just like JFK at the 18-hole Ocean Course. And Condé Nast Traveler suggests eating at Green's Pharmacy, "an unpretentious lunch counter where the Kennedy clan used to dine."
Next: Jackie Kennedy retreated to this destination. 
13. Ravello, Italy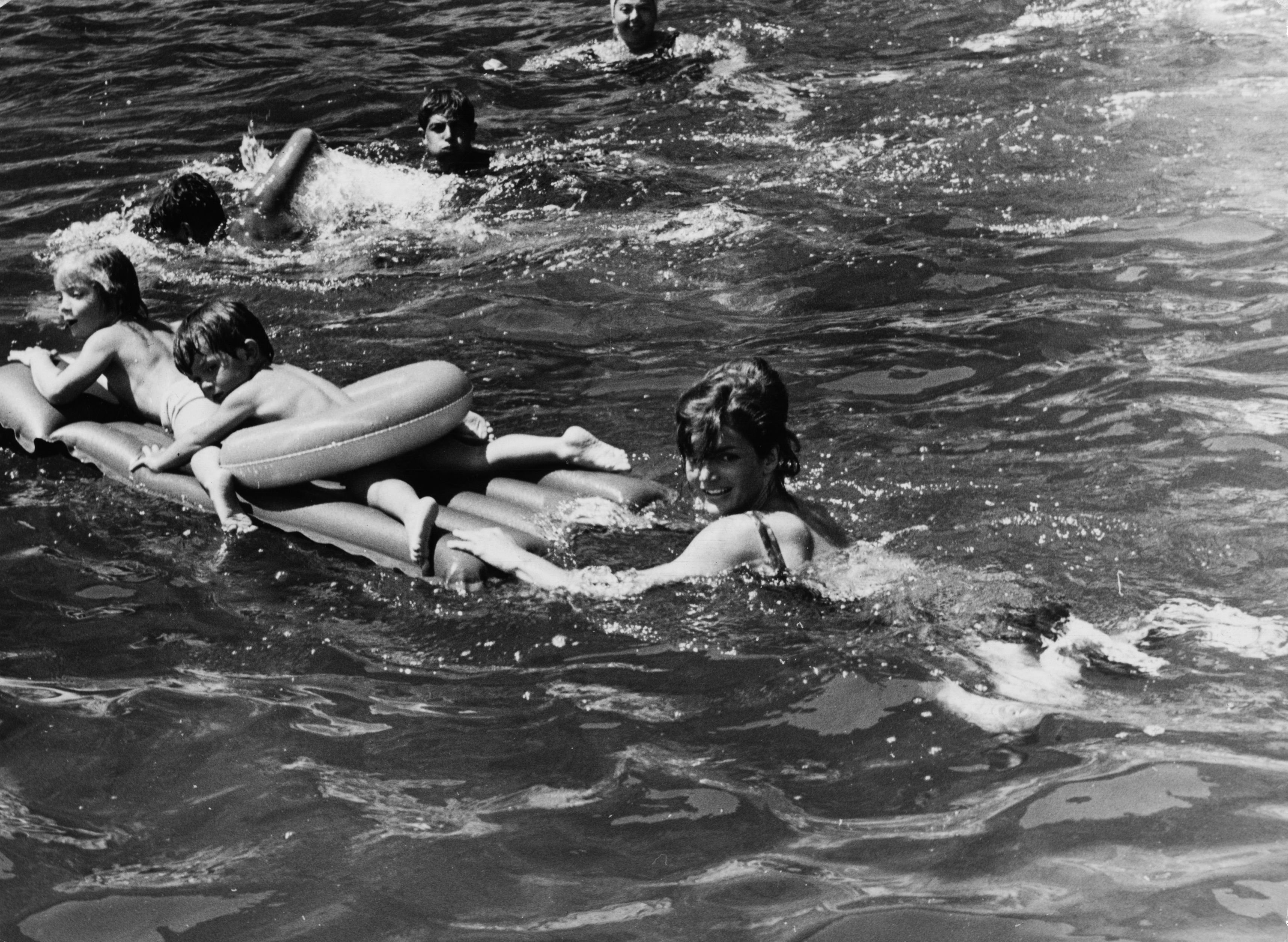 Italy may not be a vacation destination that's synonymous with John F. Kennedy. But Jacqueline Kennedy certainly enjoyed it. Condé Nast Traveler reports that after a year and a half in Washington, D.C., Jackie booked a getaway with her children, her sister, and her brother-in-law. In the summer of 1962, they traveled to Ravello, Italy. There, they stayed for three weeks at the Palazzo Episcopio, the former residence of King Vittorio Emanuele III.
Condé Nast Traveler notes that most people won't book a castle for a typical family vacation. But you can still enjoy luxurious accommodations by checking into the Belmond Hotel Caruso. This 11-century palace is located on a cliff and overlooks the Amalfi Coast. We're sure Jackie would approve.
Next: The Kennedys visited this beautiful destination. 
14. San Juan, Puerto Rico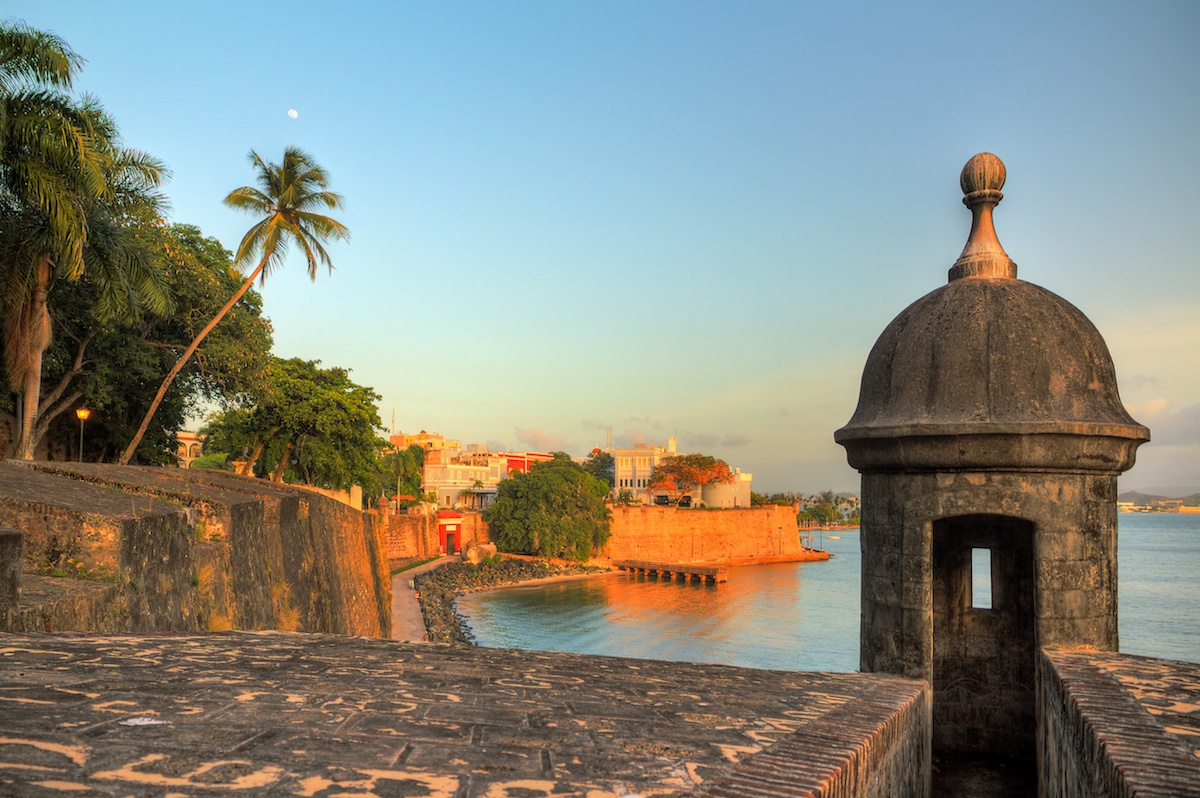 One of the most iconic trips that John and Jackie Kennedy took during the brief Kennedy presidency was a state visit to San Juan, Puerto Rico. You can retrace the Kennedys' steps by staying at the San Juan Intercontinental, where JFK stayed during his 1961 visit. The hotel sits right on the coast and offers gorgeous views of the beach.
Condé Nast Traveler reports that the first couple also spent time at the residence of Governor Luis Muñoz Marín at La Fortaleza. The room they slept in was later renamed the "Kennedy Bedroom." Plus, while you're visiting, Town and Country recommends ordering a breakfast worthy of a president at the Patio Del Nispero in the Hotel El Convento.
Next: Jackie Kennedy got to know this destination after JFK's death.
15. Skorpios, Greece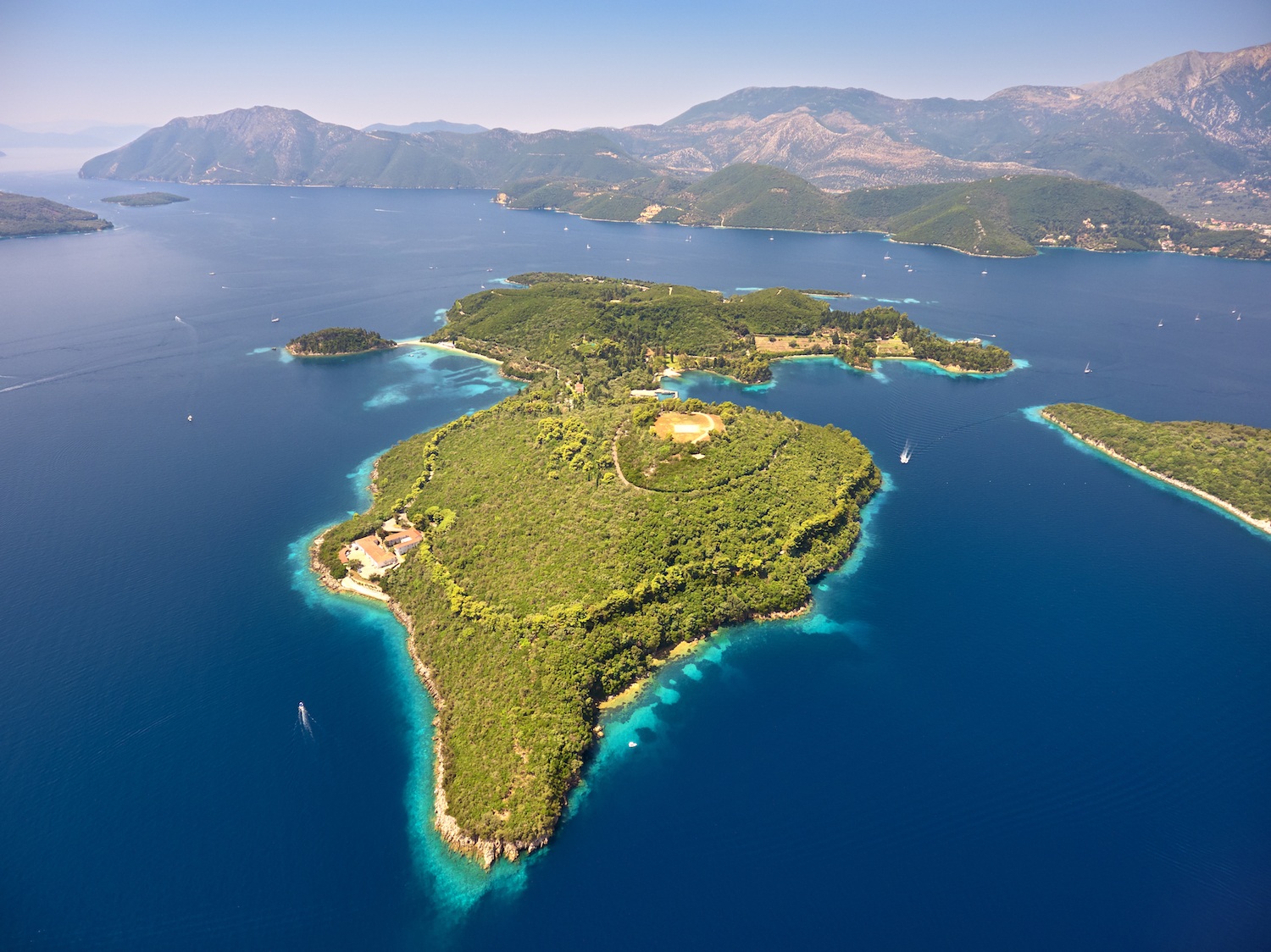 After Jacqueline Kennedy remarried to Aristotle Onassis, the couple often went on vacations to the private island of Skorpios, Greece. The destination was special enough to the couple that it was on this island that Aristotle's remains were interred after his 1975 death.
Condé Nast Traveler recommends staying on the nearby island of Meganisi. There, you can book a stay in many rentable villas. The publication recommends Rokka for its Ionian Sea and mountain views, similar to the seaside atmosphere that the couple enjoyed in Skorpios.
Read more: Joining Trump's Mar-a-Lago: Juicy Details About the 'Winter White House'
Check out The Cheat Sheet on Facebook!