These Are the Plants That Joanna Gaines Grows in Her Garden Every Year
In addition to their gorgeous farmhouse, Chip and Joanna Gaines have a garden that any green thumb would covet. Many of us take cues from Joanna when we decorate our homes and plan our DIY projects. Plus, we look to her advice when choosing houseplants to tend inside. So why not take a page out of her book when you plan your garden?
Read on to learn what plants Joanna will grow in those raised beds, and what she likes to grow elsewhere in the garden.
1. Broccoli
Like many gardeners, Joanna grows some plants that are edible and some that are beautiful. (Of course, some of her favorites fulfill both purposes, too!) On a Season 5 episode of Fixer Upper, Chip and Joanna renovated their garden. As Country Living notes, they made several new additions, including raised beds for vegetables and herbs — some of which they'll serve at their new Magnolia Table restaurant. Joanna revealed on Instagram that she's grown and harvested broccoli right in her backyard.
Like most kids, the Gaines children don't seem too fond of raw broccoli. So Joanna recommends roasting broccoli (and other veggies) instead of steaming them or serving them raw. She says that all you need to do is line a baking sheet with foil, drizzle the veggies with olive oil, add some salt and pepper, and bake for 20 or 25 minutes at 425 degrees.
Next: Chip and Joanna also grow this delicious vegetable.
2. Butternut squash
According to an Instagram post, the vegetable lineup in Joanna's garden also seems to include butternut squash. Joanna's roasting method works well with butternut squash (and other kinds of squash, too)! If you plan on planting butternut or other varieties of squash, it helps to know the differences between winter and summer squash.
As Chowhound explains, summer squash are best consumed when their skin is soft and tender. Winter squash, on the other hand, get eaten when their exteriors are rigid and hard. Need some examples of summer squash? That category includes zucchini, crookneck, pattypan, and cousa squash. Winter squash, on the other hand, include butternut, spaghetti, acorn squash, and even pumpkins. (More on their place in Joanna's garden soon!)
Next: Joanna picked an adorable variety of this veggie. 
3. Eggplants
Joanna also grows eggplants. And as per an Instagram post, she seems to favor the "fairytale" variety. The Kitchn notes that this miniature variety yields small eggplants with adorable purple and white stripes. These petite eggplants shine when stir-fried, grilled, or even roasted.
Southern Living reports that you can grow eggplants just as easily as you can grow tomatoes. In other words, you should give them a try even if you're a garden rookie! You should stake eggplants, just like you would with peppers or tomatoes, so that the plants stay upright even when the veggies get heavy.
Next: The garden often features this gorgeous flower. 
4. Foxgloves
As revealed by an Instagram post, Joanna likes growing foxgloves at the farm. Her photo showed a long bed of the gorgeous flowers in several different colors. While foxgloves aren't edible (they're poisonous, in fact), they make a beautiful addition to a garden.
Southern Living notes that the foxglove is a biennial, or short-lived perennial, but can sometimes "be coaxed into a second year of bloom if spent flowers are removed before they set seed." The blossoms attract hummingbirds, which could be one of the reasons why Joanna created a place for them in her garden.
Next: Vegetables aren't the only edible things in the Gaines family garden. 
5. Fruit trees
Realtor.com notes that Chip and Joanna shared an important piece of advice you'll want to follow if you're making major changes in your backyard. They recommend planting trees first. Chip and Joanna decided where to place the fruit trees before the ground was broken or cleared. And Chip and the boys put the saplings into the ground right away. Chip explained, "We want to get those in first to get the roots established."
The family has definitely grown orange trees, as Joanna's Instagram has revealed. Joanna has even used them in the landscaping at some Fixer Upper homes. On Fixer Upper, Chip also mentioned fig trees, and Joanna mentioned pear trees. HGTV reports that Joanna also has lemon and lime trees, and has even grown them in her greenhouse. And she's also growing apple trees, which bear fruit a lot more quickly than some other fruit trees.
Next: The garden also includes this fragrant vine. 
6. Honeysuckle
Several Instagram posts have revealed the honeysuckle in Joanna's garden. She has grown these vines on the fence surrounding her garden, and the blossoms likely make a very fragrant addition to the backyard. Southern Living notes that vining species of honeysuckle climb by twining, so they need staking until they get tall enough to reach your trellis, fence, or another support.
Honeysuckle also needs to be thinned out. And when you complete that chore, don't forget to save the clippings! Joanna shares on her blog that you can make beautiful vine wreaths to decorate your home. These wreaths traditionally use grapevine. But Joanna mentions that you can also use honeysuckle, willow, or Virginia creeper.
Next: Ella and Emmie helped Joanna plant this vegetable. 
7. Hyacinth beans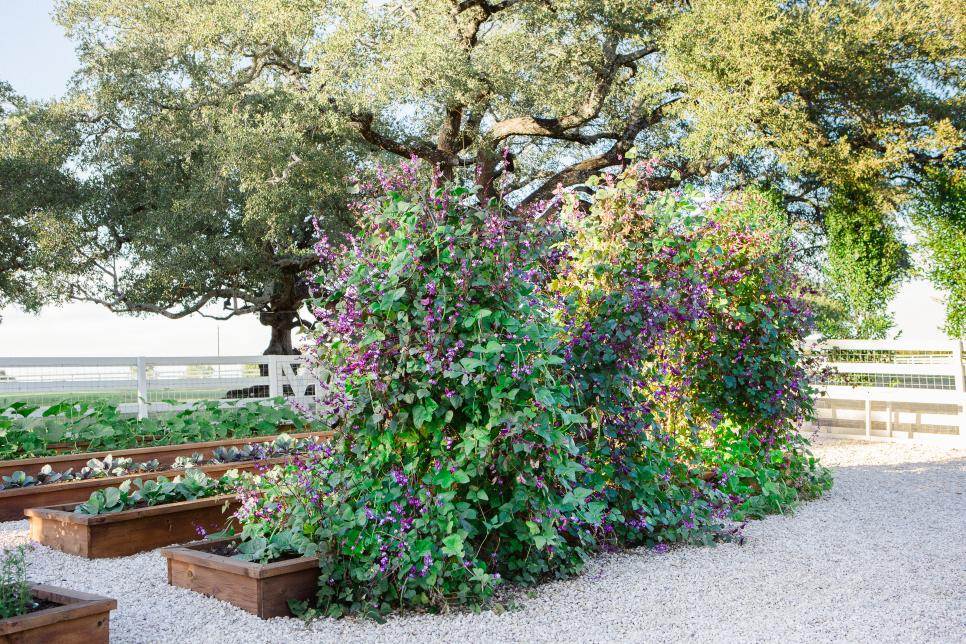 Country Living reports that during their garden renovation on Fixer Upper, Joanna added bean teepees to their backyard. Joanna and her daughters created the structures using rough cedar posts, which they tied together at the top. Then, the poles get dug into the ground.
The teepees can support anything that climbs, like beans or tomatoes. In this case, Joanna planted hyacinth beans, which are usually grown for their purple flowers but also yield edible seed pods that you can cook like green beans.
Next: This grows in front of Joanna's greenhouse. 
8. Jasmine
Every Fixer Upper fan has probably wondered, at one point or another, what kind of vines Joanna planted around her antique English greenhouse. It turns out that these gorgeous vines are jasmine. If you go back far enough on her profile (not that we've been stalking her Instagram), you'll see that the vines looked a lot smaller as they were getting established.
Southern Living notes that the "growth habits of jasmines range from vining to vining-shrubby to decidedly shrubby." The upshot? You can definitely find a variety that will work for your garden.
Next: This vegetable comes in handy for salads. 
9. Lettuce
Joanna also mentioned lettuce as one of the vegetables that will grow in the newly-revamped Gaines family garden, according to Country Living. The veggie makes a logical addition to the garden. In fact, Joanna has long grown salad greens of various kinds in her backyard.
Southern Living reports that you can easily grow your own lettuce, even if you only have room for container gardening (instead of an expansive backyard like Joanna's). You can even place your container garden near your kitchen so that you can easily harvest your greens as you prepare dinner.
Next: The Gaineses often grow these delicious plants. 
10. Peppers
As at least one Instagram post reveals, the Gaines garden also has room for peppers. Joanna has often grown yellow and green jalapeños, and we'd venture to guess that she might plant a few more varieties in her newly redesigned garden.
As you'll discover when you head to your local garden center, you'll have your pick of a practically endless variety of different peppers when you plan your garden. Harvest to Table reports that you'll find many peppers, both sweet and hot, that will grow easily in your backyard. The publication even suggests some specific varieties to look for when you buy your plants or seeds.
Next: These blooms also find a place in Joanna's garden. 
11. Peonies
There's no surprise here: Joanna's garden includes a few flowering plants that are known for their gorgeous blossoms. Joanna seems to grow peonies in a variety of different colors. As she captioned one Instagram post about these flowers, "Gardening is good for the soul. Get your hands dirty and plant something today. Pulling weeds, pruning plants, and enjoying the fruits of your labor is therapy."
Southern Living reports that these breathtaking blossoms can grow in the north or the south. Some varieties require fall planting, but others can be sown in either the fall or the spring. But once you get them established they may just outlive you. As Southern Living learned, "Kept in optimal conditions, a peony plant can live to be over 100 years old."
Next: Joanna grows these at home, and decorates with them in the fall. 
12. Pumpkins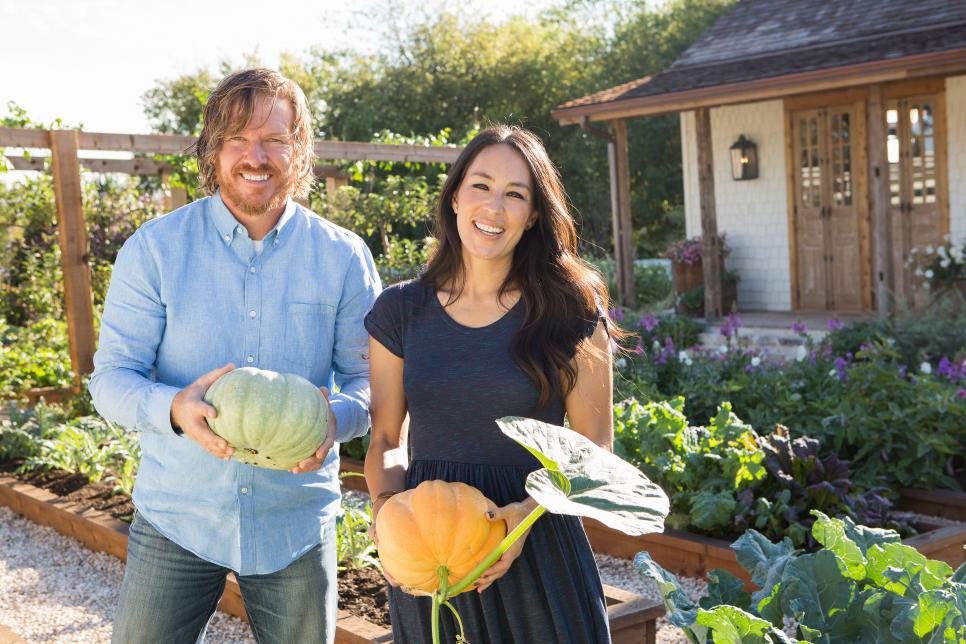 Country Living lists pumpkins among the plants that Joanna will grow in her newly redesigned garden. She has shared an Instagram photo of the growing vines in the past. And we wouldn't be surprised to see more photos of this fun plant in the future.
You can always use pumpkins to decorate in the fall. Or, you can take a page out of Joanna's book and turn a pumpkin into a delicious dessert or two. We vote for her no-bake pumpkin cheesecake or her homemade churros, which feature pumpkin puree.
Next: Joanna recommends these as starter plants. 
13. Roses
A garden wouldn't be complete without roses, so it's no surprise that Joanna has incorporated some into her backyard. (Need some evidence? Just check out this Instagram photo. Or this gorgeous image. Or this cute snapshot. ) She has a lot of rose bushes — and for a very good reason. Joanna shared that each rose bush in her garden "represents a family member or friend that is near and dear to my heart."
If you want to add roses to your garden, you'll quickly discover that you'll have an overwhelming number of different types to choose among. Some are more demanding than others. But Joanna refers to roses as one of her "starter plants," which she began growing at the very beginning trying her hand at gardening.
Next: This herb may make an easier starting point for some novices. 
14. Rosemary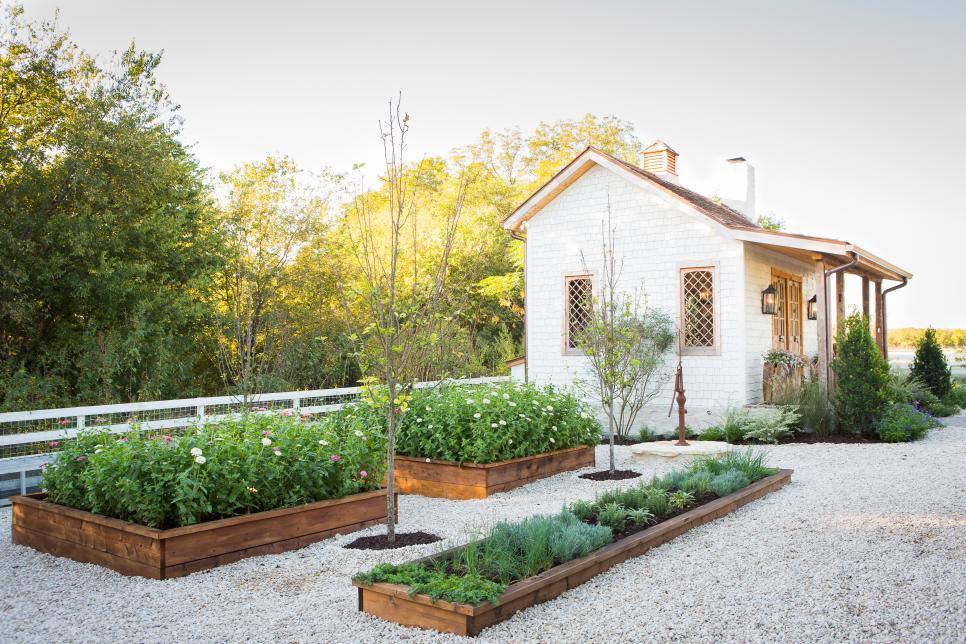 Country Living reports that rosemary numbers among the herbs that will grow in the newly revamped Gaines family garden. Herbs such as rosemary can offer new gardeners a great place to start. And of course, you can use rosemary in a wide variety of recipes, not only for entrees and sides, but also in desserts and cocktails.
Most Fixer Upper fans are aware that Joanna has shared plenty of ideas for growing herbs over the years. One of our favorites? Her "industrial herb garden" tutorial, which suggests using industrial antiques as planters for your favorite herbs.
Next: Don't forget to plant this delicious herb, too. 
15. Sage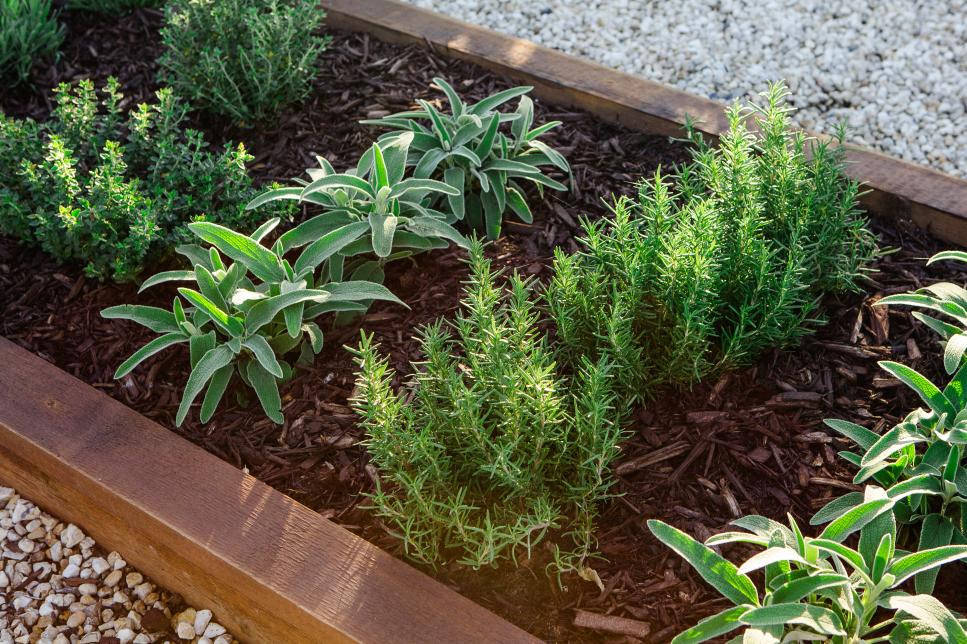 In addition to rosemary, Joanna also grows sage in her garden. This herb, like many others that Joanna has planted over the years, comes in handy in a wide variety of recipes. (So do rosemary, oregano, and lavender, some of the other herbs featured in the garden renovation on Fixer Upper.)
Southern Living reports that you can grow sage from seed, or you can start with small plants purchased from your local nursery. Sage grows well both in the ground and in containers, so you can even keep a container on a patio or porch so it's close to your kitchen.
Next: Joanna often grows this delicious fruit. 
16. Strawberries
Joanna has also posted about planting strawberries, which may have found their way into her garden this year, too. This fruit makes a pretty addition to your backyard. And we'd argue that there's almost nothing better to harvest than fresh strawberries.
If you've been paying attention to the menu at the Silos Baking Company, you could probably have guessed that Joanna seems fond of strawberries. But she's not the only one in the Gaines family who likes this delicious fruit. It's been widely reported that Chip loves the Strawberries 'n Cream cupcake at the bakery. If you grow your own strawberries, you may want to whip up your own version of the recipe, which features strawberry cake and vanilla buttercream icing.
Next: Everybody needs some of these plants in their backyard. 
17. Tomatoes
As Instagram posts have revealed, Joanna often grows cherry tomatoes, sometimes in a variety of colors. Tomatoes repeatedly land on the list of the easiest plants for beginning gardeners to cultivate. And tomatoes are so versatile in the kitchen that we think you'd be crazy not to consider a tomato plant or two.
If you end up with a huge harvest and don't know what to do with all of your tomatoes, Joanna has your back. She writes on her blog that her favorite tomato recipes include her signature tomato sauce, her garden-fresh salsa, and her delicious caprese skewers.
Next: You might want to add this summer favorite to your garden, too. 
18. Watermelon
Joanna also grows watermelons in her garden. And if Instagram is to be believed, even the kids have gotten involved in growing watermelons in the past. In one post, Joanna specified that the family grows the "sugar baby" variety of watermelons.
This heirloom variety produces petite watermelons. And Gardening Know How recommends this specific kind of watermelon because it ranks as one of the sweetest watermelon cultivars. These plants are also very productive, which means that you'll get a lot of watermelons growing in your garden!
Next: If you plant only one kind of flower, make it this easy kind. 
19. Zinnias
Finally, Joanna seems to love zinnias, considering that she's shared several Instagram posts featuring the homegrown flowers. And Country Living lists them among the plants that the Gaines family is definitely growing in the newly redesigned garden behind the farmhouse. On Fixer Upper, Joanna showered off her white "polar bear" zinnias, plus pink zinnias.
Southern Living quips that "Zinnias are the Anne Boleyns of the garden: They love to lose their heads." Translation? These plants love it when you keep cutting the blooms, which makes them the perfect choice for gardeners who'd like flowers to enjoy both indoors and out. Zinnias also number among the easiest annuals to start from seed, so even garden rookies can get in touch with their inner Joanna Gaines in no time.
Read more: Want to Be a 'Plant Lady' Like Joanna Gaines? Discover Her Best Tips
Check out The Cheat Sheet on Facebook!