Presidential Grass: Playing These Donald Trump Golf Courses Doesn't Come Cheap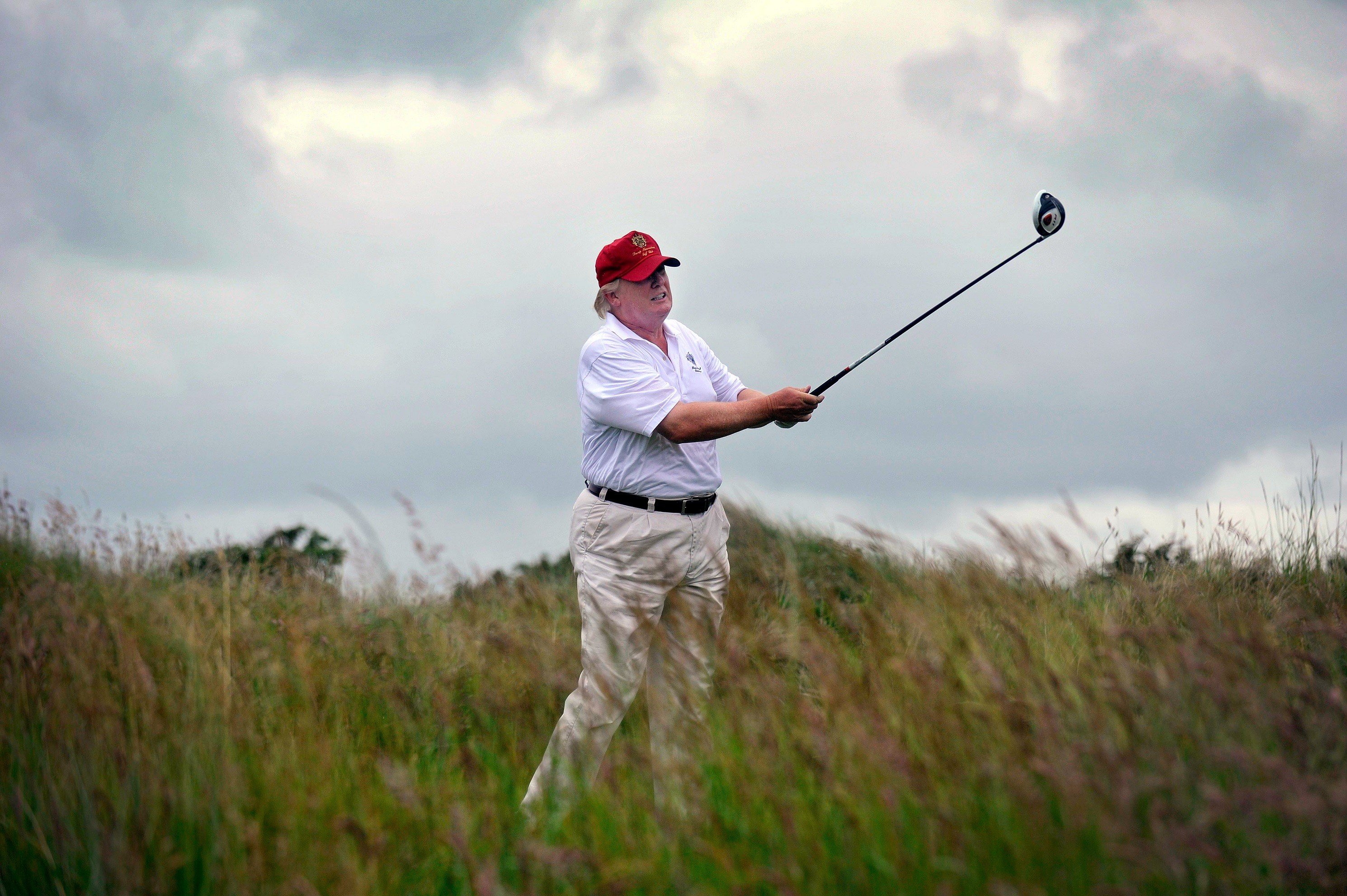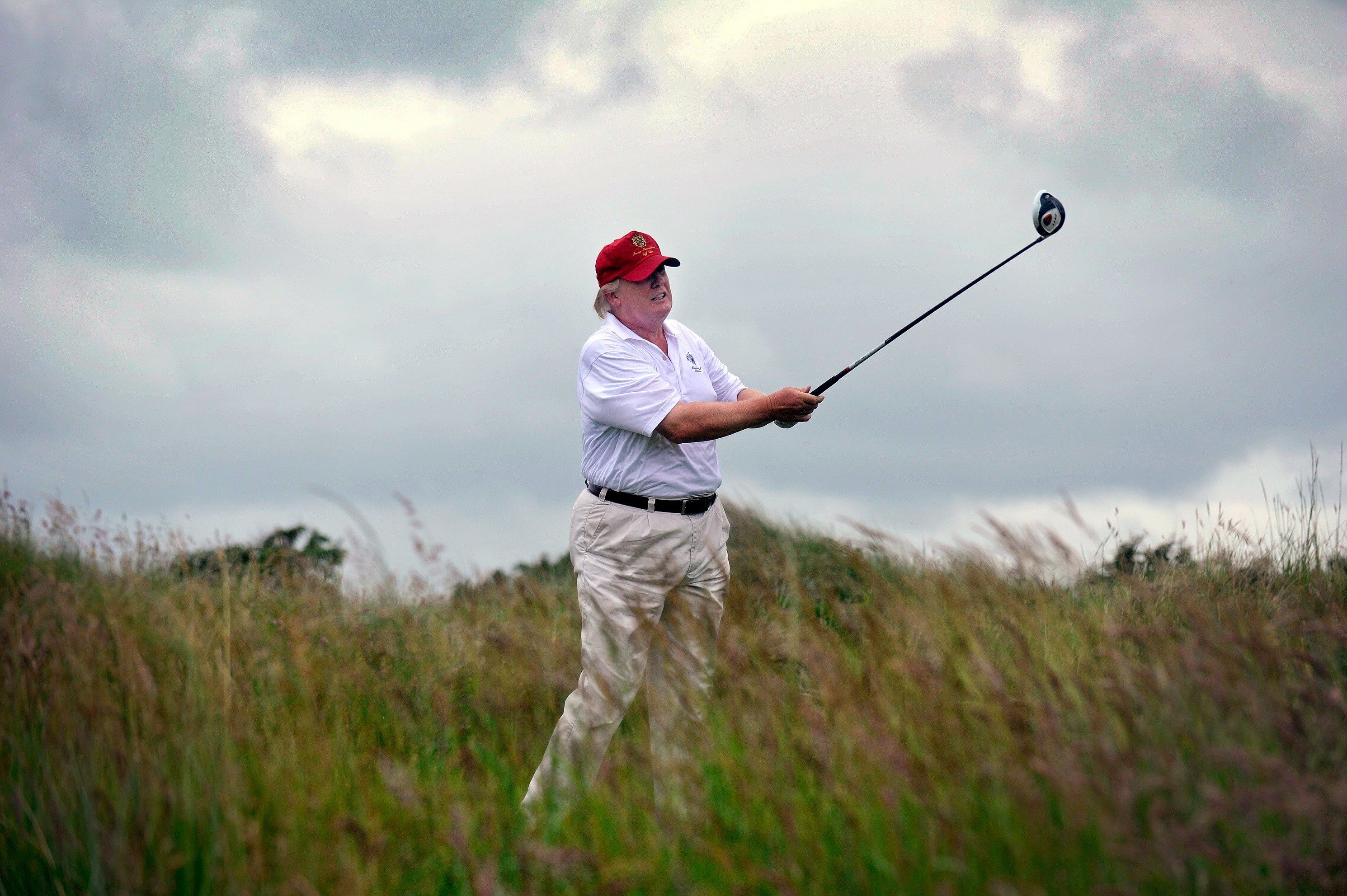 In case you haven't heard, Donald Trump is our president, and he loves to play golf. In fact, he loves to play golf so much there is a website dedicated to tracking his trips to the course during his time in office.
And here's another bit of breaking news: Trump dabbles in real estate from time to time. He and his family own some luxurious properties around the world. Many of those properties are Trump's own golf courses, including some of his favorites.
Many Trump courses are private, members-only (or invited guests) clubs. A handful of Trump golf courses, however, are open to the public. If you want to be like Trump and play one of his golf courses, you're going to have to spend like a billionaire — OK, maybe not a billionaire, but golfing like the president won't come cheap. Here are the seven public Trump golf courses you can play, from least to most expensive.
7. Trump International Golf Links Ireland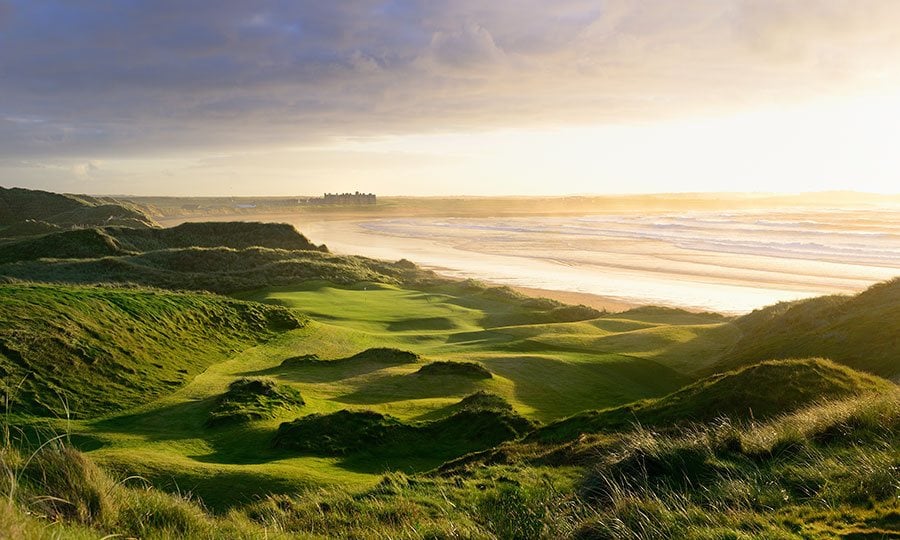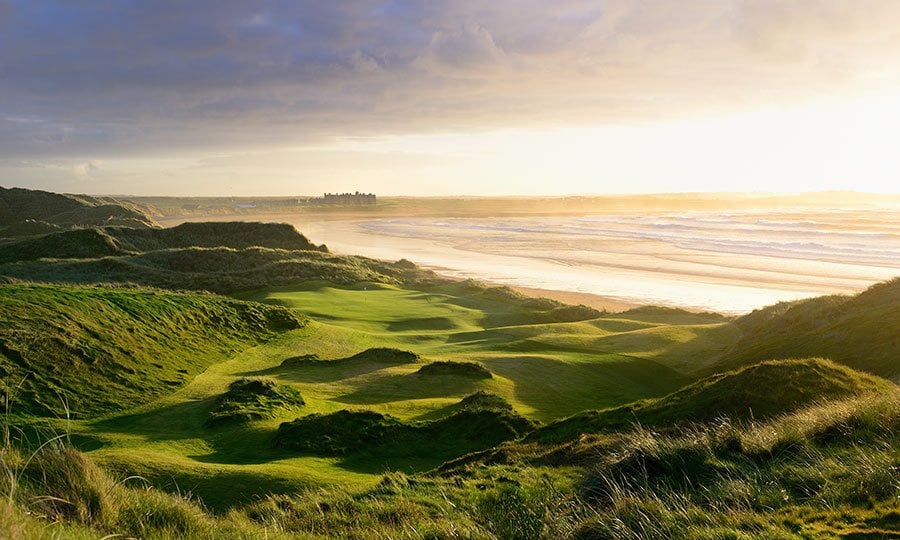 Cost of a round: $111.91
Location: Doonbeg, Ireland
Despite requiring a transatlantic flight, this is actually the most affordable Trump-branded public course in the world. A weekend round at Doonbeg sets you back 95 euros (about $112). If you happen to be in the area on a weekday the cost drops to 50 euros to play golf on the shores of the north Atlantic Ocean.
Next: Returning stateside and playing close to Trump's hometown
6. Trump Golf Links Ferry Point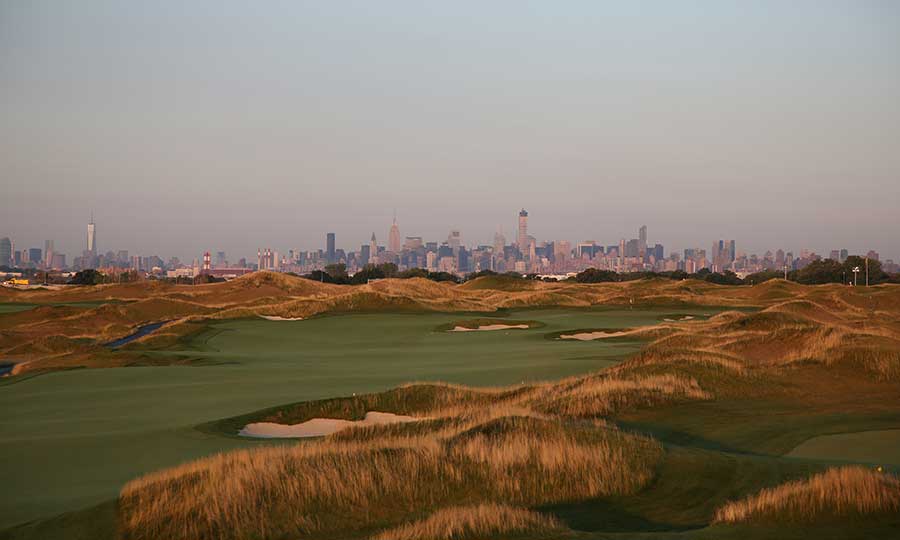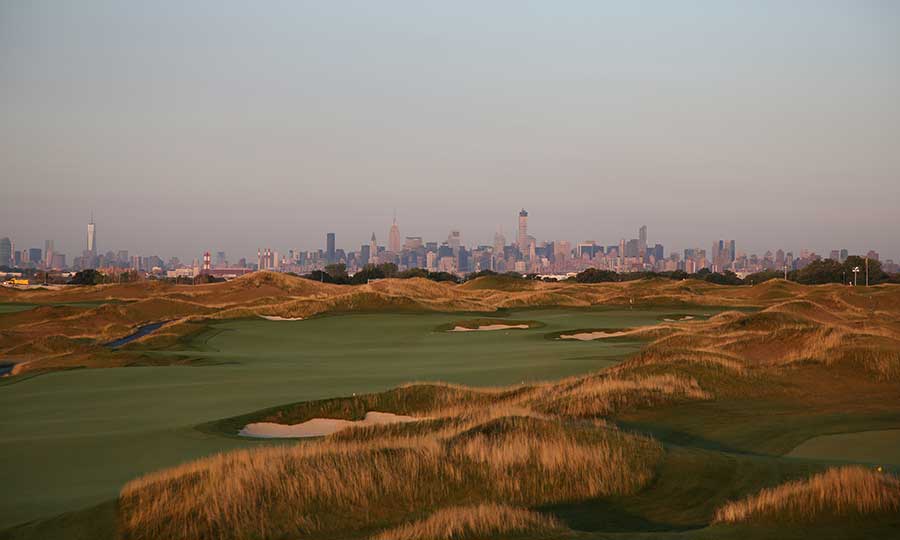 Cost of a round: $170.16
Location: Bronx, New York
The Ferry Point course is on the affordable end of the spectrum, at least in relation to other Trump golf courses. Sitting on a peninsula in the Bronx on the shores of the East River, the club has six pricing tiers. It costs an average of about $170 for non-New York City residents to play the course with a cart, and that's without a sizable sales tax included. Residents of the five boroughs get a discount, probably because it costs so much to actually live in the city, but the course is still priced too high for most locals.
Next: Returning to Northern Europe for our next destination
5. Trump Turnberry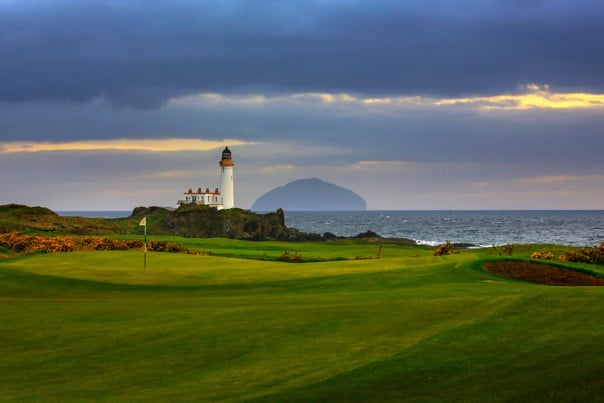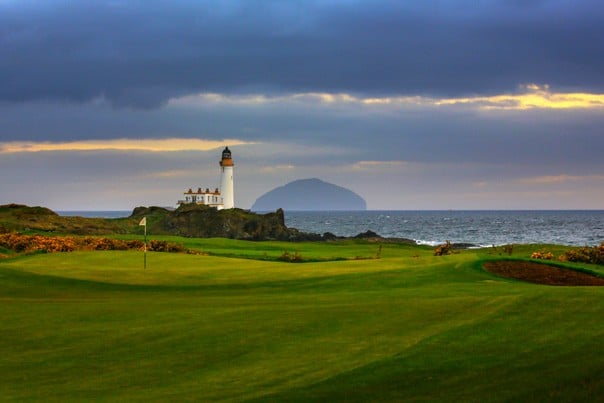 Cost of a round: $208.35
Location: Turnberry, Scotland
There are three courses near the shores of the Firth of Clyde at the Trump Turnberry location, one nine-hole course and two full courses. The average rate for all three is just under $210. The Ailsa is the gem of the three, and the greens fees reflect it. The cost is 350 pounds on the weekends, or roughly $461. The King Robert the Bruce 18-hole course sets you back 120 pounds (about $158) per round while the nine-hole Arran costs 40 pounds (close to $53). If you stay at the hotel at Turnberry, you can golf each course for a discounted rate or golf the two 18-hole courses for one lower fee.
Next: A course you won't need a passport to play
4. Trump National Golf Club Los Angeles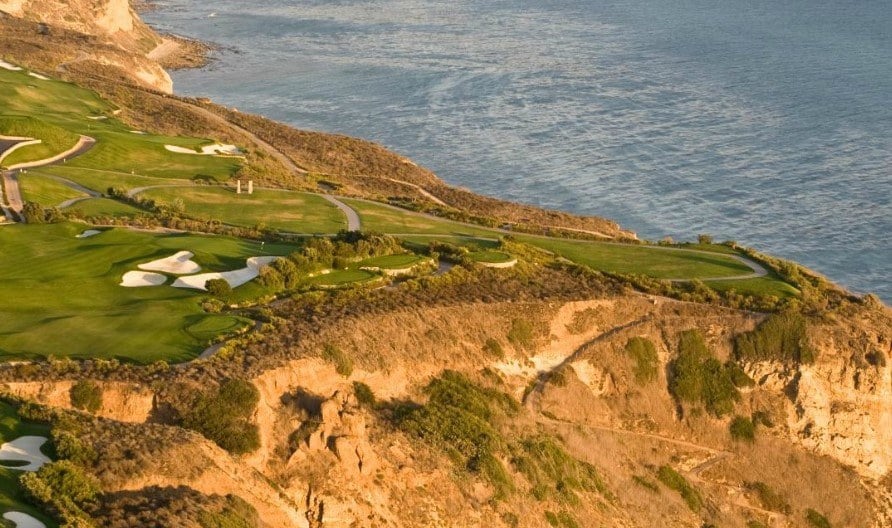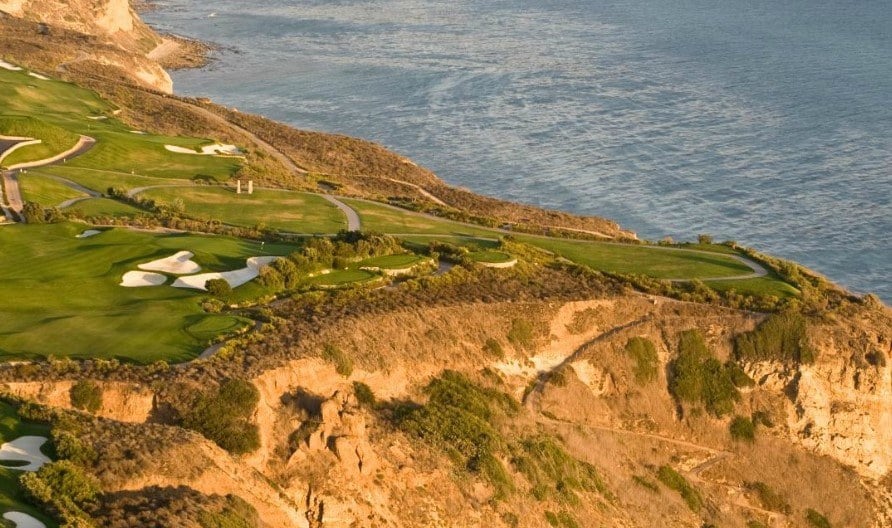 Cost of a round: $212
Location: Rancho Palos Verdes, California
As we have seen so far, Trump likes putting his courses on the water, and this course is no different. A Los Angeles club in title only (it is about 27 miles from downtown LA), this course abuts the Pacific Ocean a little southwest of Long Beach. The average of all pricing tiers is $212, with the most expensive being $300 and the most affordable $80, though the prices don't include sales tax. Luckily, carts and other amenities are part of the cost.
Next: Going cross country to a well-known course
3. Trump National Doral Golf Club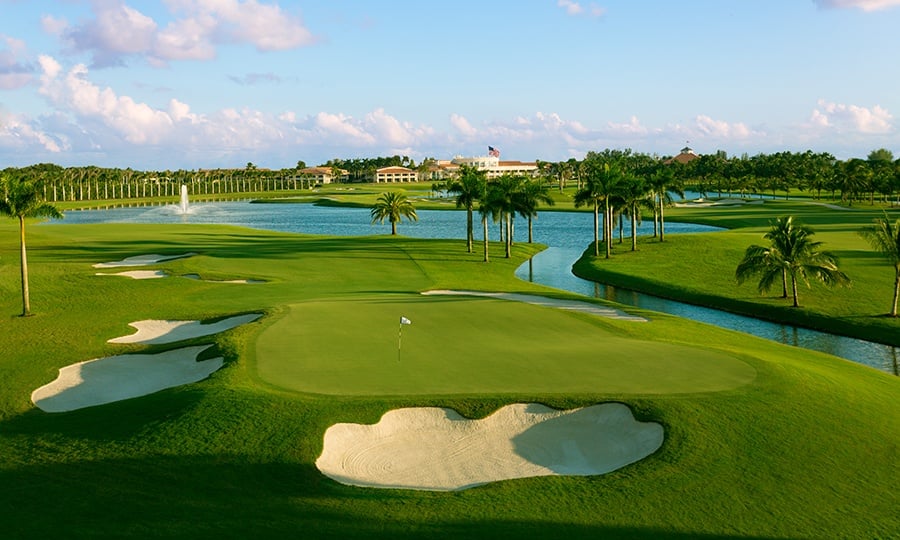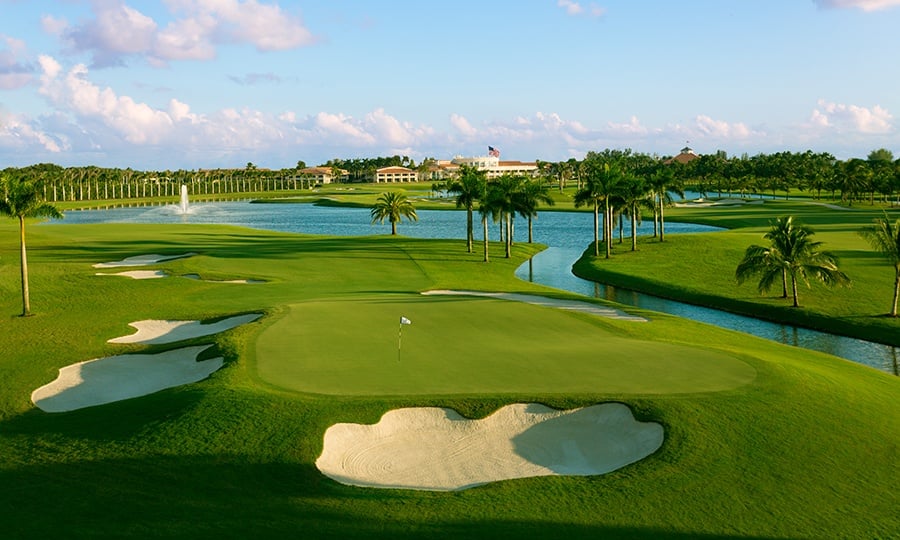 Cost of a round: $235
Location: Doral, Florida
Trump didn't build this course but instead bought it when the former owner filed for bankruptcy. The Blue Monster course was an annual stop for the PGA tour, and many of the game's greats won tournament titles there. Now, you can walk in the footsteps of players, such as Tiger Woods and others, if you're willing to shell out $235 for greens fees.
Next: Pack more than an overnight bag if you're heading to our final two stops.
2. Trump International Golf Club Dubai
Cost of a round: $270.90
Location: Dubai, United Arab Emirates
The second most expensive public Trump course requires a trip halfway around the world. Situated on the outskirts of downtown Dubai, this course charges up to 995 dirhams per round during peak times. The cart is included, which is a nice bonus because you probably need plane tickets and hotel reservations to play here.
Next: One of the world's best courses takes top honors on our list.
1. Trump International Golf Links Scotland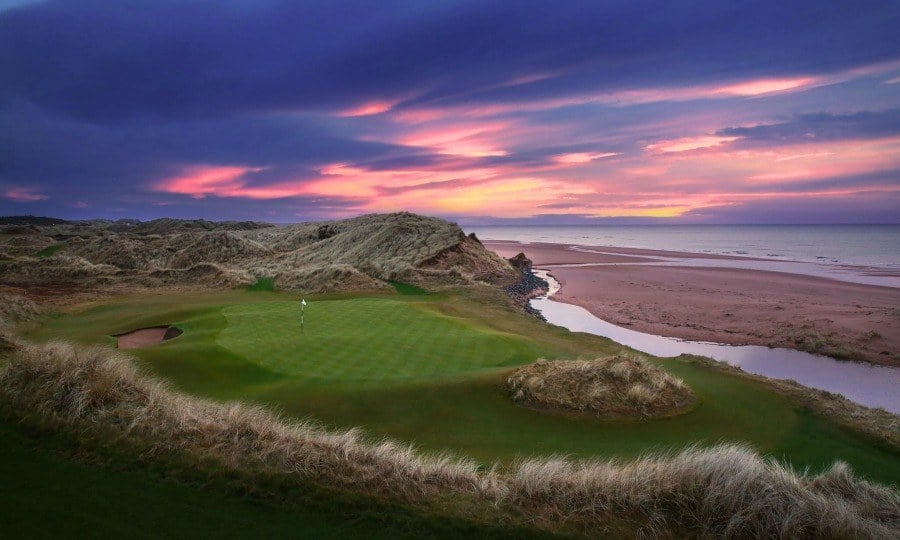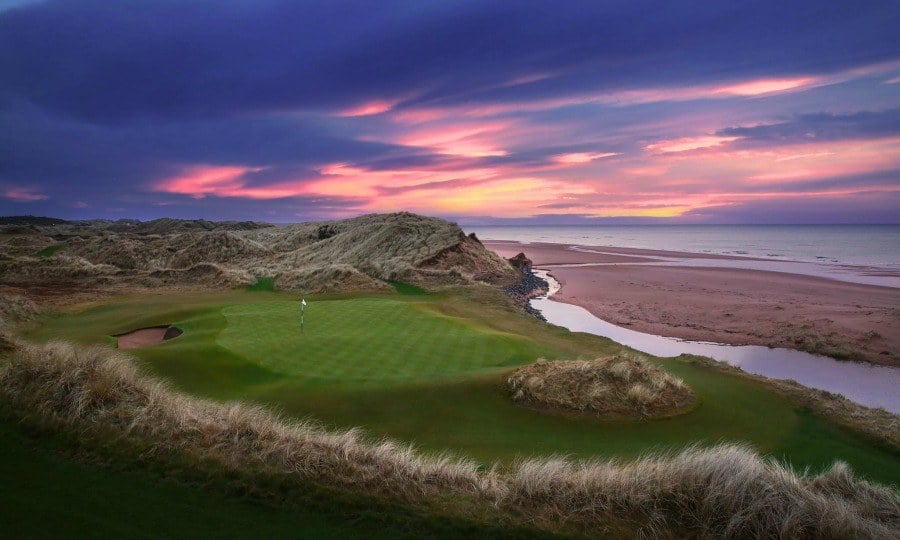 Cost of a round: $309.96
Location: Aberdeen, Scotland
This is it: the most expensive of Trump's public golf courses. Playing this course during the peak of the season (which makes sense because playing on Scotland's wind-whipped northeast coast in late spring or early fall might get chilly) sets you back close to $310. If you are an avid golfer, however, it seems like a small price to play one of the best courses in the world.
Check out The Cheat Sheet on Facebook!