Potluck Recipes That Are Perfect for the Fourth of July
For most Americans, Independence Day wouldn't be complete without firing up the grill. According to the Hearth, Patio, and Barbecue Association (HPBA), the Fourth of July is the most popular holiday for sizzling up some food over the flames. Not everyone can man the grill, though. And chances are, you'll have to relinquish control of the tongs if you're headed elsewhere for a potluck. Not to worry, because there are tons of other delicious dishes you can make. These seven recipes are so good, they might even steal the show.
1. Buttermilk Fried Chicken
Fried chicken is wonderful when it's fresh out of the oil, but there might be a better way to enjoy this southern favorite. Bon Appétit said this is one dish that actually tastes better once it's cold. That means it's a stellar choice for potluck fare. Southern Living's recipe starts the chicken on the stove, then finishes it in the oven to make sure you get a crispy coating and perfectly cooked poultry. Make sure to let the chicken cool off before you pack it up, otherwise the exterior will get soggy.
Ingredients:
1 (3.75-pound) whole chicken, cut into 8 pieces
3 cups buttermilk
2 teaspoons salt
2 teaspoons pepper
2 cups all-purpose flour
Vegetable oil
Directions: Combine chicken and buttermilk in a large nonmetal bowl. Cover, and chill 8 to 12 hours. Drain chicken, and discard buttermilk.
Preheat oven to 350 degrees Fahrenheit. Combine salt and pepper. Sprinkle half of seasoning over chicken, and combine remaining seasoning with flour in a large zip-top freezer bag. Place two pieces of chicken in bag, seal, and shake to coat. Remove chicken, and repeat with remaining pieces.
Pour oil into a large, deep skillet to a depth of ¼ inch. Heat oil over medium-high heat. Fry chicken in two batches, about 5 to 6 minutes per side, or until browned. Remove chicken to a wire rack set inside a rimmed pan. Transfer to oven and bake until chicken is cooked through, about 30 minutes.
2. Watermelon Cucumber Salad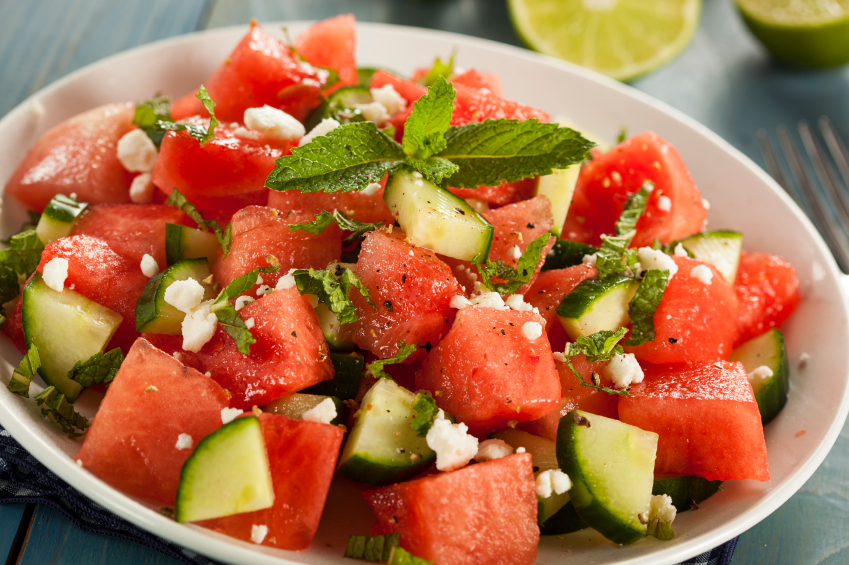 There's nothing more refreshing than biting into a slice of watermelon on a hot summer day. Give the fruit a touch of elegance with this sweet and salty salad from Yes, I want Cake. It's one of those recipes that looks really fancy, but is a complete cinch to make. All you have to do is chop the melon, cucumber, and herbs, crumble some cheese, then toss it all together.
Ingredients:
½ of a large watermelon, cubed
2 cucumbers, sliced
½ cup crumbled feta cheese
Handful of mint leaves, chopped
Handful of basil leaves, chopped
Salt and pepper
Olive oil
Directions: Toss melon, cucumbers, feta, and herbs in a large bowl. Drizzle with a bit of oil, and season with salt and pepper, to taste. Mix to combine, and serve.
3. Grilled Fingerling Potato Salad with Creamy Herb Dressing
If the thought of not grilling on the Fourth of July is just too much to bear, this herbed potato salad from Fine Cooking is the perfect side to bring to a potluck. It's a great way to use your favorite piece of cooking equipment to impart some unexpected flavor to a cookout classic. While most potato salads are made with a mayonnaise-based dressing, this version gets most of its richness from cream cheese. That means it can sit out without melting into a greasy mess.
If you can't find fingerling potatoes, you can use another small, waxy potato. Stay away from starchier ones, like russets, because they're too big and won't have the same texture. If you're cooking for spicy-food fans, feel free to add a sprinkle of cayenne or some finely minced chiles.
Ingredients:
3 ounces cream cheese, softened
½ cup packed, chopped fresh herbs, such as dill, parsley, chives, mint, or basil
¼ cup whole milk
2 tablespoons mayonnaise
4 teaspoons white wine vinegar
1 tablespoon whole-grain Dijon mustard
½ teaspoon lemon zest
Kosher salt and freshly ground black pepper
3 pounds fingerling potatoes, halved lengthwise
8 large shallots, peeled, and halved
Directions: In a large bowl, combine cream cheese, herbs, milk, mayonnaise, vinegar, mustard, lemon zest, ¾ teaspoon salt, and ¾ teaspoon pepper. Blend with an electric hand mixer, or mix well with a wooden spoon, until smooth and fully combined. Set aside.
Prepare grill for indirect cooking over medium-high heat. For a gas grill, heat all burners to medium-high heat, then turn off all but one. For charcoal, banks coals to one side.
In another large bowl, toss potatoes and shallots with olive oil, ½ teaspoon salt, and ¼ teaspoon pepper. Set shallots and potatoes on cool side of grill. Cover, and cook until tender and golden, flipping once, 10 to 15 minutes. Transfer potatoes to bowl with dressing. Remove shallots to a cutting board, coarsely chop, and add to bowl with potatoes. Stir everything gently to combine. Season with salt and pepper, to taste. Serve.
4. Corn Succotash
Usually made with little more than corn and lima beans, succotash can be a pretty forgettable dish. Michael Symon's delectable version, Featured on ABC's The Chew, leaves out the beans, but adds some bacon and tomatoes to the mix. This dish is so good, everyone will be dying for seconds.
The flavors lean a little bit toward Mexico with a touch of lime zest and some cilantro, but you can take it in just about any direction you'd like. Substitute lemon zest, parsley, and a dash of smoked paprika to make it Spanish. A drizzle of red wine vinegar and some chopped basil take it to Italy.
Ingredients:
½ pound bacon, diced small
4 ears corn, kernels cut from cob
1 pint cherry tomatoes, halved
½ bunch cilantro, picked
Zest of 1 lime
Salt and freshly ground pepper
Directions: Heat a large skillet or Dutch oven over medium-high heat. Once hot, add bacon, and cook until crisp, 5 to 8 minutes.
Add corn, and a pinch of salt. Cook, stirring occasionally, until corn softens and begins to brown around edges, about 5 minutes.
Remove pan from heat, and stir in tomatoes. Season with salt and pepper, to taste. Fold in lime zest and cilantro. Serve.
5. Green Onion-Jalapeño Cornbread
Corn bread is one of those dishes that's always a crowd-pleaser. Turn it into a crowd-jaw-dropper with this sweet and spicy recipe from Epicurious. It has all the usual suspects, plus some green onion and jalapeño for a real flavor boost. It's a perfect dish to make in advance, so you don't have to scramble if you have a long trip ahead. Just make sure to hold off on slicing it until you get there, otherwise the bread will dry out.
Ingredients:
¾ cup all-purpose flour
¾ cup yellow cornmeal
¼ cup sugar
1½ teaspoons salt
1½ teaspoons baking powder
1 teaspoon baking soda
½ cup thinly sliced green onions
2 teaspoons minced jalapeño, with seeds
1¼ cups buttermilk
2 large eggs
¼ cup unsalted butter, melted, and cooled
Directions: Preheat oven to 350 degrees Fahrenheit. Butter a 9-by-13-inch pan. In a large bowl, whisk flour, cornmeal, sugar, salt, baking powder, and baking soda to combine. Stir in green onion and jalapeño. In a medium bowl, whisk buttermilk and eggs to combine, then add melted butter. Add wet ingredients to dry, and stir just until combined, being careful not to overmix. Transfer batter to prepared pan.
Bake cornbread until lightly browned on top, and a tester inserted into center comes out with a few moist crumbs attached, about 25 minutes. Transfer pan to rack, and cool completely. Serve.
6. Asian Coleslaw with Miso-Ginger Dressing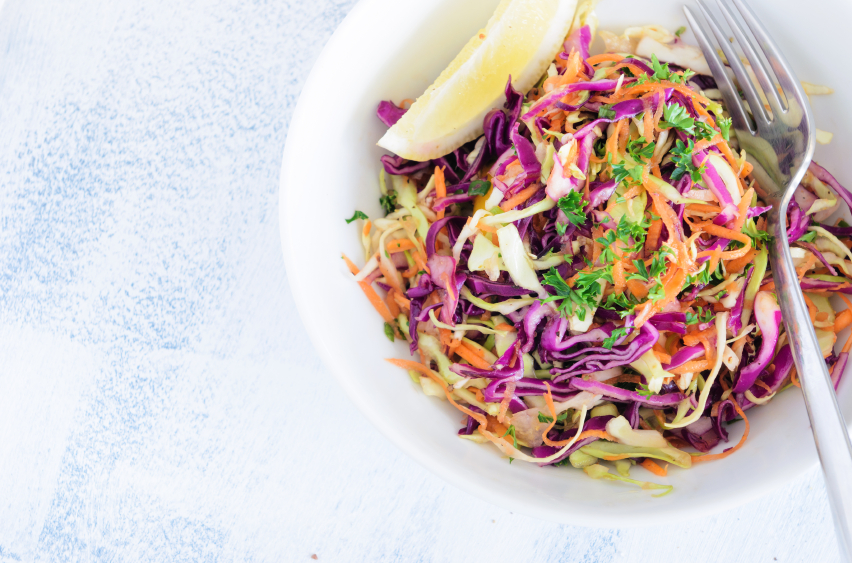 No offense to regular coleslaw, but it could use an upgrade. Food & Wine's Asian-inspired version is a little bit unexpected, but completely delicious. The recipe makes twice as much dressing as you'll need, so you can halve it if you'd like. We like to make the whole batch and use extras to toss with salad or use as sauce for some simply grilled fish, chicken, or pork.
Ingredients:
¼ cup unseasoned rice vinegar
3 tablespoons white miso
1 tablespoon mayonnaise
1 tablespoon fresh lemon juice
1 teaspoon finely grated fresh ginger
Pinch of sugar
¾ cup vegetable oil
Salt and freshly ground pepper
½ small green cabbage, shredded
½ small red cabbage, shredded
4 medium carrots, peeled, and shredded
4 radishes, shredded
3 large scallions, white and light green parts only, julienned
Directions: In a food processor, combine rice vinegar, miso, mayonnaise, lemon juice, ginger, and sugar. Blend to combine. With machine running, stream in oil until combined. Season with salt and pepper, to taste. Pour ½ cup of dressing into a large bowl. Cover, and refrigerate remaining dressing for another use.
Add both kinds of cabbage, carrots, radishes, and scallions to bowl with dressing. Toss to combine. Serve chilled or at room temperature.
7. Easy Peanut Butter Brownies
Most people overthink dessert when it comes to potlucks. Nobody wants to try eating some fussy pastry that requires four napkins, a fork, and a knife. Something handheld is the way to go, and these peanut butter brownies from Little Kitchen, Big Bites are phenomenal.
To make things really easy, these treats dress up a boxed mix with chopped peanuts and some creamy peanut butter. If you really want to go for it, stir in some chopped peanut butter cups. Just a warning, you may want to make a double batch.
Ingredients:
1 box brownie mix
1 egg
⅓ cup vegetable oil
1¼ cups peanut butter
½ cup milk
2 tablespoons sugar
¼ cup, plus 2 to 3 tablespoons peanuts, chopped
Directions: Preheat oven to 350 degrees Fahrenheit. Grease a 9-inch square baking pan. Prepare brownie mix with egg and oil, following box directions. Stir in ¼ cup chopped peanuts.
Pour three-quarters of brownie batter into pan. Whisk peanut butter, milk, and sugar to combine. Spread peanut butter mixture over brownie mixture in pan. Dot remaining batter on top. Sprinkle with remaining peanuts. Bake for 35 minutes. Remove, and let cool. Cut, and serve.
More from Culture Cheat Sheet: