These Are All of the Presidents Who Loved Playing Golf, Including Donald Trump
It's no secret that Donald Trump loves playing golf — whether he can fit in a tee time at a Trump golf course or at another exclusive club. Many Trump supporters criticized Barack Obama for escaping the White House to enjoy the game. And Obama supporters, similarly, have objected to Trump's frequent rounds.
But the reality is that the tradition of presidents playing golf is a long and time-honored one. Read on to get the inside story on which presidents have enjoyed the game.
1. William Howard Taft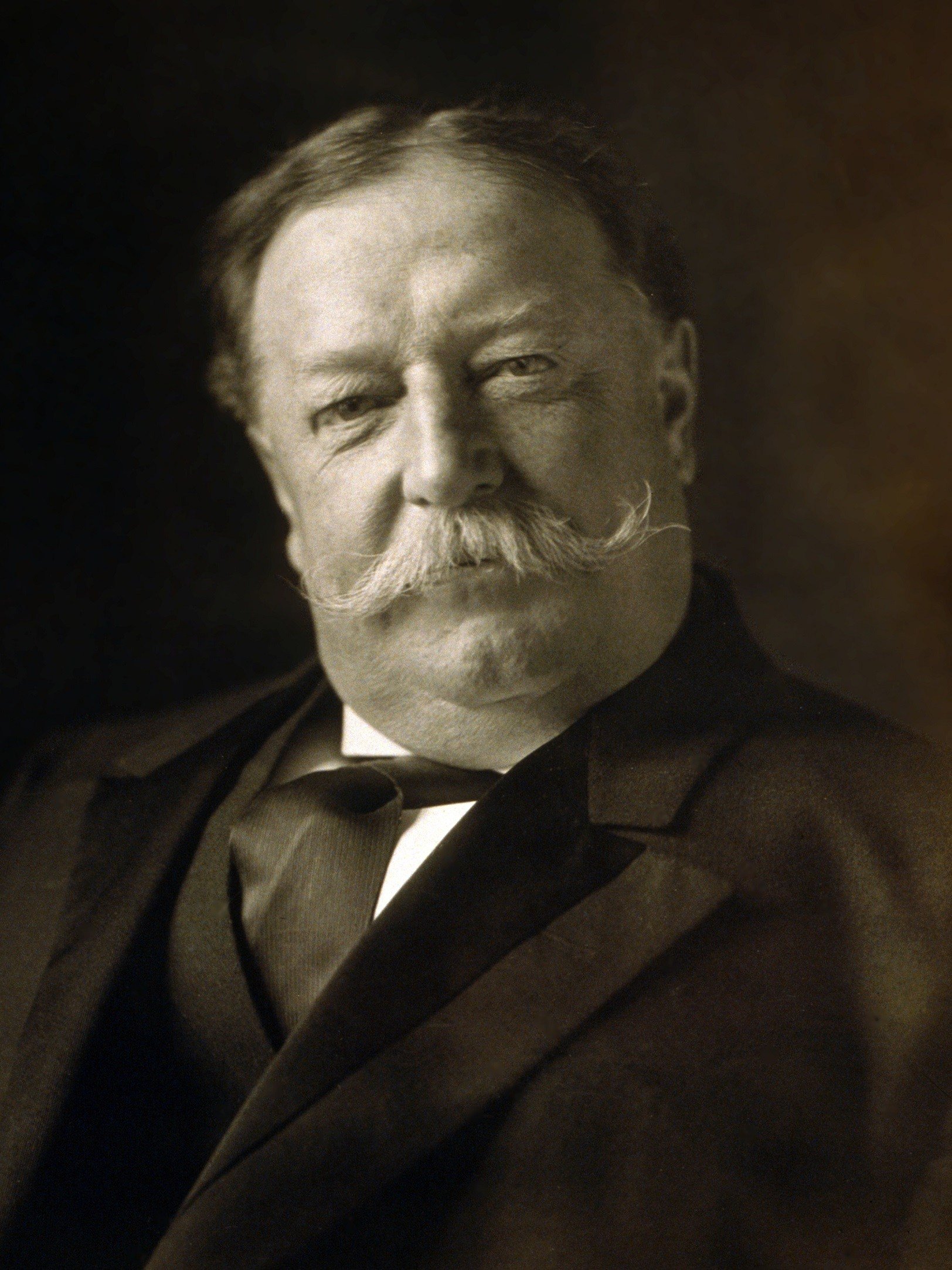 Favorite course: Chevy Chase Club
The Atlantic reported in 2011 that Barack Obama was the 17th president to golf "since William McKinley made the first presidential putt in 1897." (That makes Donald Trump the 18th.) In the intervening years, only a few presidents declined to play the game: Teddy Roosevelt, Herbert Hoover, Harry Truman, and Jimmy Carter.
As The Atlantic notes, our golfing presidents "almost always attacked the course in a way that revealed their personalities." For Taft, that simply meant that he played a lot — even though he didn't excel at the game. The Washington Post reports that by his own admission, Taft became "addicted to golf." He played so often during the 1908 presidential campaign that his mentor, Theodore Roosevelt, urged him to stop playing. Roosevelt said he received hundreds of letters complaining about Taft playing "a rich man's game."
Next: This president had Secret Service agents paint his golf balls so that he could practice in the snow. 
2. Woodrow Wilson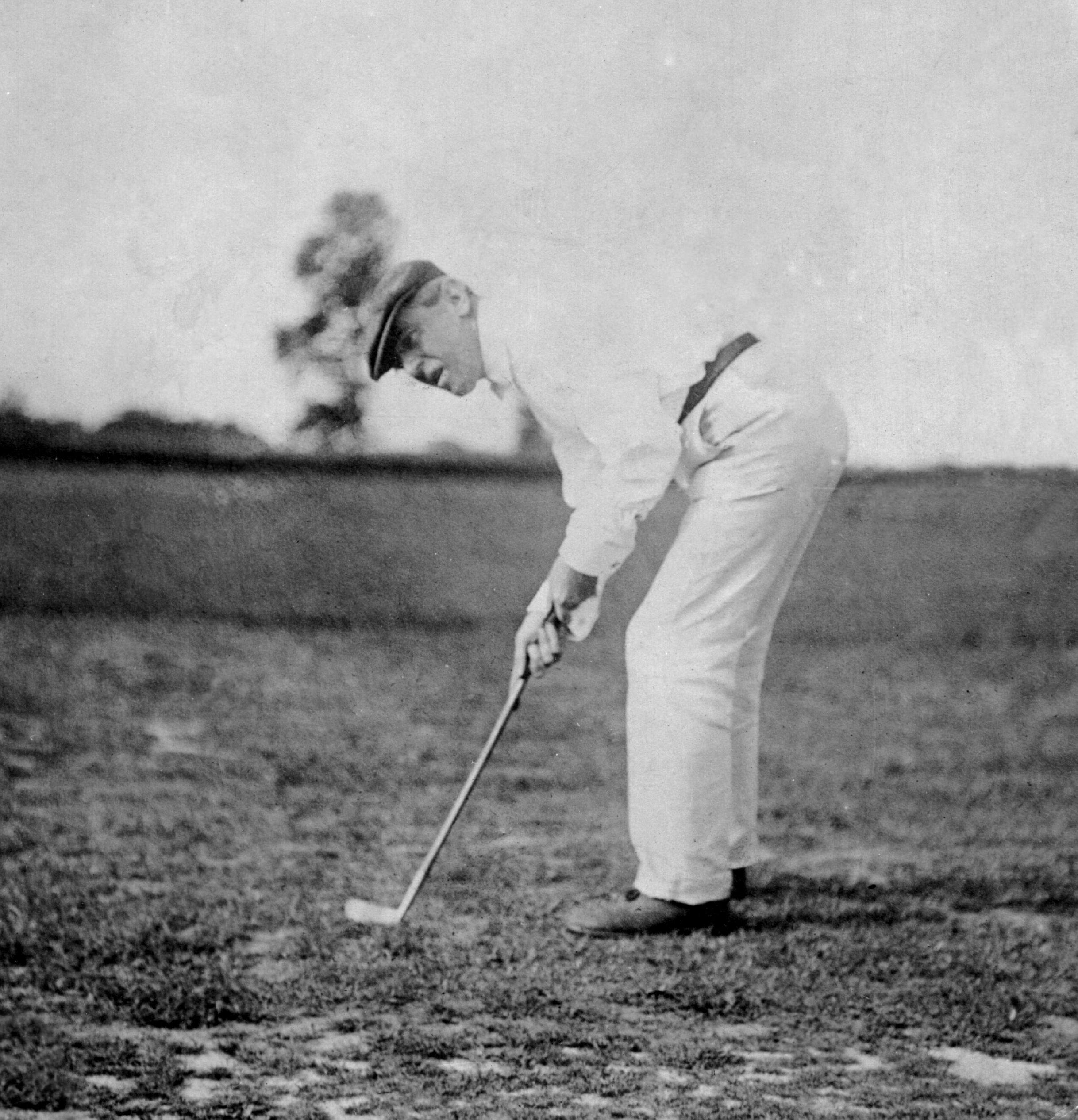 While in office: Played more than 1,000 rounds
CNN reports that William Taft's love for golf was nothing compared to the love that his successor, Woodrow Wilson, had for the game. Wilson has been characterized as a "fanatical" fan of the sport. He even enlisted his Secret Service agents to paint his golf balls black so that he could practice in the snow.
During his eight years in office,Wilson reportedly played more than 1,000 rounds of golf. As CNN explains, "He often spent time swinging his clubs while debating policy and even met his second wife, Edith, after playing a round of golf — and she later took up the game as First Lady."
Next: Like several other golfing presidents, this president didn't have much skill on the course. 
3. Warren G. Harding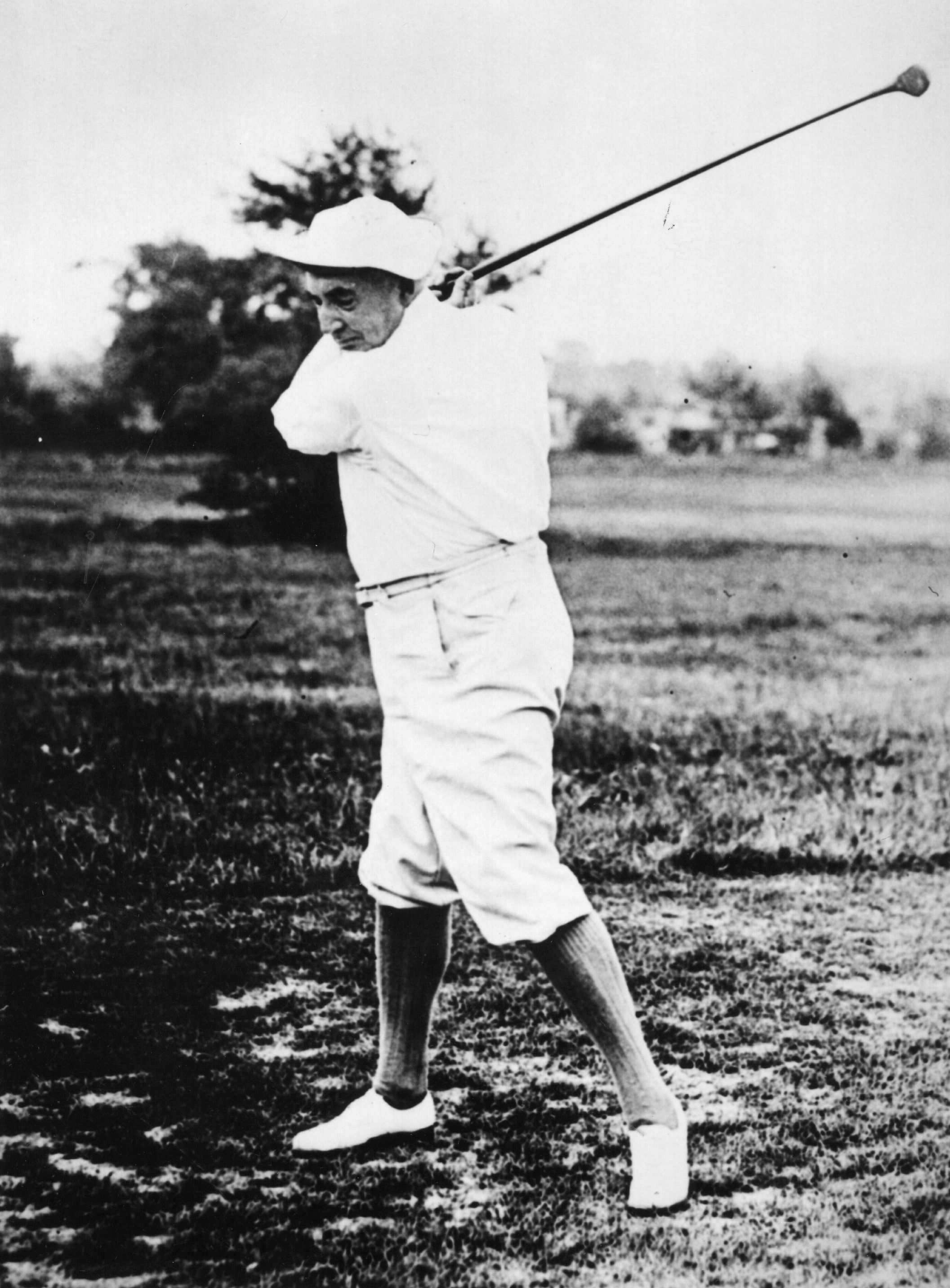 Typical score: In the triple digits
The Miller Center counts golf among Warren G. Harding's hobbies — which also included playing poker, drinking whiskey, smoking, telling jokes, and staying up until all hours of the night. Golf Advisor reports that Harding made a habit of playing twice a week. And Biography notes that he also made time for yachting and fishing.
Though Harding played regularly, he never became very good at the game. In fact, he often scored in the triple digits. He was known to place bets on shots, and trained his dog to retrieve golf balls from the White House lawn. Golf Advisor adds that Harding's main legacy for the game today is "the outstanding TPC Harding Park golf course in San Francisco, which was named after him." The course bears his name even though he was "one of the worst golfing presidents."
Next: This president played out of obligation. 
4. Calvin Coolidge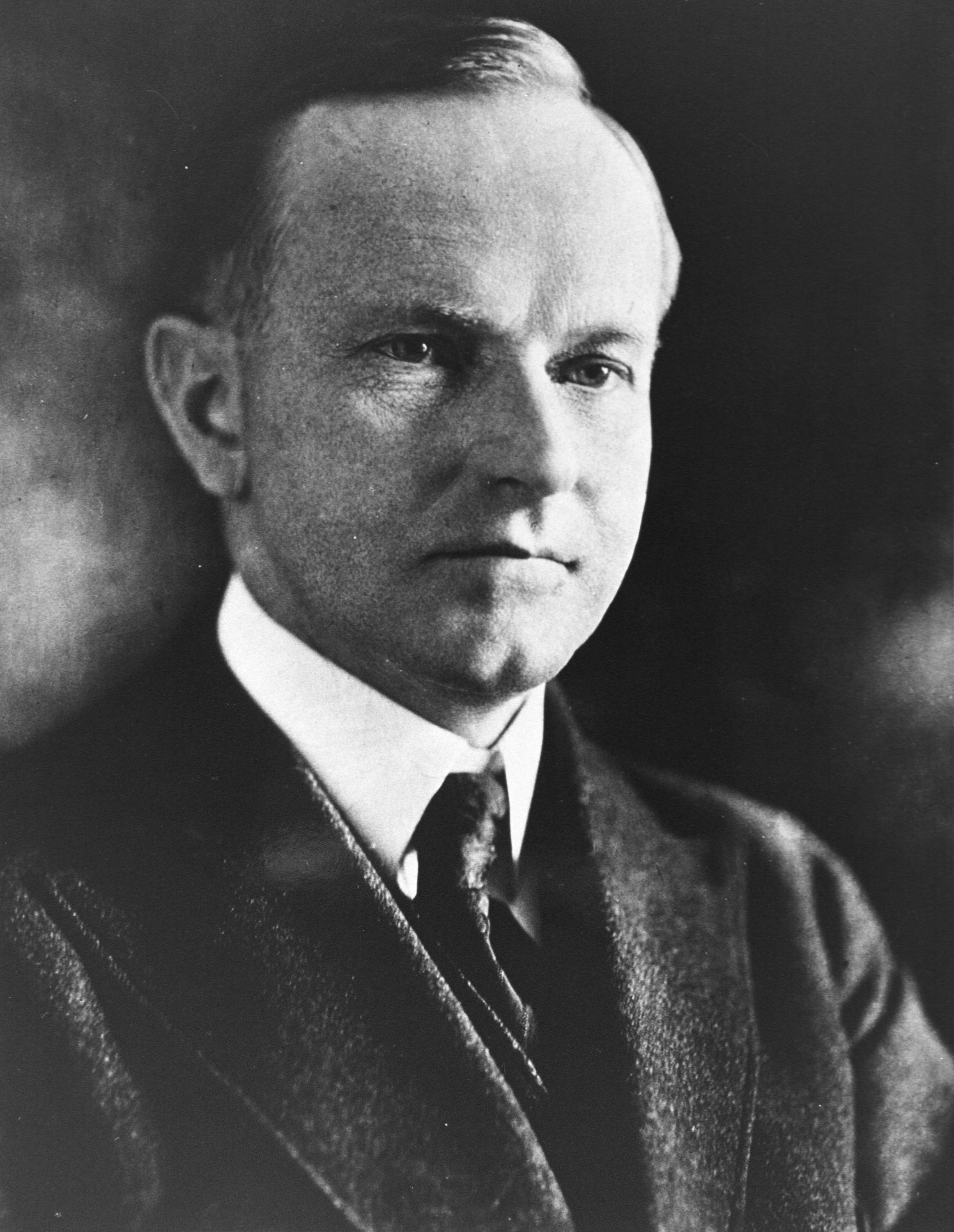 When he moved out of the White House: Left behind his clubs
Golf Advisor reports that the popularity of the game surged during Calvin Coolidge's presidency. So Coolidge "played out out of obligation," which was clearly reflected in the quality of his game. He usually needed double-digit shots on each hole. Golfweek puts it straightforwardly, noting that "Coolidge played golf, but not very well."
Even more interesting? "When successor Herbert Hoover moved into the White House, the only thing said to be left behind were Coolidge's bag of clubs."
Next: This president played until an illness made it impossible. 
5. Franklin D. Roosevelt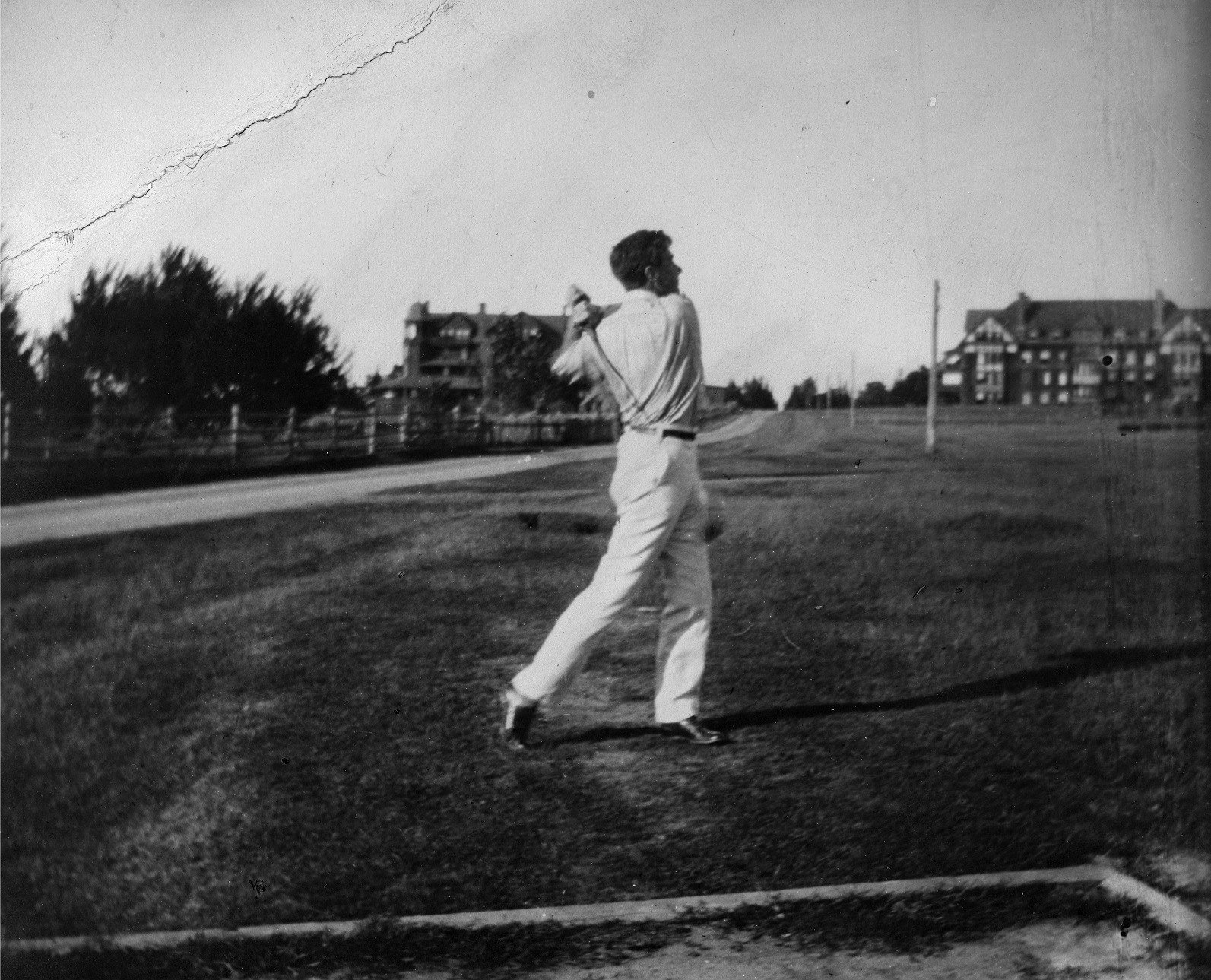 Played golf until: He contracted polio
According to Golf Advisor, Franklin D. Roosevelt became an accomplished golfer before he contracted polio. While in college, he became the club champion at Campobello Island Golf Club in New Brunswick, Canada, near his family's summer estate. But Golf Digest reports that "At 39, polio robbed him of a powerful golf swing."
Golf Advisor characterizes Roosevelt's funding of public works projects as his greatest gift to the game, since that included dozens of municipal courses, from the Bethpage State Park in New York to the FDR Golf Club in Philadelphia.
Next: This president became friends with Arnold Palmer. 
6. Dwight D. Eisenhower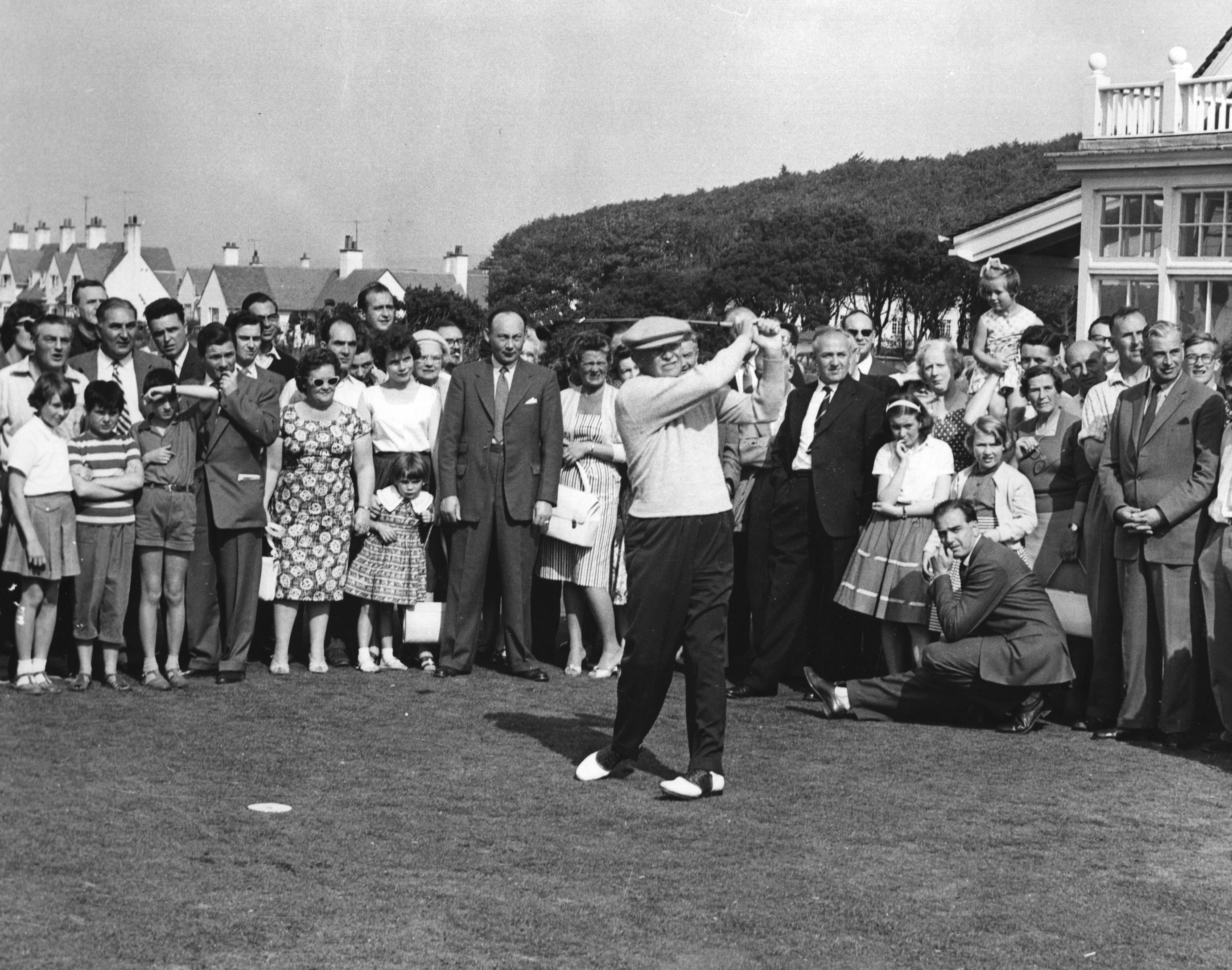 While in office: Played more than 800 rounds
According to CNN, it was Dwight D. Eisenhower who truly established golf "as the sport of Presidents." Eisenhower had such dedication to the game that he practiced every morning. Plus, he installed a putting green just outside of his office, and would dictate to his secretary from there.
Eisenhower also struck up a friendship with legendary golfer Arnold Palmer. And CNN credits that friendship with establishing golf in the United States. (According to Golf Advisor, the number of golfers in the U.S. more than doubled during Eisenhower's tenure.) As CNN reports of Eisenhower's friendship with Palmer, "The men were two of the nation's most famous faces during the 1950s and 1960s and their friendship blossomed through the sport."
Next: This commander-in-chief long ranked as the most skilled of golfing presidents. 
7. John F. Kennedy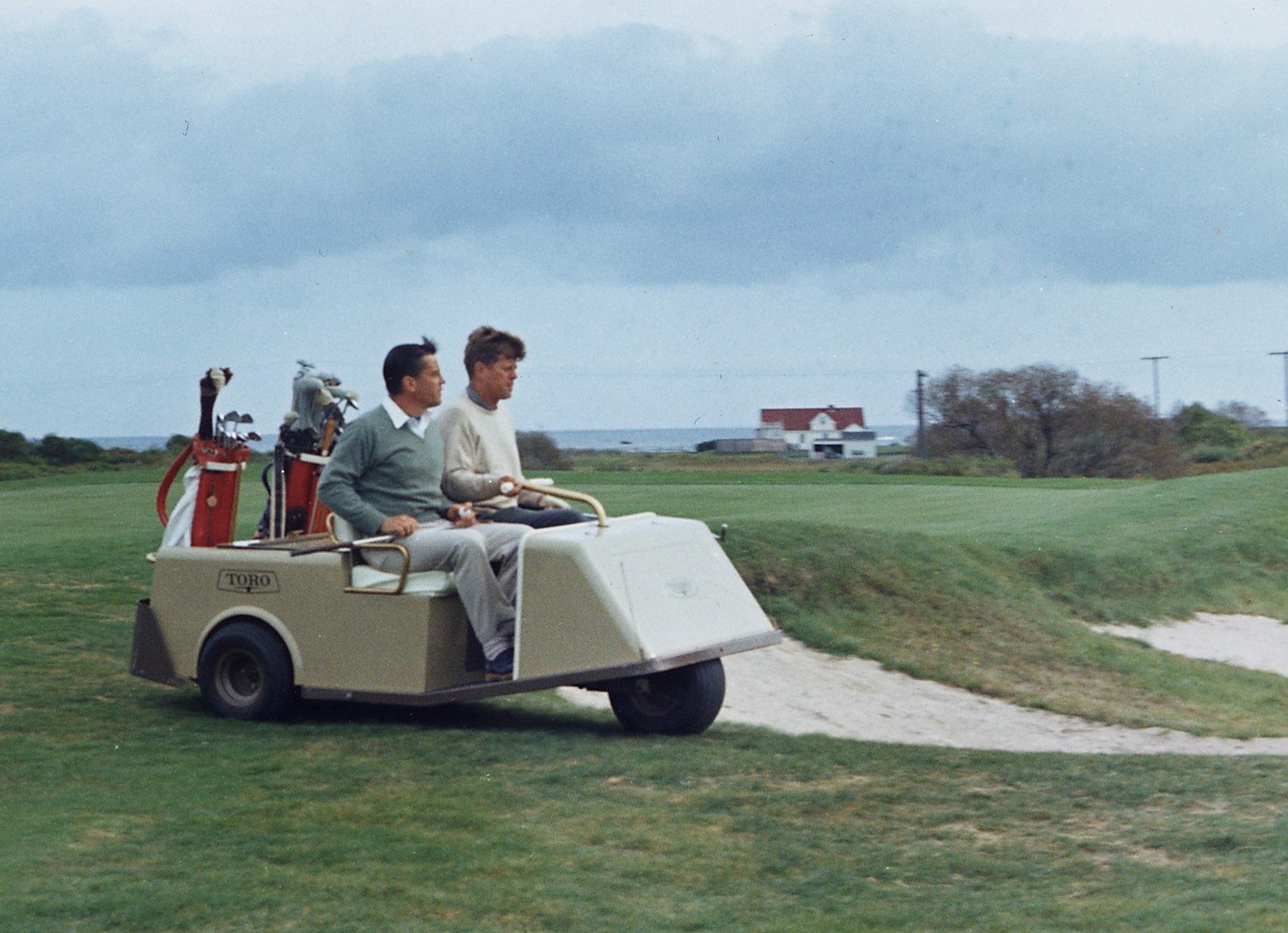 Rank among golfing presidents: First until Donald Trump unseated him
Golf Advisor reports that "A bad back and Addison's disease prevented Kennedy from reaching his enormous potential as a golfer." Yet he still had a powerful, fluid swing. For years, experts maintained that John F. Kennedy was the most talented presidential golfer. (At least until Trump came along.) But as one expert told CNN, Kennedy "didn't play as much as the others but he was keen not to attract attention."
That was likely because as a Democrat and an aristocrat, Kennedy was aware that the game "was viewed as a sport for the privileged," as Golf Advisor puts it. That said, Kennedy "played on the Harvard golf team and was a single-digit handicapper," according to CNN.
Next: This president got the votes he needed for a major bill on the course. 
8. Lyndon B. Johnson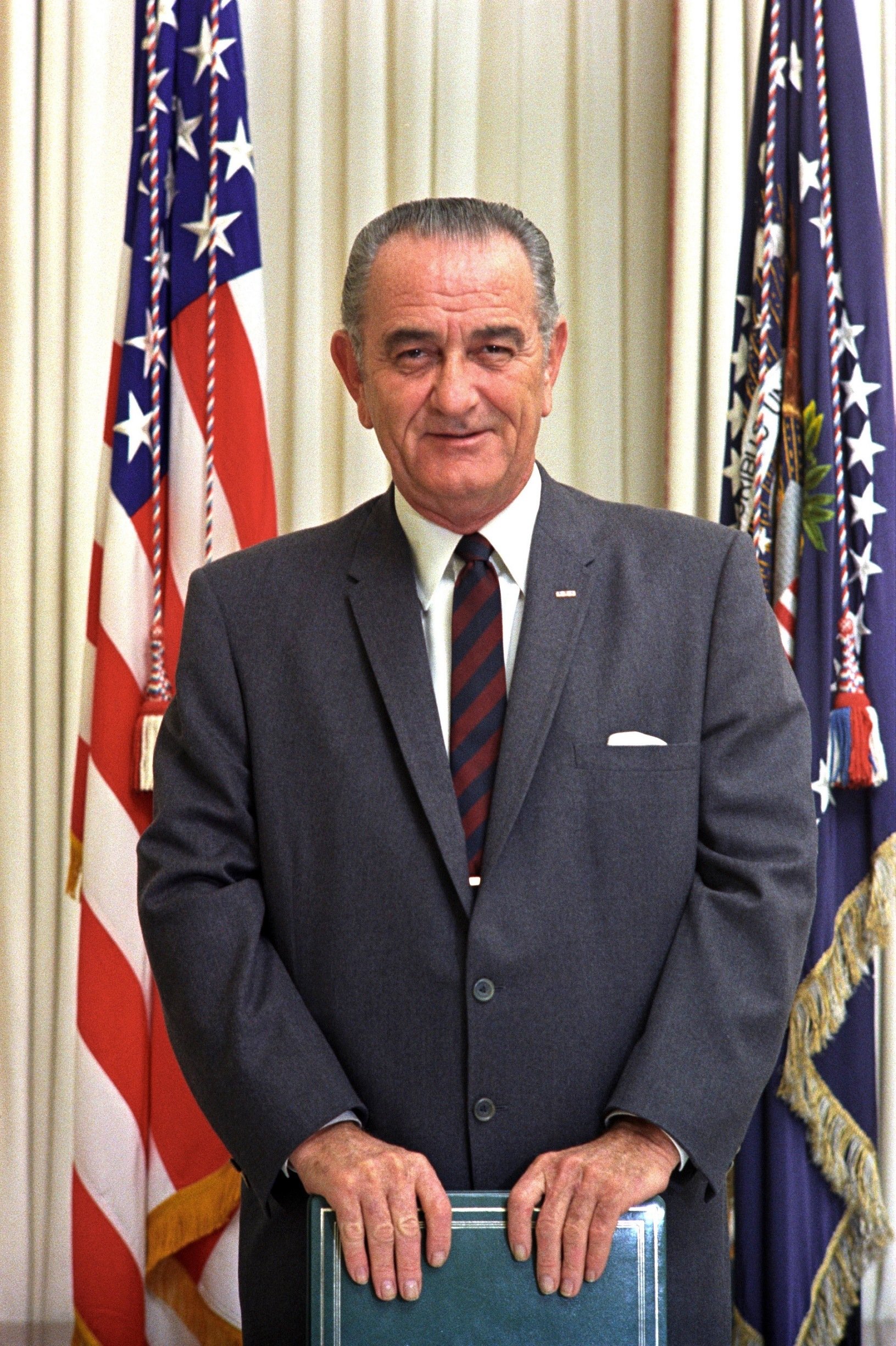 While in office: Took up golf as a tool for political negotiation
Some presidents have used golf to escape politics. But others have deftly combined the two. Lyndon B. Johnson falls in the latter group, as Golf Advisor reports that Johnson "played with an ulterior motive after realizing golf was the perfect activity for political negotiations."
Johnson got the votes he needed to pass the Civil Rights Act of 1964 on the course. But for all the time he spent playing, Johnson persisted with a swing "said to look like he was killing a rattlesnake," according to Golf Advisor. Plus, "he was no stickler for the rules, as he hit as many shots as it took get one that he liked."
Next: This president eventually quit playing.
9. Richard Nixon
Struggled with: Improving his game, and figuring out what to say on the course
Richard Nixon reportedly began playing golf as Eisenhower's vice president. But he became a good player, one whom Golf Advisor reports once broke 80, and played to a 12 handicap. Nixon later had a three-hole course built at his home in San Clemente, California. But The Atlantic reports that for Nixon, "golf seemed to accent the man's strangeness. He was not a good golfer but wanted to be, and he never could quite find the right things to say to his golfing partners."
But Nixon gave up the game during his troubled second term as president. As Golf Digest puts it, "He shot 79 once and quit the game." In that vein, avid golfers hold one thing against Richard Nixon: He opted to remove the putting green from the White House grounds.
Next: Arnold Palmer admired this president's passion for the game. 
10. Gerald Ford
Played with: Arnold Palmer
According to CNN, experts have also praised Gerald Ford for his skill on the golf course. Ford played in tournaments. And while his swings sometimes had unpredictable outcomes — like hitting people in the gallery — "he was a good athlete and had a good drive." Similarly, Golf Advisor reports that "A few errant drives in pro-ams contributed to Ford's reputation as a klutz." But he often broke 90, and once out-drove Arnold Palmer on the first hole of an exhibition match.
According to The Atlantic, Arnold Palmer even wrote that "No president ever tried harder at the game than Gerald Ford. One indication of his passion is that if you tried to give him a putt, he would never take it but insist on trying to make it."
Next: This president didn't play much, and he didn't play well. 
11. Ronald Reagan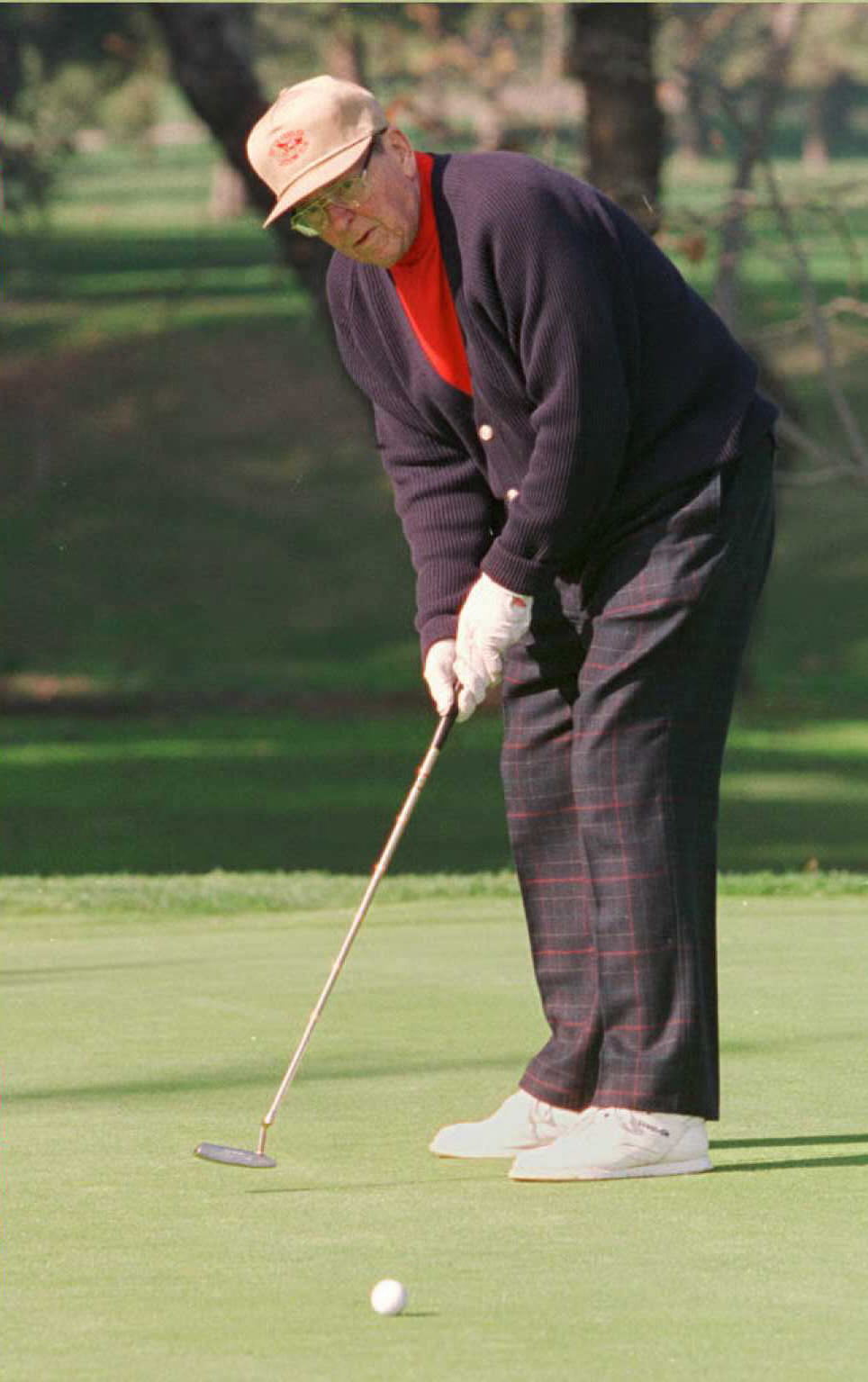 Took lessons from: Max Elbin
Ronald Reagan didn't play much golf. But Golf Advisor reports that Reagan had a powerful swing, nonetheless. Reagan became one of six presidents — from Eisenhower to the elder Bush — who took lessons from Max Elbin, the longtime pro at Burning Tree. Yet according to Golf Digest, Reagan didn't play well, with his best in the "low 90s."
But even more notable? What Golf Advisor characterizes as Reagan's "most significant golf moment" came when Reagan played a round at the Augusta Country Club. "An armed man crashed the gates, took hostages, and demanded to talk to Reagan. The man was soon apprehended." No wonder Reagan didn't play more of the game.
Next: This president sped through his games. 
12. George H.W. Bush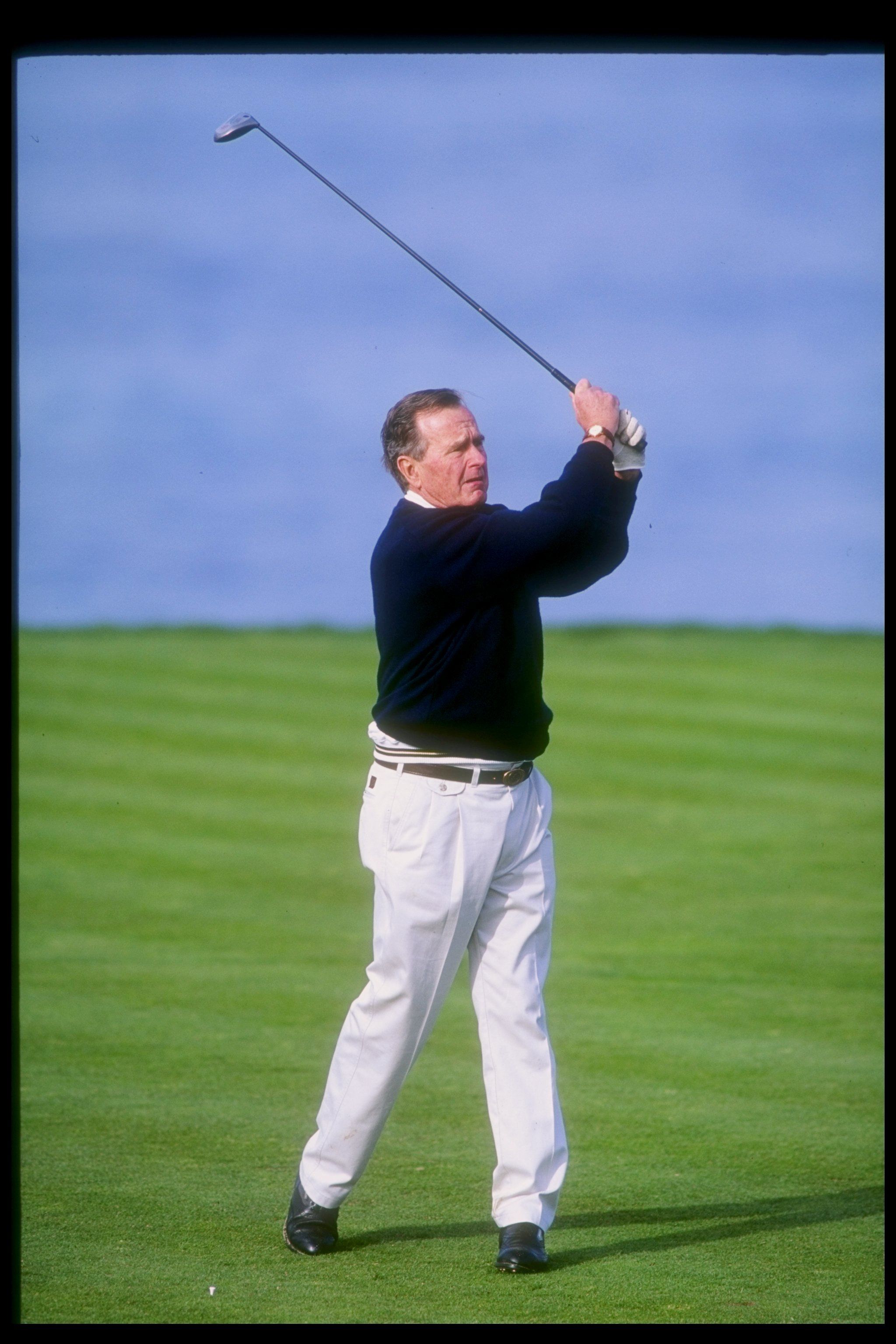 Favorite exclamation on the course: "Power outage!" shouted when putts fell short
Golf Advisor reports that "No president was born into a family with such rich golf tradition" as George H.W. Bush. Bush's maternal grandfather served as president of the USGA and founded the Walker Cup. Bush's father also served as a USGA president.
And Bush himself was inducted to the World Golf Hall of Fame "for his dedication to the game — not his playing ability as an 11-handicap," according to Golf Advisor. The publication also reports that Bush "was decades ahead of his time on the course, insisting on playing 'speed golf.' Any round that wasn't over in less than three hours was too long for the 41st President." As The Atlantic notes, Bush's aides referred to his game as "aerobic golf."
Next: This president offered loud commentary on the course. 
13. Bill Clinton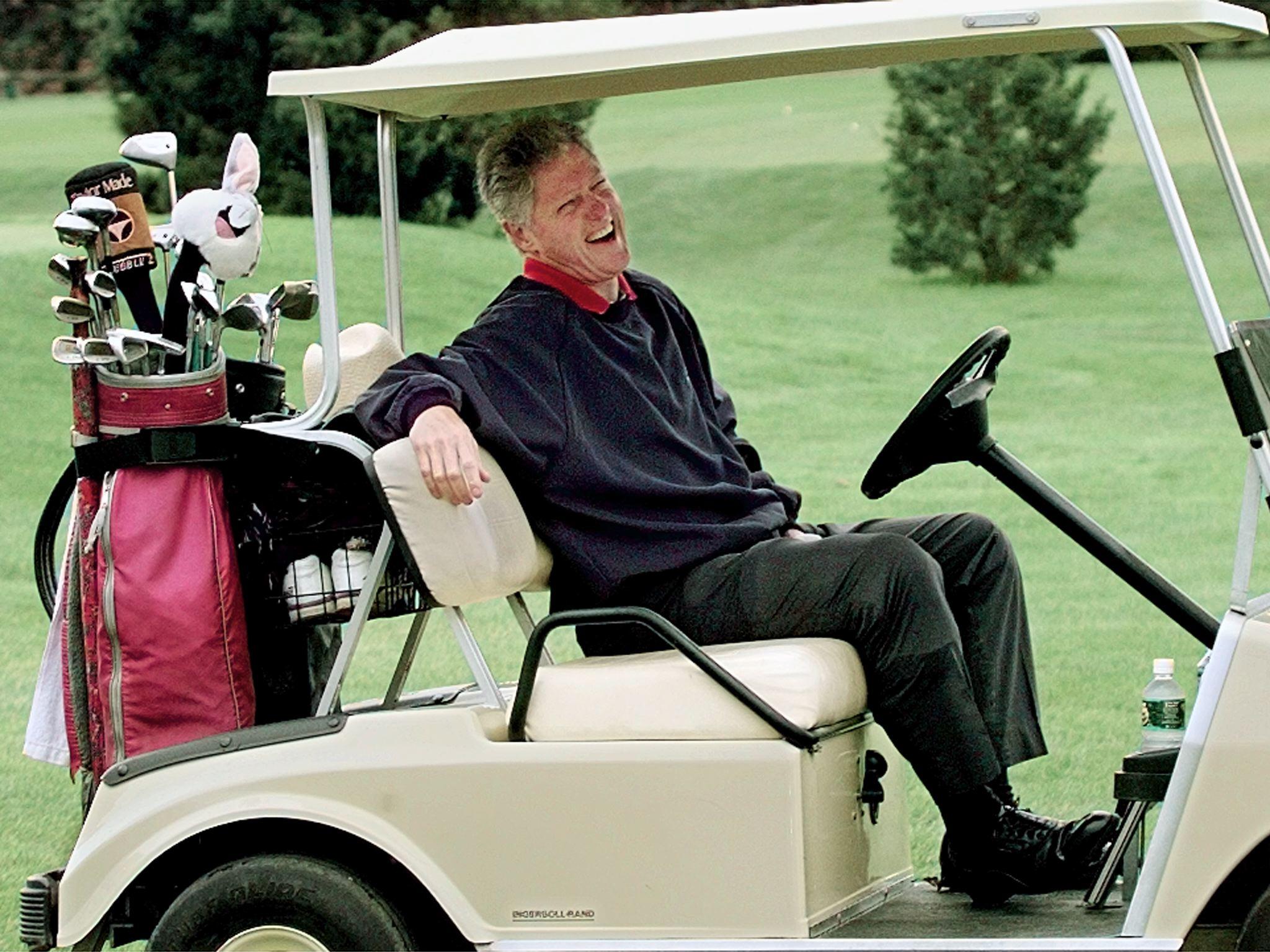 While in office: Didn't care who saw — or heard — him golfing
CNN reports that "Bill Clinton has entertained on the golf course, even joking that he's the only President whose handicap went down during a term in office." Golf Advisor concedes that Clinton "often skirted the rules, but there was no denying his positive impact on the game, if for no other reason than he made it look like so much fun."
Clinton reinstalled the White House putting green that Richard Nixon had removed. And according to The Atlantic, Clinton stands out from other golfing president as "one of the more enthusiastic players, providing nonstop and often loud commentary. And he never cared who heard him or knew he was golfing." As the publication explains, "In his first year in office, Clinton could be heard by all when he exclaimed after a tee shot on the 10th hole on Martha's Vineyard, 'Whoa, mama, stay up!'"
Next: This president improved his game after he left the White House.
14. George W. Bush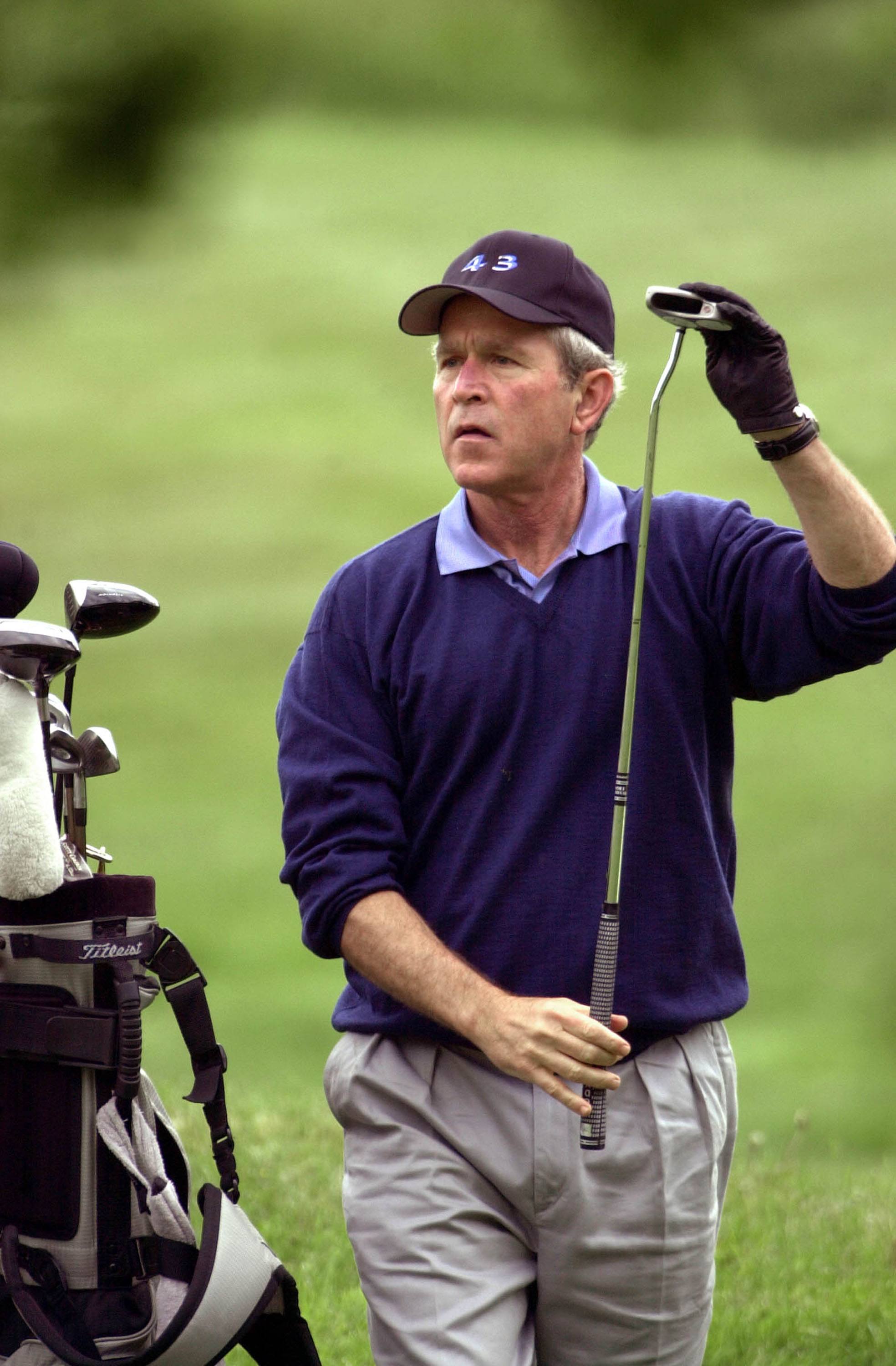 While in office: Gave up golf at the start of the Iraq war
George W. Bush didn't have as much dedication to the game as his father. But he still became a notable presidential golfer by playing to a 15-handicap "before giving up golf at the outbreak of the Second Iraq War." But he didn't stay aware for long. After leaving office, Bush returned to the sport and established the Warrior Open, which honors U.S. servicemen.
Golf Digest reports that Bush's handicap dipped below 10 after his presidency. Plus, Golf Advisor reports that, like his father, the younger Bush likes to play at a fast pace. He once reportedly commented, "We're not out there throwing grass up in the air, testing the winds. We like to bang away."
Next: This president chose military courses over private clubs. 
15. Barack Obama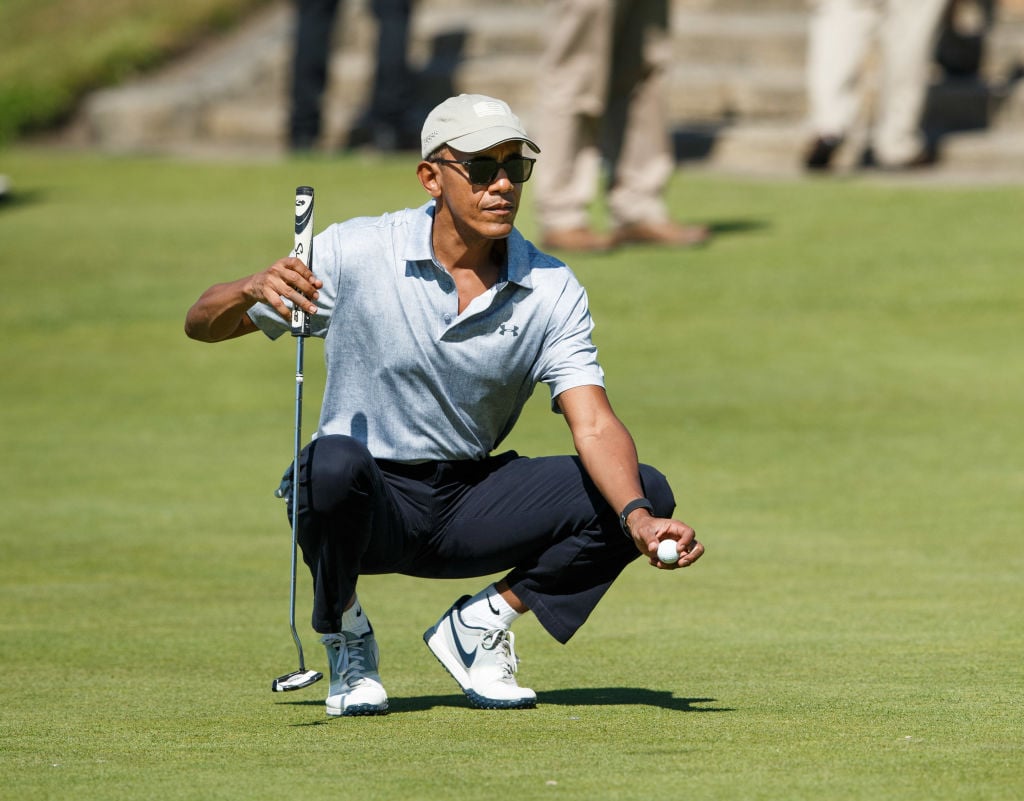 While in office: Played more than 330 rounds
Golf Advisor reports that Barack Obama is the eighth left-handed president in American history, but the first to play golf. Obama famously eschewed one of the perks of the job — the chance to play at private clubs in the Washington area — and preferred military courses at Fort Belvoir and Andrews Air Force base.
Additionally, Golf Digest reports that Obama played more than 330 rounds during his two terms in office. Obama's frequent appearances on the course attracted criticism, especially from Donald Trump. Both Democratic and Republican presidents have fielded criticism for their love of the game — which leads us to the current occupant of the Oval Office.
Next: From his skill on the course to Trump Golf holdings, here's what makes Donald Trump one of the most notable golfing presidents. 
16. Donald Trump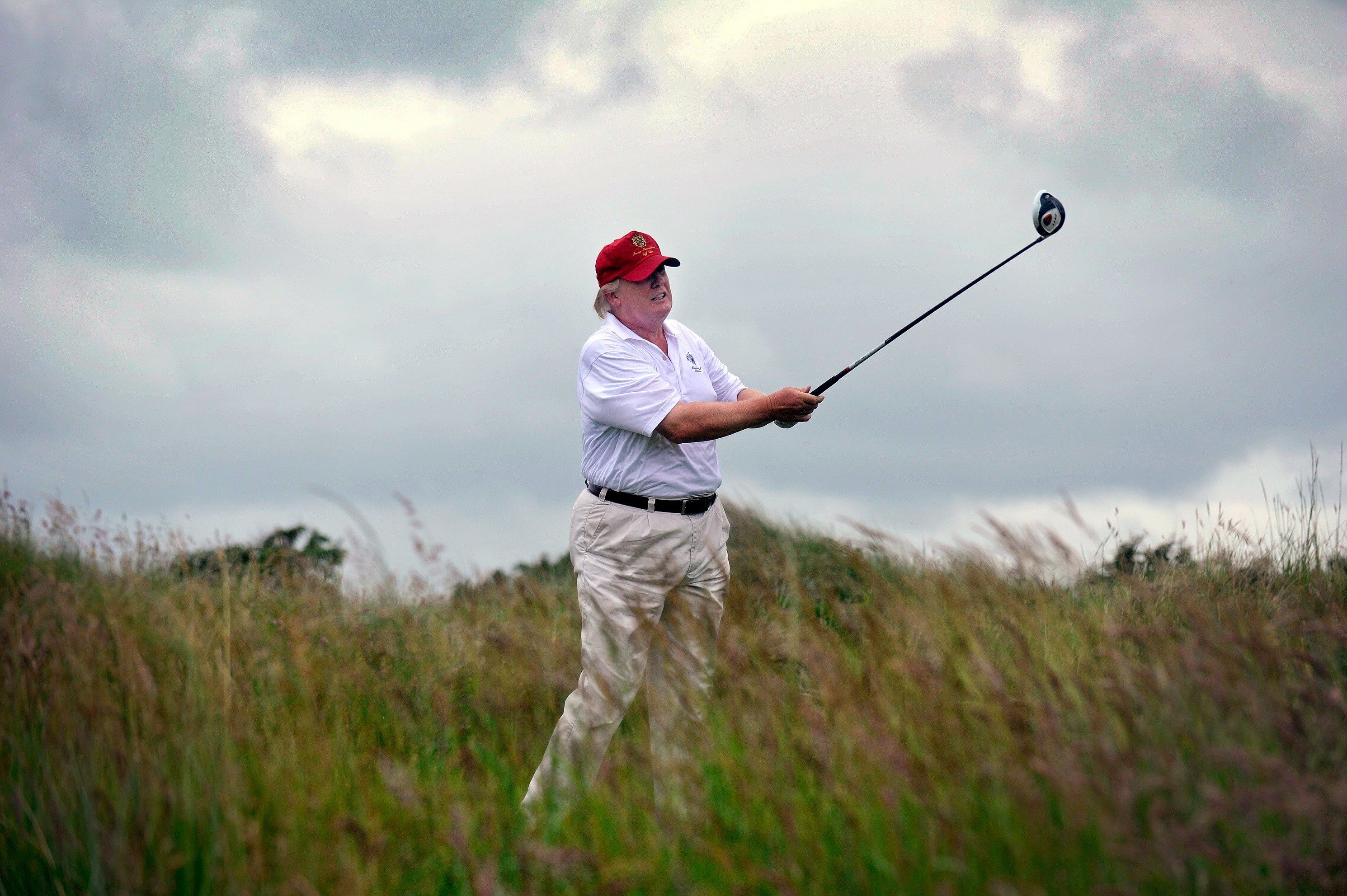 Golf Advisor reports that "Perhaps not even Eisenhower was as passionate about golf as our current White House resident." Donald Trump has made innumerable headlines with his golf habit — including when he was ranked as the most talented golfer among all of our presidents so far. When Trump took office, Golf Digest placed him at the top of its ranking of the best golfing presidents, thanks to his 2.8 handicap index and his 19 club championship victories.
Though Trump repeatedly criticized the amount of time that Obama spent golfing, CNN noted at the end of 2017 that Donald Trump could be on track to triple Obama's time on the course. But Trump seems to truly love the game, and reportedly taught himself to play. Plus, Trump Golf owns or operates 17 courses, including four resorts.
Read more: 11 Favorite Vacation Spots of Trump, Obama, and Other U.S. Presidents
Check out The Cheat Sheet on Facebook!