Protein-Packed Salads That Will Actually Fill You Up
Many consumers want to eat healthy, but healthy sometimes translates to hungry, and no one wants to be hangry (hungry plus angry). That's where hearty salads come in. Doctored with protein-packed ingredients and toppings, the carnivore-friendly salads we're highlighting today are lean, green, and if prepared with pre-cooked meat, can even be made without turning on your oven. Pick one of these nutritious recipes and you'll be amazed at how satisfying well-made salads really can be.
1. Chef's Salad with Turkey, Avocado, and Jack Cheese
Up first is a formula from Martha Stewart for a Chef's Salad with Turkey, Avocado, and Jack Cheese. Thanks to the protein from the pre-cooked turkey and the healthy fats from the avocado, this salad will fill you up, and it's far from tasteless thanks to the addition of cheese, carrots, radishes, and a buttermilk-based dressing you can make completely by yourself. Whether you enjoy the greens for lunch or dinner, you're guaranteed to enjoy the hearty yet healthy meal, and you'll remember once again that nutritious can be delicious.
Ingredients:
⅓ cup low-fat buttermilk
⅓ cup reduced-fat sour cream
2 tablespoons cider vinegar
1 tablespoon honey
Coarse salt and ground pepper
1 large head Boston lettuce
1 pound sliced roasted turkey breast, torn into pieces
1 avocado, pitted and sliced
1 cup alfalfa sprouts or pea shoots
6 radishes, halved and thinly sliced
4 carrots, cut into matchsticks
4 ounces Monterey Jack cheese, cut into strips (1 cup)
Directions: In a small bowl, combine buttermilk, sour cream, vinegar, and honey; season with salt and pepper. Set dressing aside. Divide lettuce among four serving plates; top with turkey, avocado, sprouts, radishes, carrots, and cheese. Drizzle with dressing, and serve.
2. Smoky Ham and Corn Salad
Try this Smoky Ham and Corn Salad from Eating Well. Once again, you can prepare this dinner salad without turning on the oven as long as you plan ahead and pick up fresh diced ham at the store. Accompanying your ham on the bed of greens is a mixture of fresh corn, crunchy croutons, crisp tomatoes, and a light dressing. We told you greenery really can be delicious.
Ingredients:
⅓ cup reduced-fat sour cream
2 tablespoons distilled white vinegar
1 teaspoon paprika, preferably smoked
¼ teaspoon salt
8 cups trimmed frisée, or 8 cups mixed salad greens
1 medium tomato, diced
1 cup fresh corn kernels
1 cup croutons, preferably whole-grain
¾ cup diced ham
Directions: Whisk sour cream, vinegar, paprika, and salt in a large bowl. Add frisée (or salad greens), tomato, corn, croutons and ham; toss to coat.
3. Taco Salad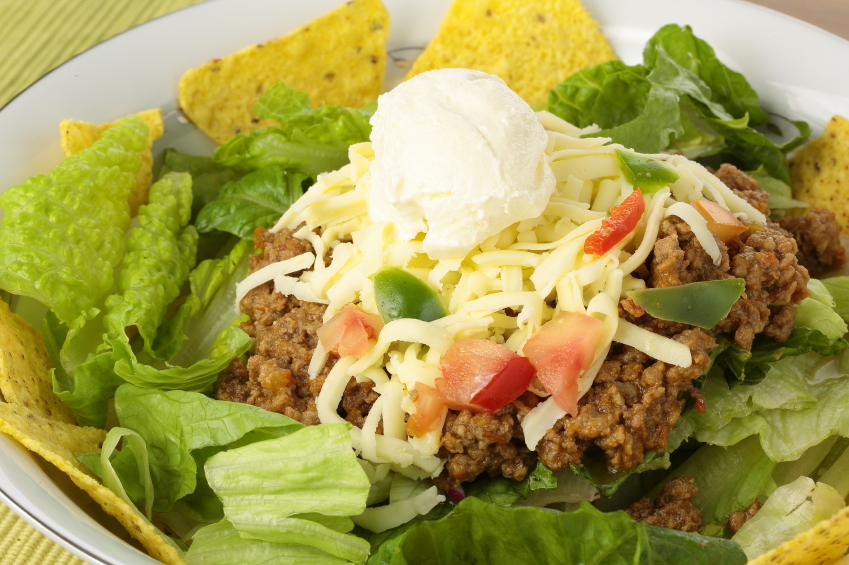 More fun healthy fuel can come in the form of Taco Salad. Try this recipe from Little Spice Jar and see how taco fillings taste just as good on top of a bed of greens as they do in carb-heavy tortillas. Skip the calories from the carbs and instead enjoy the meaty Mexican flavors on their own. You can eat your tacos with a fork while still getting your Mexican fix of beans, beef, avocado, tomatoes, and cheese.
Ingredients:
Ground Beef
2 teaspoons canola oil
1 small onion, diced
1 pound lean ground beef
1 packet taco seasoning, homemade or packaged
⅓ cup water
Taco Salad
6 cups shredded romaine lettuce
1 cup cherry tomatoes, halved
1 can black beans, drained and rinsed
1 cup shredded cheddar cheese
1 large haas avocado, diced
2 handfuls tortilla chips, crushed up
Catalina Dressing, as needed
Directions: To prepare the ground beef, sauté onions in the oil in a large skillet over medium heat for about 2 minutes. Add the ground beef, then cook until browned, draining any excess fat. Sprinkle in the taco seasoning and add the water, allowing the beef to simmer for 5 minutes or until the water has evaporated.
To create the salad, toss the lettuce, tomatoes, black beans, cheddar cheese, diced avocado, beef, and tortilla chips in one large bowl or individual servings. Add dressing as desired.
4. Grilled Steak Salad with Tomato Vinaigrette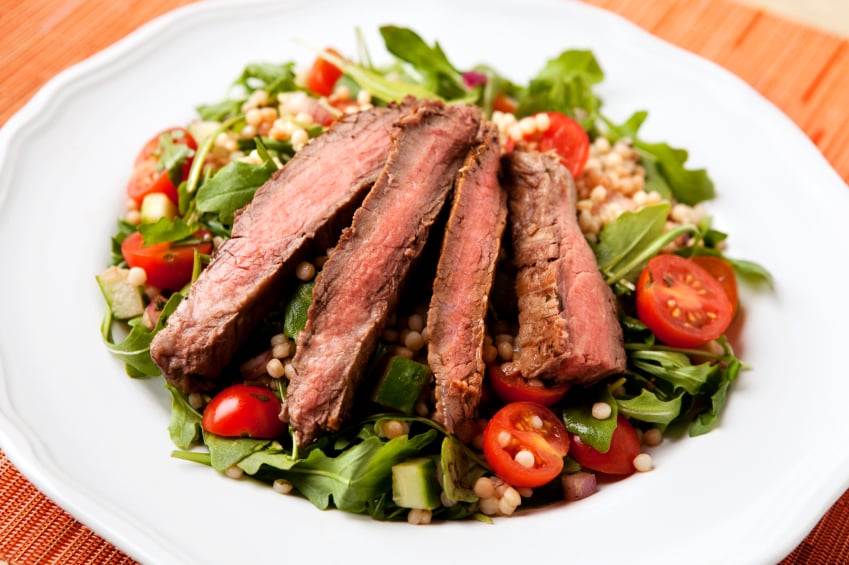 This next salad recipe from Bon Appétit requires that you turn on the grill, but trust us when we say the end result is well worth it. This Grilled Steak Salad with Tomato Vinaigrette could make a greens convert out of anyone, and it's all thanks to the help of fresh ingredients, including corn, tomatoes, and lettuce. The perfectly seared steak doesn't hurt either. Thanks to a punch of protein from the meat, the dish won't leave anyone hungry.
Ingredients:
1

pound

hanger, skirt, or flank steak

1

teaspoon

kosher salt plus more t

Freshly ground black pepper

1

medium tomato, halved

1

tablespoon

minced shallot

1

teaspoon

red wine vinegar

¼ 

cup

plus 5 teaspoons olive oil, divided

4

spring onions or 6 scallions, bulbs halved, dark-green parts discarded

5

½

-inch-thick slices ciabatta

8

cups

mixed summer lettuces 

¾ 

cup

fresh basil leaves, torn into ½-inch strips
Directions: Season steak with 1 teaspoon salt and pepper; set aside. Grate cut sides of tomato on coarse holes of a box grater into a medium bowl down to the skin; discard skin. Add shallot and vinegar; whisk in ¼ cup oil. Season to taste with salt and pepper. Set aside.
Build a medium-hot fire in a charcoal grill, or heat a gas grill to high. Toss spring onions in a medium bowl with 1 teaspoon oil and season with salt and pepper. Grill onions until just tender, 2 to 3 minutes per side. Transfer to a cutting board and cut into 2-inch pieces.
Grill steak until seared and cooked to desired doneness, 3 to 5 minutes per side for medium-rare, depending on steak's thickness. Transfer to a cutting board. Let rest, about 10 minutes. Meanwhile, make croutons: Brush both sides of bread slices with remaining 4 teaspoons oil and season with salt and pepper. Grill bread until dark golden brown and nicely charred in spots, about 2 minutes per side. Set toast aside until cool enough to handle, then break toast into roughly 1-inch pieces.
Thinly slice steak against the grain. Toss lettuces, basil, spring onions, croutons, and some of the vinaigrette in a large bowl. Season to taste with salt and pepper. Add steak and toss gently to coat. Serve with remaining vinaigrette alongside.
5. Shrimp Cobb Salad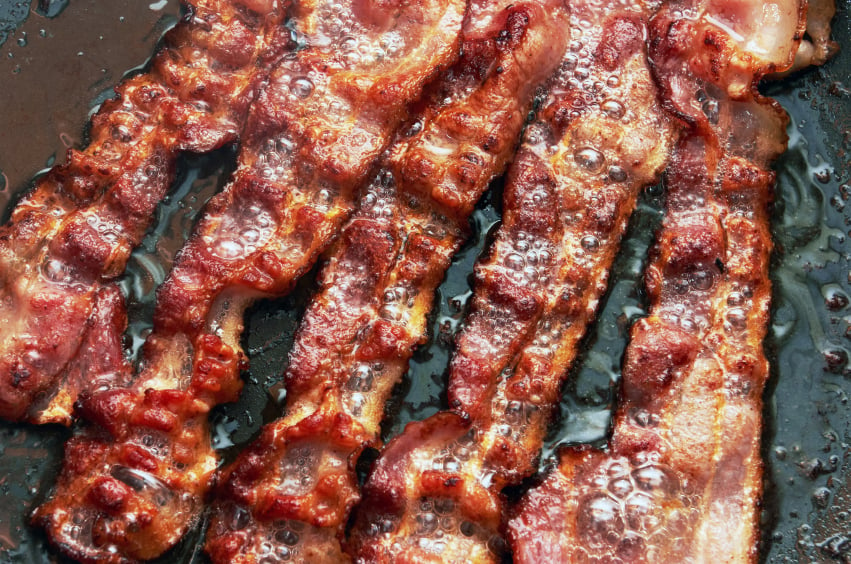 Another protein-packed salad is coming your way from Cooking Light. This recipe for shrimp cobb salad yields a bed of greenery studded with perfectly seasoned shrimp, veggies, and even some bacon pieces. Because what would a cobb salad be without bacon? This salad will come together in 20 minutes or less, and it doesn't require the use of your oven or grill.
Ingredients:
4 slices center-cut bacon
1 pound large shrimp, peeled and deveined
½ teaspoon paprika
¼ teaspoon black pepper
Cooking spray
¼ teaspoon salt, divided
2½ tablespoons fresh lemon juice
1½ tablespoons extra-virgin olive oil
½ teaspoon whole-grain Dijon mustard
1 package romaine salad
2 cups cherry tomatoes, quartered
1 cup shredded carrots
1 cup frozen whole-kernel corn, thawed
1 ripe peeled avocado, cut into 8 wedges
Directions: Cook bacon in a large nonstick skillet over medium heat until crisp. Remove bacon from pan; cut in half crosswise. Wipe pan clean with paper towels. Increase heat to medium-high. Sprinkle shrimp with paprika and pepper. Coat pan with cooking spray. Add shrimp to pan; cook 2 minutes on each side or until done. Sprinkle with ⅛ teaspoon salt; toss to coat.
While the shrimp cooks, combine remaining ⅛ teaspoon salt, juice, oil, and mustard in a large bowl, stirring with a whisk. Add lettuce; toss to coat.
Arrange about 1 ½ cups lettuce mixture on each of 4 plates. Top each serving with about 6 shrimp, ½ cup tomatoes, ¼ cup carrot, ¼ cup corn, 2 avocado wedges, and 2 bacon pieces.
6. Balsamic Chicken and White Bean Salad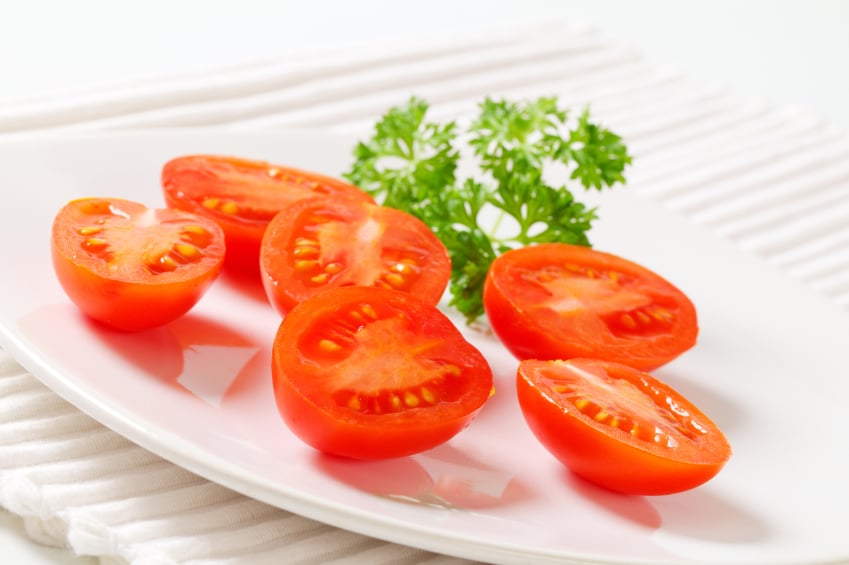 Last but not least is this Balsamic Chicken and White Bean Salad from Taste.com. You'll be getting your protein fix from your chicken and beans with these greens. In this recipe, balsamic-marinated chicken mixes with cannellini beans, feta, and rocket lettuce to yield a salad that is a fun twist on your usual standbys. The key to keeping salads interesting is continually mixing and matching ingredients, and it's safe to say that this cool combo is a satiating home run.
Ingredients:
1⅓ pounds skinless chicken thigh fillets, trimmed
2 garlic cloves, crushed
1 tablespoon whole-grain mustard
2 tablespoons balsamic vinegar
Olive oil cooking spray
1 can cannellini beans, drained
1¼ cups cherry tomatoes, halved
½ cup low-fat feta cheese, crumbled
⅔ cup rocket leaves
1 lemon, cut into wedges, to serve
Directions: Season chicken with salt and pepper. Whisk garlic, mustard, and vinegar in a ceramic dish. Add chicken and turn to coat. Cover and refrigerate for at least 20 minutes.
Preheat a barbecue plate on high heat. Remove chicken from marinade. Lightly spray chicken with oil. Cook for 1 minute each side or until golden. Reduce heat to medium-low. Cook chicken for 6 to 8 minutes each side or until cooked through. Transfer to a plate. Cover and stand for 5 minutes.
Slice chicken. Combine beans, tomato, feta, rocket leaves, and chicken in a large bowl. Toss gently. Spoon onto plates. Season with pepper. Serve with lemon.
More from Culture Cheat Sheet: