5 Easy Quesadilla Recipes You Can Make Tonight
In order to make a great quesadilla, you really only need a tortilla and an appropriate cheese. Whether you use Oaxaca cheese as recommended by chef Patricia Jinich or you stick with classic mozzarella, the possibilities for this cheesy dish are endless. Any dairy you would use in a grilled cheese can be translated into a quesadilla, because they're pretty much the same thing. Cheddar, Jack, and even Italian cheeses all work. And you can just as easily add different fillings to turn the toasty snack into a substantial meal.
To give you a little quesadilla inspiration, we're sharing five of our favorite recipes from around the web featuring everything from barbecued pork to sweet potatoes. After a taste of these dishes, tortillas might replace bread as your staple carb.
1. Steak Quesadillas with Guasacaca Sauce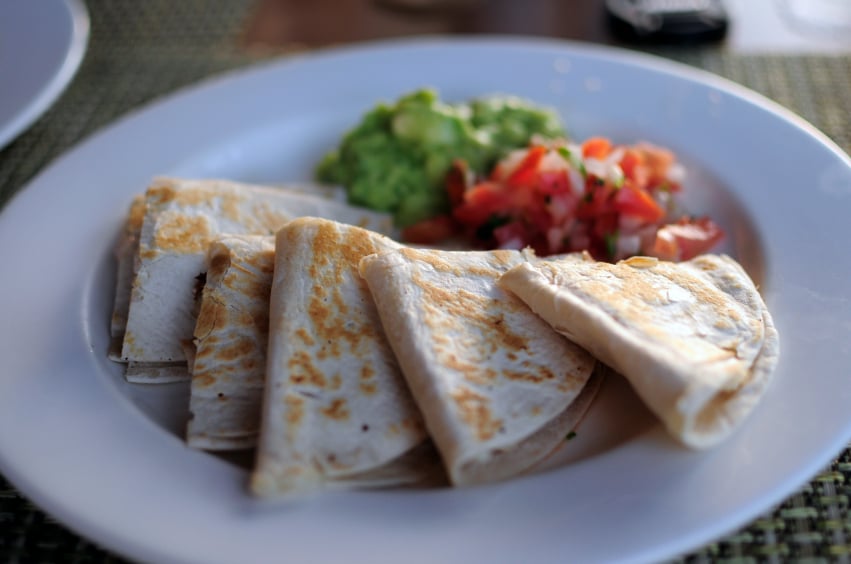 Steak tacos are a welcome meal any night of the week. When you really need something comforting, turning the concept into a concoction with melted cheese is the way to go. Tasting Table's meat-filled tortillas are a great choice, especially if you make the guasacaca sauce. Though it sounds like a something from a cartoon, this avocado sauce is a traditional condiment in Venezuela. Similar to guacamole, it has a decidedly acidic punch thanks to a decent amount of vinegar. The additional acidity is a great way to cut the richness of the beef and cheese, though you can achieve a similar effect with some pickled onions.
Ingredients:
½ pound beef tenderloin, halved lengthwise into 2 long pieces
2 teaspoons kosher salt, divided
1 teaspoon freshly ground black pepper
2 small, ripe avocados, halved, pitted, and roughly chopped
½ small white onion, roughly chopped
1 small poblano or ½ small green bell pepper, roughly chopped
½ cup fresh cilantro
1 small jalapeño
1 garlic clove, roughly chopped
3 tablespoons distilled white vinegar
Juice of 1 lime
¼ cup canola oil, divided
4 (8-inch) flour tortillas
2 cups shredded melting cheese, like Monterey Jack or Oaxaca
2 tablespoons adobo sauce from a can of chipotle chilies
Directions: Set tenderloin pieces on a cutting board and rub with 1 teaspoon of salt and pepper. Set aside.
In a food processor, combine avocado, onion, poblano, cilantro, jalapeño, garlic, vinegar, lime juice, and remaining salt. Process until smooth. With motor running, stream in 2 tablespoons oil, and blend to combine.
Heat a large skillet over medium-high heat until smoking, about 2 minutes. Divide 1 tablespoon of canola oil between the two tenderloin pieces and rub to coat. Cook until all sides are browned and an instant-read thermometer inserted into the center reads 125 to 130 degrees Fahrenheit, about 10 to 12 minutes. Transfer to a cutting board and let rest for 5 minutes. Slice crosswise into ¼-inch-thick slices.
Clean out skillet then return to burner over medium heat and add 1½ teaspoons canola oil. Add a tortilla and top with ½ cup of cheese, 8 tenderloin slices, and another ½ cup of cheese. Top with another tortilla and cook until browned, 2 to 2½ minutes. Flip and cook until second side has browned, about 1½ to 2 minutes longer. Transfer to a cutting board and repeat with remaining ingredients. Slice quesadillas into quarters and serve with guasacaca and a drizzle of adobo.
2. Sweet Potato and Green Chili Quesadillas with Arugula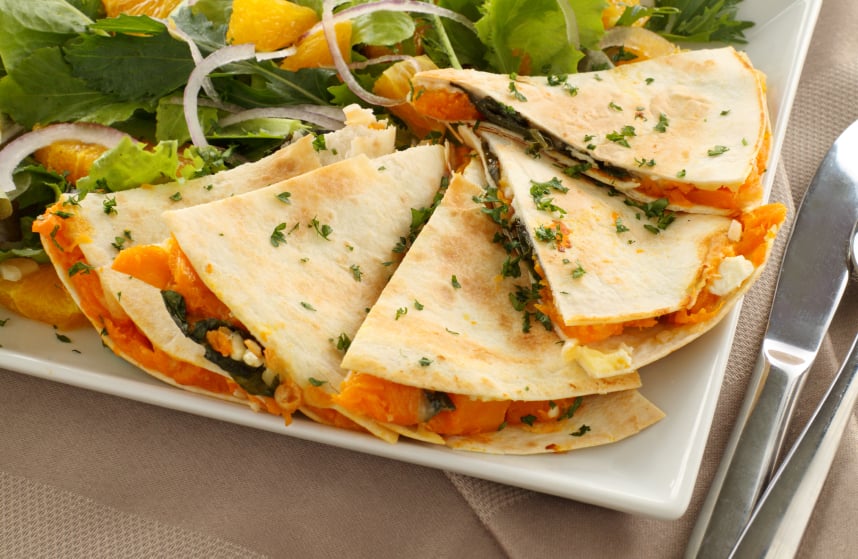 With so much evidence backing the health benefits of a plant-based diet, you may find yourself trying to go meatless every now and again. Frustratingly, many vegetarian recipes aren't substantial enough to fill you up for more than an hour or two. Not so with these sweet potato quesadillas from Williams-Sonoma, adapted from Vegetable of the Day. They're packed with plenty of the sweet-fleshed spud, zesty green chilies, and some gooey Jack cheese. It's also a great way to use up leftover sweet potatoes in all forms, even mashed. Just spread them on like hummus and proceed with the recipe as written.
Ingredients:
2 (½-pound) sweet potatoes, peeled, and cut into ½-inch cubes
4 tablespoons plus 2 teaspoons olive oil
8 (9-inch) flour or corn tortillas
3 cups shredded Monterey Jack cheese
1 (4-ounce) can roasted green chilies, drained
⅓ cup fresh cilantro leaves
4 ounces baby arugula
Juice of ½ lemon
Salt and freshly ground pepper
Directions: Preheat oven to 450 degrees Fahrenheit. Line a baking sheet with parchment paper. Place sweet potatoes on sheet and drizzle with 2 tablespoons olive oil. Spread potatoes into a single layer and roast, stirring once, until potatoes are caramelized and very tender, about 25 minutes. Let cool, transfer to a bowl, and slightly mash with a fork or potato masher.
Place 4 tortillas on a work surface. Divide sweet potatoes, cheese, chiles, and cilantro evenly among the tortillas. Top with remaining tortillas.
Heat ½ teaspoon of olive oil in a large frying pan set over medium heat. Fry each quesadilla, turning once, and adding ½ teaspoon more olive oil for each one, until cheese is melted and tortillas are golden brown, about 3 minutes. Transfer to a cutting board and slice into quarters.
Put arugula in a bowl and drizzle with remaining olive oil and lemon juice. Season with salt and pepper and toss to combine. Serve quesadillas topped with arugula.
3. Chipotle Chicken Quesadillas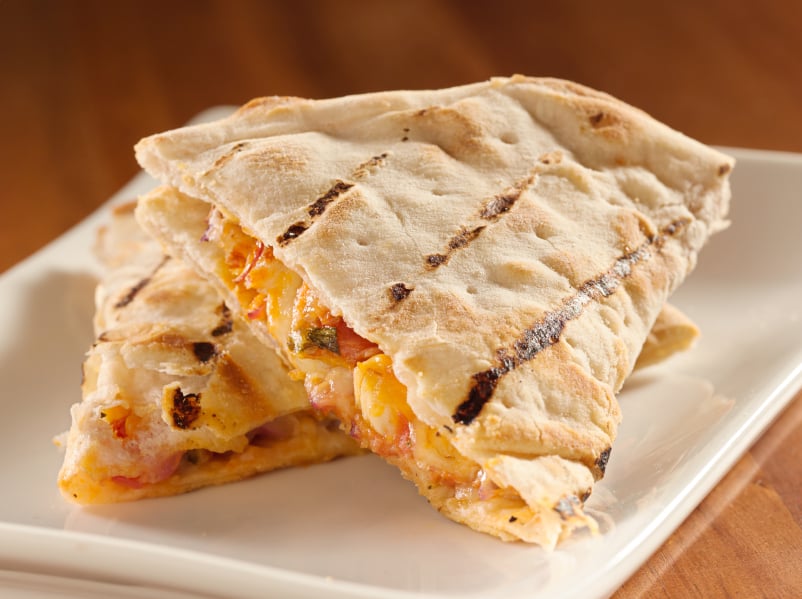 Everyone knows to use rotisserie chicken for soups and casseroles, but the same American classics all start to taste the same after a while. Shock the bird into a new flavor dimension with this chipotle-spiked dish from Once Upon a Chef, which was adapted from a recipe by Curtis Stone. If you end up with extra filling, you can turn it into an awesome breakfast hash with some fried potatoes.
Ingredients:
 3 tablespoons olive oil
1 large red onion, chopped
4 garlic cloves, minced
⅓ cup minced chipotles in adobo sauce
4 tomatoes, seeded, and diced
3 scallions, thinly sliced
2 tablespoons honey
2½ cups shredded, cooked chicken
1 teaspoon salt
½ cup chopped cilantro
6 (10-inch) flour tortillas
4 cups shredded sharp cheddar cheese
Sour cream
Lime wedges
Directions: Heat the olive oil in a large skillet set over medium heat. Ad the onion and cook until translucent, about 5 minutes. Add the garlic and cook, stirring, 1 minute longer. Stir in the chipotles and tomatoes, and cook until the mixture thickens, stirring frequently, about 20 minutes. Add the scallions, honey, chicken, salt, and cilantro, and stir to combine. Set aside, and keep warm.
Heat another skillet over medium heat and lightly coat with nonstick cooking spray. Add one tortilla to the pan and heat until just hot, flip over, then top with ⅔ cup of the cheese and ½ cup of the chicken mixture. Try to keep all the fillings on the tortilla. When cheese has mostly melted, fold tortilla in half and continue to cook until tortilla is crisp and cheese has fully melted, 1 to 2 minutes per side. Repeat with remaining tortillas, cheese, and filling. Let quesadillas sit for a few minutes, then slice, and serve with sour cream and lime wedges.
4. Barbecue Pork Quesadillas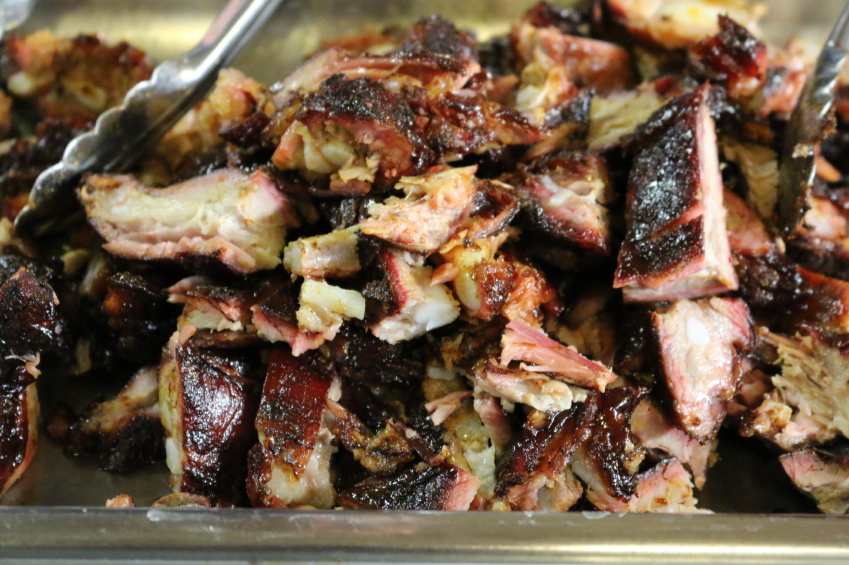 No one usually complains about leftover barbecue anything, especially pork. Still, it could use a little jazzing up after a few days. Southern Living's barbecued pork quesadillas are a great way to make the smoked meat a little more exciting without too much effort. Just mix the meat with some sauce, cilantro, and green onions, and pile onto a tortilla with some cheese. Cook the quesadilla in a hot skillet, and it's chow time.
Ingredients:
1 pound chopped barbecued pork
1 cup barbecue sauce
½ cup chopped fresh cilantro
2 green onions, minced
8 (6-inch) flour tortillas
1 (8-ounce) package shredded Mexican cheese blend
Optional toppings
Sour cream
Sliced green onions
Barbecue sauce
Directions: Stir together barbecue pork, sauce, cilantro, and green onion. Place one tortilla in a hot, lightly greased skillet. Sprinkle with ¼ cup cheese, then top with ⅓ cup of the pork mixture over half of the tortilla. Cook 2 to 3 minutes, or until cheese melts. Fold tortilla over filling, and transfer to a plate. Repeat with remaining ingredients. Slice, and serve with toppings
5. Chorizo and Shrimp Quesadillas with Smoky Guacamole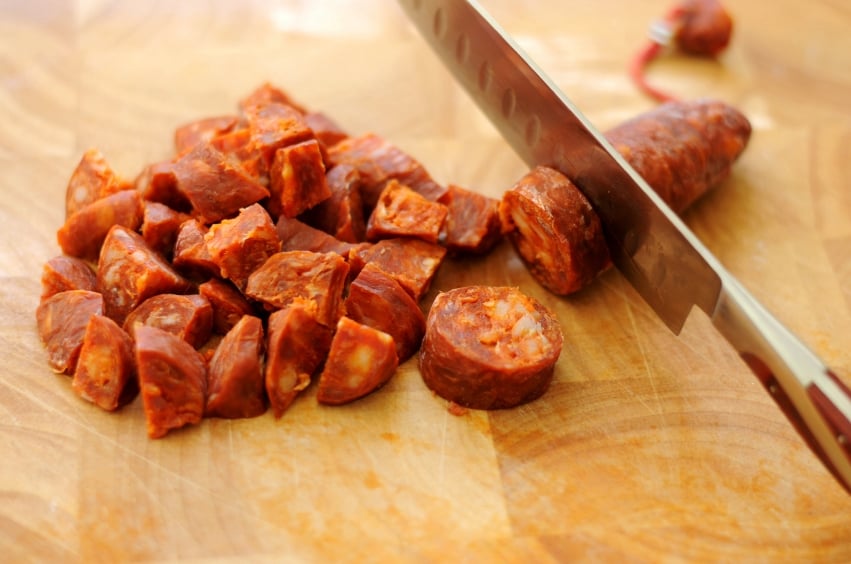 Usually eaten on busy weekdays or after a night out, quesadillas can also be great fare for entertaining. We suggest this upscale twist with shrimp, chorizo, and a chipotle guacamole from Rachael Ray, featured on Food Network. It's fast, easy, and full-flavored. You and your guests will enjoy every bite.
Ingredients:
2 ripe Haas avocados, peeled, and pitted
Juice of 1 lime
Salt and pepper
¼ cup sour cream
2 chipotles in adobo
½ pound cured chorizo, thinly sliced on an angle
1 tablespoon extra-virgin olive oil, plus more
1 garlic clove, crushed, and peeled
12 large shrimp, peeled, deveined, and tails removed
4 (12-inch) flour tortillas
½ pound shredded pepper Jack cheese
Directions: Combine avocados, lime juice, a few pinches of salt, sour cream, and chipotles in a food processor and pulse until smooth. Transfer to a serving bowl.
Heat a 12-inch nonstick skillet over medium-high heat. Brown chorizo 2 to 3 minutes, then remove from pan to a plate. Add oil, garlic, and shrimp to same pan. Season shrimp with salt and pepper and cook until pink, 2 to 3 minutes. Transfer shrimp to a cutting board and coarsely chop.
Add a drizzle of oil to the pan and add a tortilla. Cook 30 seconds, then flip. Cover half the tortilla with cheese, then arrange chorizo and shrimp over the cheese. Fold tortilla over, pressing down with a spatula, until cheese is melted and outside is crisp, 1 to 2  minutes per side. Transfer to a cutting board and repeat with remaining ingredients. Cut each quesadilla into five wedges and serve with smoky guacamole.