Easy and Delicious Recipes Using Deli Roast Beef
Despite the high cost of eating at restaurants, Americans are cooking less than ever. Even when people eat at their place, they're often not noshing on something they made themselves. According to the Washington Post, less than 60% of the meals served at home were actually cooked at home. Interestingly, the article also pointed out that men actually spend a bit more time involved in food preparation than they did back in the 1960s. It's not necessarily that people don't want to make their own meals. They simply have difficulty finding the time.
In order to save a few bucks and dine on some satisfying eats, turn to a little assistance from the deli counter. Sliced roast beef might make an awesome sandwich, but you can use it to speed up tons of different dishes that range in flavor from Vietnamese to Greek. These seven recipes will help you cross the cooking finish line in record time, so you can eat up and get back to your packed schedule.
1. Roast Beef and Caramelized Onion Naan Pizza
Gone are the days when eating a slice of pie meant crust with red sauce, mozzarella, and pepperoni. Flatbreads featuring tons of unique toppings are all the rage, but they're nothing more than pizza by another name. Foodie With Family's crispy naan topped with roast beef and onions shows you how to bring the trend to your own kitchen without a lot of work. Since it uses purchased naan, all you really have to do is assemble and bake. You do need to have caramelized onions on hand, though. When you have time over the weekend, it's worth it to make a big batch. Let them cool, then pop portions into zip-top bags and store them in the freezer to use whenever you need them.
Ingredients:
1 6- to 8-inch naan bread
⅓ cup caramelized onions
¼ cup thinly sliced deli roast beef
3 slices deli provolone cheese
Minced fresh parsley or green onions
Directions: Preheat oven to 400 degrees Fahrenheit. Spread caramelized onions over naan, leaving a ¼-inch border. Distribute sliced roast beef in even layer. Tear cheese into pieces, and spread evenly over beef.
Slide pizza onto an oven rack using a heat-proof, wide spatula. Bake 8 to 10 minutes, until cheese is melted and bubbling, and naan is hot and crisped. Sprinkle with parsley or green onion. Let rest 3 minutes. Slice and serve.
2. Vietnamese-Style Beef Noodle Soup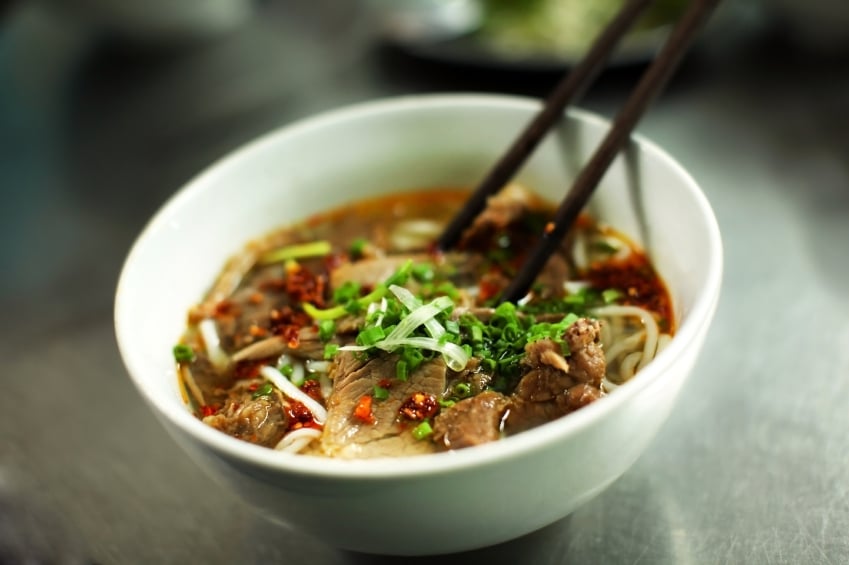 It's pretty clear pho is having a moment in the dining world. One glance at a from-scratch recipe reveals it's not the quickest dish to prepare, though. Making the broth can take all day, and slicing the beef thin enough is pretty difficult. Epicurious takes a few shortcuts with their version by using beef broth and deli roast beef. The purchased broth gets a boost from shallots, ginger, and chilies. After a quick simmer, just ladle it over some noodles, peas, and the beef. Fish sauce, limes, and a whole mess of herbs make a flavorful finish.
Ingredients:
6 ounces dried rice noodles
¼ pound snow peas, sliced on bias into ¼-inch strips
1 cup sliced shallots
3 (⅛-inch-thick) slices fresh ginger, smashed with side of knife
1 teaspoon minced fresh serrano chili
1 tablespoon vegetable oil
3½ cups beef broth
1¾ cups water
½ pound thinly sliced deli roast beef
6 ounces fresh bean sprouts
¼ cup loosely packed fresh cilantro leaves
¼ cup loosely packed fresh basil leaves
¼ cup loosely packed fresh mint leaves
3 tablespoons fish sauce, plus more
3 tablespoons lime juice
Lime wedges
Directions: Cook noodles in 4-quart pot of unsalted boiling water for 4 minutes, add snow peas, and boil an additional minute. Drain, and rinse with cold water. Divide noodles and peas among four soup bowls.
Cook shallots, ginger, and chili in oil in same pot over moderate heat, stirring occasionally, until shallots brown, 7 to 8 minutes. Add broth and water. Simmer, uncovered, 10 minutes
Divide roast beef, bean sprouts, and herbs among bowls on top of noodles. Discard ginger from broth, and add fish sauce, lime juice, and salt, to taste. Ladle into bowls. Serve.
3. Quick and Easy Gyros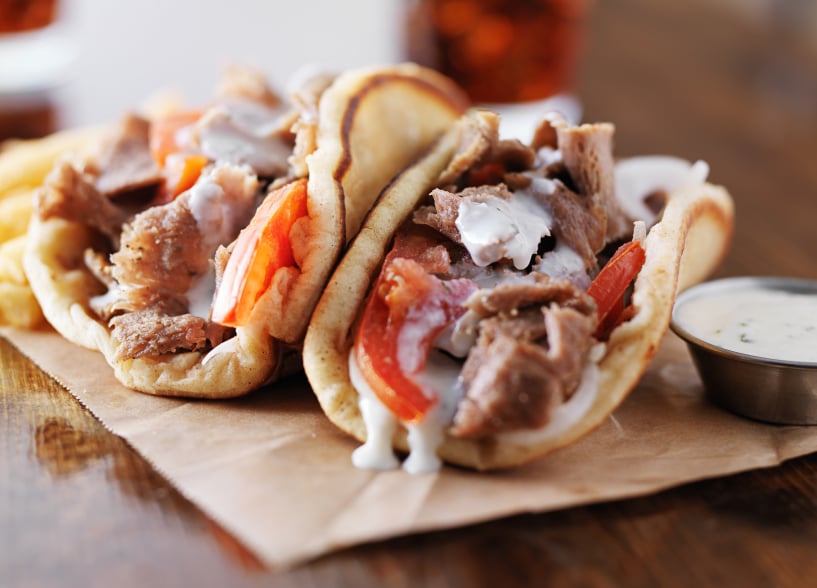 Though they're often made with lamb, gyros are just as good when you fill them with some seasoned roast beef. This speedy recipe from Tasty Kitchen only takes a few minutes of cooking to yield a flavor-packed meal. All you have to do is sauté the meat, stir together a tzatziki, and toast some naan or pita. Fill the warmed bread with some meat, then top off with plenty of veggies, the sauce, and a sprinkle of feta cheese. After a taste of these, you won't likely be tempted by the takeout versions again.
Ingredients:
Filling
½ tablespoon olive oil
4 ounces sliced deli roast beef
3 drops Worcestershire sauce
2 dashes lemon pepper
1 dash paprika
1 teaspoon garlic powder, divided
3 dashes black pepper
Tzatziki
1 cucumber
1 (8-ounce) container Greek Yogurt
½ red onion
2 dashes white wine vinegar
½ teaspoon dill
½ teaspoon salt
To serve
2 pita or naan
1 tomato, sliced
2 ounces crumbled feta cheese
6 ounces black olives, sliced
Directions: Heat oil in a medium skillet and add beef, Worcestershire sauce, lemon pepper, paprika, ½ teaspoon garlic powder, and black pepper. Cook to heat through.
Finely dice half of cucumber, and mix with yogurt, one-quarter of a diced red onion, vinegar, and remaining seasonings. Slice remaining cucumber.
Preheat broiler to high. Spray pita or naan with cooking spray, and broil until soft and warmed. Fill with beef, tzatziki, feta, tomato, remaining cucumber, and olives.
4. Roast Beef Rolls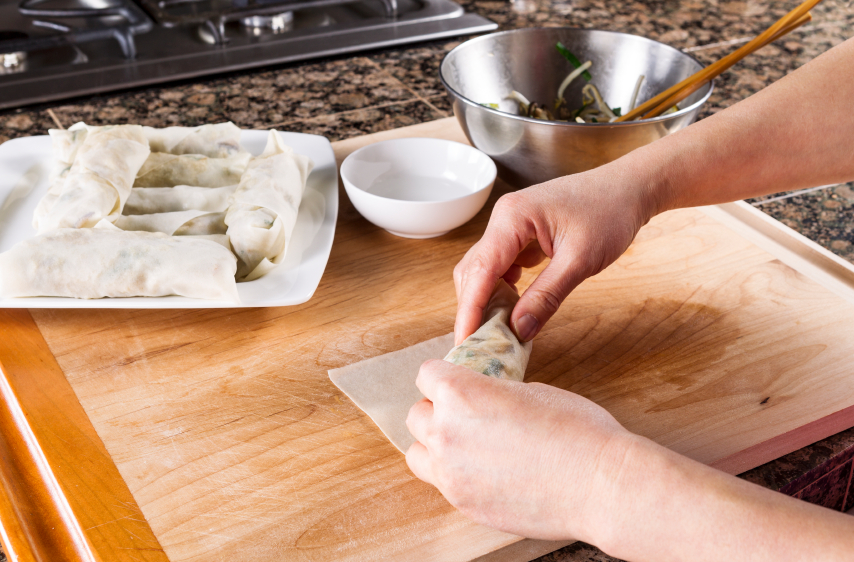 Spring rolls are often light appetizers filled with veggies and maybe a few shrimp. Food & Wine's recipe stuffs rice wrappers with some sliced roast beef, curry mayonnaise, and plenty of crunchy cabbage to make these rolls hearty enough to turn into a meal. An easy dipping sauce made from lime juice, fish sauce, brown sugar, and herbs brings even more flavor to these delicious rolls.
Though this recipe is simple, it can get a little bit messy with the different components. Organize your kitchen into an assembly line to make the process as easy as possible. At the front of the line, you'll want a bowl of warm water right next to the pile of rice wrappers. Set a cutting board right in front of the water so you can easily transfer the moistened wrappers. Then continue down the line with the mayo, cabbage, and roast beef mixture.
Ingredients:
1 large garlic clove, smashed
1½ tablespoons light brown sugar
1 teaspoon Thai green curry paste
2 tablespoons fish sauce
¼ cup chopped fresh cilantro
¼ cup chopped fresh mint
⅓ cup mayonnaise
4 cups coleslaw mix
½ pound rare deli roast beef, thinly sliced, and cut into ½-inch strips
24 (6-inch) round rice paper wrappers
Directions: Using a mortar and pestle, pound garlic with brown sugar and curry paste to combine. Add lime juice, fish sauce, and 3 tablespoons water. Stir in half of cilantro and mint. In a small bowl, whisk mayonnaise with 1 tablespoon of curry sauce.
In a large bowl, toss coleslaw mix with beef, remaining cilantro, and remaining mint. Fill a bowl with warm water. Working two or three at a time, dip rice paper wrappers in the water, then set on a cutting board or other work surface. Allow wrappers to soften for 1 minute. Spread each with a scant teaspoon of curry mayonnaise over bottom third, then top with scant 3 tablespoons of beef and cabbage mix. Roll wrappers, tucking in sides as you go. Transfer to a plastic wrap-lined baking sheet. Repeat with remaining ingredients. Cut rolls in half, and serve with dipping sauce.
5. Roast Beef Barbecue Sandwiches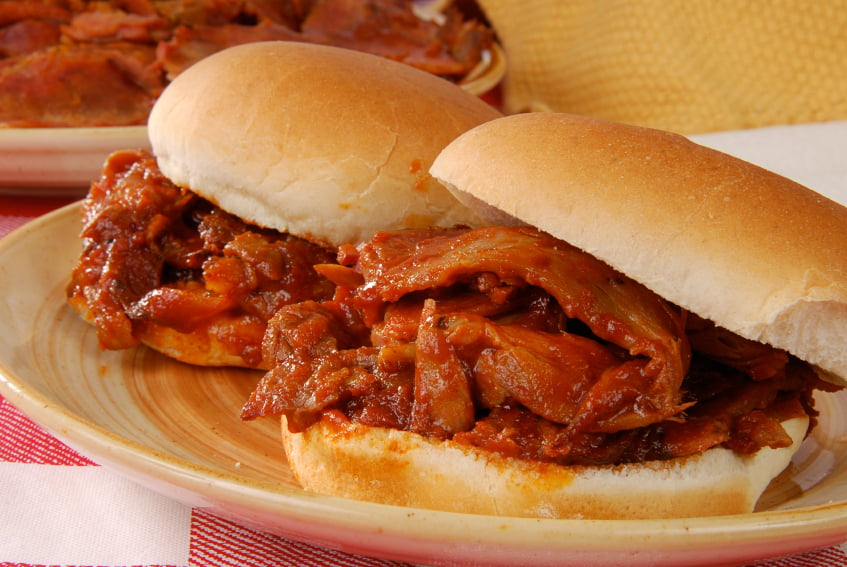 A traditional barbecue beef sandwich is made with brisket that's cooked for around 14 hours. The flavor is superb, but only professional cooks can afford to spend that kind of time devoted to a piece of beef. Taste of Home's version gets the same flavor in just 10 minutes. All you have to do is make a quick barbecue sauce with ketchup, brown sugar, and some spices. Add the roast beef, then pile it onto buns and dig in.
If you prefer a tangier barbecue sauce, add a few tablespoons of cider vinegar to the sauce, and reduce the amount of water. You can also add a few drops of liquid smoke to get even more flavor. Keep the sandwiches simple, or top with some bread and butter pickles and a mound of coleslaw. Either way, you'll be chowing down in no time.
Ingredients:
⅔ pound thinly sliced deli roast beef
½ cup water
¼ cup ketchup
1 tablespoon brown sugar
½ teaspoon mustard
¼ teaspoon hot sauce
⅛ teaspoon black pepper
⅛ teaspoon chili powder
4 hamburger buns, split
Directions: In a small saucepan, combine all ingredients except for buns over medium-high heat. Cook 4 to 6 minutes, or until heated through. Serve on buns.
6. Cheaters' Beef Stroganoff
Cooking this classic dish seems easy enough, but the steak often turns out tough and chewy. This sped-up version from Food.com cooks so quickly that the meat will stay perfectly tender every time. Make sure to have the person at the deli counter slice the beef for you, as it needs to be a bit thicker for this dish.
Start by cooking some onions, then add the sliced beef and some mushrooms. A little bit of condensed soup and sour cream makes a rich and creamy sauce. Serve this hearty stew over noodles and add a side of broccoli for a sensational supper.
Ingredients:
5 ounces dried egg noodles
1 pound deli roast beef, sliced ½-inch thick
2 tablespoons unsalted butter
½ cup chopped onion
¼ teaspoon salt
¼ teaspoon pepper
1 cup sliced mushrooms
1 10.75-ounce can cream of mushroom soup
¼ cup water
8 ounces sour cream
Directions: Cook noodles according to package directions in boiling, salted water. Drain. Cut beef into ½-inch cubes.
Melt butter in skillet over medium heat. Cook onions until translucent. Add beef, salt, pepper, and mushrooms. Cook 1 minute. Add condensed soup and water. Simmer 10 minutes. Stir in sour cream to combine. Serve over noodles.
7. Philly Cheesesteak Omelet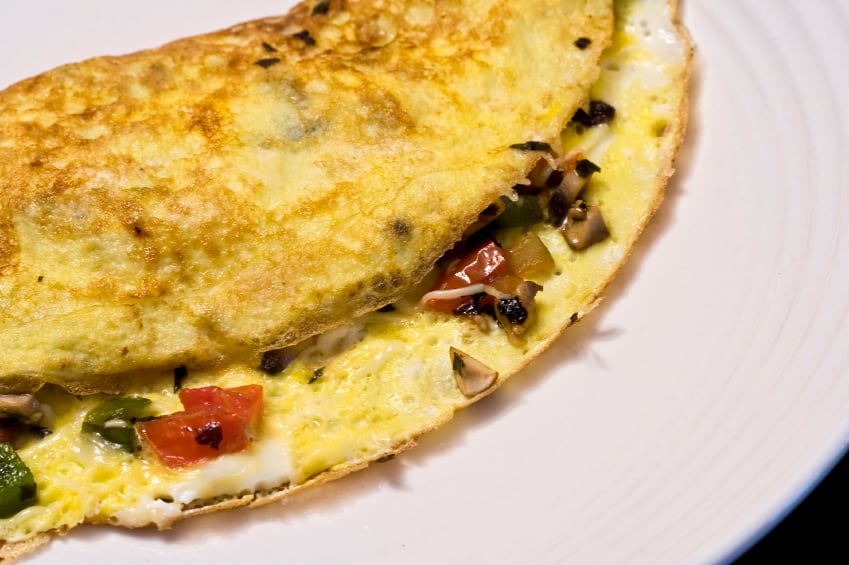 Bring one of your favorite sandwiches to the breakfast table with Glue Sticks and Gumdrops' cheesesteak-inspired omelet. The eggs and beef provide plenty of protein to help you power through your day, and the veggies add some vitamin C to the mix. But the best part is probably the melted cheese. With just six ingredients and a speedy method, this could be on the docket for tomorrow's breakfast.
Ingredients:
3 eggs, lightly beaten
3 to 4 slices deli roast beef, torn
2 to 3 slices provolone cheese
¼ green bell pepper, sliced
¼ yellow onion, sliced
1 tablespoon butter
Directions: Sauté onions and peppers in butter over medium heat until tender. Add roast beef, and cook until meat just begins to brown. Remove from heat, and set aside.
In a nonstick skillet sprayed with cooking oil, cook eggs until set on bottom, flip, then remove from heat. Add veggies and meat to half of omelet. Top with cheese. Cover skillet with lid, allowing cheese to melt. Fold omelet in half, slide onto a plate, and serve.