All the Reasons People Are So Obsessed With Wegmans, the Best Grocery Chain in the Northeast
Have you ever stepped foot inside the wonderful world of Wegmans? If the answer's yes, you know exactly what makes it so jaw-droppingly amazing. If the answer's no, you're really missing out, and we're about to tell you why.
With 92 stores spanning six states, you can find Wegmans stores in New York, New Jersey, Pennsylvania, Massachusetts, Maryland, and Virginia. More specifically, this means that folks living in the Northeast, tri-state area, and mid-Atlantic region are the luckiest bunch of grocery shoppers in the U.S.
If you're curious as to why people are flocking to the store in droves, you're in the right place. Here are 20 reasons everyone's totally obsessed with the best grocery chain in the Northeast — and quite possibly, the world.
1. An unrivaled shopping experience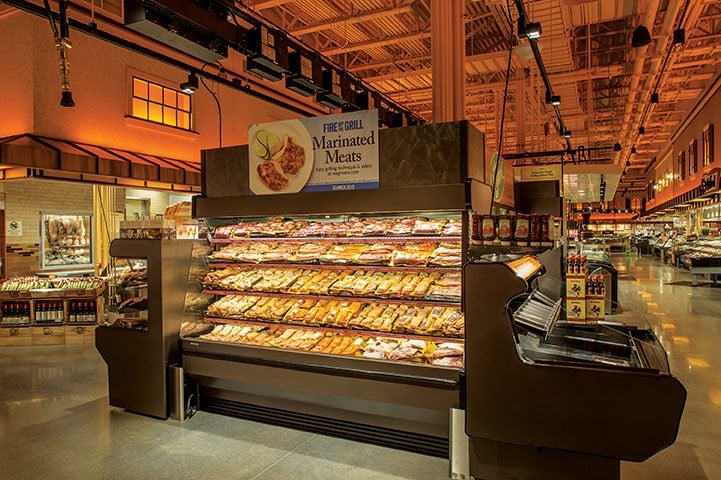 When you enter a Wegmans store, you'll be getting nothing but the best. The best quality, the best choices, the best of the best. Wegmans truly is a foodie's paradise. From fresh produce to warm bread, cured meats to fresh-caught seafood, and deli products to the incredible salad bar, Wegmans really does have it all.
"You can't talk about Wegmans without talking about its emphasis on the experience, on the theatricality of going to the grocery store," retail editor for Supermarket News Jon Springer told The Washington Post. "It's really very different in that respect."
Next: Wegmans manages to keep prices very reasonable. 
2. Unbeatable prices (13% cheaper than Safeway and Giant)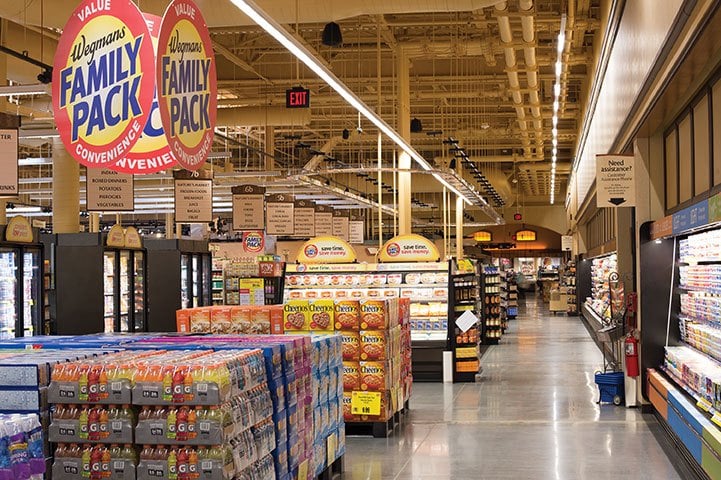 When you think of a place that rivals Whole Foods in quality and Trader Joe's in service, you don't necessarily expect the prices to beat out the competition, too. But Wegmans does just that, and with prices that are 13% lower than average prices at Giant and Safeway.
"Part of the reason Wegmans manages to maintain low prices is that its turnover is so efficient," The Washington Post writes. "Wegmans has historically been very good about managing food waste, which can be a sizable cost for other grocers, according to [Burt Flickinger, managing director of consumer industry consulting firm Strategic Resource Group]."
Next: Employees are highly trained experts. 
3. Knowledgeable employees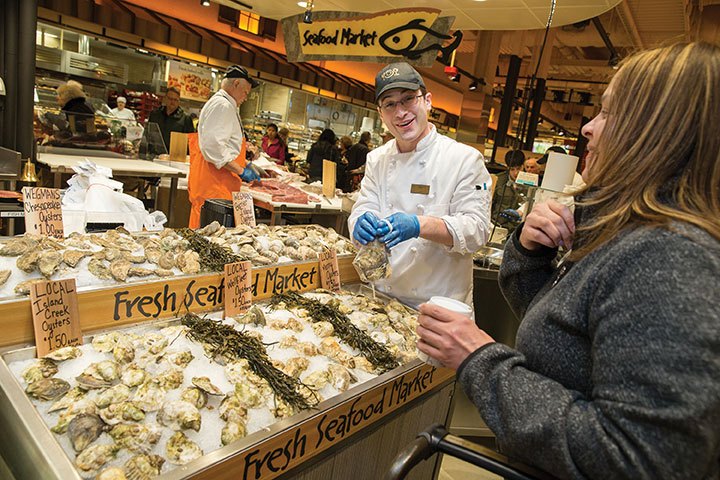 Wegmans employees are highly trained in their area of expertise. According to The Atlantic, "A fish salesman raved about the exhausting standards of the company's distributor in Alaska. A butcher said he had visited the ranch where a steak came from in Montana. And Maria Benjamin, a 38-year Wegmans veteran, started running a store bakery after managers loved her homemade Italian cookies." So yeah, we'd say we're more than comfortable believing an employee's word is as good as gold.
Next: Wegmans is known for its unbeatable customer service. 
4. Unmatched customer service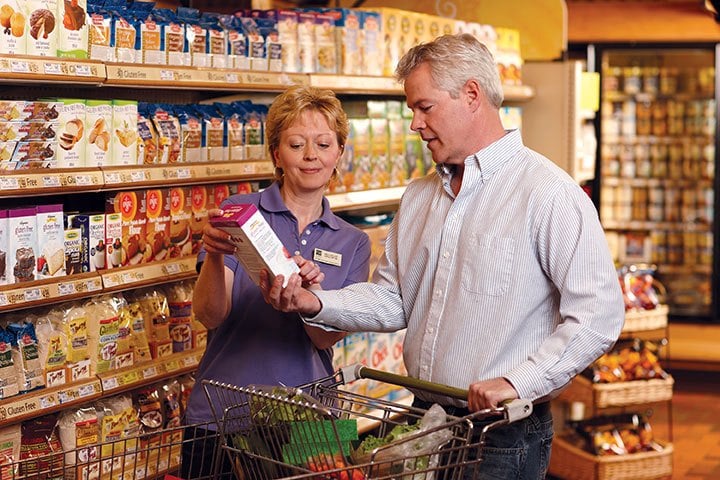 Ask just about anyone who's worked at or visited a Wegmans, and you'll get the same answer. The company's emphasis on top-notch customer service is unmatched, and it couldn't be more apparent. "The Wegmans model is simple," The Atlantic writes. "A happy, knowledgeable and superbly trained employee creates a better experience for customers. Extraordinary service builds tremendous loyalty." We couldn't agree more.
Next: Here's what people are saying about the company. 
5. Praise-worthy reviews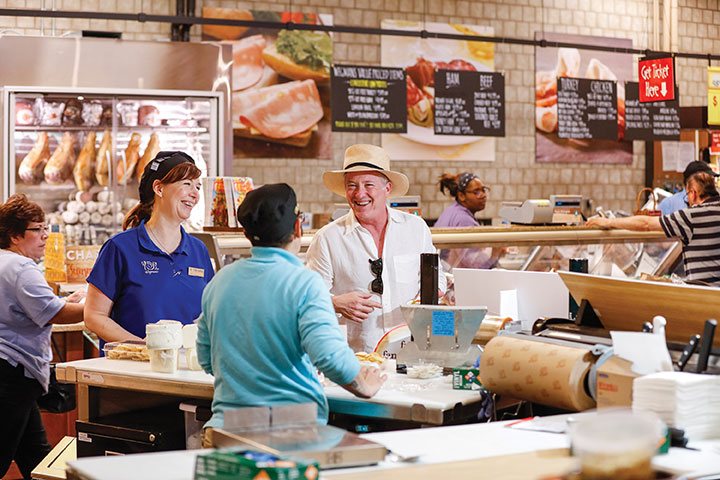 Wegmans is truly a company that doesn't just talk the talk, they walk the walk. Glowing media reviews don't mean nearly as much as the feedback that comes directly from their customers. According to the company's website, "In 2016, more than 7,800 people contacted Wegmans asking for a store in their community. Another 8,000 wrote to say how much they like shopping at Wegmans or appreciate the way Wegmans employees treat them." Nothing speaks louder than happy, repeat customers.
Next: The stores are the cleanest you'll ever find. 
6. Immaculate stores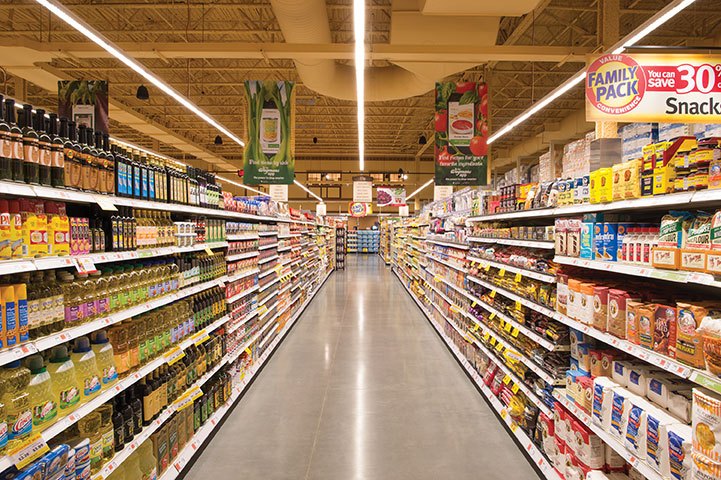 While rave reviews and media buzz draw people in, it's the wide aisles, impeccable displays, and a super clean state — along with everything else on this list — that keep them coming back for more. One step inside any Wegmans location, and we're confident you'll never look back.
Next: Even Wegman's generic brand is quality.
7. A generic brand worth mentioning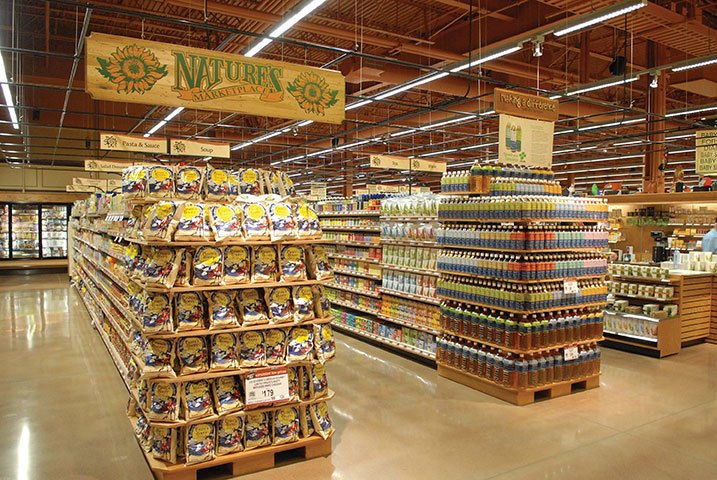 Most generic store brands aren't anything to talk about. However, that's clearly not the case when it comes to Wegmans' in-house products. From locally-sourced condiments to boxes of macaroni and cheese that are so, so good, the Wegmans brand is of superior taste — all while remaining at a great price point.
Next: Fresh bread's coming right up. 
8. A bakery with custom, unique creations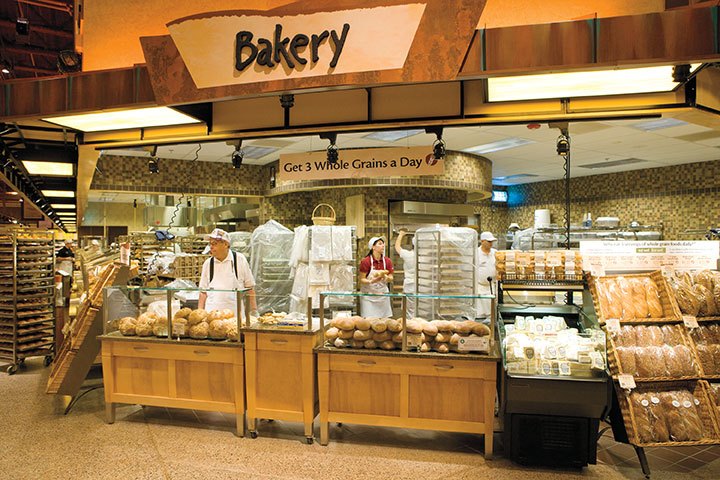 Like most bakeries, Wegmans' serves up fresh bread, pies, and muffins. But like just about everything else Wegmans does, the bakery department puts that extra dose of love into everything they sell. And what they sell happens to be much more than your average grocery store bakery. Wegmans bakers are masters at the art of bringing a customer's wildest creation to life, with all the tasty goodness — and smiles — you'd expect.
Next: This is one of Wegmans' signature departments.
9. The freshest produce around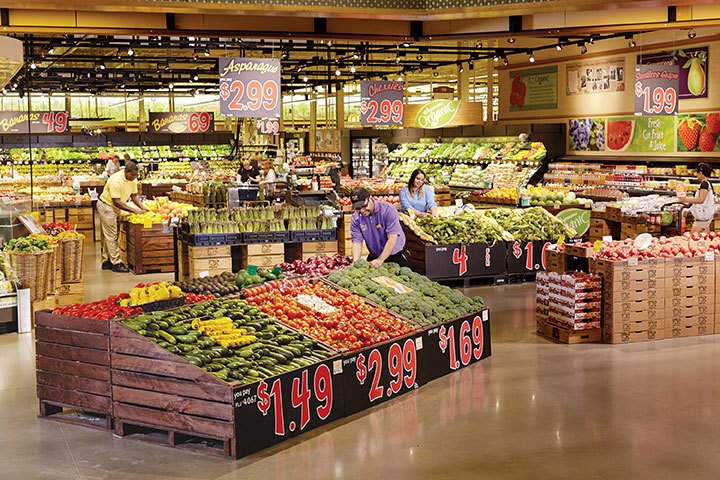 One of Wegmans' most well-known claims to fame is its produce department. Quality, fresh, locally-sourced products never sit on the shelves for long, which is more than some of the store's competitors can say. As The Washington Post points out, "At the moment, the average supermarket turns over its inventory between 18 and 20 times a year, according to Strategic Resource Group. Wegmans, by contrast, goes through its produce as many as 100 times a year." Since numbers never lie, it doesn't seem like much of a competition to us.
Next: Who doesn't love a good cheese selection?
10. Cheese, cheese, and more cheese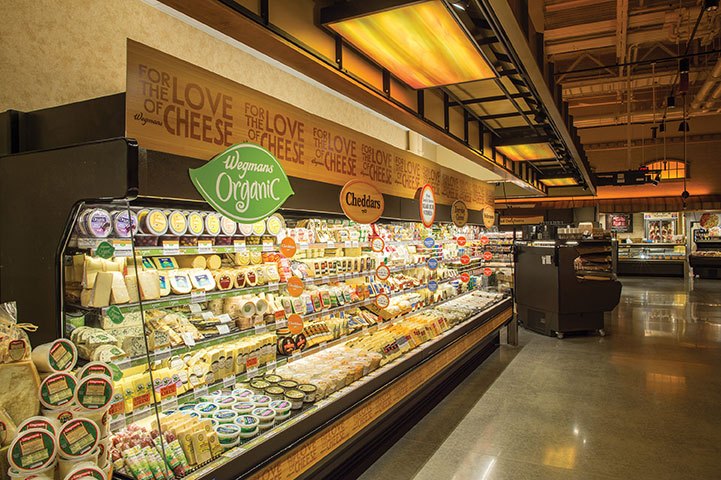 Wegmans loves cheese. In fact, they love cheese so much that they built their very own cheese caves. With hundreds of cheeses to choose from, it's expected you might get a little overwhelmed. But not to worry; just like every other department, the magical world of cheese has experts on staff to help you pick the perfect cheese for you.
Next: Pack your own plate of tapas at this spot. 
11. Mediterranean bar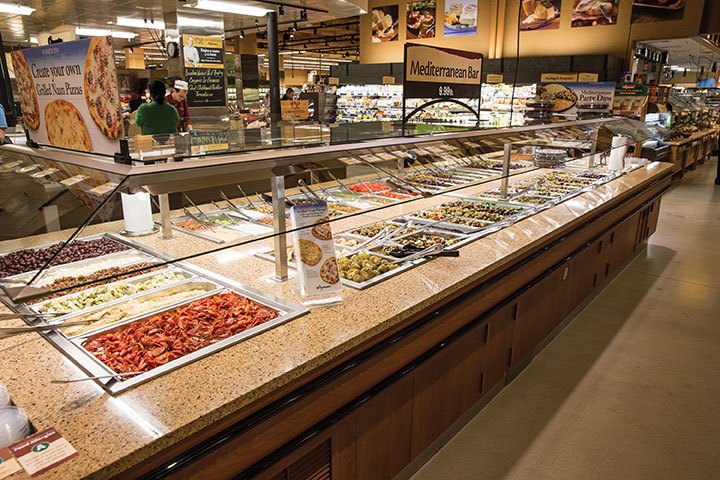 "Olive bar" doesn't begin to do this particular station justice. Offering a bevy of Mediterranean-inspired options, such as hummus, roasted red peppers, and bruschetta, this bar allows customers to create their very own tapas-style platters. This section of the store, in particular, is a must-see for most customers. So, go ahead and see for yourself. You won't regret it.
Next: More to come in the way of impressive food bars. 
12. DIY bars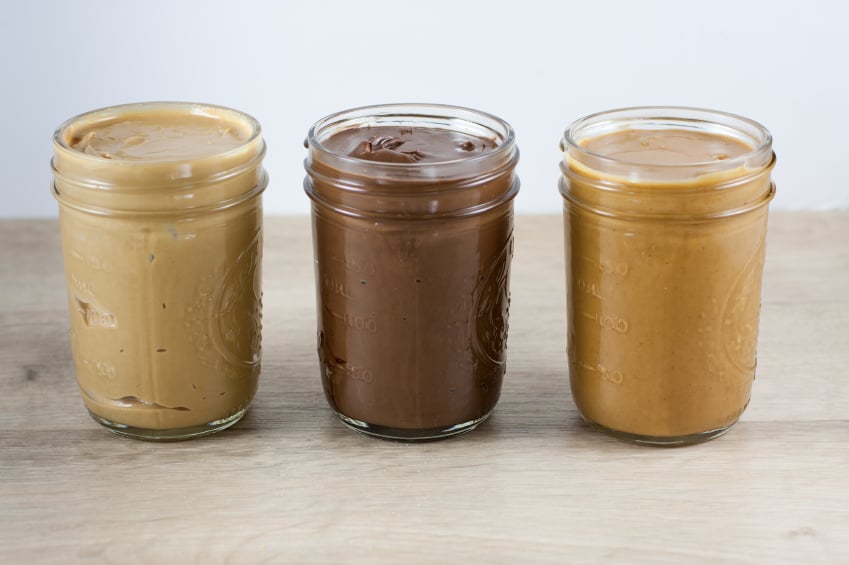 It's not often that going to the grocery store is considered a fun chore, but Wegmans effortlessly makes it so. What's more fun than eating a bag of trail mix? Getting to create your very own blend at the build-your-own-trail-mix bar, that's what. And the fun doesn't stop there. Wegmans also has do-it-yourself nut butter machines and a wall of self-serve, bulk candy dispensers.
Next: Wegmans shoppers can take a culinary trip around the world.
13. Food from around the world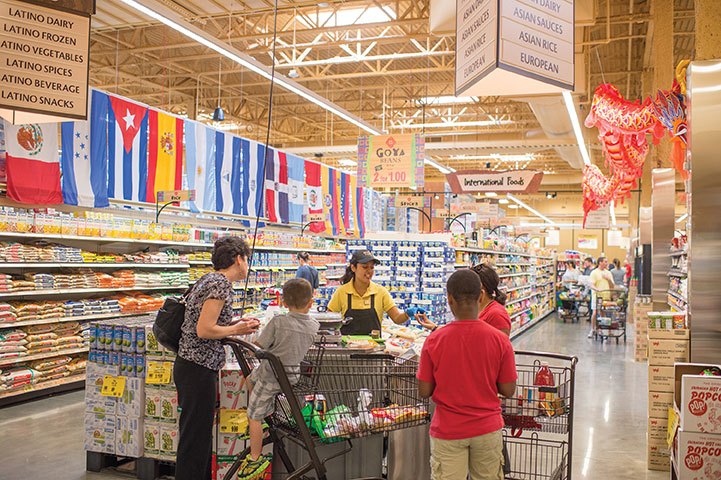 Wegmans is the perfect place for anyone who loves a little culture in their daily life. Offering overseas staples and traditional foreign fare, the store knows how to keep a wide array of people happy. And it's easy to navigate your way through it all, as the international groceries are organized by region.
Next: Hungry shoppers have plenty of options. 
14. Market Cafe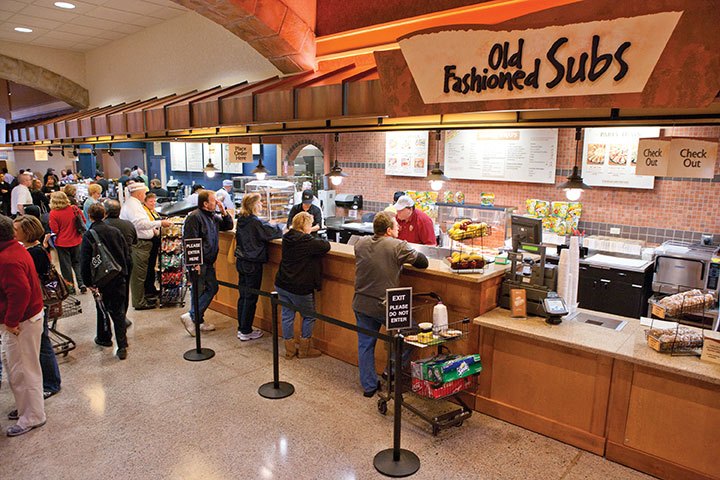 When you're shopping at Wegmans, salivating through your journey of delicious products can — and will — happen. And when it does, simply head over to Market Cafe and grab yourself a bite to eat. Offering sushi, sandwiches, pizza, and more, the Market Cafe is the perfect solution for hungry shoppers and antsy children alike.
Next: If you're not into grab and go, there's still a place for you. 
15. Fine dining at in-store restaurants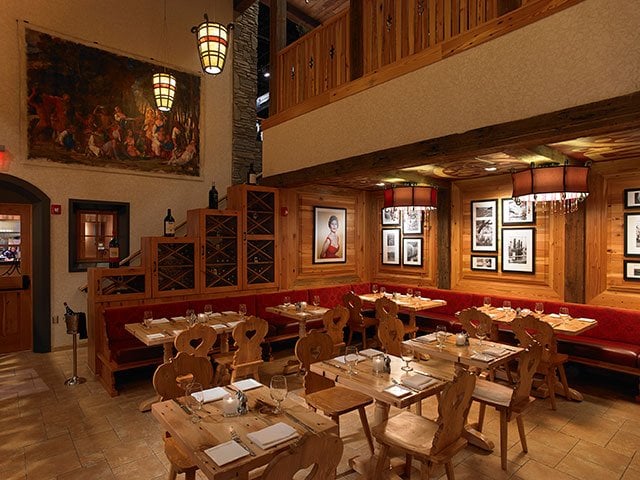 If you're looking for something a little more sophisticated than grabbing a slice of pizza on the go, you'll be happy to hear that some Wegmans locations have their very own restaurants. That's right; chefs will whip up creations using the freshest ingredients from none other than the aisle next door. For example, the Seafood Bar can be found inside Virginia stores, while folks shopping at the Rochester, NY location can enjoy a sit-down Italian meal at Amore Restaurant and Wine Bar.
Next: There's no need to make an extra stop at your town florist. 
16. On-site florists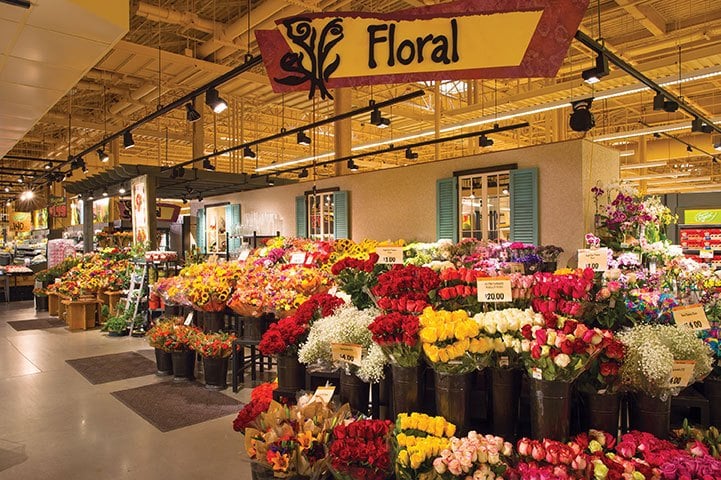 Most grocery stores have a floral section, but none of them do it quite like Wegmans. Not only does Wegmans have a massive floral department, but the stores have on-site florists ready to arrange the most beautiful, custom bouquets imaginable. Some locations even provide delivery services.
Next: Some locations offer the best in booze, too. 
17. A wide selection of craft brews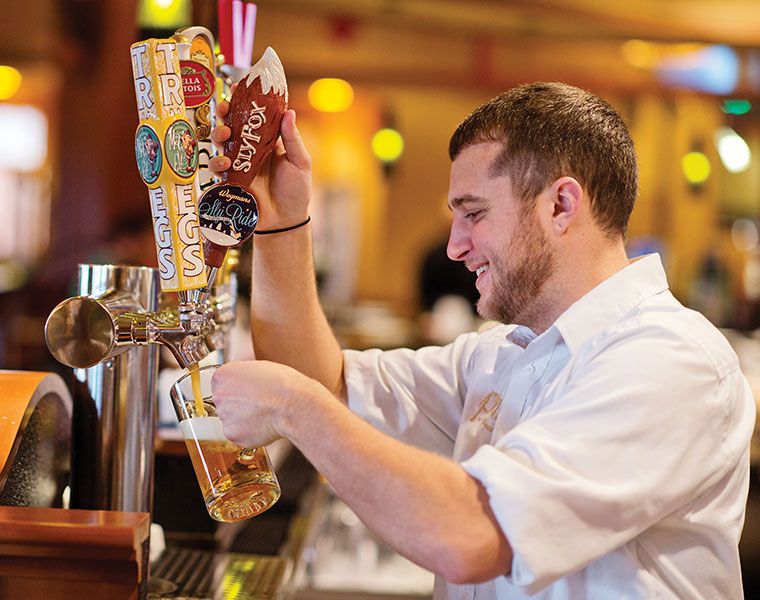 While not all Wegmans locations sell alcohol, the ones that do carry a wide assortment. Continuing on the path of locally-loved products, Wegmans offers a huge selection of beer, including several craft brews that will satisfy any beer enthusiast's palette.
Next: Wegmans is dedicated to helping others. 
18. A commitment to giving back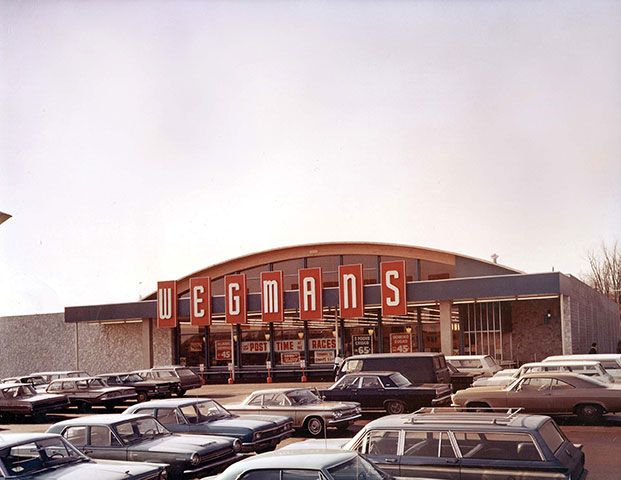 Rooted in small, family business values, Wegmans stays true to its mission of providing the very best for all people, including those most in need. According to the company's website, charitable donations are "focused on programs that reduce hunger; help young people succeed; promote healthy eating and activity; strengthen neighborhoods; and support United Way initiatives. Last year, Wegmans donated about 14.5 million pounds of food to local food banks and programs that feed the hungry." That's just one more reason to love Wegmans.
Next: And the company's employees love the place, too. 
19. It's consistently ranked one of the best places to work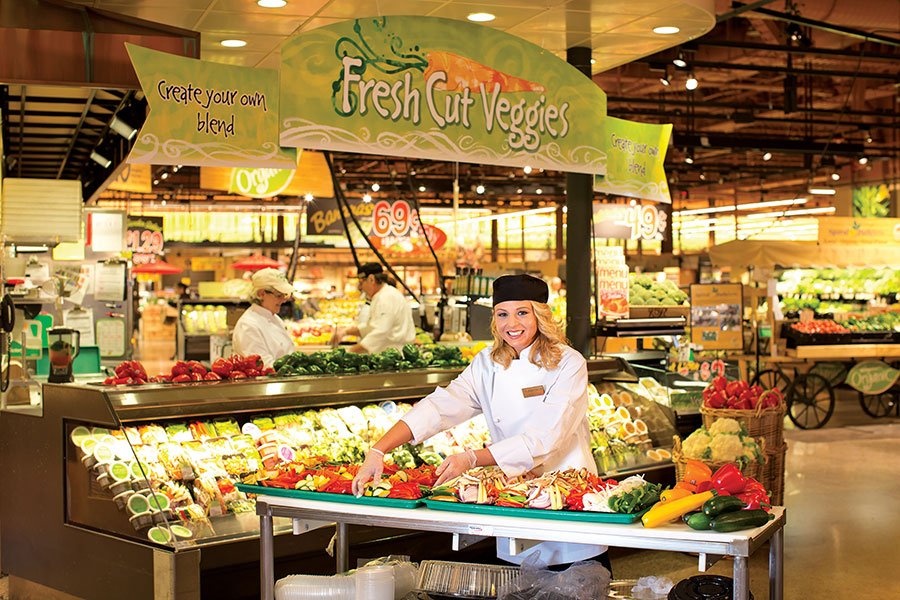 Not only is Wegmans known for being the best place to shop, it's considered one of the best places to work, too. People, both employees and customers alike, have always been essential to the company's business model, and it shows on both sides of the spectrum. As Forbes mentions, "trust and empowerment are among Wegmans' core values."
"We empower our people to make decisions that improve their work and benefit our customers and our company," Wegmans' media relations director Jo Natale told the publication. And their plan is obviously working.
Next: Basically, Wegmans is just the best place ever. 
20. Wegmans really is the best in the industry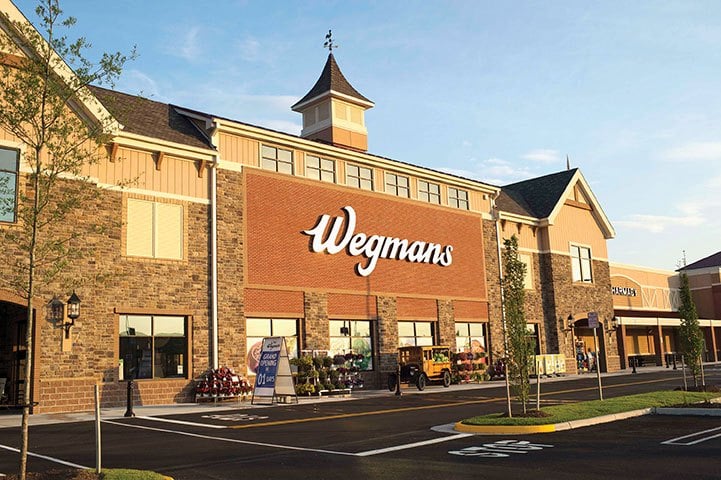 Customers aren't the only ones who go absolutely wild for Wegmans. The company has received high praise and impressive distinctions from industry pros, and we don't see it slowing down anytime soon. Wegmans has earned highly coveted accolades, including the #4 spot on Fortune magazine's 2016 list of the 100 Best Companies to Work For (and #1 on the 2005 list). Additionally, Market Force Information dubbed the company America's Favorite Supermarket in 2016 based on a consumer study.
So, you've heard the buzz. Now it's time to go check it out for yourself, and see how your Wegmans experience measures up!
Read more: 11 Secrets Costco Shoppers Need to Know