5 Recipes for Healthier Versions of Classic Diner Foods
When it comes to comfort food, nothing compares to a meal from a classic American diner. Fluffy pancakes, crispy hash browns, and juicy hamburgers are menu staples, and while the food might not be innovative, it still tastes good — though it's not necessarily good for you. If you're craving some old-fashioned, greasy spoon cuisine but are worried about the less-than-wholesome ingredients, check out these recipes for healthier, make-at-home versions of classic American diner food.
1. Chicken Fried Steak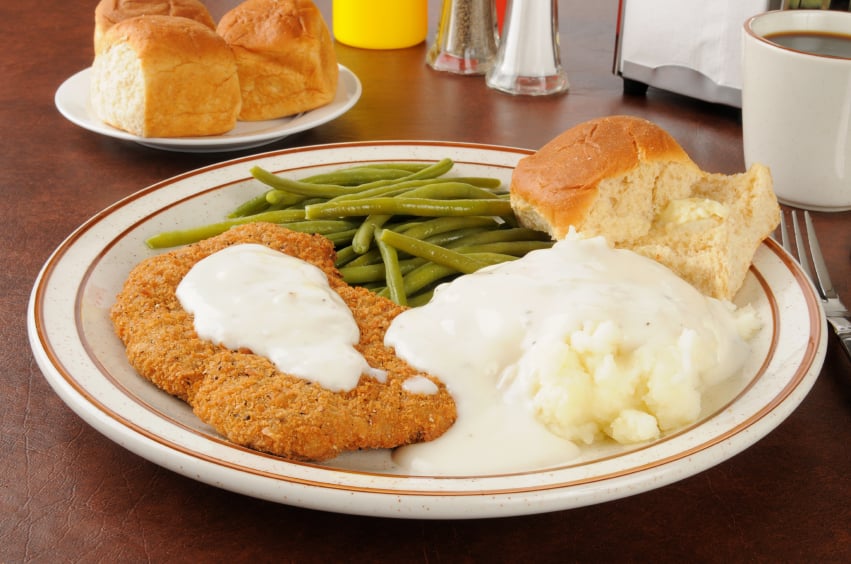 Traditional chicken fried steak is a thin cut of beef that's breaded, pan-fried, and served with gravy. When served up at diners and chain restaurants, it's often a calorie bomb. Denny's version, which is served with eggs, cheese, and potatoes, is well over 1,000 calories and contains 77 grams of fat. This recipe from Men's Fitness skips the sides and dials down the portion size for a meal that's just 380 calories and has only 9 grams of fat, as well as 36 grams of protein.
Ingredients:
3 ounces lean beef round
1 tablespoon white all-purpose flour
Salt and black pepper to taste
5 tablespoons fat-free skim milk
¼ large egg white
¼ cup dried, plain bread crumbs, coarse variety
½ slice reduced-fat bacon
Cooking spray
2 tablespoons onion, chopped
Hot pepper sauce to taste
Directions: Place steak between two sheets of waxed paper and pound to ½-inch thickness.
Combine flour, salt, and pepper on a plate. Combine egg white and 1 tablespoon milk in a shallow bowl. Place bread crumbs on another plate.
Dip steak in flour mixture and turn to coat both sides. Repeat with milk mixture and then breadcrumbs. Reserve ¼ tablespoon flour.
In a medium nonstick skillet, over medium heat, brown bacon, flipping after about 5 minutes. Remove from skillet and set aside. Add steak to same skillet and place over medium-high heat. Cook about 3 to 4 minutes per side for medium, or longer to desired degree of doneness. Remove steak and set aside.
Off heat, coat skillet with cooking spray and set over medium heat. When hot, add onion and cook until tender, stirring occasionally, about 4 minutes. Add reserved flour and cook, stirring constantly, for 1 minute. Pour in remaining milk, scraping up any browned bits with a wooden spoon. Reduce heat to medium-low; add salt, pepper, and hot sauce. Crumble bacon and stir into skillet. Increase heat to medium and cook until gravy is thickened, stirring constantly, about 1 to 3 minutes. Spoon gravy over steak and serve immediately.
2. Whole-Wheat Blueberry Pancakes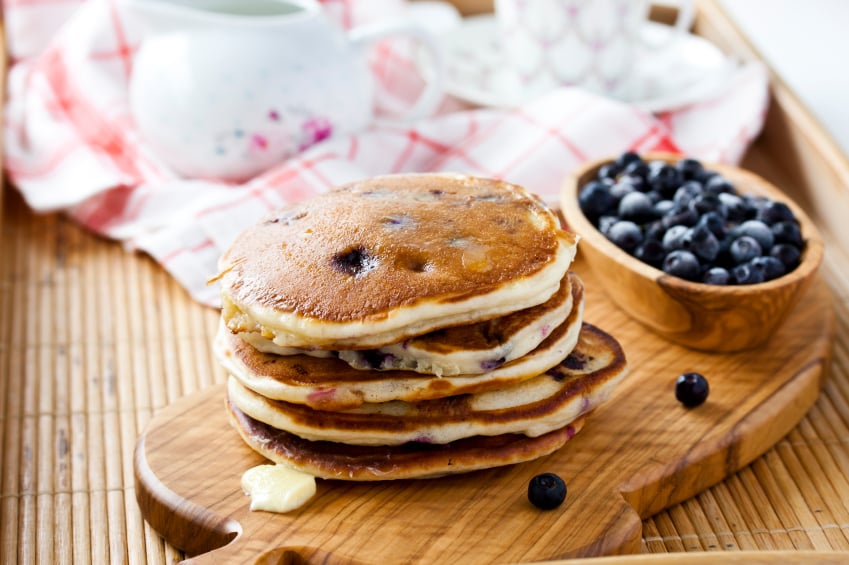 Light and fluffy diner pancakes are delicious, but once you load them up with maple syrup, fruit, and other toppings and add-ons, they start to look more like dessert than breakfast. You can get back to healthier basics with this whole-wheat pancake recipe from Allrecipes.com. Blueberries also provide a good dose of fiber and lots of vitamin C and antioxidants.
Ingredients:
1¼ cups whole-wheat flour
2 teaspoons baking powder
1 egg
1 cup milk
½ teaspoon salt
1 tablespoon of artificial sweetener
½ cup fresh or frozen blueberries
Cooking spray
Directions: Sift the flour and baking powder together, then set aside. In a large bowl, beat the egg, milk, salt, and artificial sweetener. Stir in flour until just moistened, add blueberries, and stir until just combined.
Preheat a griddle or heavy-bottomed skillet over medium heat, then coat with cooking spray. Pour about ¼ cup of the batter into the pan for each pancake. Cook until small bubbles form, about 1½ minutes. Flip, and continue cooking until golden brown.
3. Blue Cheese and Dried Cherry Meatloaf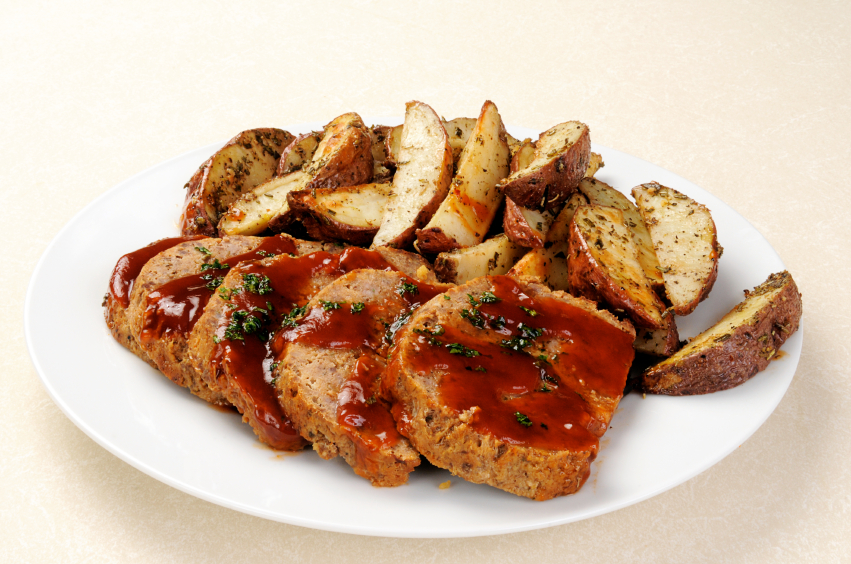 You'll find meatloaf on the menu at virtually every old-school diner, and while this classic comfort food is tasty and a great source of protein, it can also be a bit boring. This version from A Year of Slow Cooking jazzes things up by adding flavorful blue cheese and nutritious dried cherries. You can make this crockpot meal with either ground beef or substitute ground turkey if you're avoiding red meat.
Ingredients:
1 pound of lean ground beef or turkey
½ cup dried cherries
½ cup blue cheese crumbles
1 egg
1 teaspoon seasoned salt
½ teaspoon black pepper
1 teaspoon onion powder
1 tablespoon chopped fresh basil
½ cup bread crumbs
Directions: Combine the ground beef or turkey, cherries, cheese, salt, pepper, onion powder, basil, bread crumbs, and egg in large bowl.
Coat the inside of a 4-quart slow cooker with cooking spray. Add the meat mixture and shape into a round loaf form. Cover and cook on high for 4 hours or on low for 7 to 8 hours, until the meat is thoroughly cooked and has browned on the top.
Using a pair of spatulas, lift the meatloaf out of the slow cooker and place on a cutting board. Let sit for 15 minutes, then slice and serve.
4. Bison Burgers with Mushrooms and Onions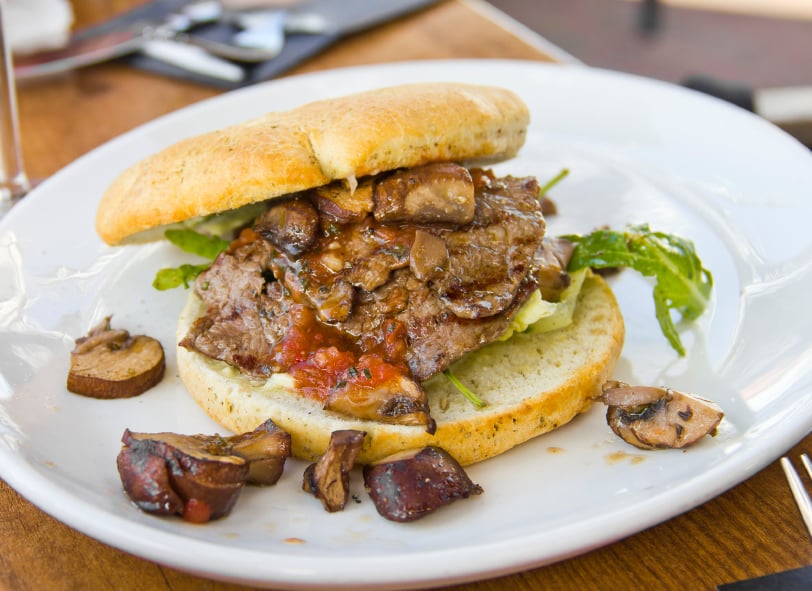 The World Health Organization announced last year that red meat is "probably carcinogenic to humans." That's bad news for burger-lovers, who may want to cut back on their ground beef consumption. When you do indulge in red meat, try looking for leaner, healthier alternatives like bison, which is lower in fat, calories, and cholesterol than beef and contains more iron, according to the Bison Council. This recipe for juicy bison burgers with mushrooms comes from Healthy Delicious.
Ingredients:
1 pound ground bison
1 tablespoon Worcestershire sauce
Salt and pepper
1 tablespoon plus 1 teaspoon olive oil
1 onion, sliced
5 ounces crimini mushrooms, sliced
4 whole-wheat English muffins, split and toasted
Lettuce, tomato, and additional burger toppings of your choice
Directions: Preheat oven to 300 degrees Fahrenheit. In a bowl, combine the ground bison with the Worcestershire sauce. Shape into 4 ¾-inch thick patties. Season each side with salt and pepper.
Heat one tablespoon of olive oil in a cast-iron or other heavy skillet. When the oil is very hot, add the burgers to the pan. Cook (without moving) for 2 minutes, until a crust starts to form on the meat. Flip burgers and cook for another 2 minutes.
Transfer burgers to a baking sheet and cook in oven for 4 to 8 minutes (for medium-rare; cook longer if you prefer your meat well done). Remove meat from oven and let rest for 5 minutes.
As burgers cook, add 1 tablespoon of olive oil to another skillet and turn heat to medium-high. Add the onion to the pan along with a little salt. Cook until the onion is soft and golden, about 8 minutes. Add the sliced mushrooms to the pan and cook for another 5 minutes, until mushrooms are softened.
Slice English muffins and place a slice of tomato and a lettuce leaf on the bottom half of each. Top with the bison burger and ¼ of the mushrooms and onions. Add any additional condiments and toppings, cover with the other half of the muffin, and serve.
5. Greek Yogurt Coleslaw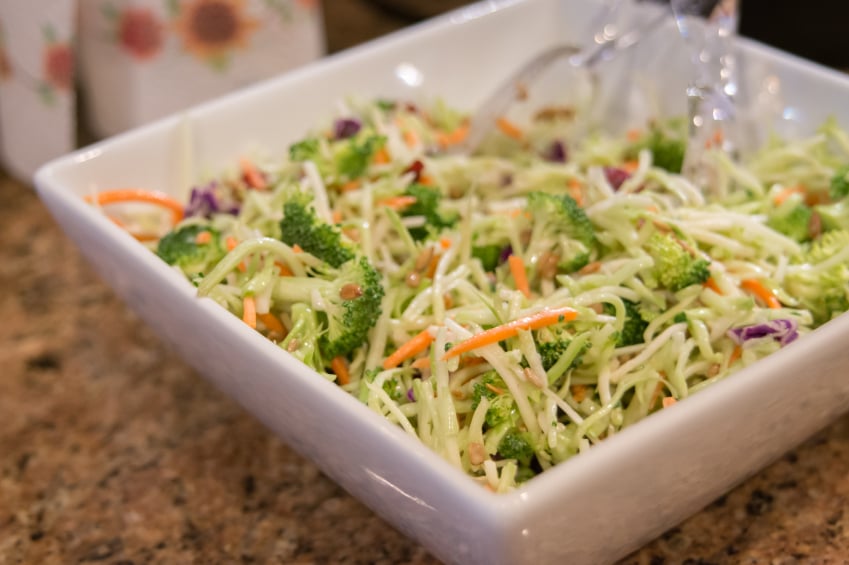 Coleslaw can be a delicious, crisp sandwich topping or a healthy side, but restaurant versions are sometimes a disappointing afterthought, gloppy and mayonnaise-drenched. It doesn't have to be that way. This recipe for coleslaw replaces the mayo with healthy Greek yogurt and tangy vinegar for a dish that works well as a side or on sandwiches. Recipe from Two Healthy Kitchens.
Ingredients:
½ cup nonfat plain Greek yogurt
3½ tablespoons cider vinegar
3 tablespoons sugar
1 teaspoon kosher salt
⅛ teaspoon black pepper
16 ounces bagged coleslaw blend or shredded cabbage
Directions: Combine the Greek yogurt, vinegar, sugar, salt, and pepper in a small bowl. Whisk until smooth.
Add the coleslaw blend or shredded cabbage to a large bowl. Pour the dressing over and stir until the cabbage is fully coated.
Cover and refrigerate for at least 30 minutes, then serve.
Follow Megan on Twitter @MeganE_CS