Delicious Recipes That Make Vegetables the Main Dish
My husband and I recently came home from a week of traveling. I enjoy boarding an airplane for destinations far and wide, and switching up my routine every now and then. In this case, my trip also included several lunches and dinners in restaurants, grabbing meals on the road and eating to-go sandwiches at 10 p.m. on the way back home. It was nice to take a break from cooking, but I found myself craving greens and fresh food by the end of the trip. Don't get me wrong — I chose to eat the burger and pasta and creamy soups, eschewing the salad portion of the menus completely. But now that vacation is over, I want my veggies.
Perhaps you're like me, and you struggle to make vegetable recipes the centerpiece of your meal. Vegetables are meant to be side dishes to meats and starches, right? However, it's totally possible to put the focus on vegetables — whether you try to make vegetarian meals often or if you're looking to freshen up your diet a bit. If you've already made eggplant Parmesan and feel clueless, here are a few to try.
1. Summer-Vegetable Casserole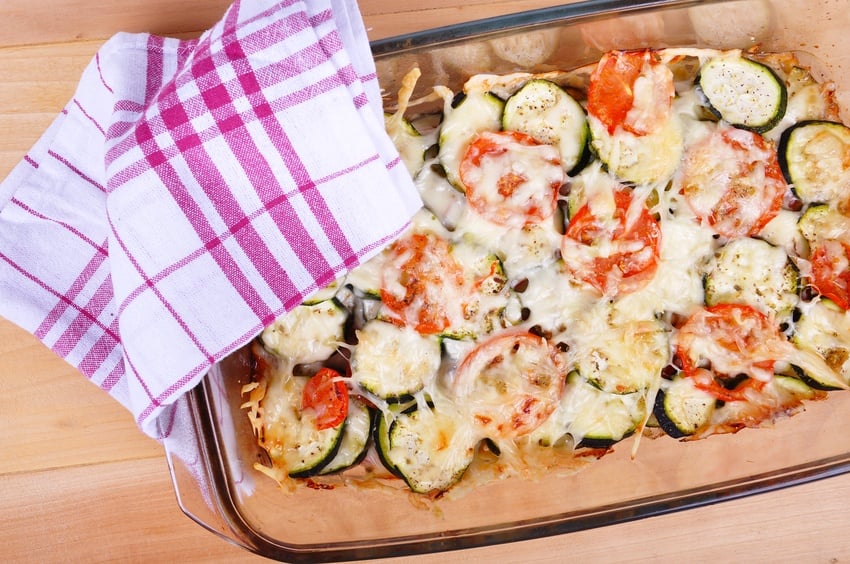 This baked dish from Food & Wine relies on summer produce like zucchini, plum tomatoes, and bell peppers for roasting, but potatoes serve as a base to make this a satisfying meal. Fresh Parmesan, dried herbs, garlic, and onion add the perfect seasonings to this relatively simple recipe. All you need to do is chop some vegetables, and layer them in a pan.
Ingredients:
Extra-virgin olive oil, for drizzling
½ pound Yukon Gold potatoes, peeled and sliced ¼ inch thick
Salt and freshly ground pepper
1 yellow bell pepper, thinly sliced
1 small onion, thinly sliced
1 large garlic clove, minced
1 teaspoon thyme leaves
½ pound plum tomatoes, sliced ¼ inch thick
2 small zucchini (½ pound), sliced on the diagonal ¼ inch thick
3 tablespoons freshly grated Parmesan cheese
Directions: Preheat the oven to 350 degrees Fahrenheit. Coat a 9-inch baking dish with olive oil. Spread the potatoes in the dish in an even layer; drizzle with oil and season with salt and pepper. In a bowl, combine the bell pepper, onion, garlic and thyme and season with salt and pepper. Arrange two-thirds of the bell pepper mixture over the potatoes and drizzle with oil. Top with the tomatoes and the zucchini; drizzle with oil and season with salt and pepper. Cover with the remaining bell pepper mixture and sprinkle with the cheese.
Cover the casserole with foil and bake for 40 minutes. Increase the oven temperature to 425 degrees. Uncover the casserole and bake for about 20 minutes longer, until the vegetables are tender and glazed on top. Let stand for 10 minutes. Serve warm.
2. Baked Stuffed Zucchini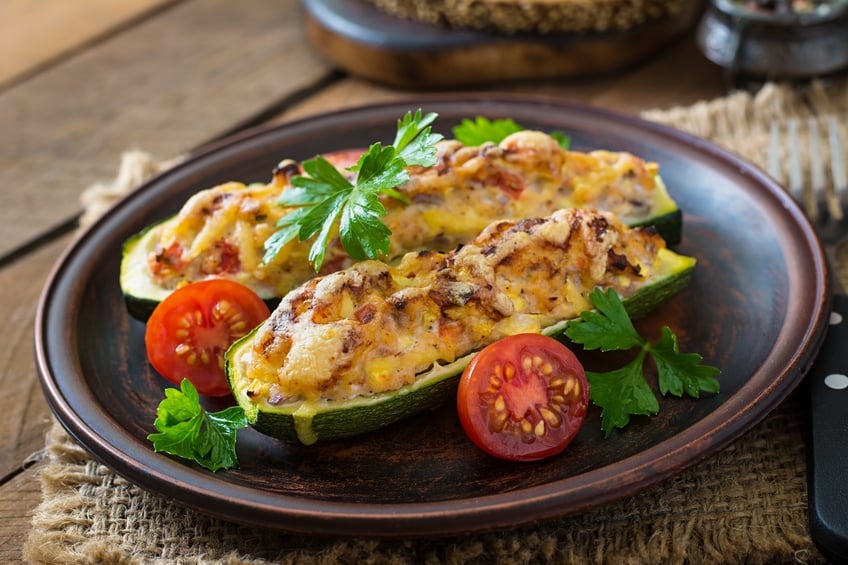 Zucchini becomes the vehicle for a savory stuffing made with two types of mushrooms, breadcrumbs, cheese, and herbs with this recipe from
Midwest Living
. Plus, you'll use the insides of the zucchini as part of the stuffing as well, meaning no part of your veggies will go to waste.
1

ounce dried porcini mushrooms


2

cups soft bread crumbs


½ cup

butter or olive oil


3

cloves garlic, minced


2

tablespoons snipped fresh parsley


¾ teaspoon

salt


⅛

teaspoon ground black pepper


4

large zucchini (about 3 pounds total)


¼ cup

all-purpose flour


2

cups milk


⅓

cup grated Parmesan cheese


4

ounces fresh cremini mushrooms, finely chopped


⅓

cup finely chopped onion (1 small)


½ teaspoon

snipped fresh thyme or ¼ teaspoon dried thyme, crushed
Directions: Place mushrooms in a medium bowl. Pour 2 cups boiling water over mushrooms; let stand for 15 minutes. Drain, discarding water. Coarsely chop soaked mushrooms; set aside.
Preheat oven to 350 degrees Fahrenheit. Meanwhile, in a medium skillet cook bread crumbs in 3 tablespoons of the hot butter about 3 minutes or just until beginning to turn golden brown. Stir in one clove of the minced garlic; cook and stir about 1 minute more or until garlic is fragrant. Remove from heat; stir in parsley. Season with ¼ teaspoon of the salt and the pepper; set aside.
Trim ends of three of the zucchini; cut each of these zucchini in half lengthwise. Using a melon baller or a small measuring spoon, scoop out and reserve pulp, leaving ¼-inch-thick shells. Coarsely chop pulp and the one remaining zucchini; set aside.
For sauce, in a small saucepan melt 4 tablespoons of the remaining butter over medium heat. Stir in flour. Stir in milk. Cook and stir over medium heat until thickened and bubbly. Cook and stir for 1 minute more. Reduce heat to low. Stir in Parmesan cheese and ¼ teaspoon of the remaining salt. Set aside.
For filling, in medium skillet melt the remaining 1 tablespoon butter over medium heat. Add the chopped zucchini, chopped soaked mushrooms, fresh mushrooms, and onion; cook about 5 minutes or until onion is tender. Stir in thyme, the remaining two cloves garlic, and the remaining ¼ teaspoon salt. Cook and stir for 30 seconds. Remove from heat. Stir in ⅔ cup of the bread crumb mixture.
Spread sauce in a 3-quart rectangular baking dish. Place filled zucchini shells on top of the sauce. Sprinkle with the remaining bread crumb mixture. Bake, covered, for 30 minutes. Uncover. Bake about 10 minutes more or until sauce is bubbling and zucchini are tender when pierced with the tip of a small knife. Serve hot or warm. 
3. Double-Portobello Burgers with Roasted Tomatoes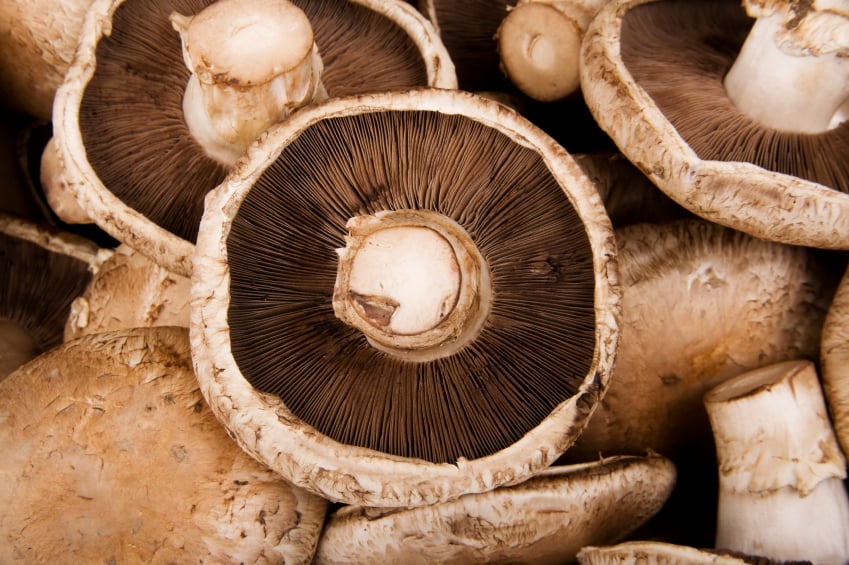 What's better than a portobello mushroom cap in a hamburger bun? Two mushroom caps, of course. The hearty portobellos are extremely satisfying, and by roasting them in the oven, they're perfect for an easy dinner any time of year. You'll also roast some canned plum tomatoes to serve as the best "ketchup" you've ever had and add sharp provolone for the cheese factor. The recipe from Martha Stewart has you add fresh arugula on top for extra zip in each bite.
Ingredients:
8 portobello mushrooms, stemmed
2 tablespoons extra-virgin olive oil
Coarse salt and freshly ground pepper
1 (28-ounce) can plum tomatoes, drained (reserve 3 tablespoons juice) and quartered lengthwise
5 garlic cloves, thinly sliced
⅛ teaspoon crushed red-pepper flakes
4 whole-wheat hamburger buns, split
2 ounces sharp provolone cheese, grated
3 ounces arugula
Directions: Preheat oven to 450 degrees Fahrenheit. Arrange mushrooms on a baking sheet, stem sides down, and brush with 1 tablespoon oil. Season with ¼ teaspoon salt and some pepper. Toss tomatoes with remaining tablespoon oil, the sliced garlic, and crushed red-pepper flakes on a parchment-lined rimmed baking sheet.
Roast, flipping mushrooms and stirring tomatoes halfway through, for 25 minutes. Transfer tomatoes to a bowl, and toss with reserved juice.
Heat broiler. Toast buns, cut sides up, on a baking sheet for about 45 seconds. Broil mushrooms on center rack for 3 minutes. Flip, and top 4 with cheese, then remaining mushrooms. Broil just until cheese melts, about 1 minute.
Sandwich tomatoes, arugula, and mushrooms between buns.

4. Grilled Eggplant Provolone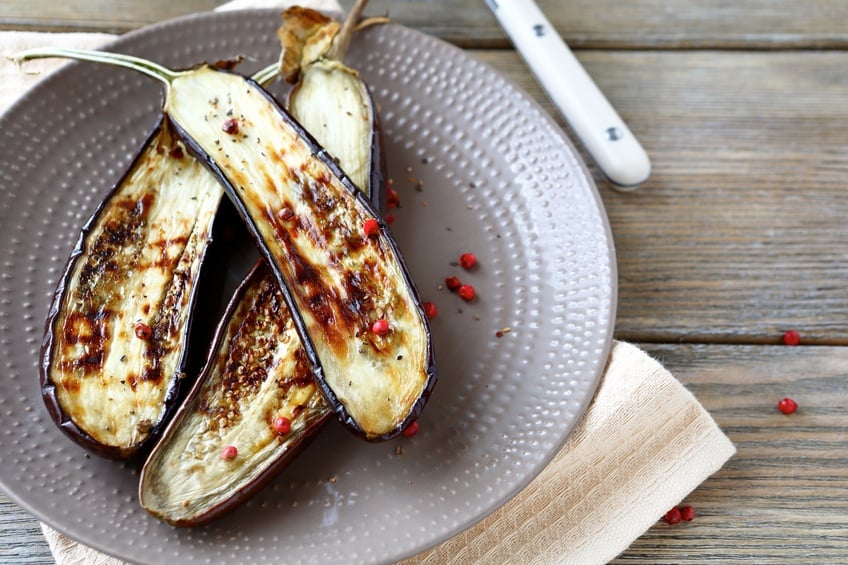 Roasting (or grilling) an eggplant is simply the easiest way to make a filling meal out of vegetables. That's the idea behind this recipe from Real Simple, which has you halve small eggplants, season them with balsamic vinegar, olive oil, and oregano, then cook them. Add a little provolone on top along with salsa or condiments of your choosing, and you have dinner ready in minutes.
Ingredients:
1½ 

tablespoons balsamic vinegar

3 

tablespoons olive oil

¼ 

teaspoon dried oregano

4 

small eggplants, cut in half lengthwise

½ 

teaspoon kosher salt
Freshly ground black pepper

½ 

pound deli-style thick-sliced mild provolone
Grilled salsa
Directions: Whisk together the vinegar, oil, and oregano and brush on the cut sides of the eggplants. Sprinkle with salt and pepper.
Preheat a gas grill to high; adjust the heat to medium after 15 minutes. (If cooking over charcoal, allow the coals to burn until they are covered with gray ash.) Grill the eggplants cut-side down until browned, about 5 minutes. Flip the eggplants and top each half with a slice of provolone. Grill 3 minutes more or until the cheese is bubbly. Top with some grilled salsa.
If roasting, prepare the eggplants as described above. Heat the broiler and cook the eggplants about 6 inches from the heat, cut-side down, for 5 minutes. Turn and broil cut-side up for about 3 minutes. Add the provolone and broil about 3 minutes more.

5. Winter Warmer Hearty Risotto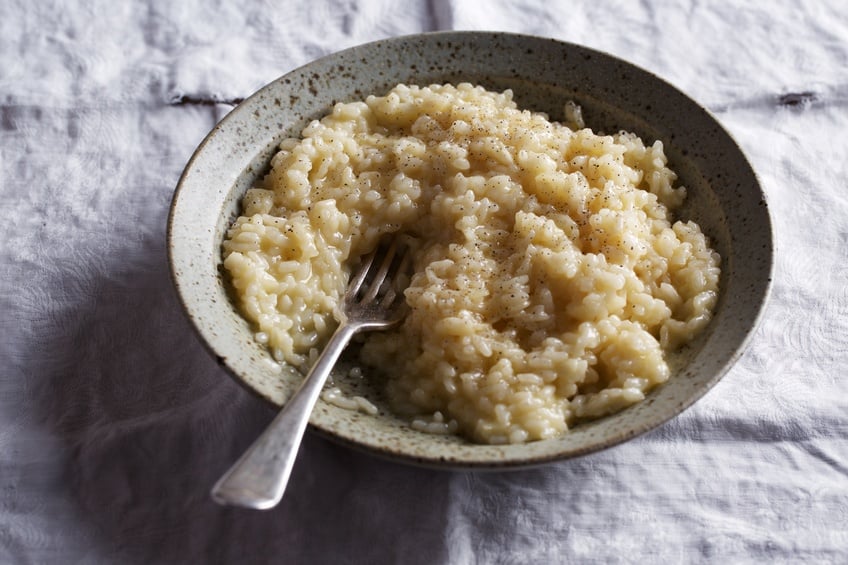 Yes, the recipe has "winter" in the name, but this dish is good for any time you're looking for something cozy and filling. The recipe, found on BBC Good Food, uses butternut squash, sweet corn, and peas to pump up the nutritional value. The end result is so much more than a simple rice dish, though you shouldn't be intimidated by it.
Ingredients:
1 medium butternut squash
2 tablespoons olive oil
Pinch of nutmeg, or pinch of cinnamon
1 red onion, finely chopped
1 vegetable stock cube
2 garlic cloves, crushed
2 cups risotto rice (BBC suggests arborio)
½ cup frozen peas
1⅓ cups sweet corn, drained
2 tablespoons grated Parmesan
handful chopped mixed herbs of your choice
Directions: Heat oven to 400 degrees Fahrenheit. Peel the butternut squash, slice it in half, then scoop out and discard the seeds.
Cut the flesh of the butternut squash into small cubes and put in a mixing bowl. Drizzle 1 tablespoon olive oil over the squash, and season with black pepper, and nutmeg or cinnamon. Transfer the squash to a roasting tin and roast in the oven for about 25 minutes until cooked through, then set aside.
Heat the remaining oil in a large saucepan over a low heat. Add the onion and cover the pan with a tight-fitting lid. Allow the onion to cook without coloring for 5 to 10 minutes, stirring occasionally.
In a measuring jug, make up 1½ quarts of stock from boiling water and the stock cube. Stir well until the stock cube has dissolved. When the onion is soft, remove the lid and add the garlic to the onion pan. Leave it to cook for 1 minute more.
Rinse the rice under cold water. Turn up the heat on the pan and add the rice to the onion and garlic, stirring well for 1 minute. Pour a little of the hot stock into the pan and stir in until the liquid is absorbed by the rice.
Gradually add the rest of the stock to the pan, a little at a time, stirring constantly, waiting until each addition of stock is absorbed before adding more. Do this until the rice is cooked through and creamy — you may not need all the stock. This should take 15 to 20 minutes. Take the roasting tin out of the oven — the squash should be soft and cooked.
Add the squash, peas, and sweet corn to the risotto and gently stir it in. Season to taste. Take the risotto pan off the heat and stir in the Parmesan and herbs. Put the lid back on the pan and let the risotto stand for 2 to 3 minutes before serving.

6. Summer Big Bowl with Farro and Ratatouille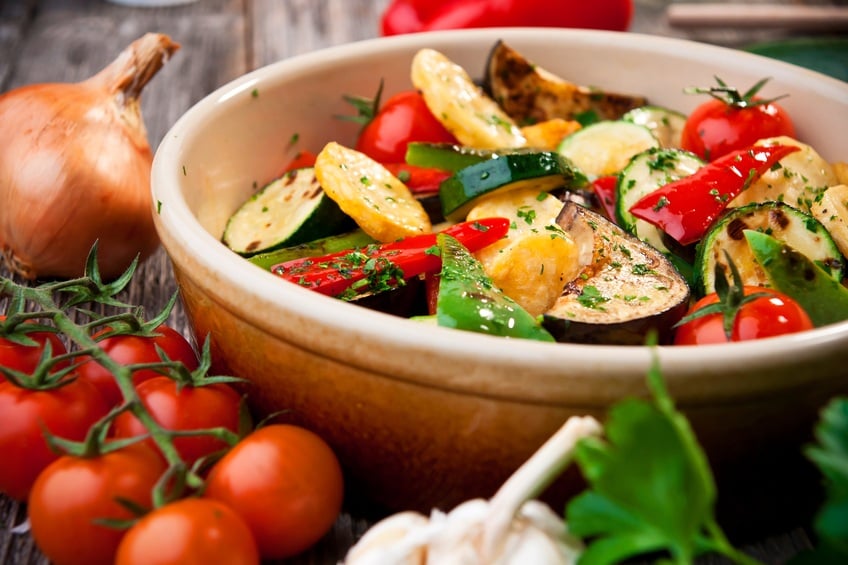 This vegetable dish becomes a full meal by adding farro, a whole grain from Italy that's known for its texture and nutritional value. The farro will add the heartiness, while the vegetables will blend together for a delicious, fresh taste. Recipe author Martha Rose Schulman from the The New York Times suggests making the ratatouille a day ahead of time so the flavors have time to intensify.
Ingredients:
1½

pounds eggplant, cut into ½-inch cubes

3

tablespoons extra-virgin olive oil

Salt

¾

pound (2 medium) onions, thinly sliced

¾

pound mixed sweet peppers (red, yellow, green), cut into slices about ¾ inch wide by 1 ½ inches long

4 to 6

large garlic cloves, thinly sliced

1 ¼

pounds zucchini, sliced about ½ inch thick (if very thick, cut in half lengthwise first)

1

pound tomatoes, peeled, seeded and coarsely chopped

1

bay leaf

1 to 2

teaspoons fresh thyme leaves or ½ to 1 teaspoon dried thyme

½

teaspoon dried oregano

Freshly ground pepper
For the vinaigrette 
2

tablespoons sherry vinegar or 1 tablespoon sherry vinegar and 1 tablespoon fresh lemon juice

Salt to taste

1

very small garlic clove, pureéd

1

teaspoon Dijon mustard

6

tablespoons extra-virgin olive oil
For the big bowl
3 to 4

cups cooked farro or spelt

2 to 4

tablespoons slivered or chopped fresh basil, to taste

6

eggs, poached

2

ounces crumbled feta or freshly grated Parmesan
Directions: Preheat oven to 450 degrees Fahrenheit. Place diced eggplant in a large, heavy, flameproof casserole. Toss with 1 tablespoon of the olive oil and salt to taste. Place in hot oven and roast uncovered for 15 to 20 minutes, stirring from time to time, until eggplant is lightly browned and fragrant. Remove the casserole from the oven, cover tightly and allow eggplant to steam in the hot casserole while you pan-cook onions, peppers, and zucchini.
Meanwhile, heat a tablespoon of the remaining oil over medium heat in a large, heavy skillet. Add onions and cook, stirring often, until just about tender, about 5 minutes. Stir in peppers and a generous pinch of salt. Cook, stirring often, until peppers have softened and smell fragrant, about 5 to 10 minutes. Stir in half the garlic and cook for another minute, then season with salt and pepper and transfer to casserole with eggplant. Heat remaining oil in the skillet and add zucchini. Cook, stirring often, until tender but still bright, about 5 to 10 minutes. Stir in remaining garlic for a minute, until fragrant, season to taste with salt and pepper, and transfer to casserole.
Add tomatoes to the casserole with bay leaf, thyme, oregano, and more salt and pepper to taste. Toss everything together and place over medium-low heat. When vegetables begin to sizzle, cover, reduce the heat to low and simmer, stirring often, for 30 to 45 minutes, until the mix is juicy and fragrant and the vegetables are thoroughly tender. Taste and adjust seasonings. Serve warm or cold, preferably the next day.
Whisk together ingredients for the vinaigrette.
To assemble the big bowl, spoon warm or room temperature farro or spelt into each bowl (½ cup to ¾ cup, to taste). Top with a generous spoonful of ratatouille. Spoon a tablespoon of vinaigrette over the ratatouille and garnish with some of the basil. Top with a poached egg if desired and sprinkle with feta or Parmesan. Garnish with more basil and serve.
7. Cauliflower and Goat Cheese Soufflés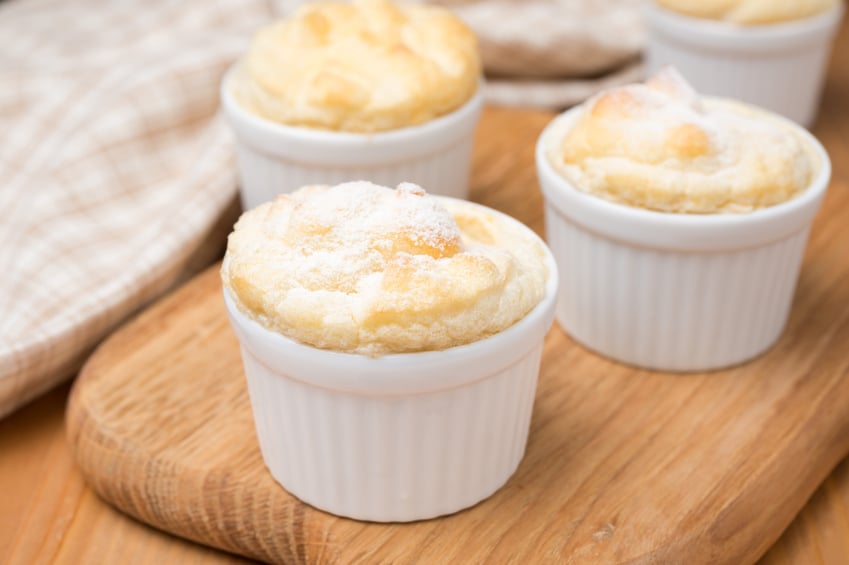 Since Julia Child made soufflés, it might seem like they're too difficult for the average cook. But if you own ramekins (little dishes for the soufflés to cook in) and you can whip some egg whites, this recipe is totally manageable. You'll add puréed cauliflower to the dish for your helping of vegetables, but also add plenty of cheese to make it extra delicious. If you serve this with a salad or other side, you have a complete meal.
Ingredients:
Unsalted butter, for greasing
3 tablespoons finely grated Parmesan
8 ounces cauliflower florets, chopped
Kosher salt and freshly ground white pepper, to taste
5 ounces plain goat cheese
¼ teaspoons freshly grated nutmeg
3 eggs, plus 5 whites
Directions: Heat oven to 375 degrees Fahrenheit. Grease four 8-ounce ramekins with butter and coat with Parmesan; place on a baking sheet and chill.
Cook cauliflower in salted boiling water until tender, 4 to 6 minutes. Drain and transfer to a food processor. Add goat cheese, nutmeg, 3 eggs, salt, and pepper; purée until smooth. Transfer to a large bowl; chill until ready to use.
Whip egg whites into stiff peaks in a bowl; in batches, fold whites into cauliflower purée and divide between prepared ramekins. Bake until golden and puffed, about 30 minutes.

8. Tuscan White Bean Soup with Escarole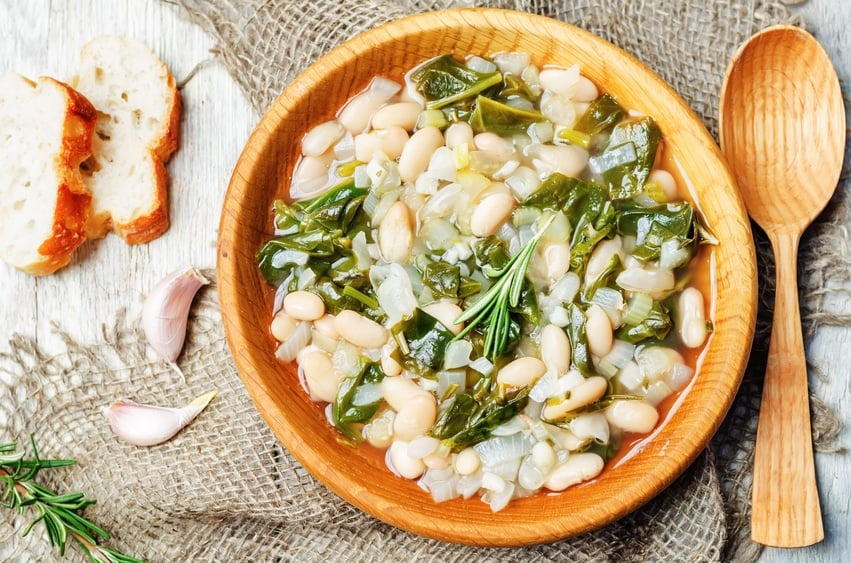 This vegetable-focused soup from Cooking Light is perfect for using up odds and ends in your pantry — specifically any Parmesan cheese rinds you may have frozen or thrown in the back of your refrigerator. The rinds add to the depth of flavor of the broth, but the real stars are the white beans, onions, carrots, and escarole. If you can't find escarole or prefer to use another leafy green, you can substitute spinach, kale, or Swiss chard.
Ingredients:
1 tablespoon olive oil
2 cups finely chopped onion
5 garlic cloves, minced
2 cups organic vegetable broth
1 cup water
1 teaspoon chopped fresh rosemary
2 (15-ounce) cans no-salt-added Great Northern beans, rinsed and drained
2 fresh thyme sprigs
1 (1½-ounce) piece Parmesan cheese rind
8 cups chopped escarole (about 1 pound)
1 cup chopped carrot
½ teaspoon crushed red pepper
¼ teaspoon salt
¼ teaspoon freshly ground black pepper
1 teaspoon white wine vinegar
6 tablespoons shaved fresh Parmesan cheese
Directions: Heat a large Dutch oven over medium-high heat. Add oil to pan; swirl to coat. Add onion, and sauté for 4 minutes, stirring frequently. Add garlic, and sauté for 30 seconds.
Add vegetable broth and the next 5 ingredients (through cheese rind); bring to a boil. Reduce heat, and simmer 10 minutes.
Stir in escarole and carrot; cover and simmer for 15 minutes or until carrot is tender. Stir in red pepper, salt, black pepper, and vinegar. Remove and discard rind; sprinkle soup with shaved cheese.
 9. Asparagus, Spinach & Feta Quiche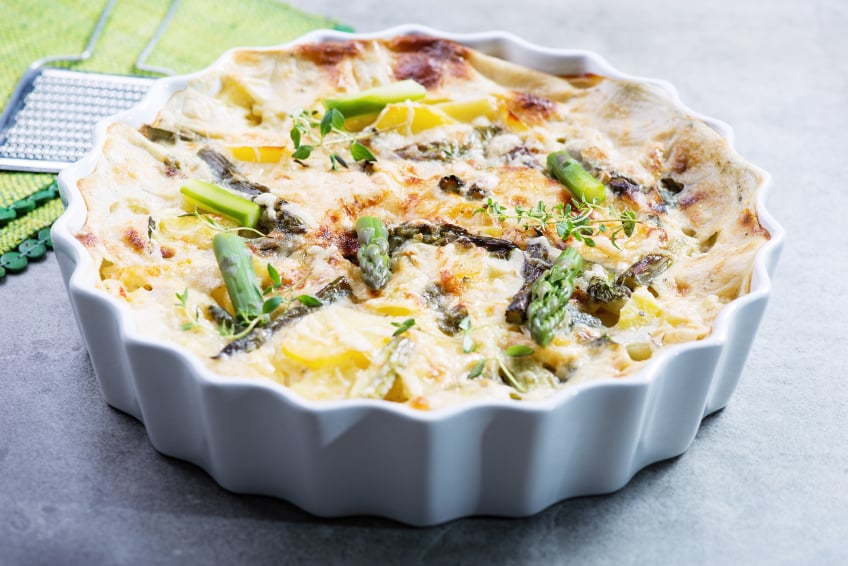 If you want vegetables in every meal of the day, start with this vegetable quiche that's perfect for a brunch or quick breakfast. You'll add plenty of cheese, but also get a fair helping of green vegetables, thanks to the asparagus and generous amount of spinach you include. The home chefs at Two Peas and Their Pod use a homemade pie crust, but also say you can use a store bought crust if you'd rather save time.
Ingredients:
½ tablespoon olive oil
8 asparagus spears, ends removed and cut into 1-inch pieces
4 cups fresh baby spinach
5 large eggs
1 cup milk
¾ cup crumbled feta cheese
¼ cup shredded mozzarella cheese
Salt and pepper, to taste
4 green onions, chopped
1 (9-inch) pie crust
Directions: Preheat the oven to 375 degrees Fahrenheit. Line a 9-inch pie plate with pie dough and place it in the freezer while you prepare the quiche ingredients.
In a large skillet, heat olive oil over medium heat. Add the asparagus spears and spinach. Cook until asparagus spears are slightly tender and spinach is wilted. Transfer spinach to a colander. Press firmly with the back of a spoon to squeeze out as much liquid as possible. Set aside.
In a large bowl, whisk together eggs and milk. Stir in the feta and mozzarella cheese. Season with salt and pepper, to taste.
Remove pie crust from the freezer. Place asparagus pieces, spinach, and green onions on the bottom of the crust. Pour the egg and cheese mixture over the vegetables and into the crust.
Bake the quiche for 45 minutes or until quiche is set and slightly golden brown. Let quiche stand for 15 minutes before serving.
Follow Nikelle on Twitter and Facebook
More from Culture Cheat Sheet: