6 Refreshing Tea and Whiskey Cocktails to Try
Nothing quenches thirst quite like a chilly glass of iced tea on a hot day. A cocktail isn't a bad choice, either. Combine the two, and you have a drink that's shockingly delicious. Tea cocktails are popping up everywhere, featuring spirits ranging from gin to vodka, but whiskey might be the best booze for the job. The Wall Street Journal explained combining these two liquids manages to let both beverages shine while many other mixes lead to diminished flavor. And considering whiskey's massive popularity surge over the last several years, you probably already have a bottle of the hard stuff on hand. Put it to use in one of these six fantastic cocktails, and get ready to cool off.
1. Bourbon and Peach Sweet Tea Punch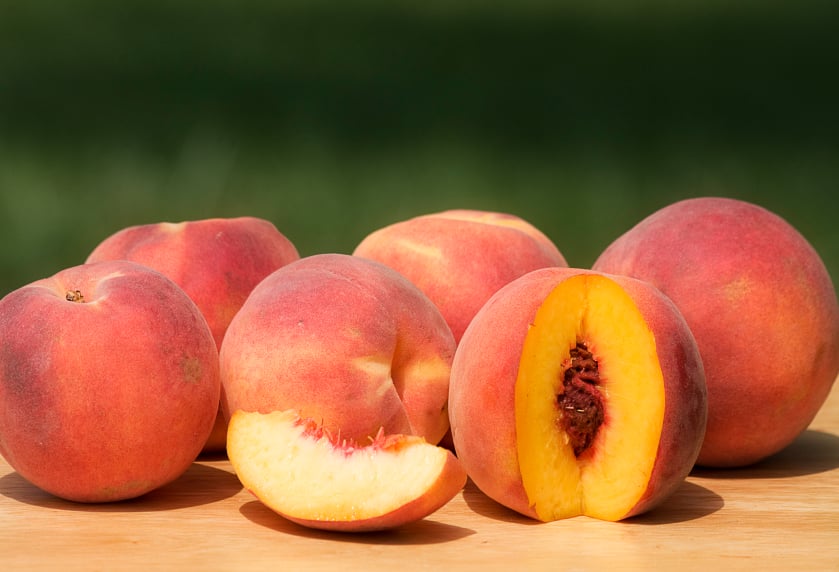 Bottled peach iced tea doesn't taste very much like peaches or tea. Usually, it just tastes like sugar. For a version that lives up to both flavors, try Every Day with Rachael Ray's easy recipe. The beverage gets even better when you add a dose of bourbon to counter the sweet fruit. If you prefer a less sugary cocktail, opt for unsweetened iced tea.
Ingredients:
4 cups sweetened iced tea
3 cups bourbon
2 cups bottled peach nectar
1 cup fresh lemon juice
Fresh or frozen sliced peaches
Directions: In a pitcher, combine tea, bourbon, peach nectar, and lemon juice. Add peach slices. Serve.
2. Tea and Whiskey Highball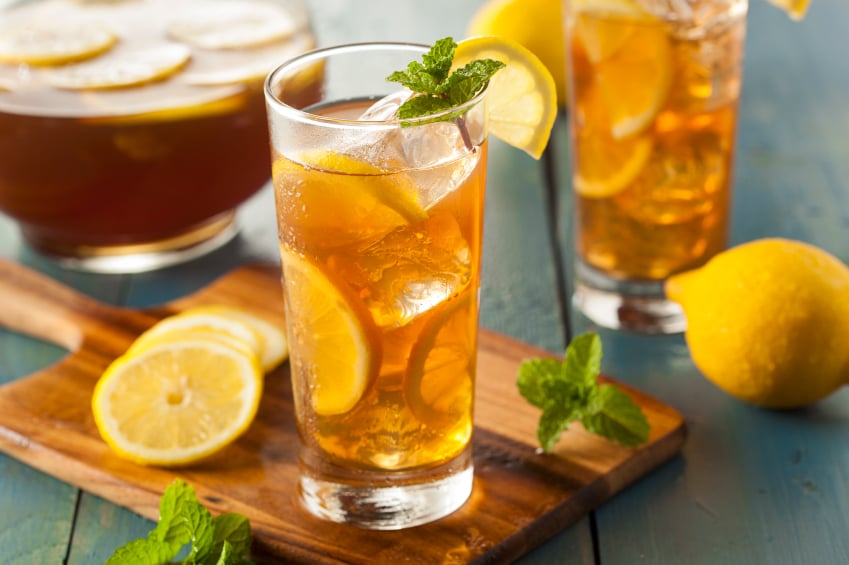 Instead of using orange-flavored tea bags, Chowhound's refreshing cocktail uses plain leaves steeped with fresh zest to give this highball the most intense flavor. Though a plain simple syrup will yield a good drink, a mint-infused version makes this beverage even more refreshing. All you have to do is combine water, sugar, and mint leaves in a saucepan. Let the mixture simmer until the sugar dissolves, cool, then strain out the mint. Use extra syrup for any of your other favorite cocktails, or use it in place of sugar to macerate strawberries for a wildly delicious version of shortcake.
Ingredients:
Tea
2 oranges
2 quarts water
8 black tea bags
Syrup
1 bunch fresh mint
2 cups granulated sugar
1 cup water
To serve
2 cups Scotch or bourbon
Ice
8 mint sprigs
Directions: Remove zest from oranges using a vegetable peeler, being careful not to remove too much of the white pitch. Set half of zest aside, and refrigerate remaining in a zip-top bag.
Bring 2 quarts water to a boil, remove from heat, add tea and reserved orange peel. Let steep 5 minutes, then strain into a heatproof container. Discard solids. Refrigerate until cold, at least 3 hours.
Place sugar, 1 cup water, and one bunch of mint in a small saucepan. Bring to a simmer over medium-high heat, then reduce heat to medium low. Simmer, stirring occasionally, until sugar has dissolved and syrup thickens, about 5 minutes.
Remove from heat, and let cool 1 hour. Strain through a fine mesh strainer set over a medium bowl, and discard solids. Cover, and refrigerate.
When ready to serve, stir whiskey into bourbon, and add half of mint syrup. Taste, and add more syrup, as needed. Fill eight glasses with ice, and add a few strips of reserved orange zest. Divide mixture among glasses. Garnish each with mint sprigs, and serve.
3. Green Tea and Citrus Whiskey Punch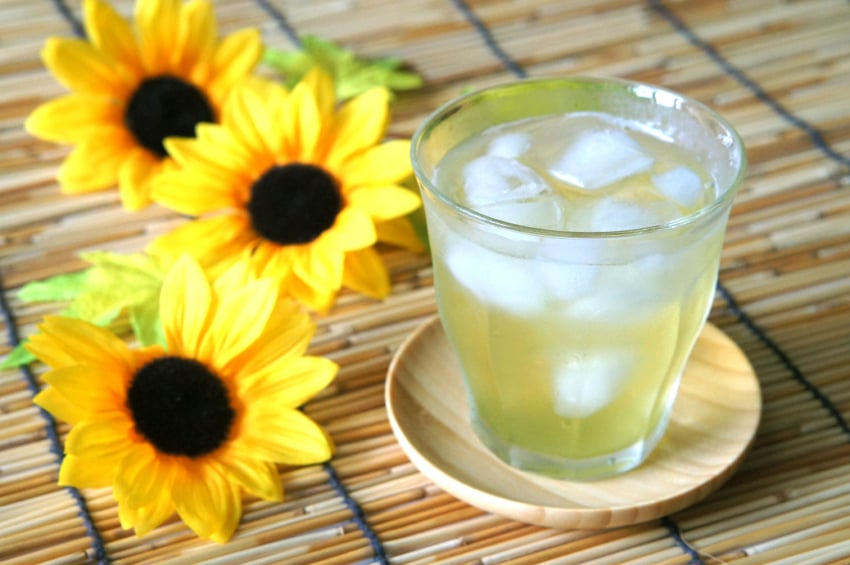 If you're not already on the green-tea bandwagon, you might want to consider adding the beverage to your drink lineup. A Japanese study followed more than 90,000 individuals for about 19 years, and found those who consumed green tea reduced their risk of dying from all causes. We're not sure how adding alcohol to the brewed beverage changes things, but we're all for feeling better about having a cocktail here and there.
For a new spin on punch, Epicurious combines green tea with a mix of citrus juices, sherry, whiskey, and cava, a sparkling wine from Spain. If you're making punch for a party, it's easy to do in advance. Follow the recipe as written, except omit the cava, and let mixture hang out in the fridge. Just before serving, add the sparkling wine to keep the fizzy effect.
Ingredients:
8 cups water
6 green tea bags
1 cup sugar
1 (750-milliliter) bottle cava
2 cups Scotch
2 cups Irish whiskey
2 cups dry Sherry
2 cups fresh orange juice
2 tablespoons fresh lemon juice
1 ice block
Directions: Bring 8 cups water to a boil in a large saucepan. Remove from heat, and add tea bags. Let steep 5 minutes, then discard tea bags. Add sugar, and let cool completely. Add remaining ingredients except for ice block. Place ice block in a punch bowl, and pour tea over. Serve.
4. Blackberry-Bourbon Iced Tea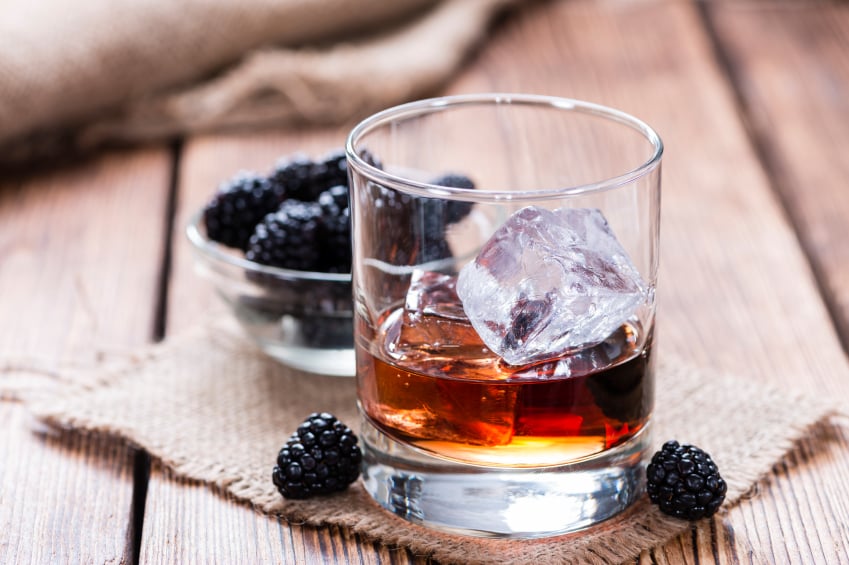 If you usually shy away from fruit-based cocktails for fear of an overly sweet taste, you'll be pleasantly surprised by Bobby Flay's blackberry and tea concoction, featured on Cooking Channel. Fresh fruit and mint make this drink taste like a glass of summer, and the bourbon adds a hint of smokiness. If you can't find blackberries, try this recipe using raspberries or cherries.
Ingredients:
3 cups fresh blackberries
¾ cup sugar
2 tablespoons chopped mint
6 cups cold water
6 black tea bags
Ice
Bourbon
Mint Sprigs
Directions: In a large bowl, mash blackberries, sugar, and mint with a wooden spoon or potato masher. Let sit.
Bring water to a boil in a medium saucepan. Remove from heat, add tea bags, and let steep about 3 minutes. Remove tea bags, and pour tea over berry mixture. Let sit at room temperature at least 1 hour.
Pour mixture through a strainer into a pitcher, pressing solids to extract as much liquid as possible. Cover, and refrigerate until cold, at least 2 hours.
Serve tea over ice in glasses, and add a shot of bourbon to each. Garnish with mint, and serve.
5. Passioned Green Tea Whiskey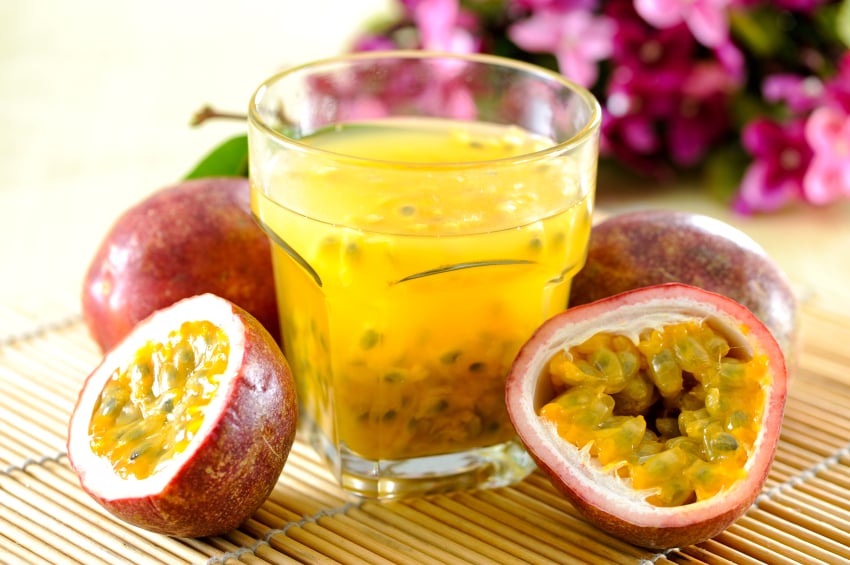 Not everyone can afford to take a tropical vacation, but one sip of Lady and Pups' refreshing cocktail will transport you to an island getaway. Green tea and whiskey are key players in this beverage, but passion fruit is the real star. It's sweet and tart at the same time, and completely delicious in cocktails. If you can't find fresh fruit, most grocery stores carry frozen purée that will work equally well.
Ingredients:
3 passion fruits
¾ cup unsweetened green tea, chilled
4 tablespoons honey
4 ounces whiskey
Crushed ice
Directions: Scoop out flesh from fruit into a shaker. Add green tea and honey. Shake mixture until honey dissolves. Add whiskey, and shake to blend. Divide between two glasses filled with crushed ice. Serve.
6. Bourbon Orange Sweet Tea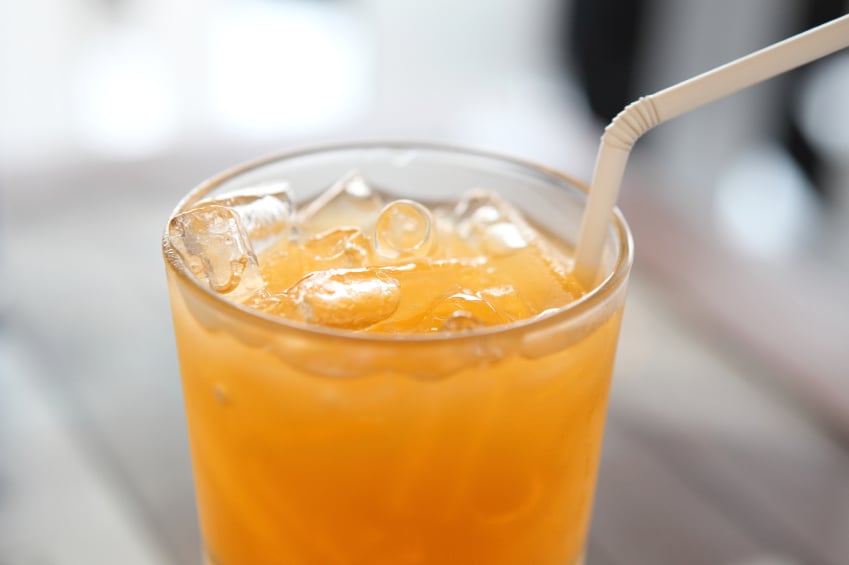 For the true southerner, or southerner at heart, this amped-up version of sweet tea might be the perfect cocktail. Michael Symon's recipe, featured on The Chew, tastes like an adult version of orange soda with sweet tea, bourbon, bitters, and a splash of your favorite fizzy orange drink. This beverage comes together in no time, so it's perfect for last-minute entertaining or at the end of a long workday.
Ingredients:
1 ounce bourbon
2 ounces sweet tea
2 dashes Angostura bitters
1 ounce orange soda
1 orange wedge
Ice
Directions: In a cocktail shaker, add a handful of ice, bourbon, and tea. Shake well, and strain into glass filled with ice. Top with soda, and garnish with orange wedge. Serve.
More from Culture Cheat Sheet: