Delicious Recipes for Famous Restaurant Sandwiches Across America
Every region of the country seems to have its own take on the very best kind of sandwich, with each variation based upon the prominent ingredients and cultures of the locale. These mouthwatering dishes tend to be best experienced in their natural habitats, but you can also whip up a pretty delicious replica of each in your very own kitchen for lunch or dinner (and maybe even breakfast, too).
The following recipes will help you create the perfect iconic American sandwich at home.
1. Classic New Orleans Muffuletta Sandwich
Muffuletta is a rounded Sicilian sesame bread that is used in the making of this famous sandwich, which goes by the same name. According to nola.com, the sandwich was invented by Salvatore Lupo, owner of the New Orleans French Quarter's Central Grocery shop, in 1906. Italian traditions took root and popularized this flavor-packed meal, which consists of the muffuletta loaf, marinated olive salad, mortadella, salami, mozzarella, ham, and/or provolone cheese. This recipe from Serious Eats takes 20 minutes to complete and yields 2 servings.
¾ cup pitted mixed oil-packed olives
1 tablespoon capers
¼ cup chopped roasted red peppers
2 tablespoons parsley leaves
½ cup giardiniera (Italian-style pickled vegetable salad)
1 medium garlic clove, minced (about 1 teaspoon)
1 tablespoon red wine vinegar
3 tablespoons extra-virgin olive oil
1 large muffuletta-style roll
⅓ pound thinly-sliced sweet soppressata
⅓ pound thinly-sliced mortadella
⅓ pound thinly-sliced capicola
⅓ pound thinly-sliced provolone cheese
Directions: Combine olives, capers, peppers, parsley, giardiniera, and garlic in the bowl of a food processor. Pulse to chop. Transfer to a bowl, and add vinegar and olive oil and stir to combine. For best results, let olive salad rest overnight before continuing to step two.
Split muffuletta roll in half and spread each cut surface generously with olive salad, making sure to include the juices when spreading. Layer half of soppressata on bottom half of bun, followed by half of mortadella, half of capicola, and half of provolone. Repeat layers with remaining meat and cheese. Close sandwiches and press down gently to compress. For best flavor, wrap tightly in paper or plastic and let rest for 1 hour before serving. Cut into triangular wedges to serve.
2. Easy French Dip Sandwiches
This tender sandwich originates in Los Angeles. According to Lonely Planet, the restaurants Cole's Pacific Electric Cafe and Philippe the Original both lay claim to the French dip's invention. Regardless of where it began, the fact remains the French dip is delicious. It consists of thinly-sliced rare beef on a French roll, served au jus (with savory beef juice, often served on the side for dipping). It's a bit of a drippy mess, but worth the effort for that delicious taste and texture. This recipe from Allrecipes takes 15 minutes to complete and yields 4 sandwiches.
Ingredients:
1 (10.5 ounce) can beef consommé
1 cup water
1 pound thinly-sliced deli roast beef
8 slices provolone cheese
4 hoagie rolls, split lengthwise
Directions: Preheat oven to 350 degrees Fahrenheit. Open the hoagie rolls and lay on a baking sheet.
Heat beef consommé and water in a medium saucepan over medium-high heat to make the beef broth. Place the roast beef in the broth, warming for 3 minutes. Arrange the meat on the hoagie rolls and top each roll with two slices of provolone.
Bake the sandwiches in the preheated oven for 5 minutes, or until the cheese just begins to melt. Serve the sandwiches with small bowls of the warm broth for dipping.
3. Pat's King of Steaks Philadelphia Cheese Steak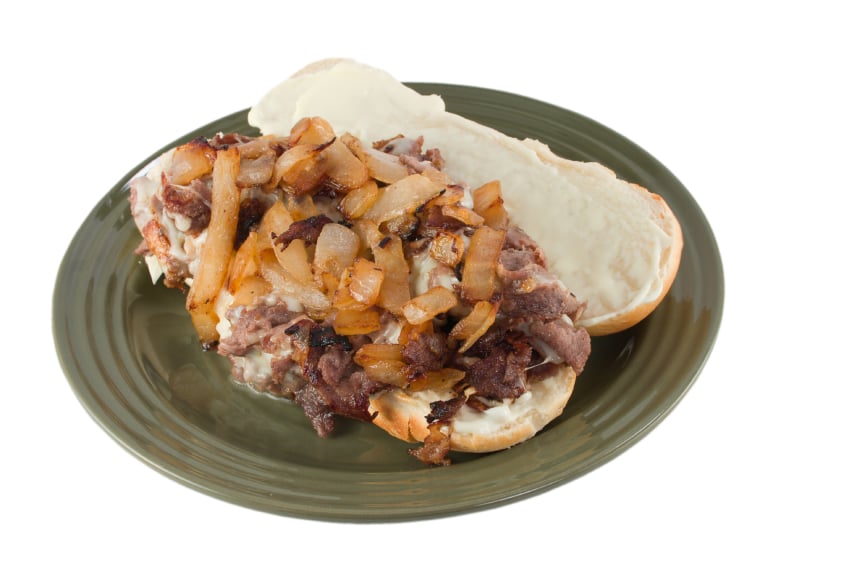 This recipe comes from the owners of the famous Pat's King of Steaks in Philadelphia, the hometown of the cheesesteak. The sandwich's origins date back to the 1930s, when Pat Olivieri — the namesake and founder of Pat's, according to Philly.com — sautéed some sliced rib-eye steak, fried some onions, and added cheese to make this a perfectly satisfying meal. Philadelphia vendors frequently use soft Amoroso bakery rolls to cradle their sandwiches, but any soft, flaky roll will help maintain this sloppy sandwich's shape. This recipe from Food Network takes 15 minutes to complete and yields 4 sandwiches.
Ingredients:
6 tablespoons soybean oil
1 large onion, sliced
24 ounces sliced rib-eye or eye-roll steak
Cheese (store processed recommended); American or provolone
4 crusty Italian rolls
Sweet green and red peppers, sautéed in oil (optional)
Mushrooms sautéed in oil (optional)
Ketchup
Directions: Heat a nonstick pan over medium heat, add 3 tablespoons of oil to the pan, and sauté the onions. Remove the onions, add the remaining oil, and sauté the slices of meat quickly on both sides. Melt the cheese in a double boiler or in the microwave. Place 8 ounces of the meat into the rolls, add onions, and pour the store-processed cheese over top. Garnish with sweet peppers, mushrooms, and ketchup.
4. Cuban Sandwiches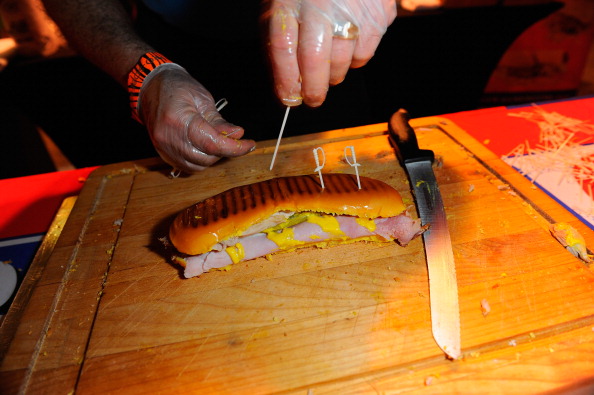 According to Chowhound, this sandwich variety was rumored to begin in either Key West or Cuba. Either way, it migrated through Florida state and has found its most pivotal success in the sun-soaked city of Miami. Several variations of the sandwich exist, but this recipe offers its own tasty take on the classic, with ham, pork, Swiss, pickles, and mustard. It is best served on Italian or ciabatta bread. This dish takes about an hour to complete and yields 4 to 6 servings.
Ingredients:
1 (1-pound) loaf Italian or ciabatta bread
¼ cup mayonnaise (optional)
8 ounces thinly-sliced cooked ham
8 ounces thinly-sliced roasted pork loin
8 ounces thinly-sliced Swiss cheese
4 whole dill pickles, thinly sliced lengthwise
¼ cup yellow mustard
2 tablespoons unsalted butter (¼ stick), melted
Directions: Heat the oven to 200 degrees Fahrenheit and arrange a rack in the middle. Cut the loaf of bread in half horizontally and open it. Spread the mayonnaise on the bottom piece of bread. Evenly place the ham and roasted pork on top of the mayonnaise. Evenly arrange the cheese and pickles on the meat.
Spread the mustard on the top piece of bread and close the sandwich. Press gently on the top. Cut it in half crosswise; set both halves aside.
Lay 2 (20-inch-long) sheets of aluminum foil on a work surface. Brush half of the melted butter on the tops of the sandwiches. Place each sandwich butter-side down on the sheets of foil. Brush the bottoms of the sandwiches with the remaining butter. Fold the foil around the sandwiches.
Heat a large frying pan on low heat until hot, about 4 minutes. Place one wrapped sandwich in the pan. Place a cast-iron skillet, Dutch oven, or heavy pot on the sandwich, push down on the skillet or pot to further compact the Cubano, and cook undisturbed for 10 minutes.
Remove the skillet or pot. Flip the sandwich and place the skillet or pot back on top of it. Cook undisturbed until the cheese has melted and the sandwich is warmed through, about 10 minutes more. Remove to the oven and repeat with the second sandwich. When both are ready, remove the foil, cut into pieces, and serve.
5. Beef On Weck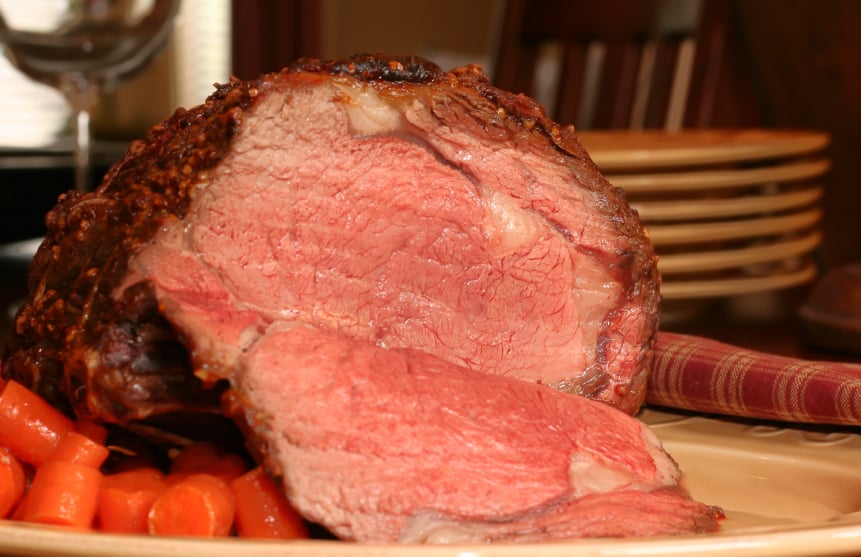 The famous Buffalo beef on weck sandwich consists of thinly-sliced roast beef on a kummelweck roll, which is a kaiser roll topped with coarse salt and caraway seeds. The origins of the beef on weck are disputed, but it is believed that German baker William Wahr brought the kummelweck to Buffalo from the Black Forest region of Germany, writes New York Folklore. This recipe from Mother Thyme takes 1 hour and 45 minutes to complete and yields 6 to 8 hearty servings. If you'd prefer to use a slow-cook method, try cooking at 325 degrees until desired temperature is reached, or cook roast for 8 to 10 hours on low using a crockpot.
Ingredients:
Rolls
8 kaiser rolls or hard rolls
2 large egg whites
2 tablespoons kosher salt
2 tablespoons caraway seeds
Roast beef
3 to 4 pounds top round roast
1 teaspoon salt
¼ teaspoon pepper
½ cup distilled white vinegar or apple cider vinegar
Directions: Preheat oven to 350 degrees Fahrenheit. Mix kosher salt and caraway seeds in a small bowl.
Using a pastry brush, lightly brush each roll with egg whites and sprinkle the tops with salt and caraway seed mixture. Set each roll on cookie sheet. Bake rolls for 3 minutes. Remove from oven and set aside.
Increase oven temperature to 425 degrees Fahrenheit. Brush roast with vinegar and rub roast with salt and pepper and set on rack in a roasting pan. Cook roast for 20 minutes.
Reduce temperature to 350 degrees Fahrenheit and let cook for an additional 1 hour and 15 minutes to 1½ hours, basting occasionally. Use a meat thermometer to check internal temperature of roast. Cook until roast is 130 degrees Fahrenheit for rare, 140-150 degrees for medium, 155 degrees for medium-well, and 160 degrees for well done.
Let roast sit for 10 minutes. Strain pan drippings into bowl. Serve as au jus or add flour and water to make gravy. Thinly carve meat and toss in au jus. Add desired amount of meat to rolls and serve. Serve with optional horseradish and a pickle on the side.
6. Lobster Roll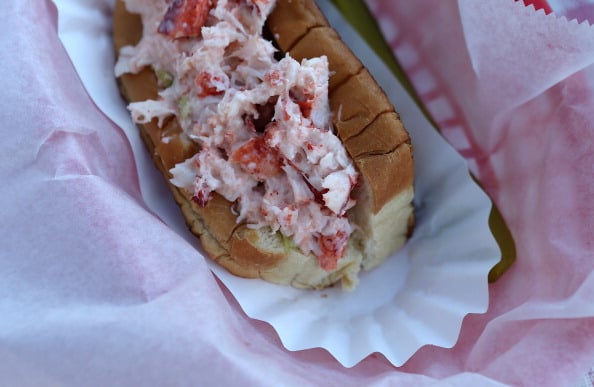 If you're in a gourmet seafood kind of mood — or if you just have some extra lobster meat leftover — a lobster roll is a classic New England-style sandwich to whip together for lunch or dinner. Rich, buttery lobster meat, mayonnaise, veggies, and spices come together on a bun or kaiser roll to make this perfectly succulent seafood dish. This lobster roll recipe from Cooking Light takes about 10 minutes to complete and yields 4 servings.
Ingredients:
4 cups cooked lobster meat, cut into bite-size pieces
½ cup low-fat mayonnaise
¼ cup chopped green onions
1 tablespoon chopped celery
1 tablespoon fresh lemon juice
½ teaspoon salt
Dash of hot sauce
4 hot dog buns
Directions: Combine first 7 ingredients. Spoon ¾ cup salad into each bun.