7 Really Easy Homemade Condiment Recipes
Going to the grocery store can quickly become a pricey endeavor when you start adding jars of sauces and dips to your cart. And with mile-long ingredient lists that usually start with corn syrup, most of them are more filler than actual ingredients. That doesn't mean you're destined to eat bland food, though. You just have to get a little bit creative in your kitchen.
Making ketchup or mayo from scratch might sound like way too much work, but we've found some of the easiest recipes out there to ensure you won't have to whisk an emulsion until your arm falls off. With so few ingredients and such simple methods, you'll return to these recipes again and again. And they're so good, you might want to start sneaking them into restaurants. It's OK; we won't tell.
1. Homemade BBQ Sauce
Though many sauce recipes rely on slow cooking to develop flavor, this homemade BBQ sauce from Gimme Some Oven packs a punch after just 20 minutes on the stove. Simply whisk together some tomato sauce with agave, molasses, liquid smoke, and a few seasonings, then let it simmer to blend the flavors. It'll keep for a week in the fridge, but we doubt it will last that long.
Ingredients:
1 (15-ounce) can tomato sauce
⅓ cup honey or agave nectar
¼ cup tomato paste
¼ cup molasses
3 tablespoons Worcestershire sauce
1 teaspoon liquid smoke
1 teaspoon smoked paprika
1 teaspoon garlic powder
½ cup apple cider vinegar
½ teaspoon freshly ground black pepper
½ teaspoon onion powder
½ teaspoon salt
Directions: Whisk all ingredients together in a medium saucepan. Over medium-high heat, bring mixture to a simmer. Reduce heat to medium-low and simmer for 20 minutes, or until the sauce has slightly thickened.
Use immediately, or refrigerate in a sealed container for up to 1 week.
2. Homemade Spicy Mustard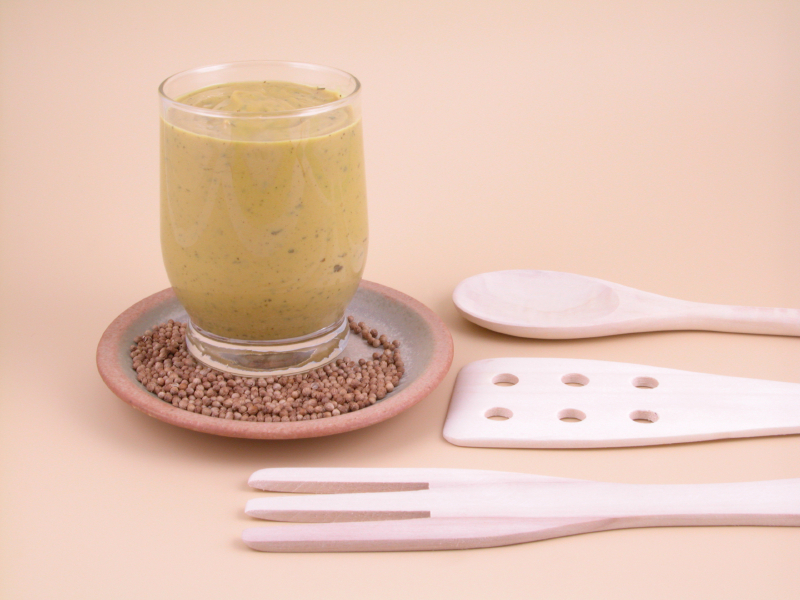 No cookout is complete without some mustard, and a spicy version might be the best in the lineup. Instead of getting lost in the condiment aisle at the store, whip up this homemade spicy mustard from Detoxinista, adapted from a recipe by America's Test Kitchen. Start by grinding the mustard seeds, add them to a jar, and then mix in the rest of the ingredients. Let it sit for eight hours, and then move your mustard to the fridge. For the most bite, be sure to finely grind the seeds.
Ingredients:
2 tablespoons yellow mustard seeds
2 tablespoons brown mustard seeds
¼ cup apple cider vinegar, or coconut vinegar
2 tablespoons water
1 teaspoon fine sea salt
Directions: Grind mustard seeds with a mortar and pestle, or a spice grinder. Transfer to a glass storage jar and add in the rest of the ingredients. Stir to mix well.
For best flavor, allow mustard to sit at room temperature for up to 8 hours before storing in the fridge. Add a touch of honey if you find the mustard has a little too much spice.
3. Spicy Dill Dip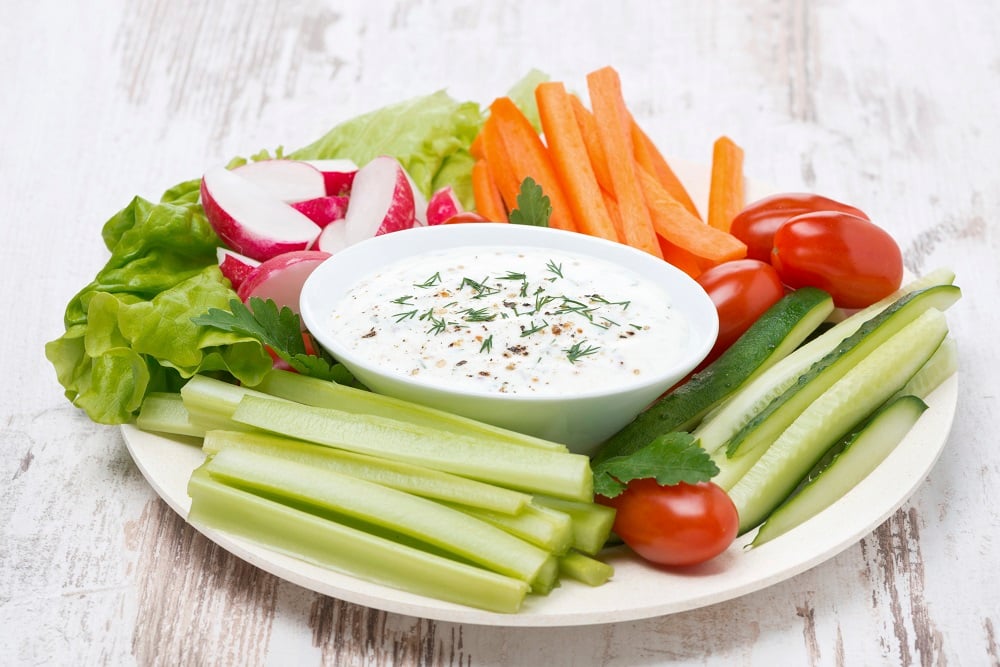 The best part of veggie trays is the dip — at least, it should be. But somehow, those packaged ones seem to fall a little flat. Give those carrot sticks a more delicious dunk with Bon Appétit's spicy dill dip, featured on Epicurious. Mix up a combination of mayo and sour cream with some fresh herbs, seasonings, and a little bit of chili sauce for some kick. It's savory, creamy, and just a little bit spicy. When making dip is this delicious, those store-bought versions don't stand a chance.
Ingredients:
½ cup sour cream
3 tablespoons mayonnaise
2 tablespoons minced fresh dill or 2 teaspoons dried dillweed
1 tablespoon minced fresh parsley
1 tablespoon minced green onion
1 tablespoon chili sauce
1 garlic clove, minced
½ teaspoon dry mustard
¼ teaspoon Worcestershire sauce
Salt and pepper, to taste
Directions: Combine all ingredients in a bowl. Season to taste with salt and pepper. Refrigerate until well chilled. Serve with veggies.
4. Basic Mayonnaise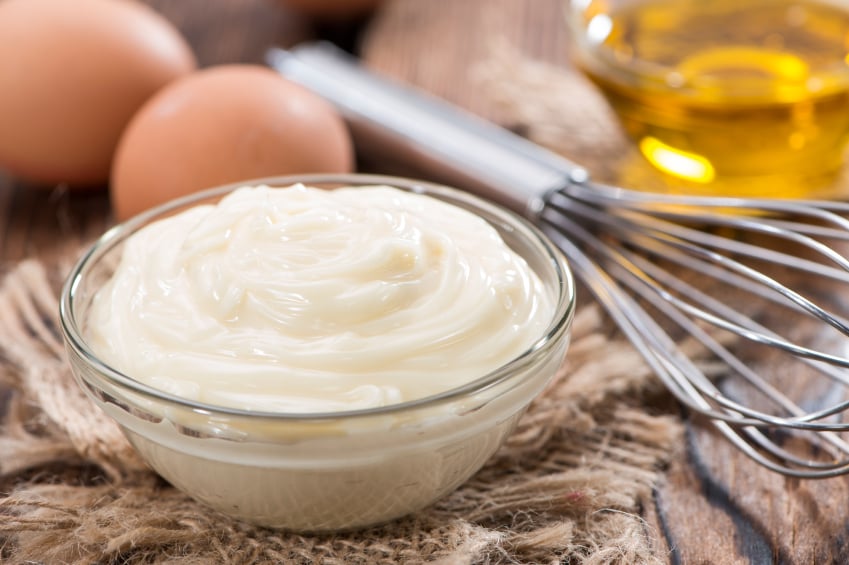 In the days before automated kitchen appliances, making a classic mayo meant having to constantly whisk oil into egg yolks drip by drip for an eternity. Trying to speed things up too much would cause the emulsion to break, leaving a greasy mess. This basic mayonnaise from Martha Stewart's Everyday Food simplifies the method with a food processor. Pulse egg yolks with lemon juice and mustard to combine, then stream in the oil while the machine runs. A few minutes is all it takes to make some of the best mayo you'll ever taste.
While this recipe is great for a classic sandwich spread, it's easy to adapt by adding everything from canned chipotle chiles to a bunch of chopped, fresh herbs. Feel free to play around with any of your favorite flavors.
Ingredients:
 2 large egg yolks
1 teaspoon Dijon mustard
4 teaspoons fresh lemon juice
1 cup vegetable oil
Coarse salt and ground pepper
Directions: Place egg yolks in a food processor and add the mustard and lemon juice. Pulse ingredients until combined.
With motor running, add oil in a slow, steady stream until combined and thickened. Season with salt and pepper. Refrigerate in an airtight container for up to 1 week.
5. Teriyaki Sauce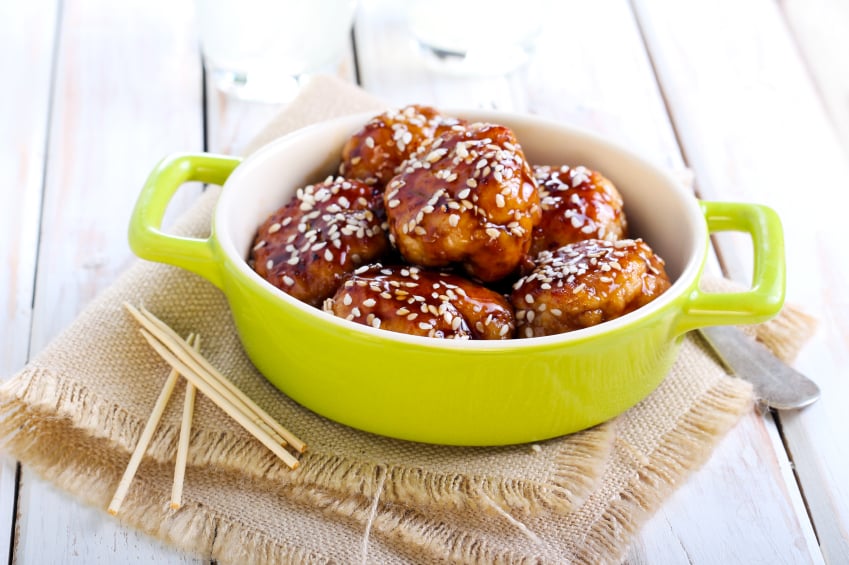 The rich, deep flavors of teriyaki might make this sauce seem intimidating to attempt at home, but it couldn't be any easier. Just One Cookbook's teriyaki sauce only has five ingredients and comes together in minutes. Start with a base of soy sauce, mirin, and sugar. Whisk in a cornstarch slurry, then cook until it thickens a bit. It makes a great marinade for chicken or sauce for a quick stir fry. Either way, it can be on your table tonight.
Ingredients:
4 tablespoons soy sauce
4 tablespoons mirin
2 tablespoons sugar
2 teaspoons cornstarch
2 tablespoons water
Directions: In a small saucepan, combine sugar, mirin, and soy sauce, and bring to a boil.
In a small bowl, combine cornstarch with water and whisk to combine. Add mixture to the sauce, whisking constantly to evenly distribute. Stir sauce until reduced to desired consistency. Cool and store in the refrigerator.
6. Easy Homemade Pesto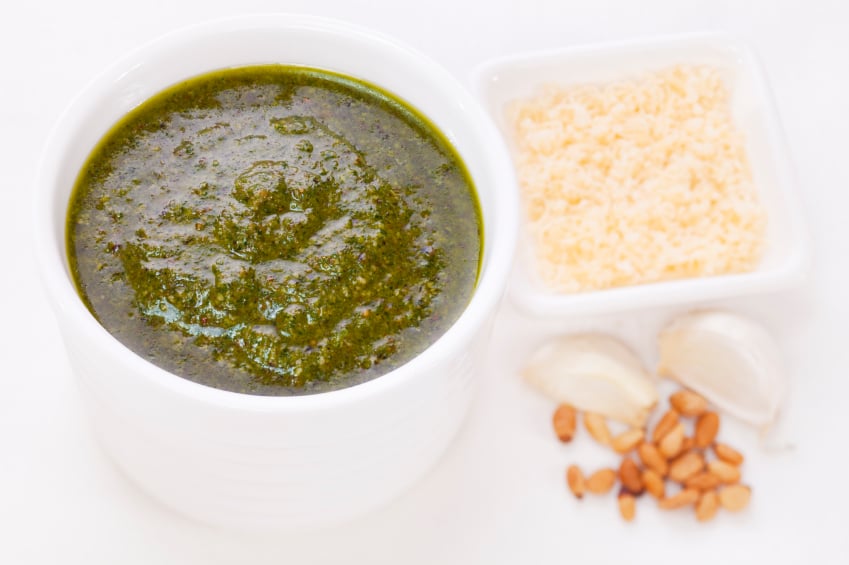 When huge bushels of basil go on sale at the farmers market or the grocery store, don't shy away. Load up and turn that abundance into this basil pesto from The Lemon Bowl. Toast some pine nuts in the oven until they're lightly browned, then pulse them in a food processor with some lemon zest, Parmesan, and plenty of basil. Drizzle in the olive oil and blend until it forms a thick sauce.
This fresh pesto is perfect for pasta, sandwiches, and everything in between. While it's good to go immediately, freezing some in ice cube trays will let you enjoy the herbaceous taste any time of year.
Ingredients:
4 cups fresh basil leaves, packed
1 cup grated Parmesan cheese
½ cup pine nuts
3 garlic cloves
Juice and zest of 1 lemon
1 cup olive oil
Salt and pepper to taste
Directions: Preheat oven to 350 degrees Fahrenheit. Place nuts on a baking sheet and bake for 6 to 7 minutes, until lightly browned.
In a large food processor, pulse together basil, Parmesan, pine nuts, garlic, lemon juice, and zest. Slowly drizzle in olive oil and puree until smooth. Season with salt and pepper to taste. Store in fridge for up to 1 week, or freeze in an ice cube tray for longer storage.
7. Homemade Ketchup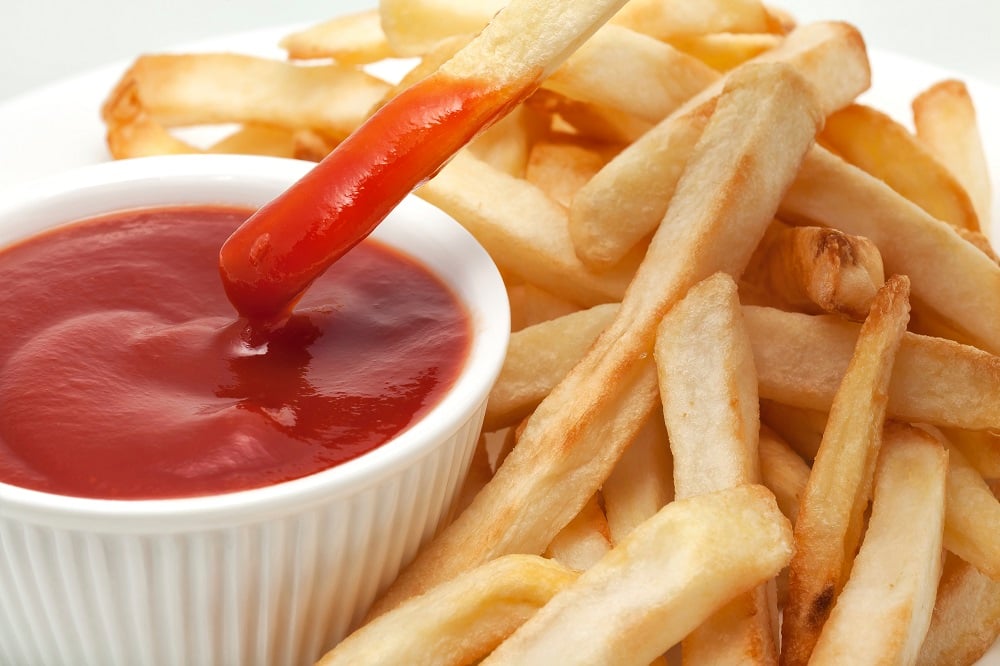 Once you find out just how simple it is to make a batch of DIY Natural's homemade ketchup, you'll never want to buy a store-bought version again. Whisk together tomato paste with vinegar, maple syrup, and a few seasonings in a saucepan. Cook until it's as thick as you'd like and then let it cool before storing in the fridge. Your french fries will never be the same.
Ingredients:
1 (6- to 7-ounce) can tomato paste
½ cup distilled white vinegar
¼ cup pure maple syrup
¼ cup water
1 teaspoon sea  salt
¼ teaspoon onion powder
⅛ teaspoon garlic powder
Directions: Combine all ingredients in a medium saucepan set over medium-high heat. Whisk to blend. Bring mixture to a boil, reduce heat, and simmer, stirring frequently and scraping around sides of pan with a rubber, heat-proof spatula. Simmer until desired thickness, 20 to 25 minutes. Remove from heat and let cool. Transfer to a jar and refrigerate.