Perfect Salmon Recipes for Seafood Lovers
Salmon is many seafood lovers' favorite fish. And it's understandable, because not only is salmon packed with protein, omega-3's, and a host of other vitamins and minerals, it is also flavorful, versatile, and mild compared to other potent-tasting fish. Even better, salmon can be eaten fresh, packed into patties, made into salads, or included in soups and stews. Today we're highlighting six recipes that show just how creative you can be when cooking salmon.
1. Grilled Salmon With Mustard and Herbs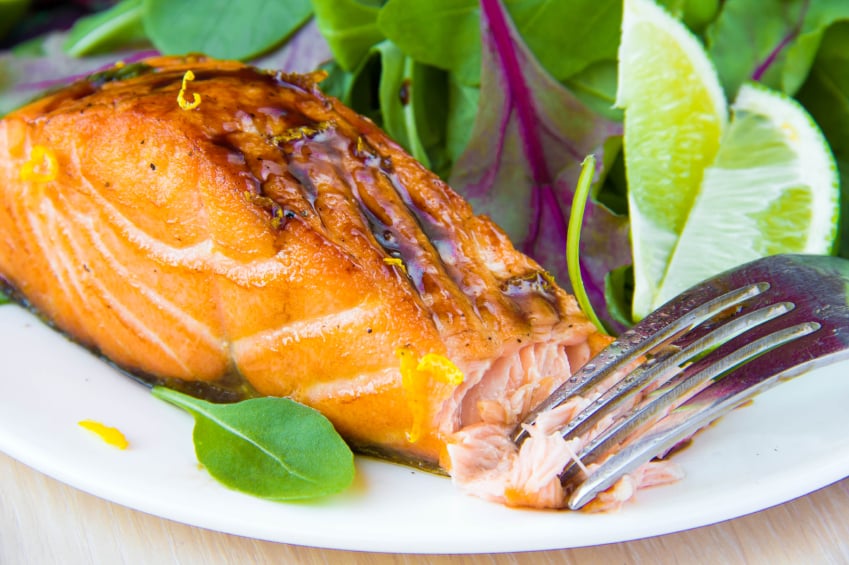 Salmon can cook up on the grill in 20 minutes or less, and then it's up to you to pick your marinade or dressing of choice. This recipe from Eating Well goes with a mustard and herb sauce that is spread on the salmon before the fish is cooked. The recipe serves 4 and requires just 15 minutes of prep time.
Ingredients:
2 lemons, thinly sliced, plus 1 lemon cut into wedges for garnish
20 to 30 sprigs mixed fresh herbs, plus 2 tablespoons chopped, divided
1 clove garlic
¼ teaspoon salt
1 tablespoon Dijon mustard
1 pound center-cut salmon, skinned
Head to Eating Well for the full recipe. 
2. Foil-Baked Salmon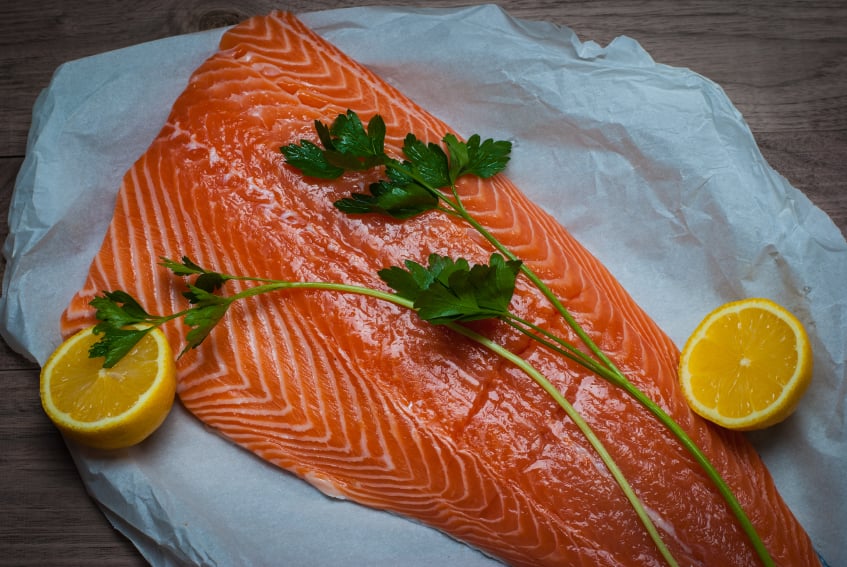 Another way to healthfully prepare salmon is by cooking it in its own juices. Not much olive oil or butter is needed when the fish is already flavorful in its own right. Follow this recipe from the Cooking Channel and see what we mean. With this fish formula, you're baking the salmon in the oven in a foil packet, which lets it marinate in its own juices along with the flavors you enlist. To prepare the fish, all you need to do is sprinkle it with seasonings and oil, and then add a simple tomato mixture on top. Bake it for just 25 minutes and you'll have a quick, healthy meal ready in no time.
Ingredients:
4 salmon fillets
2 teaspoons olive oil plus 2 tablespoons
Salt and freshly ground black pepper
3 tomatoes, chopped
2 chopped shallots
2 tablespoons fresh lemon juice
1 teaspoon dried oregano
1 teaspoon dried thyme
Head to Cooking Channel for the full recipe. 
3. Grilled Salmon Burgers
The fresh fillet also tastes great in burger form so take this grilled salmon burger recipe from Chowhound and run with it. Bread your fish patties with a panko breadcrumb mixture and cook them through on the grill. Salmon burgers are healthy, satisfying, and a fun spin on your typical patty.
Ingredients:
2 large eggs
1 medium shallot, medium dice
3 tablespoons coarsely chopped Italian parsley leaves
2 teaspoons kosher salt
½ teaspoon freshly ground black pepper
¼ teaspoon celery seeds
2 pounds skinless salmon fillets, pin bones removed and cut into 1-inch pieces
¼ cup panko breadcrumbs
Vegetable oil, for coating the grill
Head to Chowhound for the full recipe. 
4. Salmon Chowder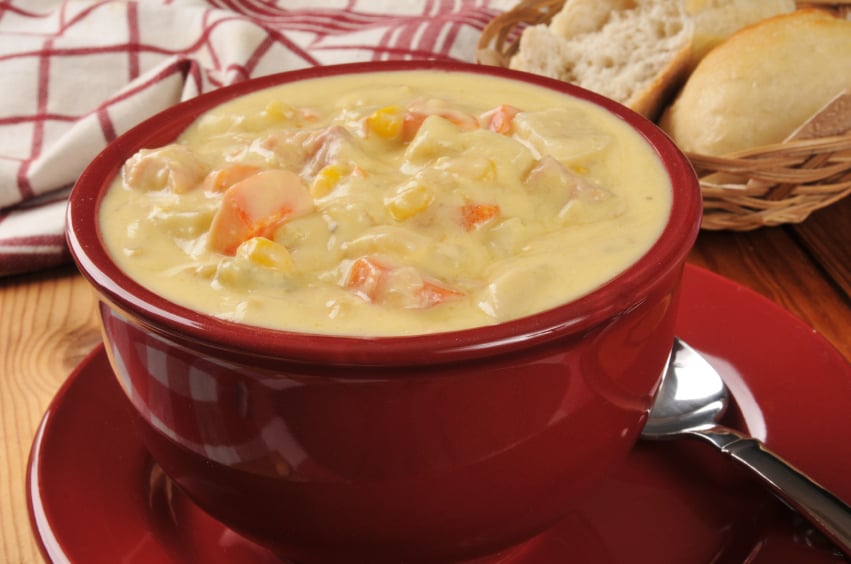 This chunky salmon chowder featured on Epicurious is the perfect comfort food for any season, and while the chowder gets some help from cream and bacon, salmon is still the star of the show. The fish combines with red potatoes, corn, bacon, and seasonings to yield a meal that is flavorful and fun. As the recipe developer notes, because the chowder doesn't enlist the assistance of any thickeners, it's surprisingly light.
Ingredients:
½ pound red potatoes
½ pound sliced bacon, cut crosswise into ¼-inch-wide strips
2 cups chopped scallions
1 cup fresh or frozen corn
1 tablespoon finely chopped garlic
1 teaspoon finely chopped fresh thyme
1 Turkish or ½ California bay leaf
⅛ teaspoon dried hot red pepper flakes
3 cups whole milk
⅔ cup heavy cream
1 piece salmon fillet (preferably wild), skin discarded and fish cut into 1-inch pieces
½ teaspoon salt
¼ teaspoon black pepper
2 teaspoons fresh lemon juice
Chopped fresh chives, for garnish
Head to Epicurious for the full recipe. 

5. Salmon Spinach Salad With Strawberries and Avocado
Next up is a different kind of salmon salad. This salmon spinach salad with strawberries and avocado from Once Upon a Cutting Board will make all of your green dreams come true. This dish is not only delicious — it's also nutritious and extremely easy on the eyes. If you're trying to eat healthy but want to enjoy your lunch and dinner too, try this food formula and get your vitamins and minerals while still feeling like you're indulging.
Ingredients:
2 salmon fillets
1 teaspoon olive oil
1 teaspoon fresh lime juice
Salt and pepper
4 cups baby spinach
1½ cups sliced strawberries
1 ripe avocado, cubed
Dressing
2 tablespoons extra-virgin olive oil
1 tablespoon fresh lime juice
½ tablespoon white wine vinegar
½ tablespoon honey
1 tablespoon minced shallot
1 teaspoon poppy seeds
Head to Once Upon a Cutting Board for the full recipe. 
6. Salmon Pasta Salad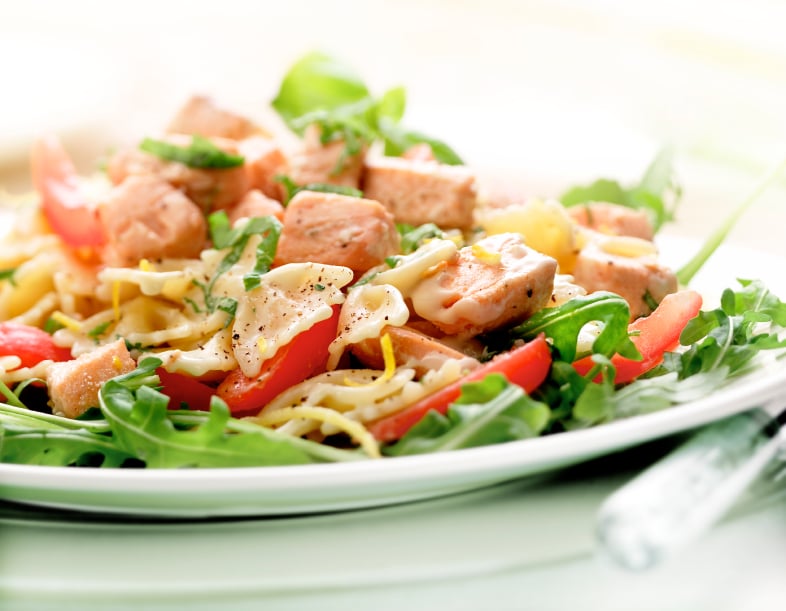 We're concluding our list with some carbs. This salmon pasta salad from Taste of Home proves once more just how versatile the pink fish can be. Not only does it pair well with the greens, salmon also complements pasta perfectly, and this side dish couldn't be more satisfying. Throw together some cooked pasta, crunchy cucumbers, flaky fish, and fresh tomatoes, and you're good to go. The base of this salmon pasta salad is just as good as the dressing.
Ingredients:
1 package spiral pasta, cooked and drained
2 cups fully cooked salmon chunks or 1 can pink salmon, drained, bones and skin removed
1½ cups quartered cherry tomatoes
1 medium cucumber, quartered and sliced
1 small red onion, sliced
½ cup canola oil
⅓ cup fresh lemon or lime juice
1½ teaspoons dill weed
1 garlic clove, minced
¾ teaspoon salt
¼ teaspoon pepper
1 head lettuce, torn
Head to Taste of Home for the full recipe.