6 Sandwiches You Can Make in a Crockpot
When you want delicious sandwiches made with tender meat and slowly simmered vegetables, reach for your slow cooker. This must-have appliance is the easiest way to prepare fillings for an out-of-this-world sandwich, and you can use it to make so much more than pulled pork or sloppy joes. Whether you're planning a party or need a recipe for a lazy weeknight dinner, here are six slow cooker sandwiches that you'll want to make again and again.
1. Crockpot Grinders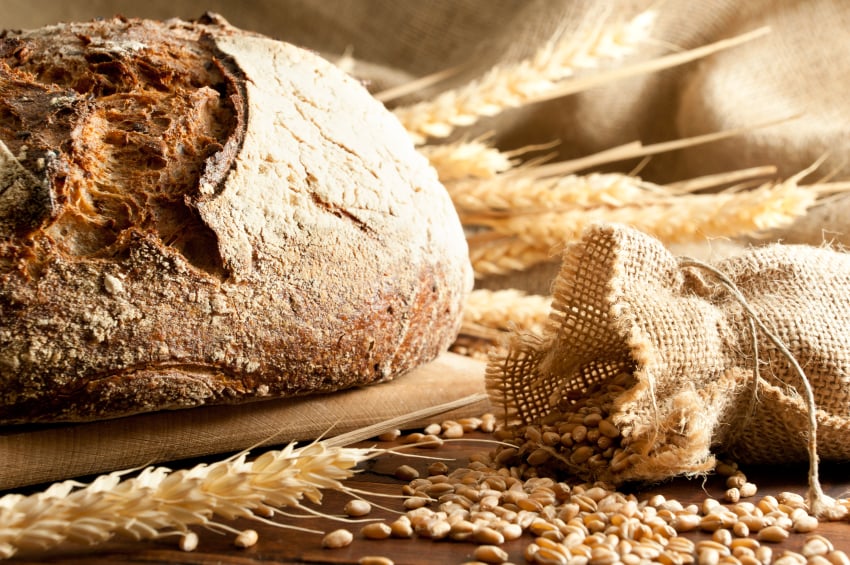 Most slow cooker sandwich recipes call for cooking the filling separately, then assembling the sandwich. Not so with this grinder recipe from Big Red Kitchen, where you put together the sandwiches first, then wrap them in foil and stick them in the crock pot to cook.
Ingredients:
1 round loaf Italian bread
18 slices provolone
18 slices mortadella
18 slices sweet or hot capicola
18 slices Genoa salami
Sweet pepper rings
Thin onion slices
Olive oil
Oregano
Basil
Directions: Slice bread 13 times. Do not cut completely through the loaf; leave about ½ inch connected at the bottom.
Layer 3 slices of cheese. Top with 3 slices of mortadella, 3 slices capicola, and 3 slices of salami. Top with pepper rings and onion, then sprinkle with Italian seasoning. Repeat with the remaining ingredients until you have fillings for 6 sandwiches.
Fold each pile of sandwich fillings in half and then tuck in between every other slice of bread. Wrap entire load of bread tightly in aluminum foil.
Crumple some more foil into several small balls and place in the bottom of the slow cooker. Pour in ¼ cup of water. Place foil-wrapped sandwich loaf on top, cover, and cook on low for 2 to 4 hours.
Remove loaf of bread from slow cooker, unwrap, and cut sandwiches apart. Drizzle inside of each sandwich lightly with olive oil, then serve.
2. Slow Cooker Lamb Gyros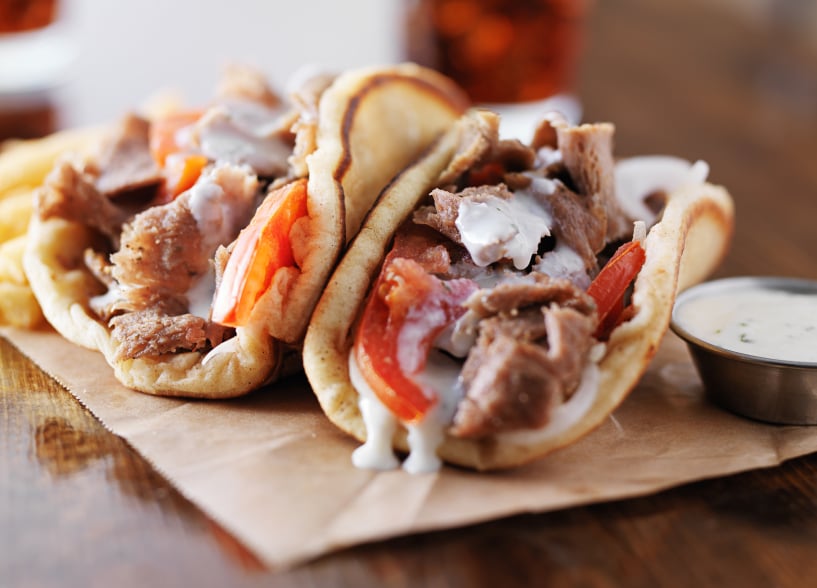 Yes, you can make restaurant-caliber gyros at home. Rather than cooking the meat on a rotisserie, as you would with a traditional gyro, the lamb is cooked in a slow cooker with spices. Once it's done, serve the lamb on pita or flatbread with tomatoes, lettuce, red onion, tzatziki sauce for a delicious and filling sandwich. Recipe from Kowalski's Markets.
Ingredients:
3 tablespoons fresh squeezed lemon juice
2 tablespoons extra-virgin olive oil
3 cloves garlic, crushed
1¾ teaspoons dried mint
1¾ teaspoons dried oregano
¾ teaspoon kosher salt
1 teaspoon coarse ground black pepper
2 pounds lamb top round roast
6 slices pita or flatbread
Sliced tomato, shredded romaine lettuce, sliced red onion, and tzatziki sauce for serving
Directions: In a medium mixing bowl, whisk together juice, oil, garlic, mint, oregano, salt, and pepper. Place roast in a slow cooker. Add marinade; stir to combine. Cook on high 5 to 6 hours or low 7 to 8 hours. Remove lamb from the cooker; discard fat and bones, if any. Serve chunks of warm lamb on warm pita or flatbread with desired fresh toppings.
3. Crockpot Italian Beef Sandwiches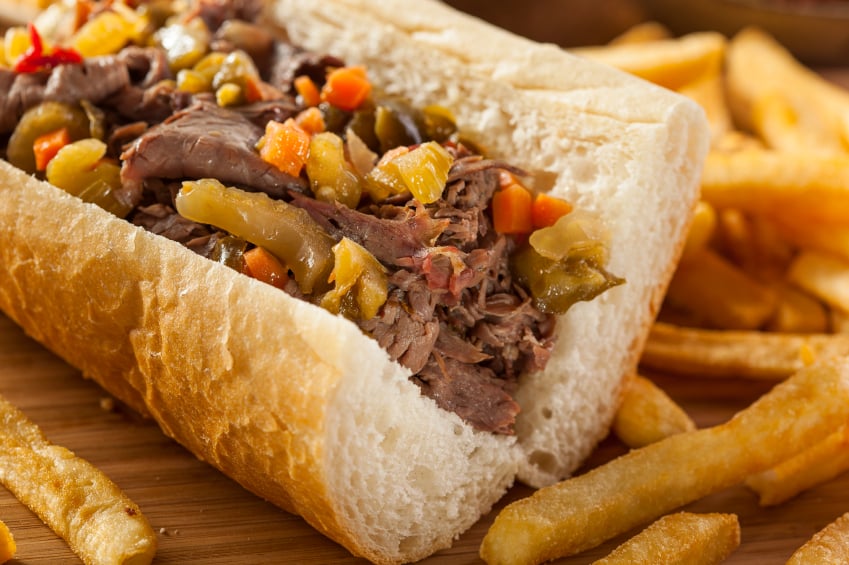 Thinly sliced, ultra-juicy Italian beef is one of Chicago's signature foods (and a better example of the city's unique cuisine than deep-dish pizza, in our opinion). You can make your own version at home in your slow cooker. Serve it on Italian rolls topped with Chicago-style giardiniera. Recipe from Ezra Pound Cake.
Ingredients:
For the beef
1 boneless beef chuck eye roast (about 3½ pounds)
Kosher salt
Freshly ground black pepper
2 tablespoons vegetable oil
1 medium onion, roughly chopped
6 cloves garlic, roughly chopped
1 tablespoon dried Italian seasoning
1 teaspoon crushed red pepper
½ cup dry red wine
3 cups beef stock
2 sprigs fresh thyme
For the sweet peppers
4 green bell peppers, seeded and cut into strips
2 tablespoons olive oil
1 teaspoon granulated garlic
Kosher salt and freshly ground black pepper
To assemble the sandwiches
4 soft sub or hoagie rolls
4 slices Provolone or mozzarella cheese (optional)
Hot giardiniera
Directions: Sprinkle the roast with salt and pepper. In a Dutch oven or other large, heavy-bottomed Pan, heat the oil over medium-high heat until it shimmers. Add the roast to the pan and brown on all sides. Transfer the roast to the slow cooker.
Reduce heat to medium, then add the onions and sauté, stirring occasionally, until they start to brown. Add the garlic and cook until fragrant, about 30 seconds. Add garlic and onion to slow cooker.
Turn heat to medium high and pour in the red wine. Deglaze the pan by scraping up any browned bits, then let the wine simmer for about 5 minutes. Pour in the stock and bring mixture to a simmer. Add the Italian seasoning, crushed red pepper, and thyme. Pour into slow cooker.
Cover and cook meat and onion mixture on low for about 8 hours, or on high for 5 to 6 hours. The meat is done when it pulls apart easily. Transfer the meat to a baking dish, shred with two forks, and cover to keep warm.
If you don't want to dip your assembled sandwich in the cooking juice, return the shredded meat to the slow cooker. If you do want to dip your sandwich, pour any liquid remaining in the crock through a fine mesh sieve and into a saucepan. Let sit for a few minutes if you want to skim off the fat, then bring the cooking juices to a simmer over medium heat until hot and flavorful. Add a little bit of the jus to the shredded meat to keep it moist and reserve the rest.
To make the sweet peppers, preheat the oven to 350 degrees Fahrenheit. Toss the strips of pepper with the oil, garlic, salt, and pepper. Place in a single layer on a baking sheet and roast for about 20 minutes, stirring about halfway through the cooking time.
To assemble the sandwich, pile a generous amount of beef on a roll. Add Provolone or mozzarella if you like and place sandwiches under the broiler to the melt the cheese. Garnish with peppers and giardiniera. If you like, dip the entire sandwich in the jus before serving.
4. Crockpot Reuben Sandwiches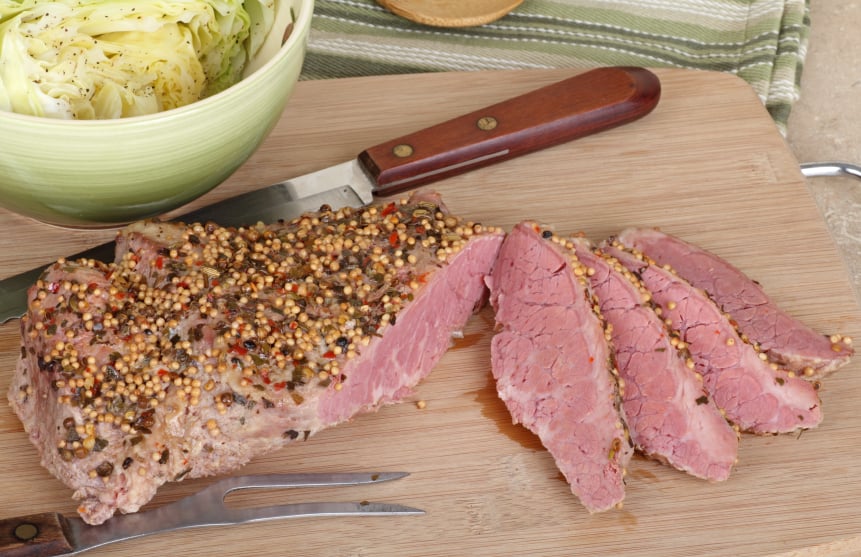 Slow-cooked corned beef is the key ingredient in this homemade Reuben sandwich recipe from Funny Is Family. Serve it on marbled rye bread and top with sauerkraut, Swiss cheese, and Russian or thousand island dressing. If you're feeling extra ambitious, you can even try making your own sauerkraut.
Ingredients:
About 2 pounds mild-cured corned beef
2 cloves garlic, minced
¼ teaspoons caraway seeds
6 peppercorns
2 cups sauerkraut, drained
1 medium onion, sliced
½ cup beef broth
Marble rye bread or pumpernickel
Swiss cheese
Russian or thousand island dressing
Directions: Remove any excess fat from the corned beef, then place it in the slow cooker. Spread the garlic, caraway seeds, and peppercorns on top of the meat. Top with the onion and sauerkraut. Pour in the beef broth. Cover and cook on low for 7 to 9 hours.
Remove the corned beef from the slow cooker and place on a cutting board. Cutting against the grain, slice the meat. Spread the Russian dressing on the bread and top with corned beef, some of the drained sauerkraut, and a slice of Swiss cheese. Place the open sandwich under the broiler for a minute to melt the cheese, then top with another slice of bread. If you like, you can also butter the outside of the sandwich and then grill it in a pan over medium-high heat until the bread is just slightly browned.
5. Slow Cooker Meatball Sub Sandwiches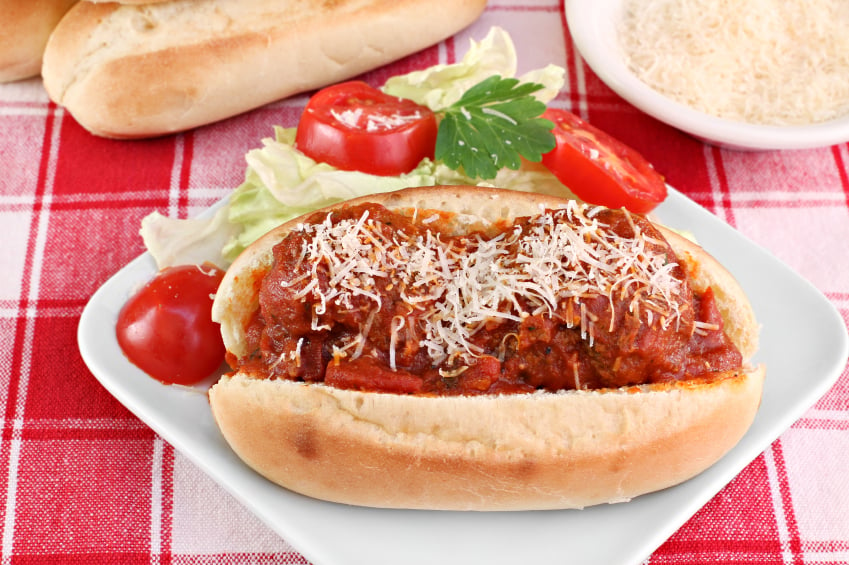 Any party you host is sure to be a success if you serve these slow cooker meatball sub sandwiches created by Five Heart Home. They're easy to make and incredibly tasty. You can also substitute the ground beef for turkey for a lower-fat option that's more in line with the new dietary guidelines.
Ingredients:
1 pound lean ground beef or turkey
1 egg
½ cup Italian bread crumbs
1 teaspoon garlic powder
½ teaspoon salt
Freshly ground black pepper
1 jar pasta sauce, or 24 ounces homemade sauce
4 hoagie or Italian rolls
1 cup shredded mozzarella cheese
Grated Parmesan cheese, for serving
Directions: Combine the ground meat with the egg, bread crumbs, garlic powder, salt, and pepper in a medium bowl. Form the mixture into 12 meatballs, being careful not to compact too much.
Place the meatballs in the slow cooker. Pour the sauce over, making sure the meat is completely covered. Cover and cook on high for 4 hours or on low for 8 hours.
To make sandwiches, cut each roll in half lengthwise. Place 3 meatballs inside and sprinkle with shredded mozzarella. If the cheese does not melt, place the sandwiches under the broiler for a minute or so. Sprinkle with Parmesan cheese if desired, then serve.
6. Slow Cooker Chicken Bacon Ranch Sandwiches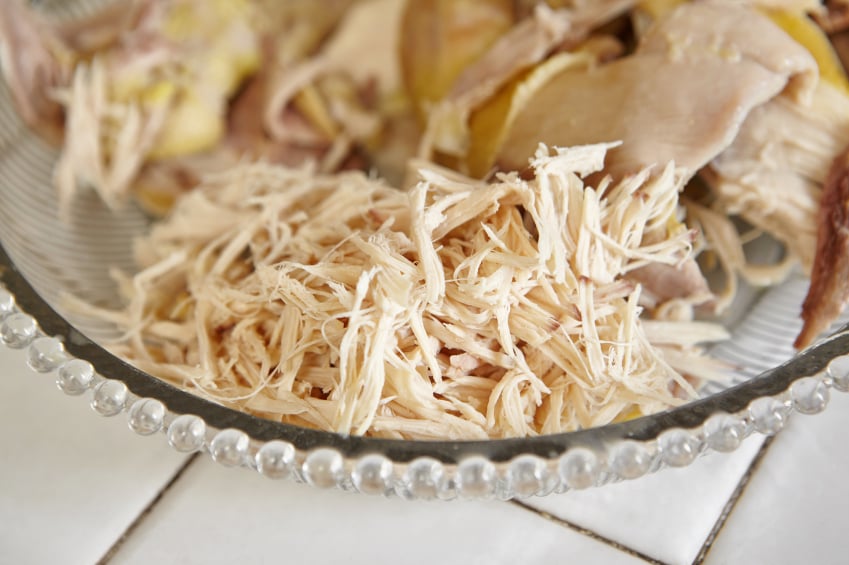 Succulent shredded chicken, savory bacon, and gooey cheese all come together for the perfect, satisfying sandwich in this recipe from Six Sisters' Stuff. Cooking the chicken with cream cheese and bacon ensures the meat is moist and flavorful, not dried out and bland.
Ingredients:
2 pounds boneless skinless chicken breasts
16 ounces cream cheese
2 ounces dry ranch dressing mix
10 ounces bacon, cooked and broken into pieces
1½ cups shredded Colby Jack cheese
6 rolls or buns
Directions: Coat the inside of your slow cooker with non-stick cooking spray. Add the chicken breasts.
Combine the cream cheese, ranch dressing, and bacon in a medium bowl. Spread over chicken. Cover and cook on low for 6 to 8 hours or on high for 4 hours. Be careful not to overcook.
Use two forks to shred the chicken. Stir well to combine with the sauce in the slow cooker. Spoon chicken onto rolls and top with shredded cheese. Broil sandwiches for a minute or so, just until the cheese melts. Serve.
Follow Megan on Twitter @MeganE_CS