Satisfying Salads That Are Hearty Enough for Dinner
Some salads are accompaniments to a meal rather than the stars of the show. However, if your salads are sufficiently satisfying, they can easily serve as full meals — and leave you room for dessert. The key to hearty salads is incorporating enough protein and fiber on the bed of greens. Different textures on salads can also help satisfy you. A filling salad doesn't have to include meat, and it can take many different forms.
We're highlighting hearty salad recipes to have in your healthy cooking arsenal at all times. Instead of preparing different courses for a meal, make a tasty and nutrient-packed salad that will cover all the bases.
1.  Spinach and Barley Salad with Grilled Pork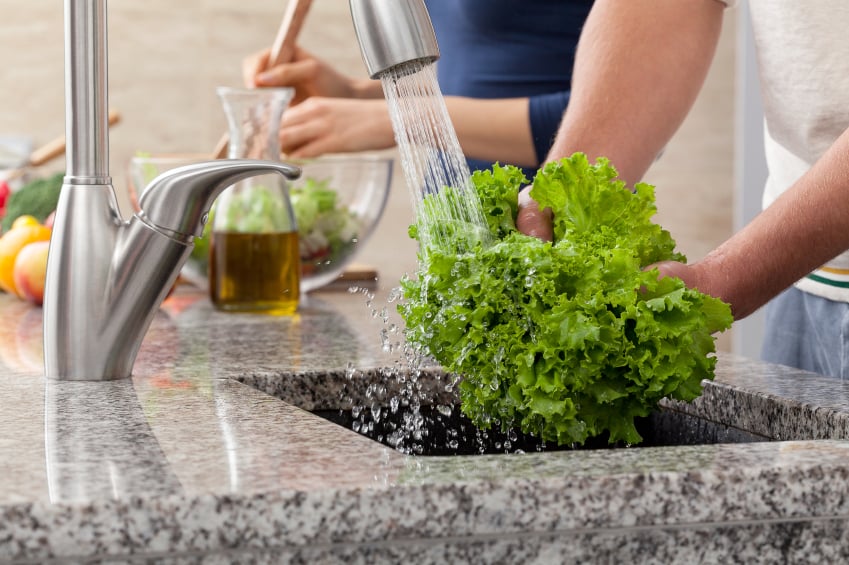 This first salad recipe from Delish proves a mix of different protein, fiber, and textures in a salad can go a long way. The spinach and barley salad is topped with grilled pork and served with a paprika vinaigrette. You might think the tender pork is the star of this salad, but the barley is the component that gives it staying power. Not only does the fiber in the grain help satiate you, but it also bulks up the salad with different textures that provide a necessary crunch.
Ingredients:
1 cup pearled barley
Kosher salt and freshly ground black pepper
1¼ pound pork tenderloin
1 tablespoon olive oil
6 cups baby spinach
4 large radishes, thinly sliced
3 baby chioggia (striped) or yellow beets, peeled and thinly sliced
3 scallions, sliced
2 medium carrots, thinly sliced
½ cup chopped toasted walnuts
For the smoky paprika vinaigrette
½ cup olive oil
¼ cup red wine vinegar
1½ tablespoons honey
2 teaspoons Dijon mustard
1¼ teaspoons smoked paprika
Salt and freshly ground black pepper
Directions: Cook barley in boiling salted water in a medium saucepan over medium-high heat until tender, 24 to 26 minutes. Drain and run under cold water until cool.
Preheat grill to medium-high. Rub pork with oil, and season with 1 teaspoon each salt and pepper. Grill, covered, turning occasionally, until the internal temperature registers 145 degrees Fahrenheit, 15 to 18 minutes. Remove to a plate and allow to rest 5 minutes before slicing.
To make the smoky paprika vinaigrette, whisk together ½ cup olive oil, ¼ cup red wine vinegar, 1½ tablespoons honey, 2 teaspoons Dijon mustard, and 1¼ teaspoons smoked paprika. Season with salt and freshly ground black pepper.
Toss together spinach, radishes, beets, scallions, carrots, walnuts, barley, and vinaigrette in a bowl. Season with salt and pepper.
Serve with sliced pork.
2. Chef's Salad with Turkey, Avocado, and Jack Cheese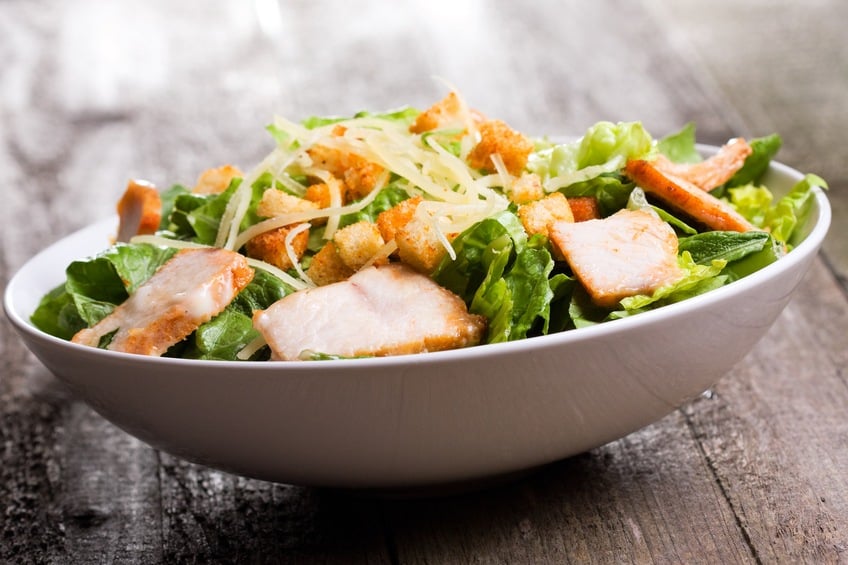 This salad from Martha Stewart is also full of different textures and flavors. It's a chef's salad that incorporates turkey, avocado, cheese, and other vegetables into the mix. The salad has enough protein and fiber, so it can easily make itself a full meal. And its creamy buttermilk dressing even makes it taste like an indulgence. The crunch of the vegetables paired with the sharpness of Monterey Jack cheese and creamy avocado is enough to make anyone look forward to their greens. And because it serves 4 and takes only 25 minutes to make, there's a good chance this chef's salad will be your go-to lunch or dinner for busy weekdays.
Ingredients:
⅓ cup low-fat buttermilk
⅓ cup reduced-fat sour cream
2 tablespoons cider vinegar
1 tablespoon honey
Coarse salt and ground pepper
1 large head Boston lettuce
1 pound sliced roasted turkey breast, torn into pieces
1 avocado, pitted and sliced
1 cup alfalfa sprouts or pea shoots
6 radishes, halved and thinly sliced
4 carrots, cut into matchsticks
4 ounces Monterey Jack cheese, cut into strips
Directions: In a small bowl, combine buttermilk, sour cream, vinegar, and honey; season with salt and pepper. Set dressing aside.
Divide lettuce among 4 serving plates; top with turkey, avocado, sprouts, radishes, carrots, and cheese. Drizzle with dressing, and serve.
3. Skillet Steak and Wilted Kale Salad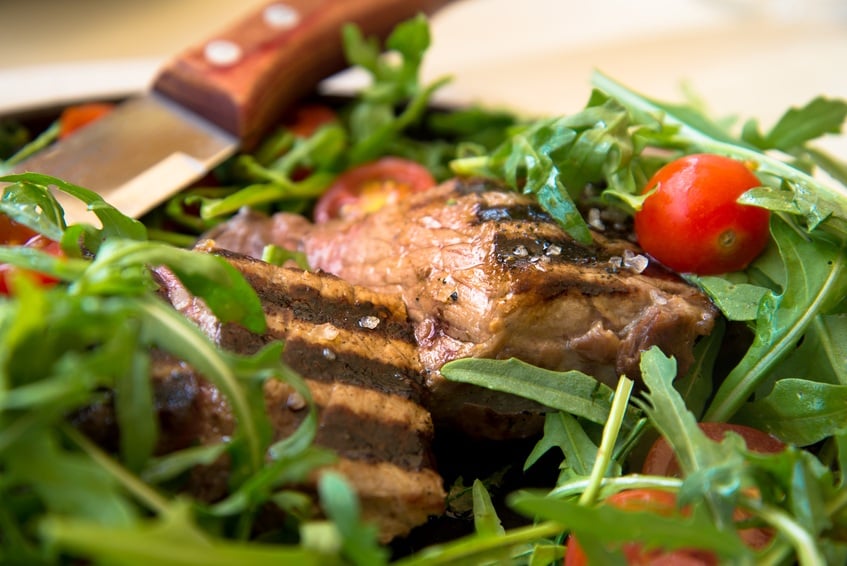 Next time you're craving red meat, throw your steak on a bed of kale, and feel better about what you're eating. You might as well get in your vitamins and minerals while you're enjoying your meat, and this recipe from Southern Living makes it easy. It yields a skillet steak and wilted kale salad that will take you all of 20 minutes to make. The secret to liking kale is massaging it or cooking it with butter, and this recipe recommends the latter. Saute your kale in onions and butter until the kale is wilted. After that, add red wine vinegar and honey to your skillet, and serve a perfectly coked skillet steak on top of your wilted kale salad.
Ingredients:
1 bunch kale, stems removed
2 (¾-inch-thick) beef strip steaks
1 teaspoon kosher salt
½ teaspoon ground black pepper
1 tablespoon olive oil
2 tablespoons butter
1 large sweet onion, thinly sliced
1 tablespoon red wine vinegar
1 teaspoon honey
Directions: Preheat oven to 425 degrees Fahrenheit. Chop kale. Sprinkle steaks with salt and pepper. Cook steaks in hot oil in a large skillet over medium-high heat 3 minutes on each side. Place on a wire rack in a jelly-roll pan, and bake 6 minutes.
Meanwhile, wipe skillet clean, and melt butter over medium-high heat. Add onion, and saute 5 minutes or until tender.
Remove steaks from oven, and loosely cover with foil to keep warm. Add kale to onion mixture, and cook, stirring constantly, 5 minutes or until kale is wilted. Stir in vinegar and honey; season with salt and pepper. Serve with sliced steak.
4. Chickpea, Barley, and Feta Salad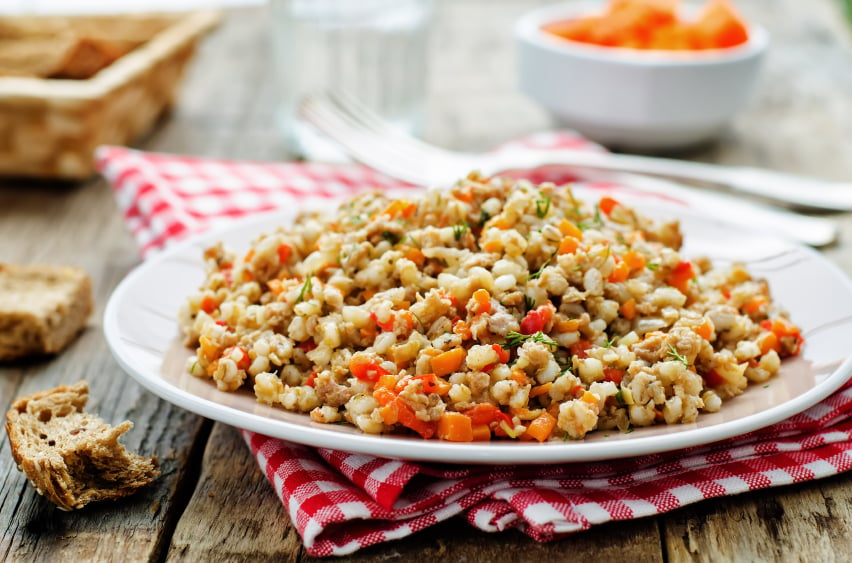 As we mentioned earlier, you don't need meat in a salad to make it satiating, and this recipe from Epicurious proves it. Make a chickpea, barley, and feta salad, and you'll get in your carbs, protein, and fiber without any meat. The colorful meal has texture from both the chickpeas and pearled barley, crunch from the green beans and sunflower seeds, and flavor from the tangy feta and fresh dill. Simply combine your ingredients, and serve with a vinaigrette of your choice. This chickpea, barley, and feta salad is so healthy you can eat it and then enjoy dessert right after. It also travels well, so you can also bring it for lunch or dinner on the go.
Ingredients:
8 ounces green beans, halved crosswise
Kosher salt
1 cup pearled, hulled, or hull-less barley
1 teaspoon olive oil
¼ cup raw sunflower seeds
1 15.5-ounce can chickpeas, rinsed
4 ounces feta, crumbled
2 tablespoons chopped fresh dill
2 tablespoons fresh lemon juice
Vinaigrette of choice
Directions: Cook green beans in a large pot of boiling salted water until crisp-tender, about 3 minutes. Using a sieve or a slotted spoon, transfer to a bowl of ice water.
Return water to a boil, add barley, and simmer until tender (refer to packaging for timing); drain. Let cool on a baking sheet.
Heat oil in a small skillet over medium heat. Cook sunflower seeds, tossing occasionally, until golden brown, about 5 minutes; let cool.
Toss green beans, barley, sunflower seeds, chickpeas, feta, dill, lemon juice, and vinaigrette in a large bowl.
5. Falafel Salad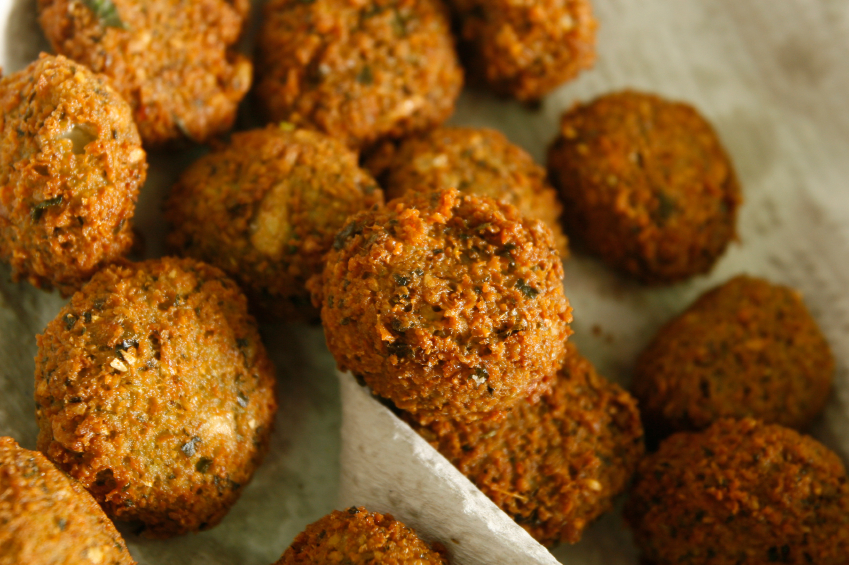 Here's another hearty vegetarian salad that promises to satiate you sans the meat. You might even fool a few carnivores into thinking they're biting into animal protein. But rather, this salad from The Kitchn is meat-free and stars falafel made from baked red lentils blended with parsley, cilantro, tahini, spices, and flour. The recipe makes 20 falafel, baked in the oven. Serve them over greens tossed with a tahini dressing.
Although falafel are usually full of fat and fried, these baked falafel are the healthy alternative. And they're teeming with protein and fiber, so they'll satisfy you the right way. This falafel salad is destined to impress, and it proves once again you can eat your greens for dinner and still feel full.
Ingredients:
1 cup dry split red lentils
2 cups loosely-packed Italian parsley leaves, stems removed
2 cups loosely-packed cilantro leaves, stems removed
5 garlic cloves
1 red onion
1 to 2 serrano peppers, to taste
1½ tablespoons whole sesame seed tahini paste
1½ tablespoons olive oil
1 teaspoon salt
1 teaspoon ground cumin
1 teaspoon ground coriander
½ teaspoon baking soda
1 to 3 tablespoons chickpea flour (or whole spelt/whole wheat/all-purpose)
Olive oil spray
Tahini dressing:

⅓ cup whole sesame seed tahini paste
Juice of 1 lemon
3 tablespoons water
1 garlic clove, finely grated
¼ cup minced Italian parsley
½ teaspoon paprika
Salt and freshly ground pepper, to taste
Salad:

3 cups shredded lacinato (Tuscan) kale
3 carrots, shaved into ribbons
¼ cup thinly sliced red onion
3 tablespoons olive oil
1 tablespoon lemon juice
Salt and freshly ground pepper, to taste
Directions: Soak the lentils in fresh water overnight. When ready to make the falafel, strain and rinse the soaked lentils. Make sure to pick through the batch and discard any stones or debris.
In a food processor, pulse the lentils until they are coarsely ground, 3 to 5 times. Add the parsley, cilantro, garlic, onion, and serrano pepper to the bowl, and pulse another few times. Drizzle in the tahini paste, olive oil, spices, salt and pepper, and blend until almost smooth. Make sure not to overblend the mixture; you still want some crumb. Taste the mixture, and adjust the seasoning according to your liking. Add the baking soda and the chickpea flour. Start by adding 1 tablespoon of chickpea flour at a time. If the mixture has too much liquid, add another. The mixture should be fairly moist, and if you add too much flour, the falafel will become too dry and hard when baked.
Refrigerate mixture for 30 minutes. Preheat your oven to 375 degrees Fahrenheit.
To make the tahini dressing, whisk the tahini paste, lemon juice, water together until creamy. Mix in the grated garlic clove, minced parsley, paprika, and season to taste with salt and pepper.
Toss the salad ingredients together.
Using a tablespoon measure, scoop out 2 tablespoons of the refrigerated falafel mixture into the palm of your hand. Roll into a ball, and place on a parchment-lined baking sheet. Repeat with the rest of the mixture. Generously coat the falafel with olive oil spray, and bake until golden brown, 18 to 20 minutes. Make sure not to overcook.
To serve, plate the falafel over a bed of kale-carrot salad with a heaping dollop of tahini dressing.
6. Greek Salad with Oregano-Marinated Chicken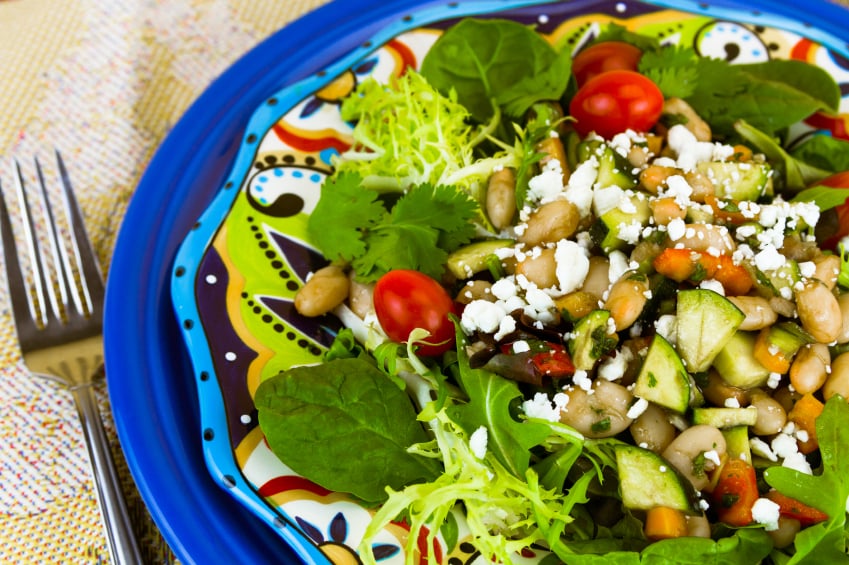 If you prefer poultry on your salad, this Greek salad from Cooking Channel TV is for you. It's topped with chicken marinated in lemon juice, olive oil, oregano, salt, and pepper. And that pairs with cucumbers, tomatoes, olives, and red onions. The combination makes for a salad full of flavor and crunch — and one that has enough protein to satisfy you. Not all salads are exciting, but when yours comes with different flavors, textures, and colors, topped with tender meat, it's a lunch or dinner you'll find yourself craving. This recipe makes 4 to 6 servings.
Ingredients:
Chicken:
1 lemon, juiced
2 tablespoons extra-virgin olive oil
1 teaspoon dried oregano
A couple good pinches salt
10 grinds black pepper
4 (6- to 7-ounce) boneless skinless chicken breasts
Dressing:
¼ cup extra-virgin olive oil
2 tablespoons red wine vinegar
1 lemon, juiced
2 cloves garlic, smashed with the side of your chef's knife
1 teaspoon dried oregano
10 to 15 grinds black pepper
Salad:
2 to 3 hearts romaine lettuce
1 English cucumber, peeled, cut in half lengthwise, then cut into ½-inch chunks
3 vine-ripened tomatoes (about ¾-pound), cored and cut into ½-inch chunks
½ red onion, very thinly sliced
½ cup pitted Kalamata olives, coarsely chopped
¼ cup crumbled feta cheese
3 pinches salt
Directions: In a nonreactive dish, combine the lemon juice, olive oil, oregano, salt, and pepper, and mix together. Add the chicken breasts to the dish, and rub both sides in the mixture. Cover the dish with plastic wrap, and let marinate in the refrigerator for at least 30 minutes and up to 4 hours.
Combine all the ingredients in a resealable container, and shake vigorously. Refrigerate until ready to serve, and then bring to room temperature before tossing salad.
Cut off any dark tips and the bitter white bottoms from the romaine leaves. Cut the lettuce into 1-inch strips, and place in a bowl that is large enough to hold all the salad ingredients comfortably. Scatter cucumbers, tomatoes, red onion, olives, and feta over the top.
Heat a nonstick skillet or grill pan over high heat. Add the chicken breasts, and cook, turning once, until well browned, about 4 to 5 minutes on each side or until cooked through. Let the chicken rest on a cutting board for a few minutes before slicing it into thin strips.
Shake the dressing ingredients together, and pour it into a serving bowl, using the lid to strain out the garlic.
Toss salad just before serving, and place chicken on top.
7. Salmon Panzanella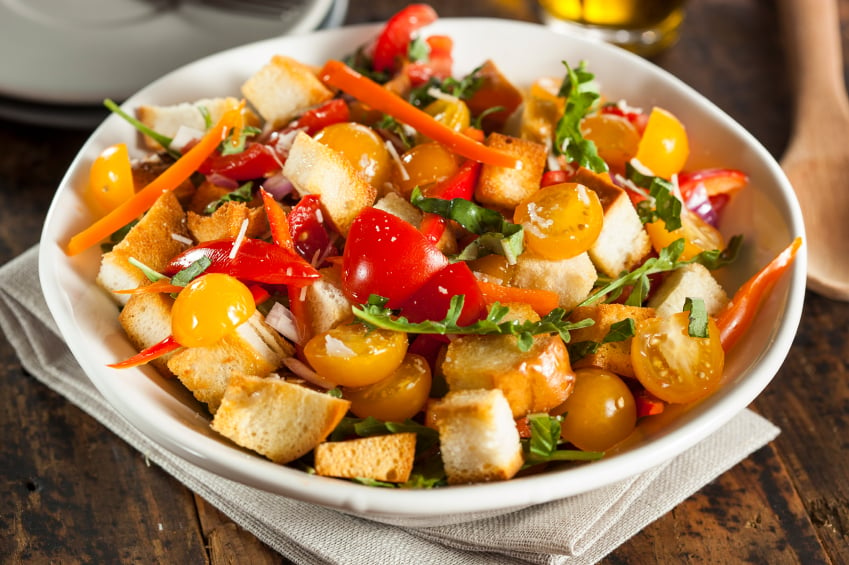 Fish can also star on salads and serve as the protein source that fills you up. This salmon panzanella from Eating Well is sure to be a hit. The panzanella calls for day-old, whole-grain bread, cut into cubes and soaked in olives, red wine vinegar, capers, pepper, and olive oil. These homemade croutons will share the spotlight with the salmon. This panzanella proves salads can be both healthy and indulgent, and this is one you'll happily be able to enjoy for lunch or dinner.
Ingredients:
8 Kalamata olives, pitted and chopped
3 tablespoons red-wine vinegar
1 tablespoon capers, rinsed and chopped
¼ teaspoon freshly ground pepper, divided
3 tablespoons extra-virgin olive oil
2 thick slices day-old, whole-grain bread, cut into 1-inch cubes
2 large tomatoes, cut into 1-inch pieces
1 medium cucumber, peeled (if desired), seeded, and cut into 1-inch pieces
¼ cup thinly sliced red onion
¼ cup thinly sliced fresh basil
1 pound center-cut salmon, skinned, and cut into 4 portions
½ teaspoon kosher salt
Directions: Preheat grill to high.
Whisk olives, vinegar, capers, and ⅛ teaspoon pepper in a large bowl. Slowly whisk in oil until combined. Add bread, tomatoes, cucumber, onion, and basil.
Oil the grill rack. Season both sides of salmon with salt and the remaining ⅛ teaspoon pepper. Grill the salmon until cooked through, 4 to 5 minutes per side.
Divide the salad among 4 plates, and top each with a piece of salmon.
8. Tuna Nicoise Salad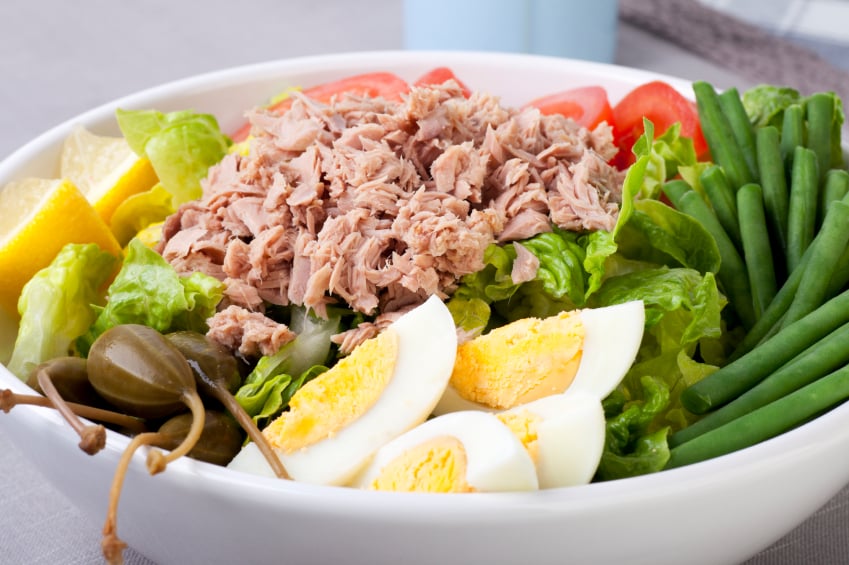 Tuna nicoise salad is another choice that involves fish. It's a popular dish to order at restaurants, but now you can make your own at home with this recipe from Martha Stewart. Everyone at work will be jealous when you come in with this sophisticated midday meal, and they don't have to know it took you only 30 minutes to prepare.
Take a short cut, and use canned tuna. Combine that with cooked potatoes, green beans, cherry tomatoes, olives, and a homemade dressing. Your tuna nicoise salad will keep you full for the rest of the day, thanks to the protein in the tuna. And you can pat yourself on the back for a tasty lunch.
Ingredients:
½ teaspoon Dijon mustard
1 tablespoon red wine vinegar
Coarse salt and ground pepper
1 tablespoon olive oil
Boiled potatoes
Green beans
¾ cup cherry tomatoes, halved
2 tablespoons Kalamata olives, pitted and slivered
1 can (6 ounces) solid white tuna, drained, packed in olive oil
Directions: In a medium bowl, whisk together Dijon mustard with red wine vinegar and olive oil; season with coarse salt and ground pepper.
Add potatoes, green beans, cherry tomatoes, Kalamata olives, and tuna; toss well.
9. Taco Salad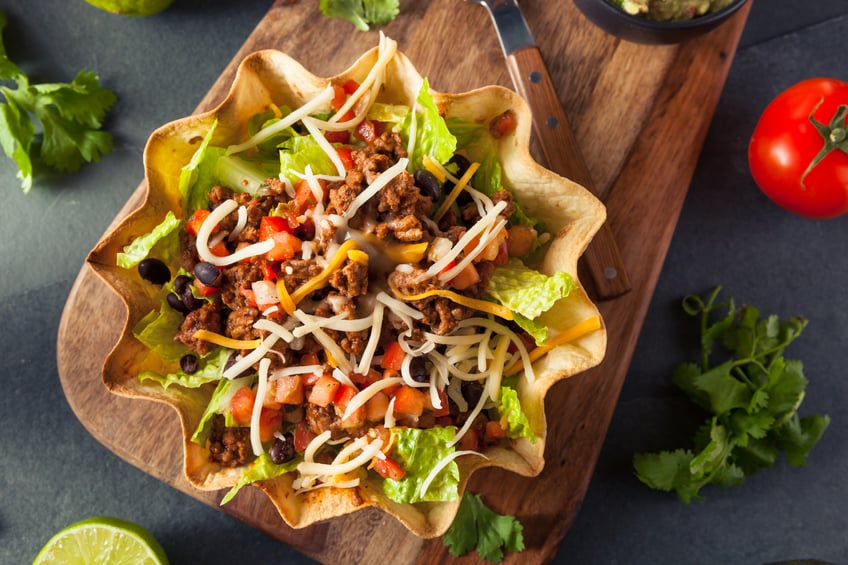 If you think tacos are the only reasonable Mexican lunch or dinner option, that's where you're wrong. You can still get your Mexican food fix the healthy way by taking your tacos and turning them into salads. Get rid of the tortilla, and make more room in your stomach for beef, vegetables, lettuce, and salsa. You'll still feel satisfied from your salad, but your lunch or dinner won't leave you in a Mexican food coma.
This taco salad recipe from Food Network serves 6 to 8 and takes only 10 minutes to make. Mexican food can be healthy when prepared the right way, and similarly, salads can be satisfying when the right ingredients are involved.
Ingredients:
2 ripe tomatoes, diced
½ pound sharp cheddar, diced
1 large onion, diced
1 head iceberg lettuce, washed, drained, and shredded
1 pound lean ground beef, browned, crumbled, and drained
1 cup salad dressing of choice
1 (7-ounce) bag taco flavored chips, crushed
1 cup salsa
Tortilla chips, to serve
Directions: Combine the tomatoes, cheese, onion, lettuce, and ground beef in a large bowl. Add the salad dressing, and mix well. Just before serving, add the taco chips, tossing to combine with other ingredients. Top each serving with salsa. Serve with tortilla chips.
10. Spinach Salad with Shrimp and Feta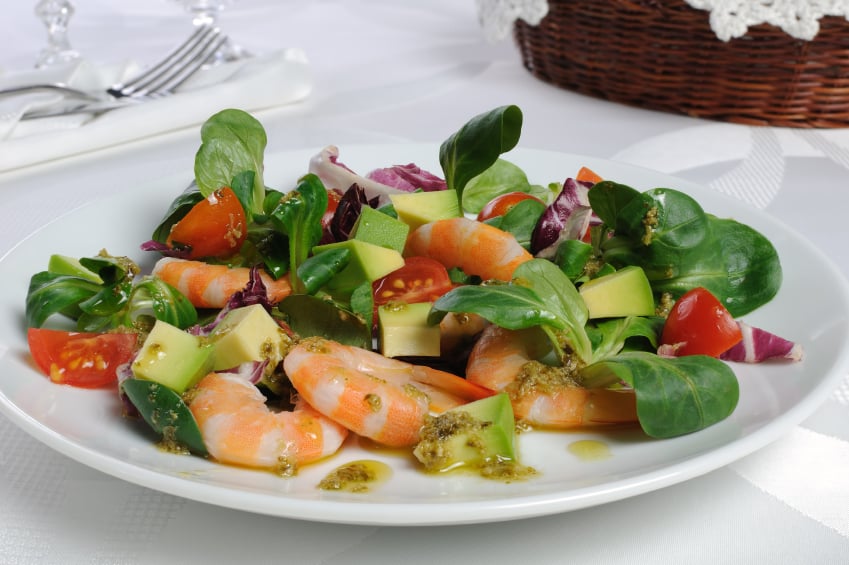 Last is one more hearty bed of greens studded with seafood. This time it's a spinach salad with shrimp and feta from Rachael Ray that can be ready in all of 15 minutes. The protein in the shrimp will help satiate you and make this salad a meal. Make an easy homemade dressing from a shallot, vinegar, mustard, honey, and olive oil. You'll get 4 servings out of this hearty spinach salad. Studding your salad with something as appetizing as sauteed shrimp makes it easy to reach for the greens.
Ingredients:
¼ cup plus 3 tablespoons extra-virgin olive oil
1 pound shrimp, peeled and deveined
1 shallot, finely chopped
2 tablespoons red wine vinegar
1 tablespoon spicy mustard
1 tablespoon honey
Salt and pepper
8 ounces spinach
½ cup feta cheese
Directions: In a medium skillet, heat 3 tablespoons olive oil over medium-high heat. Add the shrimp, and stir-fry until opaque, 2 to 3 minutes.
In a medium bowl, whisk together the shallot, vinegar, mustard and honey; season with salt and pepper. Pour in the remaining ¼ cup olive oil in a slow stream, whisking constantly until thick. Using a slotted spoon, transfer the cooked shrimp to the dressing, and toss to coat. Season to taste with salt and pepper.
Arrange the spinach on a platter or individual plates. Place the warm shrimp on top and drizzle with any remaining dressing. Scatter the feta on top.